The cup that we drink our coffee from can be a very personal item. Nowadays, cafes are not afraid to step out of the crowd and be original. The cups they choose for their shops are another piece of puzzle that creates the specific atmosphere of their cafe, and directly influence the experience we have within that shop. We all have our favourite cup at home, why not have it at our local cafe, too?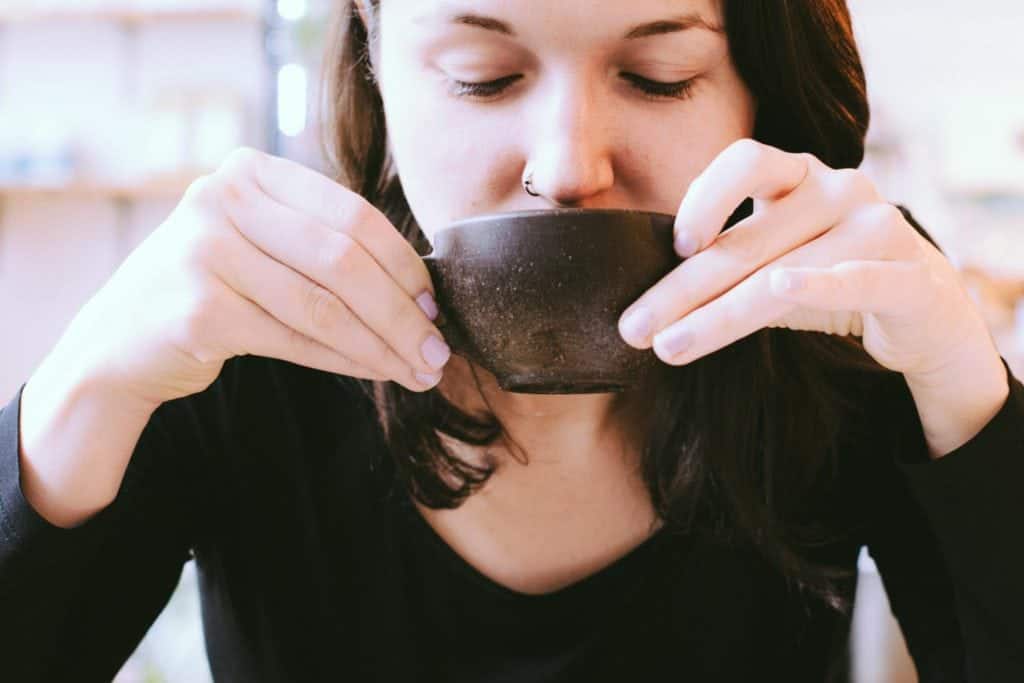 In this piece, we celebrate both the product, its makers as well as the cafes that use this product.
Tim Wendelboe's Filter Coffee Set
Tim Wendelboe was one of the first ones to develop his own line of coffee ceramics. The collaboration with the designer Kristin Hærnes Ihlen and the porcelain manufacturer Figgjo, in Oslo, resulted in a white set of three cups and a pot. This set was to change your coffee-drinking experience.
The set of three cups is built around three different shapes: 'Tulip', 'Split' and 'Open'. 'Tulip' is a cup of a wide bottom and a narrow mouth, which enhances the sweetness of the cup, as well as it brings out the heavier, earthy flavours, hence suiting the best a lower acidity coffee. 'Split' reminds us of the body of a caterpillar. Its specific shape suits coffees with bright and fruity characteristics, bringing out the acidity and enhancing its aroma. 'Open' is the most forgiving shape in terms of taste balance, although it is supposed to enhance the aroma, too. The line has been available since Autumn 2015.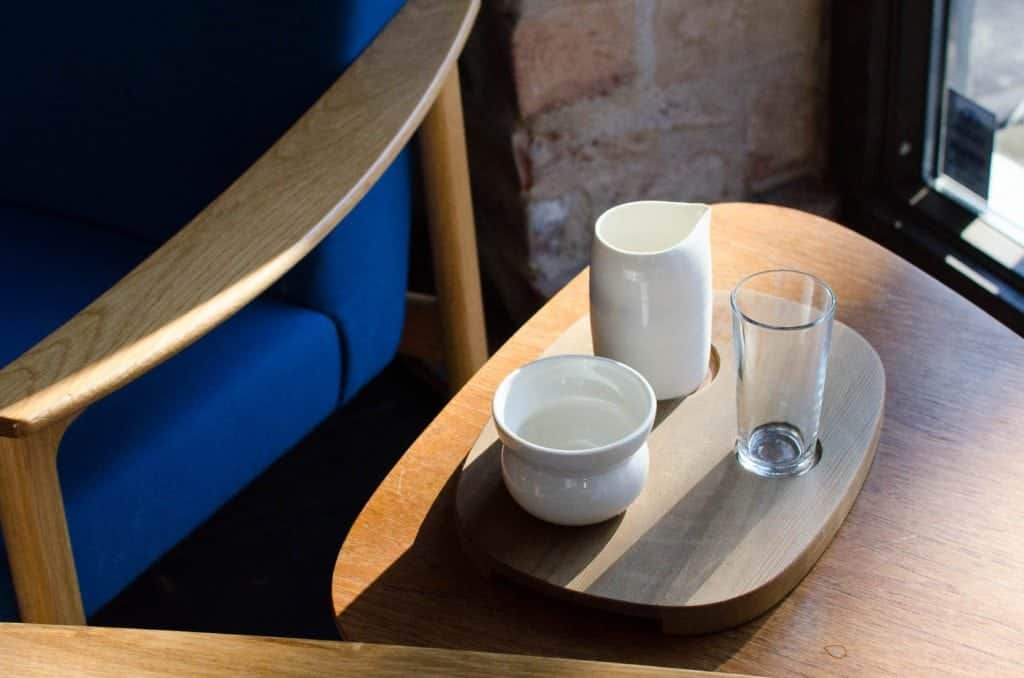 Our favourite shape must be the 'Tulip'. It turns every coffee we tried incredibly sweet, as well as it holds so nicely in our hands, especially on a warm autumn day, when all you need is just that little source of heat for your cold fingers.
Hand-made ceramics for Koppi bar in Malmo
Swedish roasters Koppi have opened their new espresso bar in Malmö back in November 2016. Anne Lunell and Charles Nystrand are known to enjoy beautiful design and to celebrate it as well: "We have always tried to pay attention to details because we believe they make a big difference. By serving our coffee in beautiful handmade porcelain cups we think that we can elevate the experience to a higher level."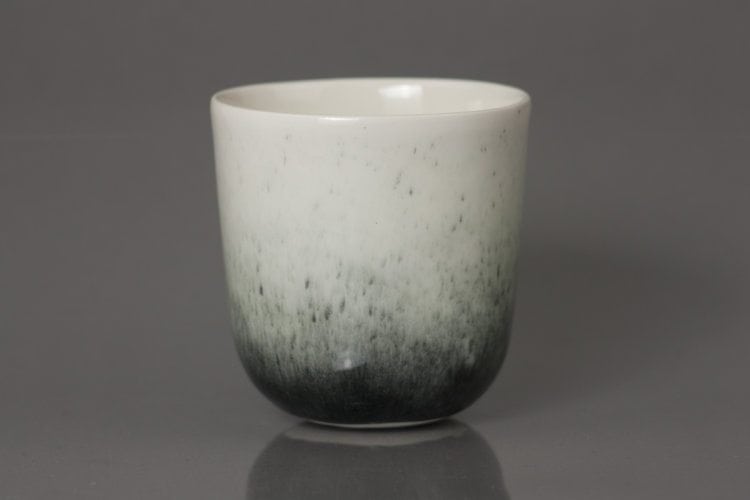 They had their beautiful, colourfully glazed cups made by Magdalena Kałużna, who, since a while back, has been making custom dinnerware for many other cafes and restaurants. For example The Coffee Collective or 108, both in Copenhagen.
"Working with Magdalena is both inspiring and easy. She listens to our ideas and creates beautiful items that both showcase her skill as an artist and at the same time, they're exactly what we're looking for. The cups she has made for Koppi are taking the coffee experience to a new level. It's all in the details." – Anne Lunell, co-owner, Koppi
H[AND] using pottery made by hand
Has Bean's pop-up cafe has been using the ceramics created by the London-based pottery artist Ben Sutton. The quite straightforward summary by the H[AND] head barista Petesy goes: "We focus on nice things made by nice people." And that is why they chose Ben's cups to deliver their range of direct trade coffees.
The line of heavy, ceramic cups in a grey spray-on glaze seems to be the perfect fit for a light filter coffee. Suddenly, this delicate drink must feel a bit heavier and more pronounced in your hand, with the ceramics retaining its heat and making your coffee that more enjoyable. The cup has got a deep rim in the lower bottom of the wall, which makes it a bit more interesting to hold, replacing the usual ear of a cup.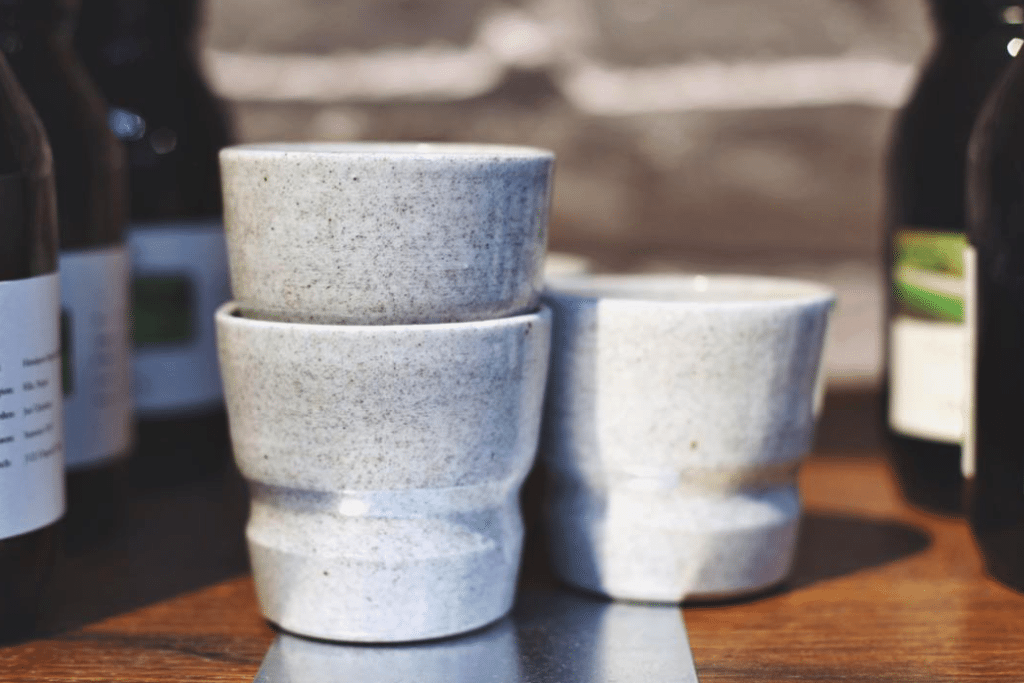 Ben Sutton has got his pottery studio in East London, where he creates pottery mainly inspired by Scandinavian design, with Japanese simplicity.
Haepinest, a happy nest with colourful ceramics
The Austrian cafe located in the city of Innsbruck has got some of the best views of the Austrian Alps above the city, yet they did not hesitate to look further away, in the search for the best cups for their shop. They found the right match with Hana Karim [photos below], a Slovenian ceramics designer. Hana created a colourful, almost a summery collection of cups, that you can enjoy your drink in.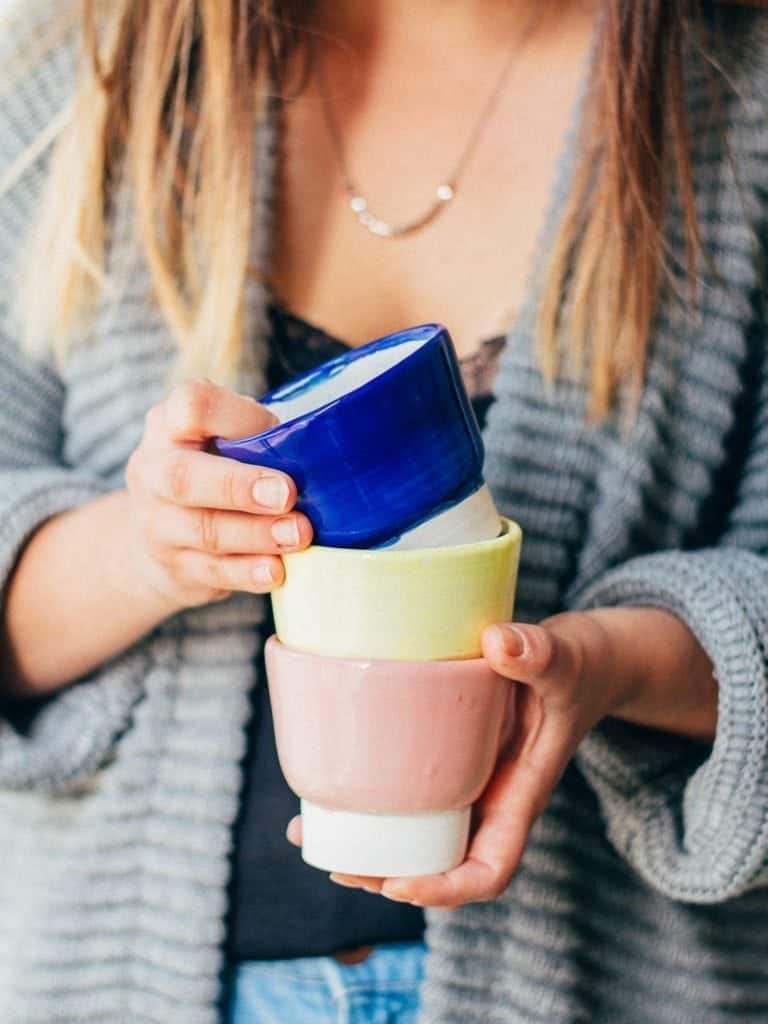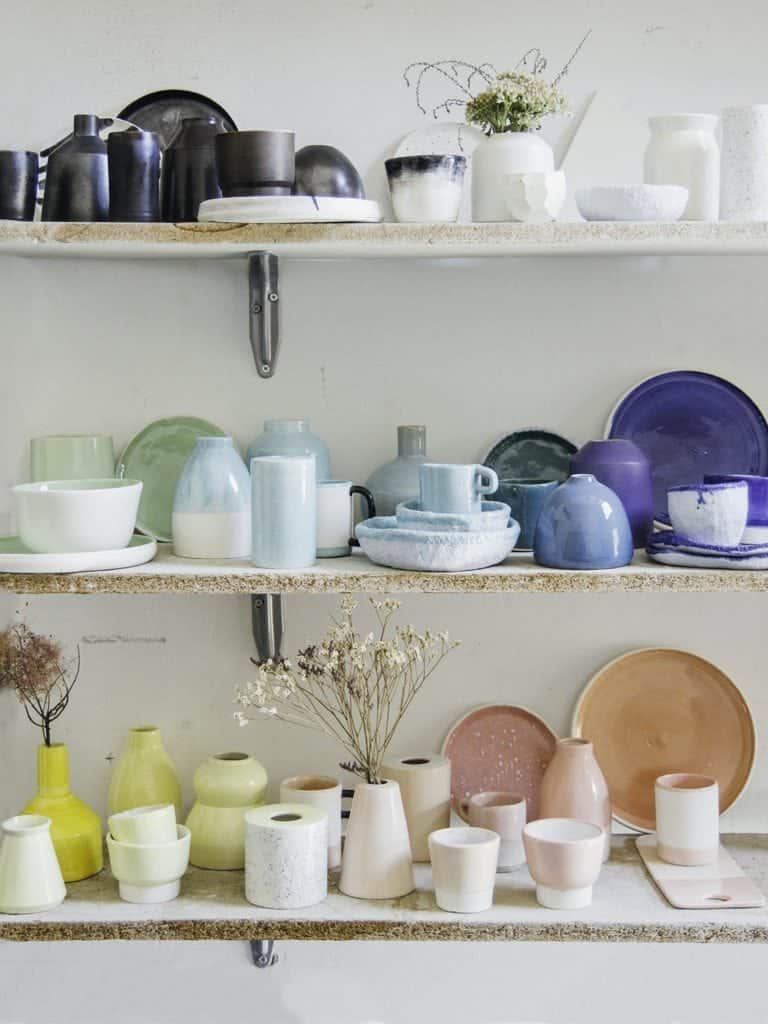 Hana Karim is not only ceramics but also jewellery designer that grew up in a family of artists. Her ceramics are very playful and bring that bit of a colour to the table. That is always a good idea when serving black coffee and simple food.
Kaffeekommune's own filter mugs
Kaffeekommune started off as a coffee pop-up project, growing into a filter-only cafe. Today, the Kaffeekommune cafe serves both filter coffee and espresso. They only serve AeroPress filter coffees though, which they have a signature porcelain cups designed specifically for. Created by Fritz Rossmann, they have a rim at the bottom of the cup, as well as a grey-and-green dot, features common in other Rossmann's work.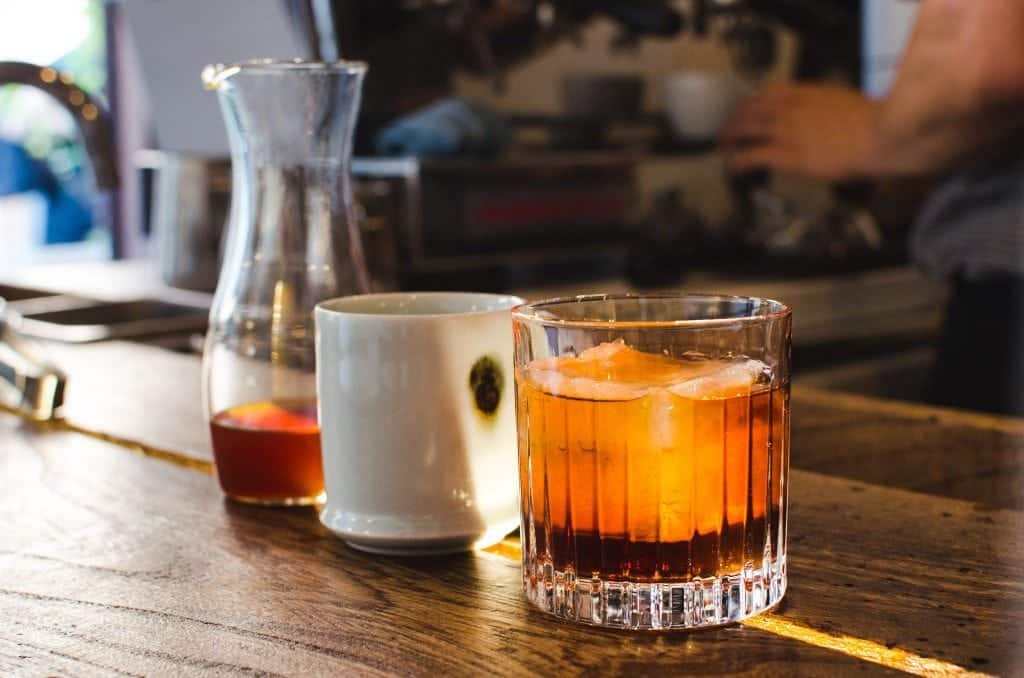 Quite simple in its form, it fits the whole AeroPress brew, which then lasts you at least for a whole chapter in a book. And we love that. You can buy one cup for your home brews as well, in the store or by an email order with Kaffeekommune.
Coffeeangel AeroPress-fit mug
Another of filter mugs on our list is a part of accessories used exclusively at Coffeeangel, a group of speciality cafes in Dublin, Ireland. In collaboration with O'Riain Pottery, they created a set of mugs and jugs to serve their coffees in.
The filter coffee mug is the perfect size for an AeroPress brew (250 ML). It has got a perhaps more classic shape, a big ear to hold it, and soft colours. The bottom half is of dark grey colour, unglazed; the top half has got a white glaze on it. Two different surfaces make the enjoyment of the drink even better.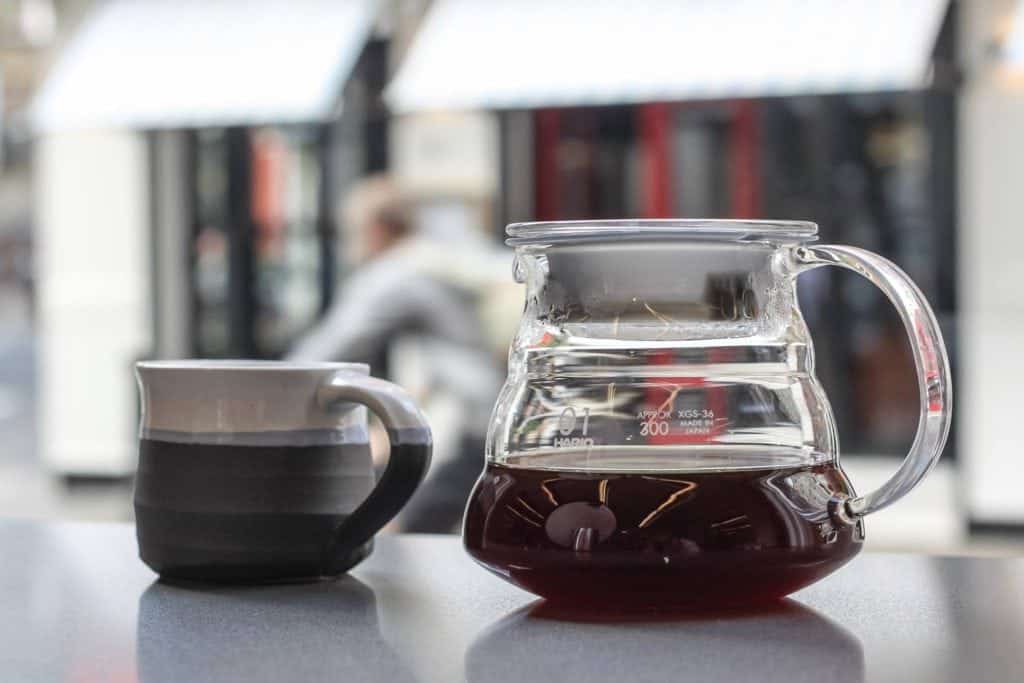 The design is very much the style of John Ryan, the owner and potter at O'Riain Pottery, with its soft, earthy, natural colours, inspired by the rural landscape of county Sligo, Ireland. Although you cannot get them anywhere but at Coffeeangel.
We love when things connect and this mug is decorative, yet functional, inspired by the local area, used to serve coffee at a local shop.
Back to Black's branded mugs
Back to Black is an Amsterdam-based cafe—and after a successful Kickstarter campaign also a roastery—that use mugs as their coffee cup of choice, too.
Perhaps it is for their love of prints, or for the women on their team, the branding is a black and white print of a pin-up lady with her cup of hot remedy. Back to Black could not be clearer with their statement. Drink black coffee, and drink loads of it, we are happy you do. That is at least what we get from their print and the accompanying line that goes: "Thank you for being addicted," on the inner lip of the mug.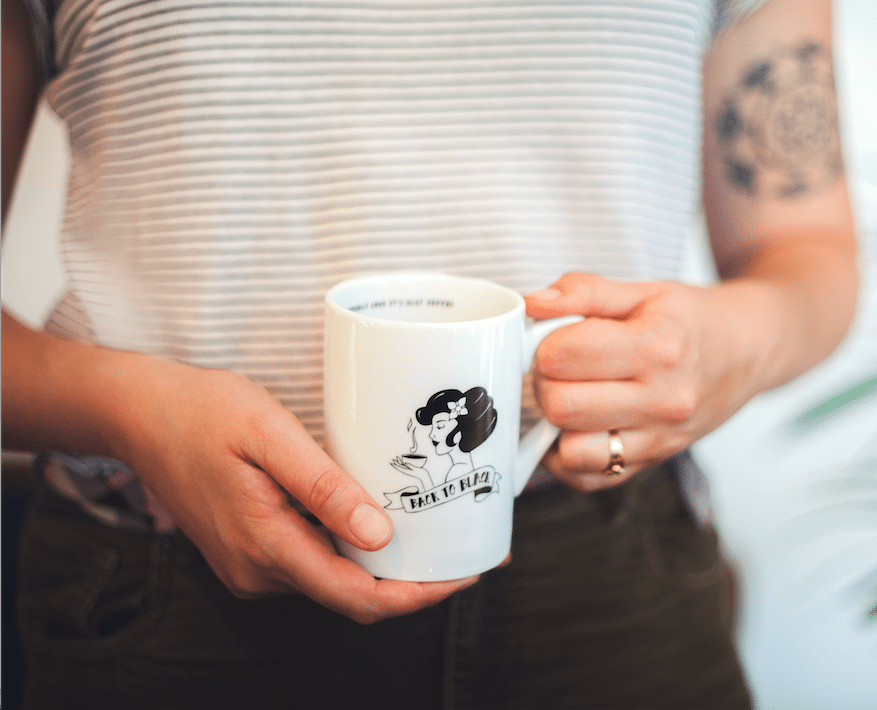 We love the simple shape of the thin-walled white cup. It would look good on any table.
Sustainable Kaffeeform. cups made from coffee waste
The last example of a different kind of a coffee cup is quite unique from the previous ones in our article. Not only does it differ in its design, it is literally made from coffee, for coffee!
The sustainability issue had bothered Julian Lechner, the originator of the Kaffeeform. idea, who then brought his project to life with the help of Berlin speciality cafes, the first espresso cups released in 2015.
The cups are made from used coffee grounds, lowering the wastage that the coffee industry produces. The dried recycled grounds are used, together with renewable materials, to create washable, durable cups. Light in weight, the sleek cup have a natural, brown colour. The original, espresso cup was recently joined by a bigger, cappuccino-sized one. Although a milky drink looks great in them, it is suitable for a filter coffee, too.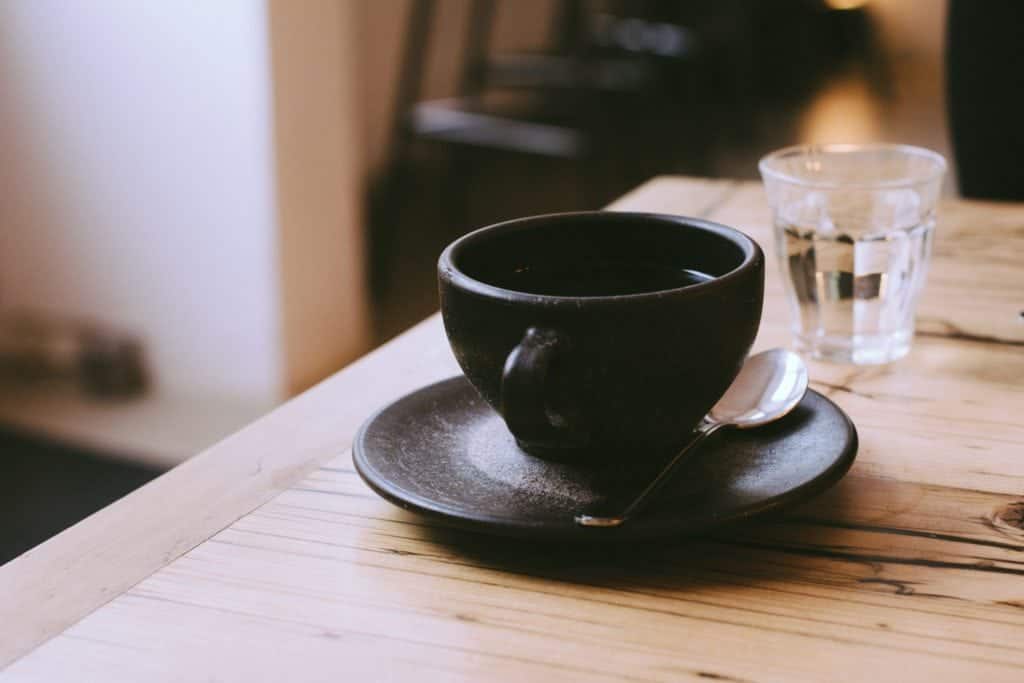 What might surprise you is that the cups are a bit funny to work with. That is because of their weight. Subconsciously, we are used to handling heavy cups made of ceramics, so it takes a bit of adjusting when handling Kaffeeform cups. The result looks great though! We love the idea of a waste being turned into a new product, and so do cafes in more than ten European countries. For example Isla, Oslo Kaffeebar in Berlin, or Hendrix Ibsen Senior in Oslo used them in their shops, other shops sell them from their shelves.
We really enjoy the fact that a cafe experience can be delivered on so many different levels. Cafes are diverse environments with specific atmosphere, and ceramics are just one part of that. We are looking forward to furthering changes in the way we serve coffee to the guests.