Indeed, the specialty coffee places in Ankara have a very short history. The ones that we visited were on average 9 months old. However, they have already made a mark on the city by educating customers according to the 3rd wave spirit, and have built up a constantly growing and loyal customer base. Each of the cafes that we visited was unique, intriguing and had the same passion for coffee and focus on specialty as the best places in Istanbul. So, not an ugly duckling at all!
F451
F451 took its name from the well-known novel by Ray Bradbury – Fahrenheit 451. However, contrary to the book's plot, nobody is burning books inside the café, you can even find a few coffee-oriented ones on the wooden shelves.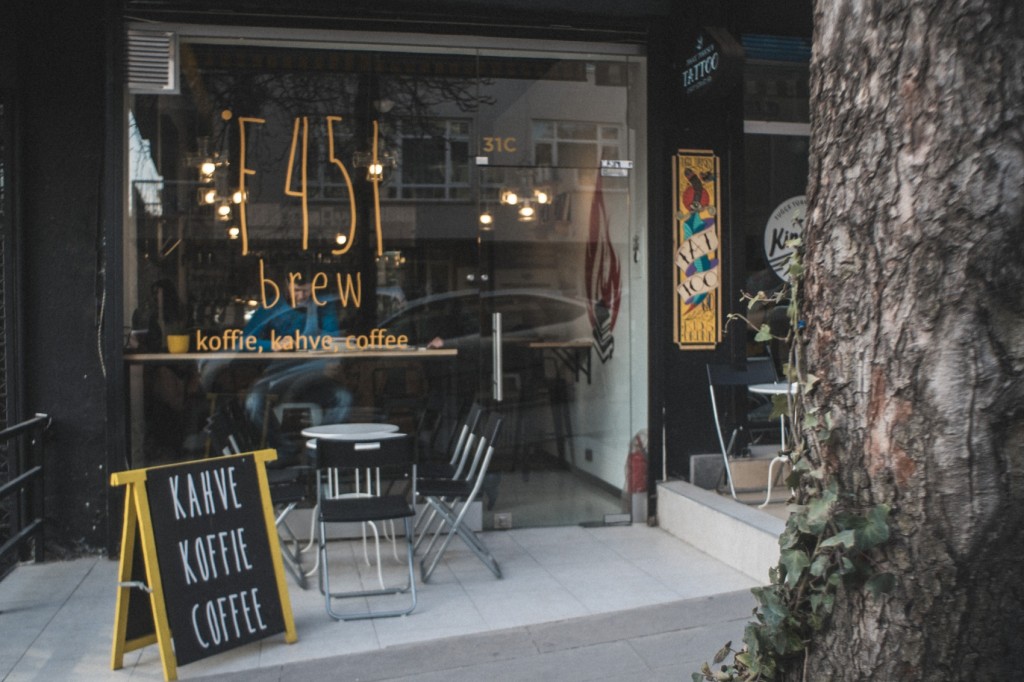 The place was established 1.5 years ago by passionate coffee lover Murat Kaymak. Murat, educated in Europe, disliked the coffee in Turkey so he decided to open up his own place, one of the first specialty coffee shops in Ankara. From that moment, together with his friend Yusuf, they brew great coffee, constantly experimenting and extending their know-how.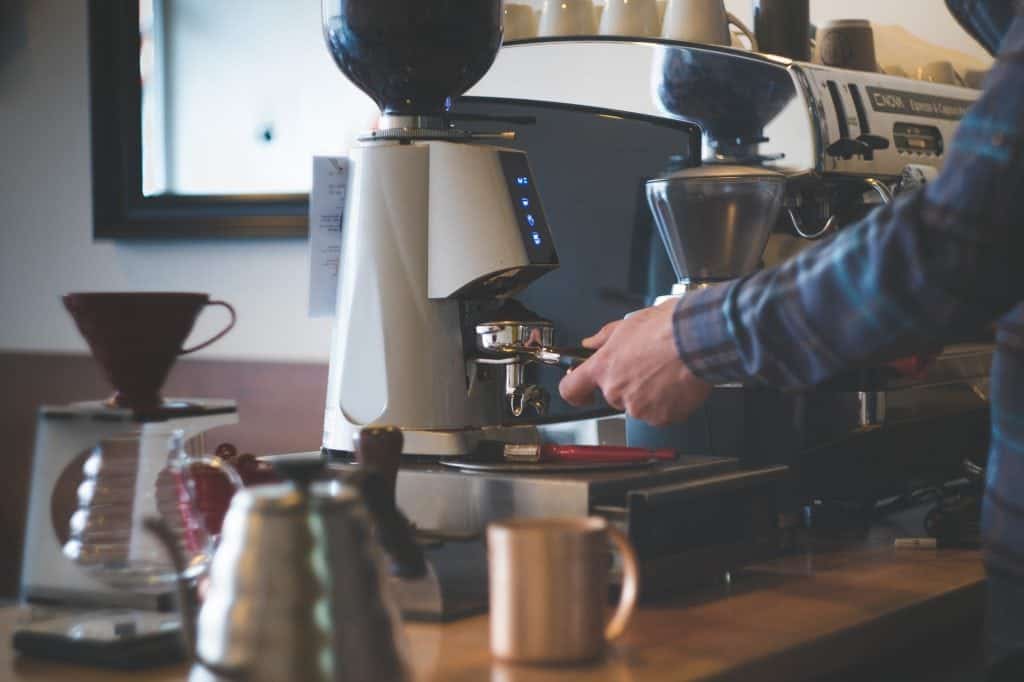 The interior of F451 is minimalistic, yet very cozy and welcoming thanks to the use of wood and warm lighting. It's a small coffee bar, where you can order both espresso-based and alternatively brewed beverages. Here you find coffee from well-known Turkish roasteries such as Coffee Manifesto, At Origin, Probador Colectiva and Coffee Department. Each week F451 has new coffee offering. That way you can always try something different.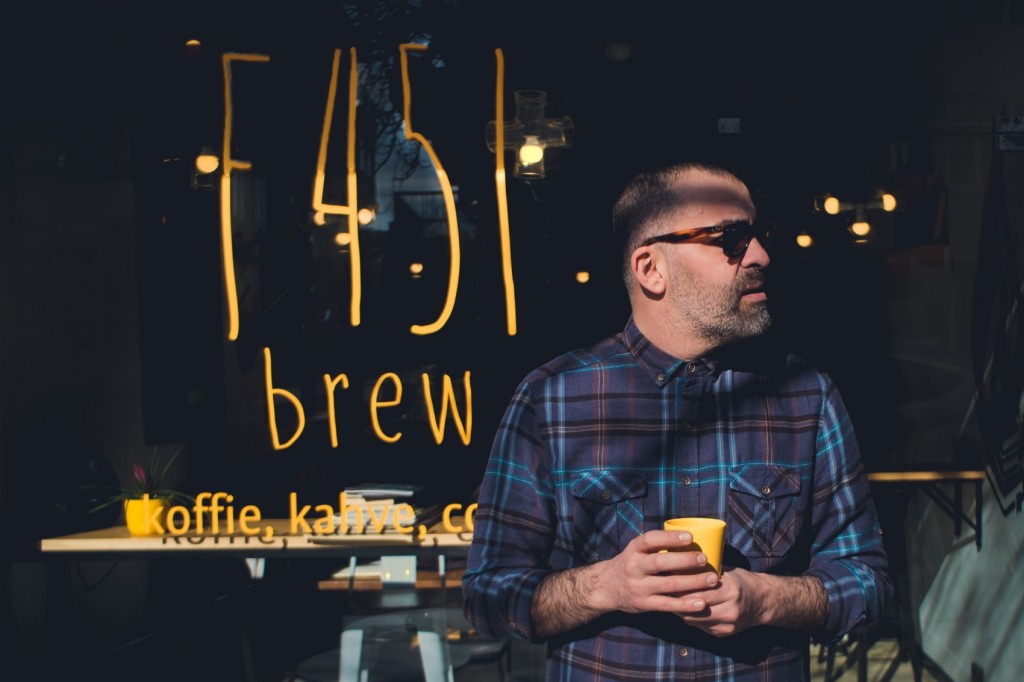 Murat and Yusuf also experiment with coffee. They make their own version of Pumpkin Spice Latte, prepared with only natural ingredients including fresh pumpkins from the local farmers. Yusuf offered us a cup of Colombian Finca Veracruz brewed in a V60. The coffee was great and smooth, with clear notes of apple and bitter chocolate. If you are in the neighborhood, you should definitely visit F451 for an amazing coffee experience!
Kavaklıdere, /c, John F. Kennedy Cd. No:31, 06680 Çankaya/Ankara, Turkey
Facebook
Instagram
PROD Coffee & Roastery
PROD is unique on so many levels that it's hard to know where to begin. It all started with Musab Ersoy, a home roaster with very simple equipment. Right after gaining enough knowledge and confidence PROD opened in Bahçeli — one of the most prominent districts in Ankara — and became a coffee atelier. When the first customers came they didn't even know how much to pay for their coffee – there was no fixed price.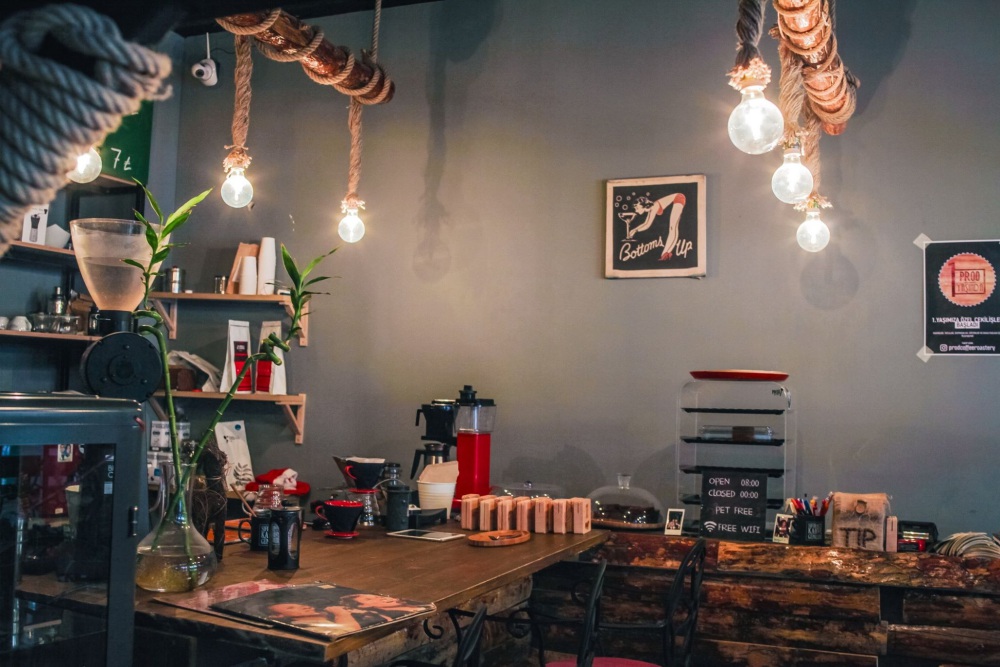 Musab and his friends, with their passion for coffee, are determined to constantly extend their knowledge. They conducted water analysis and installed a reverse osmosis system to establish their unique water profile, perfect for coffee brewing. Since then PROD moved one more time, to a place a few dozen meters away to accommodate all the equipment and events.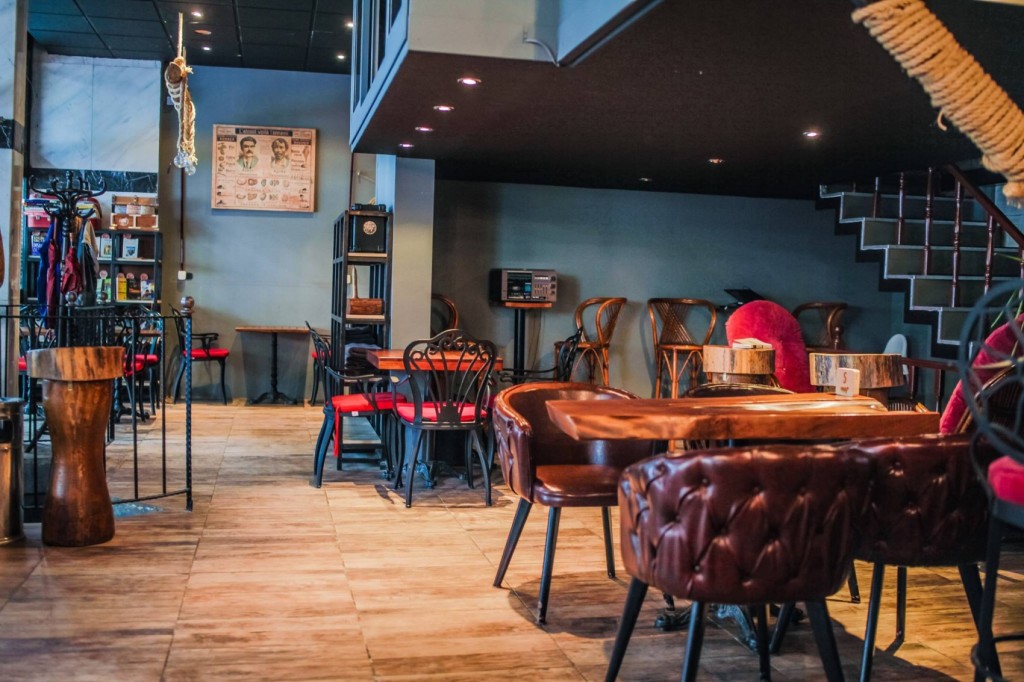 Barista champions and established roasters are invited regularly to educate the community. Musab himself took part in Turkish Aeropress Championship, however, his favorite brewing kit is V60. He even claims that he can brew a better cup of coffee using a newspaper instead of a filter paper than with any other equipment. We had the pleasure of tasting a delicious cup of El Salvadorian Peña Redonda, brewed by Sungur, PROD's head barista.
The last fascinating fact to mention about PROD is the possibility for you, the customer, to brew a coffee there yourself! You can use the equipment and even ask the team to give you tips and provide guidance.
Bahçelievler, 49. Sk. No:14, 06490 Çankaya/Ankara, Turkey
Facebook
Instagram
ROR Cafe & Roastery
ROR took its name from the essential coffee roasting term "rate of rise". Upon entering we notice that it won't be so easy to find a spot to sit as the cafe is crowded — always a good sign. We couldn't believe it when the owner Alper Larçın told us they had opened only 7 months before.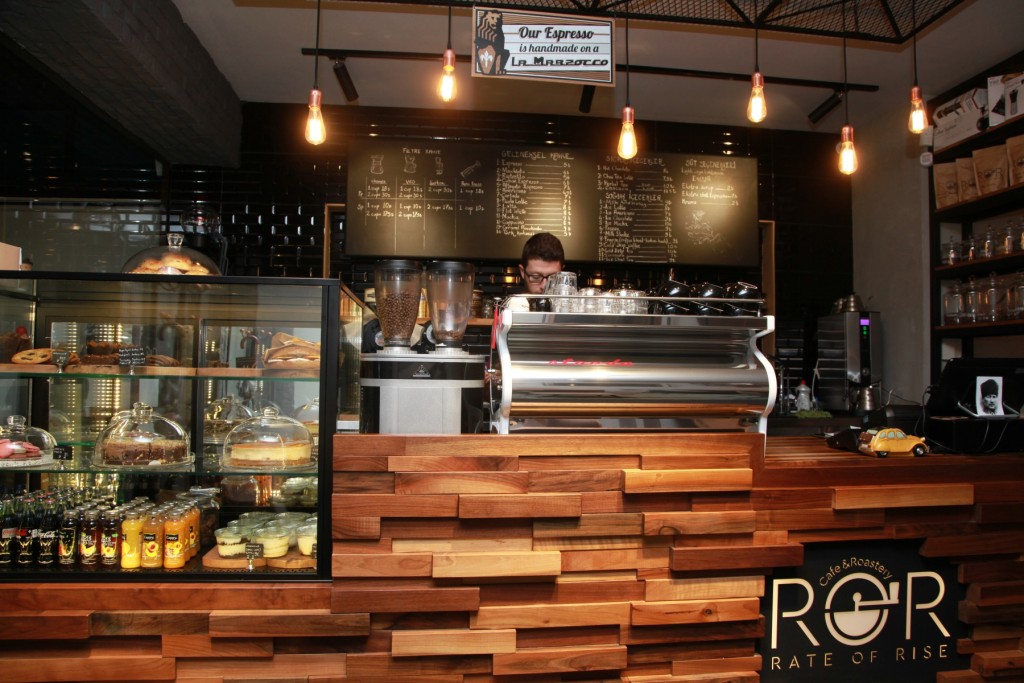 Alper has worked in the industry for several years, gaining a lot of knowledge and experience, culminating in barista and roaster certifications. ROR is about to roast their own coffee, but for the moment they use Baristocrat's roast, done according to Alper's roasting profiles.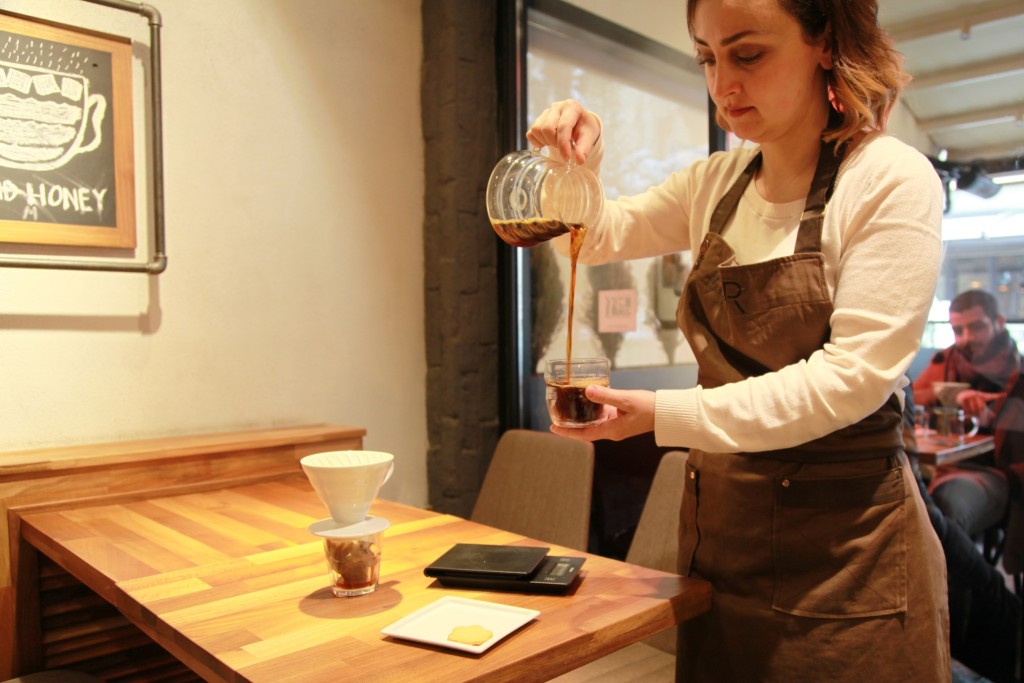 There were 14 different coffees available during our visit, not only were they of premium quality but some of them were exceptional. The Panama Esmeralda Geisha was a stand out, winning the cup of excellence award with a score of 97. We tasted this brewed in a Chemex by an experienced barista Mahmut.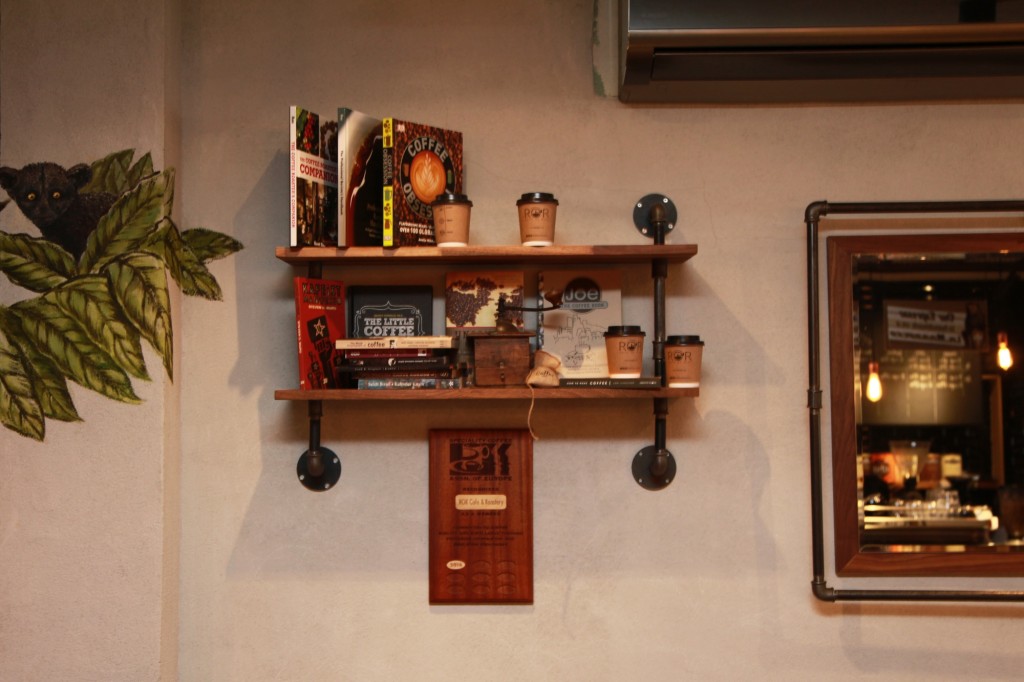 Alper brewed the coffee in a mesmerizing, artisanal way not forgetting to check the TDS at the end which, of course, was perfect. Alper personally trained Mahmut and the other baristas at ROR. He is planning to open a coffee academy in the coming weeks for which we keep our fingers crossed!
Before we got to taste the excellent single origin espresso from Antigua, Guatemala, Mahmut convinced us to try ROR's desserts – Magnolia Banana Pudding and Tiramisu – and let's just say that it was extremely hard to focus on anything else for the next 15 minutes since they were absolutely delicious.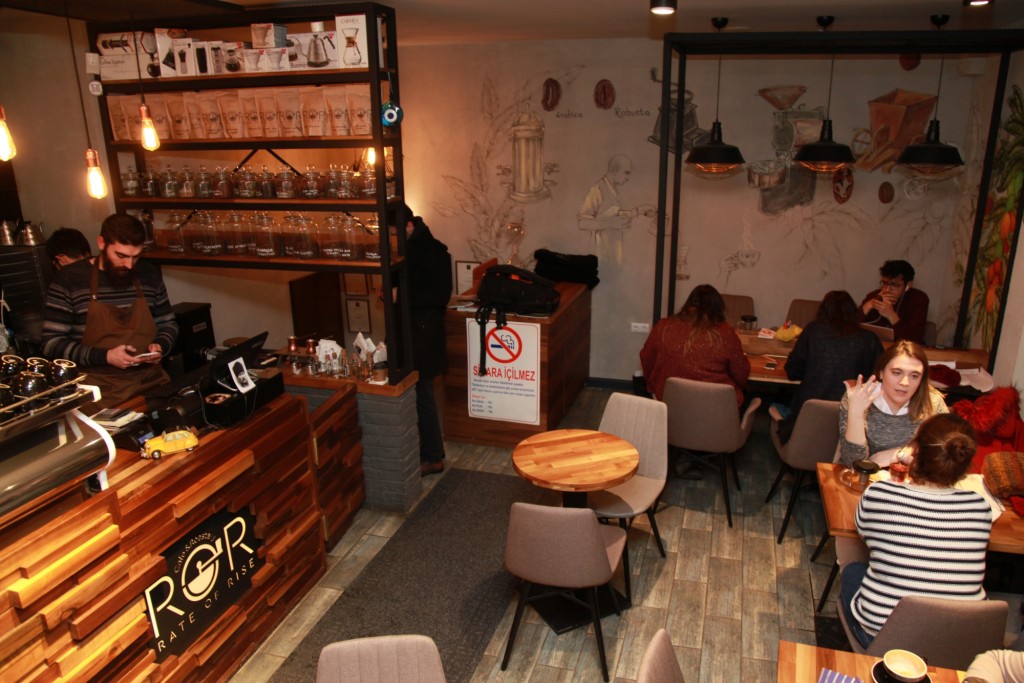 When we finally came back from heaven, Mahmut told us that he and the other staff members ask regular customers about the satisfaction from the served coffee so they can adjust the brews individually for the next coffee experience. ROR's first café is already a great success and Alper plans to open a 2nd one in Ankara soon. We can't wait to check it out!
Yukarı Bahçelievler, Bahçelievler 70.Sokak No:17/A, 06490 Çankaya/Ankara, Turkey
Facebook
Instagram
Rispetto Coffee Co.
Rispetto wasn't officially on our list but it was recommended as "a must visit" coffee place by the people we met in the previous cafes. How could we say no? As soon as we entered we understood the enthusiasm surrounding Rispetto.
The owner, Nihan Aytar, welcomed us with a huge smile and immediately we forgot the terrible weather in Ankara and all the problems and frustrations we might have had. The café is designed in a very tasteful and cozy way, with great attention to detail. Nihan created a refuge in the middle of the crowded and busy district Bahçeli, where everyone can feel at home and enjoy great coffee.
Nihan is a food engineer and after careful research and months of educating herself she finally decided to live her dream and open a café. The name took its inspiration from one of the key values of the 3rd Wave Coffee movement – respect.
You can really feel that spirit when observing Nihan at work since she cherishes every bean and every part of the brewing ritual. With Nihan we didn't conduct a regular interview but it was more of a conversation with a person who is truly passionate and knowledgeable about coffee.
Nihan mostly cooperates with Turkish roasteries such as Probador Colectiva and Baristocrat but also gets coffee from other European places such as Five Elephant. We tried one of her favorite coffees, Ethiopian Tchembe 90+ brewed in a V60. It was smooth with vivid, fresh notes of ripe fruit. Nihan also offers freshly baked sweets made by her aunt. You should definitely try them to truly feel at home.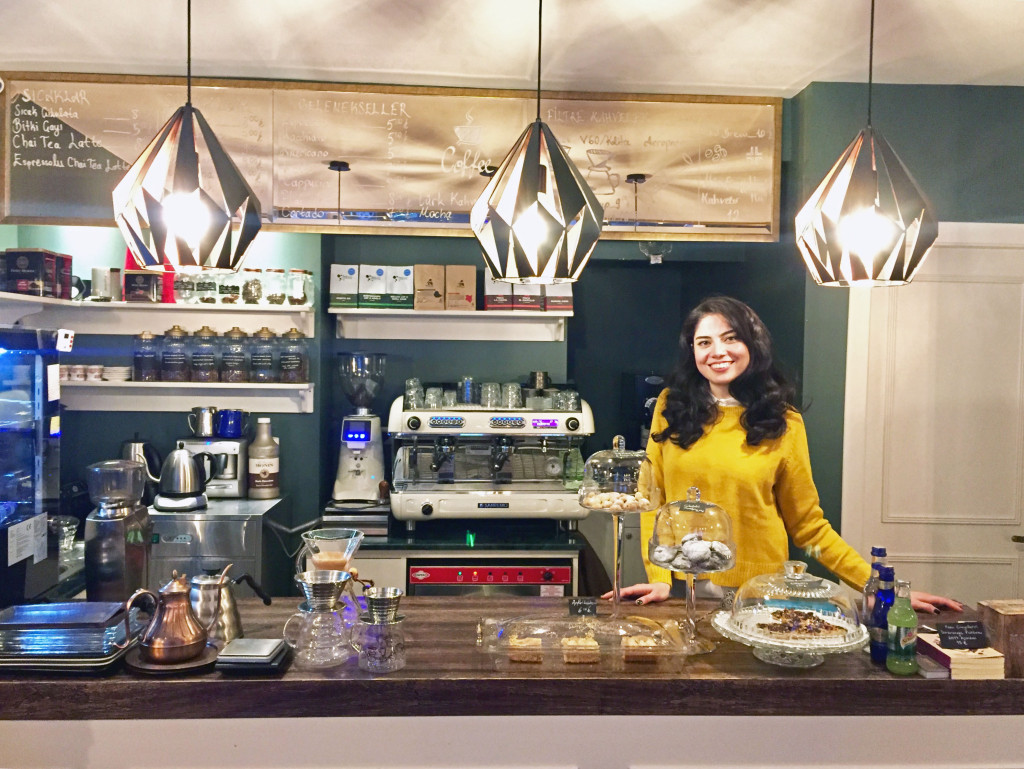 Yukarı Bahçelievler, 59. Sk. No:15, 06490 Çankaya/Ankara, Turkey
Facebook
Instagram
As you can see, great and passionate people create the specialty coffee scene in the capital of Turkey. More and more places are opening each month and thanks to their educational efforts we are sure that the quality will be equal to the European standard. Make sure that you check out the recommended places while paying a visit to Ankara.
The whole article wouldn't be possible without my dear friend Enescan Karaer who helped with navigating around Ankara and translating the conversations during the visits. A big thank you also to all the great people who hosted our coffee adventure in Ankara, we wish you all the best and can't wait to meet you again!
Łukasz Gałęcki is a coffee lover and social media geek who happens to be a soft skills trainer and a biotechnologist – in a nutshell: a creative skeptic.