Since April 2017 until February 2018, my partner and I ran a small coffee shop in Glasgow called Buchta – Speciality Coffee & Cakes. Returning back home to the Czech Republic, we wanted to share the best of Glasgow with the rest of the coffee lovers out there.
But how to put together a list that would be a fair representation of the coffee culture in the city? We knew that our own opinion of the best coffee shops may be biased. And as taste is a very subjective matter, not to mention it is a highly sensitive topic to discuss sometimes, we decided to approach this as fairly as possible.
We asked 8 speciality coffee figures of Glasgow to select 7 of their favourite shops in the city and added their opinions to ours. Put together, this selection then gave us the 'top ten' coffee shops of Glasgow, the third biggest British city.
It All Started Here
The hidden treasure of the Southside. Owner of the IASH, William Heenan, is a proper coffee geek that loves his craft. Newly open from Tuesday to Sunday, this coffee shop always competes for the best espresso in town accompanied by in-house baked goodies. William rotates coffee from the best roasters of both the UK and Europe and he knows how to get the best from them.
75 Deanston Drive, G41 3AQ, Glasgow, United Kingdom
Website, Facebook, Instagram, Twitter
Laboratorio Espresso
This compact espresso bar is like a place from a different world in the Glasgow city centre. Design of the shop and coffee here is equally amazing. It has more seats outside than inside, its taller than wider and its combination of concrete and wood has no comparison in other Glaswegian coffee shops. You can expect well known European coffee beans on espresso and filter as the Barn, La Cabra, Five Elephant and others.
93 W Nile St, G1 2SD, Glasgow, United Kingdom
Facebook, Instagram, Twitter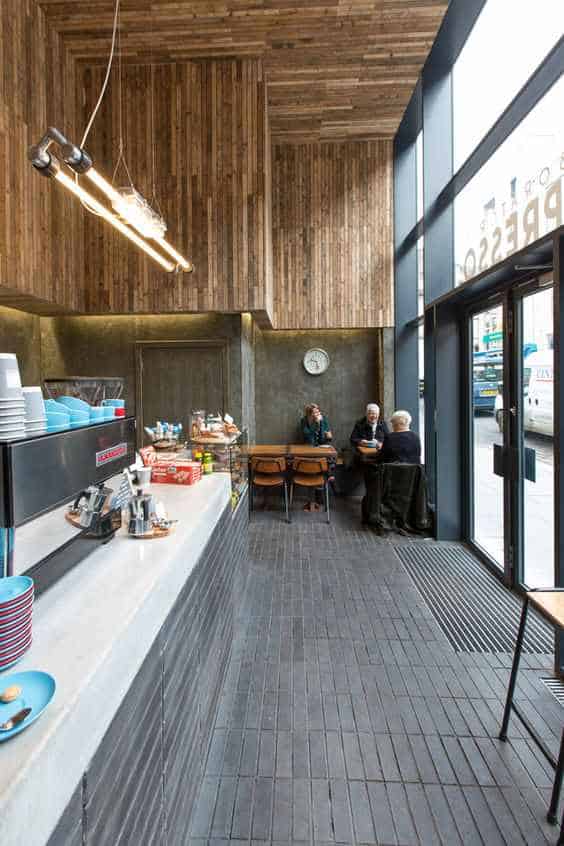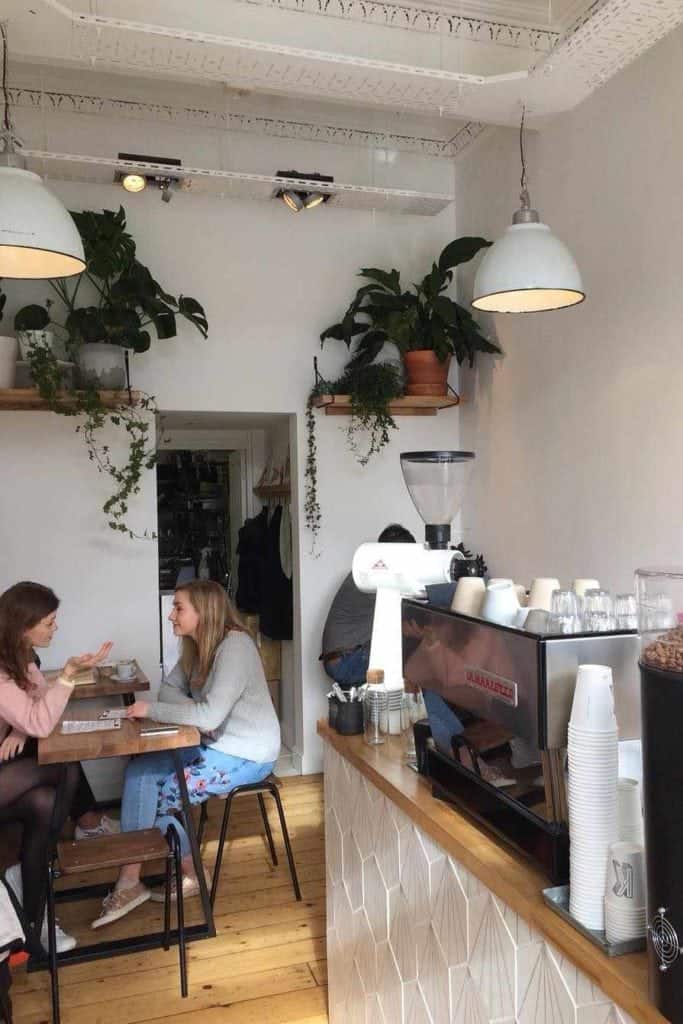 Kaf Coffee
Small, neat, full of light. That is Kaf Coffee, another multi-roaster shiny coffee shop in the Partick area, built with a Scandinavian style in mind. They also bake great treats, we will always remember their brownies. If you are hungry, order their famous Scandi plate.
5 Hyndland St, Glasgow G11 5QE, United Kingdom
Website, Facebook, Instagram
Papercup Coffee Company
With the years of a constantly full coffee shop, Papercup has already gained the status of a speciality coffee institution in Glasgow. It is sometimes hard to get a seat at this famous independent cafe, but if you succeed, order a cup of their own roast, perhaps with a tasty breakfast to come with it. The Papercup is famous for the brews as well for constantly delivering one of the best pours in your milky coffees in the whole Glasgow. If you want to enjoy their coffee on its own or perhaps with an amazing banana bread, in a peaceful environment, take the opportunity to sit down at their new roastery, hidden in a lane not far from the original shop.
Cafe – 603 Great Western Rd, G12 8HX, Glasgow, United Kingdom
Roastery – 12 Belmont Ln, G12 8DU, Glasgow, United Kingdom
Facebook, Instagram, Twitter
The Good Coffee Cartel
Take the subway from the city centre and get off at Kinning Park, there you will find the newest speciality coffee roastery in Glasgow. The owners Courtney and Todd always serve a spot-on coffee. If you are looking for an opportunity to learn more about coffee you would not find a better place in the city than here, where the owners are always open to chat about it, answering all your questions.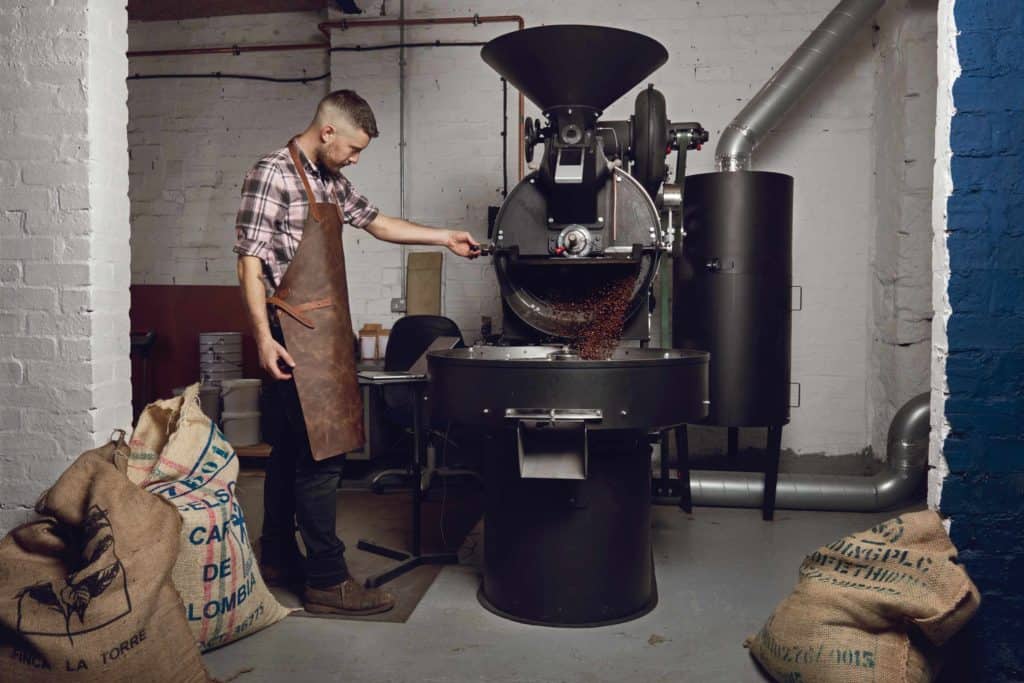 12 Cornwall St, G41 1AQ, Glasgow, United Kingdom
Website, Facebook, Instagram, Twitter
Thompson's Central Cafe
Thomson's Central Cafe is a unique independent space with a bar, a stone-baked pizza, a coffee shop that seats around 60 people, and an artisan roastery with a training centre for wholesale and consumer coffee lovers. Located in the space of the Arches under the Central Train Station in Glasgow, it is the home of the oldest coffee roastery in the city. The roastery got recently into small-lots, speciality coffee scene by storm. If you are in need of a coffee while you wait for a train in Glasgow, it is the place for you.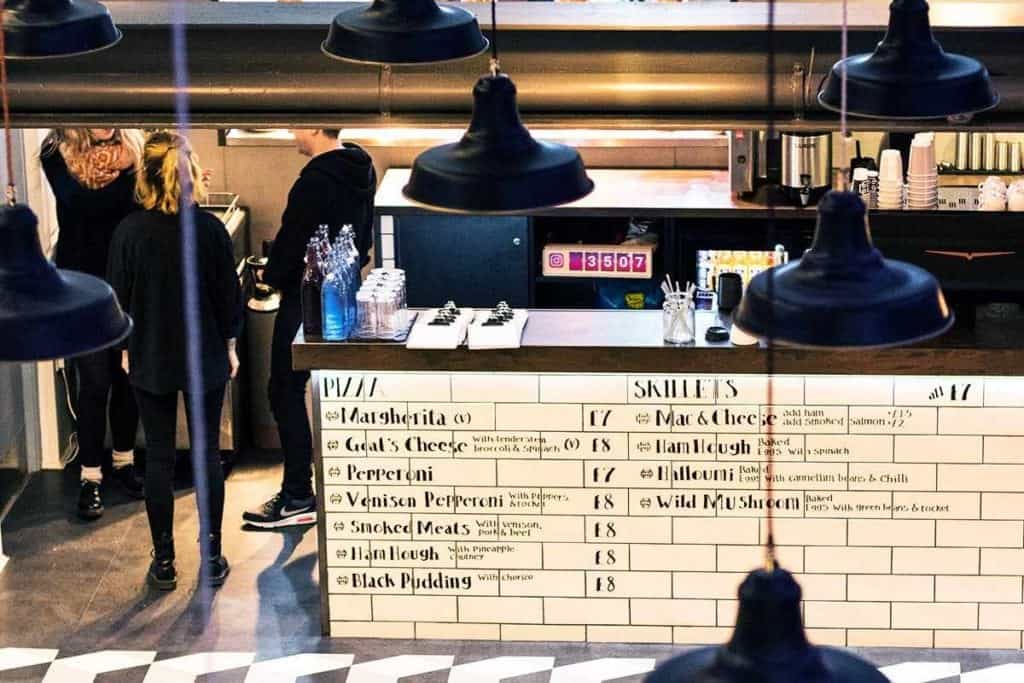 253 Argyle St, Glasgow G2 8DL, United Kingdom
Website, Facebook, Instagram, Twitter
The Black Pine Coffee
"Death before decaf," says the neon sign above the tables at The Black Pine Coffee. But don't worry, this place is not run by coffee fanatics who do not give you a sugar or milk (and they do have decaf). Pete Duthie, the owner, is always a welcoming guy who runs this nice quiet coffee shop just a few steps away from Papercup. We asked him about the interesting name of his shop and he simply answered that he likes trees and mountains. Simple, friendly place with great coffee, that summarizes the shop well. If you prefer nice and quiet coffee shops over the buzzing ones, The Black Pine Coffee may be the right choice for you on Great Western Rd.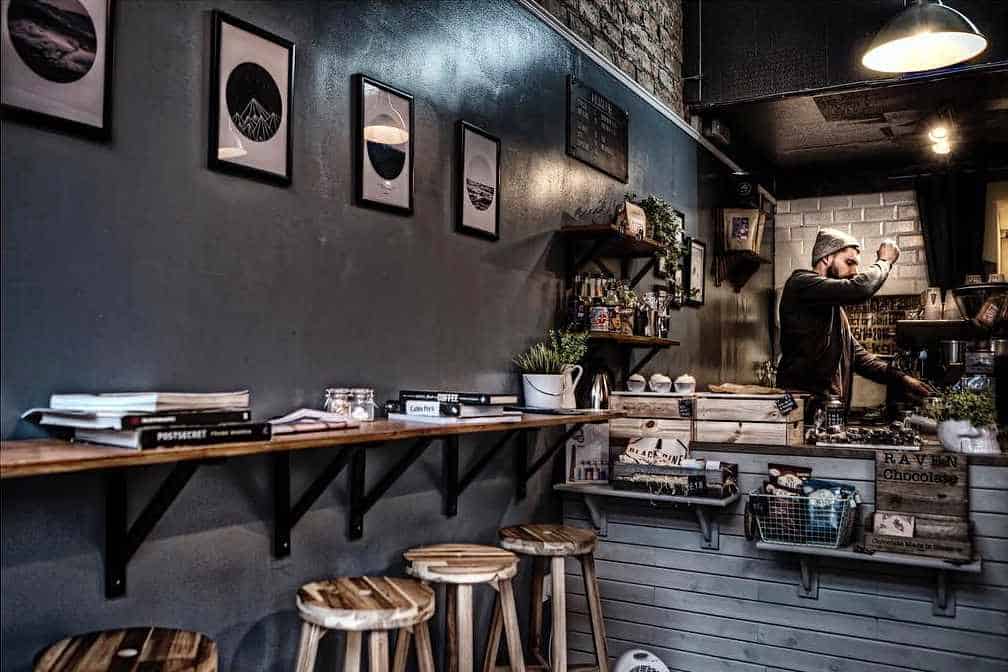 518 Great Western Rd, Glasgow G12 8EL, United Kingdom
Website, Facebook, Instagram, Twitter
The Cran
The Cran focuses on great vegan and vegetarian food, cakes and great coffee. The coffee from The Good Coffee Cartel is spot on as the owners previously worked at the best Glaswegians speciality coffee shops and competed in the UK Barista Championships. The Cran's cosy interior designed as a ship deck refers to the history of the part of Glasgow where ships would be built in the past. It also hosts many artists and pop-up vendors, so the chances are high you find something unique here every time you visit Finnieston quarter.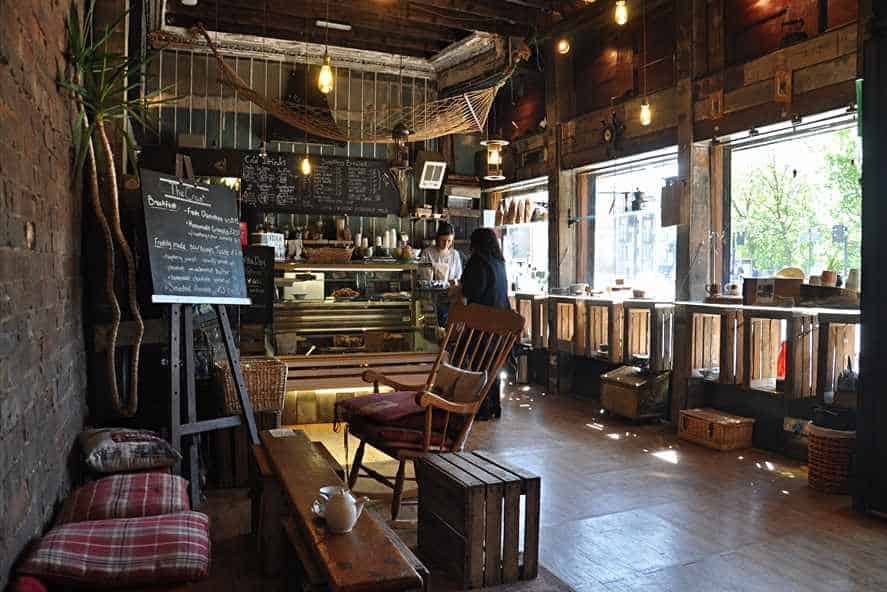 994 Argyle St, Glasgow G3 8LU, United Kingdom
Website, Facebook, Instagram
The Steamie
The Steamie is another nice coffee shop in the Finnieston. They serve their own unique roasts that are worth trying. The cafe located just a few meters from the Cran has got a chilled and relaxing atmosphere. The compact space does not have any bar or counter between you and the baristas. This creates a unique atmosphere where you may feel like in a cosy living room of your friend. It is so homey that you have to love it on the first sight.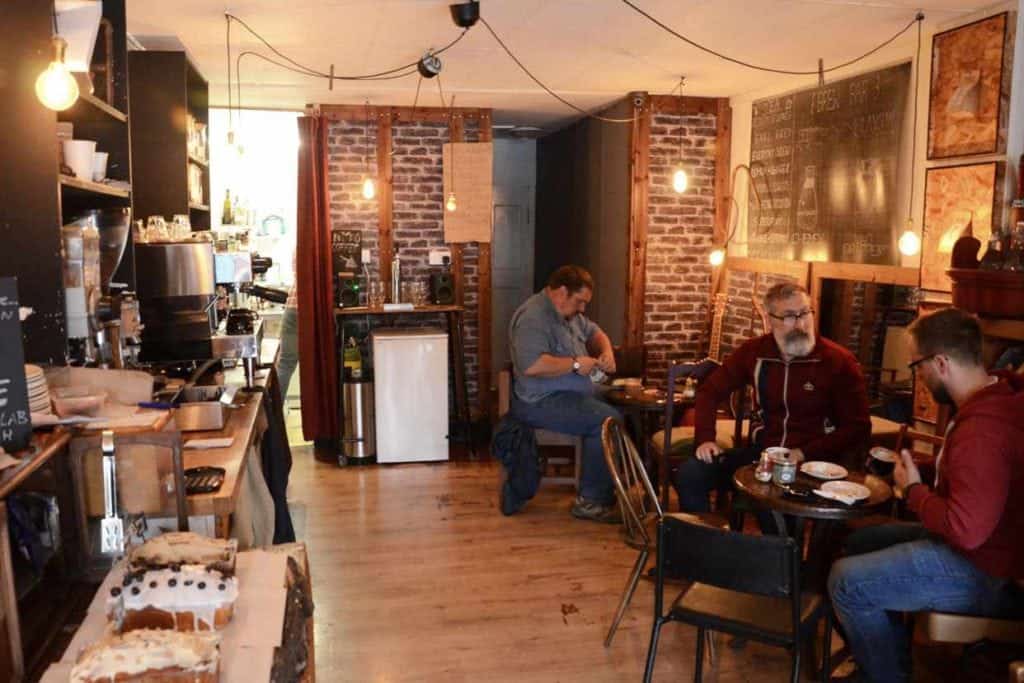 1024 Argyle St, Glasgow G3 8LX, United Kingdom
Website, Facebook, Instagram
Spitfire Espresso
This rock-and-roll cafe run by Danny, a great smiley guy from New Zealand, is located in the Merchant City. Spitfire Espresso is famous for their bagels, and often, they serve their amazing cold brew, made in-house. Spitfire Espresso is also the only coffee shop in Glasgow where you can enjoy a pint of craft beer. This is not as common in the UK as it is in the continental European countries.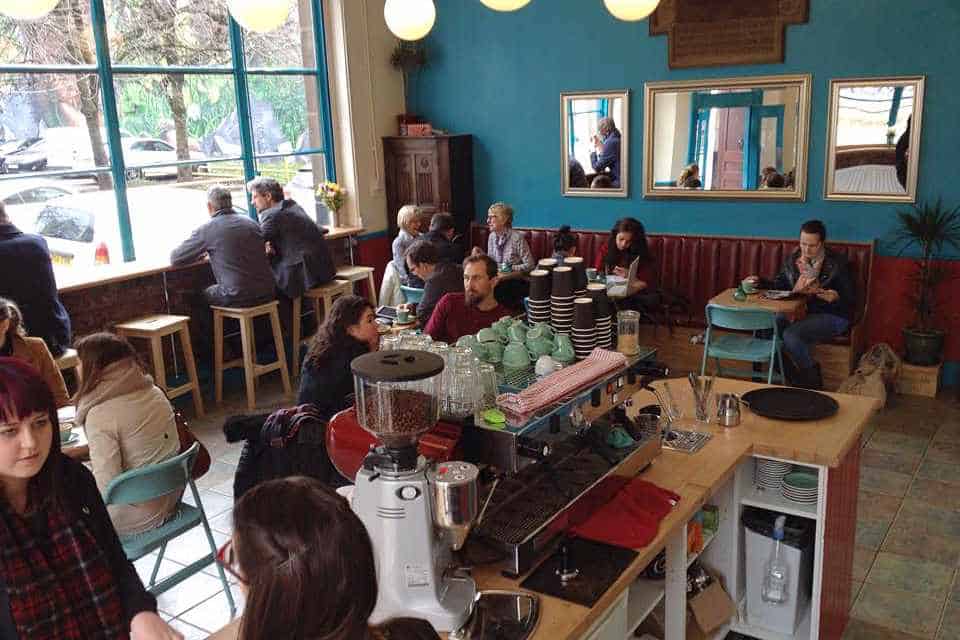 127 Candleriggs, G1 1NP, Glasgow, United Kingdom
Website, Facebook, Instagram
Some of the other cafes mentioned by the Glasgow coffee pros did not make it to our top ten as the list would be way too long. But we would like to invite you to make your own opinion of those, once you visit the city. Author's personal favourites are Primal Roast and EAST. A go-to spot for an oat flat white is The Kelvin Pocket. Other cafes you should give a shot are Short Long Black, Artisan Roast, Willow Grove, For Fika Sake, McCune Smith and Meadow Rd while Dear Green Coffee Roasts are popping up around the town sometimes, too.
PLACE — CAFE — MENTIONS
1st-2nd — It All Started Here — 9 mentions
1st-2nd — Laboratorio Espresso — 9 mentions
3rd — KAF — 8 mentions
4th — Papercup Coffee Company (both cafe and roastery) — 7 mentions
5th — The Good Coffee Cartel — 5 mentions
6th — Platform by Thompsons — 4 mentions
7th-8th — The Black Pine Coffee — 3 mentions
7th-8th — The Cran –3 mentions
9th-10th — The Steamie — 2 mentions
9th-10th — Spitfire Espresso — 2 mentions
Both It All Started Here and Laboratorio Espresso got honourable 9 mentions from our colleagues. Thus, they share the first and the second place. This is also the case of the last two spots in the chart.
Meet your 'Top Ten Glasgow Cafes' jury
Darryl Docherty – the owner of Short Long Black is also the semifinalist of the 2017 UKBC
Ewan Osprey Allan – a Q-grader and the owner of Osprey Coffee Consultancy
Gillian McIntyre – the owner of Something Brewed and The Cran
Katerina Olivova – the owner of now-closed Buchta Coffee
Kris Sandan – the head barista at Papercup Coffee Company
Lisa Lawson – the owner of the Dear Green Coffee Roasters, the director of the Glasgow Coffee Festival
Michael Rennie – the head barista at Thompsons Coffee Roasters
Pete Duthie – the owner of The Black Pine Coffee
Tomas Niederle – the owner of now-closed Buchta Coffee, the author of this article
William Heenan – the owner of the It All Started Here