No doubt that Lyon, the gastronomical hub of France, has a lot to offer when it comes to the specialty coffee scene. Mokxa, the city's first specialty coffee roastery, has taught its knowledge to the most of southern France. Also concepts of larger coffee shops have found their place in Lyon and welcome students as if they were Melbournians. However, besides the classics, Lyonnais can nowadays find good coffee also in places they may not expect it.
The following cafes were incorporated into another business' concept. Thus, they welcome a wider customer base and open the world of specialty coffee to a new group of coffee drinkers.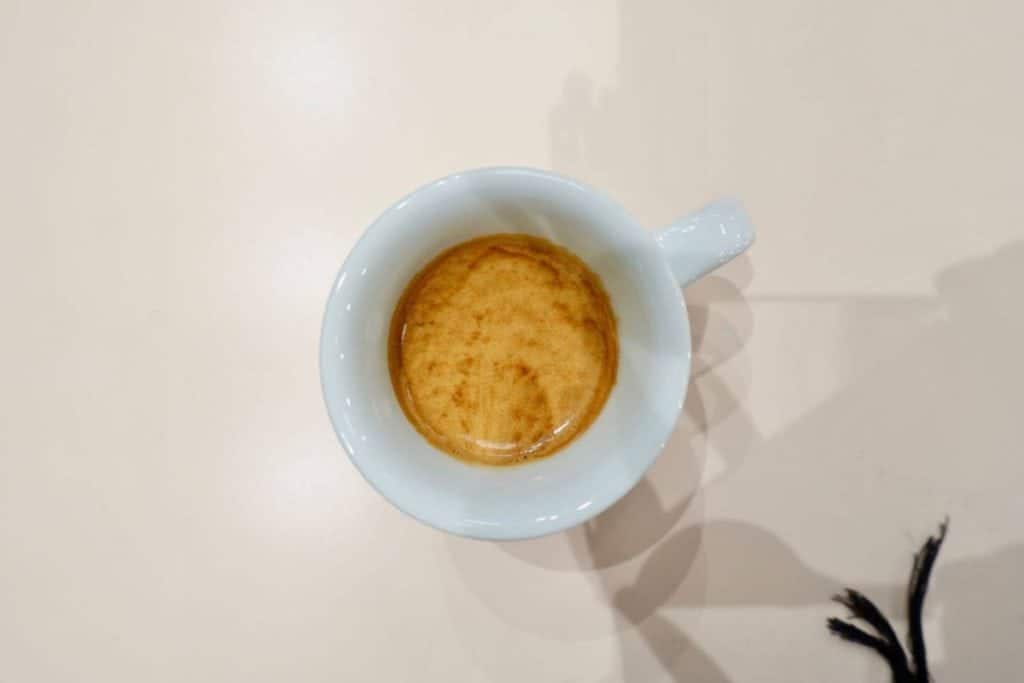 SLIKA is a local gallery serving specialty coffee to lure more guests in. KAOVA Café and Signé Extrait craft fine French pastries as an equal métier to their specialty coffee offering. Lastly the Away Hostel is more than just a hostel. It accommodates a white La Marzocco serviced by skilled baristas.
SLIKA
First of all SLIKA is a small local gallery, opened by Jeremie Masurel in 2014. He is focused on work inspired by graffiti of street artists. The exhibition of urban art ranges from paintings to serigraphs. Jeremie's second passion, after art, is coffee.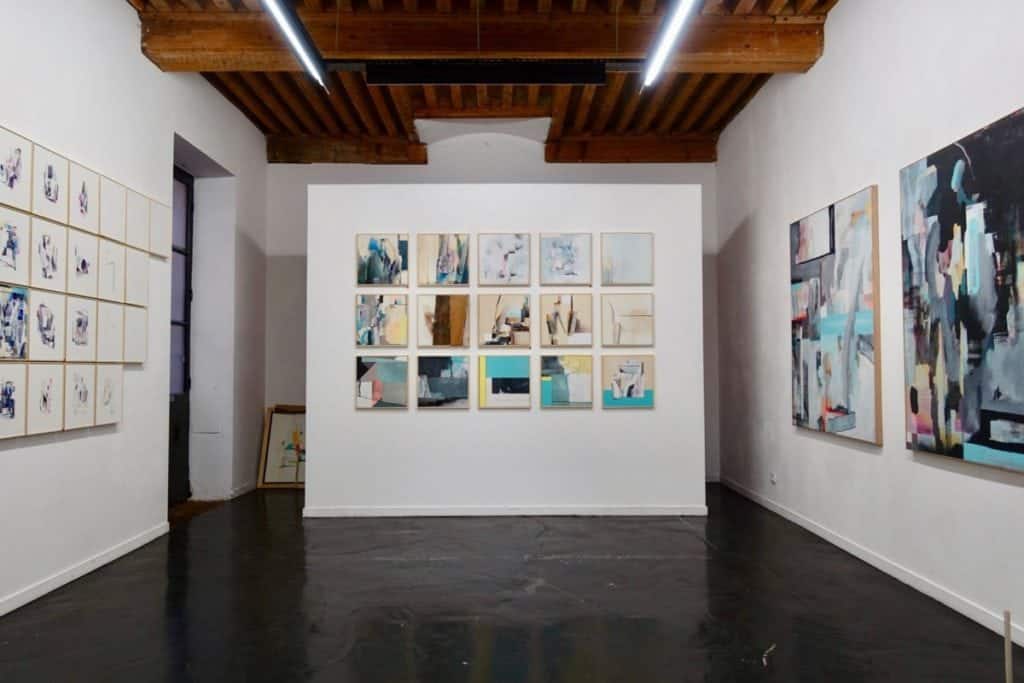 Mokxa's café in Lyon, La Boîte à Café, was where he first got to know this specialty. He quickly turned into a regular. So when he opened his gallery, coffee became part of it. He knew that many people don't casually enter a gallery, however they do enter a coffee shop. That is why the entrance room of SLIKA Gallery is actually a cozy little coffee shop serving pastries and artistically brewed coffee.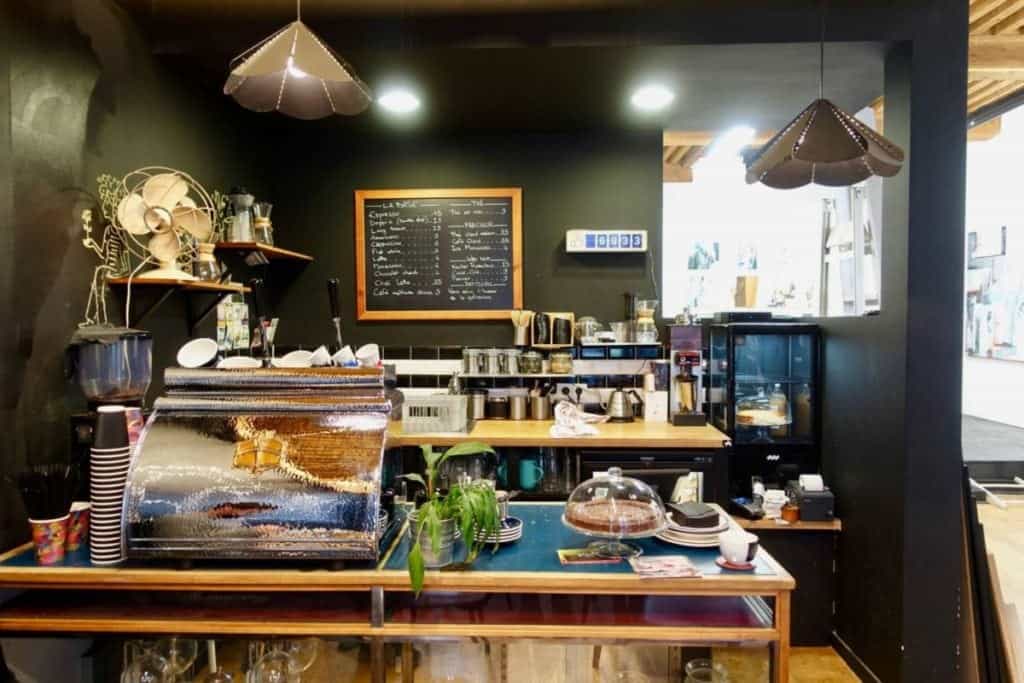 Jeremie works together with the local roasters from Placid and changes the roasts weekly. His main focus is on espresso drinks, however he does offer V60, Aeropress and Chemex as filter methods. SLIKA is a calm and relaxed place. It's perfect to work a bit, just get some time-out or admire the gallery next door. The art doesn't end with the paintings. A shiny silver Victoria Arduino espresso machine complements the rest of this cafés interior with flair. It takes some time to make a perfect flat white on this hand-held lever machine, but that is what Jeremy is here for.
37 Rue des Remparts d'Ainay, 69002 Lyon, France
Website, Facebook, Instagram
KAOVA Café
Not far from the gallery coffee shop you will find KAOVA Café. It sits quite alone on the neighborhood street of Rue Jangot in Lyon's diverse 7th district. Here you will enter a clean, bright and slightly fancier coffee shop with peppy acoustic music.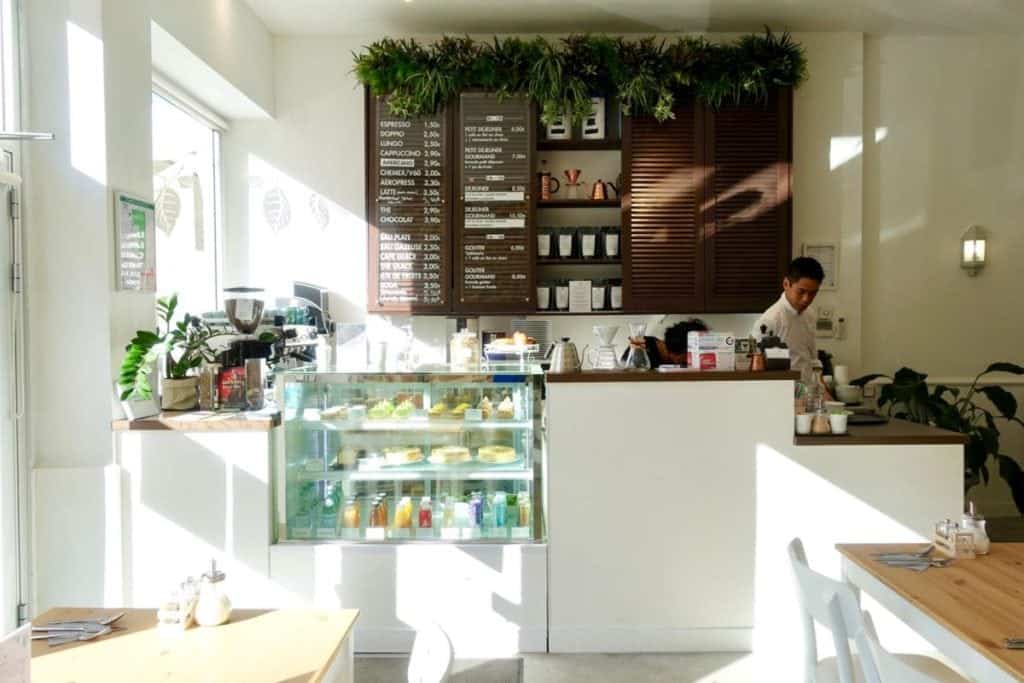 Pascal Roussin and Florian Kleffer opened KAOVA in January of 2017. Pascal had lived in Paris before, which is where he first came upon the palatable taste of coffee at Coutume. Florian formerly worked in quality management but was just as intrigued by specialty coffee as well as fine pastries. At KAOVA, it is Florian who crafts flaky croissants, lemon-yuzu tartelettes with coconut meringue or a "Paris-Brest" choux pastry with praline and hazelnut cream.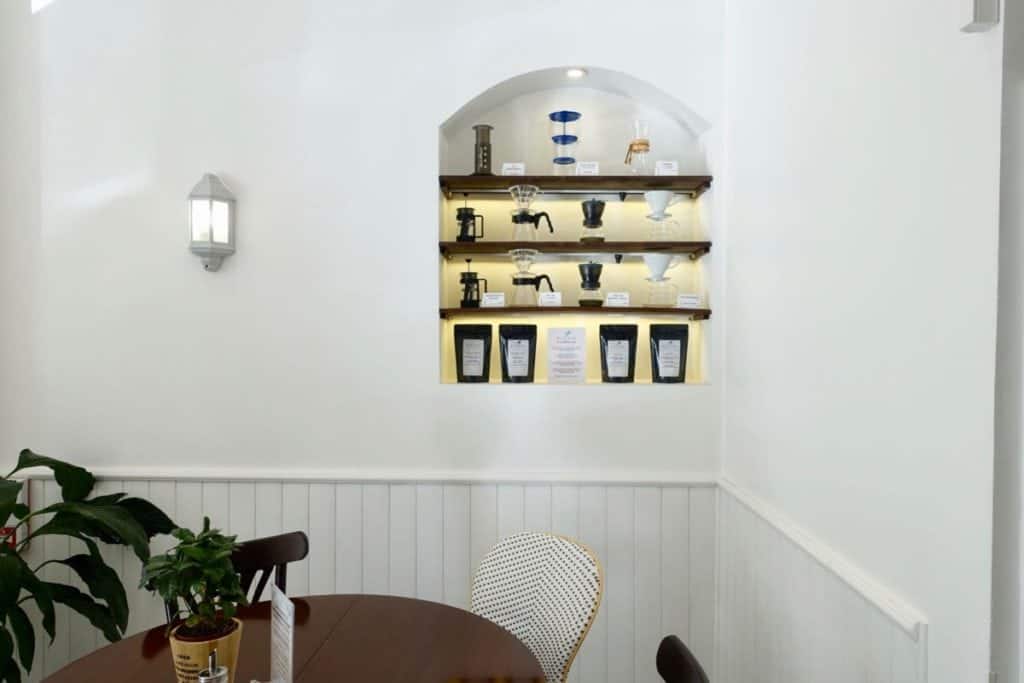 Pascal is in charge of the coffee side of KAOVA. In the back room he develops four light-roasts, all single-origin, that change during the year. Most can be used for both espresso and filter coffee, however every week he chooses one for all espresso based drinks in the café. For the filter coffees – Chemex, AeroPress, V60, or French Press – you are free to choose your preferred roast and method.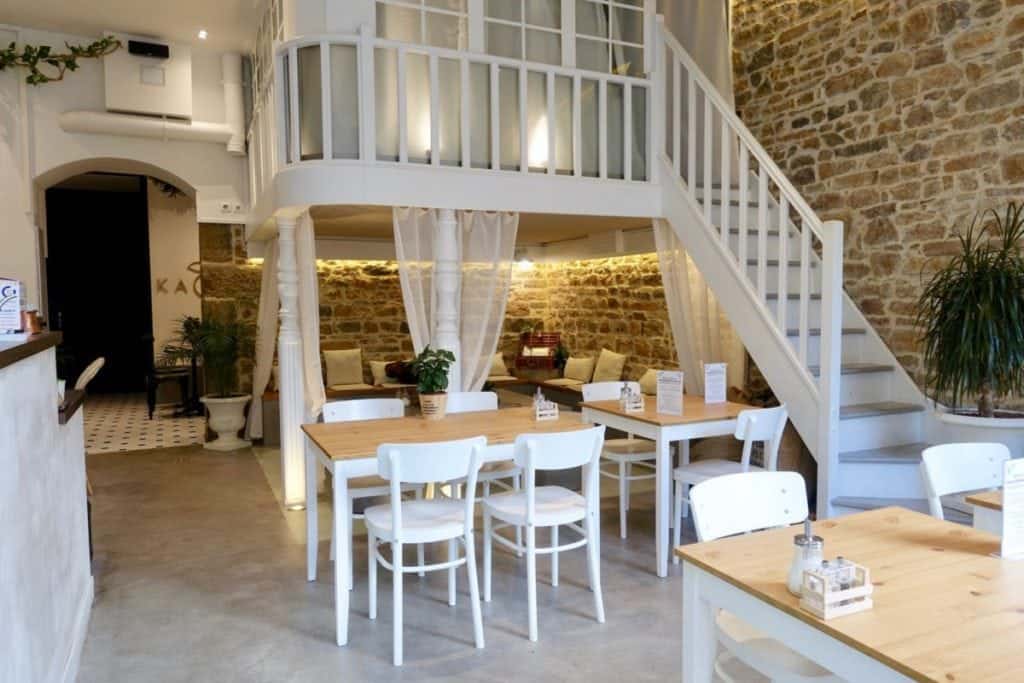 KAOVA is easily overlooked in Lyon's coffee scene, however it should not be. This café and patisserie brightens up the diversity of specialty coffee and presents the craft in a fancier manner than most other places. I recommend tasting a Lyonnaise classic like the Brioche au Praline Rosé with your fruity coffee. Thus you won't miss out on local treats when immersing yourself into specialty coffee in Lyon.
3 Rue Jangot, 69007 Lyon, France
Facebook, Instagram, Twitter
Signé Extrait
Signé Extrait has many similarities to KAOVA Café but feels completely different. Next to being a professional French patisserie, it is also a specialty coffee roaster. However, at the first glance it doesn't appear to be a third wave coffee shop. This is part of their concept, which is to introduce unassuming locals and business people to the specialty coffee. The small café in the middle of downtown isn't designed to lure hipsters inside. In contrast, it shines like a functional Italian café where you come for a short stay.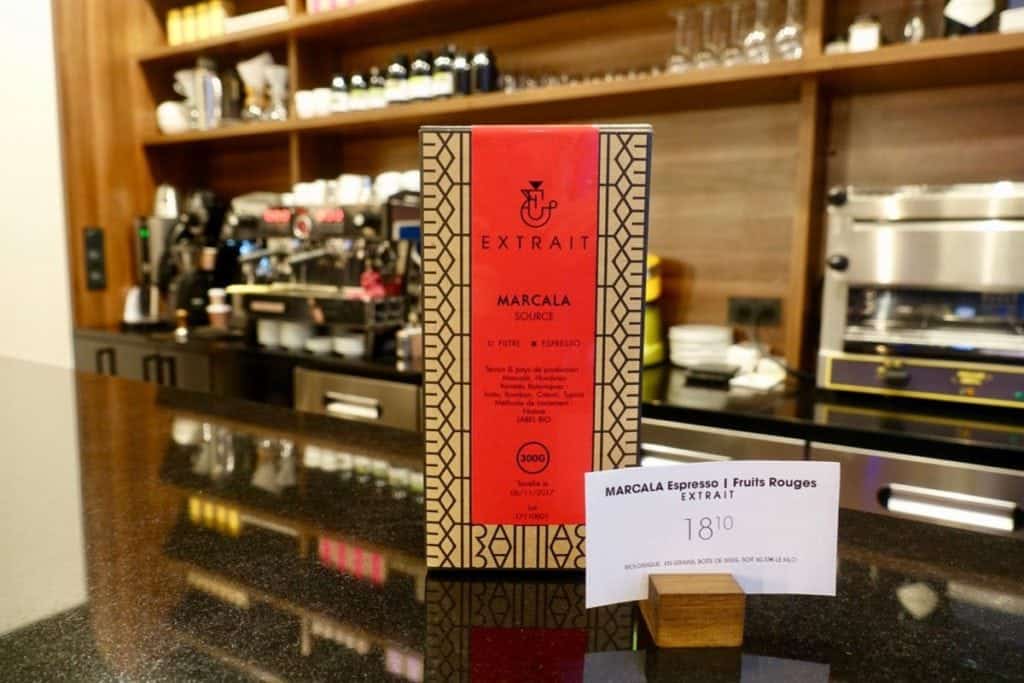 Aurélien Thiéchart-Dumonteil and Fabien Zucconi opened this spot in 2014. Fabien had gained over ten years of experience in haute-cuisine before opening Signé Extrait. He was a chef at the three starred Michelin restaurant Maison Pic. One day he visited La Réunion, one of French overseas regions and an island in the Indian Ocean, and got introduced to specialty coffee on a local farm there. Now he is the pastry chef and specialty coffee roaster at Signé Extrait.
They offer six different roasts, and present them in colours that represent their flavour profile. The orange for example has aromas of citrus fruits. It works best for filter coffee. The blue one reminds of spices like cinnamon, vanilla, and pepper and is best in espresso drinks, AeroPress or French Press.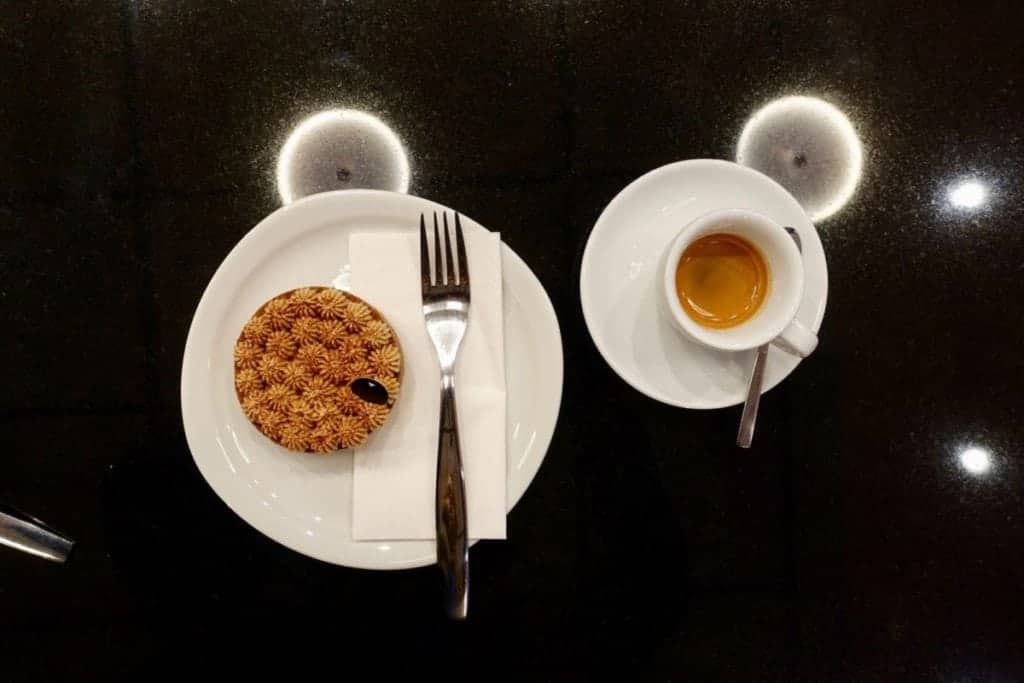 Even if you're not carrying a briefcase or wearing heels, bustling downtown, and in need of caffeine that suits that style – don't dismiss Signé Extrait when walking by. Here too you will experience specialty coffee in a different manner, without missing out on the French finesse.
21 Rue Ferrandière, 69002 Lyon, France
Website, Facebook, Instagram
Away Hostel & Coffee Shop
This modern hostel is a hotspot in Lyon's hip and hilly district Croix Rousse. Not only is it a neat place to stay, but many people come here just for the café.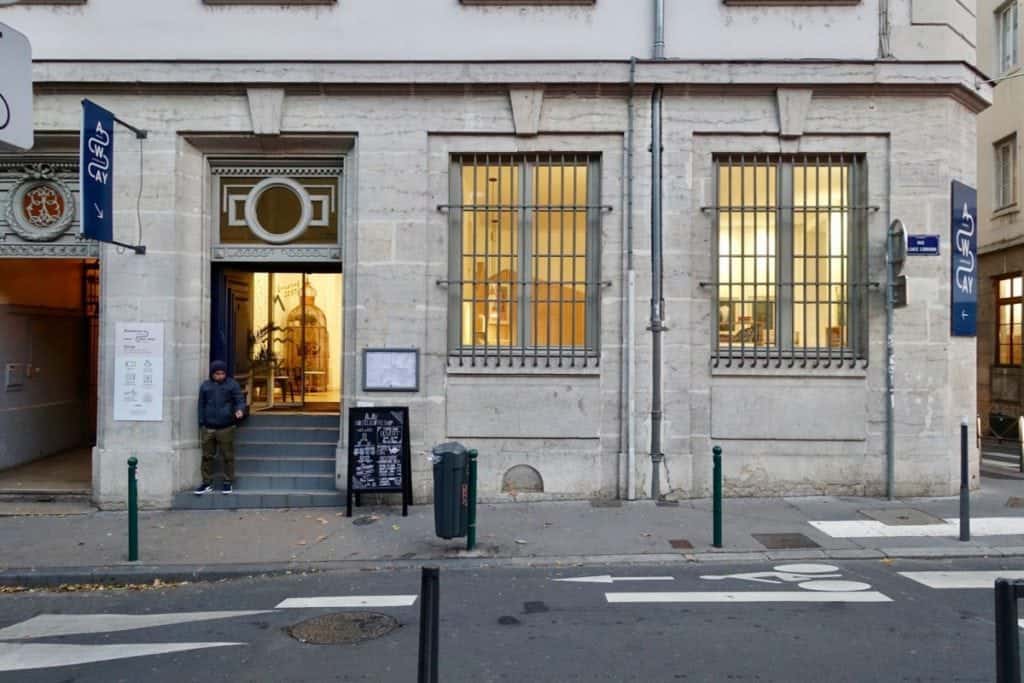 Laure Durand, originally from Paris, is the manager. She had worked at Onna Coffee in Barcelona, when the hostel was being built and a coffee shop manager searched for. Opening her own specialty café had always been a dream and so Away Hostel gave her the perfect opportunity to start.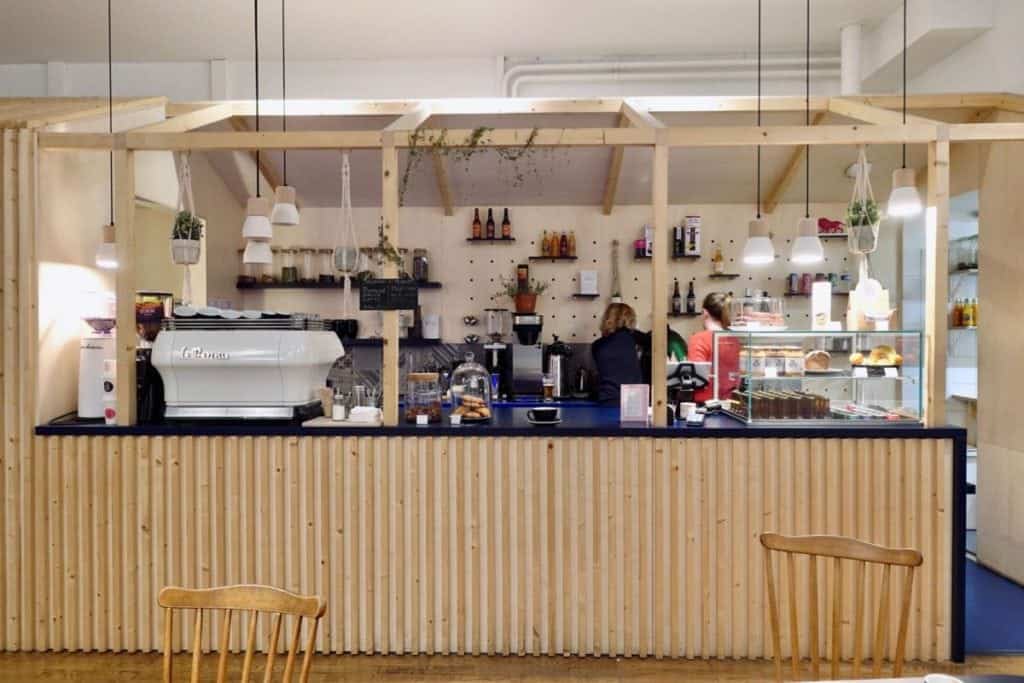 In June 2016 the hostel along with its coffee corner opened. It is modern, light and welcoming. The hotel's designers were in charge of those details, including the white La Marzocco machine. However, Laure is in charge of everything else related to coffee and its sides. She chose one Mokxa roast for the filter coffees and another for espressos. As a second option for the espresso based drinks she changes between other local roasteries, such as Placid, KAOVA or Signé Extrait.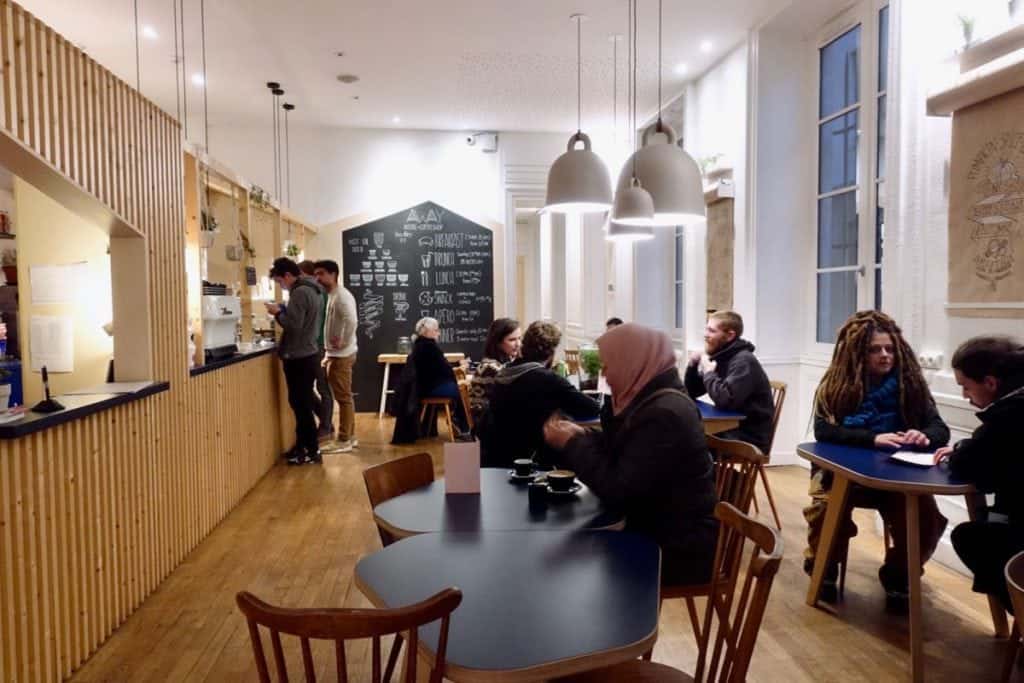 If you're still looking for a place to stay, you know which hostel has you covered for the best start to the morning. But even if Away doesn't become your home away from home, do not hesitate to come here for a visit. You won't be the only one.
21 Rue Alsace Lorraine, 69001 Lyon, France
Website, Facebook, Instagram, Twitter
Nowadays we start to stumble upon specialty coffee shops at almost every corner. An Australian-like café with great coffee isn't unique or hard-to-find anymore. Lyon too has grown its current coffee scene from the foundation of those but offers much more than that now.
We hope to be finding more cafés like the four above in the coming future!