Istanbul, one of the most southern cities in Europe, was on our list of trips for a while and it seemed a great idea to escape the cold weather in exchange for a milder climate. Nevertheless Istanbul welcomed us with a snow storm. As surprised as we were, it did not stop us from exploring this beautiful and historical city.

The city's coffee culture boom has begun about 3 years ago and the culture has grown quite fast since then. There are now tens if not a hundred of cafés, as referred to by the cafes we visited, in either parts of Istanbul. Considering the Turks were primarily tea drinkers it is incredible how quickly they embraced the Speciality coffee culture. Istanbul Coffee Festival attracted over 35 000 visitors last year, new cafés are opening all over the city and not only brew but often roast their own coffee as well!s


Even traditional Turkish coffee has got the chance of being put back on home tables thanks to Speciality coffee movement promoting this brewing method. We visited 8 cafés in three days, also paying a visit to their roasteries. These are the massive game changers in Istanbul's developing scene. Check it out and keep your eye on Istanbul.
Probador Colectiva
We started our visit of Istanbul with a trip to a roastery where we met Cagatay Gulabioglu, co-owner of Probador Collectiva, one of the pioneers of speciality coffee in Turkey. He is an AST, a Q-grader, avid music connoisseur and he was also our guide through Istanbul.
He opened the very first speciality café of Istanbul over 3 years ago. It was called Kronotrop and it was a one-man show for a long time. Later he brought more people on the team, started roasting coffee and absorbing all kind of information available at that time. As his business grew he eventually left it in order to establish Probador Collective – a roastery, training centre and hopefully future hub for all things speciality.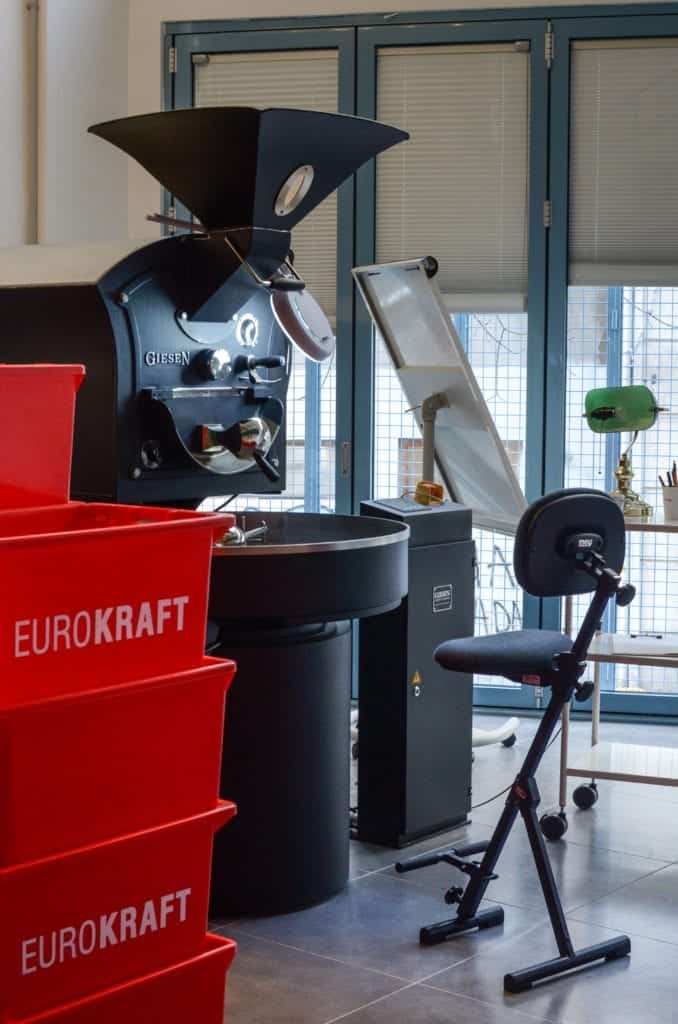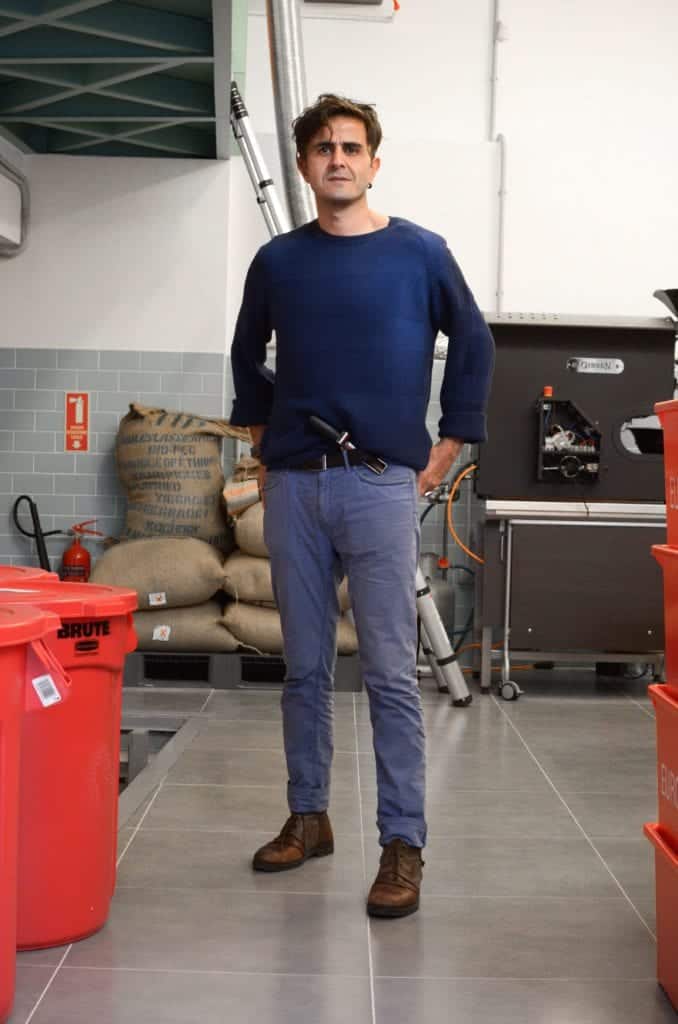 Located only 5 minutes from Tophane station this 4-storey building contains all of the coffee geekery you could think of. Starting from the basement where green coffee is stored at a controlled temperature and humidity controlled environment you walk upstairs to the roastery on the ground floor. Two Giesen roasters are in charge of the production at the moment with Probat UG22 expected to arrive in the coming weeks. Cagatay plans to invite people to this "Coffee taster's collective" so they can roast their coffee in a properly set up environment and on good machines. This workspace sharing has been a trend among some other foreigner roasters and luckily is gaining popularity abroad as well, allowing smaller or just launched roasting companies to achieve the best results with limited budgets.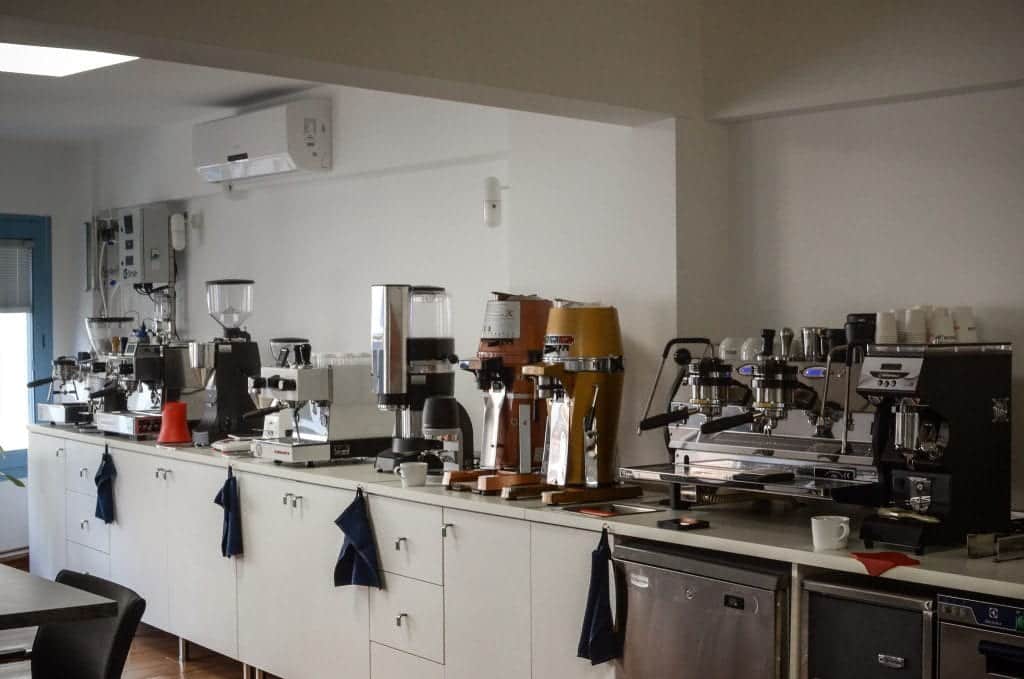 From the small coffee lab and a kitchen we were led to a training centre on the first floor. Cagatay proudly showed us an extendable table that goes from 70cm to 110cm of height, as recommended by SCAA .The Lab is set up with multiple espresso machines, grinders, scales and water filtration systems to be used for any kind of training. In the coming month the training center was also provided to host a Q-grader certification exam 8-13 February.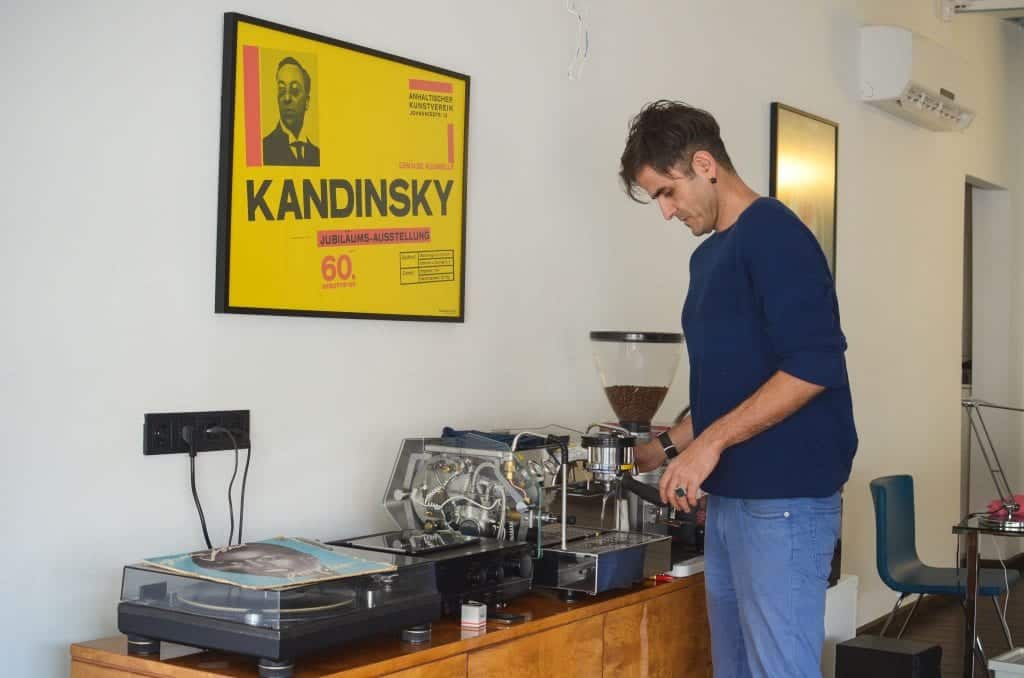 Finally we reached the top floor that serves as Probador Colectiva's office/lounge. "It is where we relax. We play music and sit in a nice chair after a long day at the roastery," explains Cagatay. Vintage Bauhaus furniture, a library full of coffee literature and a record player with a collection of LPs sitting next to a La Marzocco GS3 machine. We took a sip of a freshly brewed El Salvadorian La Illusion and we recorded an interview with Mr. Gulabioglu.
Kadiriler Ykş. No:69, Istanbul
Official website, Facebook
Norm Coffee
Cem Bozkuş and Gizem Yavuz opened Norm Coffee in May 2015. It took several difficult months to actually get it started. "The most difficult was finding a suitable place to rent" explains Cem. They both started working in coffee at Kronotrop. Cem was the first employee and Gizem joined the team third. Mr. Gulabioglu, their boss from Kronotrop, is currently one of their coffee suppliers. Next to Probador Collectiva they serve also coffee from Petra or Kronotrop, who actually started roasting first. Multiple roasters' menu at cafés is rather rare but Norm's customers appreciate it and so does the duo behind the bar. "Sometimes we can brew up to 16 different coffees at a time," adds Cem.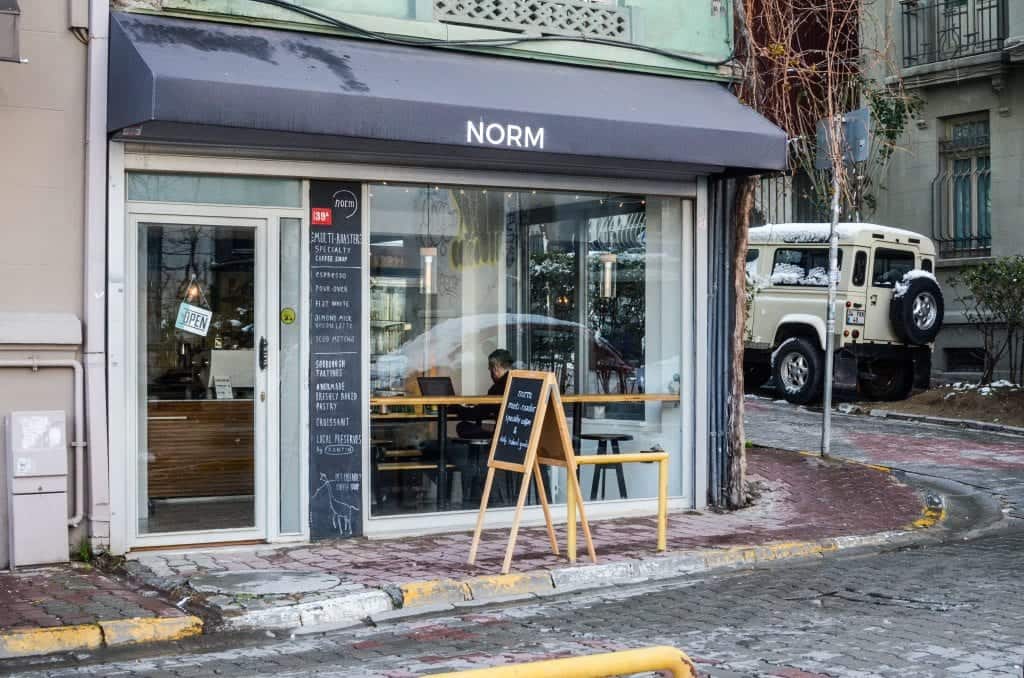 "Espresso or Die" sign faces us from behind the bar while we wait for our first cup of coffee. Norm's light and simple interior is furnished with black steel and wooden chairs, marble tables and lamps. A white 2 group Slayer machine and a white EK43 are the most dominant decoration on the bar. From our seat we could see the Bosphorus afar. "It is the most prominent seat we have here," Cem and Gizem laughed when we sat down.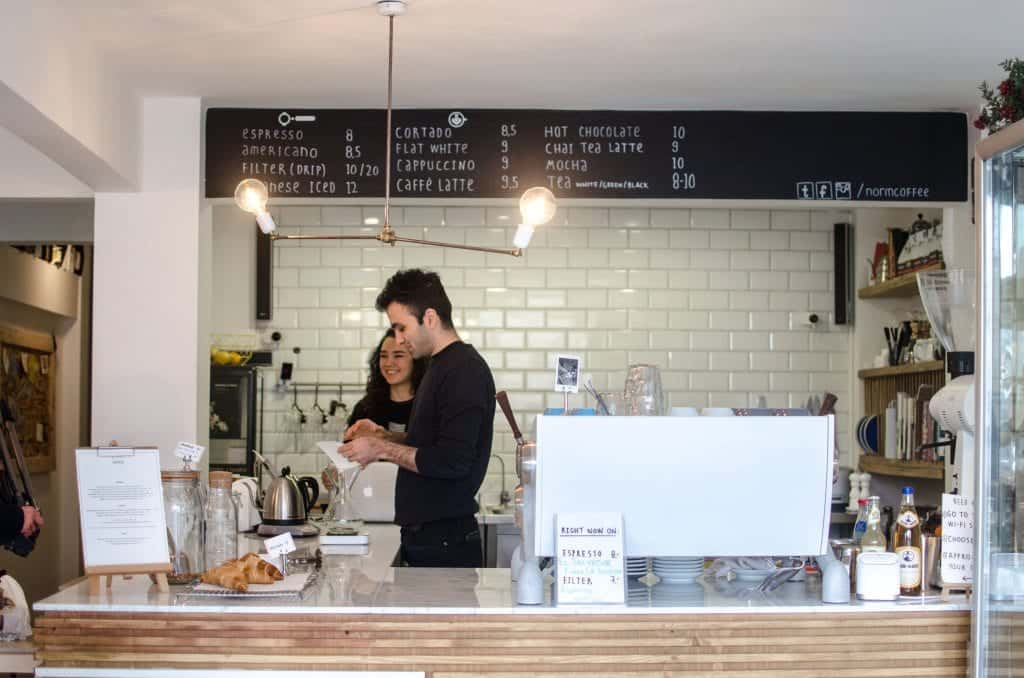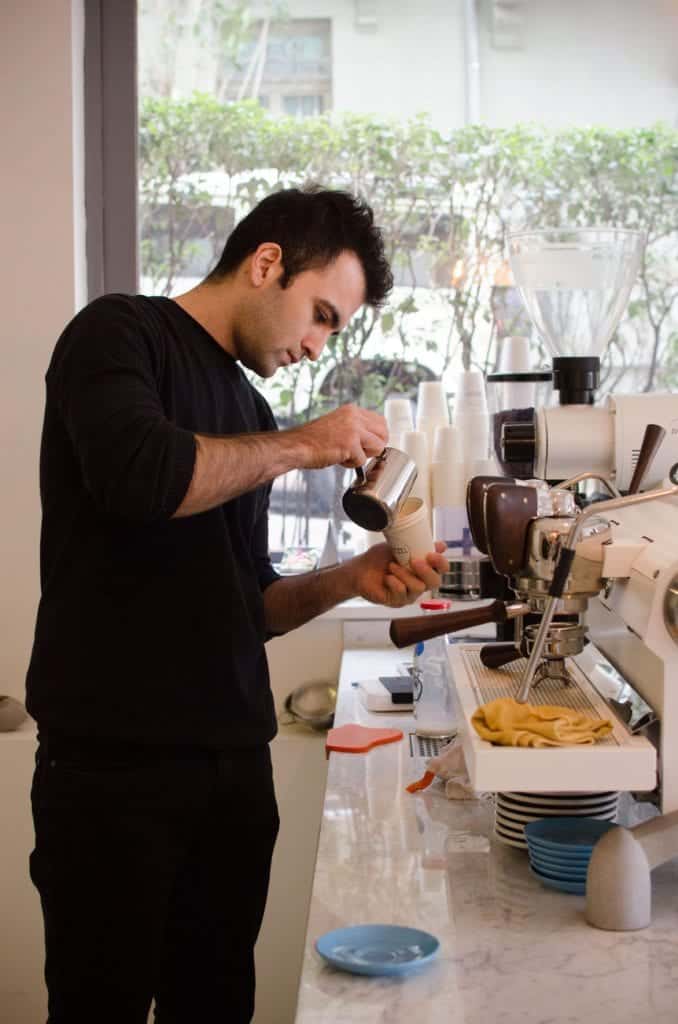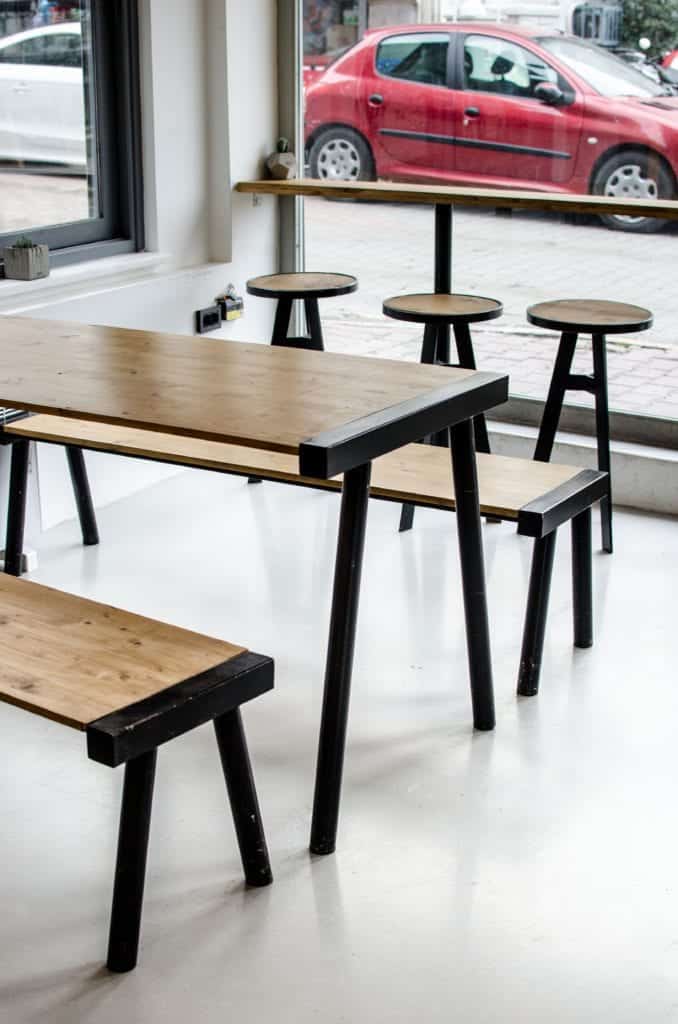 Both espresso based drinks and filter coffee is on their menu. As if we looked thirsty Cem started to brew a cup after another. Firstly we were served Petra's Ethiopian Hunkute and continued with Probador Colectiva's Burundi Shembati and onto Kronotrop's Burundi Renewa. While drinking and talking coffee we took a look at the latest issues of Offscreen and Kinfolk, well known indie magazines available in the café. If you enjoy exploring the backstage of the café you could spot Gizem cooking and baking for her customers. Her most popular cake is polenta cake but we recommend you to try a bit of everything.
Güneşli Sk. No:39/A Cihangir, Istanbul
Official website, Facebook
Kronotrop
Kronotrop was the first speciality café in Istanbul. It developed from a 13 m² café to a company with 3 cafés and a roastery. We stopped by the cafe at Cihangir. Umut Gokdeniz and Memed Mutlu were working at the bar then. Umut is 2015 Turkish Brewers Cup Champion who represented Turkey in Gothenburg with a naturally processed Ethiopian Kochere. The coffee we got to taste at Kronotrop next to an Indonesian Sulawesi Tana Toraja. Both coffees were brewed with a V60 at the very back of the long coffee bar.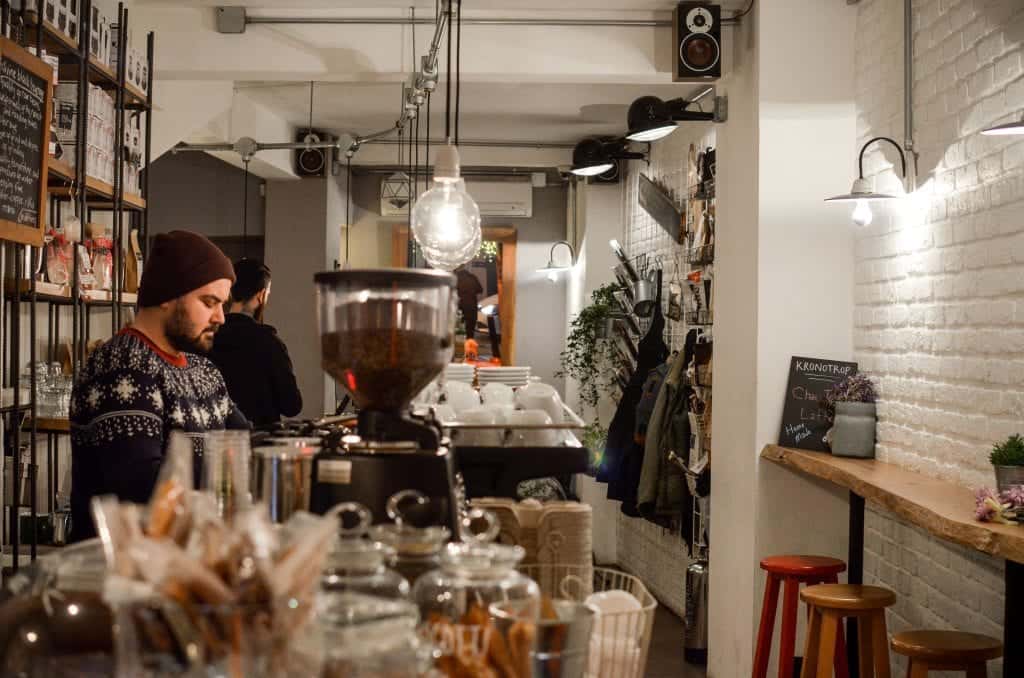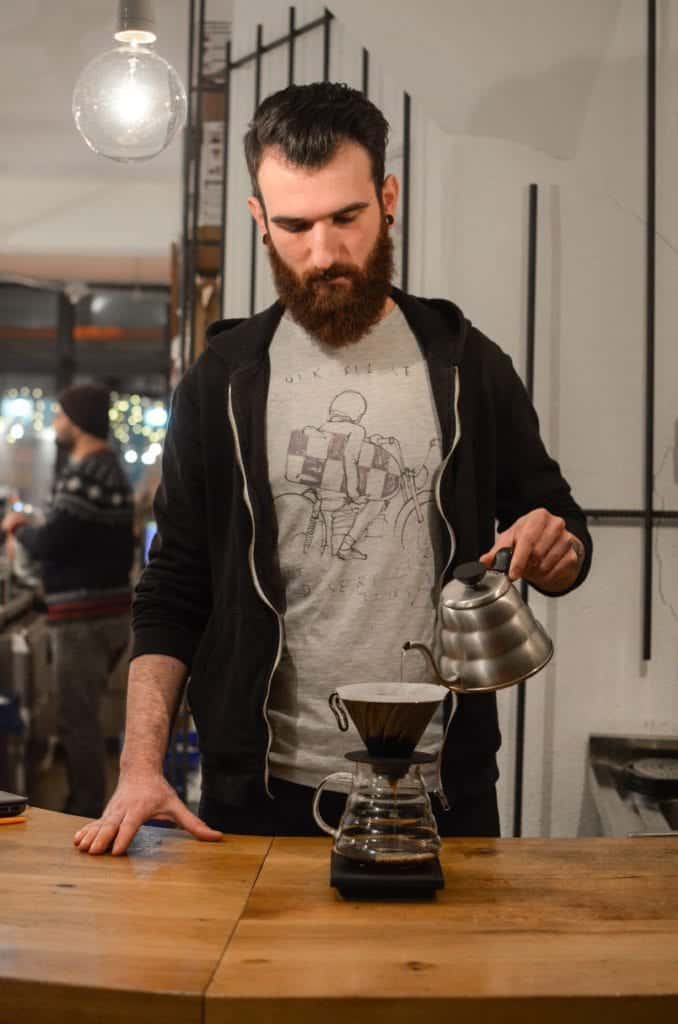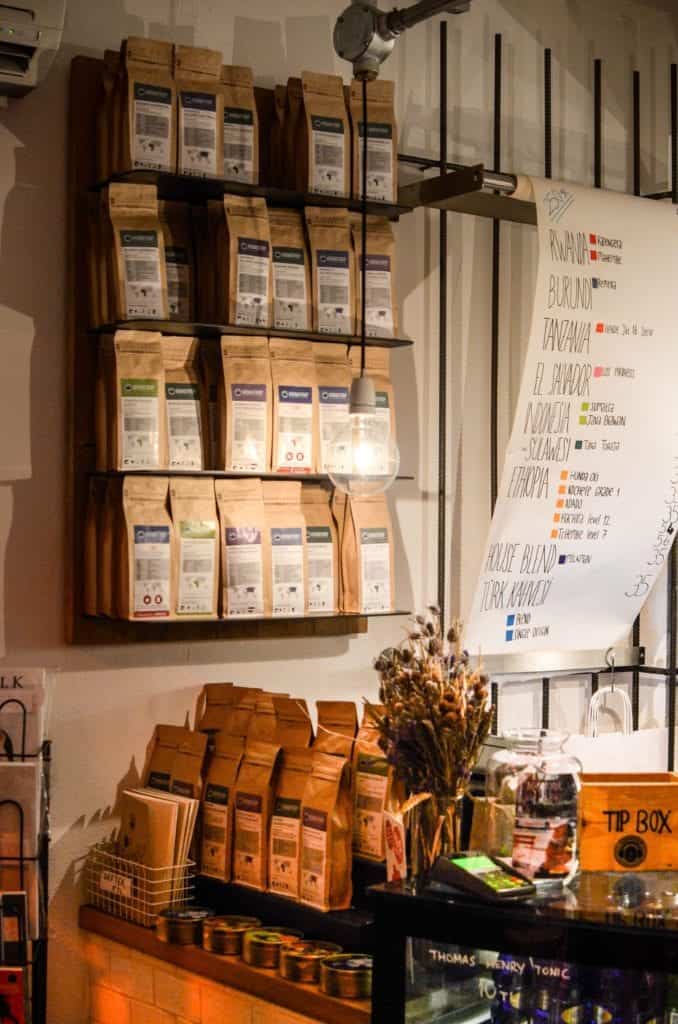 "In the past about 70% of our customers were foreigners – either tourists or expats. It has been changing over the last year as Turks start to embrace speciality coffee but we are still pretty international," explains Umut the customers base at his café and perhaps the whole of Istanbul while preparing yet another cup, a Turkish coffee. It is our first one in Istanbul brewed with the "Turkish Blend" – a combination of Sulawesian Tana Toraja and an Ethiopian Adado. "The problem with traditional Cezve / Ibrik method is that people use bad coffee," continues Umut and explains the reason behind the co-operation with 2013 World Cezve / İbrik Champion Turgay Yıldızlı on the development of this blend.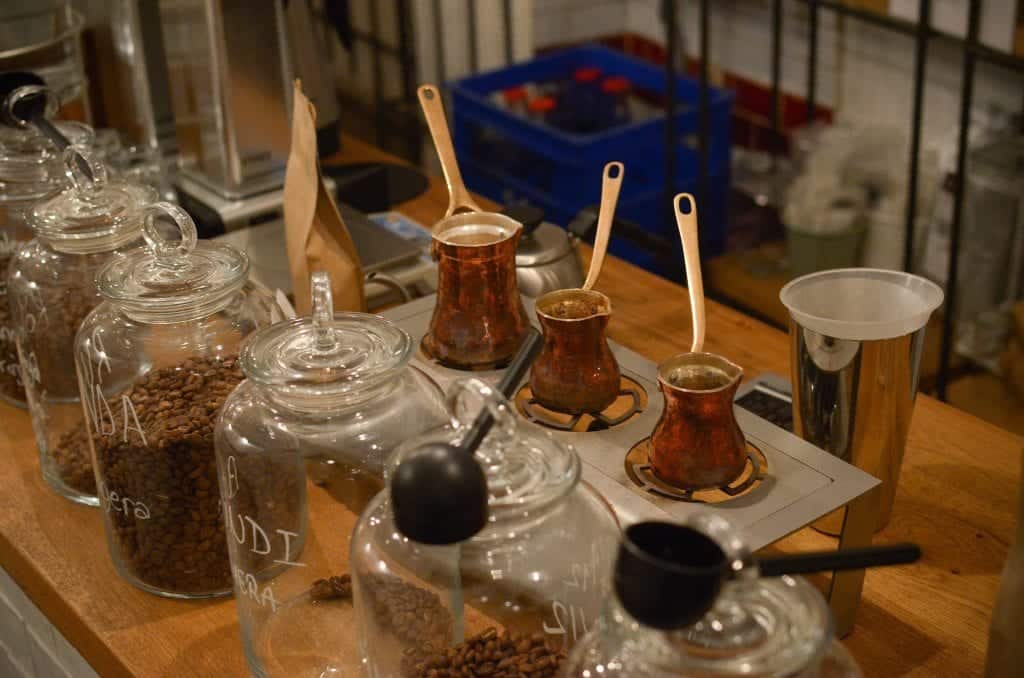 Espresso based drinks are prepared on a La Marzocco Strada sat on a long bar that takes you from doors to the very end of this café. It is just the right size of a bar for their two espresso grinders as well as two EK43s, one for filter coffee and one for Turkish coffee. If in a hurry, you can order a filter coffee brewed with Moccamaster. They have two options to choose from – one is more lively, another more chocolatey. To enjoy your coffee you can choose either the terrace with a view onto the busy streets or you can go to the back of the café, sit on the brew bar and enjoy the preparation of your coffee or the selection of coffee bags brought from around the world.
Kuloğlu Mah. Firüzağa Cami Sok. No:2/B Cihangir, İstanbul
Official website, Facebook
Brew Lab
Situated on a steep street of Yeni Çarşı is Brew Lab. This street is full of tiny artisan stores and workshops and also cats. "We have a lot of cats on this street. We call this one Pamuk. People love them and feed them. Actually, many of our cups are found on the street with some milk for them," explains barista Aysu Ezgi Uzunoğlu. We have to admit it was fun to observe and take photos of Pamuk!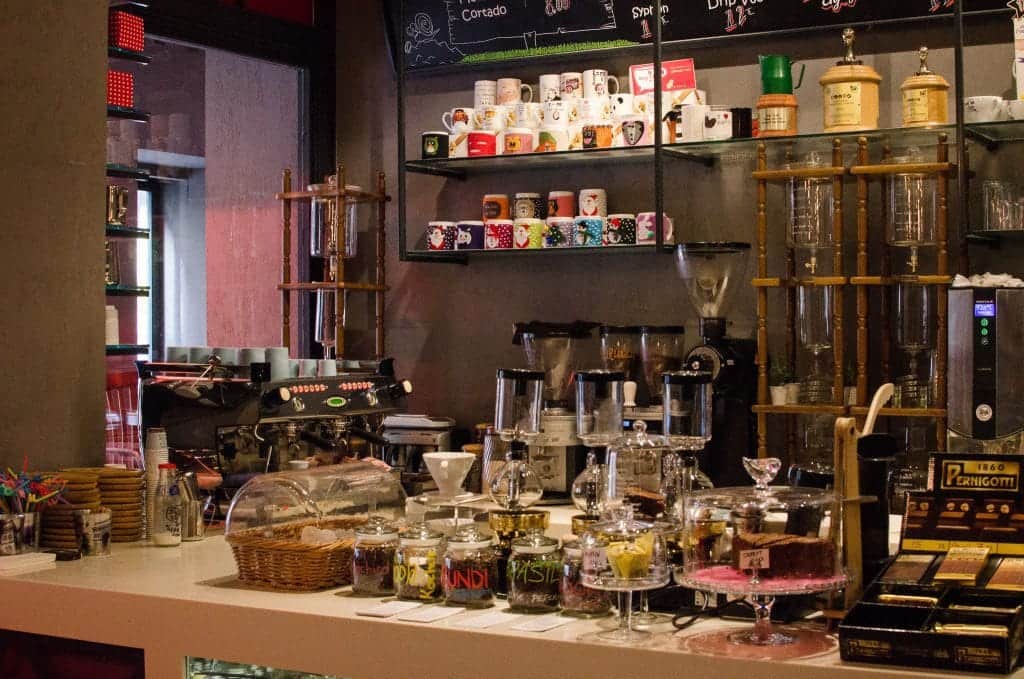 Brew Lab is managed by Ozkan Yetik, three times Turkish Barista Champion. He helped to design this café and was responsible for the selection of coffee equipment and coffee itself. They use La Marzocco PB5 together with two Mahlkönig K30 (one single, one twin) grinders. Two cold drip stations and syphons, aeropress and v60s fill the rest of the space behind the bar.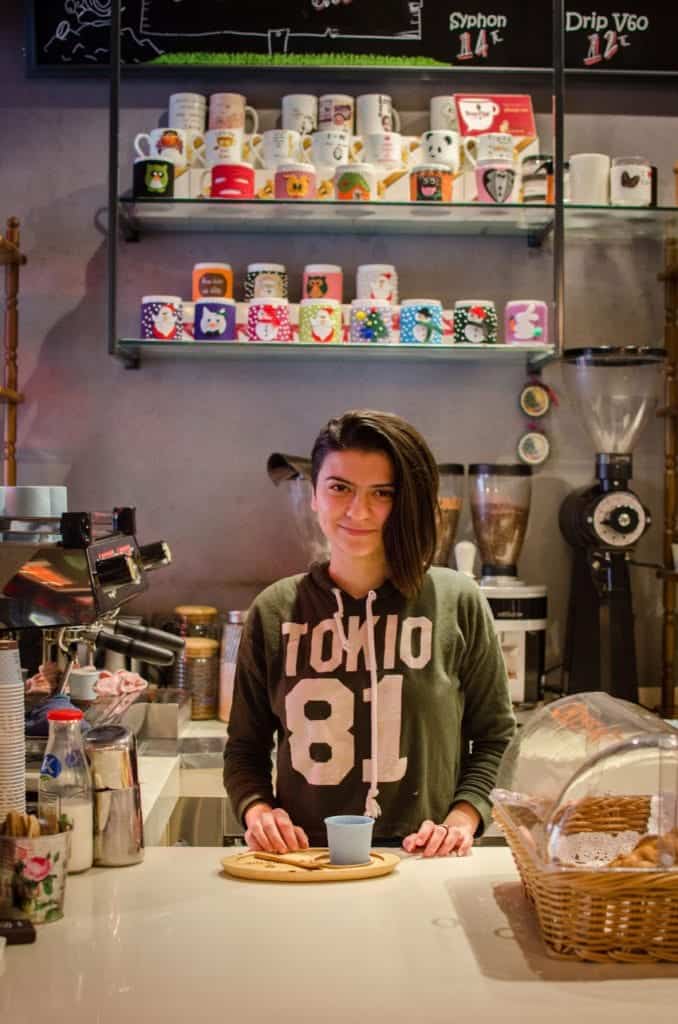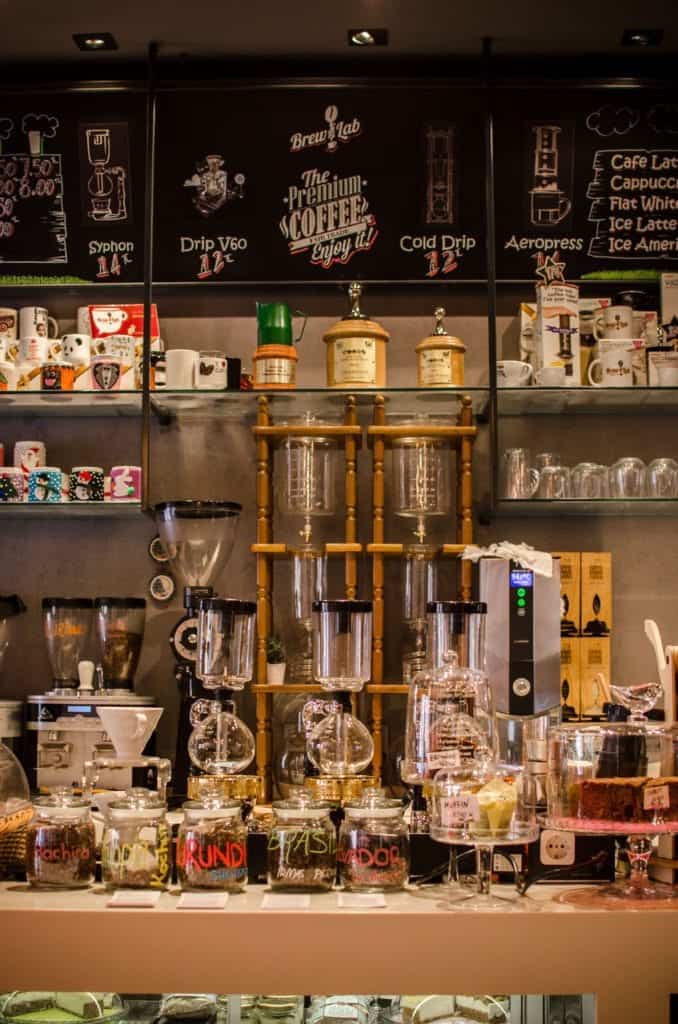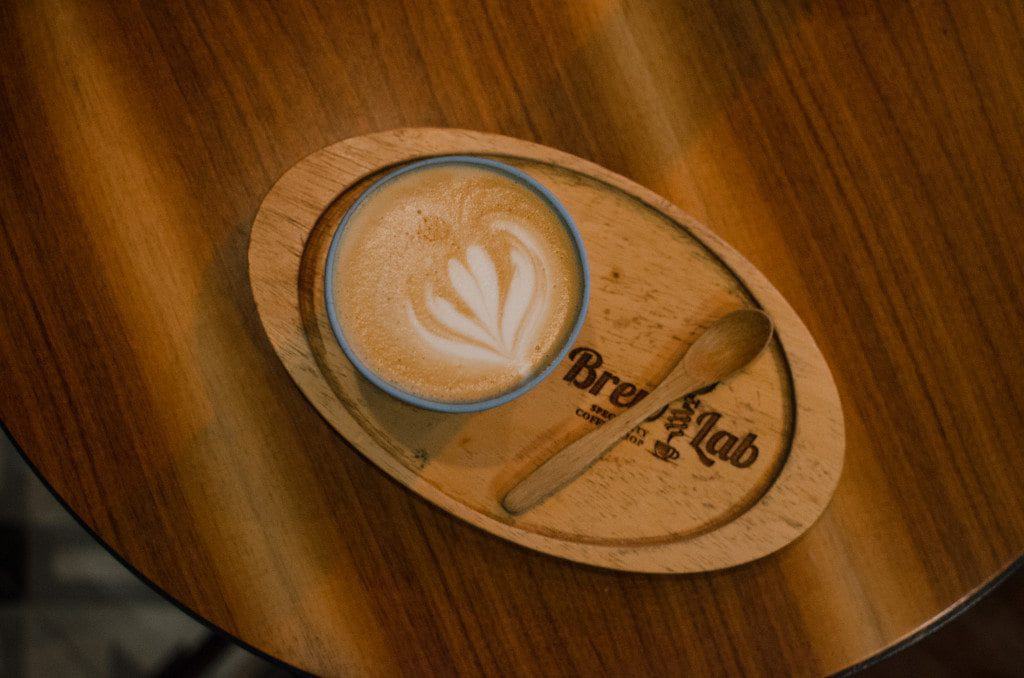 Signature pieces of kitchenware are blue coffee cups and wooden trays designed exclusively for Brew Lab by Mânâ Yıldız. We asked for a cappuccino and a cortado to these atypical cups and we got to taste an Ethiopian Kochere roasted by Probador Collective. Cagatay Gulabioglu roasted this coffee and he also prepared an Ethiopian Hachira for Ozkan to compete with at the World Barista Championship in Gothenburg. Interestingly enough the current Brew Lab is where Cagatay started his coffee venture many years ago!
Kuloğlu Mh., Yeni Çarşı Cad. 5/B, Istanbul
Official website, Facebook
Coffee Sapiens
Next stop took us to Karakoy where Coffee Sapiens opened their café in July 2014. It was 9th shop opened in this trendy area full of boutique stores and small cafés and restaurants. The whole area transformed over the last three years from a dark and dangerous neighbourhood to a hip part of the city.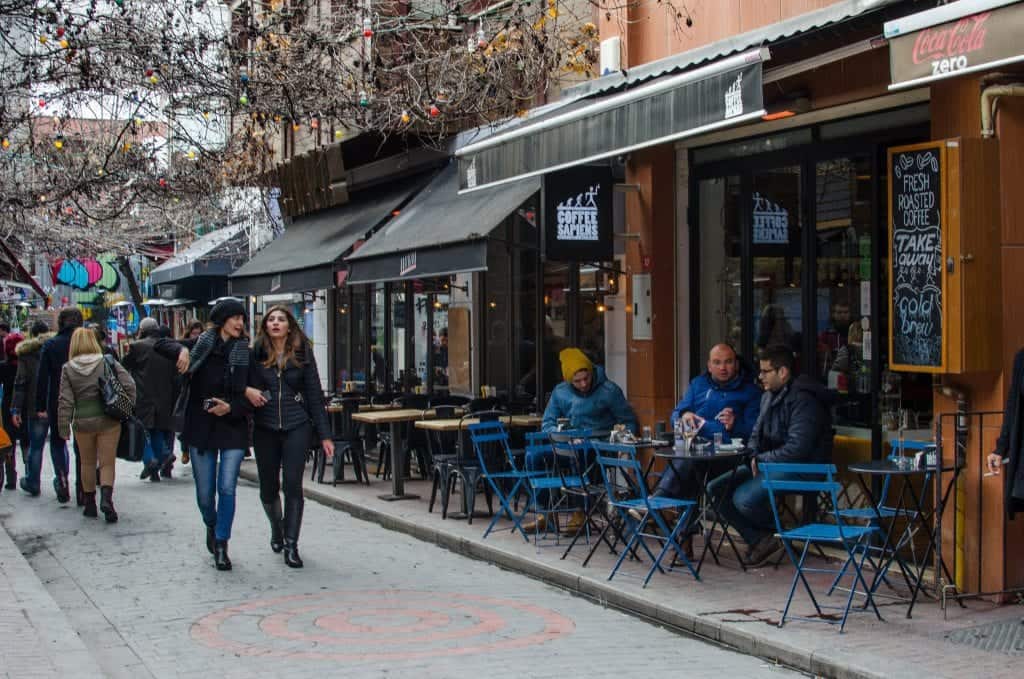 Are you coffee sapiens? An interesting word play that Burak Gogus decided to use as a name of his coffee project. Small café contains not only a coffee bar and a few seats but also a one kilo Toper roaster that Burak uses to roast all the coffee for the café but to also sell to customers. The demand was so high he ordered a new 6 kilo roaster from Giesen recently.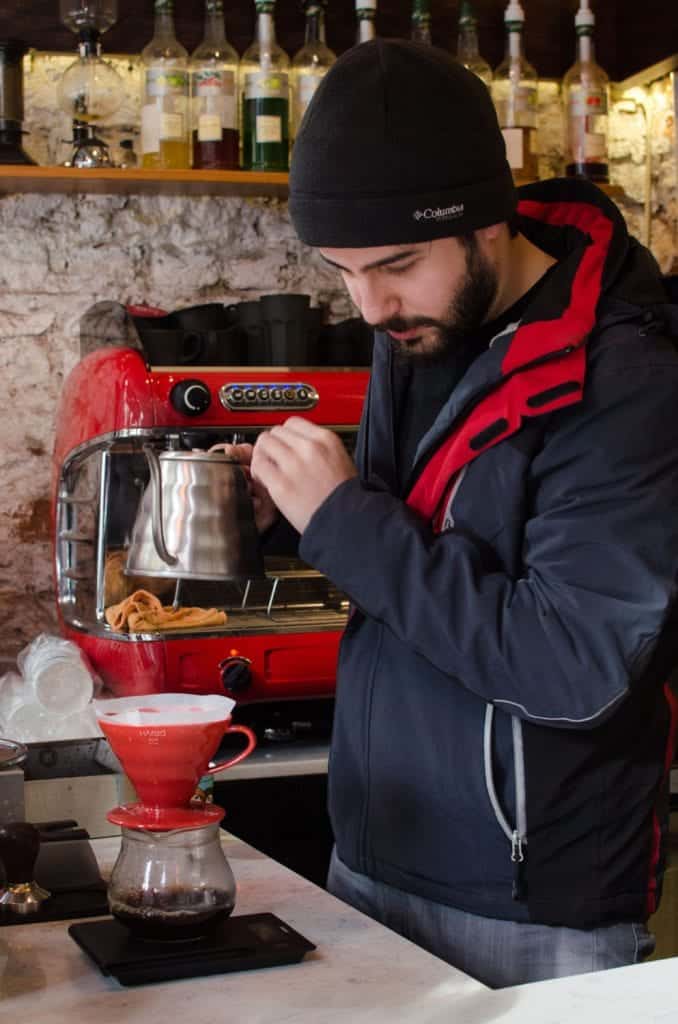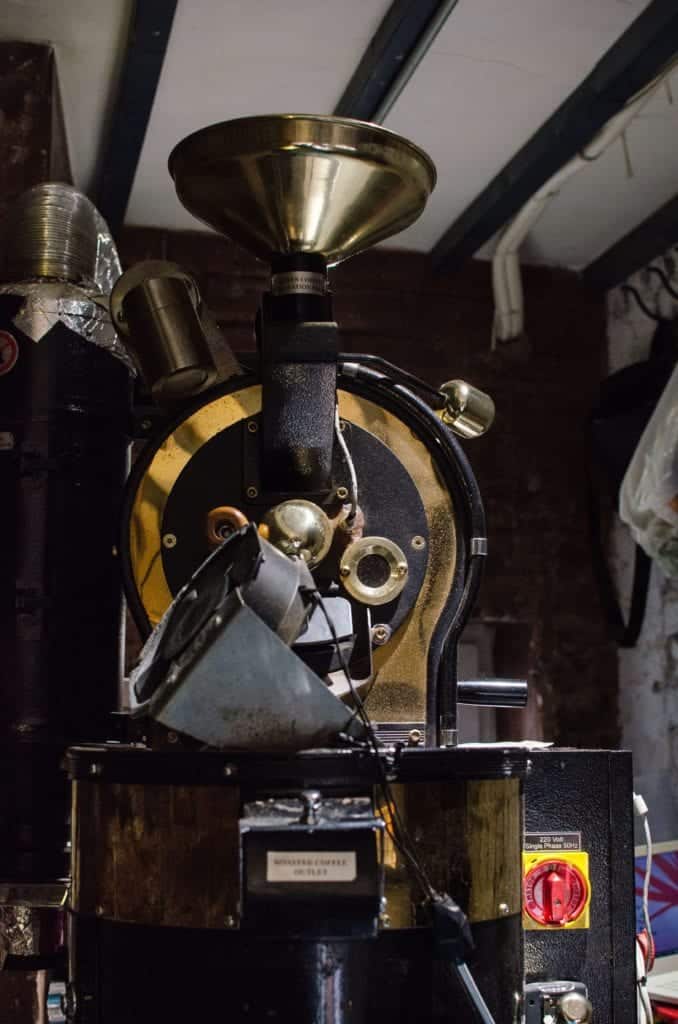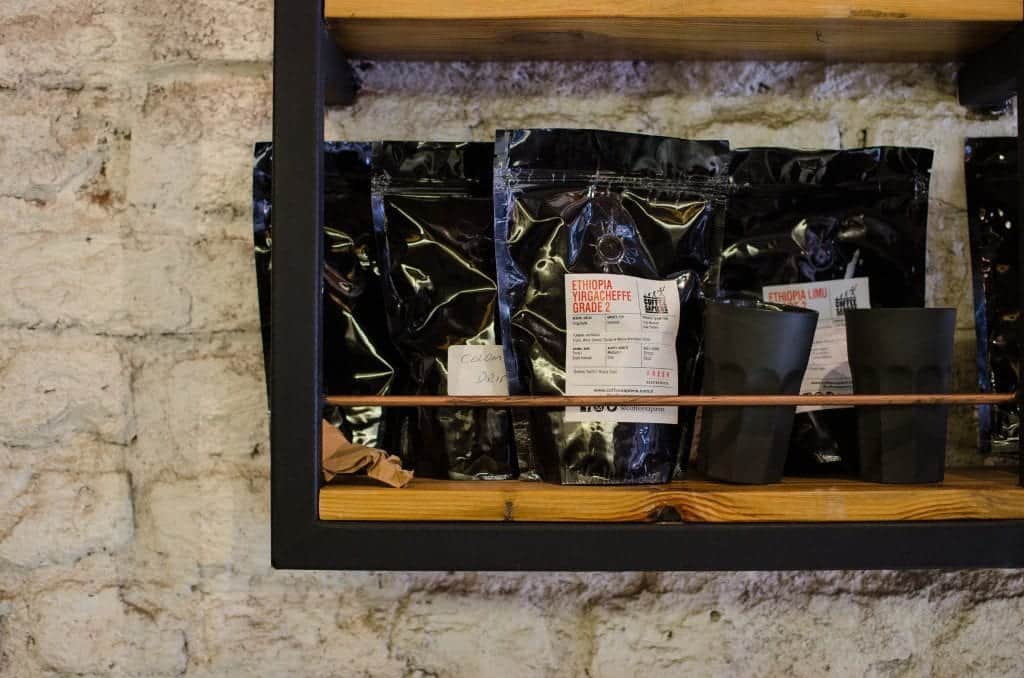 Tables in front of the café are a comfortable way to enjoy the drink. Choose from espresso based drinks prepared with Sanremo espresso machine or opt for a brewed coffee from up to 5 methods (including Royal Belgium Coffee Maker). Evolution blend was our choice – a set blend of coffee from Yemen, Colombia and Ethiopia. Dark grey ceramic cups that the drinks are served in were designed for Coffee Sapiens by Happy people art in Istanbul.
Kemankeş Karamustafa Paşa Mh., Kılıç Ali Paşa Mescidi Sokak No:10/C, Istanbul
Official website, Facebook
Coffee Department
Balat is a part of Istanbul located on the other bank of Golden Horn. It is the area that still remains genuine and hence the area where Metin Benbasat and Hanife Ozyurt Pekkip decided to escape to from the rush of central Istanbul and opened Coffee Department here. They opened the door in May 2015 and we entered accompanied by their Golden Retriever called Latte on the second day of our visit.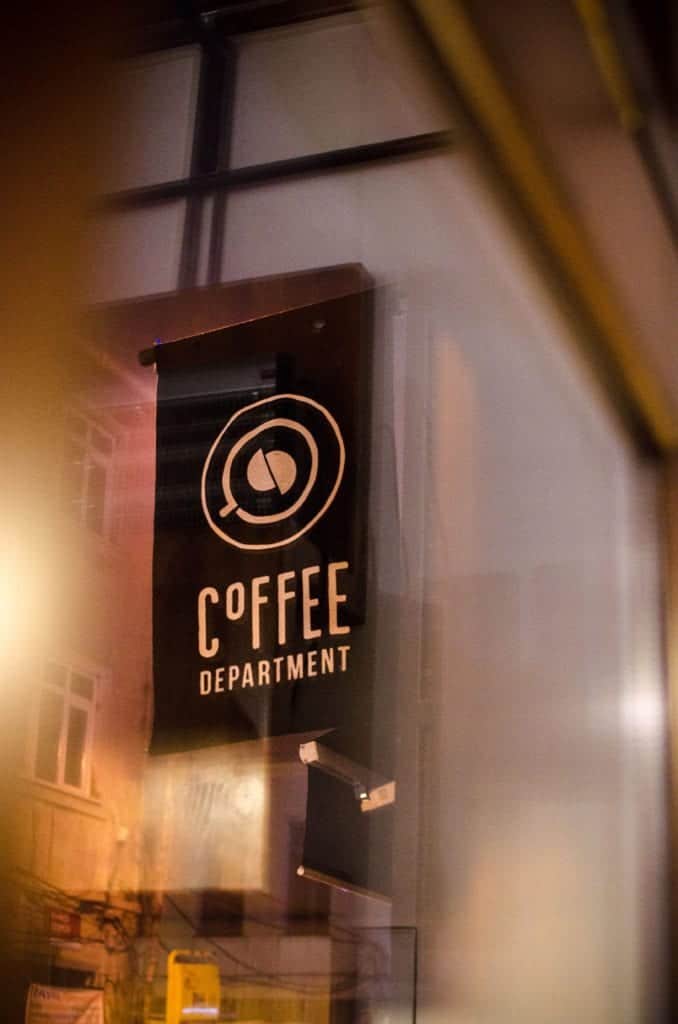 Metin Benbasat fell in love with coffee during his visit to NYC and has wanted to work with coffee ever since. Later he took courses from Ysli Yaman in Ekaterinburg and she introduced him to Hanife. Together they found a location in Balat and that was the birth of Coffee Department – all about coffee space where they brew and roast their own coffee.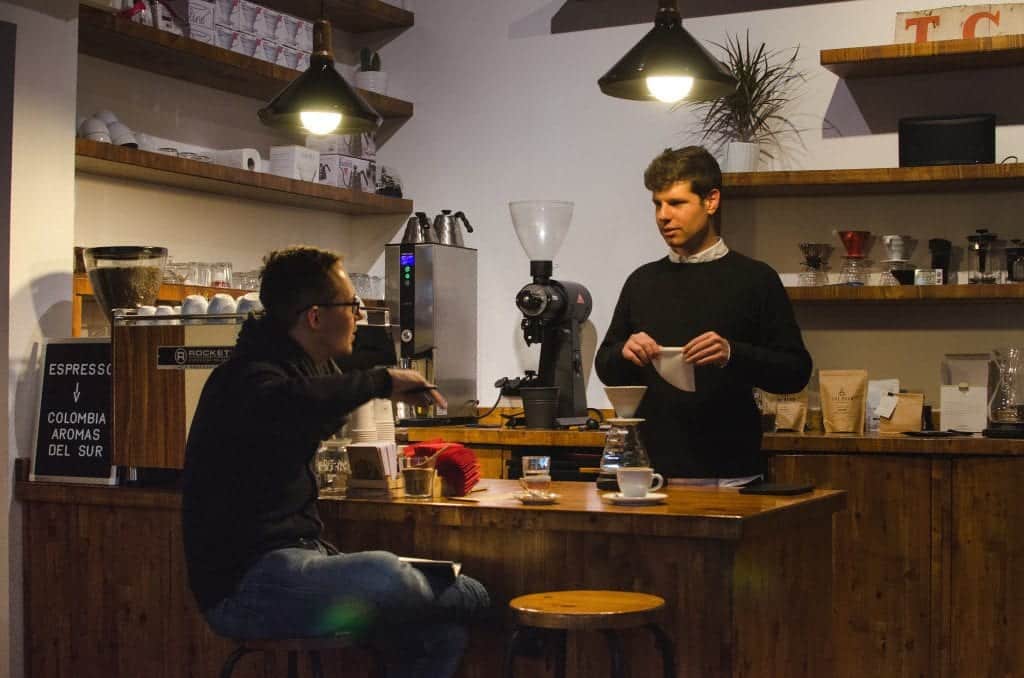 Interior of this café is all in wood. Turkish red pine was chosen by the duo who draw the first sketch of the interior. Roasting machine Probat Probatino01 is placed in the middle of the space. "It is like my girlfriend," jokes Metin who roasted until 3am the previous day. They have already wholesale customers to supply so when an order comes he needs to work hard, usually after the café's closing hours. He wanted a small roaster on purpose though – "I wanted to have the chance to roast as many batches as possible. It is the way I can learn quickly," explains Metin.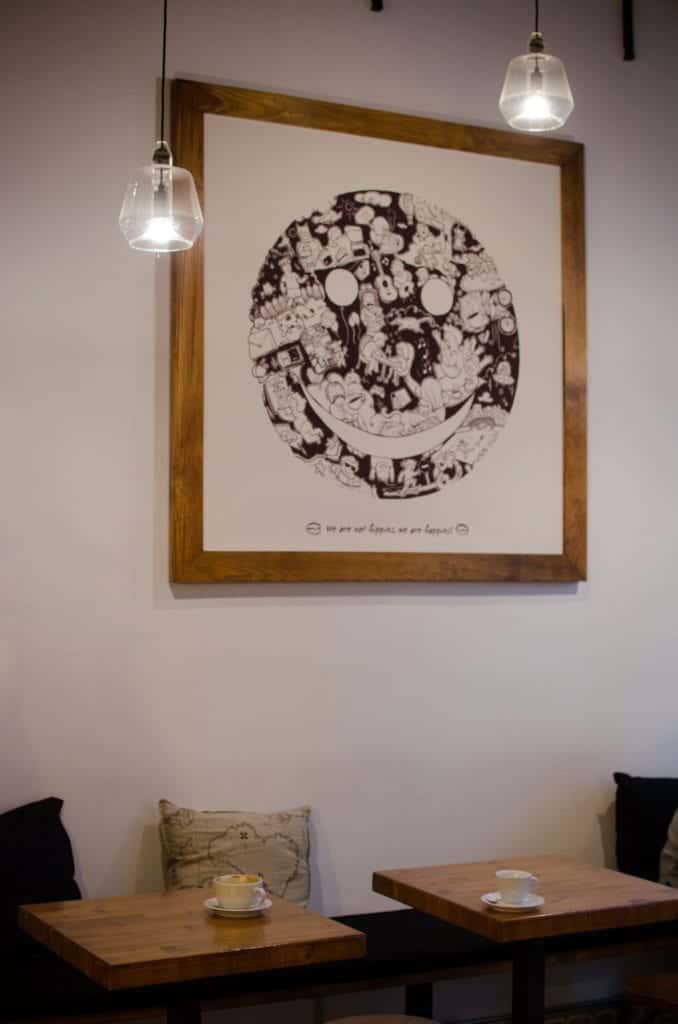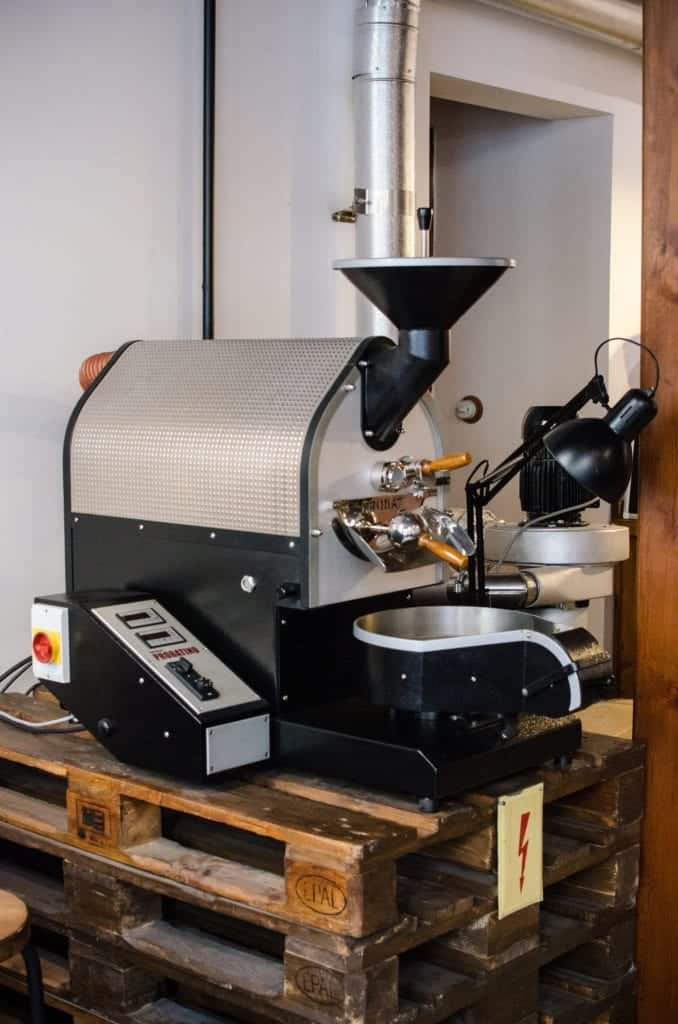 We tasted a Chelchele filter coffee from Ethiopia and an Aromas del Sur cappuccino from Colombia. Since the green bean supply in Turkey is quite problematic, roasters tend to share a bigger order with other micro-roasters in the city. This makes for an interesting tasting session, drinking several versions of the same coffees roasted by different people at different machines.
Ayvansaray Mahallesi, Kürkçü Çeşmesi Sokak, No:5/A Balat, Istanbul
Official website, Facebook
This is the end of the first part of our coffee guide of Istanbul. In the second part we will take you to Petra Coffee and Anatolian part of Istanbul. Don't miss it!