Once again this year, Denmark snagged the top spot as the happiest country in the world. The Danish capital is perhaps the most enviable city in Europe – full of beautiful, bike-riding, stylish Danes, and consistently topping Monocle's quality of life surveys. Copenhagen has also made a name for itself in the culinary and service industry with no less than 16 Michelin star restaurants.
Unsurprisingly, the city is also known for serving some great coffee, courtesy of a talented and tight-knit community of coffee people. Denmark ranks among the top ten coffee drinking nations with an average Dane consuming 1.46 cups of coffee per day. And these people are now putting down the milky lattes and picking up locally roasted, meticulously brewed speciality coffees.
Coffee Collective
Coffee Collective is synonymous with the third wave coffee movement in Copenhagen. The company was started out of a garage in 2007 by Peter Dupont (MD and green bean buyer), Klaus Thomsen (head barista trainer and wholesale manager), Casper Rasmussen (roast master) and Linus Törsäter. Their recognisable brand now has three locations: an intimate neighbourhood shop on Jægersborggade – one of the trendiest streets in the Nørrebro area; a fast-paced, high-energy operation in the Torvehallerne food market; and a brightly-lit and immaculately furnished showroom on Godthåbsvej, which also acts as their roastery, office base and training camp.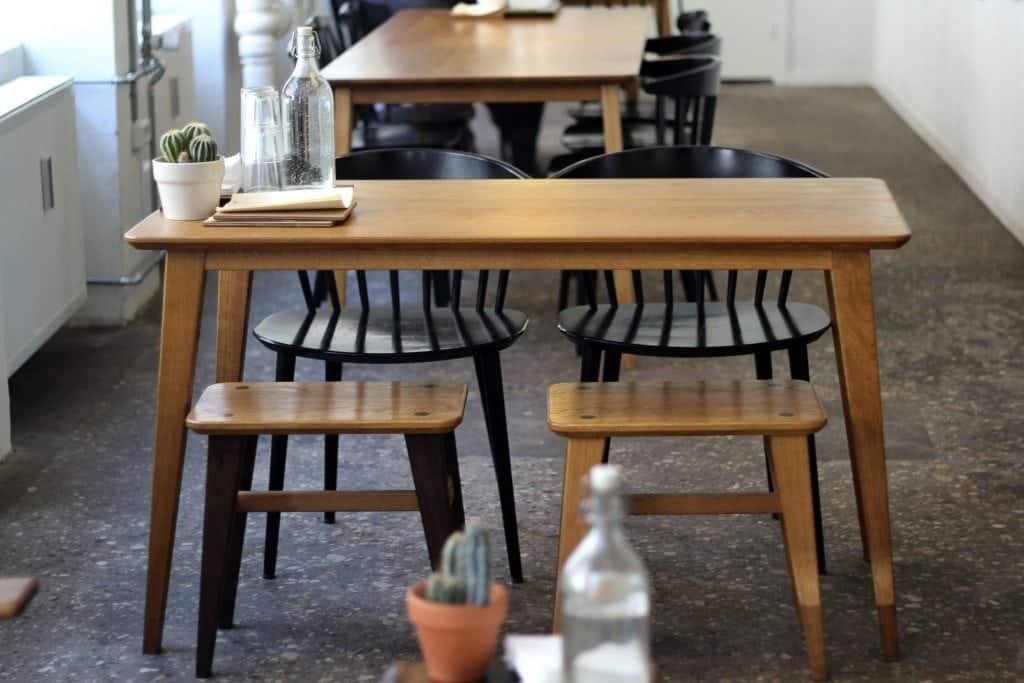 "Our intention has never been to become a chain," says Thomsen, World Barista Champion 2006 and an instrumental force in putting Copenhagen coffee on the map. "Our coffee shops may have the same name, but we want to take them in different directions, by the way of interior design or layout, but most importantly in customer experience."
It's here in Godthåbsvej (pictured) that Thomsen wants customers to explore the black coffee menu they've devised so religiously. "Our philosophy is to share what excites us the most and what excites us the most is the black filter coffees," says Thomsen. "That's where you taste the most of what the farmer has done to the coffee."
Their accessible menu focuses on taste profiles as opposed to where the coffee comes from or how it's brewed (usually with a Kalita Wave, or occasionally an Aeropress). You can expect a rotating menu, but you can always find at least a couple of lighter roasts, something Coffee Collective has become quite popular for.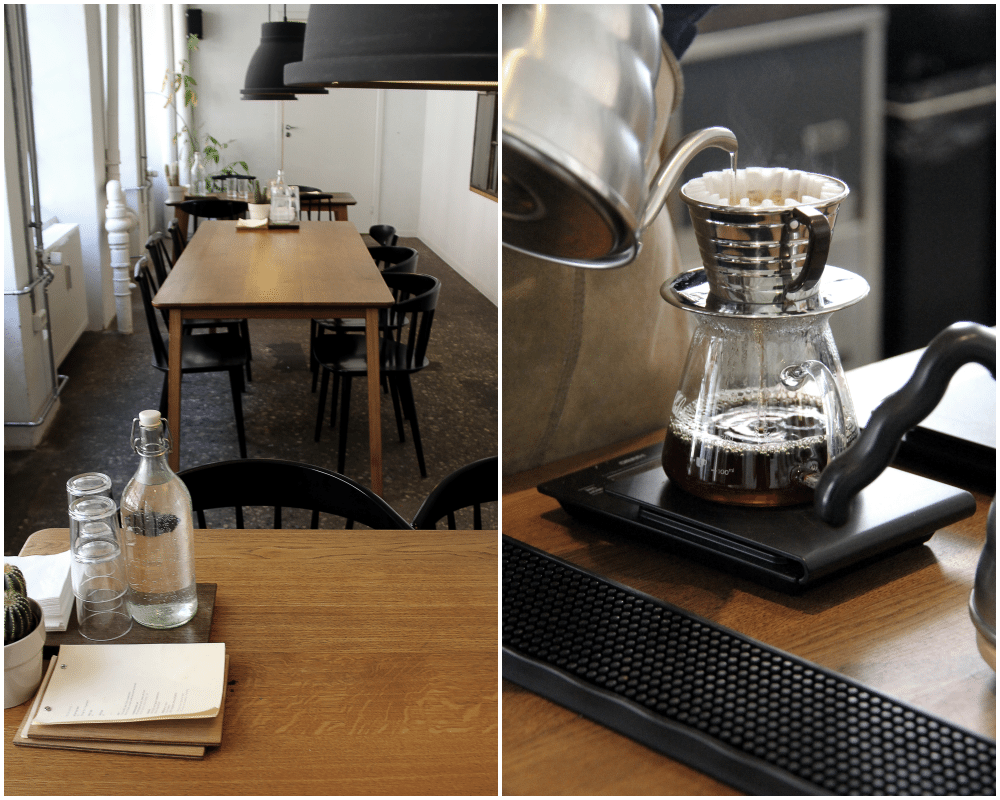 "Lightness and darkness is a sliding scale," says Thomsen. "When we started, everyone was doing very dark roasts. We felt lighter roasts were more to our taste, and we were able to present something different to what was already on the market. We are only able to produce light roasts because we are buying green of a much higher quality."
Thomsen says the first excitement over speciality coffee has come and gone, and now people are more critical. Him and his team are striving to keep the confidence of the consumer and doing so with a humble approach: "What really drives us is finding the most amazing coffees we can taste."
Godthåbsvej 34B, 2000 Frederiksberg, Denmark
Facebook, Instagram
Kent Kaffe Laboratorium
This is perhaps the only place in Copenhagen brewing coffee five different ways: V60, syphon, aeropress, cold brew and chemex. Busy brewing behind the bar or roasting his own beans in-house is owner Eric Jensen, a former waiter and restaurant manager with a background in wine.
"I realised how much bad coffee I'd served in my life as a waiter," says Jensen about the time he got interested in speciality coffee.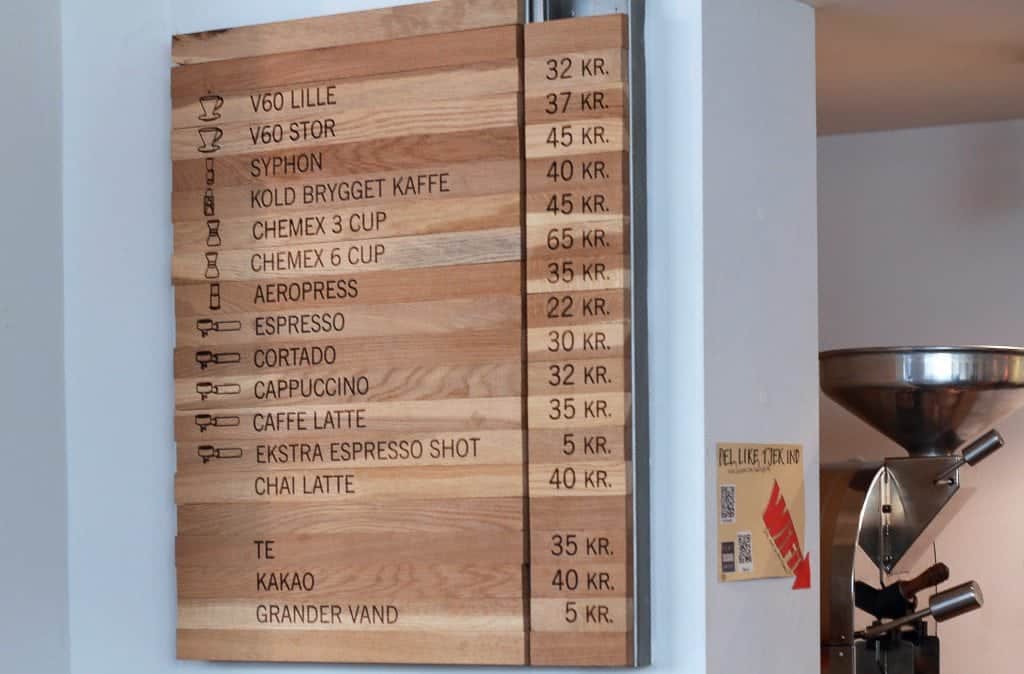 He opened Kent Kaffe Lab about five years ago when filter coffee was coming into focus as people actively started side-stepping frothy lattes and cappuccinos. His space is a clean, sophisticated, no-frills shop and roastery, bearing stark resemblance to the coffee served here. You can almost always find Jensen meticulously brewing the perfect cup behind the simplistic counter.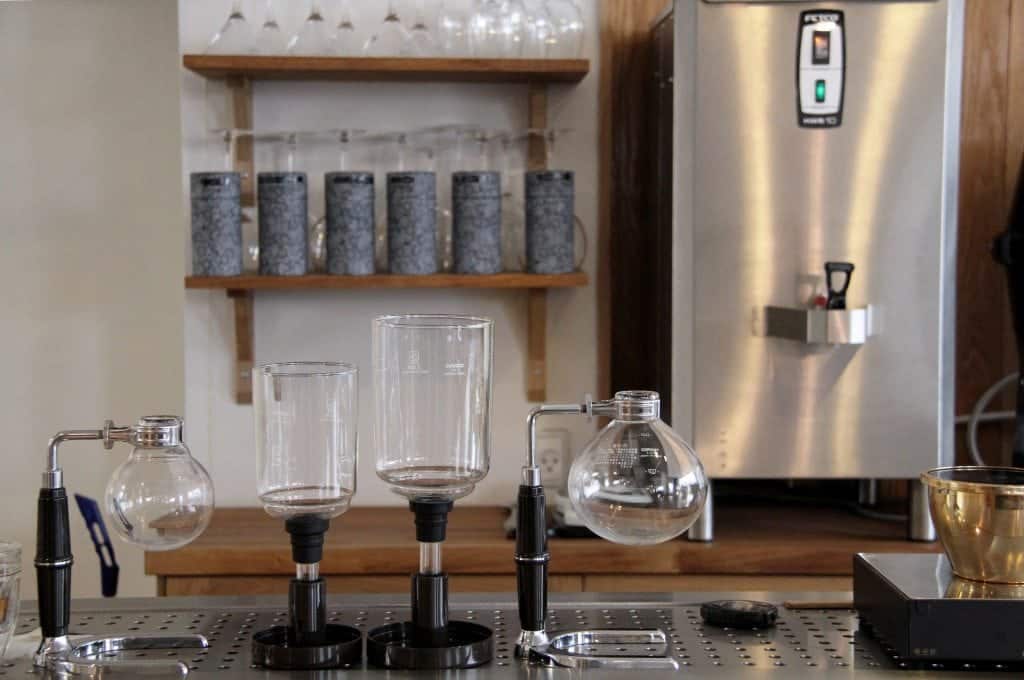 Despite the enthusiastic nerdery about filter coffee reflected in the menu and the setup of this place, only 20% of the people that walk through the door order a non-espresso-based drink. But, if there is one thing you stop here for, it should likely be a Syphon brew. "Syphon makes the coffee harmonious and gathers all the notes in the coffee," he says as he fires up the apparatus.
Nørre Farimagsgade 70, 1364 Copenhagen, Denmark
Facebook, Instagram
Copenhagen Coffee Lab
The Copenhagen Coffee Lab started out as a roastery three years ago, but if you ask a local about it, they are likely to point you to a bustling coffee shop in the city centre. Sure enough, you can also pick up a bag of one of their batches here. In fact, the duo that runs Copenhagen Coffee Lab opened this basement bar located in the inner city – Indre By – between Nikolaj Plads and Holmen's Kanal, to showcase the work they were doing in the roastery. Thanks to it's location, it became a popular hotspot for tourists, students and coffee aficionados.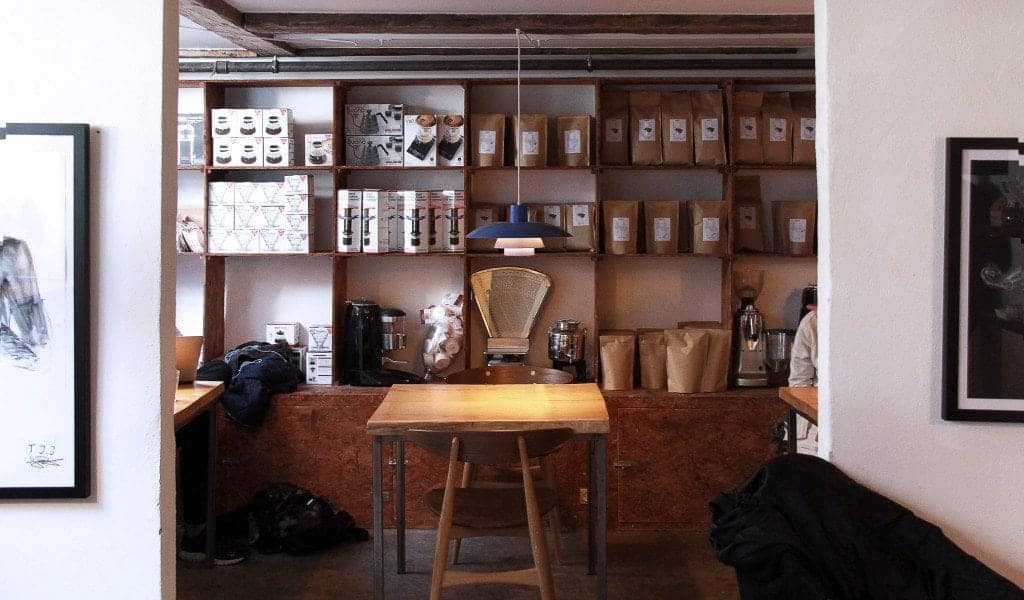 Christian Deicgræber is the roaster and Peter Iessel fronts the coffee shop, which is immaculately designed and brutally Scandinavian (in a good way). Iessel didn't expect this spot to become so popular. "We opened it mostly to showcase the coffee we created for our B2B customers." Not only did they serve more cups of coffee a day than expected, they've recently started offering a food selection as well.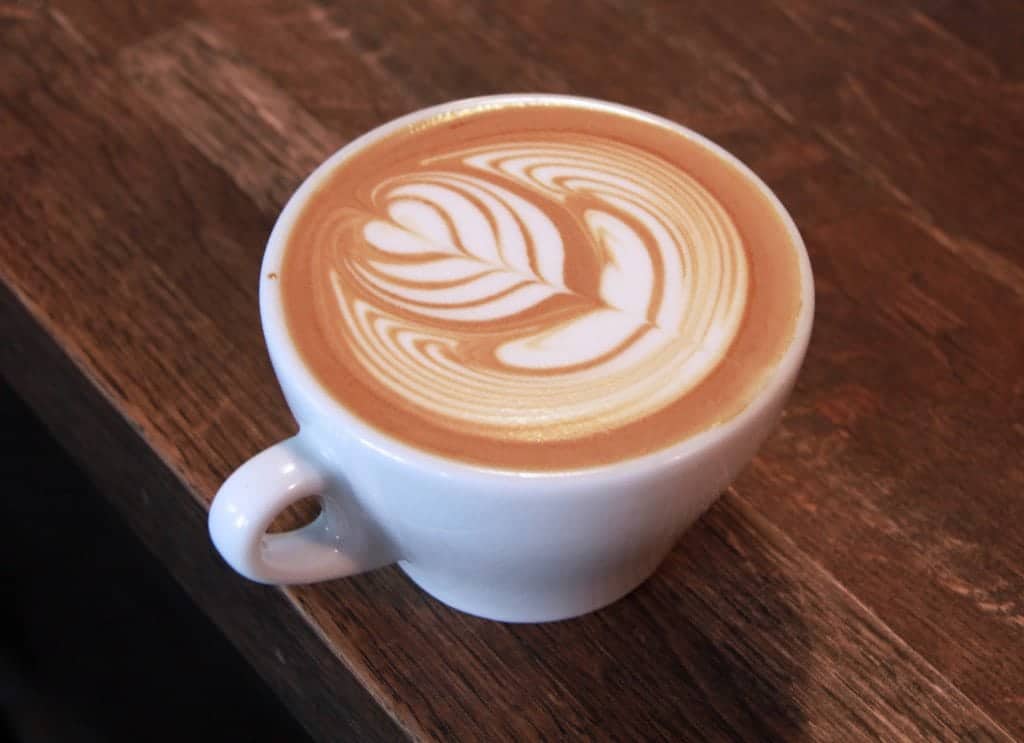 Now this may be a controversial statement, but they serve the best flat white in town. It's likely because of the sweet notes in their slow roast espresso. Their roasts tend to be darker and heavier (than Coffee Collective, for example), but they're widely popular, finding a home in many of Copenhagen's restaurants and cafes. Despite its heaviness, a shot of espresso goes down like a dream here.
Democratic
Located in Copenhagen's public library, Democratic Coffee is one long room with floor-to-ceiling windows and an assortment of coffee table books, newspapers and notes scattered along the length of the bar table. Due to its location, all the weird and wonderful types walk through its doors. Students, pensioners, researchers, creatives – anyone who needs a library can be found here. But more recently, people have been making the pilgrimage to Democratic especially for its coffee.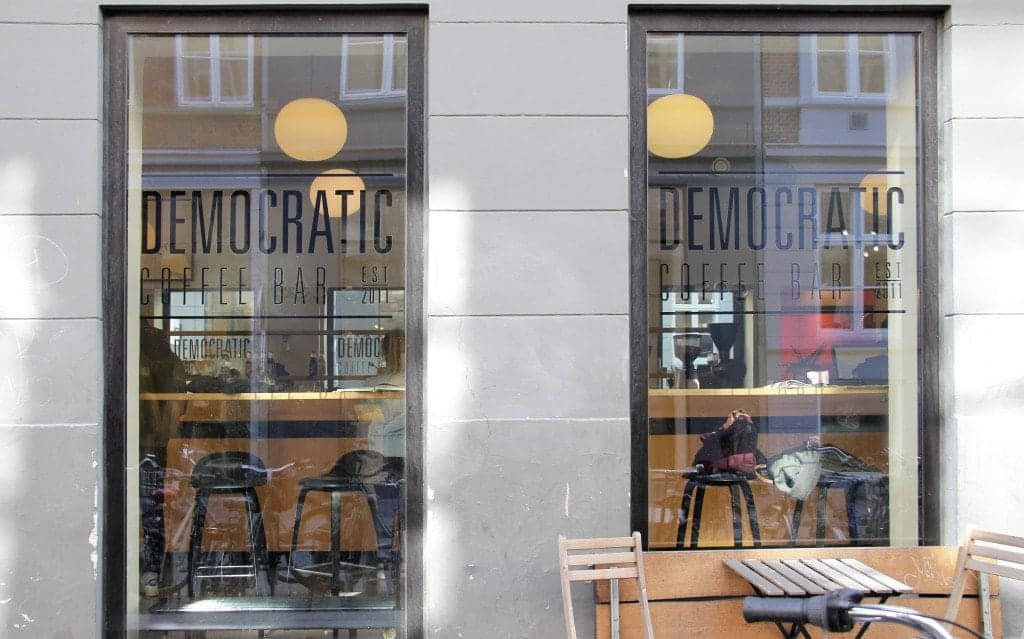 Democratic is owned and run by Oliver Oxfeldt, a self-taught pastry chef who made the move to the coffee business from a gaming company.
"I didn't have a concept or any idea," says Oxfeldt. What he did have was this beautiful space and about a five month heads up before he opened up Democratic in October 2011. "I wanted to do nice coffee and pastries. I looked around and didn't like anything pastry-wise, so thought I'd do it myself!"
What started as a self-taught adventure has turned into a full-fledged operation with six baristas and a pastry chef. Through the doors come in dairy products and flour, which get turned into delicious pastries worthy of complementing their coffee.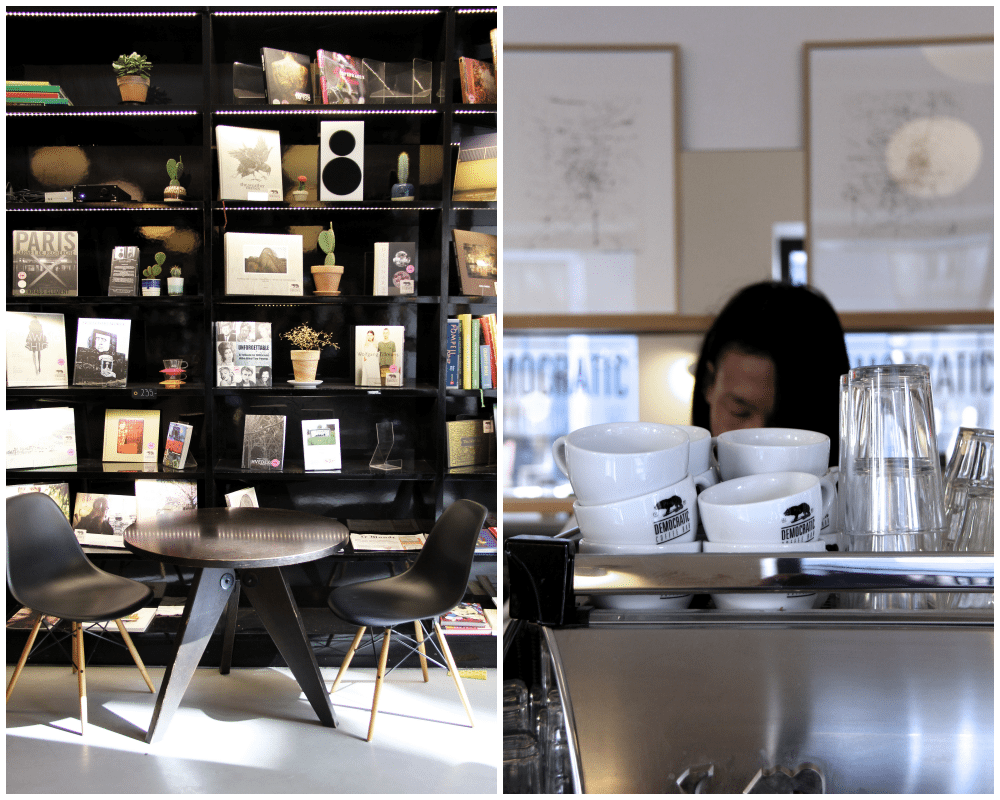 Over the last year, they've also started roasting themselves. In fact, they're so happy with it that they're going to start selling retail bags soon. "If you are passionate about coffee, why would you stop at brewing?" asks Oxfeldt.
He is currently looking to opening a satellite location, if he finds the right space, he stresses. More Democratic coffee about town is good news for all in Copenhagen, indeed.
Krystalgade 15, 1172 Copenhagen, Denmark
Facebook, Instagram
Cafe Det Vide Hus
To fully appreciate this coffee shop, you have to have a quick chat with its owner Claus Dalsgaard. Cafe Det Vide Hus oozes a chilled out vibe and a friendly personality – both qualities you'll also find in Dalsgaard. You can usually spot him behind the counter, making coffee or prepping sandwiches. His personally curated Spotify playlist fills up the small two-story shop located a stone's throw away from the bustling Nørreport station. But the hectic vibe of Nørreport ('hectic' by Copenhagen standards, of course) fails to reach Cafe Det Vide Hus.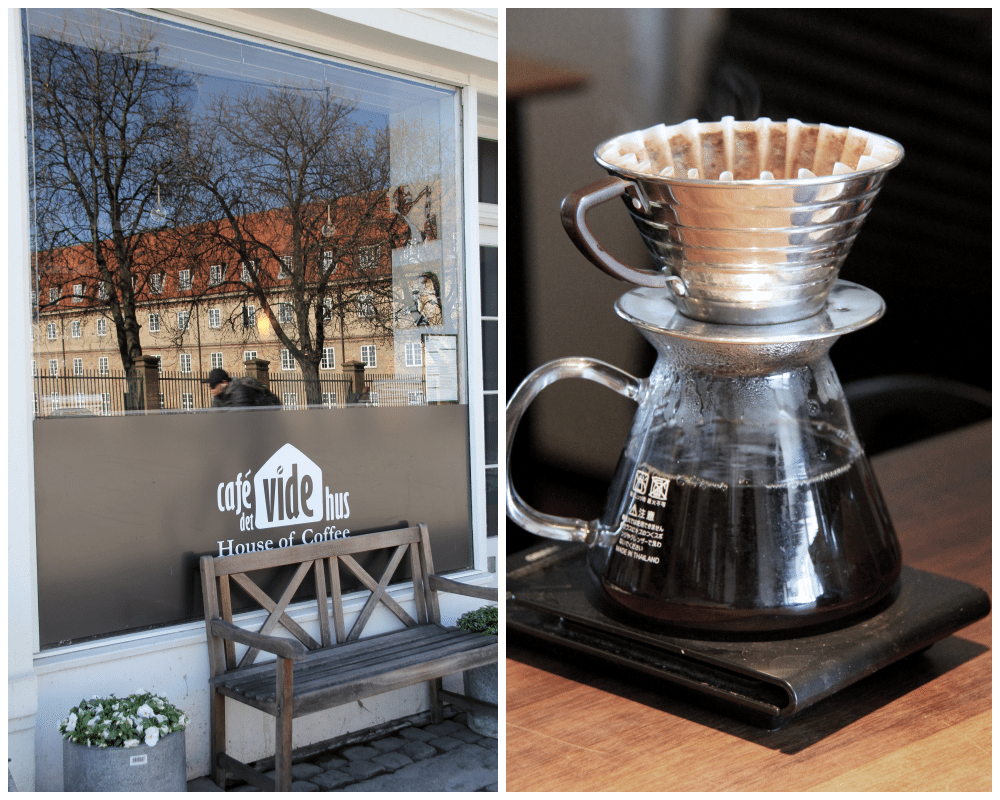 Dalsgaard has blended his passion for good coffee with a relaxing vibe in Cafe Det Vide Hus. The store name is a pun that could be interpreted as the white house or the wide house, both ironic for this tiny little shop you may not even notice while riding past it. In contrast to the many carefully (and sometimes overly) designed places in Scandinavia, Det Vide Hus feels like your best mate's living room. Except your best mate also makes great coffee.
Dalsgaard switches up his coffee often, sourcing from various European outlets, but a few bags from North American roasters can also be spotted behind the counter. Over the years, he's had a close collaboration with Coffee Collective.
"Det Vide Hus is one of my favourite wholesale customers by far because they have their own identity," says Coffee Collective's Thomsen. "You aren't in any doubt when you walk in there, that this is Claus' place – he owns it, he is there every day – it's so personal."
If you're still not convinced that it's worth a visit, here's one more thing to lure you in: espresso-based iced-cream.
PS: On the contrary to the most of Copenhagen, it is Cash only here!
Gothersgade 113, 1123 Copenhagen, Denmark
Facebook, Instagram
Prolog
Prolog is the new kid on the block. This spring, Jonas Gehl and Sebastian Quistorff moved into I'm a Kombo's ultra trendy magazine store in Kødbyen or the meatpacking district. While magazines still line the wall of this stylish joint, their coffee is what you should visit them for. Everything about this place screams "Copenhagen" – style, precision, quality, and anything else you may associate with the Danish service industry.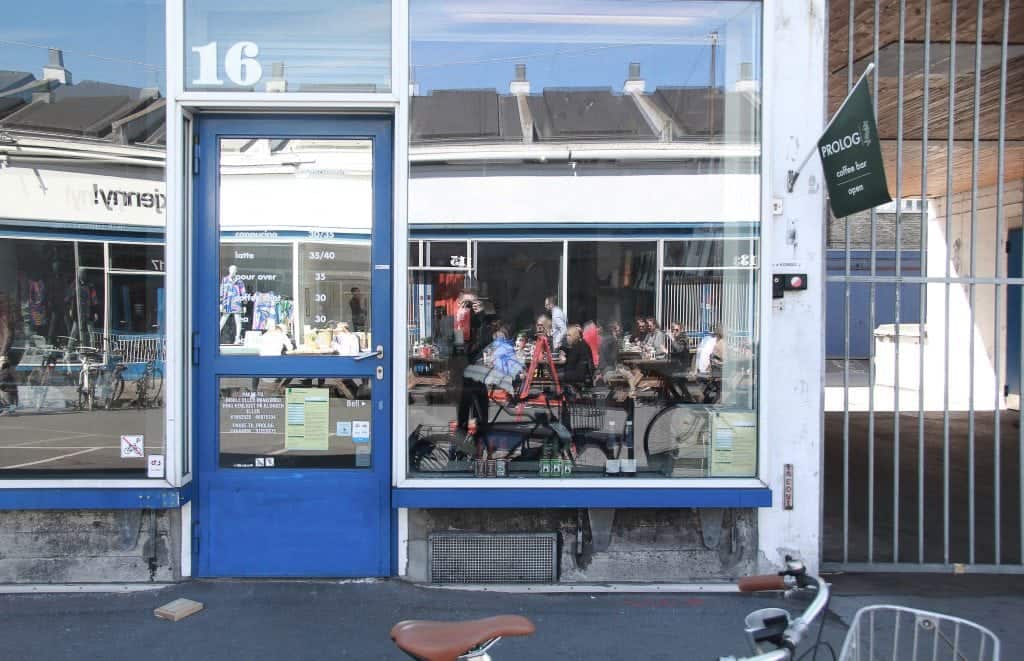 And service is really at the core of everything for this duo. Gehl stresses that while coffee is important, they're driven by providing a special customer experience. The slick decor and melodious French tunes certainly help with that.
Gehl and Quinstorff met each other at Emmerys years ago and bonded over the mutual love – some might call it nerdery – for coffee. Gehl spent a year and a half at Democratic Coffee before starting his own venture in west Copenhagen's culinary hub.
They roast their own coffee and prepare each cup with meticulous precision. They're also likely to treat you to a complimentary biscuit prepared by their food partners I'm a Kombo, a group specializing in food design and private dining experiences.
On your visit, try their coffee shots: a long espresso shot made with filter coffee. It's like a lungo, but you don't use espresso coffee, making it a distinctive, aromatic brew. But be warned: it's a strong caffeine kick, and even Gehl wouldn't recommend it as your first drink here.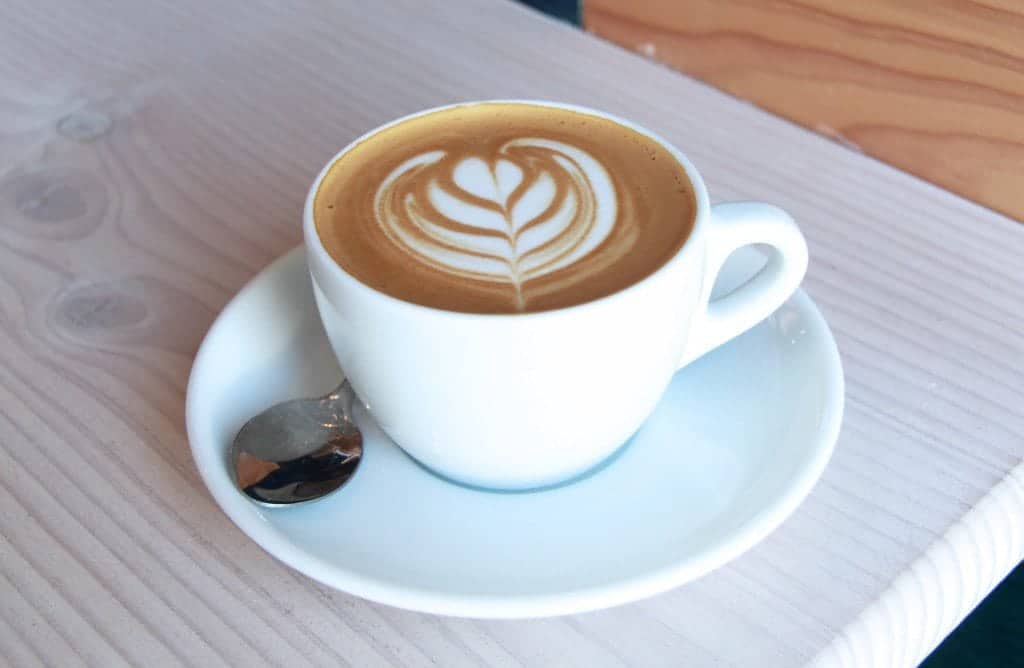 The only downside of Prolog? We wish it was bigger! The bar stools and window seat get snagged up very quickly. But even that creates a lively, Italian coffee bar-esque feeling. Italian vibe meets Scandinavian design – what's not to like?
Høkerboderne 16, 1712 Copenhagen, Denmark
Facebook, Instagram