Has Bean stepped into a new role. In cooperation with the Japanese clothing brand UNIQLO, the UK's grand roasters have decided to feature their coffee service at London's busiest Oxford St, for a short period of time. This 3-month pop-up cafe is located within central London's UNIQLO store, looking down onto the crowds from the third-floor space.
This cooperation is Has Bean's first brick-and-mortar location since 2003—and it goes right to the hustle of central London!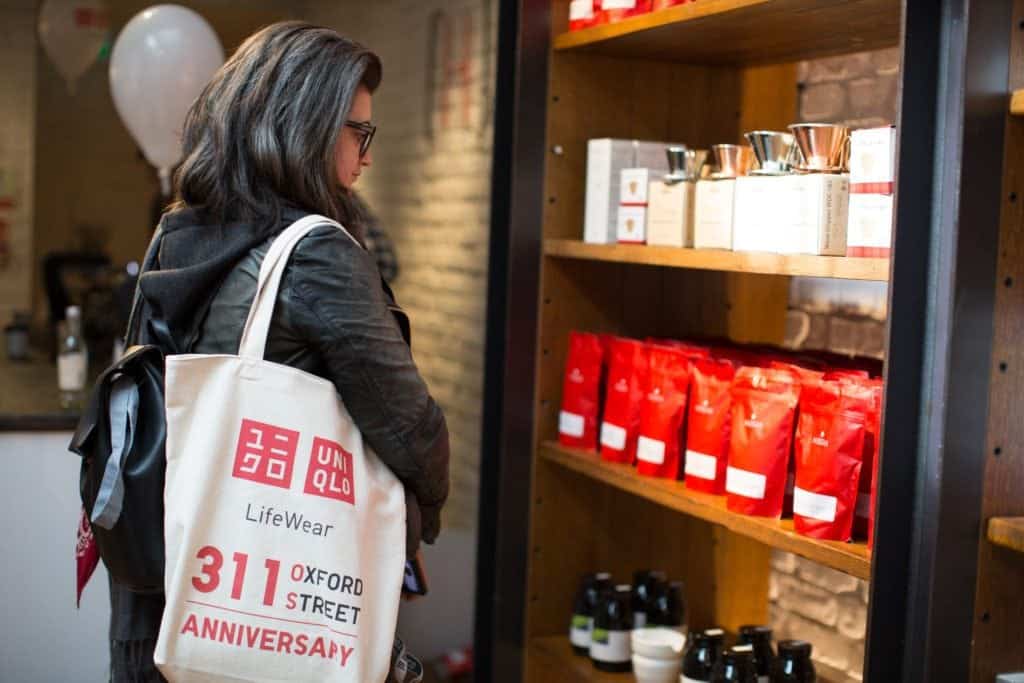 By the words of [H]AND's press release: "Hasbean, online roaster-retailer and wholesaler of an extensive range of specialty coffees, announces the debut of a pop-up filter coffee & tea bar located on the third floor of UNIQLO's flagship shop on Oxford St in London. Inspired by the values of both Hasbean and UNIQLO LifeWear, (H)AND by Hasbean highlights the power and beauty of collaboration ("AND") and manual creation ("HAND") through coffee and tea service."
It is exciting to see big companies stepping into new roles, experimenting with what else they can offer. Has Bean has been a major part of the Speciality coffee evolution in the UK, sourcing directly traded coffees from around the world, roasting and supplying them to across the UK and Europe. Their most recent pop-up is a result of their passion and hunger for new experience. Having met Steve Leighton several times, also following Tamper Tantrum podcasts and presentation series across Europe, we see the company as ever evolving and tireless to over-deliver to their customers.
Team & Equipment on hand at [H]AND
Managed by 2014 Irish Barista Champion, Pete Williams, (H)AND showcases Hasbean's "together is better" approach to speciality coffee whilst highlighting the great work of their producing partners. With 60+ unique lots of speciality coffee sourced by Hasbean available at any given time—the sum of which covers a wide range of origins, varieties, and processes—the coffee offering at (H)AND changes daily, with menu updates available on Instagram.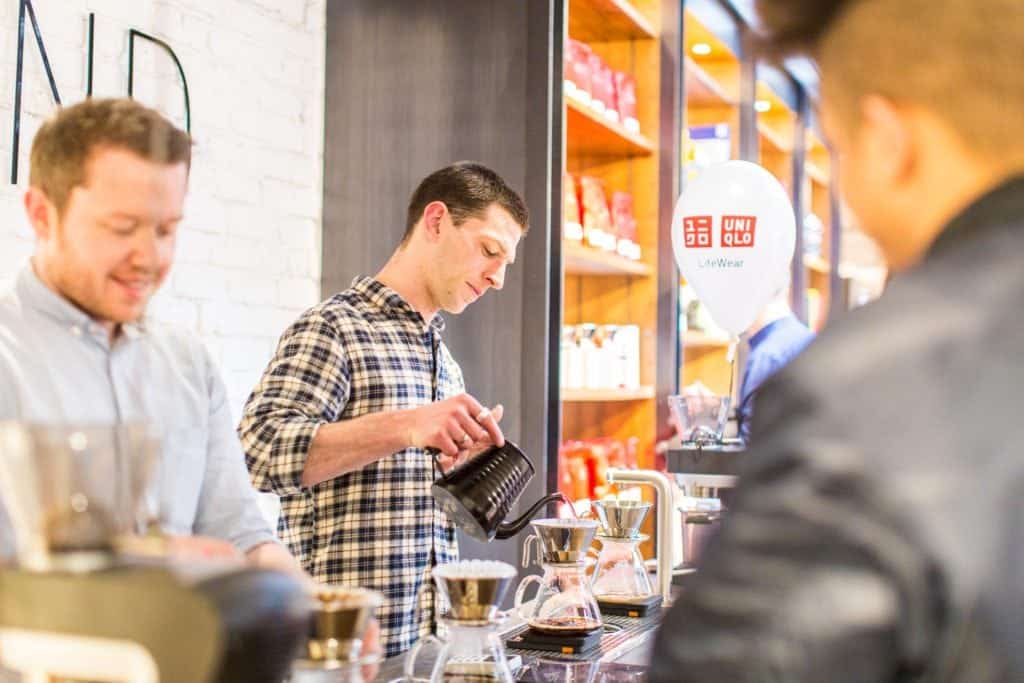 All coffee at (H)AND is brewed on a handmade series of brewers produced in the Tsubame region of Japan as a collaboration between Kalita, a family-owned company headquartered in Yokohama known for their pour over coffee drippers, and the local manufacturers. As a part of their collaborative "& Kalita" initiative, the resulting hand-engineered and hand-made brewers of the "Tsubame & Kalita" collection embody simplicity, functionality, and beauty whilst maximising evenness in coffee extraction.
(H)AND also features teas from London's Lalani & Co, a family-run company that specialises in finding extraordinary limited-edition small-batch teas, brewed on the Aurora brewer. Designed in London by Jameel Lalani and ceramic artist Linda Bloomfield, the Aurora brewer is manufactured in Stoke-on-Trent with British clay and features a simple and elegant shape that allows for ideal brewing conditions without a handle, long spout, or strainer.
Precisely heated water for all brewing is supplied by the Mix boiler, developed Marco Beverage Systems, a leading Irish hot water delivery systems company known for their innovative design. The Mix—alongside all of (H)AND's brewing equipment—sits within a bar designed specifically for the unconventional space by Pete Williams and built by William Ireland (Bristol, UK) to allow for maximum efficiency and organisation.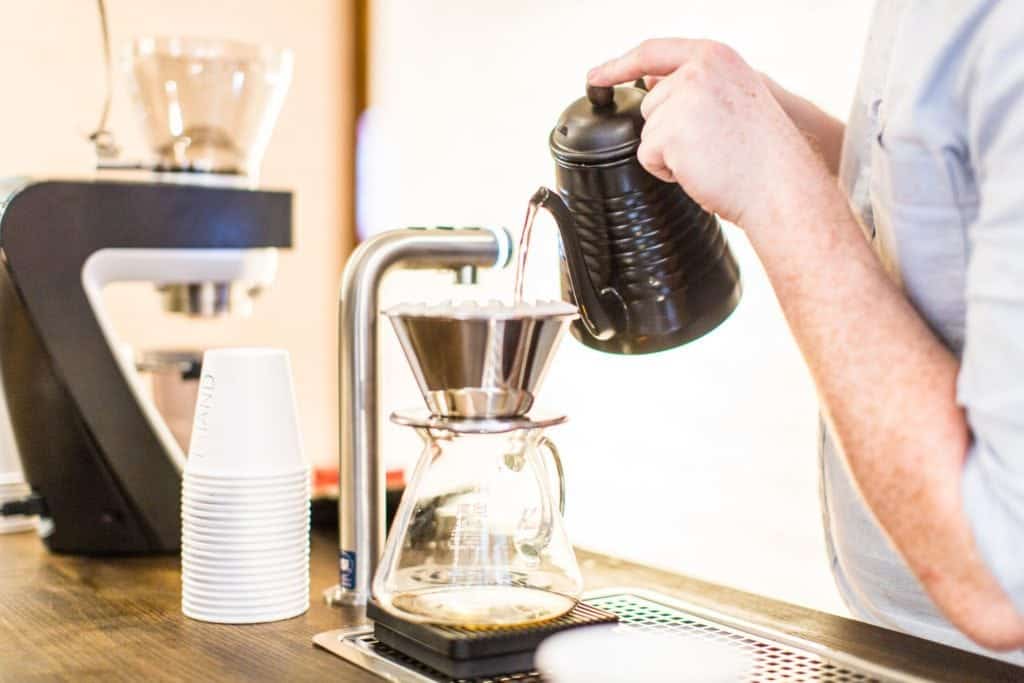 A great opportunity for innovative approach
"For many years we've thought about how we might present coffee differently if the real challenges of paying the rent or the logistics of a modern espresso bar could be bypassed," says Dale Harris, Director of Wholesale at Hasbean. "When UNIQLO approached us with their hope of offering the customers visiting 311 Oxford St something remarkable, we saw an opportunity to really look at delivering something innovative, simple, and enjoyable. (H)AND is about collaboration and service, not sales – we're excited about the freedom that offers, the drinks we're going to serve, and who we're going to meet, work with, and learn from along the way."
[H]AND only opened 18th March and will have a short stay at the UNIQLO shop. Come and taste the wide selection of their coffees, before they pack their beautiful set up in a three months' time!