Paul Bonna started his own company doing top class coffee-catering in 2010 when still in university. Though a sustainable business in coffee had already been an idea spinning in his mind, he would not start his first pop-up project until two years later. Kaffeekommune 1 became the first step towards a brew bar focusing on filter coffee.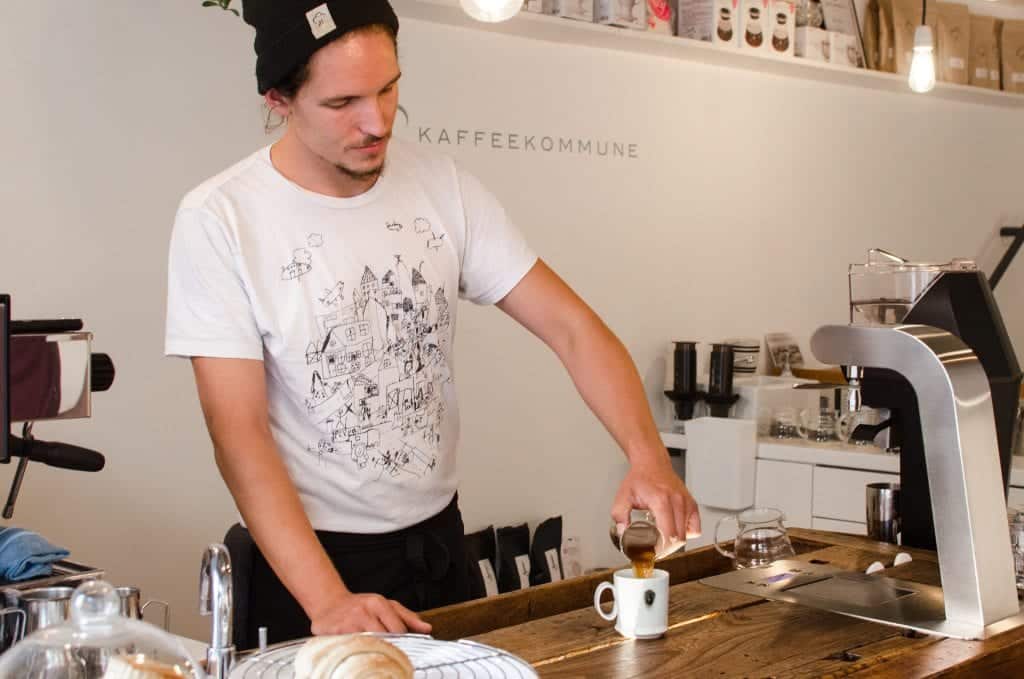 Since the beginning he had his eyes on the Überboiler as the essential piece of equipment for his brew bar. Back then the idea of building a brew bar was yet unexplored, not to mention the fit-out of a cleaning area and the design of the bar all together. With a last-minute change of locations, they built up the first store in three days only. While the seats were made from cardboard boxes they had the only Marco Überboiler in use in Germany.
With his partner at that time, Sebastian Lösch, who is now one of the co-owners of the Munich-based roaster and coffee bar Mahlefitz, they blind-cupped loads of coffee, took out all possible subscriptions, to always find a preference for coffees roasted by Tim Wendelboe. After they were surprised with yet another cupping's result, finding the best coffee to come from Johannes Bayer, Paul took notice of this roaster. At first they offered multiple roasters such as Five Elephant, Has Bean, Machhörndl, with a menu changing every week. Gradually they increased a focus on Johannes Bayer, whom Paul describes as dependable and consistent in his work.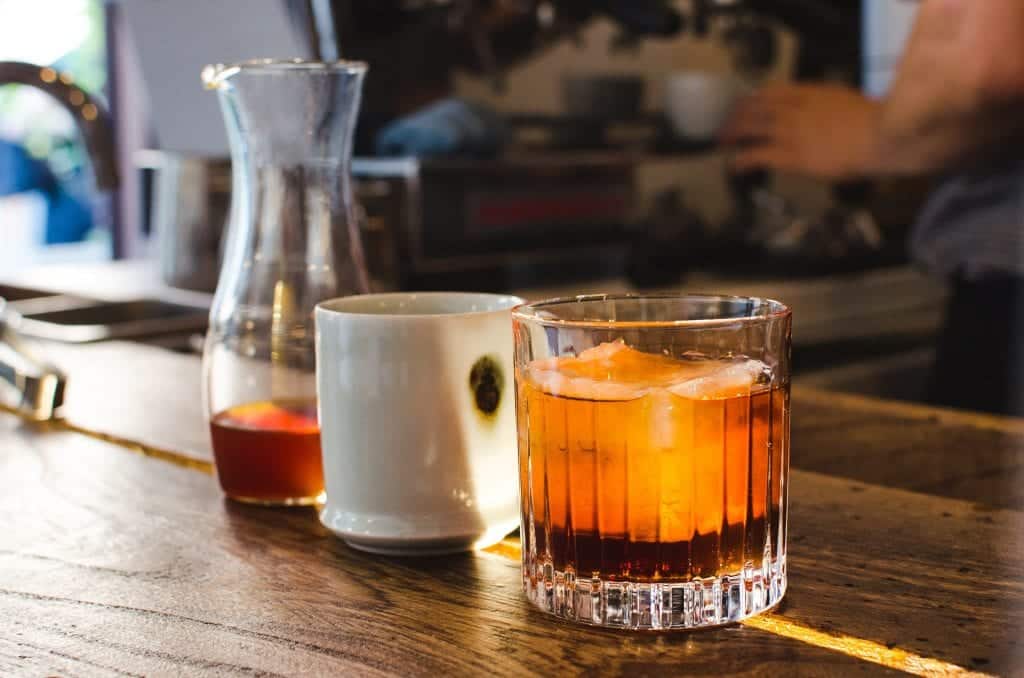 In 2012 Paul gained some more inspiration and experience within the specialty coffee scene in London to return back to Mainz the next year, starting his second pop-up, Kaffeekommune 2. Eventually the running costs of the pop-up became too extensive and he moved into the space he originally intended to become his brew bar. With several construction works left to do at that time, he had the chance to influence the architectural and interior design of this space.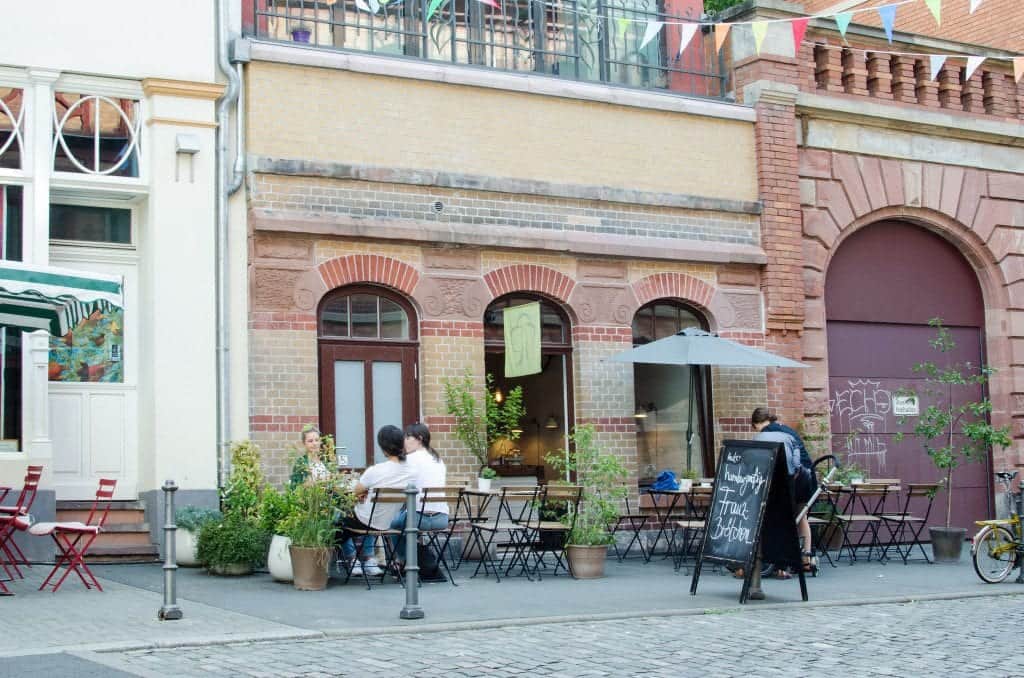 The cave-like shaped cafe is a warm, welcoming, cozy and surprisingly bright space. Ideas of how to work with limited room was gained through visiting small surface cafes especially in Paris. Paul thought of constructing a little platform in the back, which made the 20 m2 room look larger. The cafe comfortably sits 23 guests inside and has got 20 seats outside, while retaining an airy look. The relatively low bar, with only 80 to 90 centimeters in height, is L-shaped, and made from an old wooden workbench with a vise still attached to it.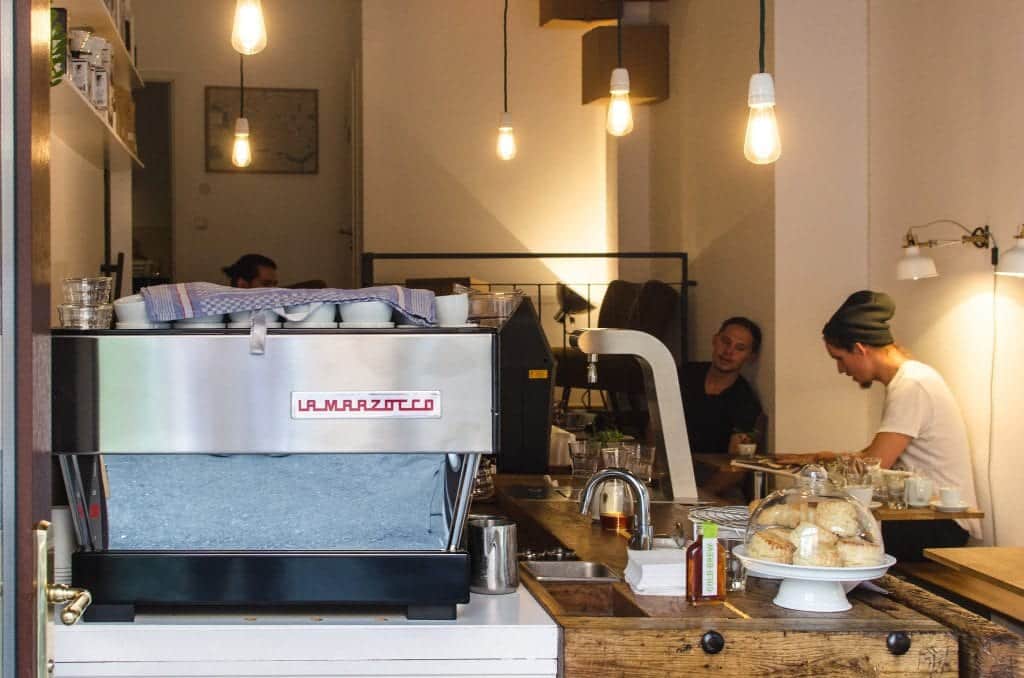 A La Marzocco Linea Classic is facing the front door while the center of the bar is built around the Überboiler, a filter coffee grinder and an AeroPress cleaning station at the back of the room. This set up took Paul a week of shuffling the furniture around. To complete the café's charming decor, there are cardboard boxes on the back wall citing the old pop-up days, handcrafted AeroPress-lamps, coffee grinder burrs in the rest room, blue crow medias specialty coffee map of London – marked, of course – and an early German newspaper article on Prufrock's Gwilym Davies and Jeremy Challender. Industrial look of metal and wood is supported by Paul's old bike hanged from the ceiling. And what about the lovely ceramic coffee pots? Paul invited potter Fritz Rossmann, who created them for the cafe. He introduced him to the product he was about to create a matching pot for. The result is a small piece of art.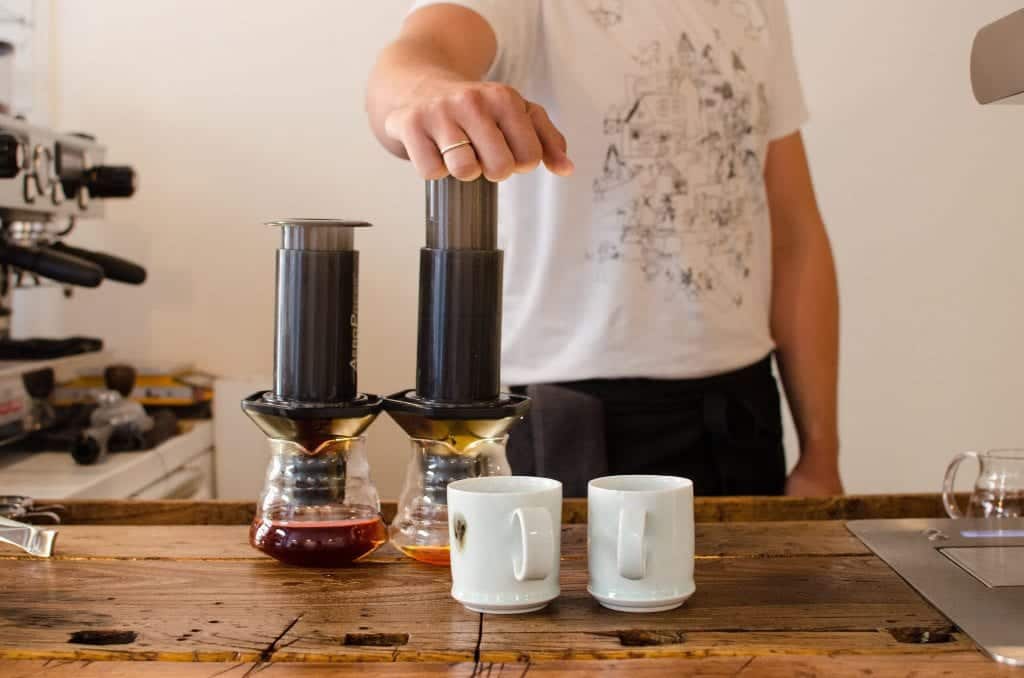 The bar also serves as a showroom for people in the business discovering new possibilities. His pioneer work in this area helped him to acquire several clients for his second business: cafes consultant. Paul says, other than the espresso stations, the brewing sections are not very well planned yet in a lot of the cafes. For example, he worked on the bar unit of Frankfurt's newcomer Aniis – a very well designed cafe that European Coffee Trip featured just recently.
As for the coffee itself, they only do AeroPress, basically because there is only space for one brewing method to be done properly. To be able to produce a result as consistent as possible, he prefers to use it in combination with his Überboiler. The V60, for example, he thinks of as being more difficult, since the pouring technique is more crucial there. Another aspect in terms of consistency was to standardize the workflow. He also serves an excellent Cold Brew though which has the same extraction rate as the filter coffee but tastes of course very different, like the sweetest of juices.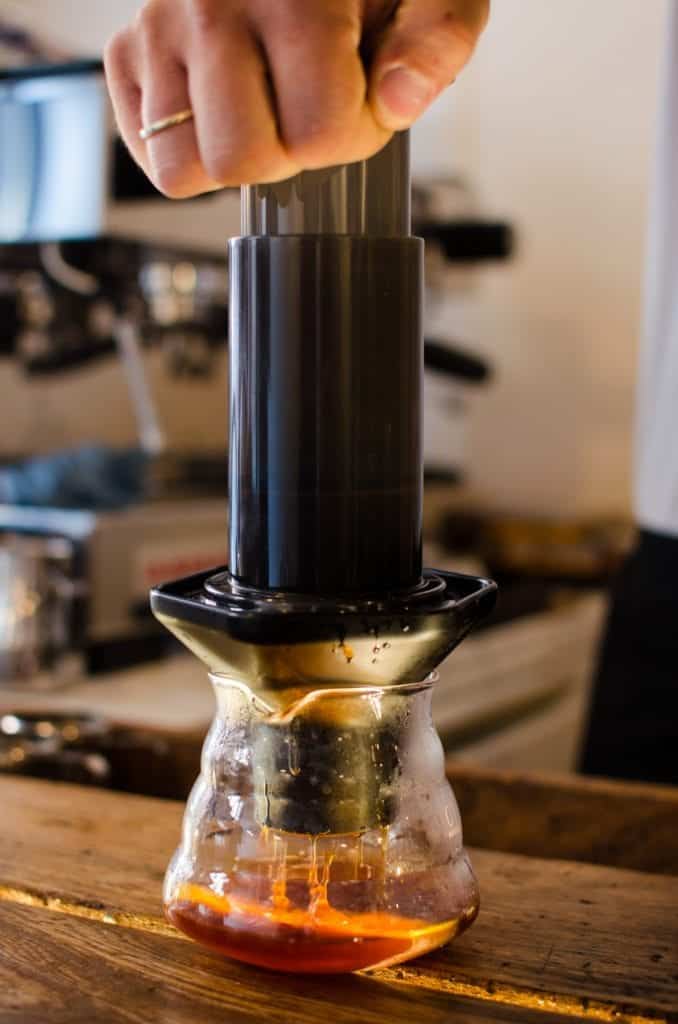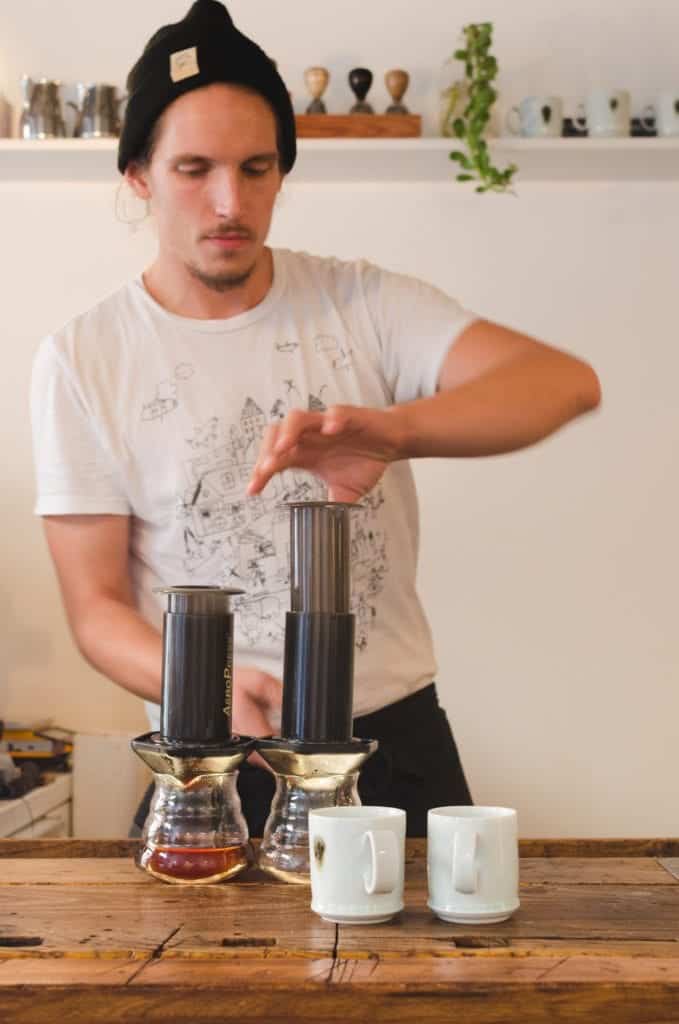 Today's Kaffeekommune runs for one and a half year now but is not yet completed. Soon Mahlkönig's smaller limited edition version of the EK43 will be introduced. And as Paul also thinks of the La Linea as too big in size the plan is to get a new espresso machine as well. One which will be sort of a self-made gadget based on existing technique – for now Paul won't reveal more details. Except maybe one: the main concept of the Kaffeekommune is that one has to be proud of everything that goes across the counter.