Filip Kucharczyk is a founder of Cafe Targowa, co-founder of Czarny Deszcz coffee roasters. He is a barista and trainer but the most importantly he is the 2016 World Aeropress Champion. We met him in a historical building of Hala Targowa in Wroclaw where he shares his passion for coffee with all his customers. In this video and interview he reveals his winning Aeropress recipe as well as his approach towards brewing coffee.
The Winning Recipe
Method: inverted
Dry coffee: 35 grams
Grind: coarse
Paper filter: rinsed
Water temperature: 84°C

Start the timer.
Pour 150 grams of water for 15 seconds.
Stir until 35 seconds on the timer.
Put the lid on, wait until 1 minute on the timer.
Invert AeroPress, give it a swirl, plunge.
Add 100 to 120 grams of water to taste.
Hello Filip, where are you at the moment? Where did we catch you?

At Amsterdam Airport on the way back from Colombia. A trip to origin was the main prize for [winning] the Aeropress [championship], funded by Amor Perfecto. It was pretty jaw dropping there, few days in the mountains of Tolima visiting farms, cupping and just looking at the landscape. Then a few days in Bogota hanging out with baristas and seeing local coffee scene. Beautiful stuff.
Could you tell us a little bit more about your winning Aeropress recipe?

I wanted to come up with something easy. And with this method you can prepare delicious coffee without any sophisticated tools. Easy: add loads of coffee (2 Aeropress spoons before grinding), little water (up to mark 1, using inverted method) , stir mad for some time, wait a little, press, add water to taste.
Fast, easy, delicious – perfect for Aeropress competition and for home use.
You use quite a lot of coffee – 35 grams, how does this influence the taste of your coffee?

I'm guessing it just makes the coffee better! This big dose, coarse grinding, and low temperature make for the gentle extraction. Coffee is well under extracted in this method too, and the big dose compensates for it. This way you can make the concentrate pretty much however you wish; different grinds, temperatures, doses. You can play more with the recipe – it's not set.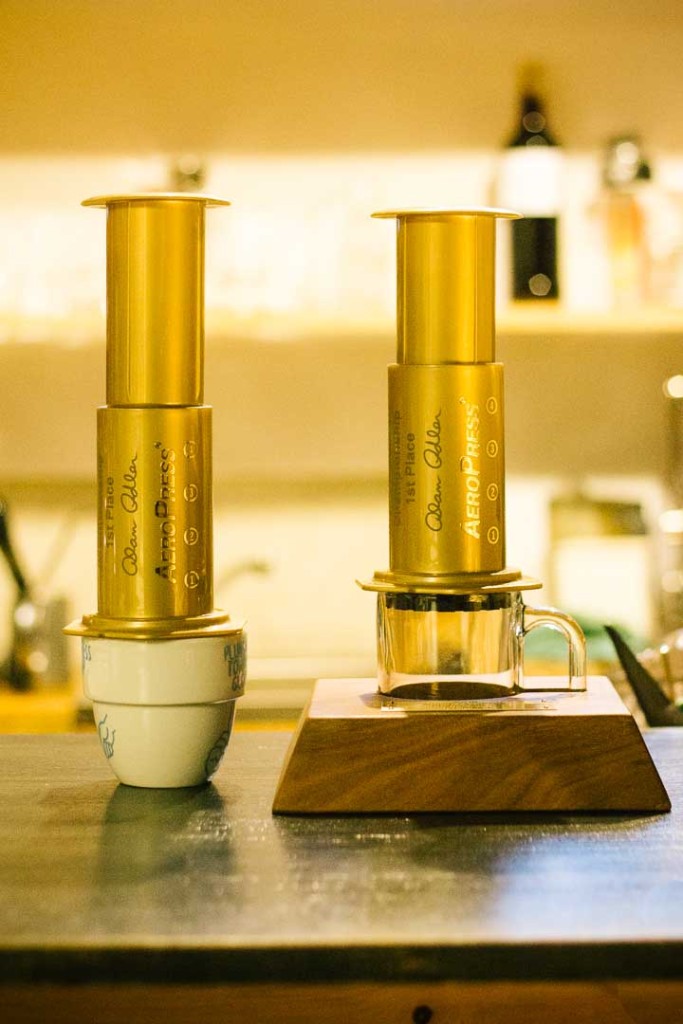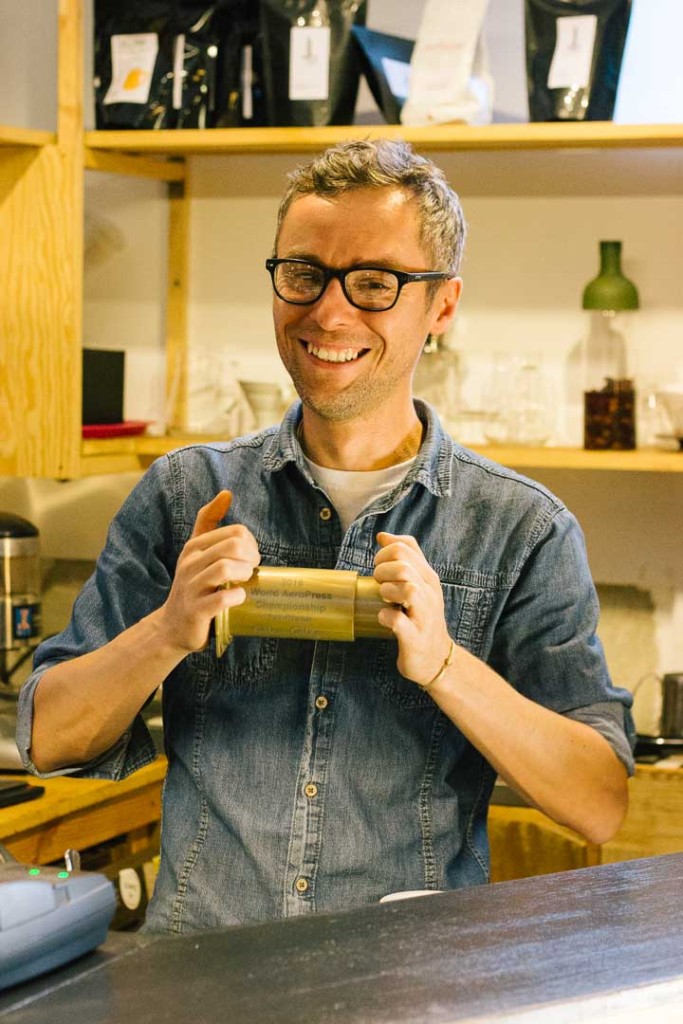 You mention a coarse grind. Could you help people who would like to replicate your recipe and tell them how course is the right coarse?
Something like Chemex grind, on EK43 with the original dial it is no.11, the coarsest you can get there. Quite coarse, but it doesn't have to be perfect. If it's too coarse, add less water later; if too fine, add more water. But you need to be within the 'range' of grind sizes not to make the coffee to weak or bitter.
How do people recognise the taste is right – what is the taste or extraction that you are aiming for?

If you get it right your coffee should be: balanced, sweet, full bodied, have a higher but balanced acidity. The best way is to compare it with any regular Aeropress method and see the difference.
For stirring you use chopsticks, what is the story behind this?

It's this magic touch. It is actually easier to stir vigorously with them and they are easy to find anywhere!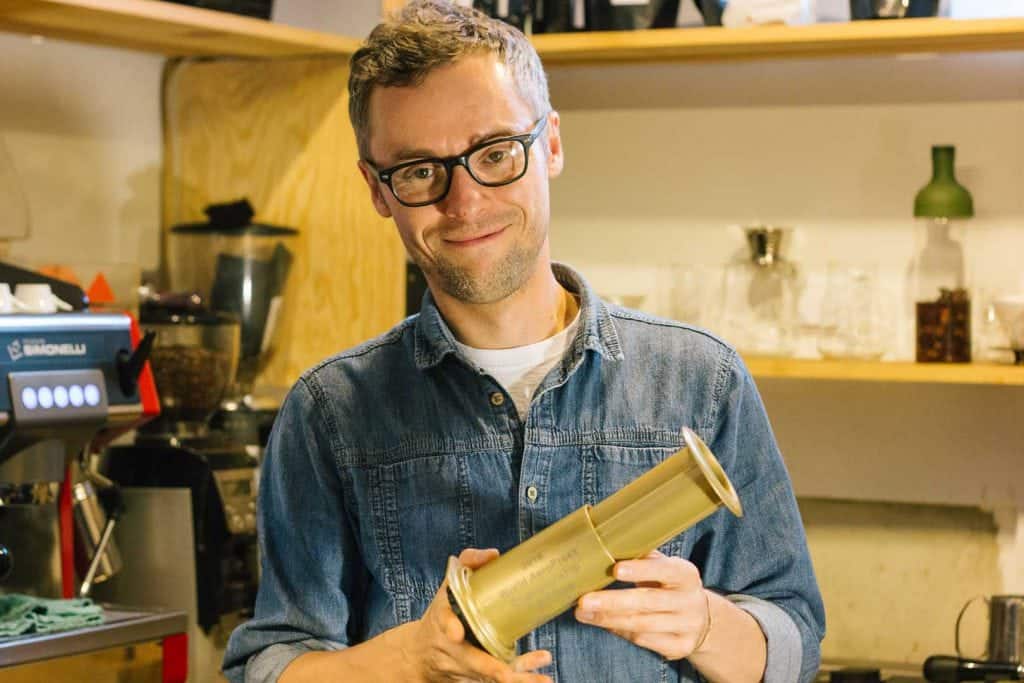 You told us about the special WAC coffee project you were preparing, could you share a little more information about it?
We got hold of the coffee that was used at the competition in Dublin, a Colombian Rio Negro and roasted it with Czarny Deszcz, a local roasting company. I had this idea to give anyone who was interested the chance to try what would the winning coffee taste like there. You can now buy this coffee through our website.
What is your advice for the future competitors in the Aeropress Championships?

I don't know really. From my experience I'd say: "Come up with something easy to make, fuss free and enjoy the day."
Thank you for the interview Filip and good luck with all your coffee projects!
If you would like to compare Filip's recipe with the 2015 champion Lukas Zahradnik check this post "How To Make Aeropress As 2015 World Aeropress Champion".