Our Barista Stories series has been long in the making. Since our first visits to cafes around Europe, we have met many amazing baristas who have had a number of interesting stories to share. We love the speciality coffee community exactly for the people building it and are thrilled to introduce some of those individuals to you.
Baristas truly are the ones who contribute to the atmosphere in the cafe massively and are the key reason why we'd revisit.
Read on to meet Zak Thomas, brewing your daily cup of coffee at Hard Lines in Cardiff.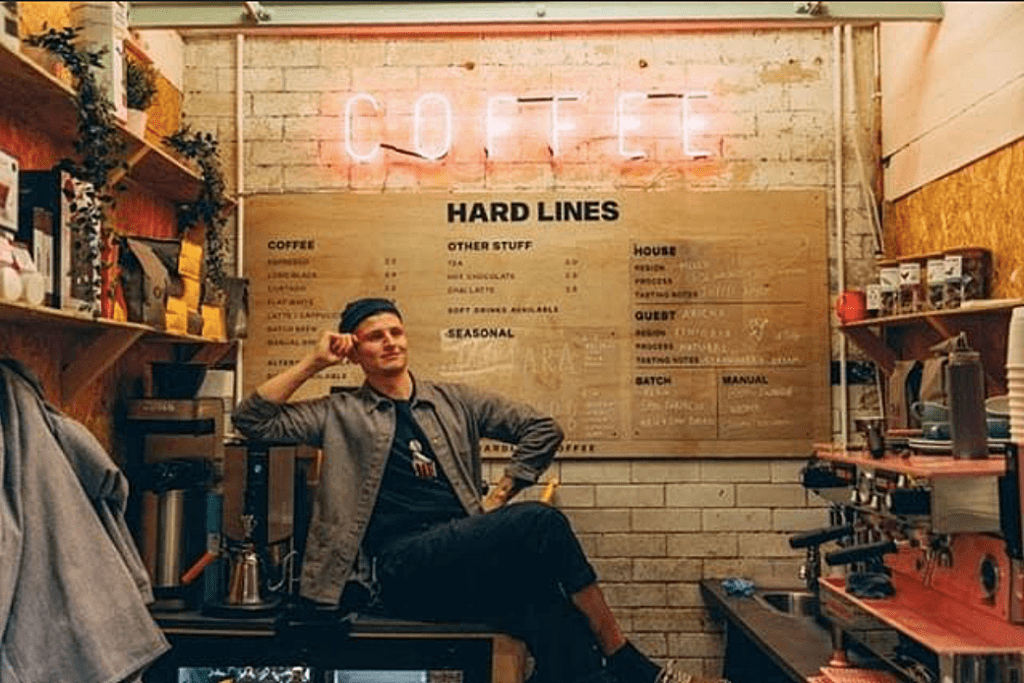 Zak Thomas is a 23-year-old barista living in Cardiff. Originally from Swansea, a coastal city in the south of Wales, Zak has worked in the speciality coffee industry for four years, in which he worked for a couple of coffee shops. When he is not working at Hard Lines, you can find him at Frontier Tattoo Parlour where he is a resident tattoo artist.

Zak, do you remember your first memory with coffee?
Yes, I remember having my flat white when visiting my brother in London who was into coffee and had taken me to a specialty coffee shop and I let him choose my coffee. It was the first time I actually noticed an interesting flavour come from coffee. I remember it being sweet before adding any sugar.
Could you describe the moment or situation that made you decide to become a barista?
I was lucky to get a barista role in a specialty coffee shop with no experience and to be shown a quick PowerPoint going over some different topics such as the origin of the bean, the process and brewing methods. I found it stimulating to learn about and from then I started to do my own research and learn more.
What is the funniest thing that you have experienced behind the bar? Can you recall any embarrassing moment?
If you follow Hard Lines' Instagram I quite often post silly short stories that often include me dancing and there's been a number of times a customer has walked up to me while I'm dancing in front of my phone as it films me and they wait till I notice and serve them. I try to explain what I was doing but you can always cut the tension with a knife.
What was the most memorable coffee in your life, and was there one that you'd like to forget?
Gesha village (Ethiopia) by Gardelli Specialty Coffee which was brewed for me through v60 when I visited Lowdown In Edinburgh a few weeks ago ticked all the boxes for me.
If a career in coffee was not an option, what job would you be doing?
Well I would tattoo full time. But to do both my passions as my job I really couldn't ask for a nicer position to be in. I also always wish I gave acting a go.
Do you have an unusual habit or hobby that you love?
I really like cold soup. I get in the bath fully clothed when I'm drunk.
Are there any bad recommendations you hear often in your profession? What is your piece of advice for anybody starting a career as a barista?
I think it's good to not compare yourself to other baristas and find what you personally really like about coffee and not what everyone else thinks. Have fun with it.
Looking back, what one thing would you wish to know when you were starting to work as a barista?
I would have had more fun learning than feeling pressured to reach a particular standard.
What qualities set a good and a great barista apart?
I think it's more than who can make a nice coffee. It's about so much more, personality is a massive part of what we are trying to encourage at Hard Lines, so being able to accommodate a range of customers, register when to talk coffee and when to have a laugh. Make the customer smile and make what we do one of the best bits of the day for them.
If you have a bad day at the cafe, what helps you to handle it and provide good customer service?
We have free range on the music we choose to play at Hard Lines and if I'm feeling low I just chuck on the Napoleon Dynamite soundtrack which cheers me up.
What is the one thing that you would miss the most if you could not work as a barista anymore?
Having free coffee.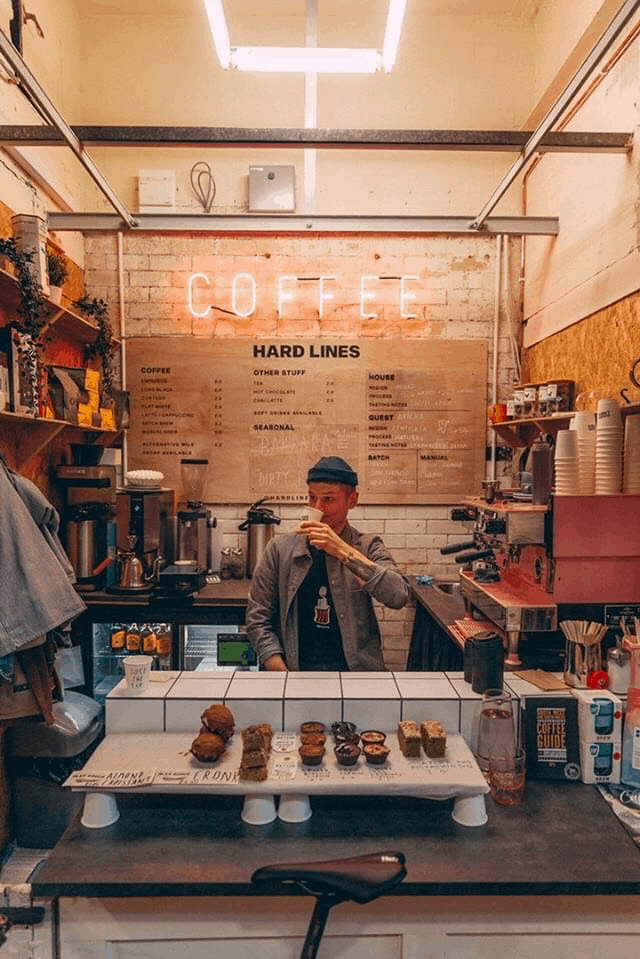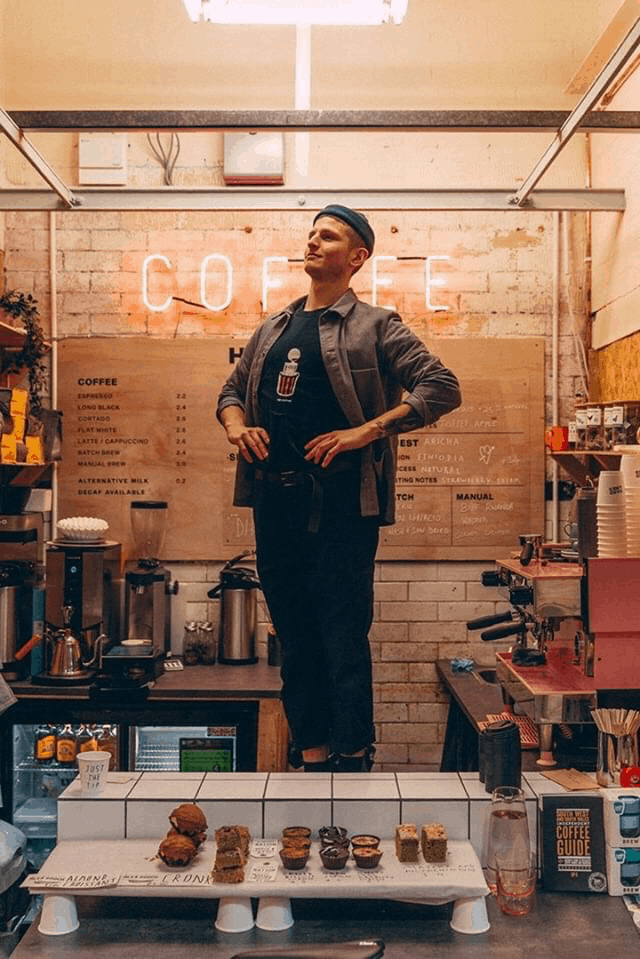 What cafes and roasters make the top-five list of places to visit in your city? Where would you take your visitors?
What has been the best experience you have had in the speciality coffee industry so far?
Although during this experience I winged and got stressed out I would say the London Coffee Festival last year in which we brewed coffee in pink jumpsuits on a stall has been the highlight for me so far. The fact we still had fun outside of our comfort zone within a more serious environment shows how strong our team is and it was a very nice feeling.
Quick Fire Question
Would you serve filter coffee with milk, if asked for it?
Yes.
Do you ever take sugar with your coffee?
No.
Espresso or Filter coffee?
Filter.
Do you aim for Sweetness, Acidity, or Body?
On the sweet side.
Milky or Black?
Black.
Slurp or Spit?
Slurp.
Sit in or Take Away?
Sit in.
Cake or Pastry with your coffee?
Cake.
What is your wifi password in a cafe?
Latteoflife
Photos: Courtesy of Coffee And I.