Meet Aurore Ceretta, a true coffee professional who won the German Cup Tasters Championship and represented Germany in the World Finals during World of Coffee Athens. We had a chance to interview Aurore shortly before she departed for Greece.
Aurore's journey to victory was not an easy one, as she participated in the championship a remarkable six times before finally claiming the title. Such resistance and determination are so uncommon and truly inspiring!
Born in the sunny city of Toulouse in the southwest of France, however, Aurore's path led her first to Berlin to finally settle in the cosy city of Freiburg, Germany. Here, she established her mark in the coffee industry as the owner of Café Marcel, a charming coffee shop she has successfully managed alongside her husband, Philip Weller, for the past decade. Additionally, Aurore is also one of the owners of Günter Coffee Roasters, where she collaborates with Philip and her brother-in-law, Mats Weller. As she underlined, she doesn't roast herself but she's there to help with whatever needs to be done!
With over a decade of experience in the coffee industry, her crowning achievement came this year when she emerged as the champion of the National Cup Tasters Championship. Aurore represented Germany during the 2023 World Cup Tasters Championship in Athens where she got 22nd place in the World!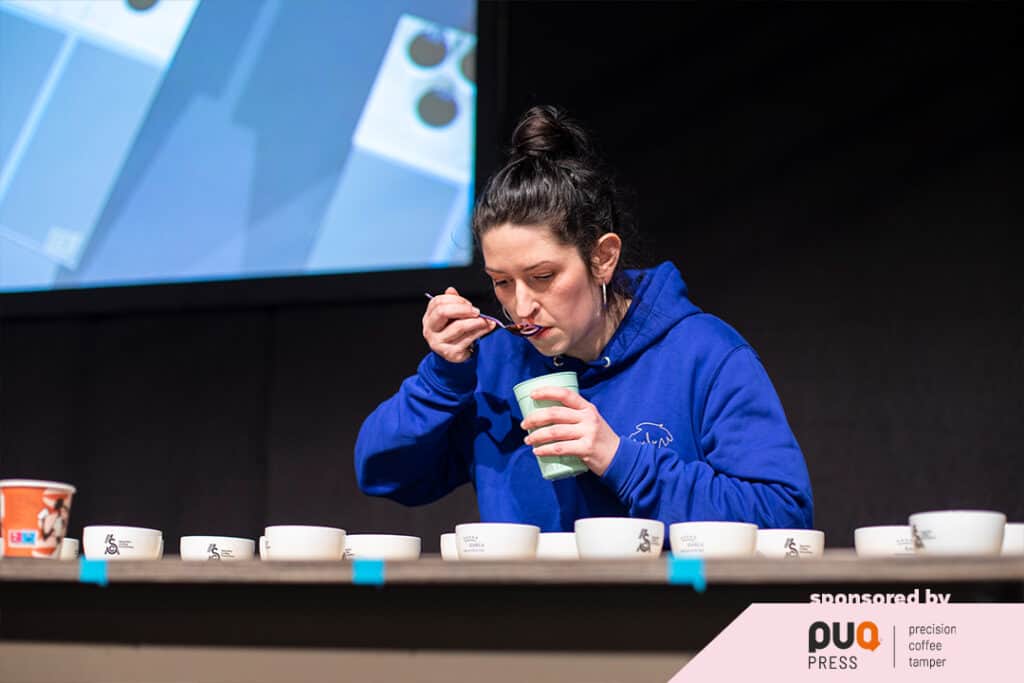 Aurore, what is your first memory of coffee?
I'll go with my first memory of coffee in Germany: Back in 2009, I moved to Berlin for my studies. Up to that point, I'd never been to the popular chain cafe starting with S since there wasn't one in Toulouse. So, I finally decided to go there to have a coffee. In France, whenever you order a coffee, you get an espresso, not in Berlin. What I got was a huge black Americano to take away, which was also my first coffee to go. It was so awful; I threw it away immediately and didn't drink coffee again for almost two years!
That was until I found my way into the world of specialty coffee.
​​​​What inspired you to pursue a career in the coffee industry, and how did you get started? What did you do before coffee?
In Berlin, I was studying German literature, history and linguistics for one year, in order to become a teacher in Toulouse. Then life got in the way. I met Philip, fell in love, decided to stay in Berlin, got a job at a café and also began to drink coffee again.
In Berlin in 2011, there was a lot going on in the specialty coffee scene. When I experienced it for the first time, I instantly knew that it will play a big role in my life from hereon after. I told Philip about it and after some specialty cups, he was as passionate about it as I was and still am.
We then decided to take a big step and open up our very own café in his hometown of Freiburg. We moved there shortly after and in 2014, our new dream became a reality.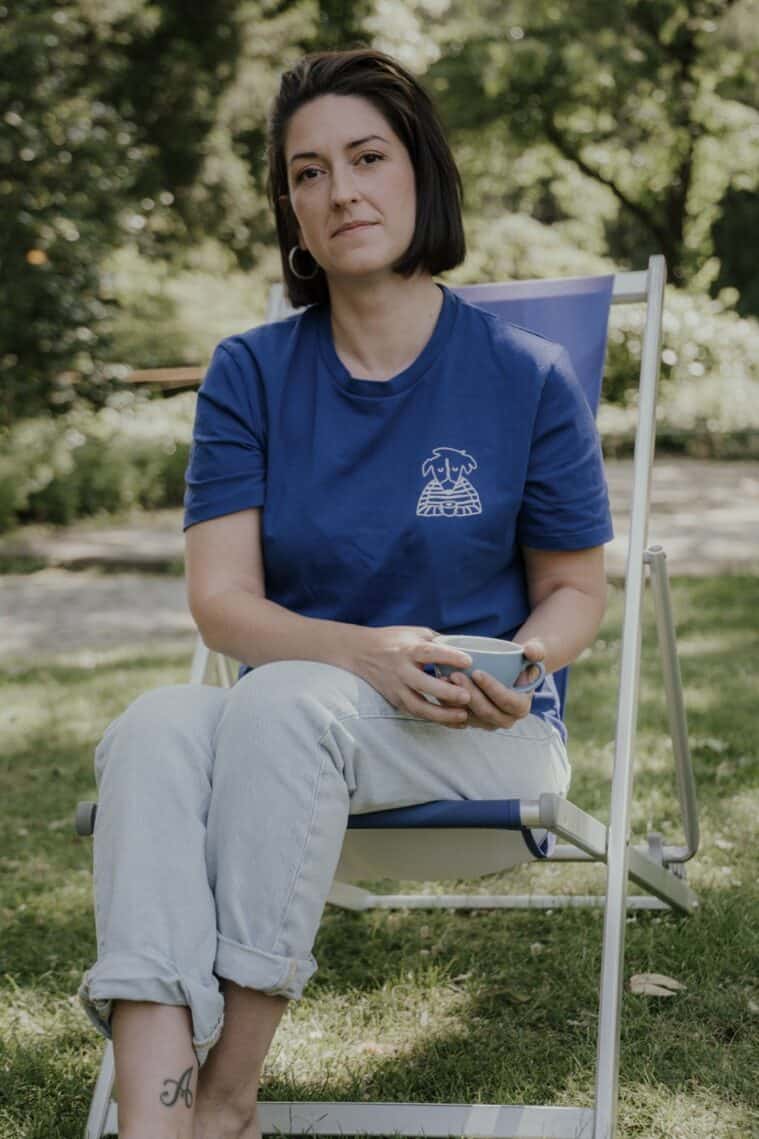 Tell us a bit about the place you have. What is your role there?
We have a busy kiosk-style café in a park in the city centre, and a coffee roastery that is located elsewhere. I don't have a static role, since both businesses are rather small; I am where I am needed.
In the roastery, packing coffee, sending online orders, cupping for quality control, choosing green beans we want to source, or at Café Marcel for baking cakes, serving customers, or helping in the background. I like the variation because that way it never gets boring.
There are just two things that I am not able to do: roasting and office work like accounting, marketing and such. That I leave it to Philip, Mats, Nico and Sandy, our Head Barista and Roaster.
What kind of experience do you want your customers to have when they visit you at the cafe/roastery?
For me it's paramount that our guests get great coffee, feel welcome and enjoy their stay at our locations. If they want to learn more about coffee, we're always happy to share our experiences and our ideas behind the various roasts we offer, of which we have around 15. We aim to keep our blends steady while we offer new single origins regularly.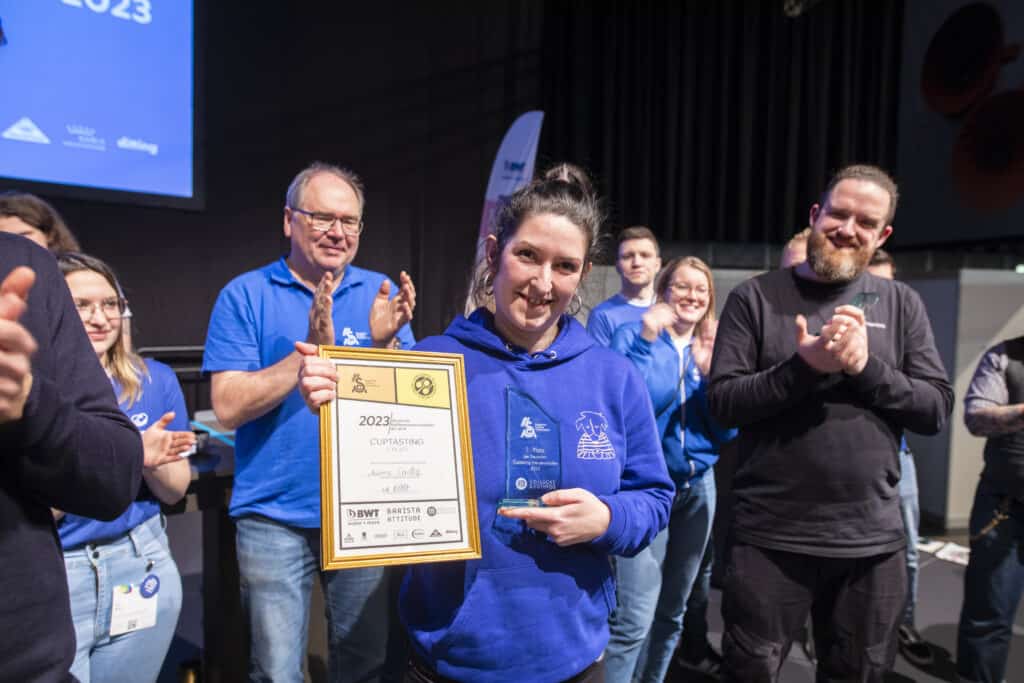 What is your favourite part of the day at work, and why?
Cupping times are always the best! I like to try new coffees and experience new tastes when we are looking for new green coffees. Cuppings for quality control are also great because they allow me to follow the evolution of our roasting curves. It's fascinating and satisfying when we reach the point where the roasted coffees taste as we imagined them to. Unfortunately, cupping isn't an everyday task.
How do you stay motivated and inspired to keep improving your coffee-making skills?
Running a café involves a lot of responsibilities and doing fun things with coffee is a really tiny part of my daily work. Going to events and championships, exchanging with other coffee professionals and sharing skills with others is the best way to get new motivation.
Last month, Philip participated in the German Roasting Championships and I was his coach. The competition lasted over 3 days and was quite exhausting, but it's so exciting and fulfilling to deal only with coffee with no distractions for 3 days in a row! I get inspired when I travel to other cities or foreign countries and I also like to go back to France and see how the coffee scene is evolving there.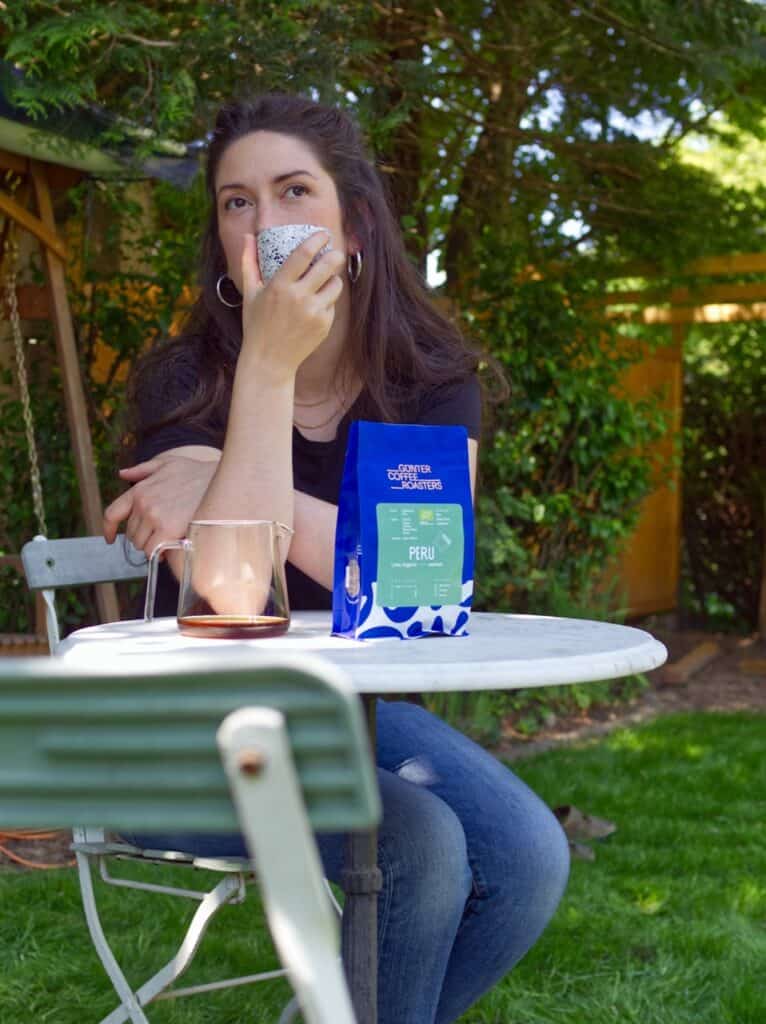 Aurore, you have some amazing achievements in the championships. Can you tell us more about them? What are the next championships you'd like to take compete in?
I am quite an intuitive, and sensitive person, I taste and smell a lot of things that other people may not perceive, or are not so intense. So, I was always interested in improving my sensory skills. The first time I saw a cup tasting competition, I didn't understand what it was about but the moment when the emcee began to scream "Poooooiiint", I knew that one day I want to be on this stage!
This year marked my 6th time participating in the Cup Taster's Championships. My worst place was 6th, my best 1st and I also landed every position in between. While I like to support Philip when he is competing, the Cup Tasters Championships are my terrain for now… Let's see how Athens goes, first!
How do you approach preparations for the World Cup Tasters Championship in Athens? How do you feel about competing on the World stage?
It wasn't too easy to find time to train but for the last few weeks, I tried to train two times a day. I'm happy to go on the world stage and could never imagine I would make it so far by doing competitions but I am also quite nervous, as you can imagine. Last year's performance from Denes Raymond, the German cup taster's champion of 2022, at the stage of World of Coffee Milan was outstanding. I was there to witness it and got an idea of what I'll face in Athens, so the pressure is on!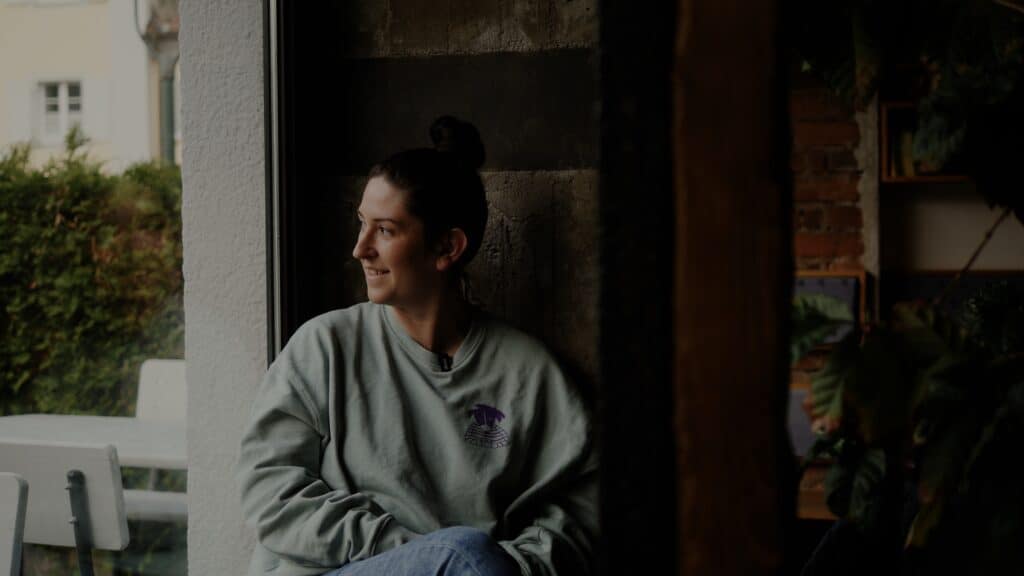 What coffee challenges are you looking forward to? Any new projects or collaborations?
The longer I am in the coffee business, the more I learn about coffee and everything that's tied to it. Many small artisan roasteries like ours are trying to make a difference, not only in terms of coffee quality but, more importantly, in terms of quality of life at the source, where coffee farmers are oftentimes easily overlooked, and environmental impact isn't discussed enough. We are constantly looking for collaborations with small importers that do care about these topics, and I hope that more will follow the idea of third-wave coffee.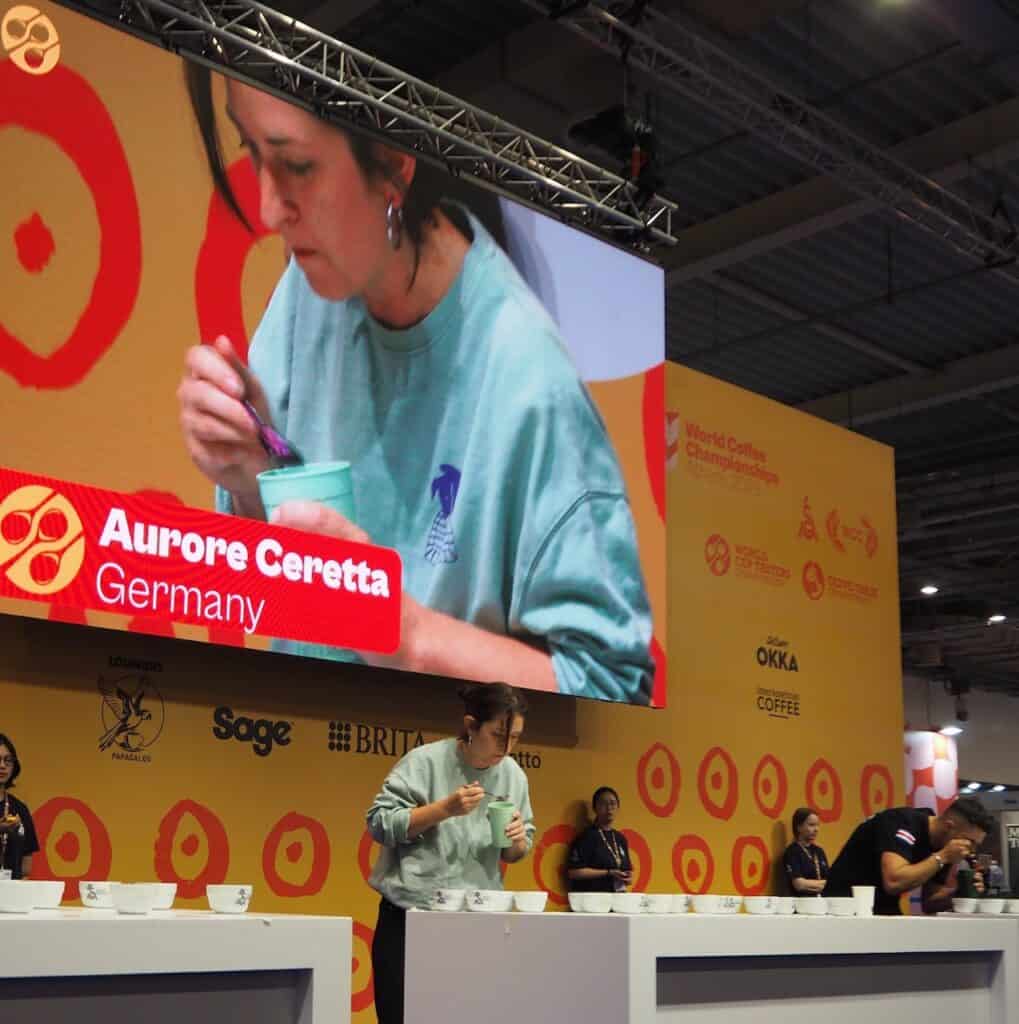 Follow-up after the World Cup Tasting Championship that happened during World of Coffee in Athens.
How did it feel to compete on the World Stage?
I had a training session the day before with other World Cup Tasters competitors. This was a nice opportunity to meet and chat with people from all over the world in a quite relaxed atmosphere. We talked about our experiences as national champions, how the training time was, and more globally about working with specialty coffee in our respective countries/continents. I think that is what it's all about in this kind of world events: sharing different points of view but on common topics.
I was clearly not focused at all as I went on stage, the situation was too overwhelming for me: all my coffee friends who were there cheering at me, the other competitors who impressed me – I just became too nervous, my hands were sweaty and shaking, I was only focusing on not letting the spoon fall out of my hand and just manage to taste the coffee.
What is your advice for yourself and others when they enter the World Championship stage?
My first round of the competition was at 10:00 am on the 1st day so there were three exciting days of World of Coffee in Athens waiting for me. I didn´t want to miss it because of my hurt pride. I can't hide that I was disappointed in myself and my results. Everybody who goes to the stage wants to win, and so did I, but I tried to not think about it and get over it as fast as possible.
After it was clear that I'm out of competition, I just wanted to enjoy the city, spend fun time with the coffee people that I only see once per year and taste some outstanding coffees. My advice would be, don't be too hard on yourself when it's not working as you want, and try to be better the next time (yes, I will compete again!).
After all, the whole experience was a good occasion to thematize winning and losing with my two sons, who play a lot of soccer.

Quick Fire Questions for Aurore Ceretta:
Would you serve filter coffee with milk if asked for it?
It depends on the coffee I would serve. If the customer wants a filter with milk, I would tell him to try a batch brew with a nice nutty, chocolaty coffee rather than a pour-over with a fancy fruity coffee.
Do you ever take sugar with your coffee?
No.
Espresso or Filter coffee?
I have so much coffee during my training sessions, so I'm actually doing without both of them at the moment but I prefer a filter.
Do you aim for Sweetness, Acidity, or Body?
All of them.
Milky or Black?
Black.
Slurp or Spit?
Normally slurp, but right now, with two training sessions per day, I have to spit as well, though. Otherwise, I would overdose on caffeine constantly.
Sit in or Take Away?
Sit in.
Cake or Pastry with your coffee?
After the coffee, definitely a pastry.
Favourite piece of barista equipment?
At home my grinder. It works well and saves a lot of time in the morning. I'm getting lazy, haha! At work, it's the Puqpress.