Our Barista Stories series has been long in the making. Since our first visits to cafes around Europe, we have met many amazing baristas who have had a number of interesting stories to share. We love the speciality coffee community exactly for the people building it and are thrilled to introduce some of those individuals to you.
Baristas truly are the ones who contribute to the atmosphere in the cafe massively and are the key reason why we'd revisit.
Read on to meet Dagmar Geerlings, brewing your daily cup of coffee at Dagger Coffee in Utrecht.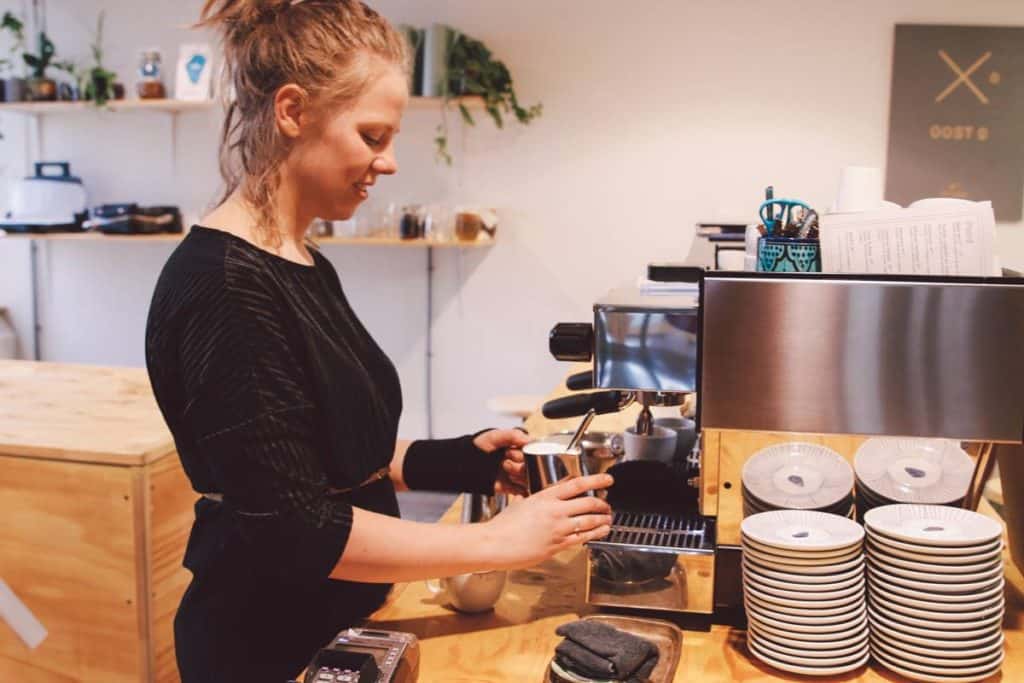 Dagmar Geerlings must be one of the younger cafe owners out there. At the age of 26, living in Utrecht, Netherlands, she is a barista—and her own boss—at Dagger Coffee. She says about her role: "I'm the founder. Which right now means I'm managing the shop." Outside her full-time cafe hours, she runs coffee trainings and participates at various coffee projects. She has worked in the industry for seven years.
A few questions for Dagmar Geerlings
What led you to coffee? Could you describe the moment or situation that made you decide to become a barista?
It never really was a conscious decision. It was actually something that gradually happened. Before my first coffee job, I worked a in a sandwich shop. We had a coffee training there, and I was super excited about latte art. After that I worked for a little bit in bar. That was not a great experience. The hours where extremely long, and I found out I'm definitely not a night owl, and the work was really though. I decided to quit the job, but I loved being in hospitality. I figured working in a cafe would give me the pros of hospitality and hours I could manage. I was still studying at the time. When I finished my degree, I was in a state of "what now?". And I decided to go and live somewhere else, which turned out to be Australia.
Since I knew how to make coffee, i decided to look for a job as a barista in Melbourne. I worked for Seven Seeds for a year and got inspired by everything what was going on. The service was so fast and ace, the coffee so good. Coming back to the Netherlands I really missed this kind of service and quality. I decided I wanted to become a coffee trainer, next to doing a masters degree. In masters degree, all my research happened to be coffee related and that was when I realised I was in the middle of the industry and didn't want to get out.
What is the funniest thing that you have experienced behind the bar? Can you recall any embarrassing moment?
Oh my, too many. But the ones I can remember well have a sort of trauma attached to it as well. As said, I worked in Melbourne, but I'm not an English native. We weekly cleaned the grinders there and put some lube on them. One day there was a different tube in the box, which said "adhesive". I thought it was a new brand or something, so I continued my cleaning routine. And well, I learned I new word that day. I can laugh about it now, it probably helps I didn't break it in the end.
What would you do if you were not working in coffee?
Designing experiences. During my degree, I specialised in interaction and exhibition design. I actually figured I could use these skills to create coffee/cafe experiences. Which is still the thing that I love doing the most.
What is an unusual habit or hobby that you love?
Doing rap battles, but I can never find friends to do it with. It might be because I really suck at it, haha.
What are some bad recommendations you hear often in your profession? What is your piece of advice for anybody starting a career as a barista?
Everything can be improved, always. This spirit keeps and open mind, and makes it possible to innovate. It's a tricky mindset, because in the bar you really want to be consistent, and then it is hard to find a space to try out new things. You need to make time to experiment. That would be my advice. Personally I find this time when I train for competition.
Looking back, what one thing would you wish to know when you were starting to work as a barista?
Take care of your own body, and mind. Last year I injured my knee. Since I have my own place, which I'm on the floor of on a daily basis, the work became really really hard. Take small pains seriously before they become an injury. Also regarding mental health.
What qualities set a good and a great barista apart?
Having an open mind, listening to the people around you and taking yourself seriously. I believe that makes a great professional in any field.
If you have a bad day at the cafe, what helps you to handle it and provide good customer service?
Having a great team and playing some happy tunes. Also just saying to my guests, I'm having a shitty day. All my regulars were the sweetest people I can imagine when I had my knee injury. One of them actually volunteered one day, others brought chocolate. That really eventually got me back on my feet.
What is the one thing that you would miss the most if you could not work as a barista/in coffee anymore?
Probably the people in it. And having the opportunity the learn something new everyday.
Imagine the perfect day in your city. Perhaps you have an old friend visiting. What would be top 3 to 5 activities or places you would show them?
I love doing doing that, Utrecht is a really beautiful city. I would take them to my favourite brunch spot Broei, go to a museum like the Nijntje (Miffy) museum or the hortus botanicus. Rent a canoe and canoe over the canals into the neighbouring forest Rhijnauwen. Where at the end you can eat pancakes in a tea house. When it is dark you can walk a beautiful light art route in the city called "Trajectum Lumen". Also, we, Utrecht based specialty coffee shops, are making a map this spring to make it easy to find your coffee spots exploring Utrecht, so I would probably cycle a bit around this map too.
What do you consider some of the best experiences you have had in coffee so far?
I'm a little bit of a fan girl of Charles Babinski. When I was in LA, I had to visit G&B Coffee. With my high expectations I was aware that most likely I would be disappointed, but I really really wasn't. The coffee was delicious, the menu interesting and different, the service perfect.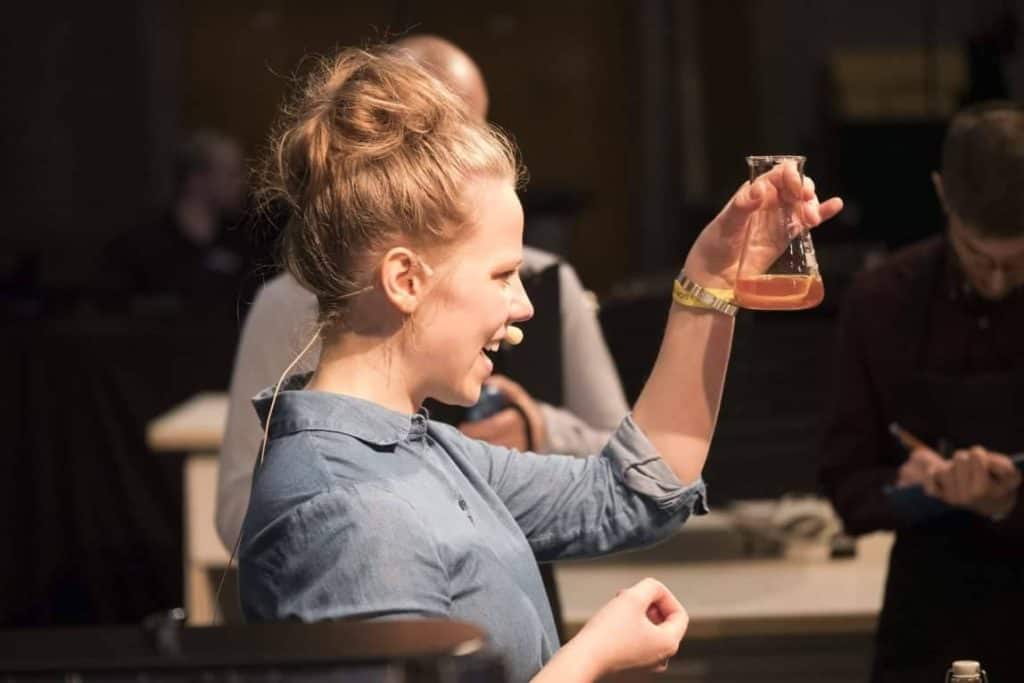 Quick Fire Questions
Would you serve filter coffee with milk, if asked for it?
Yes
Do you ever take sugar with your coffee?
If the coffee calls for it, yes.
Espresso or Filter coffee?
Both
Do you aim for Sweetness, Acidity, or Body?
A balance of all three, that's where you find exceptional coffee.
Milky or Black?
Milky
Slurp or Spit?
Slurp
Sit in or Take Away?
Sit in
Cake or Pastry with your coffee?
Cake and pastry?
What is your wifi password in a cafe?
Not so inspiring, it's just the address of the place.