Meet Adrian Iaslău, born and raised in Oneşti, Romania, who has been living in Bucharest since 2008. With over 9 years of experience in the coffee industry, Adrian is a passionate barista and owner at Onest. It is one of the examples of garage coffee shops (article coming soon, Ed.), a popular concept in Bucharest – the city that literally runs on coffee.
With a keen eye for detail and a natural talent for creating beautiful latte art, Adrian has achieved great recognition in the industry, including a 3rd place finish in the National Latte Art Championship in 2019. He creates an inclusive place that definitely shines on the map thanks to the true spirit of hospitality and quality.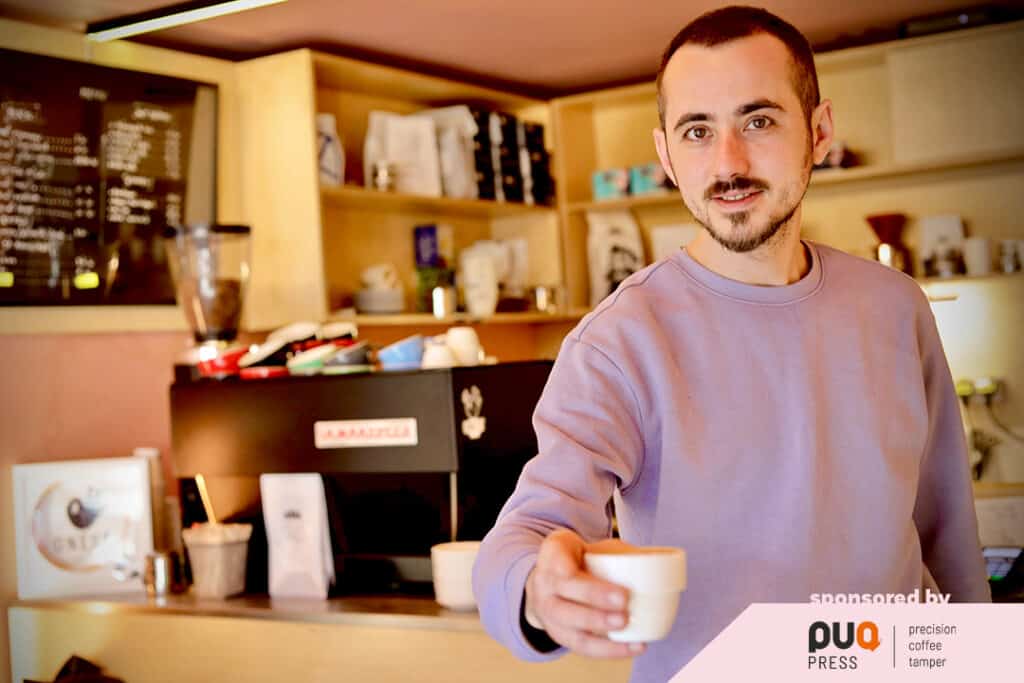 Adrian, what is your first memory with coffee? 
I was around 7 or 8 years old, and I used to secretly drink ibrik coffee made by my parents.
Could you describe the moment or situation that made you decide to become a barista and a cafe owner? What was the reason behind your decision to open Onest?
Although I have been making coffee since 2014, I fell in love with the barista job after another year, when I discovered specialty coffee at Steam Coffee Shop. That exact moment changed my life radically and the dream of having my own place started to grow in my mind. From that moment on, I set a 5-year time limit to take the big step.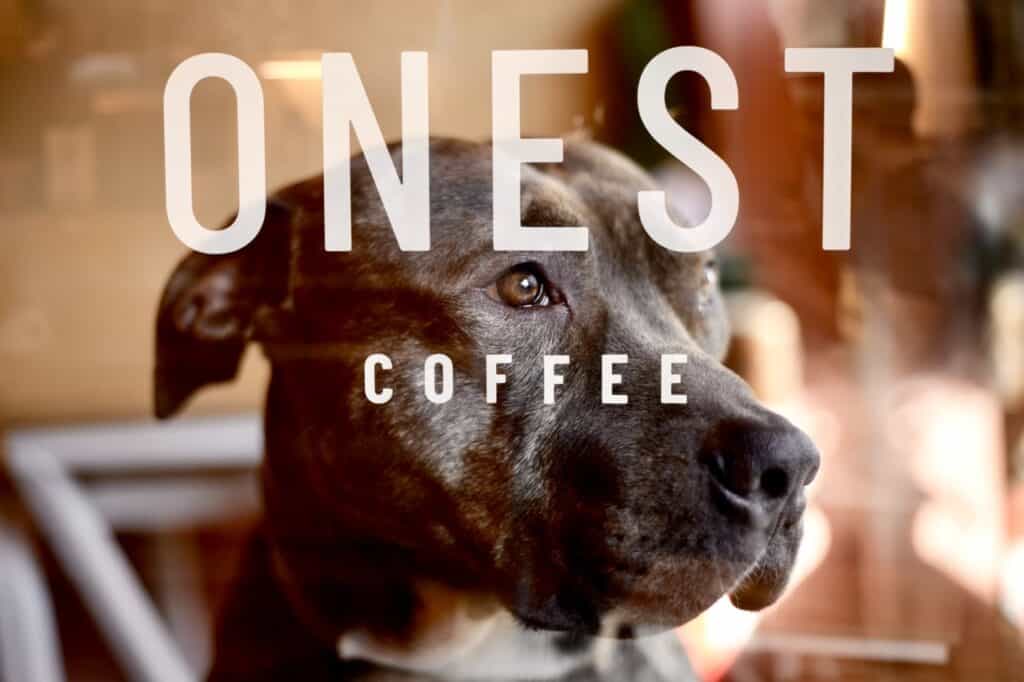 Tell us a bit more about Onest.
The story's origin is born in my hometown, Oneşti, a city built next to an industrial platform full of hardworking and honest people. I am a melancholic person. Although I settled in Bucharest and my future will probably be here, I miss the Oneşti from time to time.  Especially the people there. I wanted to bring a small part of Oneşti here, a sincere, friendly place that makes you feel at home.
If a career in coffee was not an option, what job would you be doing?
It's really hard to say because I like many other crafts – like metalworking, woodworking, and agriculture. In general, I like physical work, I would never see myself sitting in an office behind a desk.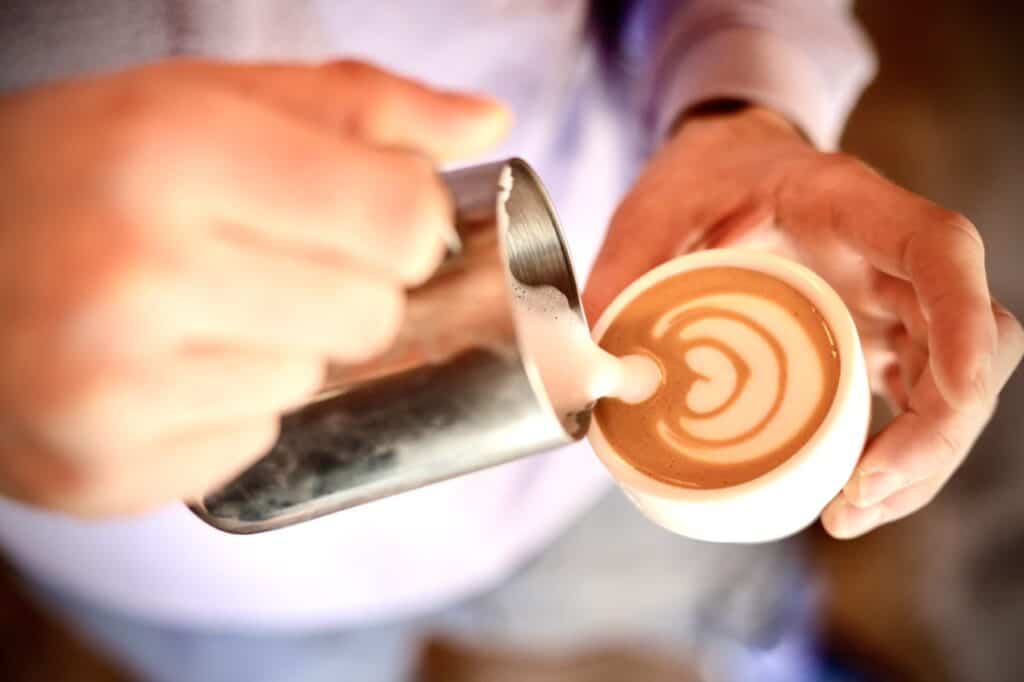 Do you have an unusual habit or hobby that you love?
Since childhood, I've been really into fishing and drawing. I guess that's where the passion for latte art comes from. 
Are there any bad recommendations you hear often in your profession? What is your piece of advice for anybody starting a career in coffee?
I have not heard such bad recommendations, or I haven't taken them into consideration. My advice to those who want to start a career in this beautiful field is to get a job in a coffee shop where there's an opportunity to learn from a good barista – a mentor. For me, that was Vlad Buda from Steam Coffee Shop from whom I've learned much more than I could have learned from books, online resources, etc.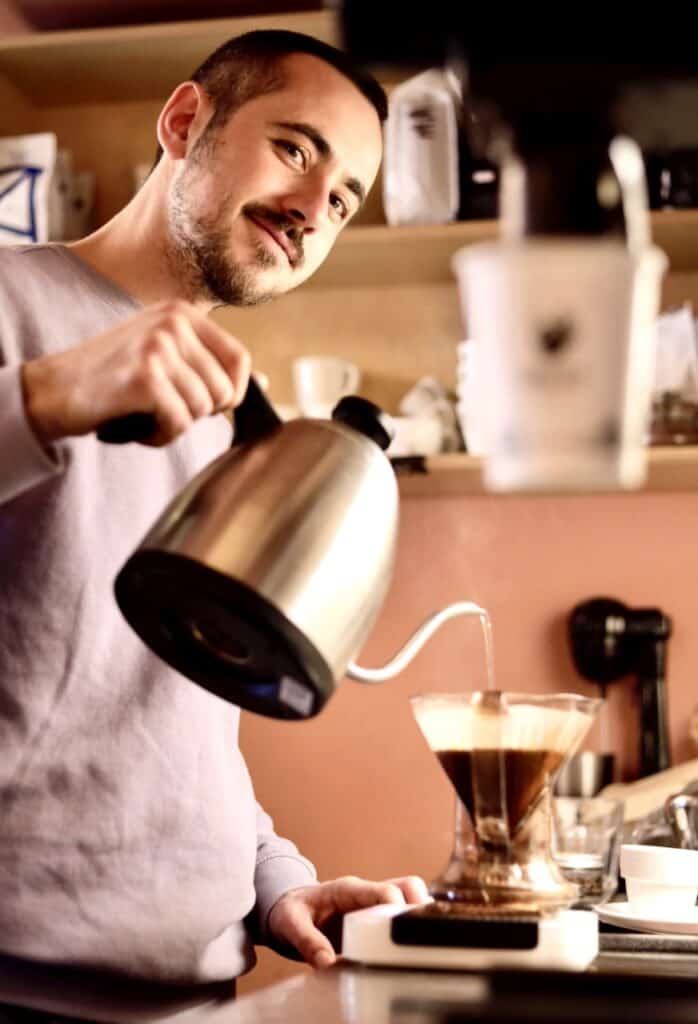 What's the most common question you get asked behind the bar? How do you answer it?
"Do you have any extra caramel or vanilla flavours for your coffees?"
My answer to them is that we use carefully selected and correctly roasted specialty coffee and that we try to highlight the complex flavours that they develop naturally. It is a pity to mask the natural flavours of coffee with artificial ones and my advice is always successful!
How has your life changed since you opened your own cafe and started to work behind the bar?
Hard and beautiful. Sometimes I joke saying that I have time to rest when I'll be dead, ahahha.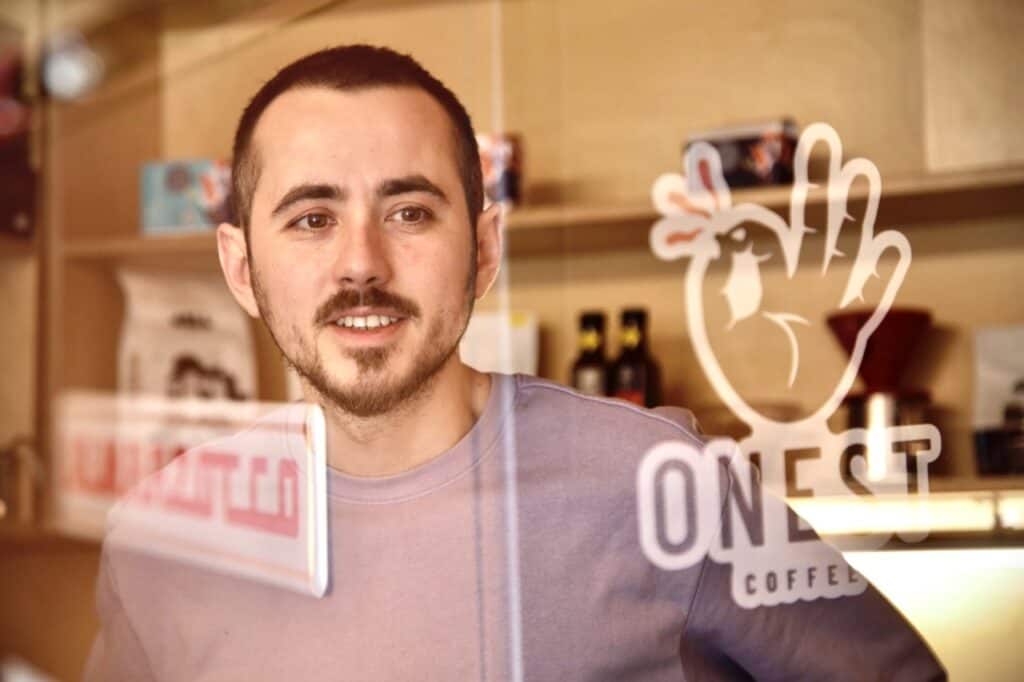 What coffee challenges are you looking forward to? Any new projects or collaborations?
I want to win the National Latte Art Championship one day. I might also maybe open another cafe location or start doing latte art classes.
What coffee challenges are you looking forward to? Any new projects or collaborations?
Competing at the world stage of any type of coffee competition is still my dream. Of course, I'm dreaming of the first place. But I know, even if I won't win, I'll enjoy the process and progress. I used to think of becoming an AST (Authorised SCA Trainer) but now, I focus on becoming a Q-Grader. And also we are planning to open a coffee shop. So our customers can also enjoy our coffees directly made with our recipes and techniques.

Quick Fire Questions for Adrian Iaslău:
Would you serve filter coffee with milk if asked for it?
No. Every time I manage to recommend espresso for those who necessarily want milk in their coffee.
Do you ever take sugar with your coffee?
No.
Espresso or Filter coffee?
Both, but more filter.
Do you aim for Sweetness, Acidity, or Body?
Sweetness.
Milky or Black?
Black.
Slurp or Spit?
Slurp.
Sit in or Take Away?
Sit in.
Cake or Pastry with your coffee?
Sometimes cake.
Favourite piece of barista equipment?
Mahlkönig Ek43 grinder.