Whenever people visit Helsinki, they are often curious about where to find the highest quality coffee shops. While the list gets longer every year, a recent pondering revealed that several of the most unique spots fall along the number 1 tram line. Read below for a bit of what makes these coffee shops so enticing besides their epically great coffee and convenient locations.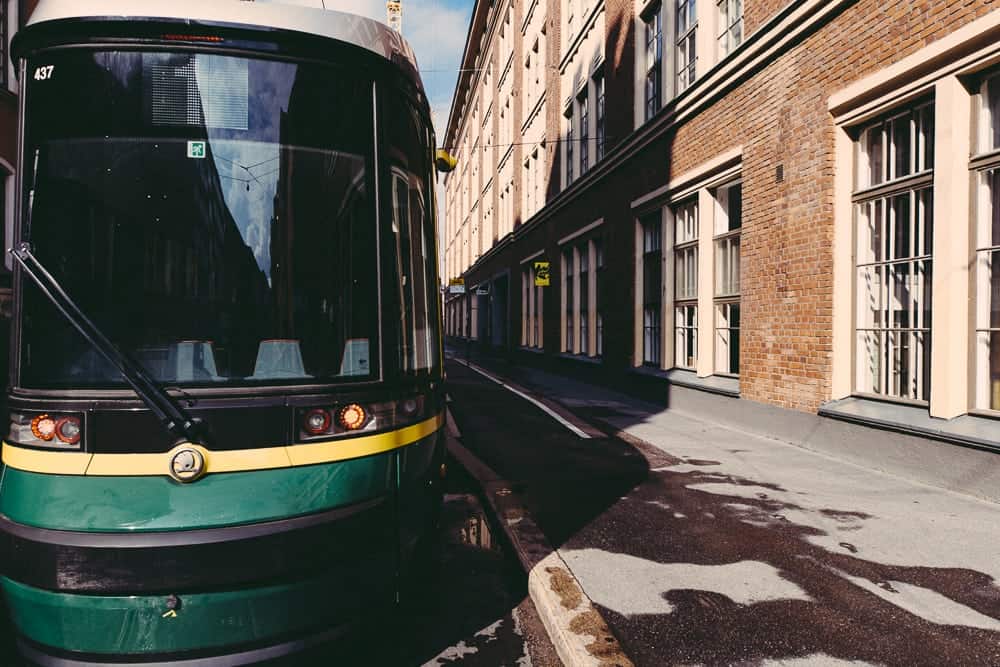 1st Stop: Kaffa Roastery
The #1 tram line begins right at Kaffa's doorstep, which makes this café the best starting point. Since it's humble beginnings over 10 years ago, Kaffa Roastery has continued to provide Helsinki with high-quality coffee while remaining transparent about every step of the process.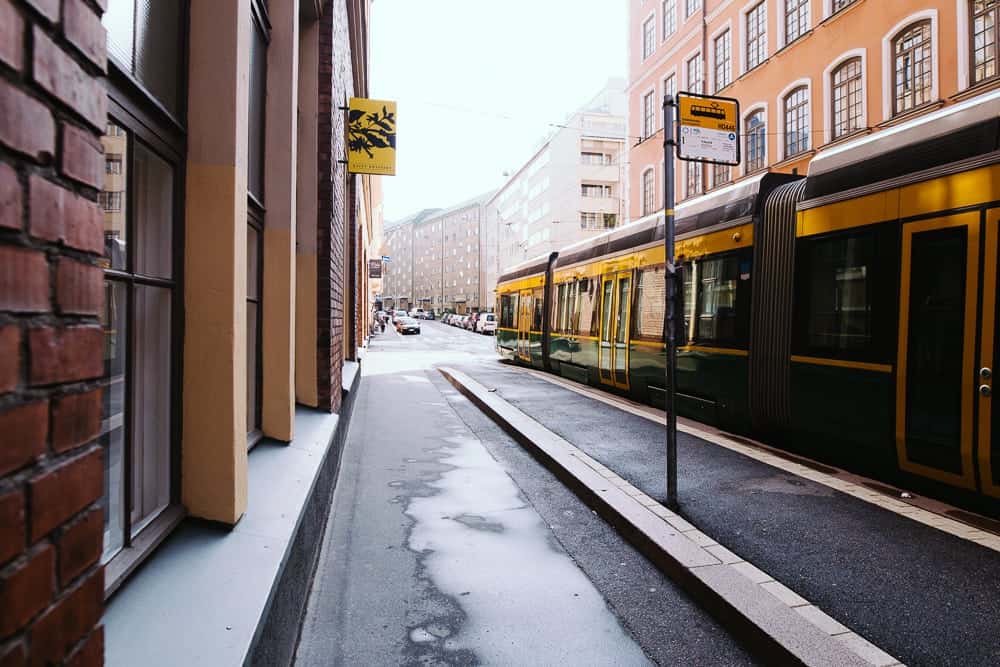 Owner Svante Hampf and his childhood friend started the roastery in a simple shed after feeling frustrated with the quality and diversity of coffee on the Helsinki market at the time. In its early days, Kaffa produced coffee that was very different in flavour to what was commonly consumed in Finland, and that bold, adventurous spirit remains today.
If you happen to visit on roasting days, you can watch the bustling activity through the glass wall that separates the café from the roasting machine. Frequented by locals, it's not uncommon to overhear the barista ask customers if they want their "usual" drink. The edgy vibe is enhanced with an always-unique playlist, unlike anything you would typically hear in a café. Cosy seating with ample space to spread out makes it easy to get comfortable and stay awhile.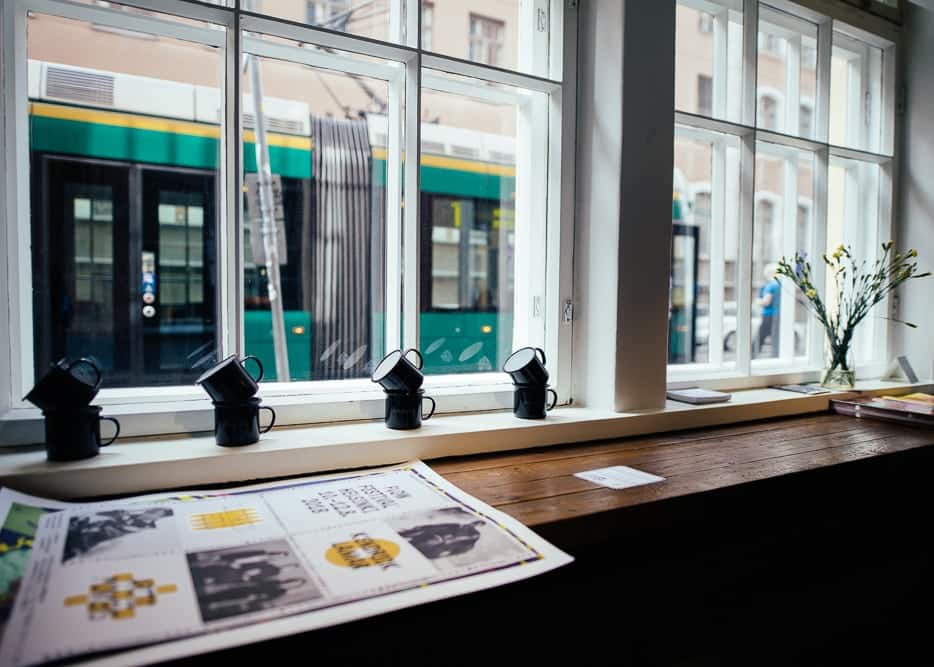 To further highlight their continued efforts to pursue quality and maintain direct contact with farmers, Kaffa recently introduced the Kaffa Handshake. This stamp is placed on all bags of coffees which are processed from farm to cup with total transparency. This symbol provides consumers with the peace-of-mind that their support is felt on all levels.
Don't miss a chance to talk to those behind the bar, since many of the baristas and roasters can be found here even on their days off. You might even catch the Finnish coffee legend Jarno Peräkylä and his partner Kaisa Kokkonen hosting the Sunday Espresso Club.
We enjoyed a smooth flat white featuring their El Eden roast from Colombia and Swedish brand Oatly oat milk.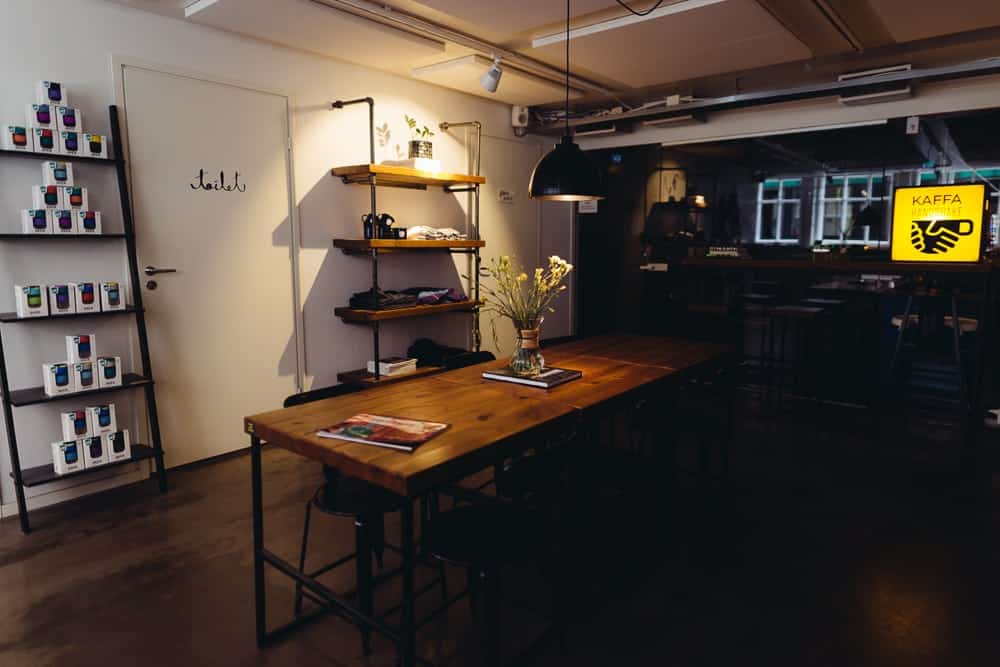 Pursimiehenkatu 29A, 00150 Helsinki, Finland
Website, Facebook, Instagram, Twitter
2nd Stop: Andante
After a quick ride on the tram, you arrive conveniently at the next stop, Andante. A quick glance at the hours posted on the door can give some people a strange impression of the business minds behind Andante, however, this is just one of the many intentional pieces of their coffee puzzle. The owners open the cafe from 11-18, between Tuesday and Sunday.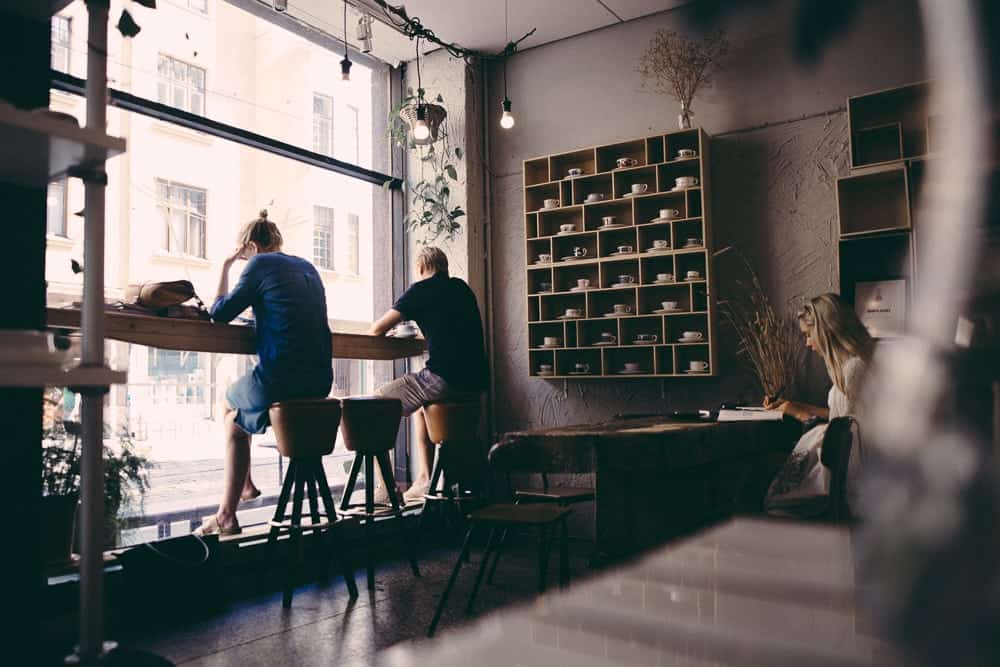 The owners Nikko Liu and Mia Fang view the café as their hobby, and the only way to preserve the joy of that hobby is to find the right balance of work and play. When talking with Nikko he explained: "Even after 4 years of working here, I still enjoy the process of making the coffee every time." And this is coming from someone who didn't even drink coffee before deciding to open the café!
Nikko explained that he handles the coffee side of the business, and his partner and girlfriend Mia handles the food. In fact, at the time of this interview, she was in Japan attending a culinary course on bread-making. It was always Mia's dream to own her own business and after an opportunity presented itself, Mia and Nikko decided on a cafe.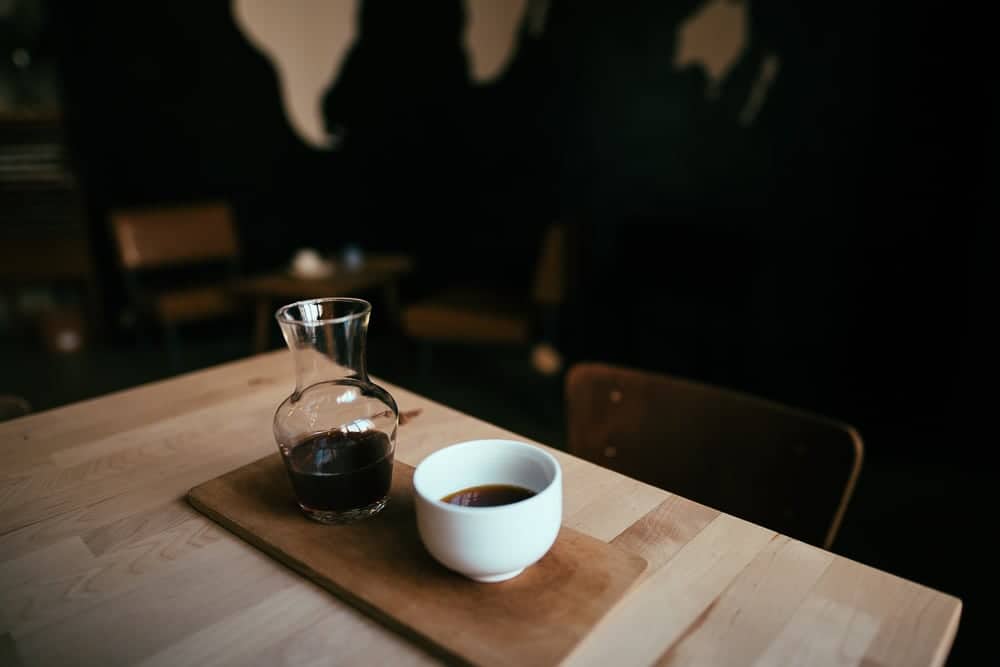 There is an immediate slow-down effect when you arrive in the clean, crisp space. Without any hustle and bustle to distract you, it's a true experience for the senses. Natural light floods in connecting you to the outside while the calming music makes for easy listening. They take a lot of care in ensuring the snacks and coffees are prepared and presented for the maximum sensory experience, visually and on the palate.
We really enjoyed our pour over from the featured La Cabra Coffee Roasters, a Colombian Yabari. You should also try the matcha tea latte.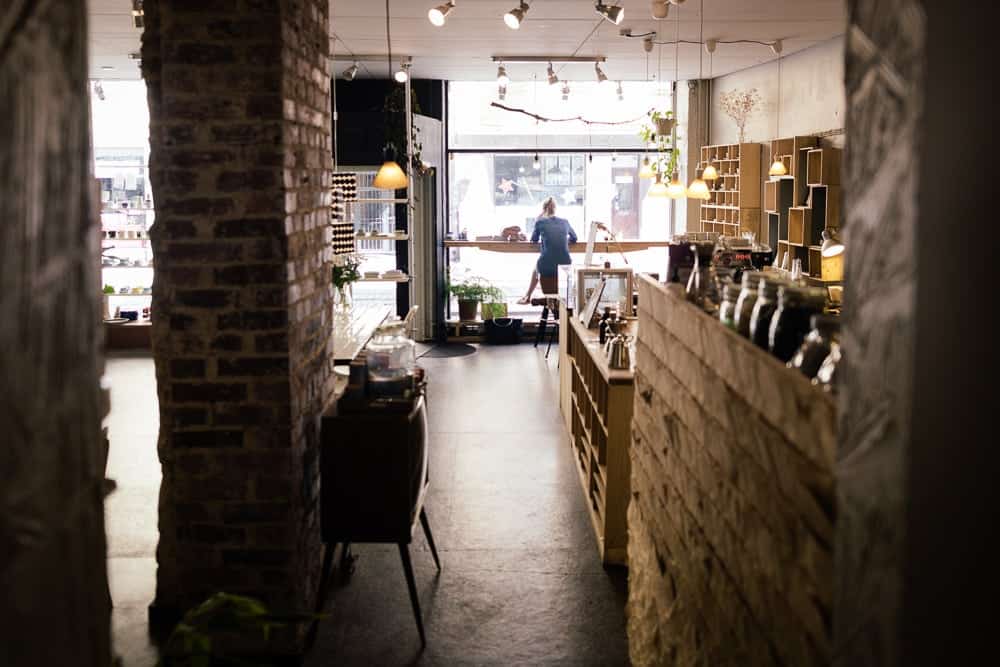 Fredrikinkatu 20A, 00101 Helsinki, Finland
Facebook
3rd Stop: John's Coffee
A short walk away is cafe number 3, John's Coffee. When the owner John Ntaganda first came to Finland in 2009 to study, coffee was nowhere on his radar. Through many conversations about his home country of Rwanda, he started to realise that few people were aware that coffee growing is a positive part of their culture. It was then that he started to formulate the idea of launching a coffee roasting company that would source only African coffee beans.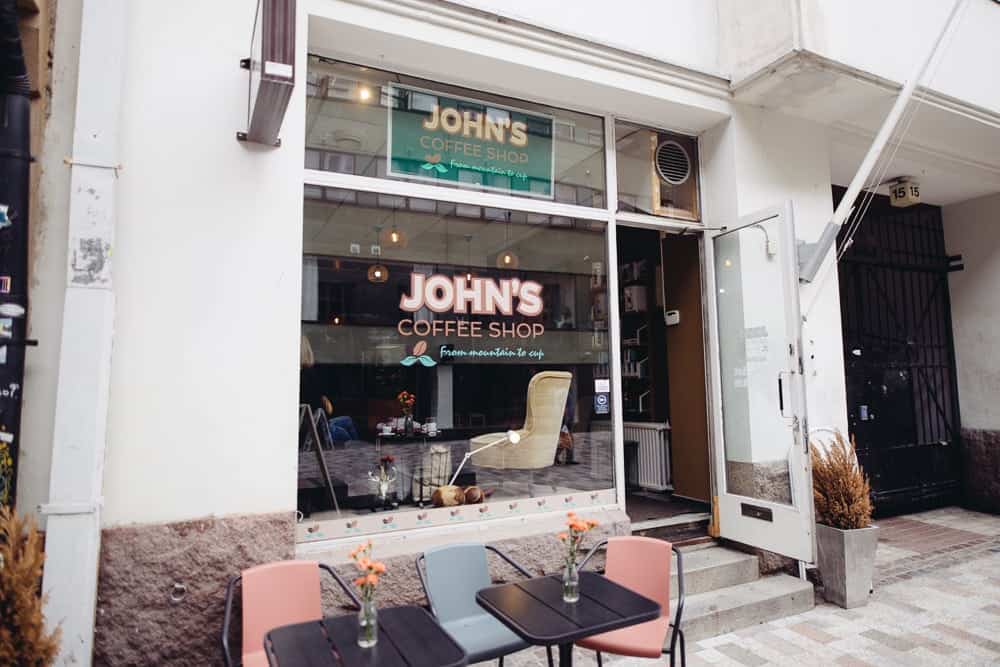 As he pursued this idea, he experienced many people's trepidation at him starting a business with no prior experience in the field, but he explained that his outlook on life led him to understand that "risk is just part of the equation". He started roasting coffee and successfully selling it. But he soon found he was unsatisfied by his distance from the actual coffee consumer. He wanted to share himself along with the coffee and thereby create a different image of Rwanda in people's minds. So he opened a coffee shop.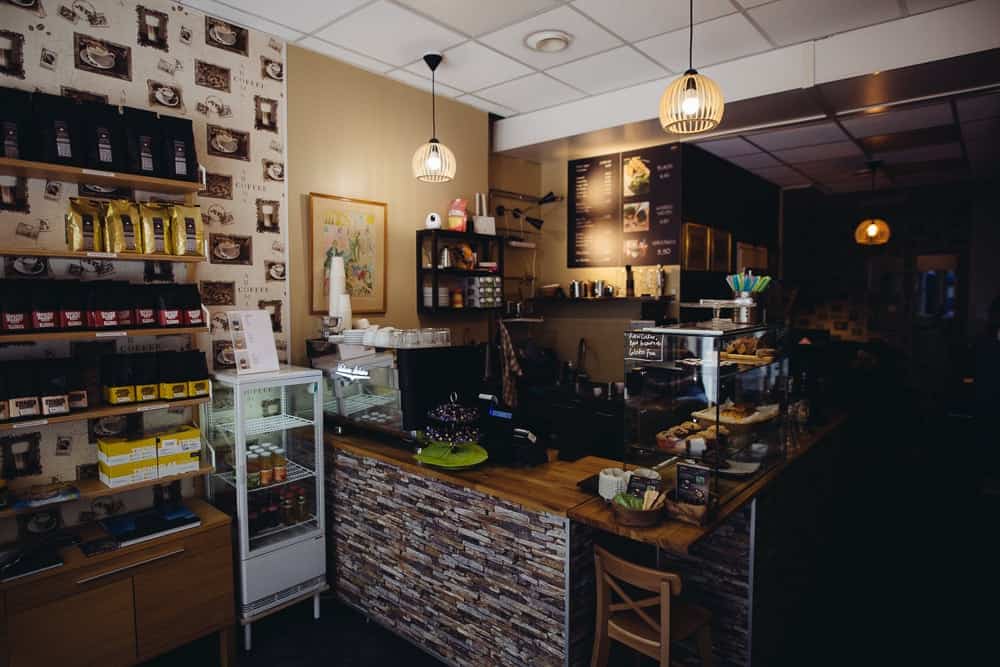 And you can be sure that the experience you get at John's Coffee is like no other in Helsinki. John is at once friendly, welcoming and lighthearted. He is happy to have a conversation with you as you enjoy your brew, as long as the subject matter is coffee.
For John, the proof of a good day is sharing his coffee with the regulars who frequent his shop, but also with those who arrive because of "word of mouth". John encourages people to visit saying: "Come to my café for me because I will treat you good". And the coffee is a unique treat.
We truly loved our flat white featuring John's Organic Ethiopian Guji.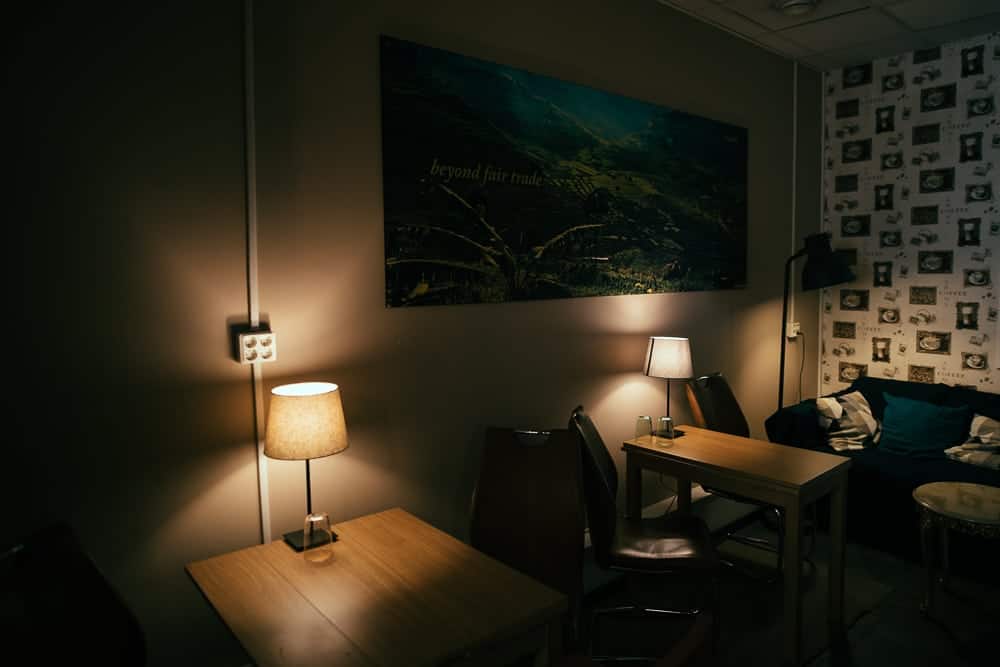 Iso Roobertinkatu 15, 00120 Helsinki, Finland
Facebook, Instagram, Twitter
4th Stop: Artisan Café
A little more effort is required to make your way to stop number 4, but the extra walk is worth the effort. It's hard to imagine the coffee scene in Helsinki before Artisan Café came into the picture, but after a single visit, it is impossible not to appreciate this café.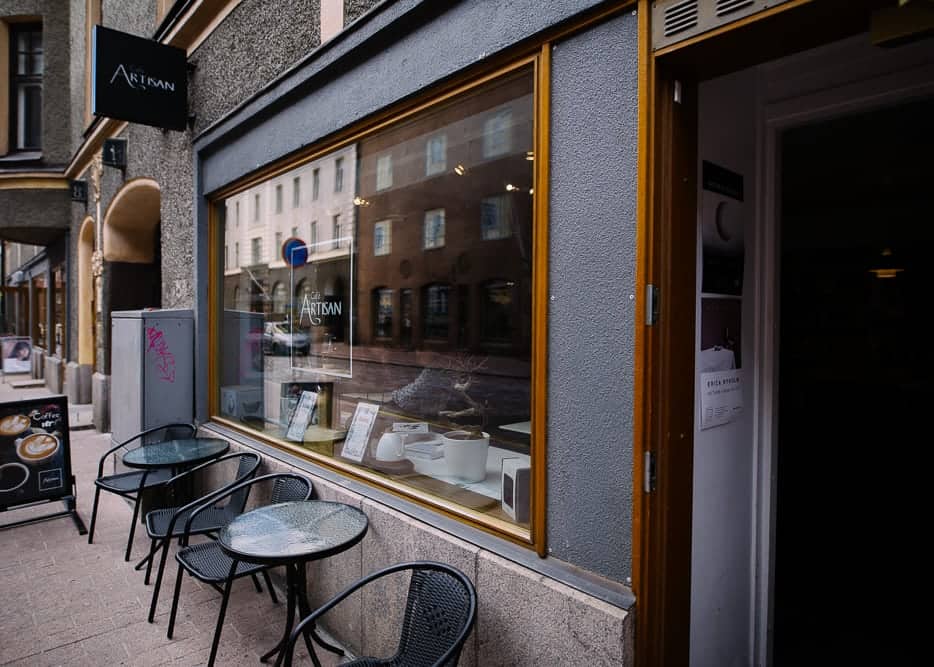 Your visit will not only produce a cup of unique and quality coffee, but also a warm welcome from the resident barista Kaapo. Upon entering, you are sure to receive a friendly hello as the record player turns something atmospheric and the minimalistic design sets your mind at ease.
Regardless of the coffee preparation method you choose, you can be sure that the coffee has been carefully selected and roasted to ensure a distinctive experience. Owner Jani Mikkonen opened the doors to Artisan just two years ago with the goal of providing the best coffee in Helsinki, and he continues to operate with that goal in mind.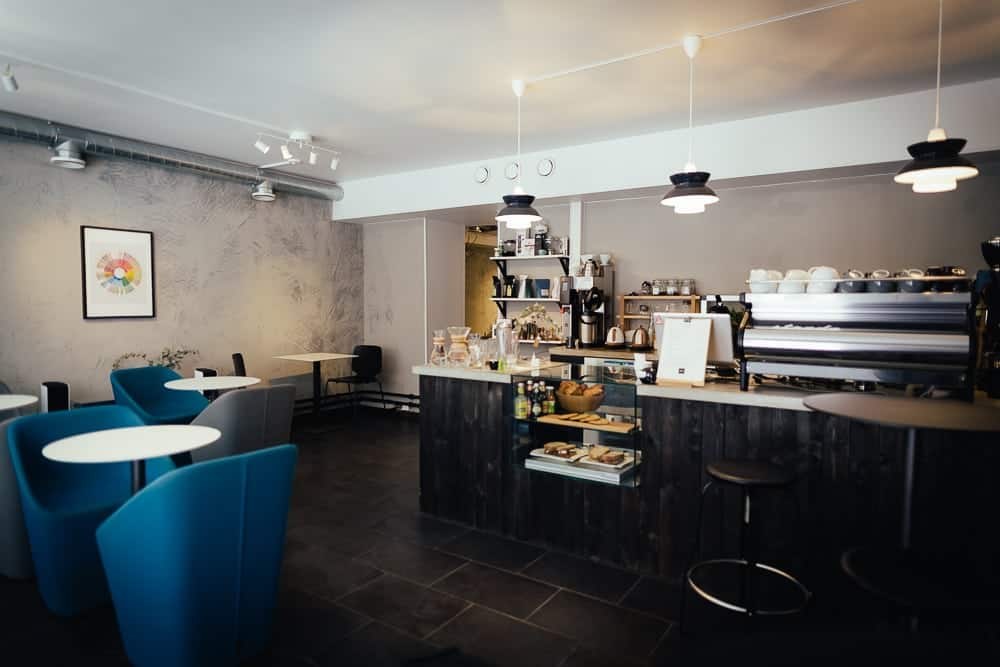 The local crowd of university staff and students, nearby professionals and dedicated patrons keep the seats filled and Kaapo busy. He attributes the café's success to their attitude towards the coffee drinker's experience. While discussing this he elaborated: "It's more than making coffee. It's unconsciously guiding the energy towards an overall positive experience." And this is exactly what you get every single time.
Our V60 featured a natural processed Geisha from Panama, roasted by owner Jani in collaboration with Jyväskylä-based roastery Punianen Kirahvi.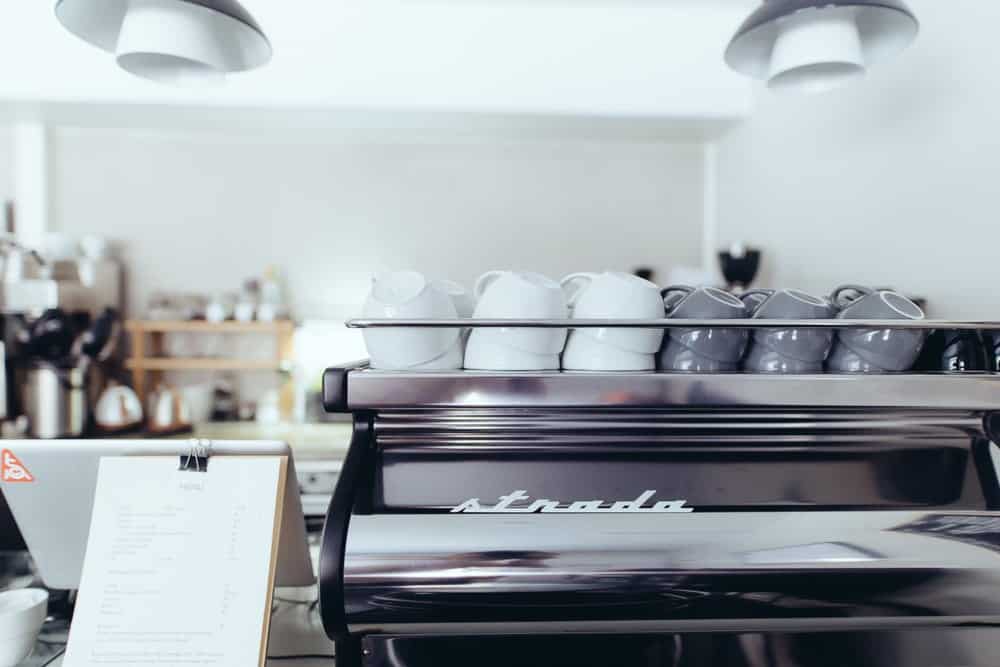 Vuorikatu 8, 00100 Helsinki, Finland
Website, Facebook, Instagram
5th Stop: Cafetoria Bar and Shop
Make your way back to the tram for another ride to the front door of Cafetoria, the cafe number 5. Owners Ivan Ore and Mia Nikander-Ore have always embraced the beauty of cultural differences, both as a couple and within their business.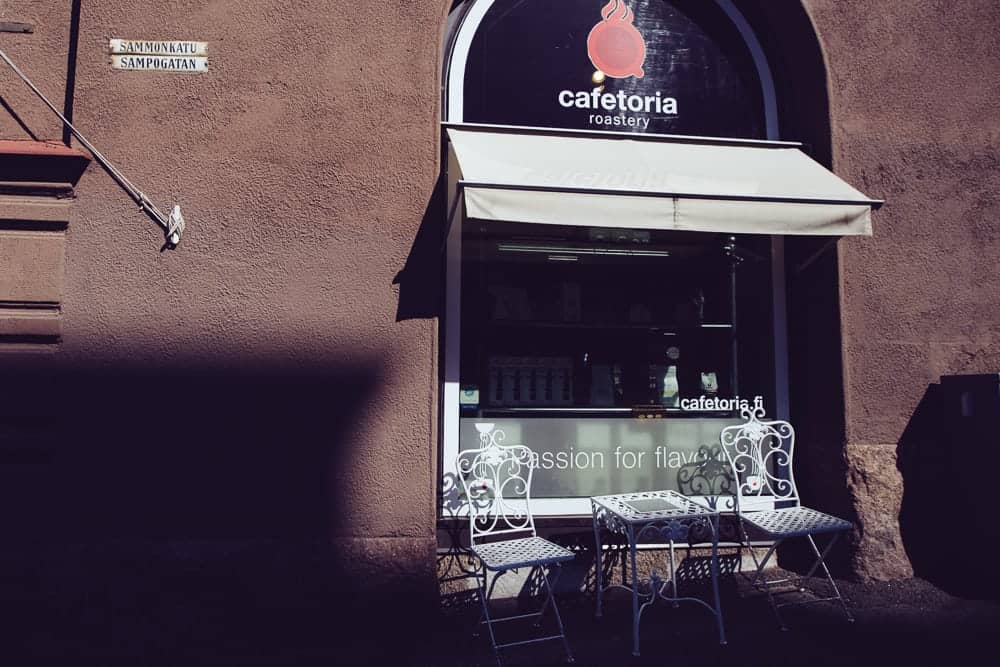 Ivan is originally from Peru and Mia is from Finland. Ivan had worked in Finland in the technology industry for several years when he met Mia and they decided to pursue coffee roasting together. Their roaster and the original shop opened in 2002 outside of Helsinki in the city of Lohja. As their popularity grew, the demand for a location in Helsinki became apparent and was then opened in 2012.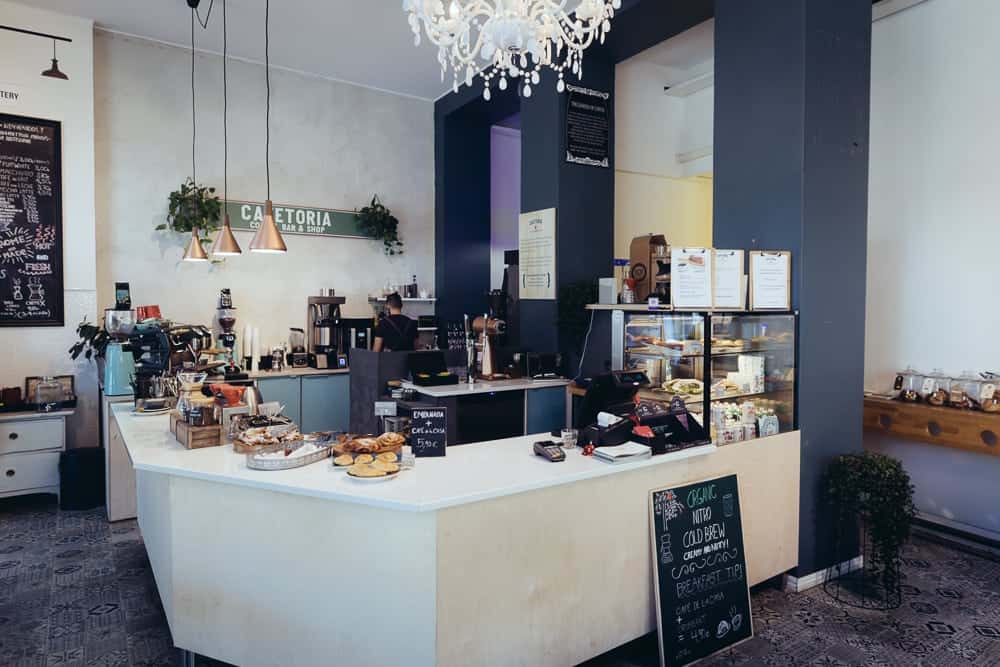 The Latin influence makes stepping into Cafetoria feel like a temporary transport to a different place. The blue floor tiles and colourful pillows feel inviting, fun and lively. The cafe is filled with natural light and a sense of warmth. The internationally diverse staff is welcoming and kind. The owners also take great pride in maintaining a close, personal relationship with their coffee farmers.
While talking to barista Daniel Alejandro Tobar Escobar, he explained what he believes makes Cafetoria unique: "We are like a family. We care about our customers' passions and respect everyone. If someone wants to get their coffee and sit quietly, or another wants to talk loud and laugh, we are happy for both." The locals that frequent this café seem happy as well to be part of the family.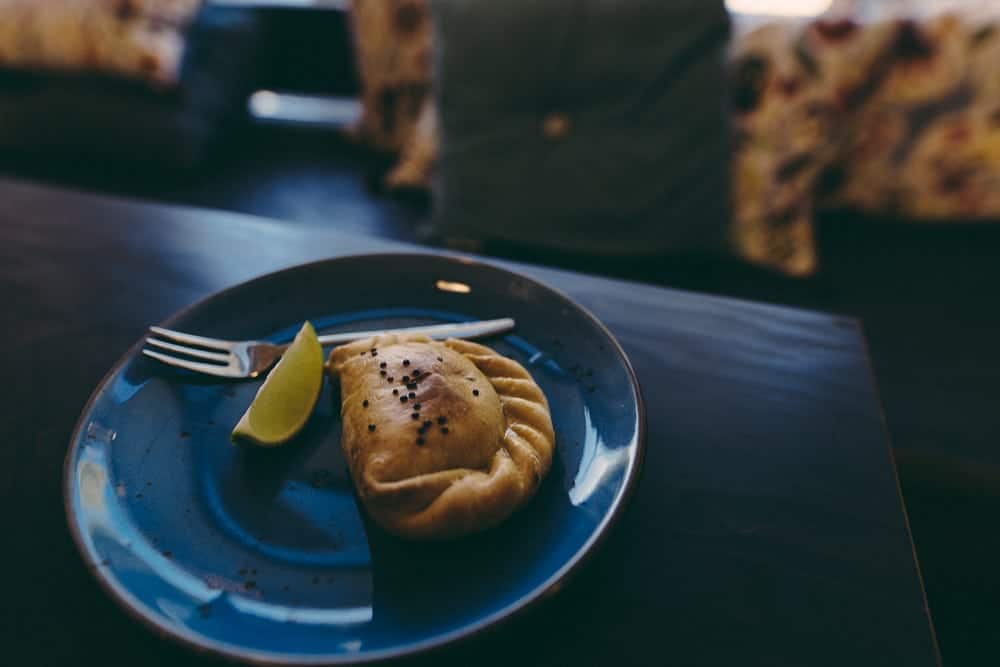 Come here for the warm conversation, good coffee and truly delicious empanadas with a squeeze of fresh lime.
The nitro-infused cold brew featuring their organic Peruvian coffee Gran Palomar is a must on a hot day!
Runeberginkatu 31, 00100 Helsinki, Finland
Website, Facebook, Instagram
6th Stop: Good Life Coffee
Another tram ride and a few minutes walk will bring you to the cafe number 6, Good Life Coffee. One of the best parts of visiting Good Life Coffee is the café's success at creating an approachable space. The café is comfortable, inviting and unassuming. While finding a seat can be a challenge during busy times, the quality coffee and thoughtful snacks make it worth the effort.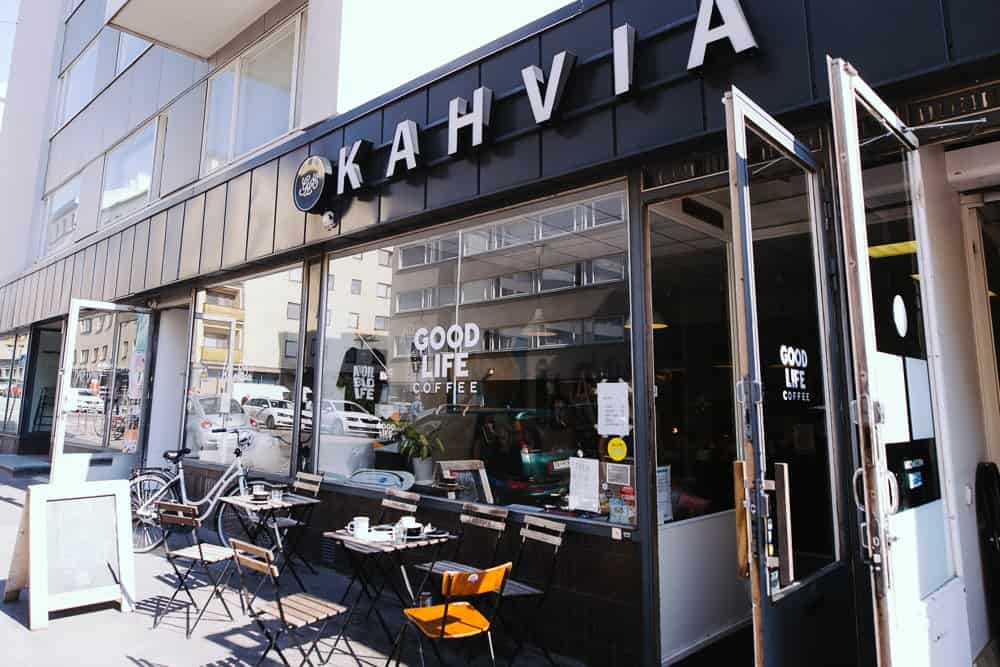 The owner Lauri Pipinen opened the doors of Good Life Coffee back in 2012 with the goal of creating a space where people could come together over the topic of coffee. He was inspired by the original Good Life Café located in Los Angeles, CA, which operated in the early 1990's as a place for rap artists to come together for their craft. Having been influenced by rap music in his personal life, naming the café after his inspiration was an easy choice.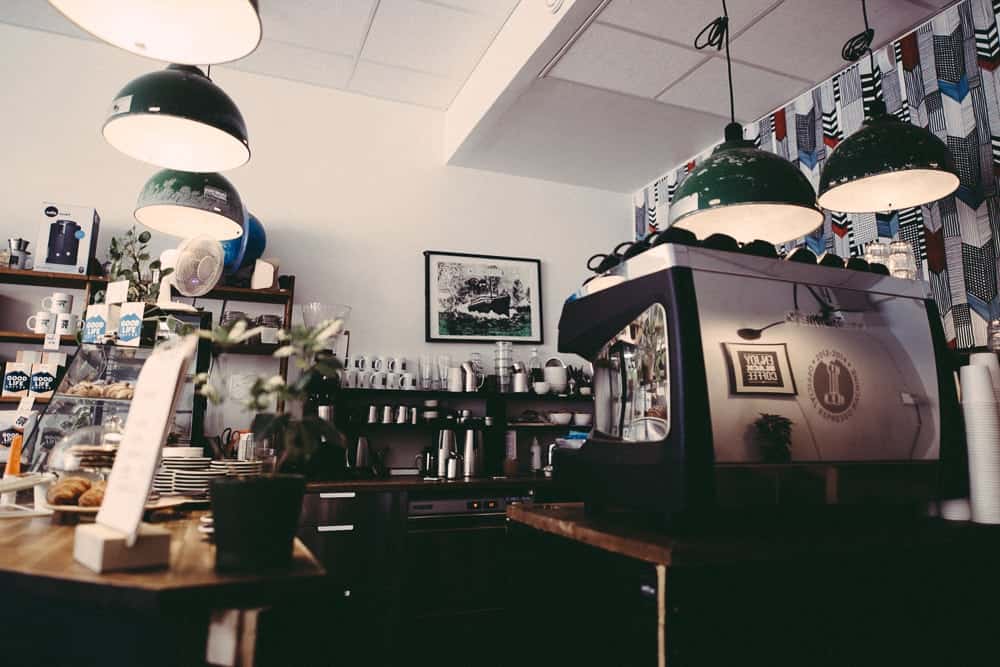 Barista Oskari has worked at Good Life Coffee for about a year now and credits the cafe's uniqueness to its laid-back vibe. He even described work as "feeling like I am in my own living room, and I hope that energy flows out [to others]."
A good mix of locals and tourists frequent the shop creating the perfect space to engage in a friendly conversation.
It is here of all the cafes in Helsinki we chose to enjoy a Coffee&Tonic, this time featuring Good Life Coffee's Ethiopian roast. We also tried a filter coffee featuring their own Kainamui from Kenya.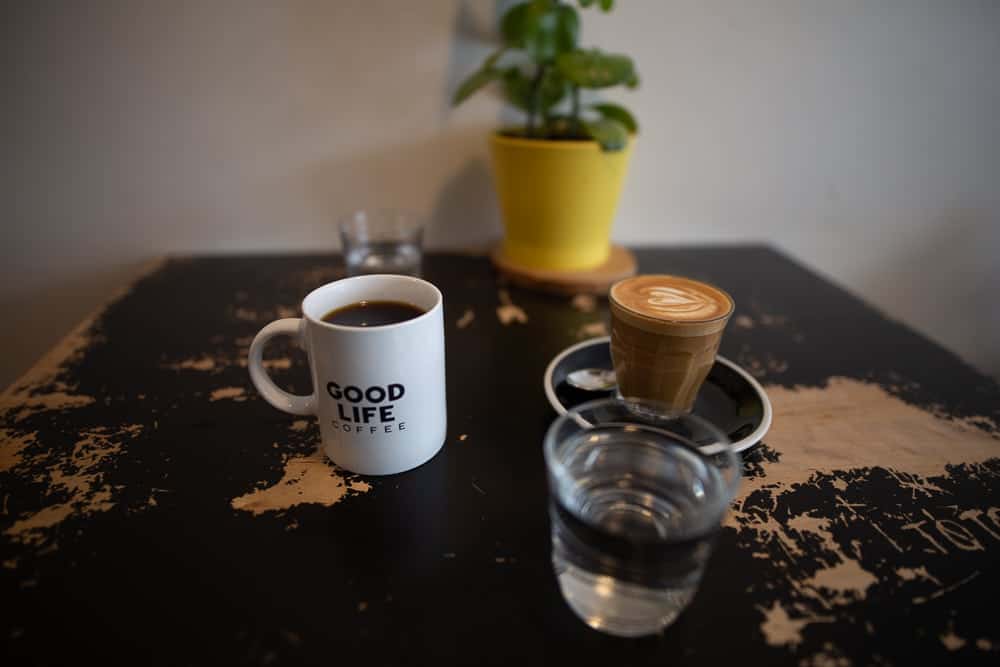 Kolmas Linja 17, 00530 Helsinki, Finland
Website, Facebook, Instagram, Twitter
7th Bonus Seasonal Stop: Kahvila Siili
If you happen to be in Helsinki between June and August, an additional cafe can be added to the list- Kahvila Siili. Tech entrepreneurs Jyri Engeström and Caterina Fake recognized the need for a café that would serve the Käpylä neighborhood and decided to take on an abandoned corner store that had remained empty for 40 years! Their efforts and vision have certainly paid off, as there is rarely an empty seat to be found in this magical seasonal cafe.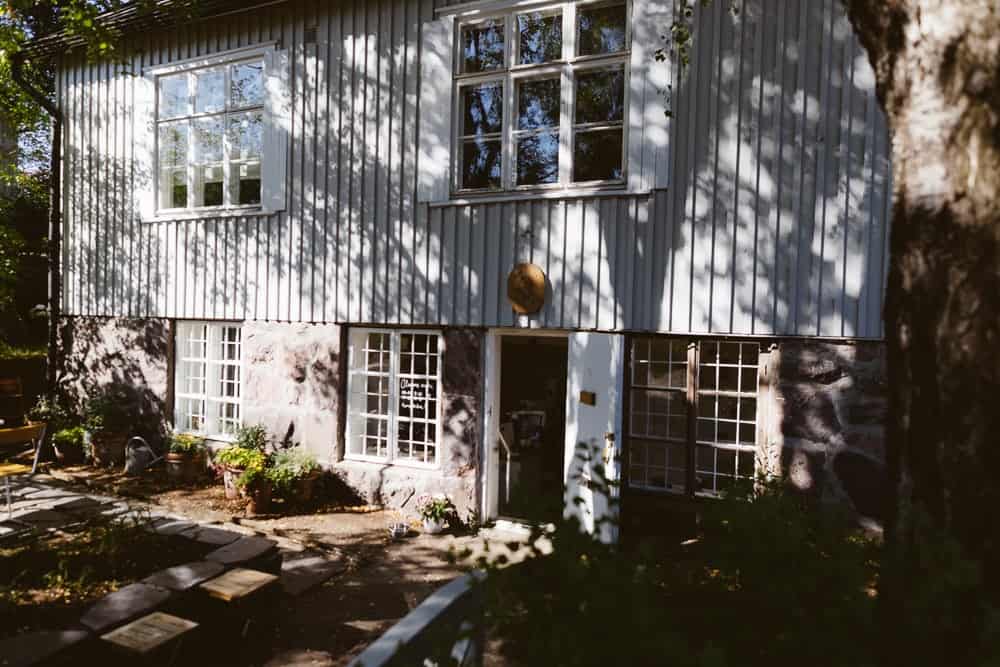 Just a short walk from the tram stop, guests are welcomed at the tiny café with warm smiles and a calming Scandinavian interior design. The weekend brunch is sure to delight your palate as well as make you wish you could Instagram every bowl, cup, flower vase and chair in the place.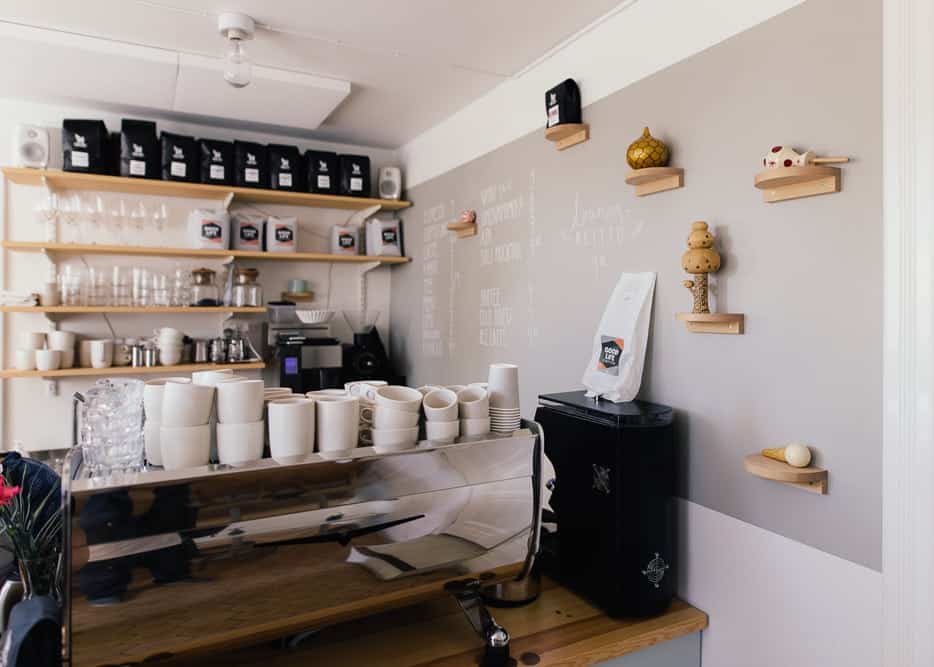 In the morning, the light dances through the leaves of the shade trees and then filters in through the windows creating an ethereal glow. The most coveted spots are those on the terrace, which feels so inviting it might as well be your own backyard. Even kids are entertained by the chalk, bubbles and colouring materials thoughtfully provided for them.
Featured coffees this summer were from the local Good Life Coffee Roastery and Square Mile Coffee Roasters from London.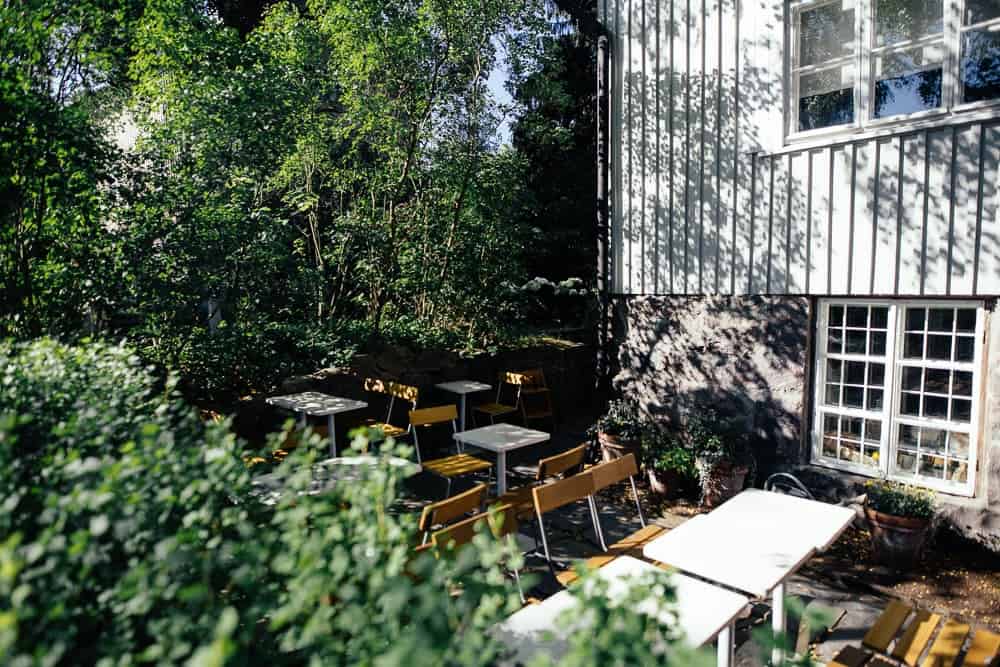 Ilmattarentie 8C, 00610 Helsinki, Finland
Website, Facebook, Instagram
Photos: All Photos taken by Holt Connections Photography– photographer and adventurer who gravitates to coffee culture, travel and all things that speak to your soul.