In the early days of the London speciality coffee scene, there was far more passion for coffee than business sense around. No bad thing, as it helped the scene grow. Now, as the coffee scene has flourished and London is home to hundreds of coffee shops, that economical awareness has become more vital as everyone seeks a sustainable model. For some, that has meant growing to become multiples, or speciality coffee mini-chains. For the purposes of this article, I'll consider any business with five or more shops a mini-chain.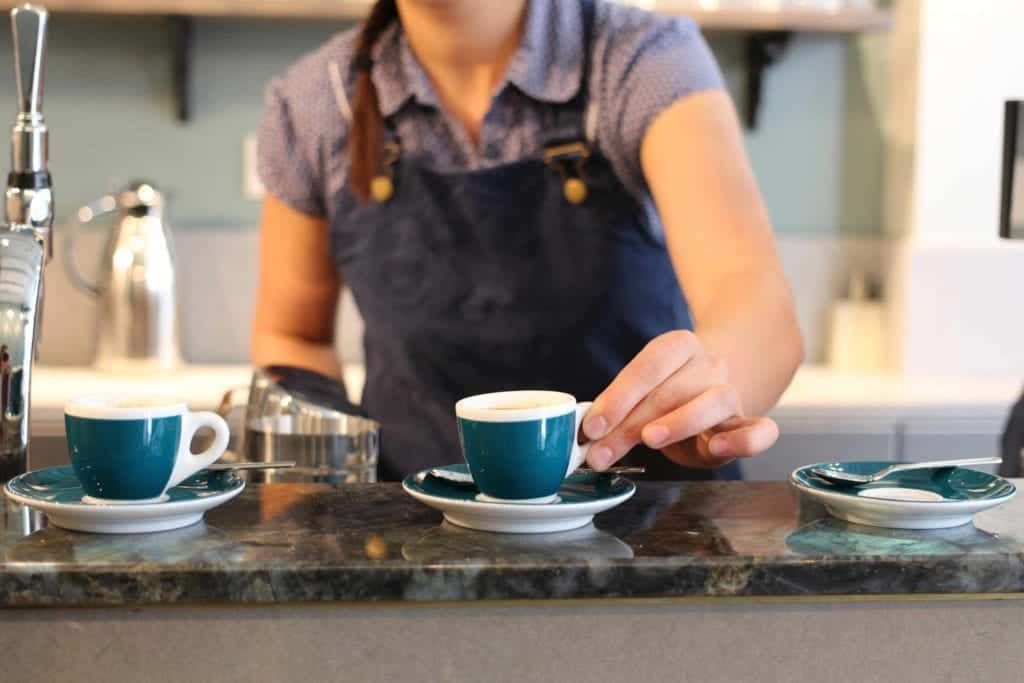 Why do they expand? Well with the slim margins of a coffee shop, having several sites can, of course, bring more money in and it can also reduce costs. Several sites sharing operational costs, perhaps setting up a roastery for the sites and economies of scale generally mean reducing risks and spreading costs.
Robert Robinson, founding partner of Notes Coffee told me, "A roastery is a big investment, but is important for keeping control of quality. We always wanted to roast our own, and when the volumes justified it we were excited to get started. Beyond the roastery, other advantages of expanding are increased buying power, allowing us to hold down prices for our guests, and better brand awareness, allowing us to build a larger customer base."
Let me introduce some of London's speciality coffee multiples.
The Big Little Chains
Department of Coffee and Social Affairs
The story of Department of Coffee and Social Affairs is an interesting one to consider. Chris McKie and Tim Ridley were instrumental in developing Department's reputation with the financial know-how of co-founder and financier Stefan Allesch-Taylor. Chris and Tim eventually moved on and Department now have around 20 in London, including those run under other brand names. Several more are planned and imminent and the company also has cafes inside private offices in London, as well as cafes in Manchester, Chicago and Bristol.
Department's success depends on their funding, but also on a consistent coffee offer with a couple of espresso and batch brew filter options on at each store, rotating enough to be seasonal and keep staff interested and slowly enough to keep customers coming back. I've found Department's espresso and batch brew very consistent and enjoyable. Installing Dumo Mathema as head of The Roastery Department has been greatly influential as has the obvious quality of their training. Department are now often taking over other coffee shops as their owners seek a way out, for one reason or another – recently acquiring TAP Coffee (formerly Tapped and Packed), Timberyard and Daily Goods as well as Beas of Bloomsbury, Tradewind and Roasted Rituals.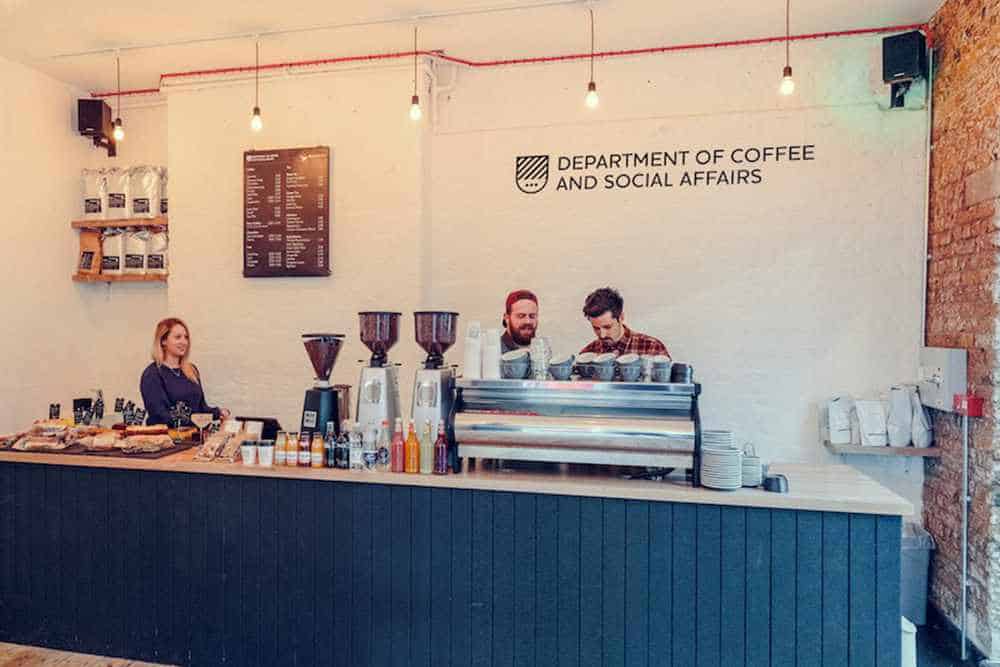 Department of Coffee and Social Affairs
Website, Facebook, Instagram, Twitter
Sites: 20+
Notable feature: consistency of coffee offer, rapid expansion
Recommended location to visit: 26 Rathbone Place, Fitzrovia, W1T 1JD
First opened: 2010
Taylor St Baristas
The original pioneers of high volume multi-site quality coffee, Taylor Street Baristas, now have ten shops (including one in New York) although they have slowed down their expansion greatly in recent years.
Applying experience learned from the Harris+Hoole adventure, Taylor St continue to inspire staff and customer loyalty and serve a large number of regulars efficiently. Adding their own roastery which consistently turns out a varied and intriguing bean selection, they continue to hold their own and inspire great customer loyalty.
Their Monument café was intended to focus more on sit-down, slow coffee approach in contrast to some of their locations which can feel more like 'walk-through' coffee shops in the manner of 'drive-through restaurants'. But the experience, even of the latter, for customers, is efficient, friendly and focused. Staff will always let you taste the filter coffee options to decide. Their Chancery Lane location is more of a slow coffee model, with dining.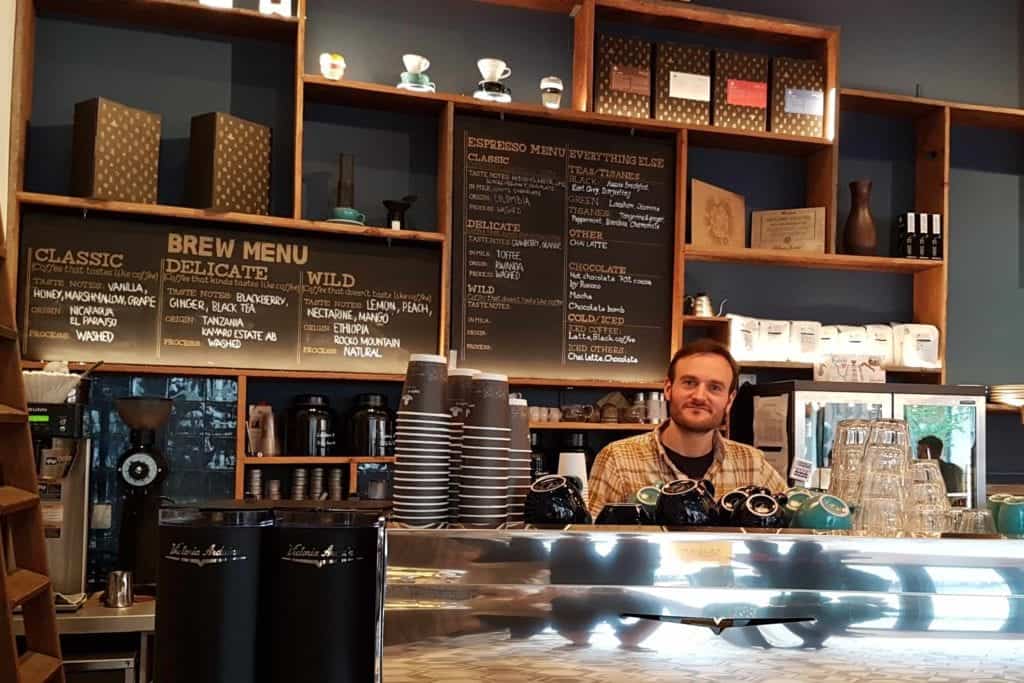 Taylor St. Baristas
Website, Facebook, Twitter
Sites:10
Notable feature: efficiency of service
Recommended location to visit: Chancery Lane, 26 Southampton Buildings, WC2A 1PN or Monument, 2 Botolph Alley, London EC3R 8DR
First opened: 2006
Grind
Grind, whose locations resemble bars more than they do traditional coffee shops, are known for cocktails and evening drinking in the heart of the city as much as coffee, also raised significant sums through crowdfunding and plan to open 10 new restaurants in the next five years and franchise the brand into airports and train stations. That will be a fascinating development to watch.
They currently run eight sites and often reach an audience beyond core speciality coffee drinkers. The role of Notes and Grind in growing a market for speciality coffee cannot be underestimated. Grind have also invested in their roastery, as well as acquiring Noble Espresso's event business and developing their restaurant model. I'd recommend one of their signature cocktails, an espresso old-fashioned. They have a range of thoughtfully designed drinks.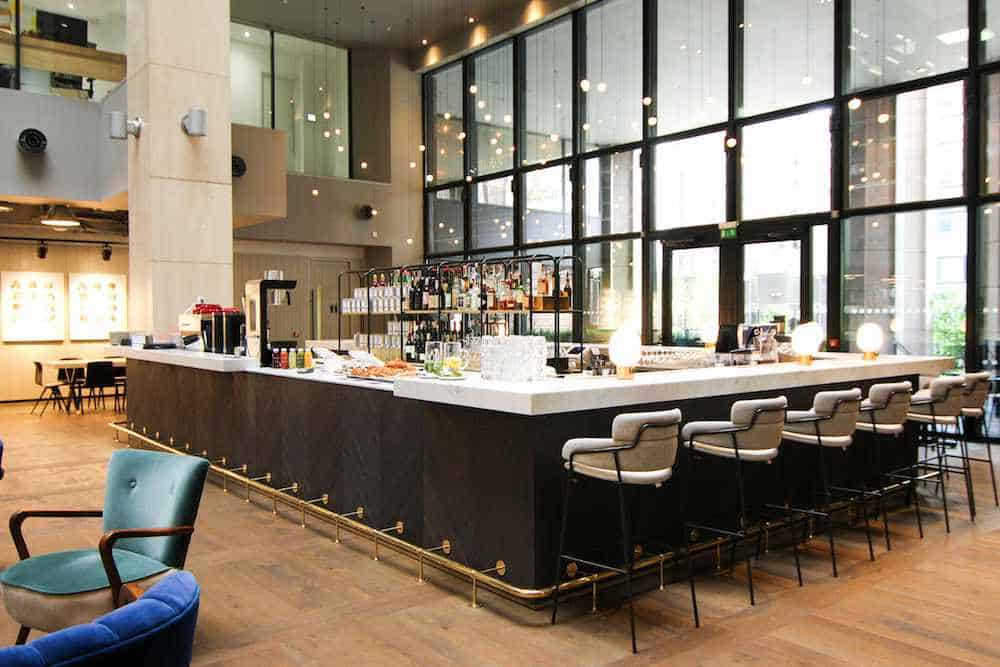 Grind
Website, Instagram, Twitter
Sites:8
Notable feature: cocktail bar style with own roasted coffee
Recommended location to visit: Royal Exchange Grind, 34 Royal Exchange, Threadneedle Street, EC3V 3LP
First opened: 2011
Origin Coffee Roasters
Cornwall based Origin have managed to significantly raise quality while expanding: their fifth London site opens soon and they have two in Cornwall. Origin invest heavily in staff and baristas associated with the company figure prominently in the UK Barista Championships. They are also a company who, through their size, can develop long-term direct trade deals with coffee producers and access some unique and wonderful coffees: often best enjoyed at their flagship Shoreditch site. I'd always recommend ordering a Kalita Wave filter.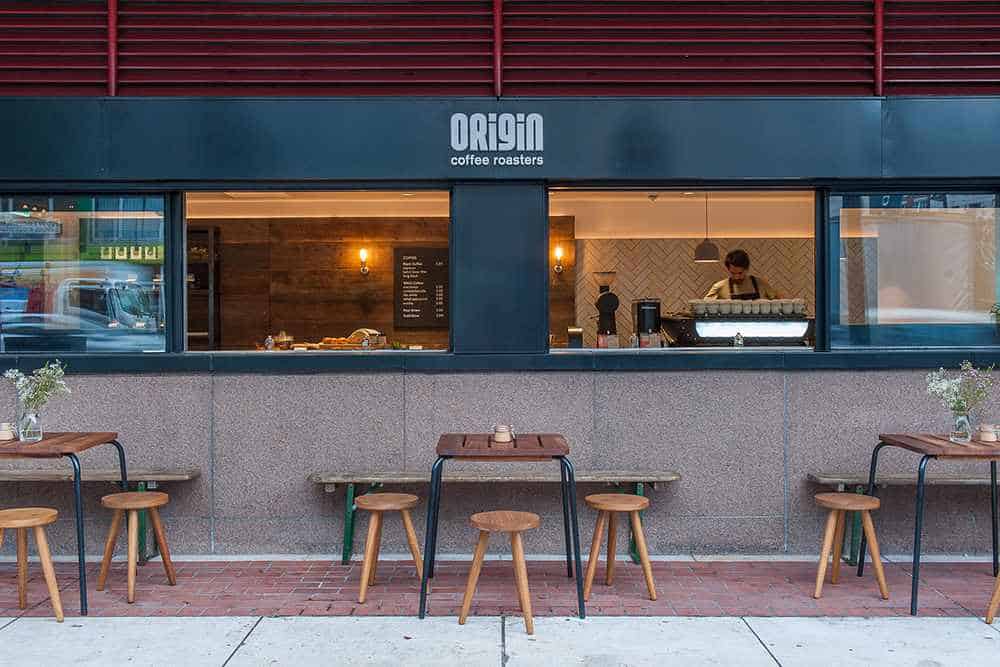 Origin Coffee Roasters
Website, Facebook, Instagram, Twitter
Sites:7
Notable feature: quality green coffee sourcing and direct trade
Recommended location to visit: Charlotte Road for the brew bar, 65 Charlotte Road
Shoreditch, EC2A 3PE
First opened in London: 2014
Notes
Having grown from a Central London café which opened in 2010 to a current nine sites within London, the mini-chain has crowdfunded for further expansion. Along the way, Notes've focused on targeting affluent city-based customers and offering alcohol in the evenings with the subsequent higher margins. Notes buy high-grade quality speciality coffee and their reputation for roasting is high; their challenge perhaps comes in term of staff retention given the current London barista shortage.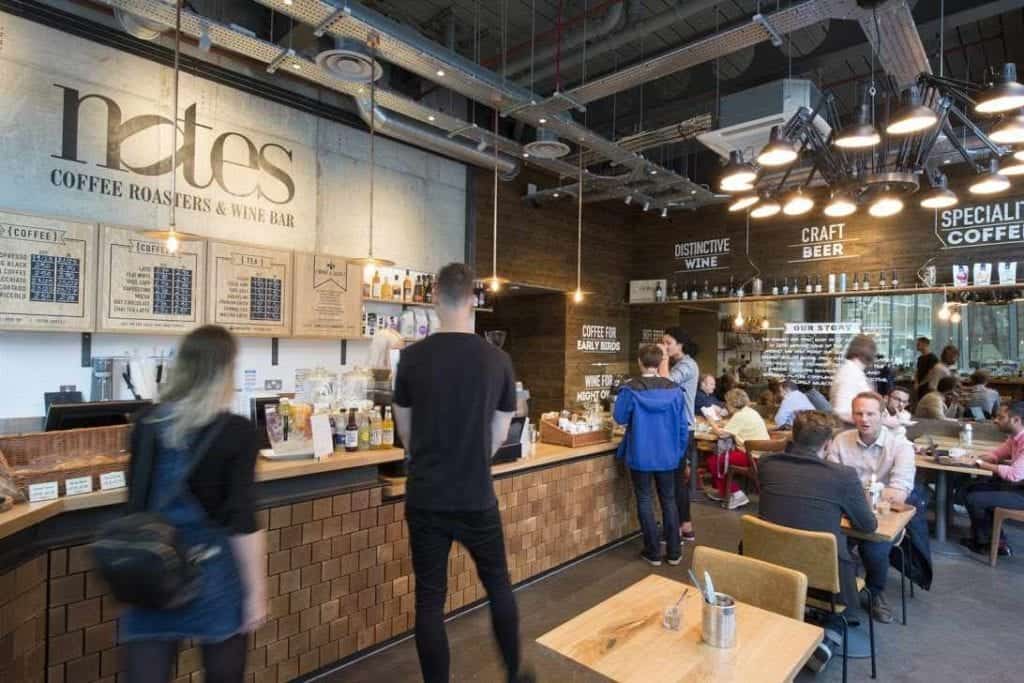 Notes
Website, Facebook, Instagram, Twitter
Sites:9
Notable feature: quality of roasted coffee, wines
Recommended location to visit: Crossrail, Unit CR24 Crossrail Place, Canary Wharf, E14 5AR
First opened: 2010
Caravan
While they've expanded by focusing on their restaurant offer, Caravan always take their coffee seriously. A brand new roastery soon to open in a less fashionable corner of North London will ensure they continue to go forward coffee-wise. They have access to some unique relationships with producers and coffees. Caravan's restaurants can appear at first glance as if they're not perhaps the kind of locations to visit for a quick coffee – but there's always coffee to be found and often even a half-hidden brew bar. I'd also recommend their other drinks, especially the shrubs (drinking vinegars and kombuchas).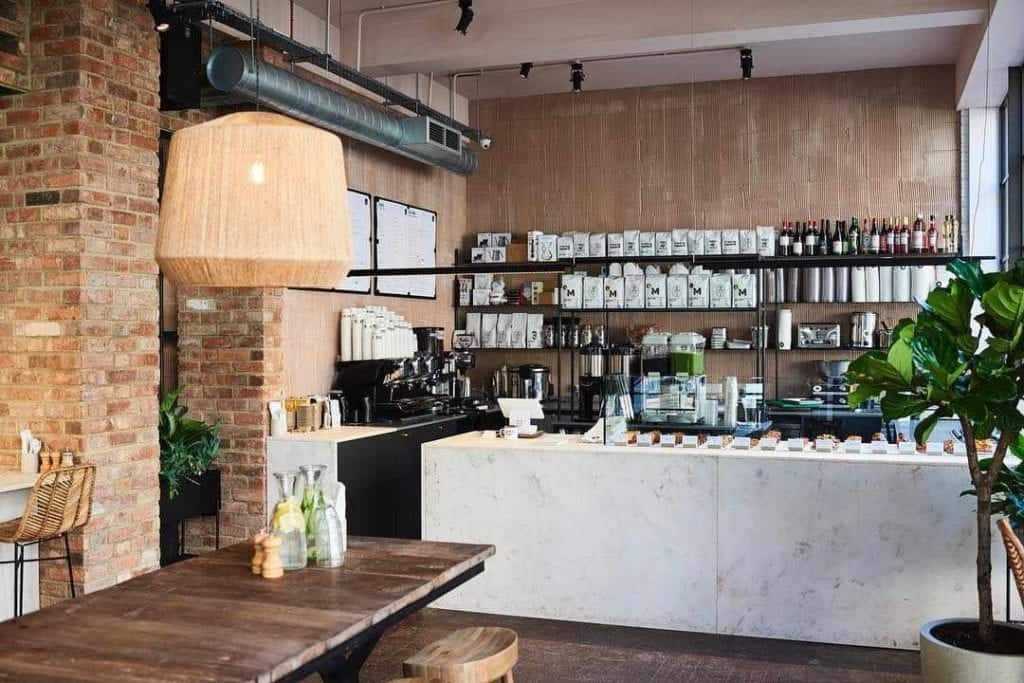 Caravan
Website, Facebook, Instagram, Twitter
Sites: 6 soon
Notable feature: restaurant focus – all day dining menu alongside quality coffee
Recommended location: the new roastery/coffee shop in Holloway that is due to open shortly
First opened: 2010
Workshop Coffee
One company that has maintained focus on coffee quality, a unique coffee offer, and a path of their own while opening multiple sites is Workshop Coffee. Five sites in, their model and identity is stronger than ever with a focus on clarity of flavour of quality washed processed coffee. Workshop also roast coffee and train staff for a number of hotel sites, including the prestigious Claridges. Their Fitzrovia site is a particular favourite with its wonderful marble bar which is a dream to linger at, superb batch brew filter and all-around impressive drinks menu.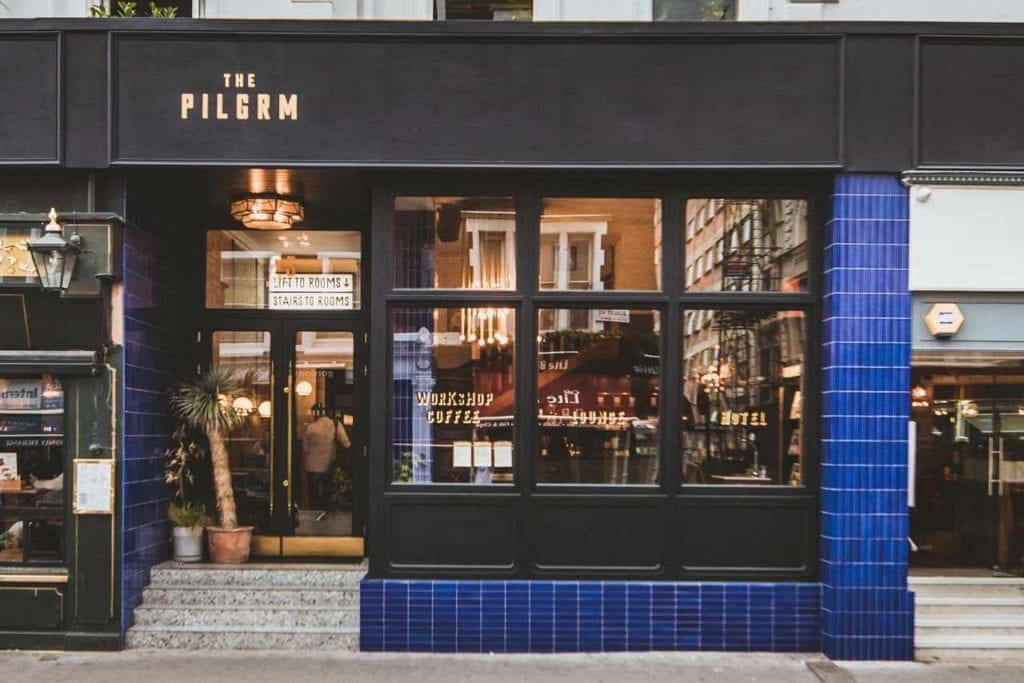 Workshop Coffee
Website, Facebook, Instagram, Twitter
Sites:5
Notable feature: a carefully curated approach to coffee profiles
Recommended location to visit: 80 Mortimer Street, Fitzrovia, W1W 7FE
First opened: 2011
Other recommended chains in London
Others from the old guard to have expanded from small beginnings include Camden Coffee House and Fernandez and Wells (both of whom serve Has Bean Coffee coffee across 5 sites), Relative newcomers include CoffeeWorks Project (who roast their own coffee and have 5 sites), Urban Baristas (serving Union across 5 sites and planning to expand), Press Coffee (serving their own coffee across 4 sites) and Elan Café (they have opened 4 sites in rapid succession and have had great success in an alcohol-free evening offer as well as an innovative drinks menu featuring Union coffee). Crosstown are known more for their sourdough doughnuts but serve Caravan coffee across 7 sites.
Consistency and the Chain
The history of developing shops into chains is one of a difficulty in maintaining quality. In recent years, brands like sandwich giants Pret a Manger have managed this, avoiding the mistakes of other large chains in the past. Having cross-site consistency in a chain might require a slight reduction in quality aimed for though. Having achieved that consistency, larger chains often offer one-off quality focused sites such as Starbucks Reserve or, in a very different model, Taylor Street's tiny bespoke Monument site which offers a more relaxed setting.
For many UK based coffeeshops, the factor affecting quality and consistency the most is in recruitment and retention of staff. Staff make or break a coffee shop: they deliver hospitality, they brew the coffee, they make the judgement calls and engage with the customer base. The current situation in London is that there is a great shortage of trained baristas and every week sees floods of jobs advertised on coffee job listings. Brexit threatens to make that situation even worse. All those I spoke to in mini-chains emphasised the value of training and pointed out that expanding provided bigger budgets to invest in training and quality control.
Acquisitions – Bigger and Smaller Fish in the Pond
It's certainly an interesting time in the UK coffee. Acquisitions (buyouts of companies by larger companies) are not at anywhere near the level of those in the US (Bluebottle, Stumptown, etc.) because the larger independent UK companies are not on the same scale and not yet as attractive to acquire for large multinationals. Nevertheless, the last year has seen the acquisition of Brewlab by Union, roasters Hasbean by Ozone, London's Best Coffee app by Paced, Prufrock by Square Mile and the aforementioned acquisitions by Department of Coffee. Although this is certainly a trend, a full-on industry merge of small companies into fewer large ones is yet a distant prospect for the industry.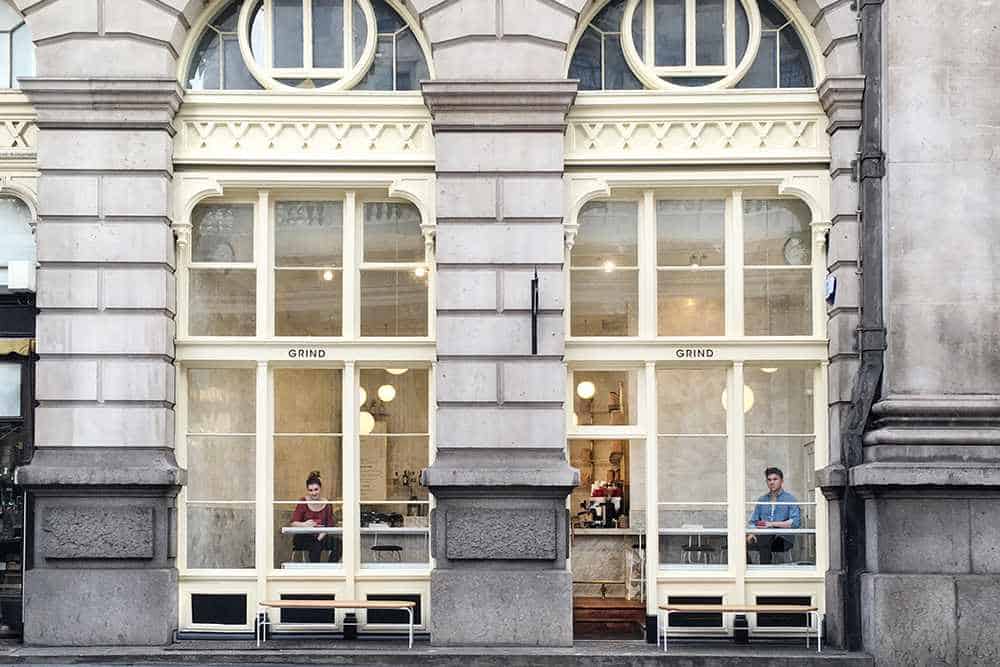 What does the future hold?
Notes' Robert Robinson is passionate about the future of single-site coffee shops too, "There will always be a place of stand-alone units in speciality coffee. Mini-chains complement this and allow high-quality coffee to reach areas single-site businesses can't, so I see our role as shifting customers away from high street brands to try something better, with us or with others in the speciality sector." So the growth of the mini-chains might well benefit speciality coffee as a whole.
Sam Trevethyen, head of coffee and cocktails at Grind echoes this, "I see mini-chains as bridging the gap between single site independents and the high street. I think going forward we will see more expansion, more consolidation and further growth outside of London."
Perhaps the growth of the mini-chains can help raise London consumers' expectations and welcome many into the world of speciality coffee. It can help grow a customer base for the single-site coffeeshops we also love.