In 2017, the Specialty Coffee Association revealed a surprising location for the fastest growing specialty coffee market in Europe: Turkey. The land that once introduced coffee to the West is now experiencing a Third Wave boom, and the undisputed capital of the movement is Istanbul.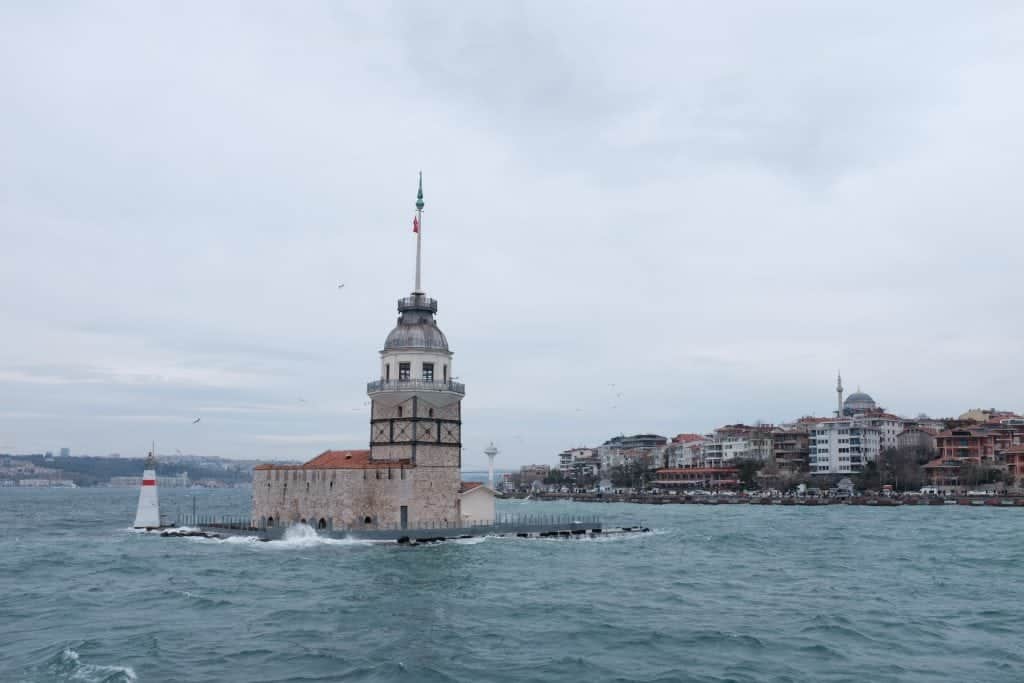 Istanbul, famously, is the only city situated on two continents, with slightly more than half of the city's 15 million inhabitants living on the European continent and rest living in Asia. Istanbul's specialty coffee scene has been concentrated on the European side since the beginning, but the Asian side is quickly catching up. From artsy Ottoman-era enclaves to the sprawling high-rise of the financial district, there have never been more places to get a good cup of coffee in Anatolian Istanbul.
Kadıköy
In ancient times known as Chalcedon, Kadıköy was a city that eventually was swallowed up by Istanbul's sprawl. Today, the district is both a cultural and transit hub for the Asian side. You can access Kadıköy by metro or Metrobüs, but by far the most pleasant way to get to Kadıköy is by ferry, which leave frequently from Eminönü, Karaköy, and Beşiktaş on the European side. With its fish market and seaside parks, Kadıköy is a popular destination for tourists and locals alike.
Montag Coffee Roasters
"Good coffee is worth the stairs." I spot the message after walking past the entrance to Montag's Kadıköy cafe twice. After climbing the short flight, I discover what feels like a secret specialty coffee oasis, a floor removed from the bustling street below. But if Montag is a secret, it's an open secret. In spite of it being a typically cold and wet Istanbul winter day, the balcony, which overlooks the Armenian Church of Surp Takavor, was overflowing.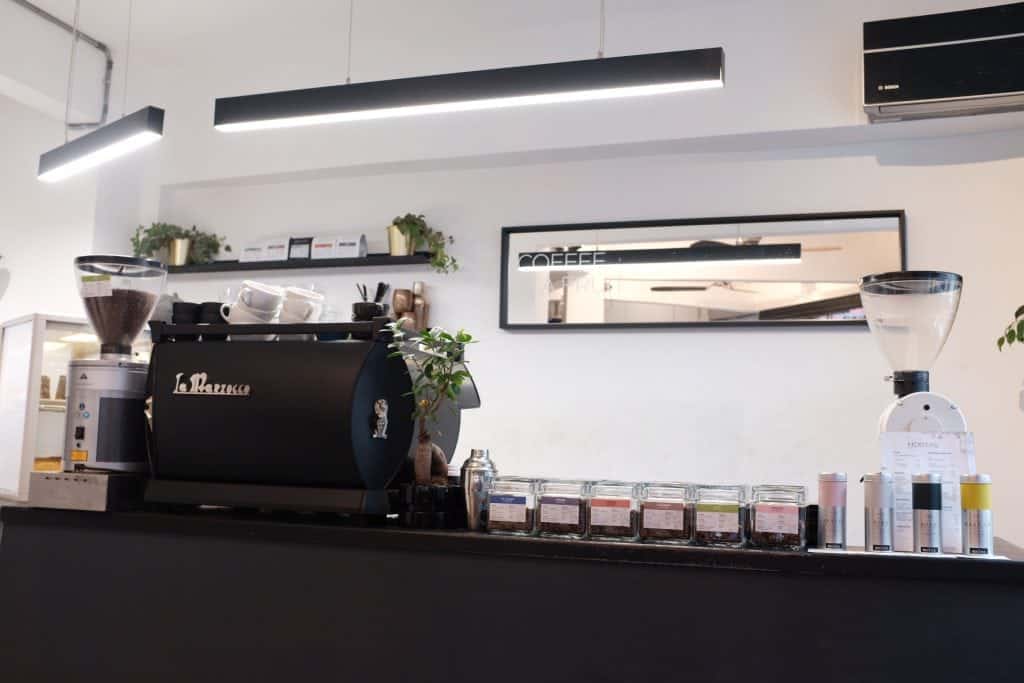 When I visited that house espresso was an Ethiopia Guji natural process. It wasn't the fruit bomb I expected, but it was sweet, well roasted, with a balanced acidity and great complexity. If you're looking for a filter coffee, Montag offers a wide variety of single origin coffees by the cup. I opted for a floral and delicate V60 brew of a coffee from the Duromina washing station in Ethiopia.
Coffee Manifesto
Güneşli Bahçe Sokak (Sunny Gardren Street) is famous for traditional meyhane which serve seafood and meze and the anise-flavored spirit rakı. If it's still to early to imbibe, Coffee Manifesto offers a nice place to get your caffeine fix.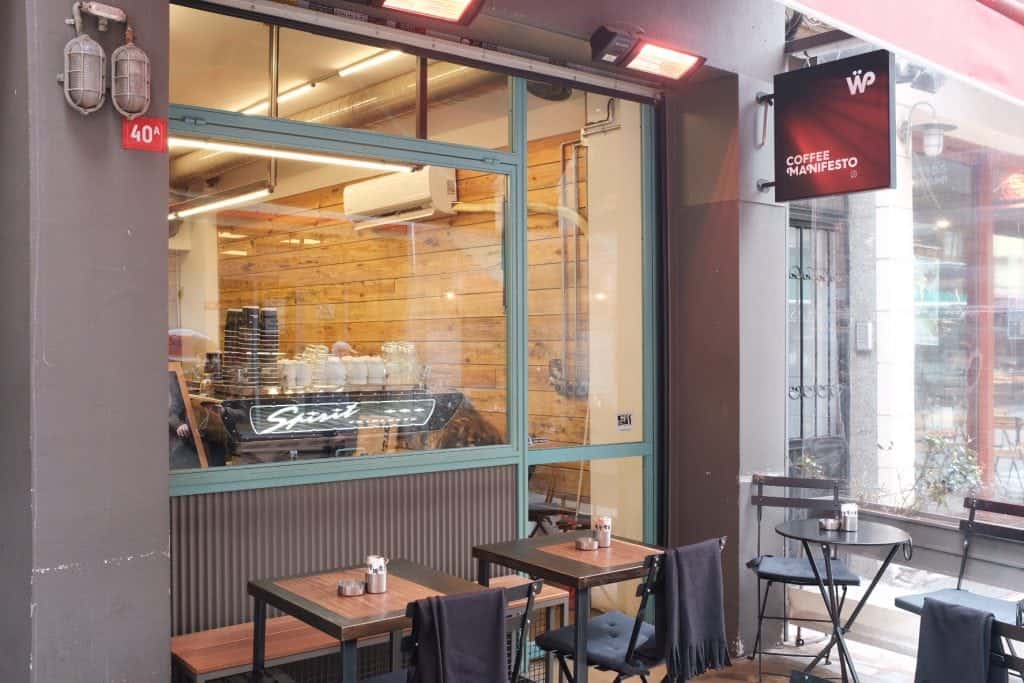 The narrow, shotgun-shaped space has scant indoor seating, so you're probably best off grabbing a seat at a table outside. Coffee Manifesto pulls their house-roasted espresso on a gorgeous three-group Kees van der Westen Spirit. Compared to the bright, light-roasted espresso you'll get at many Istanbul coffee shops, Coffee Manifesto serves a more classic espresso profile: low acidity with bitter chocolate notes.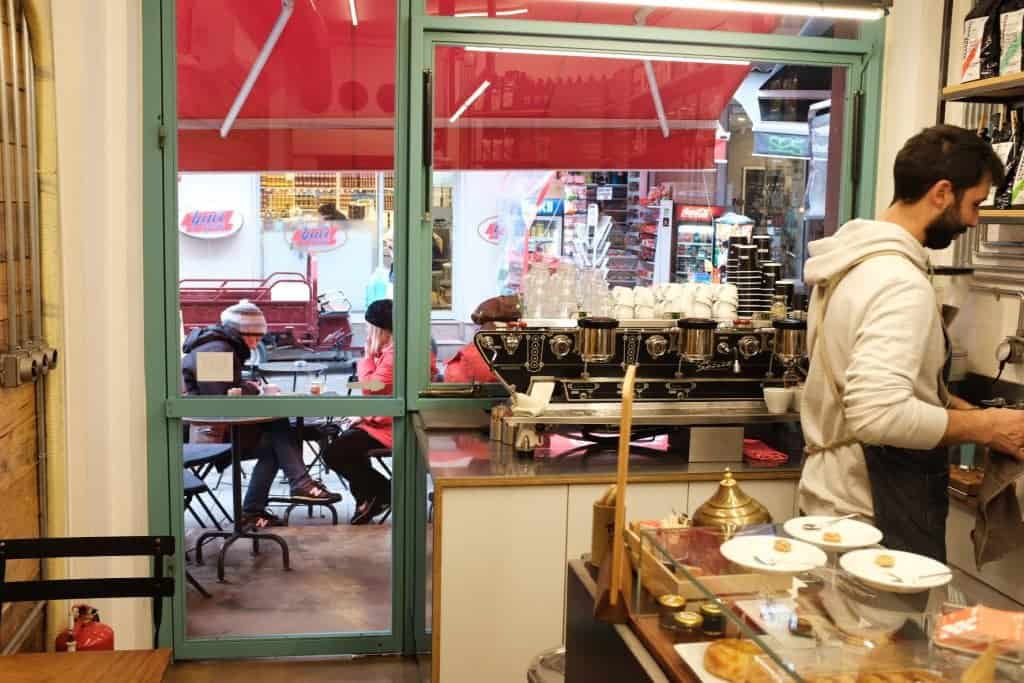 Moda
Moda has long been a quiet village of artists, musicians, and writers, magically insulated from the bustle of the city. With its winding streets and stunning views of the Marmara Sea, there's few better places in Istanbul to get lost wandering around. The neighborhood is home to ceramic studios, art galleries, and even a museum to the legendary Turkish rock star Barış Mançho. Moda might also be home to the highest density of Istanbul cafés, many times side-by-side.
Story Coffee
Although Istanbul is a city with thousands of years of history, most of the city is decidedly from the modern era, constructed in steel, concrete, and glass. The few historic buildings left are a time capsule to the all-but-forgotten Ottoman era. The appropriately named Story Coffee is located in one of those rare Ottoman-era buildings. The rich wood tones and the marble table tops combine to create an atmosphere that feel as timeless as the building itself.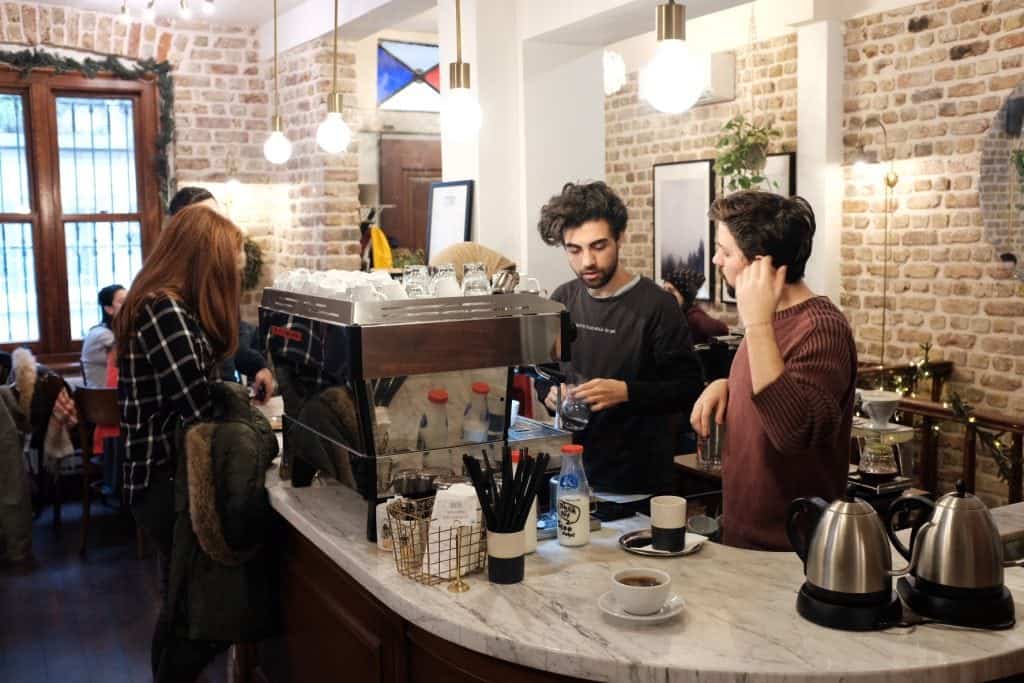 All of the coffee at Story is roasted on the premises, on a 1.5 kilogram Probat. Story has a selection of single origin coffees, available as pour-over or batch brew, and is one of the few Istanbul roasters that has embraced having an espresso blend, named Marko Paşa after a famous 19th century doctor that once lived in the building. Story's food program features several rare-for-Istanbul American breakfast classics, like buttermilk pancakes or a California breakfast burrito.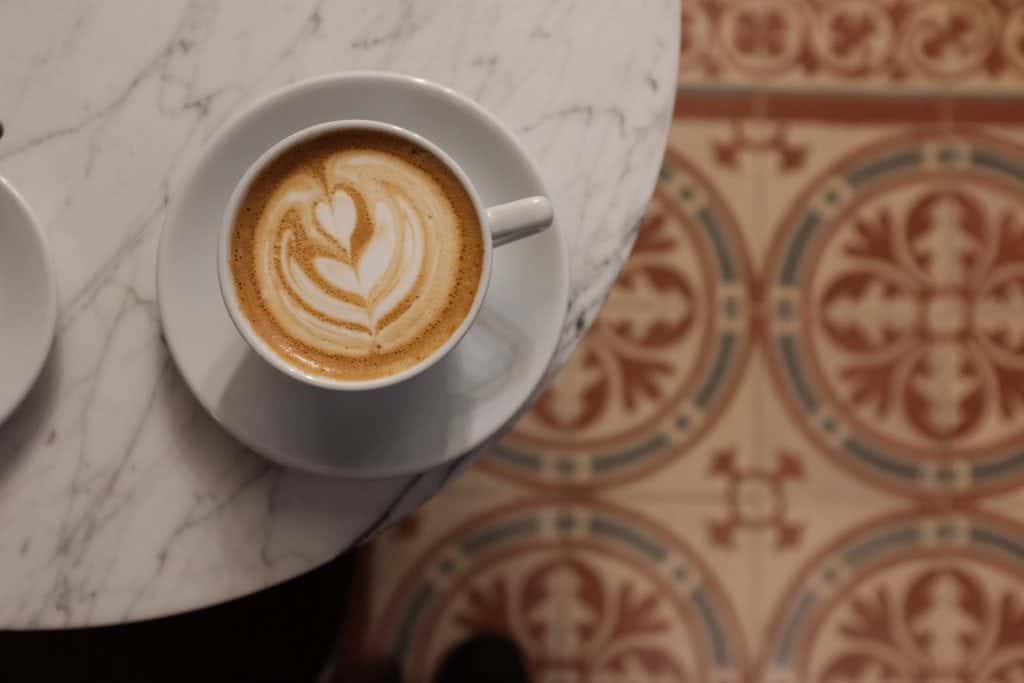 Rafine Espresso Bar
Rafine is Turkish for "refined," and this small espresso bar on Moda Caddesi lives up to its name. What Rafine lacks in seating, it makes up for with well-roasted espresso, an Ethiopia Adado when I visited.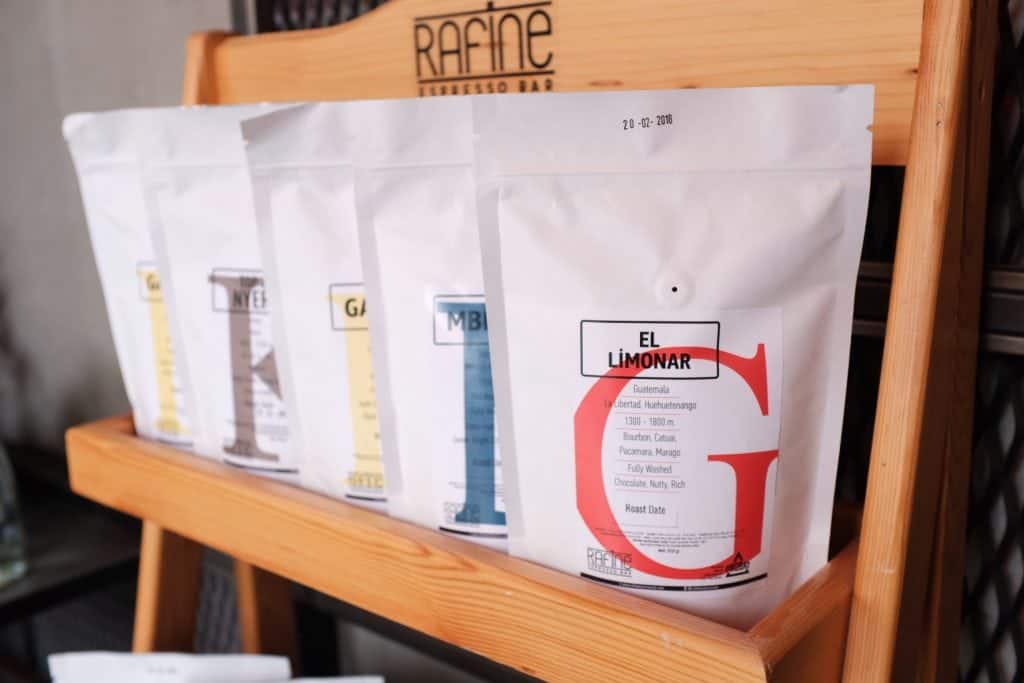 Rafine is also the Turkish distributor for Probat, a favorite manufacturer amongst brand-conscious Istanbul roasters. If you manage to snag one of Rafine's few table, you'll find it's also a great place for people watching, as Moda Caddessi is the main thoroughfare connecting Moda to Kadıköy.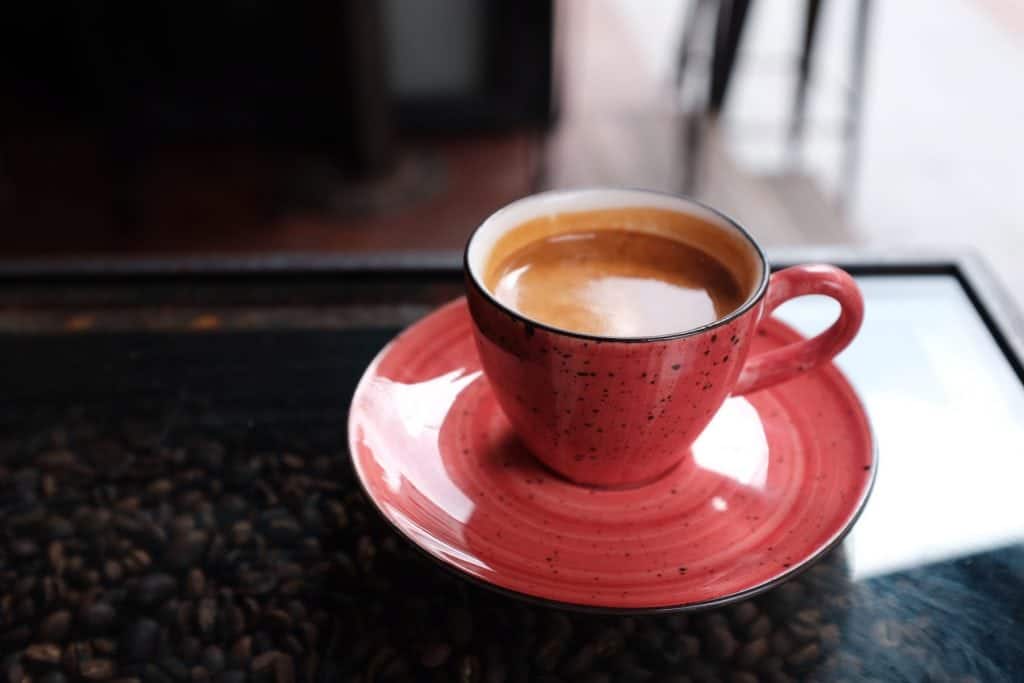 Çekirdek
Çekirdek was the first specialty coffee shop on the Asian side of Europe, and is still one of the most beloved, thanks to the charismatic owner and proprietor Tunca Özgürer. Özgürer developed a taste for specialty coffee while working as a chef in London.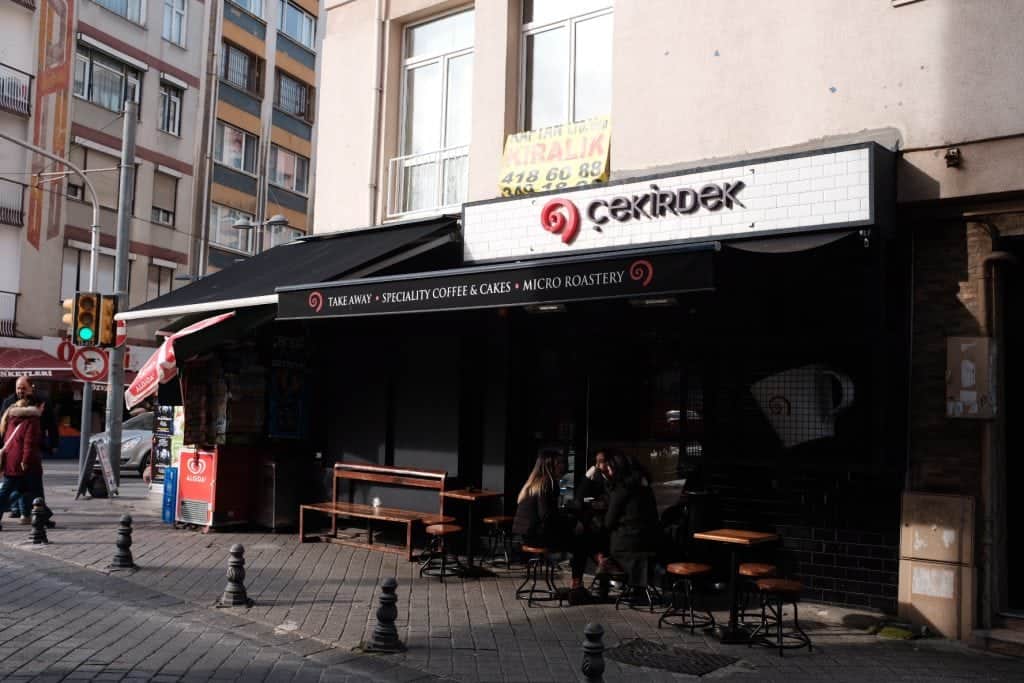 Before work or during breaks he would visit classic coffee bars such as Flat White and Monmouth Coffee. After returning to Istanbul he wanted to recreate that specialty coffee experience in his hometown. Whether it's the house roasted espresso or the exquisite house-baked cakes, it's easy to see why this pioneering café remains a community favorite.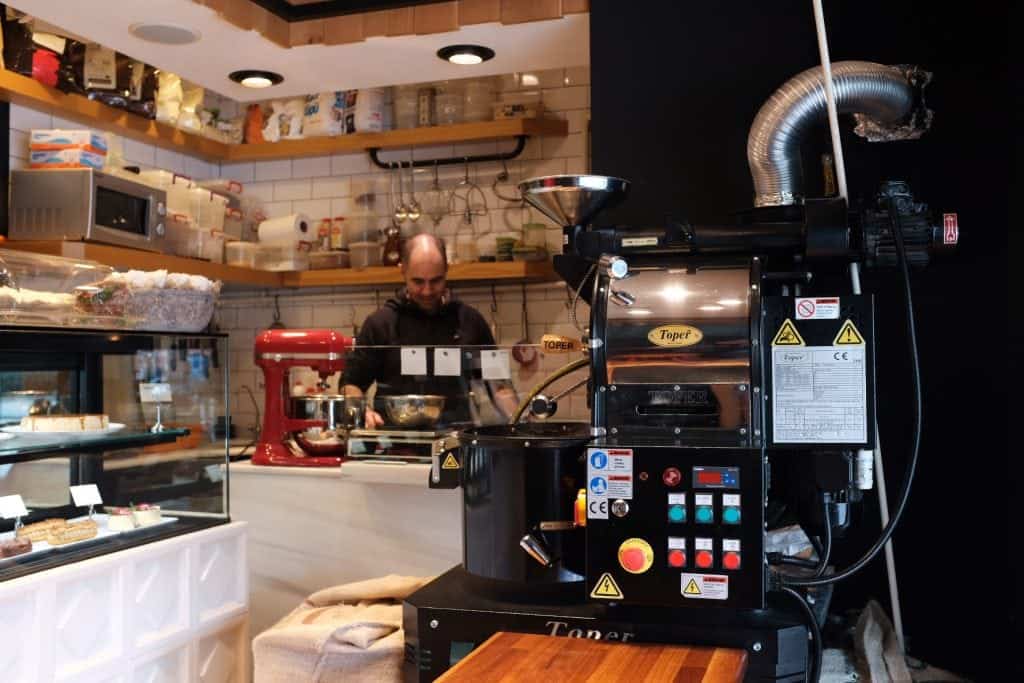 Old Java Coffee Roasters
This austere café is the sole Asian outpost for roaster/retailer Old Java Coffee Roasters, which boasts three cafés on the European side.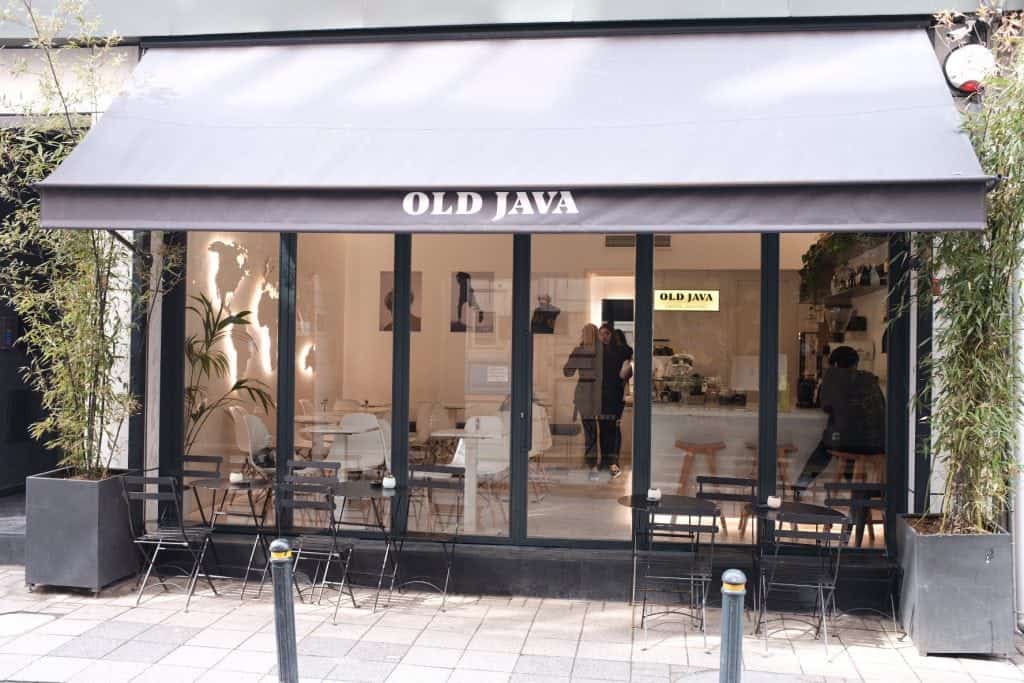 Their single origin menu features a diverse selection of single estates and microlots, including some origins that are less common in Turkey, such as Mexico and Peru. The ultra-modern interior feels more like an art gallery than a café, but it's the coffee here that's really on display.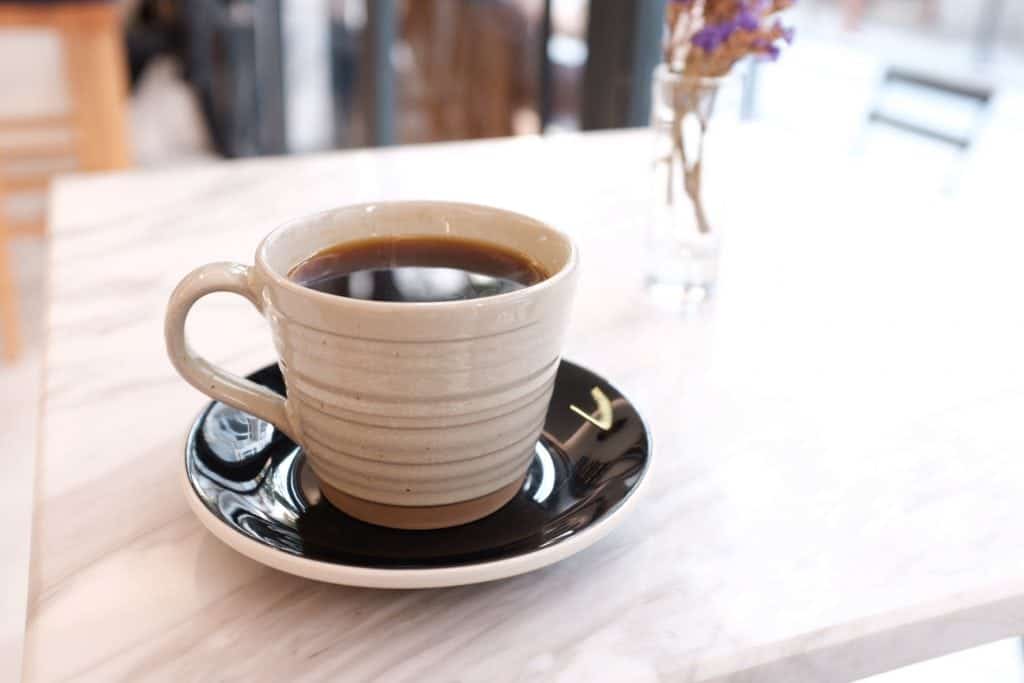 The Outer Limits
As cheaper rents and larger apartments have continued to push the extremities of the city even further, amenities such as specialty coffee shops have followed suite. Perhaps the cultural saturation of specialty coffee in Istanbul is best proven by these cafés, although well worth a visit, are far beyond the parts of the city most tourists experience.
Cargo Coffee Co.
I walked past a Starbucks, a Caribou Coffee, and a Cafe Nero to get to one of the newest cafés in Istanbul: Cargo Coffee Co., located in the Bulvar 216 shopping mall in Ataşehir, the Asian side's commercial district.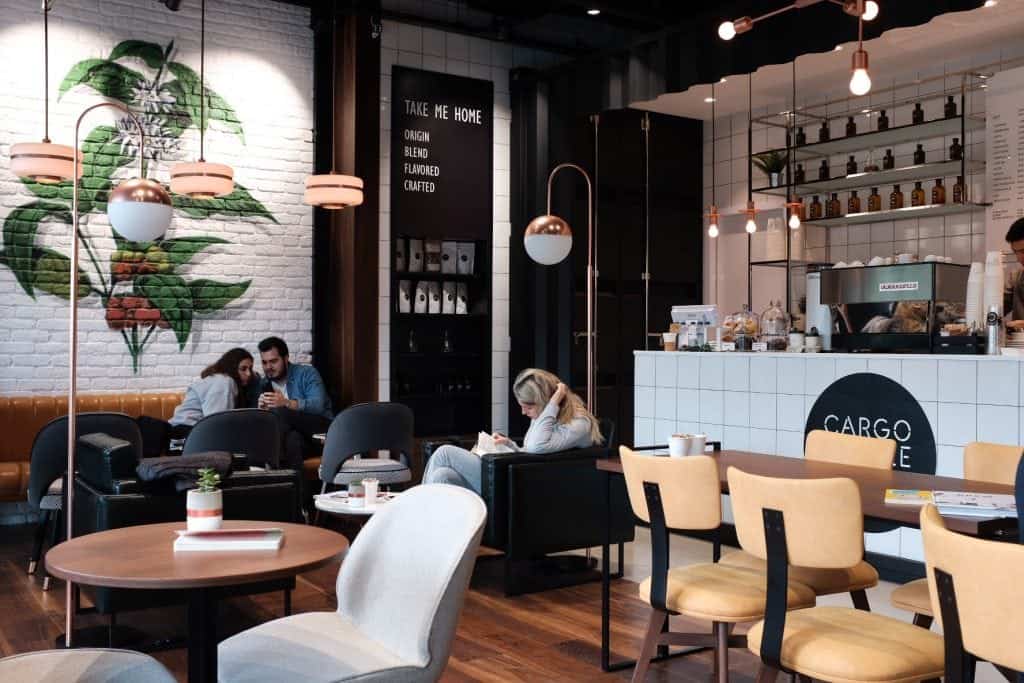 The shop is impeccably designed, and perhaps the most photogenic in Istanbul. Cargo is roasting their own coffee, with occasional guest roasters, such as Berlin's The Barn. I wasn't able to squeeze too much information out of the barista about my pour-over, other than it being from El Salvador, but I found it to be sweet and balanced.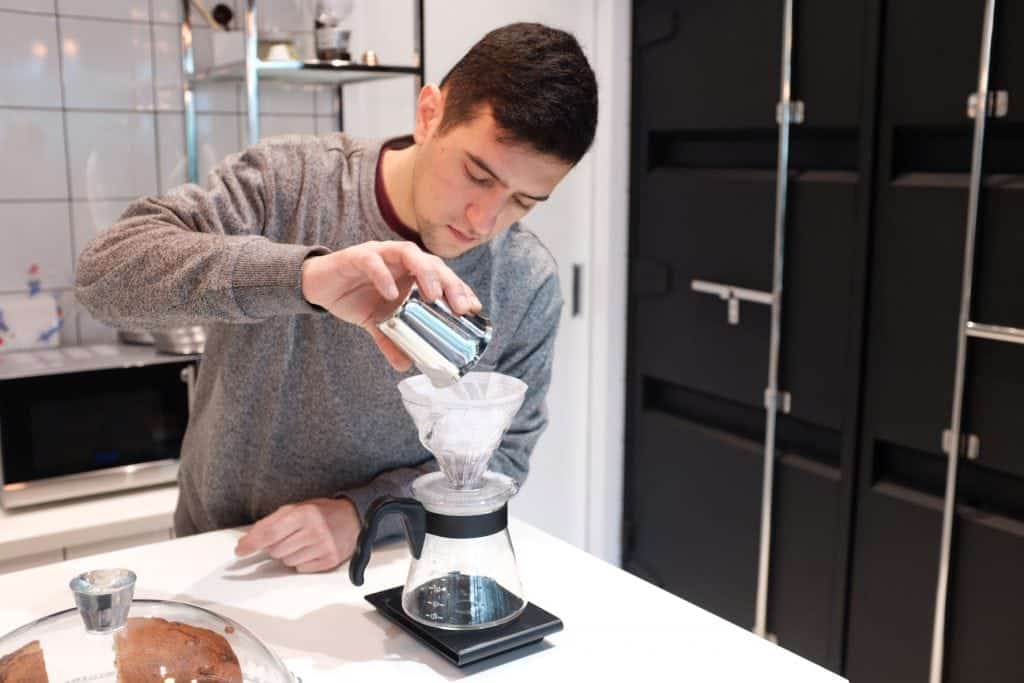 Kronotrop Coffee Bar and Roasters
The recently opened Emaar Square Mall is home to the first Asian location of Kronotrop Coffee Bar & Roasters. Kronotrop by most accounts is the first specialty coffee shop in Istanbul. The roaster/retailer expanded from a small café in the European side's Cihangir neighborhood to a half dozen locations around the city. The company has changed hands since the early days, but has managed to maintain its original vision of quality.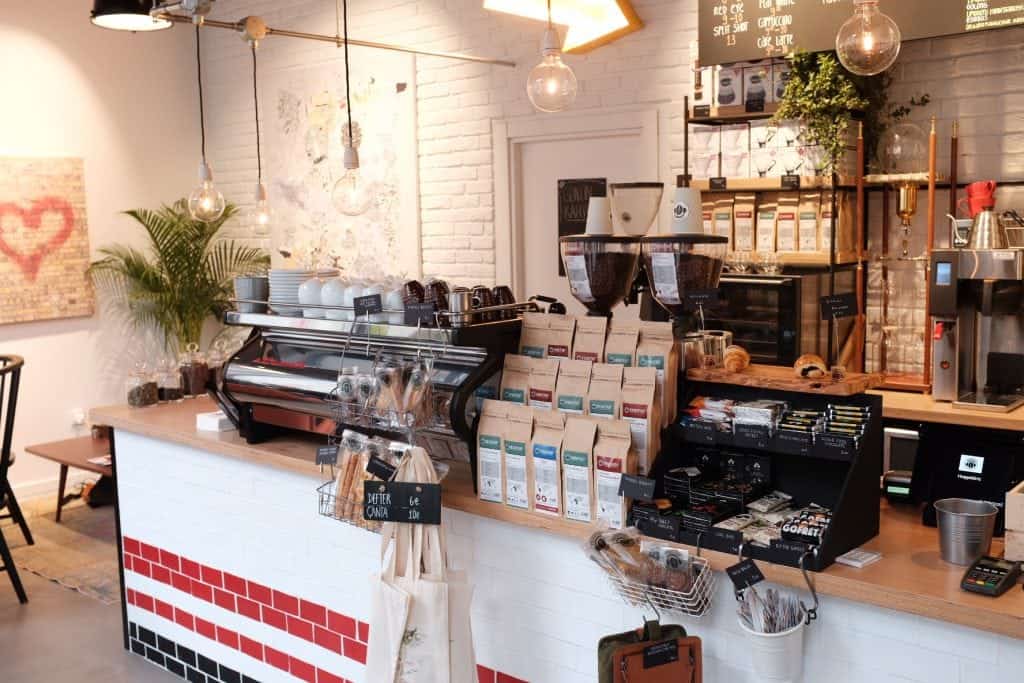 Walking past the international luxury brands that surround the Emir Square café, I couldn't help but think of the contrast with Kronotrop's gritty Cihangir location, but once inside I found the space to be remarkably true to Kronotrop's brand. The trademark red and white tiles that line the counter are hand made in Anatolia, and the café offers two single origin espresso options and batch brew (a rarity in Istanbul).
Krontotrop is one of the best places to try a Turkish coffee, which they perfected with the help of former World Cezve/Ibrik champion Turgay Yıldızlı. The copper and silver cezve used to brew Turkish coffee are handmade outside the Grand Bazaar— an incredible fusion of traditional and contemporary Turkish coffee culture.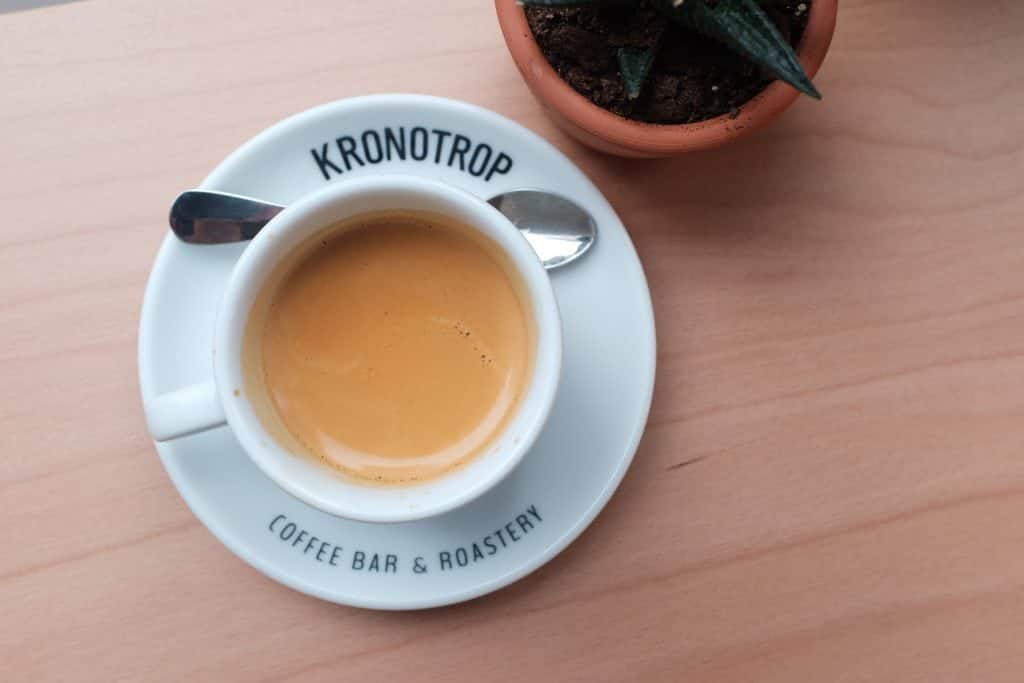 Istanbul's coffee scene, much like the city itself, is surprising and expansive. The unique blend of traditional and contemporary coffee culture makes Istanbul one of the most exciting coffee destinations in Europe, even if half of it is technically in Asia. Whether you're in town for a few days, a week, or you live here, the hidden gems on Istanbul's Asian side deserve a visit in their own right.