Çağatay Gülabioğlu is the man behind the roasting project of Probador Colectiva. But Çağatay and Probador Colectiva are more than just a roaster and his business. Speaking to Çağatay on Skype, not only we were literally walked through his roasting premises, but also navigated through the challenges of establishing the company, and its current directions.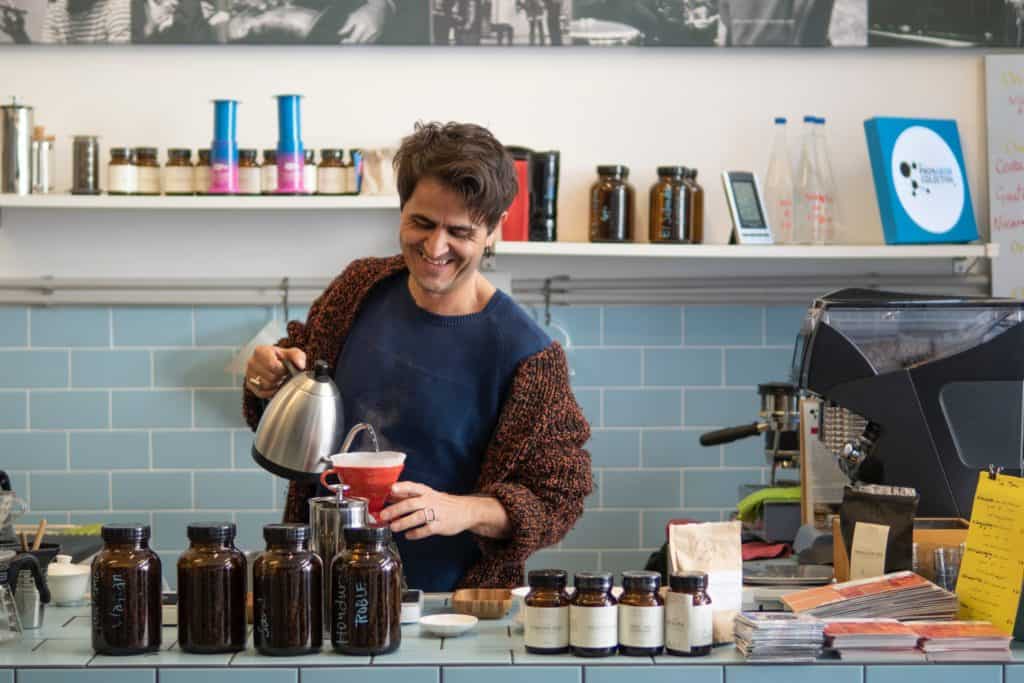 Çağatay Gülabioğlu is the person to thank for setting up the stage for the speciality coffee scene in Istanbul as we know it today. His first project, Kronotrop was his first company, started in 2012 and grew into one of the biggest coffee roasteries in Istanbul. It was where he learned about roasting and brewing of speciality coffee. But before the Kronotrop times, Çağatay was almost untouched by coffee, he would not even consider himself a coffee drinker: "I didn't like it," he admitted.

Çağatay has always been a curious mind. During a time he did not have a lot of work to do, he spent it browsing online articles. He would always read a lot. By a chance, he discovered the world of coffee thanks to the online blogs of Tom Owens of Sweet Maria's, a green-coffee supplier and home-roasting expert from California, as well as Scott Rao, and he got sucked in.
"When I realised there was something new, almost revolutionary going on in the coffee world, that caught my attention. People from different walks of life were getting more into coffee, and they were not shy to get geeky about the technicalities of making it. That was very inspirational." Çağatay realised that, perhaps, what the Turkish brewed and drank was not 'the real coffee'. He was drawn to the idea that he could train himself, both aesthetically and taste-wise, in order to find out what it was.
"That is the power of the internet in fact, that you learn almost anything," Çağatay told us.
Çağatay had started dreaming about delivering freshly roasted speciality coffee to the people of Istanbul while teaching them how to brew delicious coffee themselves.
Growing Kronotrop and pursuing the dream of speciality coffee
In 2014, Kronotrop gained the attention of Mehmet Gürs, a famous restaurant owner and chef, and his investors. For a long time, Kronotrop was the only place where Çağatay could enjoy his coffee, and that is because he'd brew it himself. The speciality coffee scene of Istanbul and Turkey was in its infancy and Kronotrop was among the first ones to bring attention to high-quality coffee.
Nevertheless, once Çağatay visited London and stopped by Prufrock, the mecca of speciality coffee, he was served a cup that he found tasty. He returned to Istanbul with a lot of inspiration and excitement, but his space for development was quite limited at Kronotrop. A place that he brought to life with many dreams and ideas in his head had turned too commercial for him, as the company had grown immensely. He decided that his time at Kronotrop was over.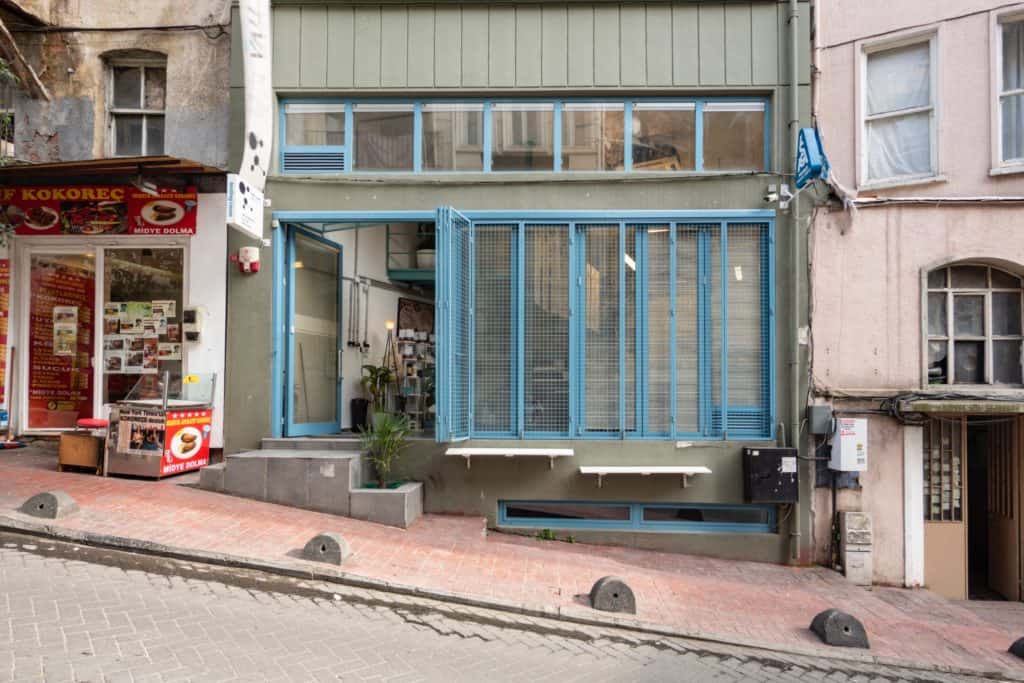 Çağatay wanted to bring as much knowledge and varied tastes to the coffee drinkers of Turkey as he experienced himself. He wanted to educate people on how to make coffee the right way so that it would taste great.
Çağatay left Kronotrop and started Probador Colectiva in 2014. With his new project, he refused to do any commercial coffee production, and instead, focused on home and professional baristas and businesses.
The challenges of starting a speciality-coffee roastery in Turkey
The construction of the roastery started in June 2014 with the vision to roast only fresh crops of exceptional coffee, something that is not the standard in Turkey.
"At Probador Colectiva, we are obviously focusing on the quality of green coffee and on being transparent and open about the business. That is still a valid virtue for me, as well as following the latest progress in the industry, findings and science of coffee, as well as being part of the global community and not satisfying ourselves with the Turkish market itself."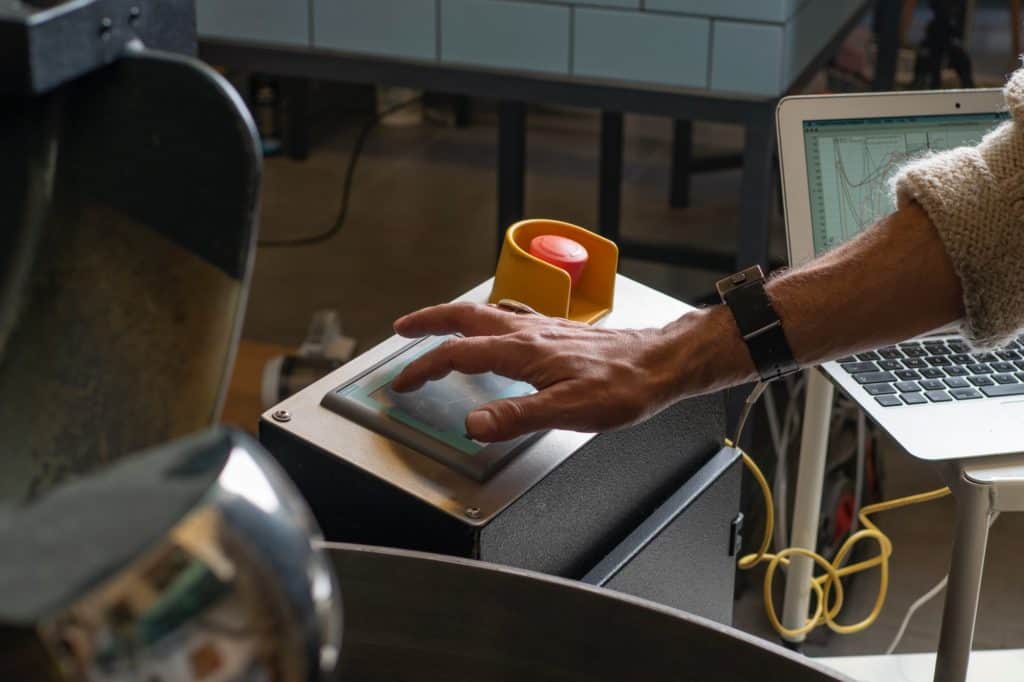 Throughout the 5 years of Probador Colectiva, Çağatay has collected loads of experience and met many challenges, some of which can apply to young roasters today as well.
Searching for the roastery premises
"The most time-consuming part was to find a place suitable for the idea," Çağatay mentioned. The desired space needed house all of his planned activities: roasting, a production site to pack and send out coffees, but also a coffee lab to cup and test his coffees. He needed an office, of course, and wanted to have a space to sell equipment and run coffee courses. Originally, Çağatay was looking for a kind of a warehouse building, where coffees would be easy to deliver to and where the smoke from roasting would not disturb the neighbours. "I wanted to place it all on one floor, but because all those buildings in the city centre were demolished in the 80s, I had to settle down with the current place which is four floors—quite the contrary to my first idea."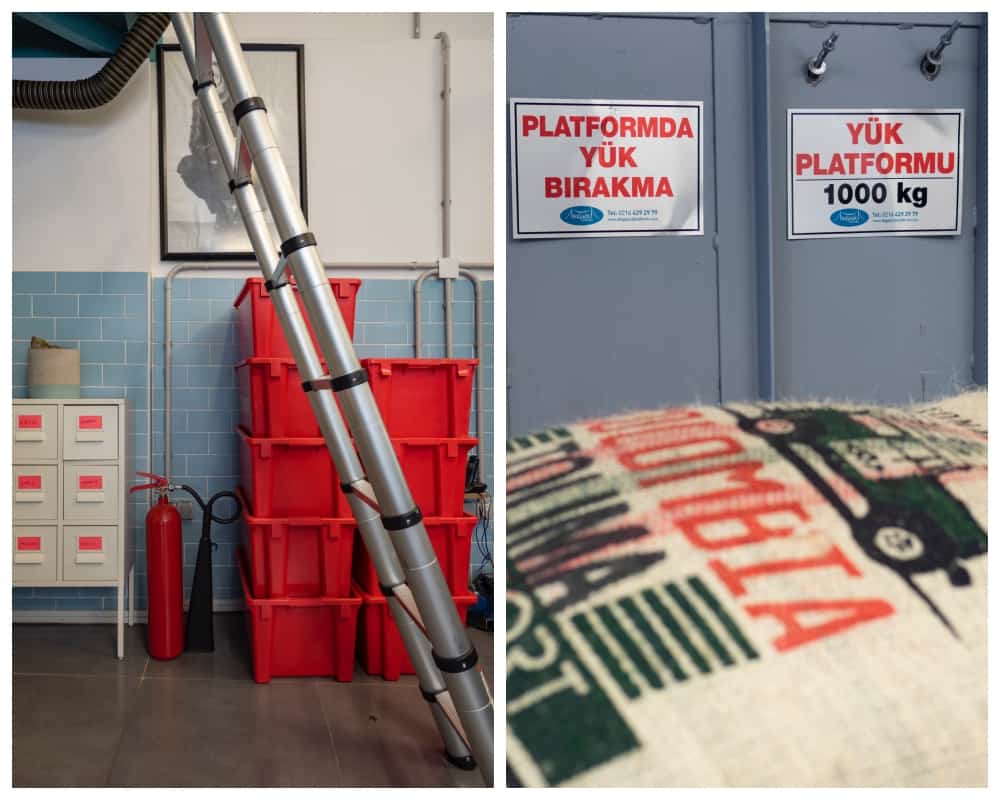 "We had to do everything from scratch in the building in order to make it suitable for the whole operation. Right now we can climb from the basement to the 4th floor with the ladders inside the building, although we have two separate main doors to reach the upper and lower floors. It is like a Super Mario game with all those ladders," Çağatay described the current space perfectly.
Probador Colectiva's space surely is like no other roastery we have ever visited. From the street, it looks just like another residential house, the door and windows painted baby-blue, and a small bench placed outside. What gives it away is the occasional coffee delivery sitting on the front steps, or a random walk-in customer drinking their coffee outside.
Establishing the first-ever SCA Campus in Turkey
The focus on the best quality and the most knowledge are also reflected in the setup and the equipment of the space. Çağatay designed Probador Colectiva rooms with the requirements of SCA in order to become a Certified Laboratory—today, the training centres around the world are called SCA Campuses.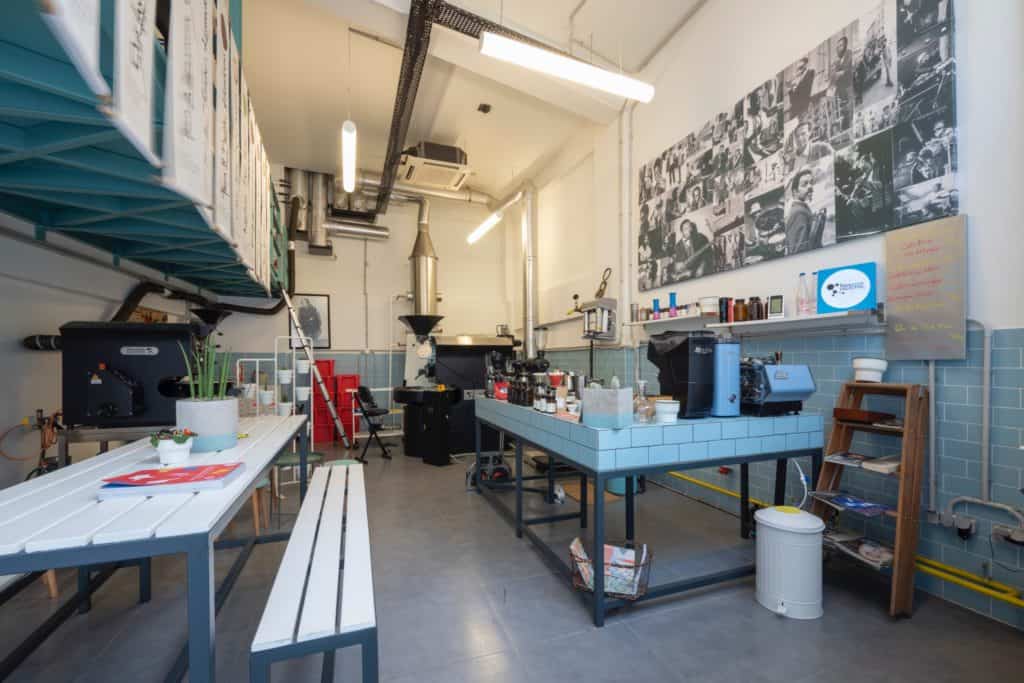 "The lab has everything in that sense from lighting to the minimum number of cupping bowls per table etc." And he continues naming some of the important milestones that have helped Probador Colectiva build its name. "Getting my AST and Q Grader certificates in order to be able to give training was part of the initial plan, although buying all the appropriate equipment took a while, starting with the main roasting machines, to Ikawa sample roasters, to Sinar moisture meter, to VST coffee refractometer."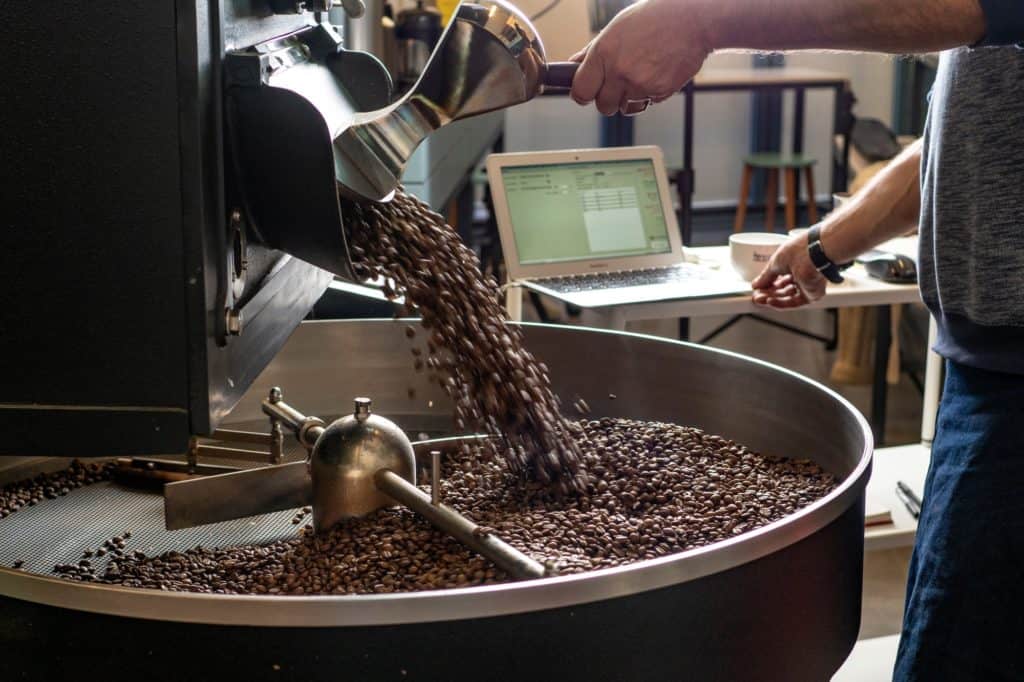 Today, he roasts on a Giesen W15 and W1, as well as using the IKAWA sample roaster. But there are other challenges that make the roasting business not an easy one for Çağatay.
The struggle of getting fresh-crop coffees
Çağatay went back in time remembering the first years at the current location. Back then, the roastery space was simpler, and the office that is on the top floor was not yet done. In the beginning, Probador Colectiva did not have a proper webshop, thus, selling coffee, equipment, and coffee courses were not easy. It was difficult for people to reach the product and any further info about it. For the majority of the time, Çağatay has worked by himself, and even today, you'd find him at the roastery seven days a week. "I still enjoy it when new coffees arrive. Then, it is a joy," Çağatay admitted how tiring it can sometimes be.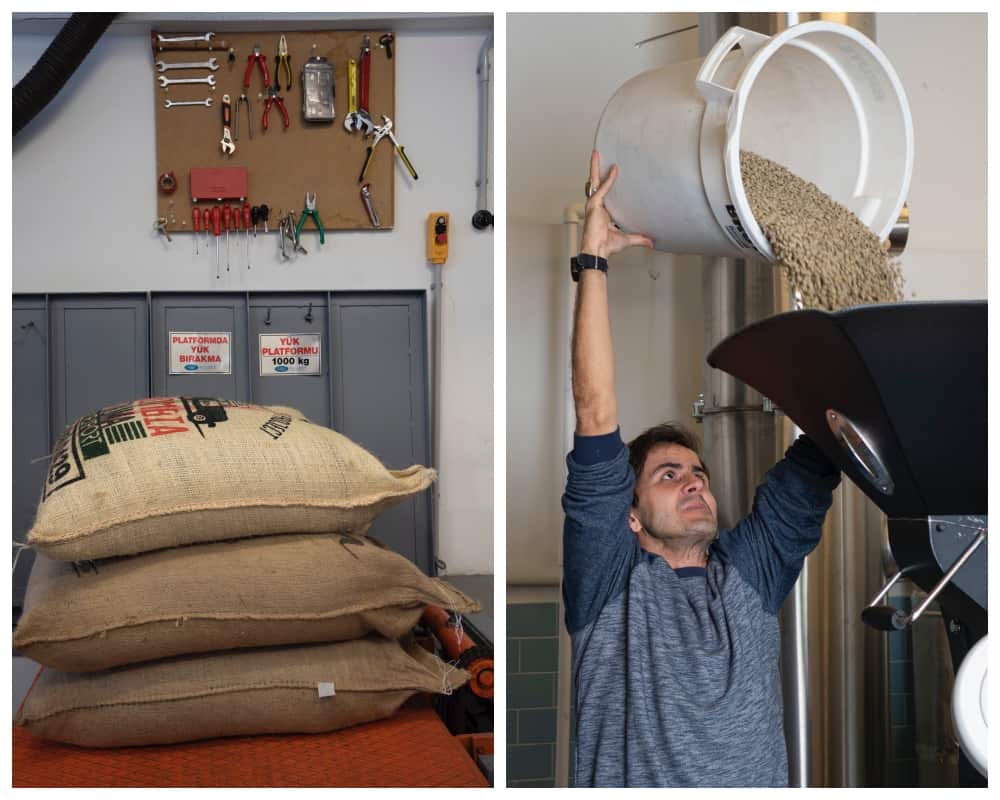 It is perhaps unimaginable for some to realise the general struggle of roasters in Turkey, trying to get their hands on fresh crops of coffees. Turkey requires heavy paperwork when letting green beans into the country, and sometimes, these get thus held up in storage for months, in bad conditions, or are not let into the country at all. This implies financial risks, as well as production-related obstructions. Roasters are unable to roast coffees they have paid for, and thus have nothing to sell to their customers.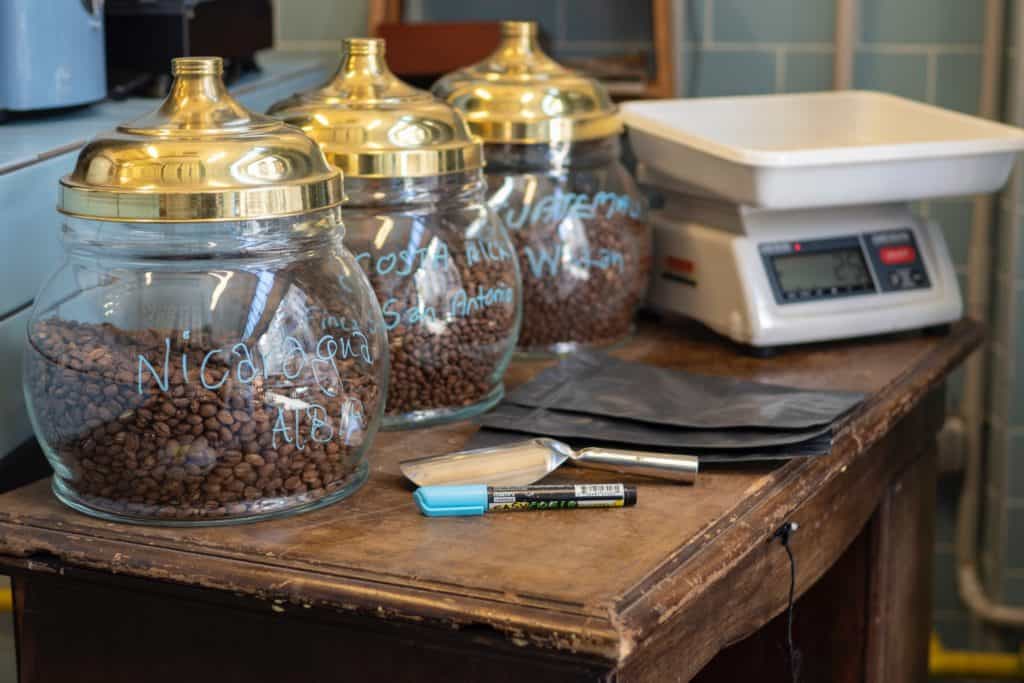 Çağatay has cooperated with and recently joined Cafe Imports as their green-bean importer for Turkey. This has finally allowed him to get a better choice of fresh crops he can roast, while the cost of delivery has been divided between all small roasters buying the beans.
One-man show at the roastery
We caught Çağatay between an afternoon brew and a late afternoon clean up at the roastery, but he sounded like he was there alone. "Right now my biggest team member is my superb hoover," Çağatay explained, "he helps me a lot."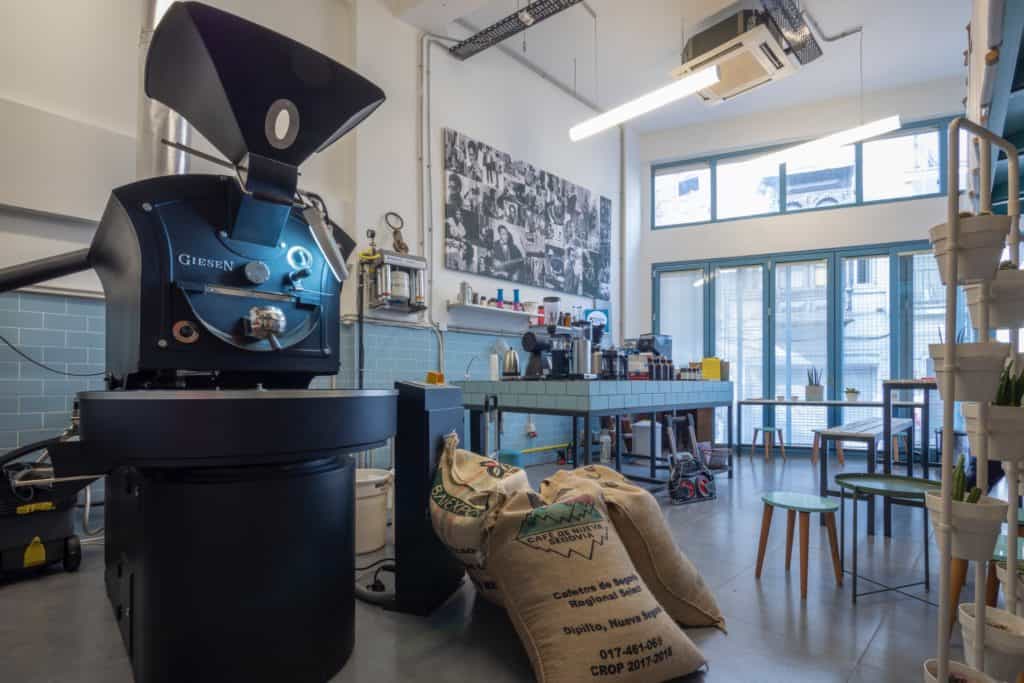 He was brewing one of his recently-purchased coffees. While walking around the ground floor, with the door opened to the street, he started recapitulating the production steps at the roastery:
"I start on Sunday evening. I check how many orders I have for the Monday-morning roasting day. I plan how many batches I have to do, and what coffees I will be roasting, prepare my green beans. On Monday, I come to the roastery at 6 am, when the whole city is still asleep." Çağatay then turns on the Giesen and when it's ready, he roasts in 6 or 12 kg batches."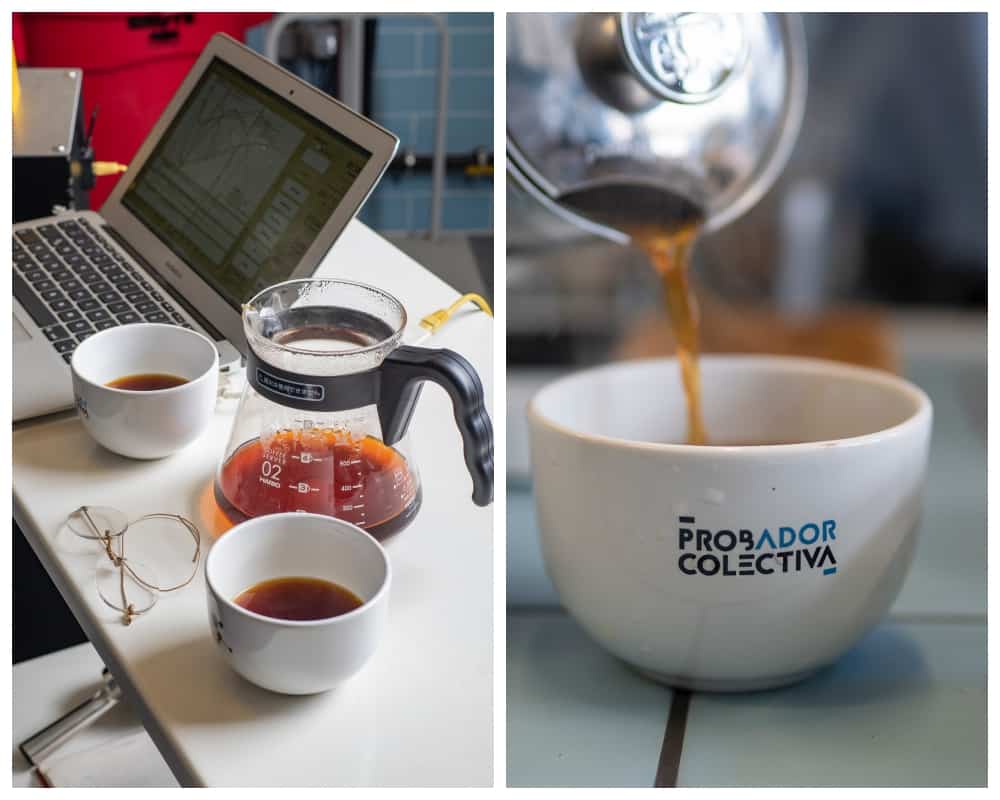 During the day, he continues with cupping and testing his batches at the Lab. Recently, Çağatay has set up a little bar on the ground floor, where he brews filter coffee and sometimes batch brew, which he favours. A La Marzocco GS3 coffee machine and Nuova Simonelli Mythos 2 grinder serve espressos to the occasional visitor to Probador Colectiva. "I don't serve milky coffees and I only brew coffee to stay. All the customers stay in the shop, we don't have takeaway products." But do not despair, Çağatay is currently tasting some raw cow milk so that he can please also the fans of milky coffees.
Spreading speciality coffee through professional training
Over a cup of coffee, he can then engage with his customers about the products he is trying to popularise. What does Çağatay consider speciality coffee then?
"I wouldn't deny that fancy shops, bearded baristas, cool people, flat whites, cold brews etc. are a part of it. But for me, the core of speciality coffee is to finally appreciate the role of the producing countries and the coffee producers and to share the financial benefits and also other satisfactions with them. To pay more, to support them against the C-market and support them producing better coffees, to give them a face. In the end, we are all relying on the green coffee to start with."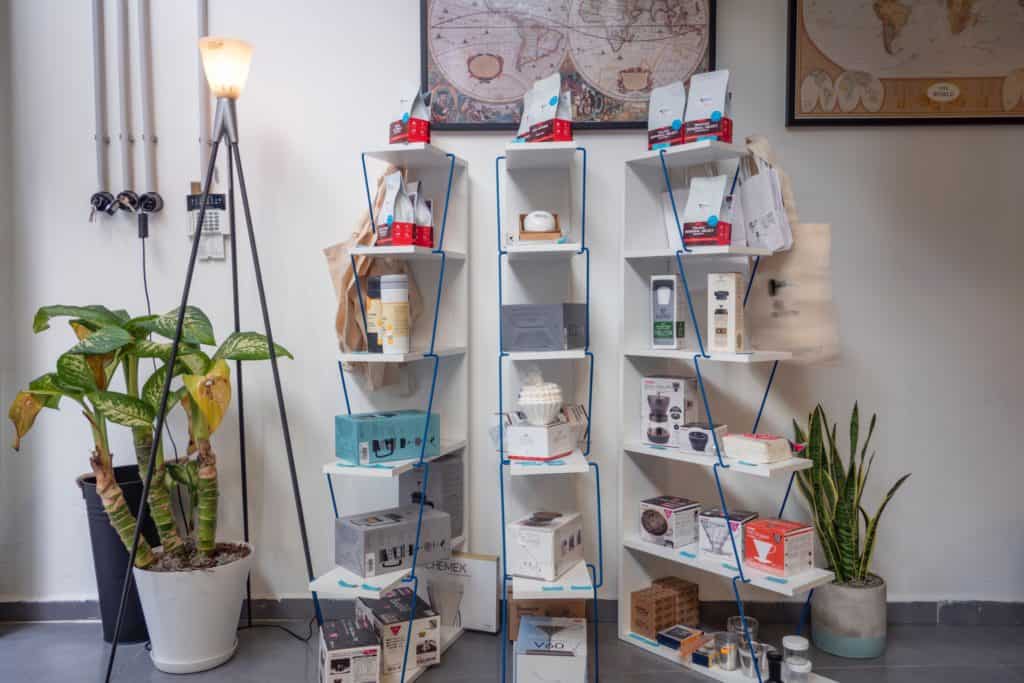 Probador Colectiva has been sourcing coffees that are Cafe Imports' regional projects, have an amazing quality, and are interesting for the small roasters in Turkey, nevertheless, some of the most exquisite coffees are just too expensive and unattainable for Turkey. "The economic situation is not good in Turkey, roasters are surviving," Çağatay says. This is also why many of the big roasters are forced to buy coffees of lower quality. The price and the available quantity are huge influencers. "The scene is competitive, and there are people interested in speciality coffee, but there is not enough collaboration yet."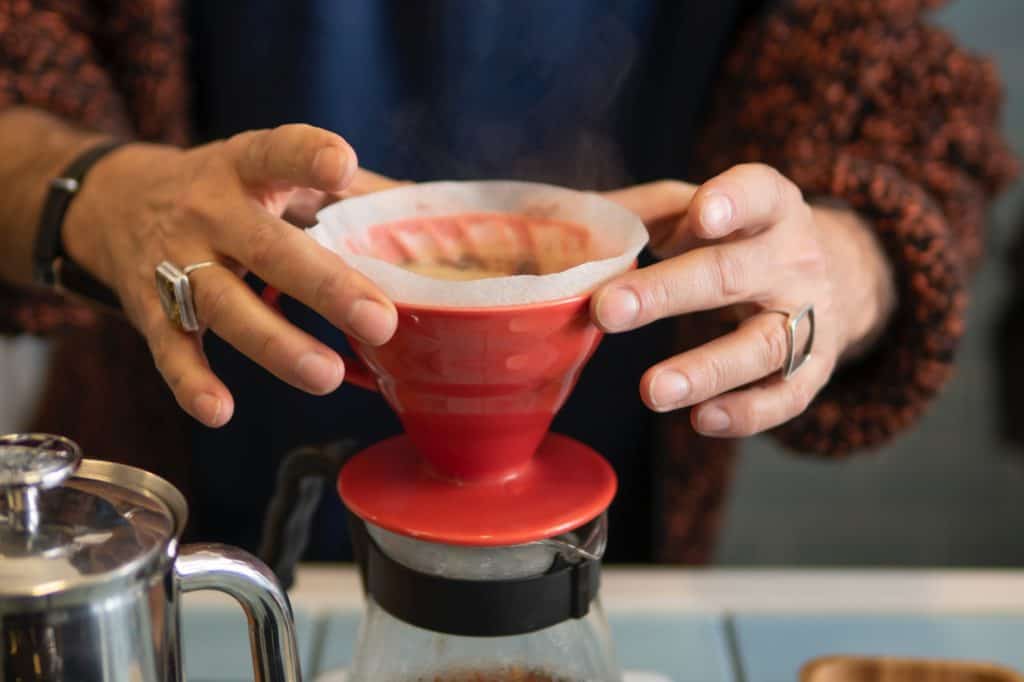 Since he cannot rely on the roasting to be the only aspect of his business, he is now focusing on the coffee-brewing classes too. Mainly, these are tailored training courses for professional baristas and cafe shop and roastery owners. Çağatay is the first Q Grader in Turkey, and Probador Colectiva is the best-equipped lab in Istanbul. Surprisingly, it is also the only place to host Q Grader exams at the premises. Nobody else in Turkey does it, despite the rising number of roasters popping up around the country and Istanbul. The scene is growing massively, but access to education is yet limited.
Rapid Fire Question for Çağatay Gülabioğlu
Your favourite origin?
Ethiopia, Kenya, and lately Peru.
Have you ever had a fire in the roastery or any other incident?

No, luckily I didn't. But they say you are not a real roaster if you never had one. So I am hoping to have one soon. Fingers crossed.

Omni or filter/espresso roast, and why?

I am doing omni roast as I don't think espresso is a roast profile but rather an understanding of a specific coffee in its own taste profile with a specific brewing technique. So instead of roasting amazing coffees a little bit darker in order to make them suitable for espresso extraction, I would prefer to drink them as filter coffee. And if you know your craft well and have good equipment I think you can make espresso and filter coffee from one type of roast—which is omni roast.
Who are your mentors? What inspires you?

I cannot remember the exact day, but I started like many people by reading Sweet Maria's and Tom Owens' online writing online. Also Scott Rao's books. Anything that adds new insights to the way we make coffee excites me. Especially lately many real geeks, I mean real scientists, are getting involved in the scene and changing our "pseudo-science" in a very dramatic way. That is huge.
Do you aim to satisfy a taste preference of your customers or yours?

As [speciality] coffee is a very new thing for the Turkish market I believe I had to go for my own taste profile so that I could implement the new way of roasting and brewing for them. Otherwise, the taste profile would be an Italian-like roast and the roast of big international chains.

What is the description of what you are trying to accomplish in coffee roasting?

To have the most transparent approach in order to expose its [coffee's] own qualities rather than imposing mine.

Your favourite IKAWA profile?

I have different profiles for different coffees, but usually, 5-6 minutes top.