Working in the speciality coffee industry, you must wonder about the learning path and access to knowledge as you continue to grow. Most of the time, we learn from our closest surroundings, baristas, roasters, managers. Then we search for further inspiration and perspective. We find it in other industries, different areas of hospitality, we take advantage of everything sensory. The events run by the Barista Guild of Europe (BGE) have become essential to explore those areas that are not our primary environment to learn.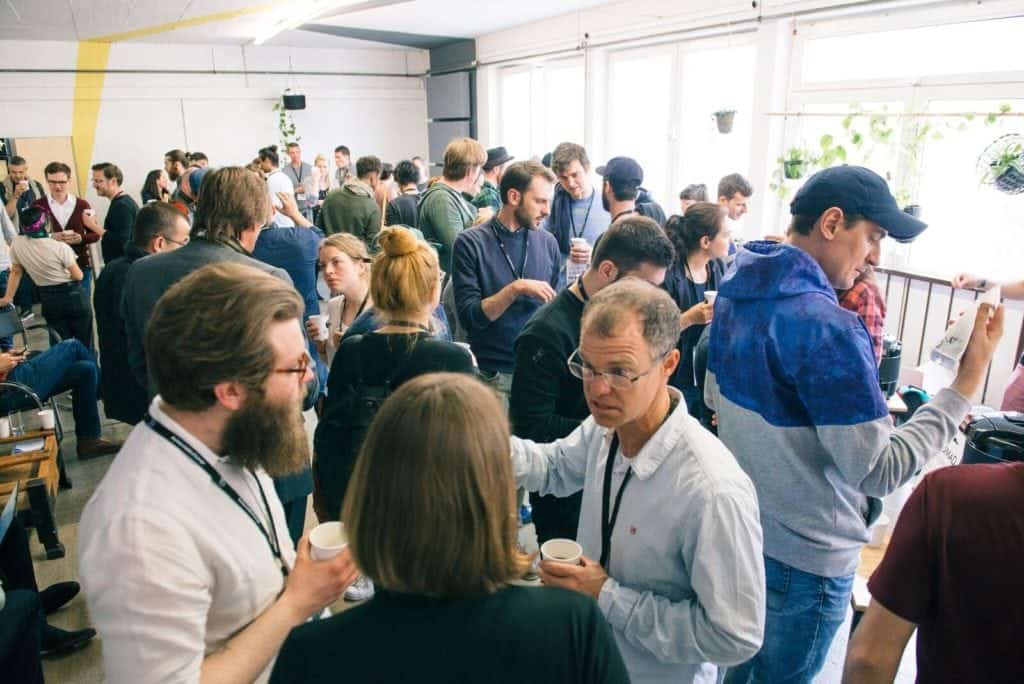 BGE has been organising CoLab since 2015. So far, they have put on five editions of this local event that gathers an international group of attendees in a foreign city with a thriving coffee culture. People come to CoLab to discover, learn, network and seek new opportunities within the speciality coffee industry in a fun and interactive way.
CoLab: Berlin followed the new structure from Barcelona: on the first day, a local food or beverage production site tour—in Berlin focused on beer, visiting Stone Brewing brewery— was followed by welcome drinks at The Barn's Cafe Kranzler.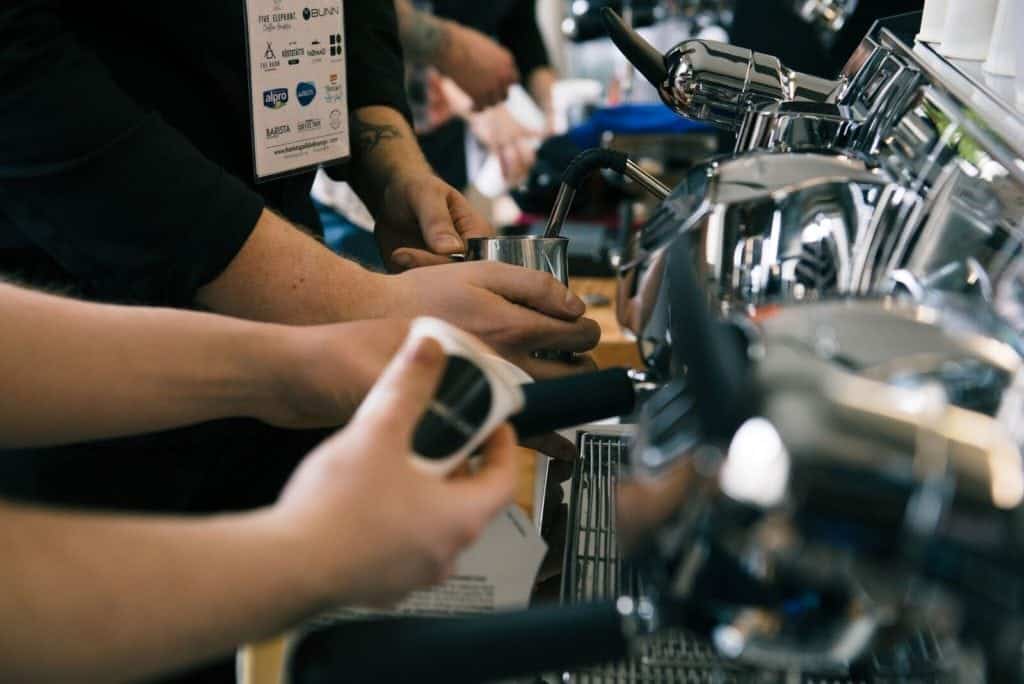 On the main day, attendees were engaged in speakers' workshops after they have listened to their presentations. The third day of CoLab was dedicated to interesting events across the city, organised by the local cafes and roasteries.
Main day at Betahaus
Betahaus, a coworking space in the hip area of Kreuzberg, was the perfect stage to host over 80 attendees for one day full of presentations and workshops. First, we gathered for a morning coffee served at two espresso bars and two BUNN batch brew stations run by local roasters Five Elephant, Röststätte and The Barn, while some roasters travelled from abroad: Bailies from Northern Ireland and Nomad from Spain. We were fully energised for the first speaker!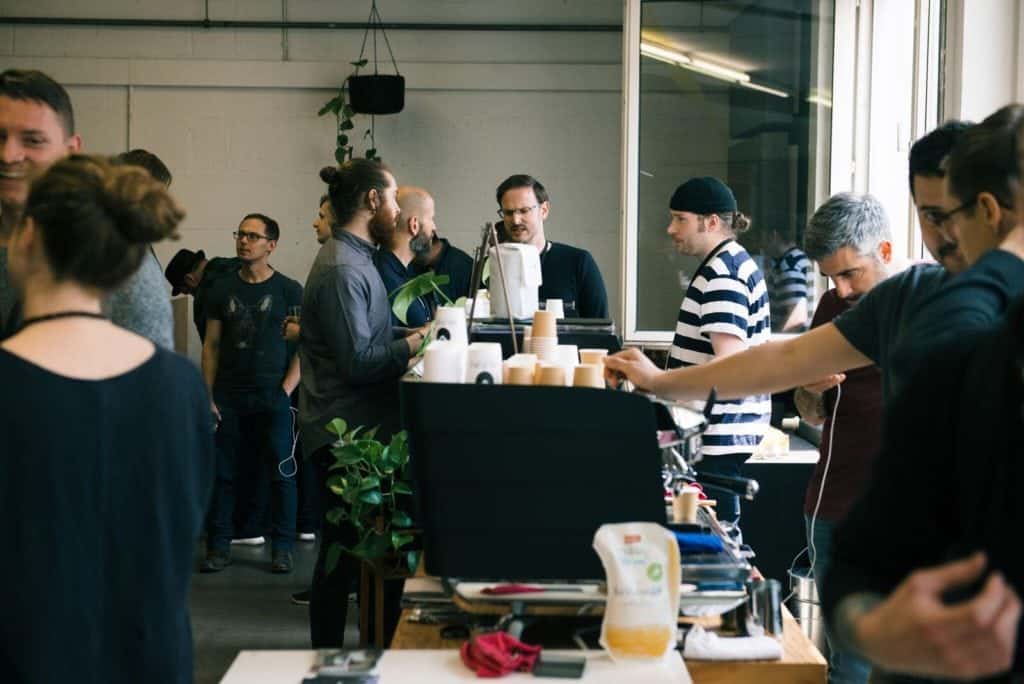 Rose van Asten on creating a safe learning environment
Rose van Asten is a half of Cocoon Coffee, a company focused on coffee training and consultancy, based in the Netherlands. Rose's foundation in coffee is behind the bar, with great experience gained through competitions, placing highly in the world championships (i.e. World Barista Championship 2006, 8th place). She joined us with a quick run-through of her strong foundation to creating a safe learning environment.
Rose introduced us to some steps she follows when leading a training session with a new group. Each group is made of individuals, who need to be approached as equals. Rose recommended ways of measuring students' level of knowledge and skills while gaining a little insight into their experience. The importance of 'group dynamics' was explained as a key factor to students taking away anything from the training. As a trainer, it is important you allow your students to voice their weaknesses. The trainer should be enthusiastic, empathetic, possess an analytical ability and keep in mind that creativity and improvisation can step the training onto next level.
Rose has been interested in group dynamics for some years now. Having read many books on the subject, she showed us a graph. It illustrated how do individuals behave within a new group and why do they do so. With that in mind, we were able to better approach the imaginary students as teachers.
In four steps, the students in a new group are firstly interested in acceptance by others. They try to see if they fit in, if they do not differ too much and eventually how could they show their strength. Lastly, after feeling secure and welcomed in the group, the individuals become interested in contributing to the group. Based on Rose's presentation, the students will be able to acquire new skills once they open up with curiosity.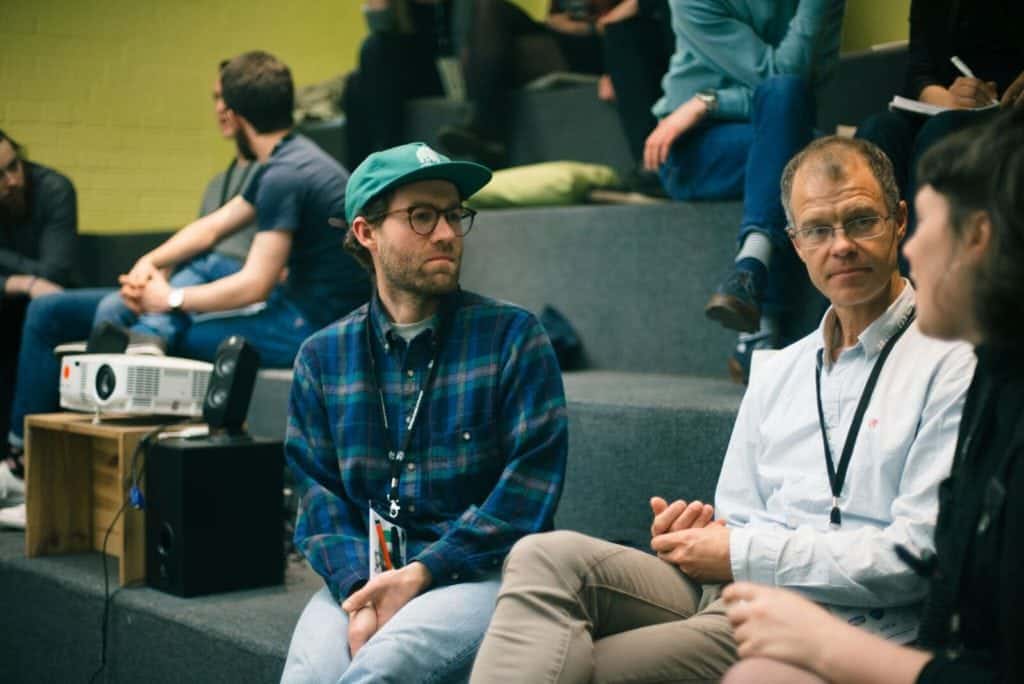 Later on, during our workshop with Rose, we learned how to ask for feedback from our students and what would be important to ask them in order to become a better and more efficient trainer. Both negative and positive feedbacks are necessary to always progress further. And how do we measure the students learned something? By seeing if they appreciate the training first, by their skills and knowledge they present on the job, their behavioural change and a final result improvement – a better workflow, consistent tamp or tastier espresso.
Richard Osmond and George Fredenham, the Foragers
Taking the stage after Rose, we were in for some interesting and funny details on foraging, presented by Richard Osmond and George Fredenham, The Foragers. Based in St Albans, north of London, they are hunters and gatherers, serving a menu created with wild produce at their pub The Verulam Arms. They are focused on rediscovering the nature's treasures and edible plants, including mushrooms, flowers, greenery, as well as wild fruit. They treat their findings as their main source of produce for their recipes and use it all year around, in diverse variations. Pickled, distilled, dried, they collect and preserve what they found across South-East England.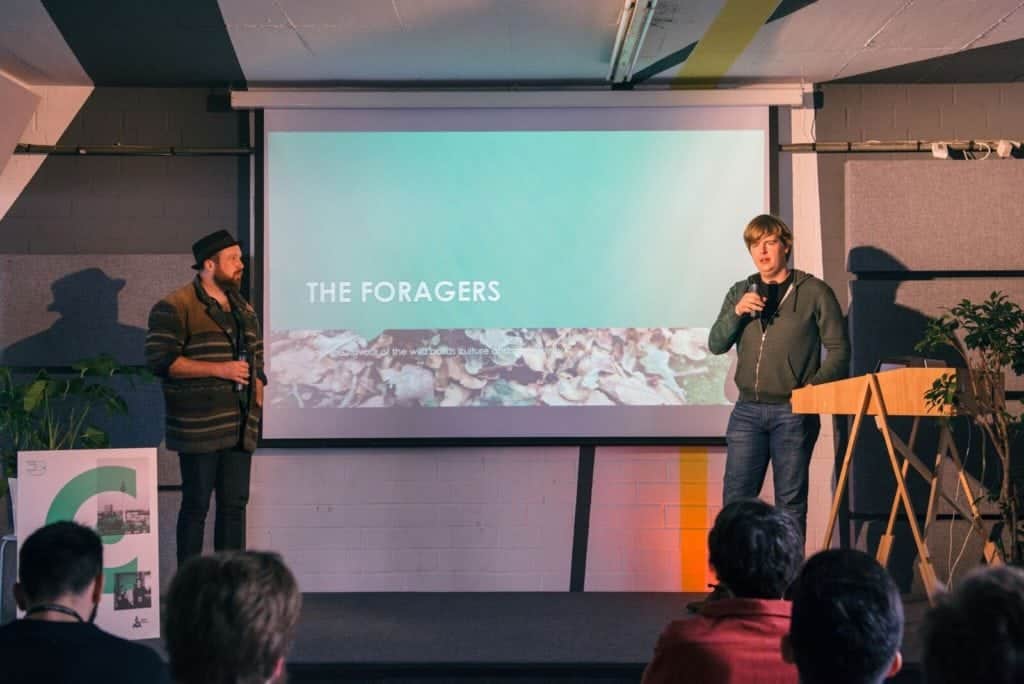 It was incredibly inspiring to see the parallels between their world of foraging and our world of speciality coffee. Similarly to ours, their community is a very tight group of people, deeply interested in a local, honest produce. They highly appreciate the 'terroir' of the product. Flavours that can be found in the local produce are even changing based on how they are stored, or with the time of the year.
If you spent loads of time out in the woods as a kid, you might consider mushroom picking as something natural. We know we do! Unfortunately, there is more and more of a distance between consumers and the product. With consumerism taking hold of our lives, we know less about the ingredients in our food, its provenance, how was our meal prepared even. Knowing the origin of our food means knowing what we put in our bodies.
Knowing your surroundings would also mean you are less dependent of the artificially made produce and could survive out in the wild, at least for some time!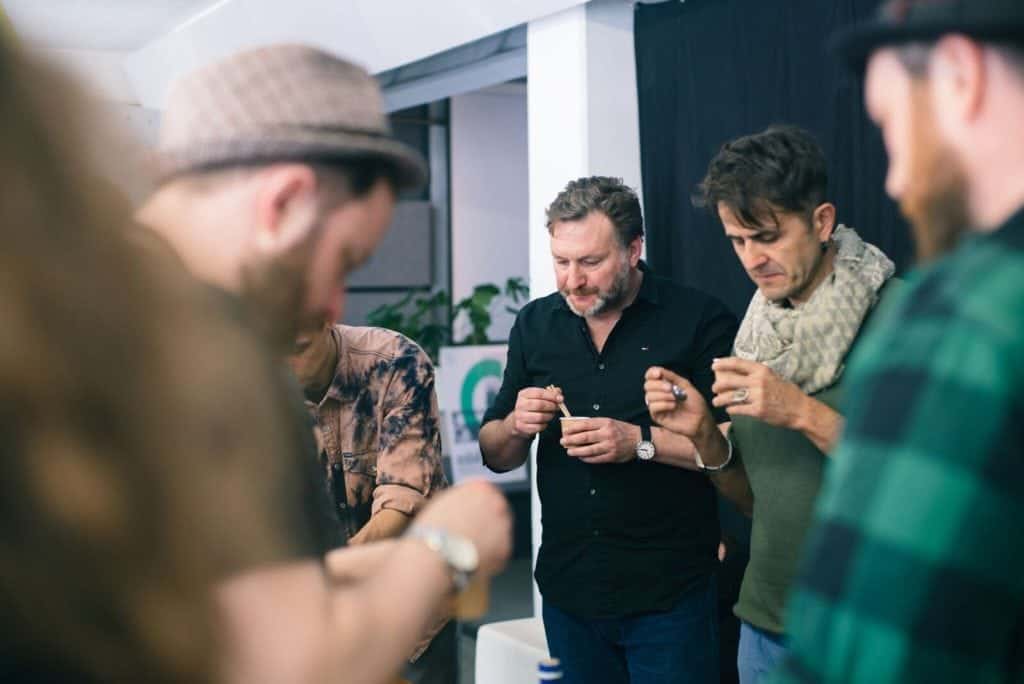 Following their own preach, Richard and George led us onto the streets of Kreuzberg. Kreuzberg is a busy and quite a central area of Berlin, nonetheless, we were able to find edible plants growing by a neighbouring roundabout. Although we kept the tasting for another day, we learned a few interesting facts from George, who illustrated each plant on an English story figuring the greenery. We found edible plants similar to coriander, rhubarb and others. The diversity of green and edible grass growing around Berlin was unexpected.
Finally, we returned indoors to make a woodruff syrup, a traditional ingredient to German celebrations of spring. The resulting floral and pungent syrup had nothing to do with the artificial flavourings sold widely in German supermarkets—which we tested on ourselves.
Richard and George also run wild tours around St Albans, hunting for wild flavours in their natural habitat. You can join them to discover the natural taste.
Martin Hudak on five-star hospitality
After a lunch break, we were ready for the third speaker of the day. Martin Hudak, a Coffee in Good Spirits champion, embraces spirits, coffee, but before anything, hospitality in his day-to-day life as a senior bartender. At The Savoy's American Bar is where he truly understood and acquired the art of hospitality.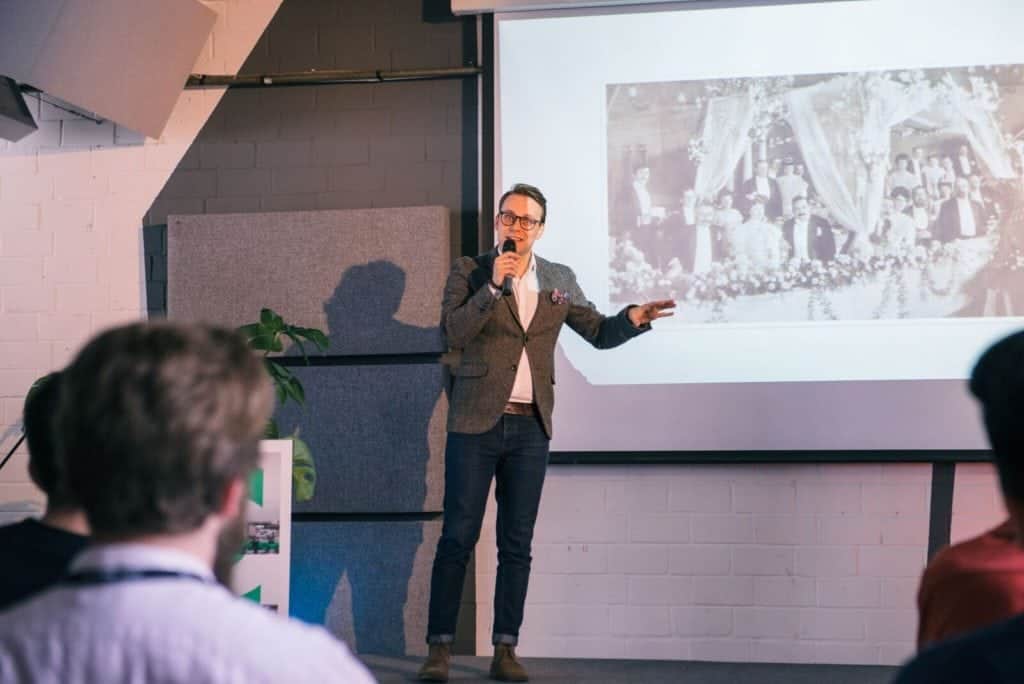 Martin claimed there to be no secret to a great hospitality. Telling us about his initial approach to work, dealing with customers and his own ego, he shared his and The Savoy's views on hospitality: "It is about creating a memory." When a customer comes to your cafe, a bar, or a restaurant, it is up to you to make sure he leaves in a better mood, a better state of mind, than he came in. Your focus is on making his time at your place unforgettable. And for Martin, that is not achieved only solely through the quality of beverage served.
Martin talked to us about the difference between a service and a hospitality service. Between a customer and a guest. A customer buys your service, there are no extra costs for him and no extra offerings from you. A guest is offered and extra treatment, he receives a service from someone who cares about the customer and wants to provide him with the best experience possible. At The Savoy, it may be the doormen, someone who offers you water before you ask for it, or talks to you while you wait for your coffee to arrive. Instead of selling one product, Martin aims to provide a whole experience, where the service is just a part of the equation.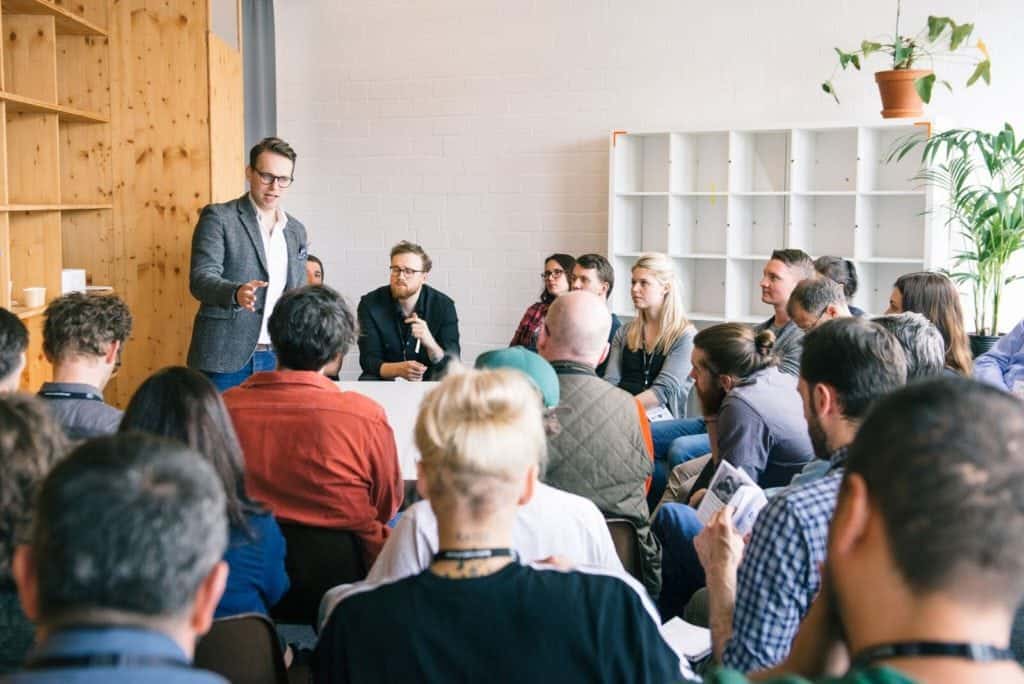 In Martin's workshop, a customer service and hospitality service were demonstrated. How much difference does it make, acknowledging the customer as he comes in the door? Immense. Paying attention to your customer breaks the barrier between you and the customer coming into a new place. He is assured you know about him, and are ready to help. Contrary to that, a customer left waiting to be served is a customer left in uncertainty.
What makes Berlin coffee scene unique?
To finish the day, everyone was handed a beer and gathered for the last panel discussion of some of the Berlin coffee scene leaders. Cory Andreen (Brewbox), Kris Schackman (Five Elephant), Ralf Rueller (The Barn) and Nora Smahelova (Chapter One, The Coffee Profilers) joined Stuart Ritson of Cafe Imports (BGE Working Group member) on stage, and went on with a rather relaxed conversation on what makes the scene in Berlin unique.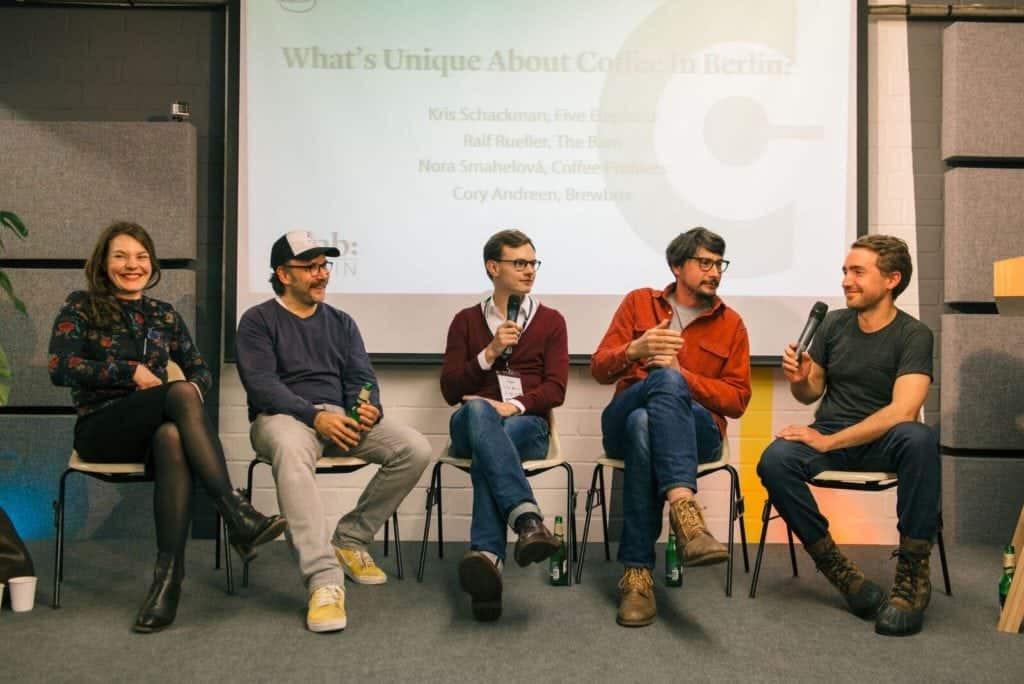 Berlin has been changing with the massive influx of foreigners, who brought diverse skill sets with them. Different approaches to service show also in their approaches to learning and then serving in German or other languages. The speciality coffee customer in Berlin is getting more demanding, although it depends on what area of Berlin he is in. The exciting thing is, the number of great cafes (and roasters) must have doubled in the past two years, the competition is pushing the quality higher, yet there is still a great space for development.
Discovering Berlin through local events
The last day is always dedicated to the locals: cafes and roasters who put on events for the CoLab attendees. Be it coffee and food pairings, coffee cocktails, cuppings or machine workshops, many events were held across the city.
The Back Room Talks at Father Carpenter
The talks were hosted by Father Carpenter cafe. It presented Philipp Reichel and Peter Duran from Isla cafe first. Philipp introduced the foreigner attendees—and possibly the locals, too—to the German coffee tax, implied to all roasted coffee. Peter talked about Isla's approach to sustainability, how does it reflect on the running of their business, and Isla's aims to leave as little trace—you can also call it emissions, trash or waste—behind their daily operations as possible.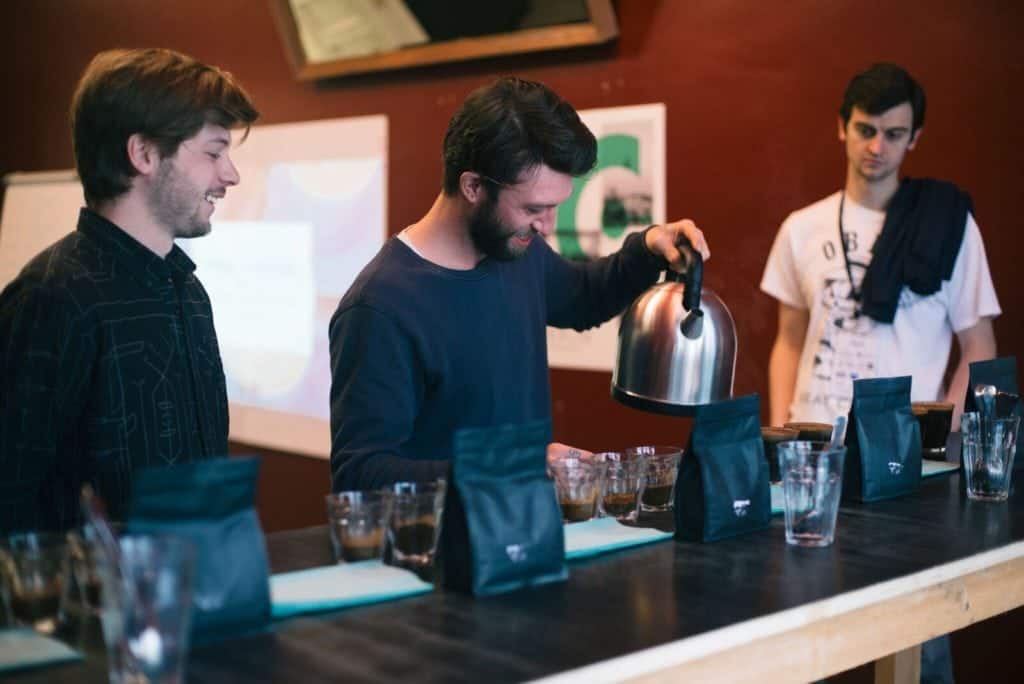 It was a very interesting talk with many strong points, which is why we were amazed by the amount of trash that everybody contributed to creating during the following cupping. Spitting the coffee samples out is wise if you do not want to feel terrible afterwards, but throwing out a pile of takeaway cups is not. Food for thought. Isla is one of the few businesses that do a great job for that matter, and our environment is worth joining the forces.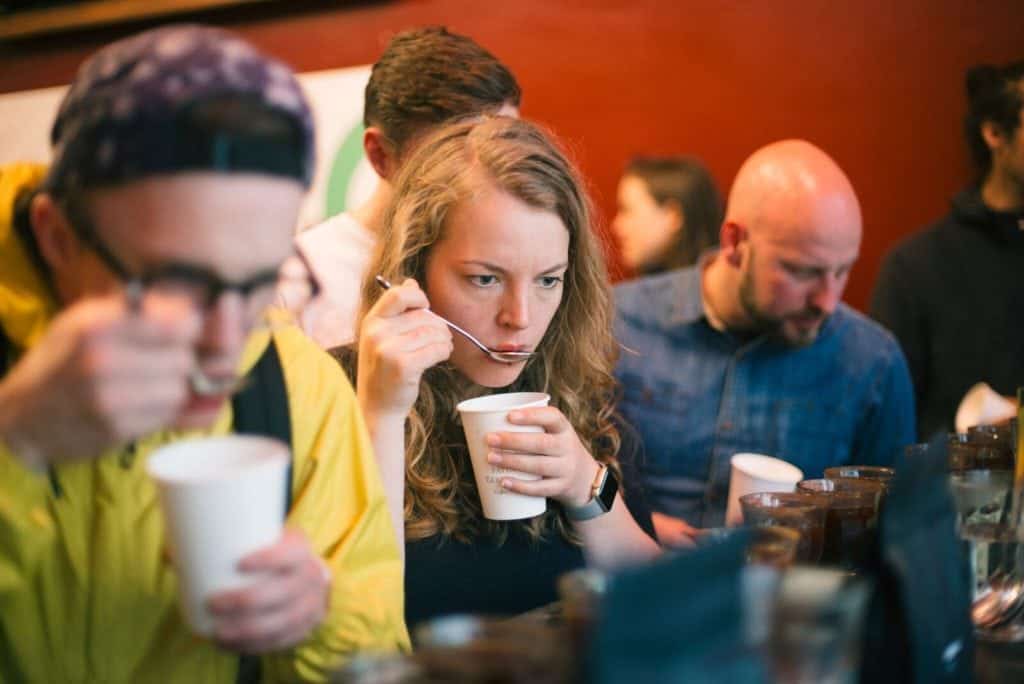 There were still two very exciting talks up. Hannes Fendrich, Head of the roastery at Coffee Circle, presented his roasting experiment with their 60 kg Probatone P60 roaster. His presentation was focused on efficiency when roasting on an industrial-sized machine, comparing four roasting batch sizes. The 40 kg proved to be the tastiest of four samples. The Yirgacheffe Konga was the most complex and balanced, with loads of floral notes to it.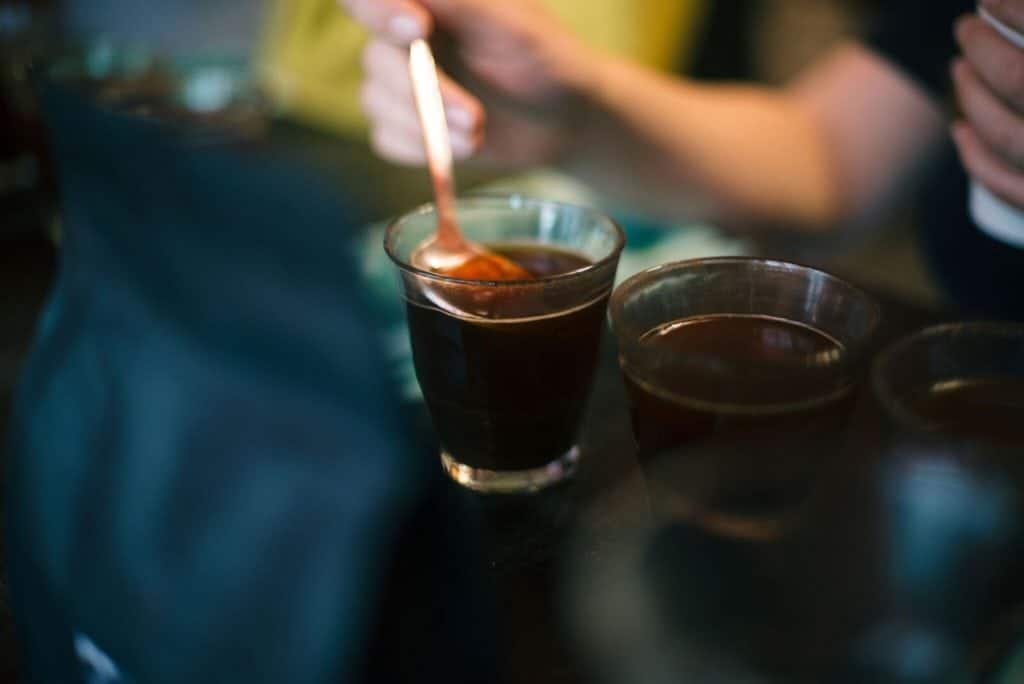 Kresten Thogersen, owner of Father Carpenter, talked broadly about the importance of systems for a healthy and thriving cafe, as well as the mind. Kresten focused also on creating of those systems, and how they affect motivation, ego depletion or productivity. This is often a neglected topic in cafes and proves to be extremely effective especially in high-volume shops.
New perspectives and friendly vibes
We took away an incredible amount of information and fresh perspectives and were happy to have had the chance of viewing Berlin from another ankle. Our video from CoLab can give you a hint of the atmosphere and friendly vibes in Berlin, inviting you for the next round in Belfast, later in November. See you there!
Photo: Jordan Sanchez, the official photographer of the last three BGE Barista Camps is also the co-owner of Cedar Coffee Supply in Alpine, Texas.