Last week, 25-27 April, 2016, the Barista Guild of Europe brought the European coffee community together again, this time gathering us in Antwerp, Belgium. The previously established structure of the event promised a three day programme – one main day of speakers from across the coffee industry, sharing their thoughts on hot topics, and the two other days dedicated to exploring local coffee culture and community. There were also some extras this year, read on!
CoLab took yet the best advantage of its location. Conveniently, three members of the BGE working group are based in Antwerp and so had the best knowledge and the easiest access to plan this season's CoLab. Together with the locals they organised the best CoLab yet, and we were thrilled to be there and report on the event!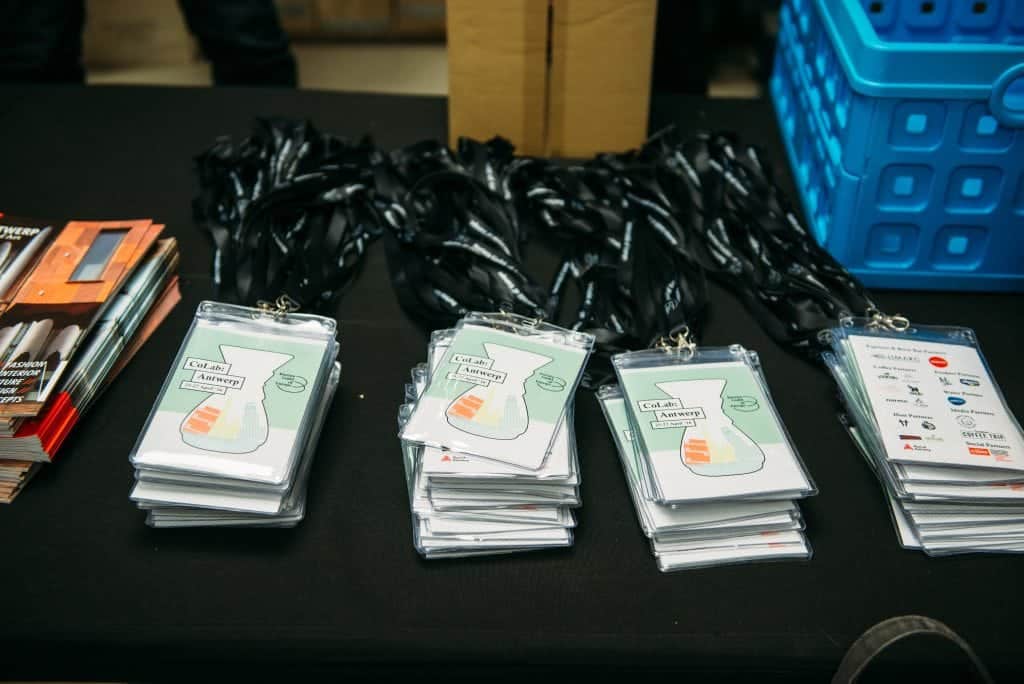 The first knowledge delivery – Port of Antwerp
You may know that Antwerp is a little gem of a city for multiple reasons. Europe's diamond capital, known for its diamond trade, is an important station on the coffee industry map as well. It locates the biggest coffee port in the world, and is also home to Jeff Verellen, World Aeropress Champion of 2011 and 2013! Truly a city of many treasures!
The tour of the historic port of Antwerp and the largest green coffee warehouse brought the attendees from the city center to its water bank area. We got yet a better and wider idea of how does the port store the beans. This added to our comprehension of coffee and its seed-to-cup journey. We spent about three hours in the port and will bring you a separate report of the visit soon.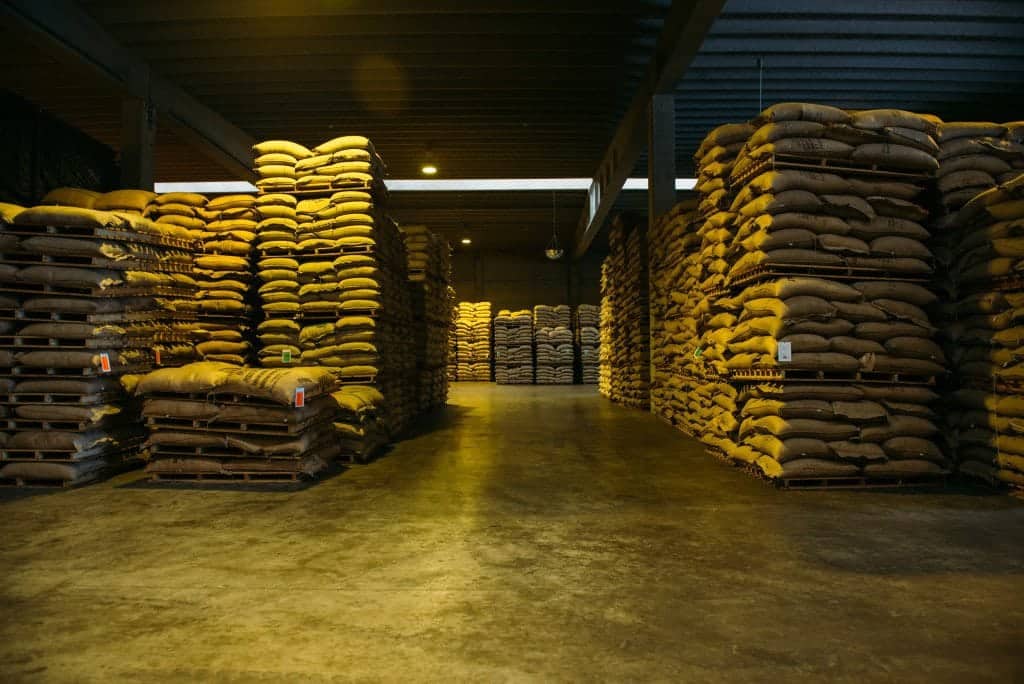 Learn by day, have fun by night
As mentioned earlier, there were few extras on the programme. The Barista League partnered with BGE, organizing a fun event on the first night, for baristas coming to CoLab who then competed in couples. More than 100 people gathered at Caffenation to watch 28 baristas in the multi round, fast paced competition, having fun and also drinking beers. The trophy found a new place with a Dutch couple of baristas, Cerianne from Trabocca and Belle from Amsterdam's Boccacoffee. They beat everyone in the competition of three rounds, espresso dialing, water tasting and preparation of synergetic signature drink.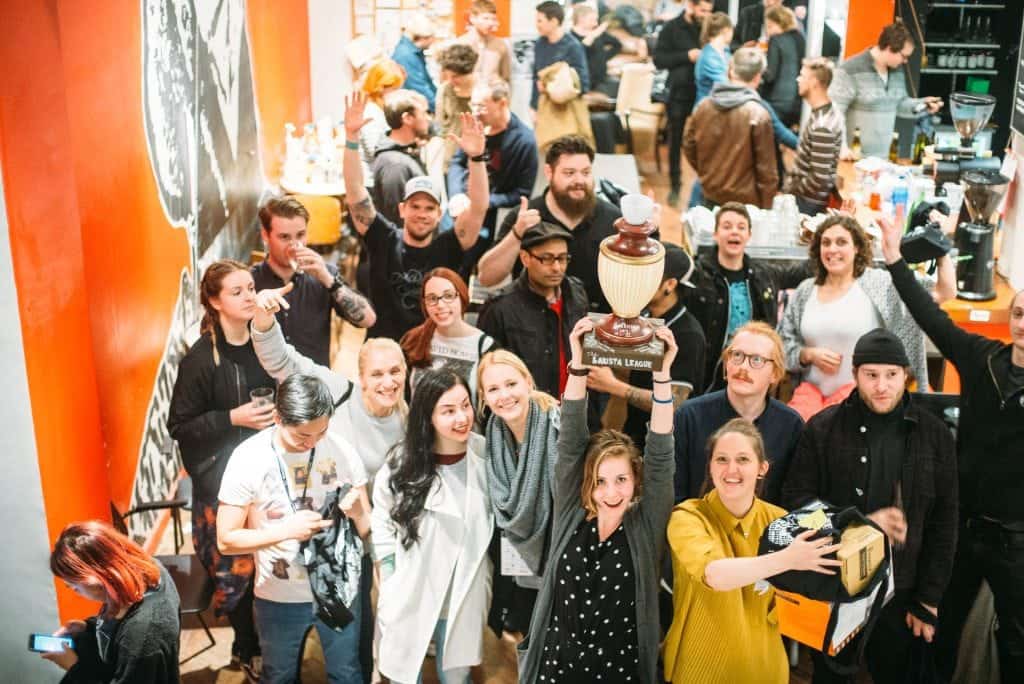 Caffenation is a three-level cafe, with the espresso machine on the second level, overlooking the front door area with a retail bar, while an extra seating is on the top level. This allowed the attendees to get a beer right at the door, before heading upstairs to talk to their peers and watch the competition. Steven Moloney, the 2016 Swedish Barista Champion, Founder and Manager of the Barista League, said about this edition: "I keep saying it, but it keeps being true, these events just keep getting bigger and better." If you would like to witness how much fun and how much bigger it can get, consider visiting Helsinki in August!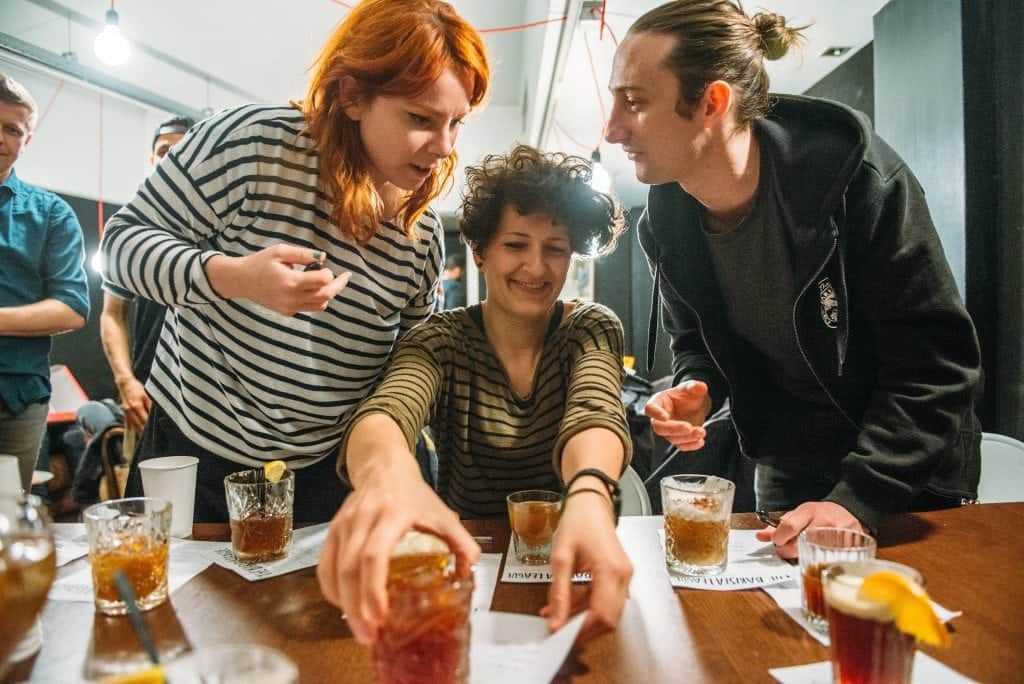 Heavy Cargo of great speakers
The second day of CoLab is known to be packed with Tamper Tantrum presentations. This edition delivered as expected and more. A great amount of knowledge, passion and stigma breaking was introduced on that day.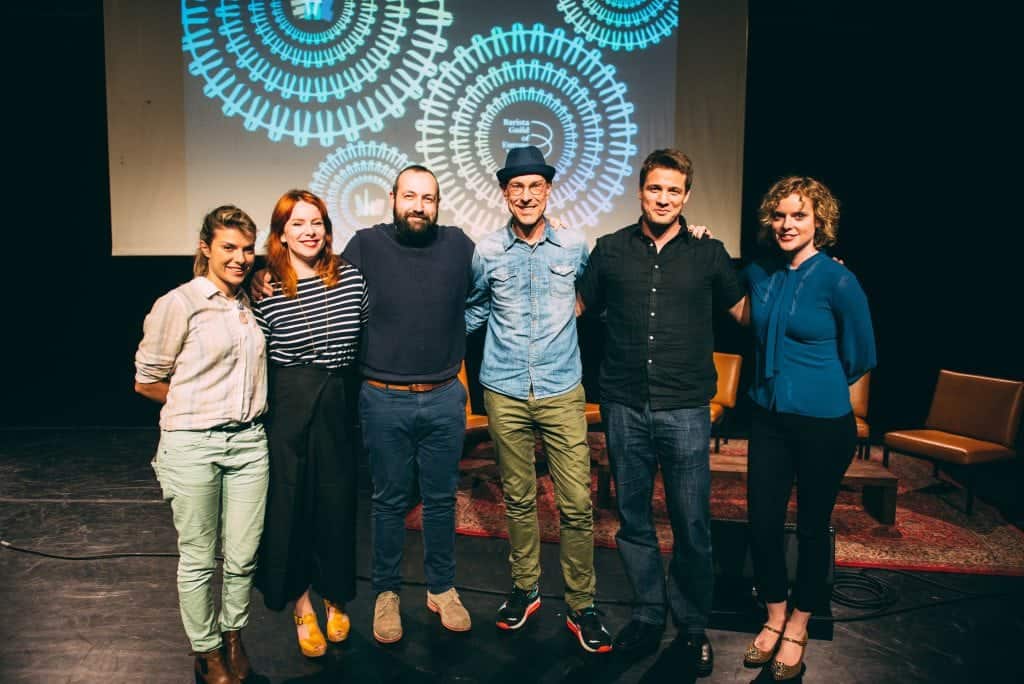 Charlotte Malaval, a continuously winning barista of France introduced us to her work and life as a freelancer, talking about the ups and downs, as well as her reasons to having never worked as a barista – employee. Committing to organizing her own workload and the structure of her job, she guaranteed herself a certain freedom. Charlotte prefers to learn freely and believes in doing only what you are proud of and following your chosen paths, joining forces with partners and sponsors of your choosing. It is not really an unrestrained life though. Charlotte stressed the downside of a freelance competitor barista too.
The need to always have your expenses at mind, planning ahead, but not knowing exactly what will come in two months time can be stressful for some. Yet, it makes you concentrate on what you really want to do, to progress faster and take care of yourself with more confidence. After several years of working as a barista and a consultant, while also competing, she has now one vision in mind. Re-establish French coffee drinking culture. With its strong roots, all it needs is a better approach to roasting and brewing coffee, paying as much attention to it as is paid to wine culture. Keep the culture, but improve the quality.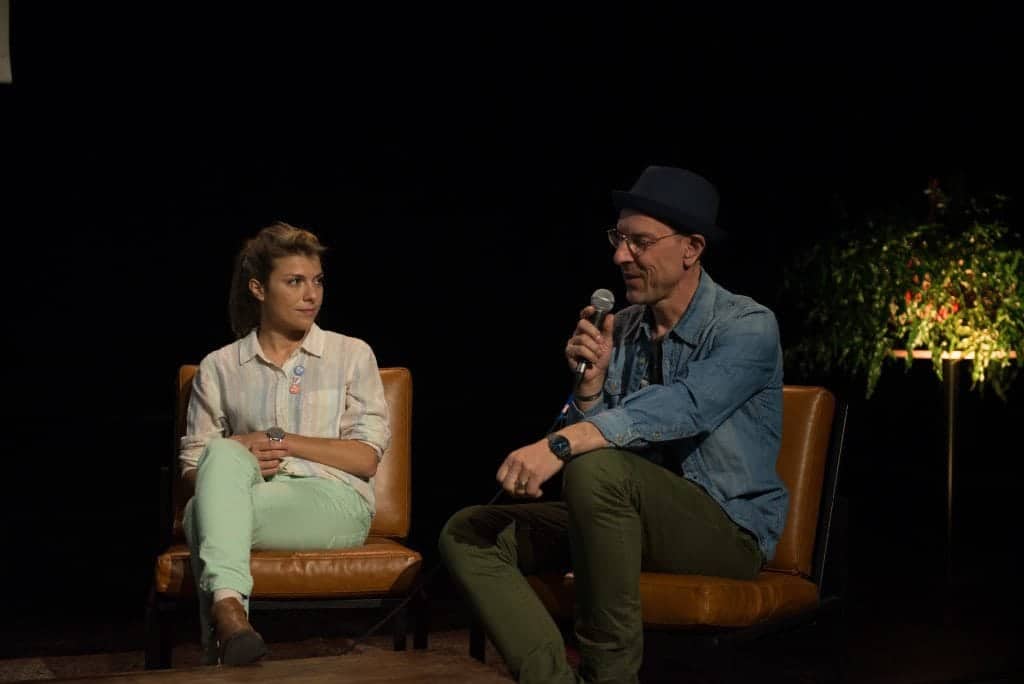 Rob Berghmans, the founder of the successful Caffenation roastery, which now includes shops in Antwerp and Amsterdam, gave a very detailed talk on Mahlkoenig EK43 grinder. His talk was backed up with very thorough experiments and years of experience using it on daily basis in his shops. Rob compared the shops' workflow pre-EK43 and how their service and quality of coffee improved with the grinder in use. Speaking for the crowd, Rob expressed what the audience was thinking, that EK43 changed their life, basically. It pushed the quality of coffee higher, but also opened our eyes to new tools, new recipes and although our extraction yields might be different, we are coming a full circle with the ratios we used ten years ago. 1:2 ratio is not an old-school method, it is actually the only way some baristas brew their coffee today. They have not done it any other way. The difference is, Rob said, we believe the coffee tastes better now, with the tools and the previous experience in count. After all the experiments, one of the core values for Rob is to treat his customers with respect. Introducing people to new trends in coffee while not becoming arrogant and pushy is crucial.
Talor Brown, an Australian resided Norwegian barista, roaster and all over a bubbly lady, started of her presentation with a statement: "Coffee I love you, but you're bringing me down." In her captivating and personal talk, opening up on her own overcome life challenges, she broke a stigma of mental health issues in our industry and how to help solve them. Prior to preparing her presentation she held an online survey on mental health issues within our industry. Regarding stress, anxiety, insomnia, and other problems that hospitality peers suffered from, 62% out of 500 participants suffered from health issues at work or due to work.
Talor's numbers showed how troublesome this can become, when the support system at work does not support its employees anymore. Hospitality might not be a rocket science, although someone could argue in the time of modern coffee age, yet it requires concentration and a peace of mind as well as a happy work environment. These factors help us get through bad days. Yet, if the support system fails, the stress that had been handled until that point might become overwhelming.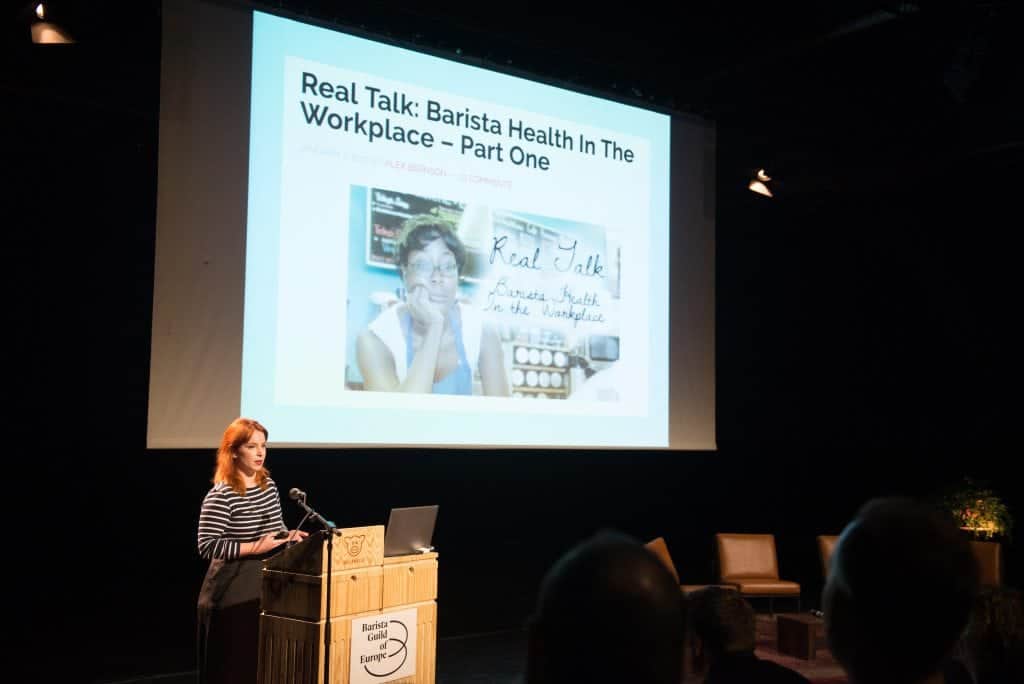 Talor shared a very personal and sad piece of history with us. Yet there is a bright note to it. As a result of her experience she now concentrates more on creating a healthy work environment, in her own business. She is in the process of opening Talor&Jørgen roastery with her partner. We are excited to see her progress by her own rules. Also, Talor admitted there might be further surveys to the first one and we cannot wait for the results, as well as new talks and discussions opening up after the record of her presentation goes viral.
Dr. Marco Wellinger, a researcher in coffee chemistry, technology and sensory analysis pointed out how complicated water is and confusions that could have been made within our industry. He delivered a talk full of expertise, that would have deserved at least twice as much presentation time for the volume of data and information. He pointed out several problems that have been overlooked by brewers, obsessing with the numbers specified by the SCAA and SCAE, as well as by other publications, in regard to coffee brewing.
Emma Sage – SCAE Science manager joined us to introduce us to World Coffee Research works, as well as to present the reinvented flavour wheel and WCR Sensory Lexicon and how were they constructed. One of the main projects that WCR runs is the IMLVT programme – International multi location variety trial, in which coffee producers are connected with industry's cutting edge science in a strive for sustainable future. Within IMLVT, coffee samples of the top varieties – 82% being arabicas, are exchanged throughout 19 countries. This project aims to study factors influencing quality and production of coffee in the future. 35 varieties are being planted all over the world, creating a growing database of coffee information. The best performing coffees are then selected for a multiplication and redistribution to farmers. The project's goal is to enable growing of new varieties in the future, as well as genetic improvement. Based on their current and future conditions the best performing coffees will be chosen for plantation. Are they resilient, resistant, productive and of quality?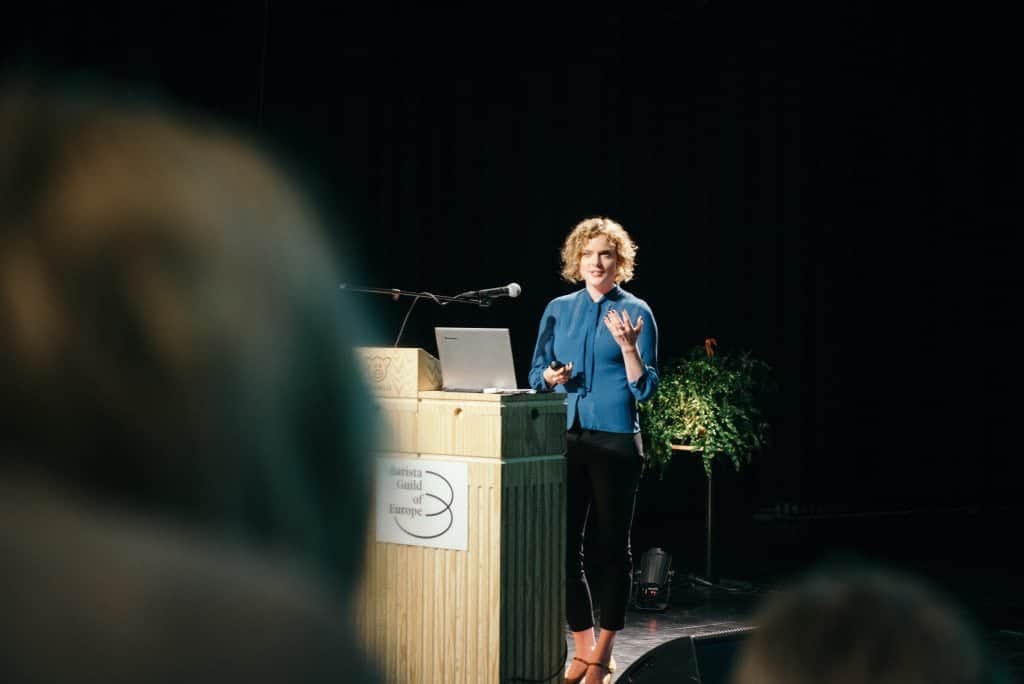 WCR is focused on maintaining and improving the growing conditions and coffee plantations for the upcoming decades. SCAA together with World Coffee Research, Kansas State University (KSU), Texas A&M University (TX A&M) and the University of California, Davis (UC Davis) reinvented the coffee taster's flavour wheel, which is backed up by multiple extensive studies. We recommend reading this detailed post about the wheel to understand it properly. You will learn about the WCR Sensory Lexicon and what is the Flavour Wheel, about the Lexicon Free Multiple Sorting method as well as the design of the wheel. Read on!
Stephen Morrissey – Senior Creative Advisor for the Specialty Coffee Association of America has gained years of experience working as a barista, competing, training, travelling coffee farms, roasting and later working for Intelligentsia, where he progressed onto brand and design development, as well as events, marketing and communications roles. He knows the industry roles inside out, and in Antwerp he spoke to us from the customer's side of the bar. His open and honest appeal was not targeted to downsize the importance of quality coffee, on the other hand, it stressed the need to deliver an overall quality service.
Mr. Morrissey spoke about expecting and receiving different kinds of service, which may be illustrated with a high pricing, yet not reflected in the quality of the final cup. "Selling an OK coffee as an extraordinary one is not OK." One of many quotes to take from his presentation, Mr. Morrissey's talk is one to watch as soon as it is online. We all want to drink a good coffee, but the perception of quality is influenced by many factors, including customer service, speed, fundamental details and customer being the primary concern. We all have a lot to learn in order to always serve a satisfying cup of coffee.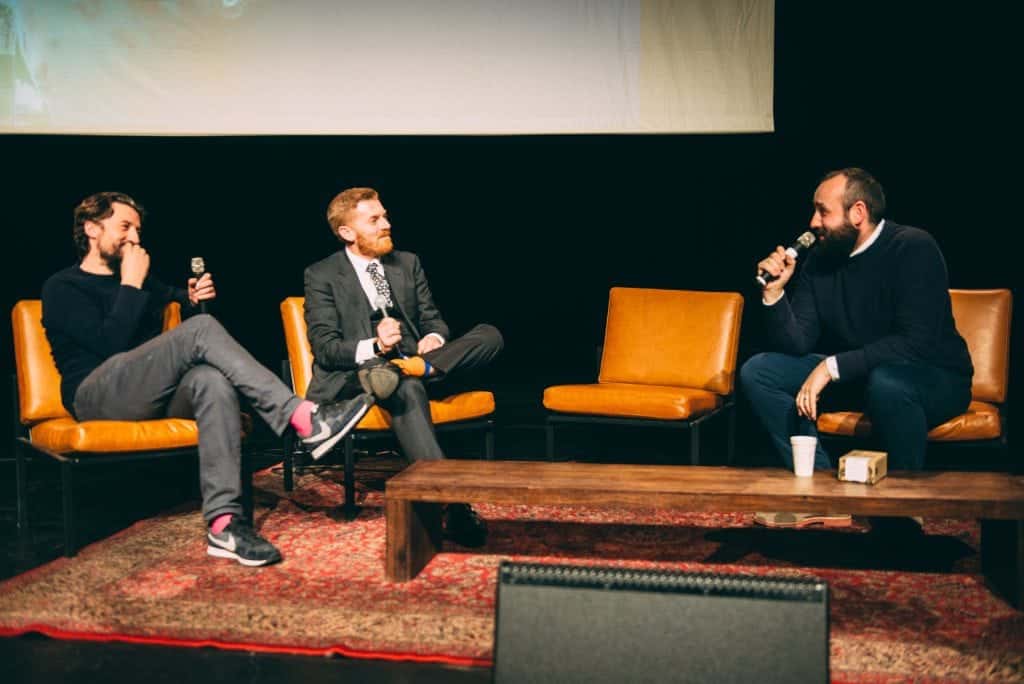 Needless to say that the day of talks was supported by infinite coffee supplies from the BGE Coffee Partners. Our favourite brews were from Square Mile Coffee Roasters, Cuperus and The Barn. What more, the incredible kitchen at CoffeeLabs prepared snacks and lunch boards for all attendees, which were necessary during the day, to keep us energized, and in the evening even more, to keep us strong, drinking the delicious Belgian beer by De Koninck. After the day of presentations was done and all the beers were drunk, groups of coffee friends spread across the city center, continuing the beer tasting sessions, or swapping up for natural wine tastings. The offers of Antwerp were multiple.
Getting our pallets on with the flavour wheel
The third day we gathered at CoffeeLabs, an impressive space just of the main shopping street in Antwerp. This was an intensive extra of CoLab! A three hour session aiming to help us better understand the flavour wheel and its use. 80 people positioned at tables with tasting trays with little sealed cups in front of them. In those we found food and concentrates with numbers referring to the level of intensity of its taste as marked by experienced and trained sensory analysts, who helped to establish the WCR Sensory Lexicon.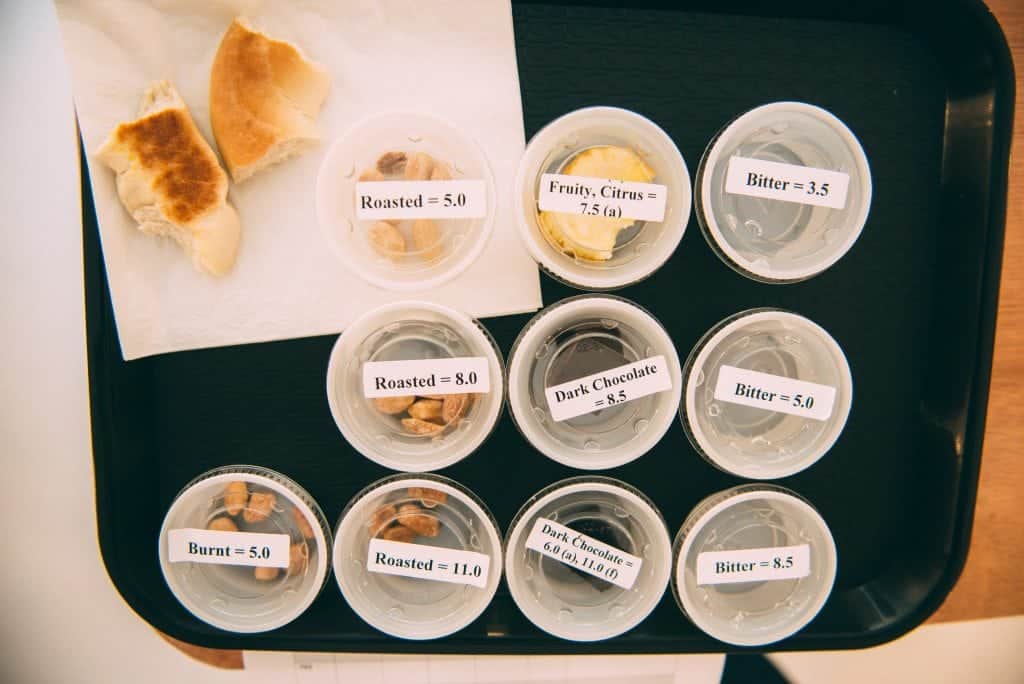 We followed a presentation by Emma Sage, who explained the way the Lexicon was established. Then we put our taste buds into practice, trying to apply the knowledge from tasting the samples into describing four different samples of coffees. At first, it was really hard to estimate, on the 0-15 scale, what intensity certain flavours are. For instance, trying to separate bitterness, burnt flavours and roasted notes was quite challenging, not to mention determining their intensities. Once we tried the first coffee though, it was easier, for some, to compare it with the next coffee and figure out its values more appropriately. Other flavours present on our board were dark chocolate or fruity and citrus. It was fascinating and made us realize how hard it is to determine intensity.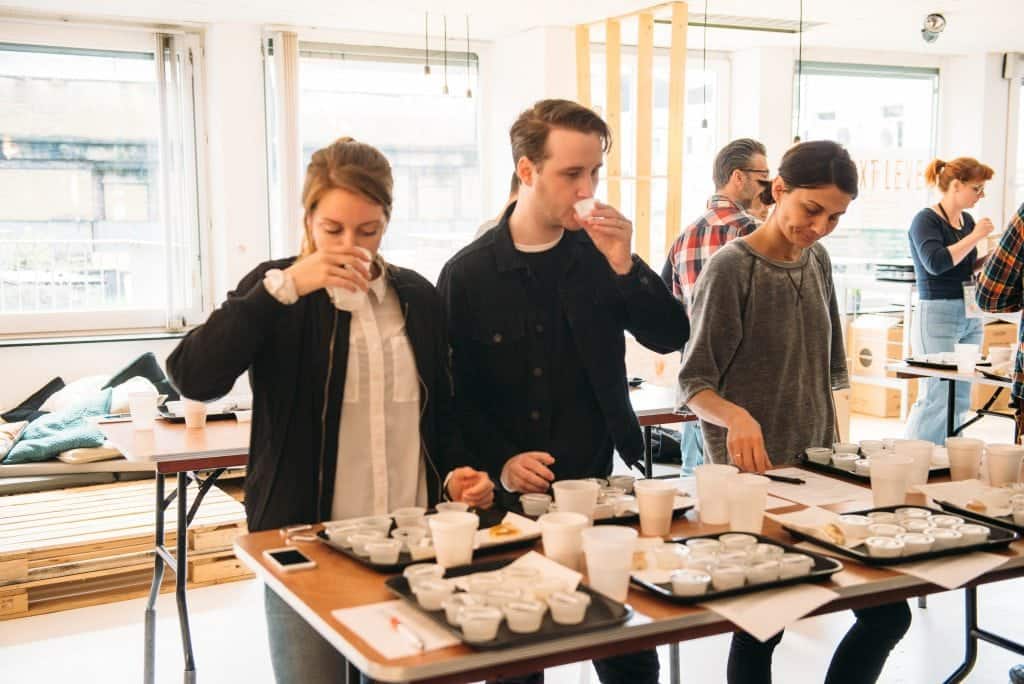 After the presentation, many left to return to their home destinations, while others explored the city's cafe scene.
We had a great time in Antwerp, mainly thanks to the amazing community that came together. We are happy to say this was the best CoLab so far, which is understandable and expected as good things mature with time, yet we must say that the speakers – attendees vibes were flying and we are well excited for what news Barcelona edition will bring. Look forward to a new format of talks and a whole lot to experience in the sunny metropolis of Spain. November sounds much better now!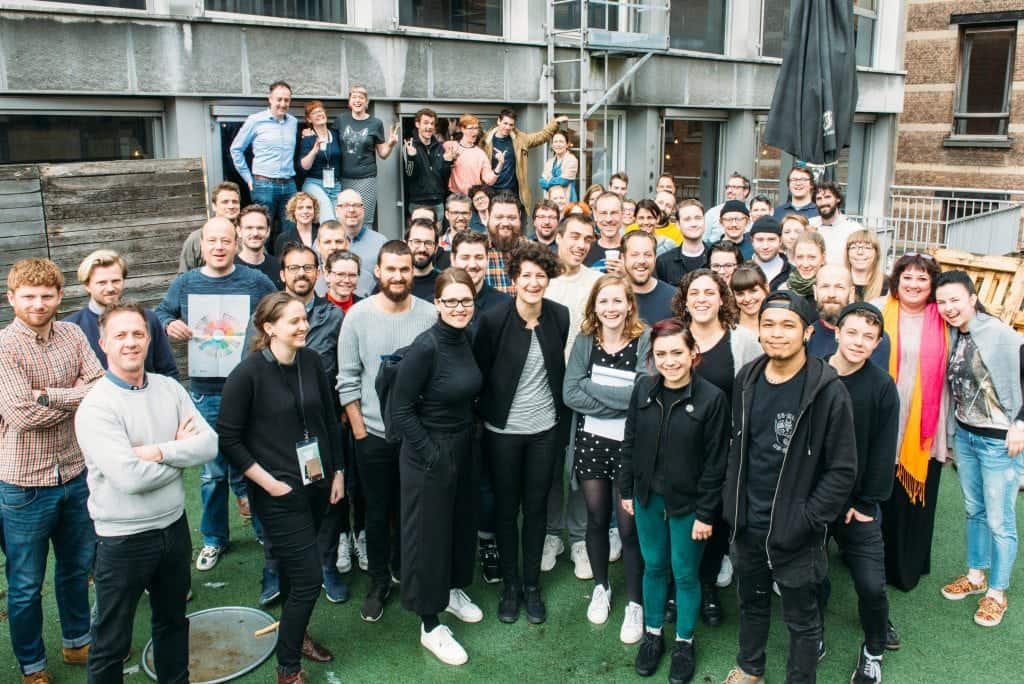 Photo: Jordan Sanchez, photographer for the BGE the last two Barista Camps and is soon to be co-owner of Cedar Coffee Supply in Alpine, Texas.