The city of Antwerp is renowned more for the valuable diamond industry rather than coffee, but we went on a quest for the coffee treasures and it is a pleasure to share what we found. The tradition of coffee service has got strong roots here, offering a little gem to everyone's day.
No matter if you are centrally based or working on the outskirts, these six coffee stops are worth a trip.
Caffènation
"One drug. One Nation. One Caffènation", says the front shield of the white painted corner building where Caffènation is located. You would hardly find a better known café in the whole Belgium. It has gained an international prestige thanks to a brewing device called Aeropress. Jeff Verellen, the head roaster of Caffènation, is multiple Belgium Aeropress Champion and twice World Aeropress Champion.
Despite the fact his trophies decorate a whole wall, there was no chance to try an Aeropress brew. "We use only batch brewers for our filter coffee. We know how to brew coffee by hand but it's just not as consistent as a machine can be," explained barista Emiel Rymenans.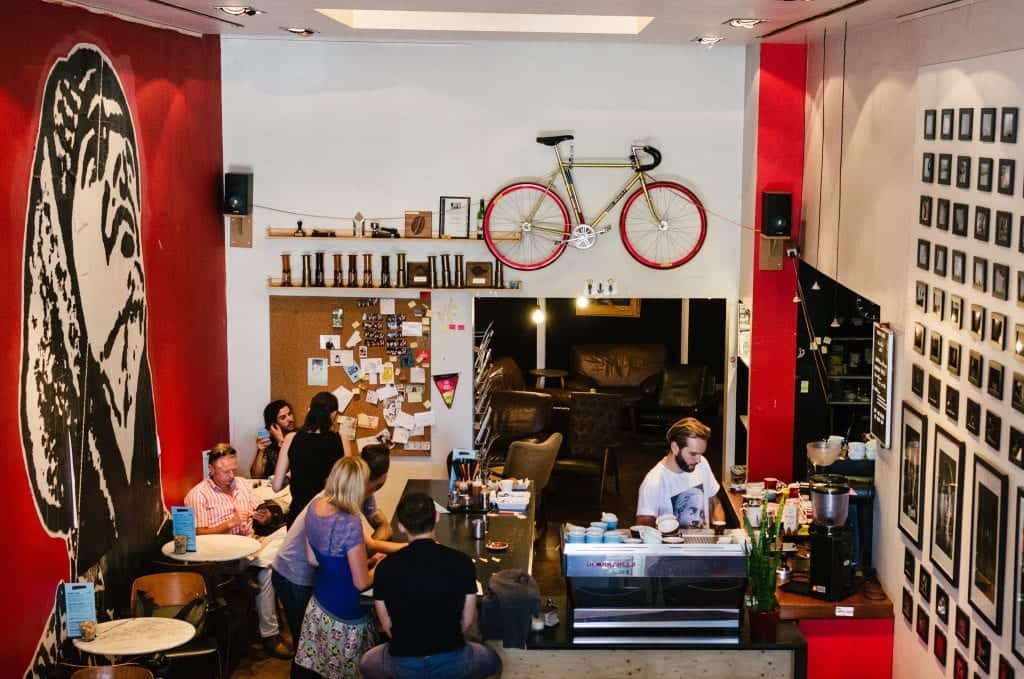 Rob Berghmans opened Caffènation already 12 years ago. At that time he was supplied by another roaster. Later he decided to open his own roastery and has kept developing the coffee and the team ever since. The focus that is put on the team is obvious from a large photo collection of the staff members, printed in black and white on another wall.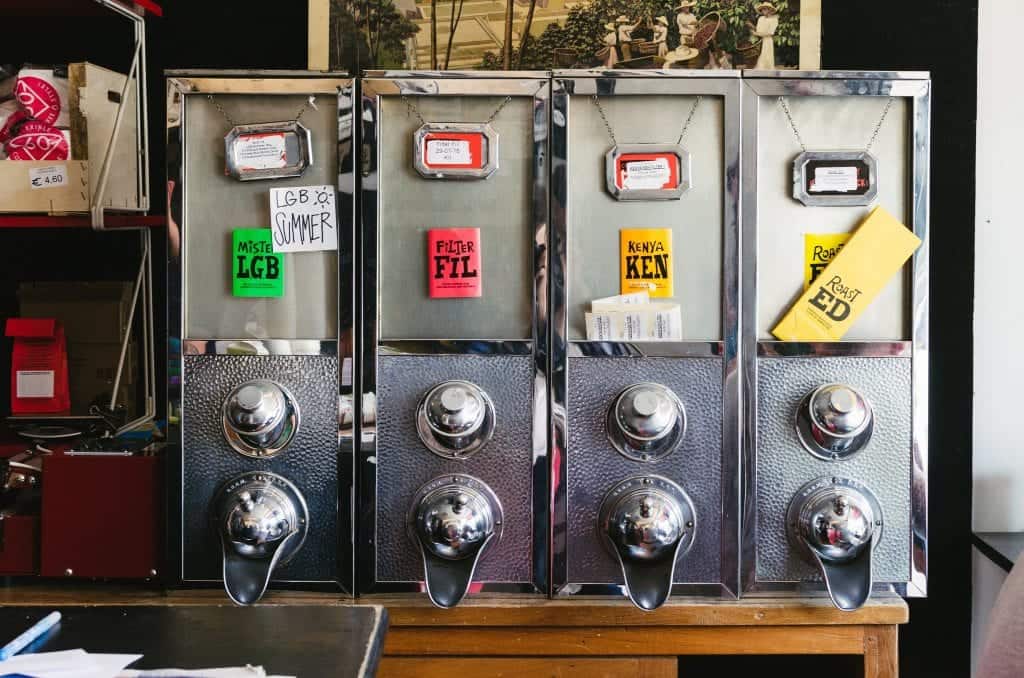 The coffee menu is pretty long and diverse but if you stick to the basics, there are two bean options for espresso and two different batch brews. You can choose from names such as Kenya Ken, Filter Fil, Spro Joe or Mister L.G.B. Each name represents a distinct taste profile that would be carried out throughout the year. The size of the menu is equal to the size of the actual roastery and cafe space that spreads over three levels.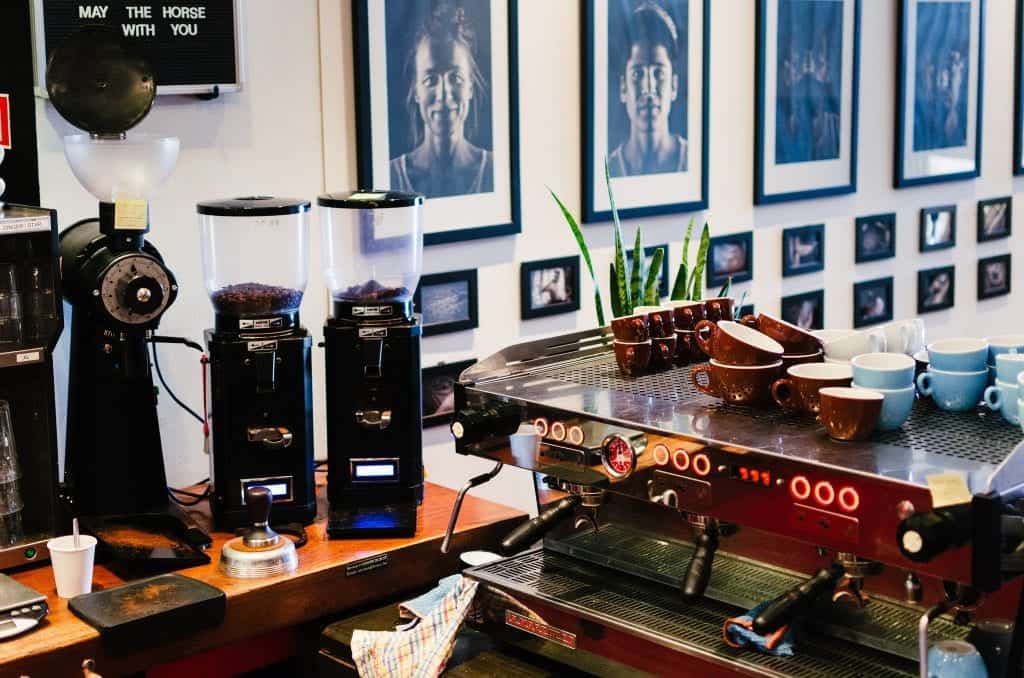 Surprisingly, the first thing you meet on the ground floor is a retail area for beans shopping and stepping up your brewing kit at home. The bar and seating area are situated on the first floor where you can watch baristas work on a 3-group La Marzocco Linea, supported by a Mahlkoening EK 43 and two Anfim Grinders. The third floor is the most relaxed area, detached from the buzz of the busy street outside.
Mechelsesteenweg 16, Antwerp
Official website, Facebook
Normo Coffee
Normo Coffee, a coffee bar and a roastery, was discovered thanks to a friend. She sent us a bag of their Kenyan coffee and we loved it. When in Antwerp we were hosted by our friend too and went for a coffee to Normo. We learnt that Jens Oris opened the first Normo coffee bar already in 2002 and since then moved into a bigger space and launched a roastery. Entering the cafe from the corner of the building the space has got small seating areas on both sides by large windows.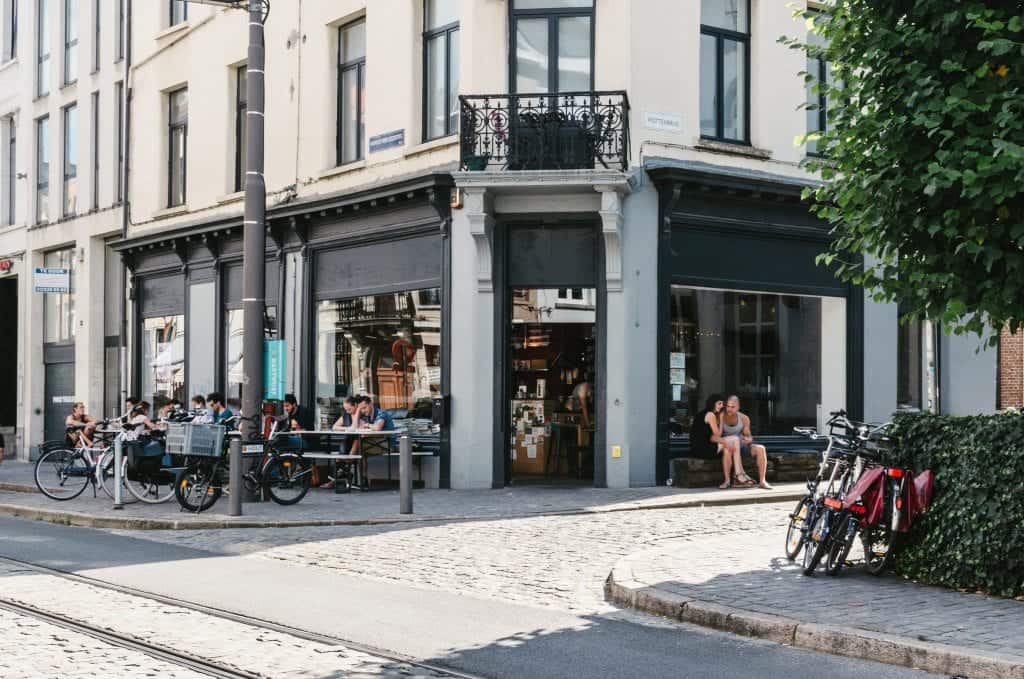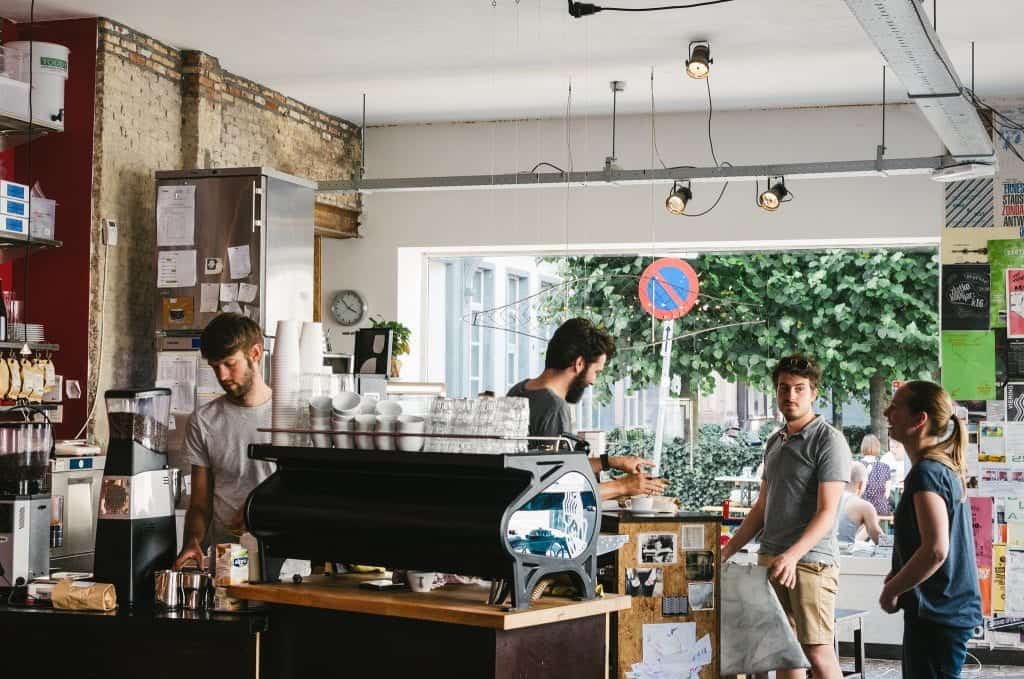 The café is divided into three parts. The bar was made in a unusual U-like shape with an espresso machine, La Marzocco Strada, offering a close-up look under the baristas's skilled hands. The counter and the brew bar area completes the second part of the bar. On the brew bar three V60s let baristas make a hand-brewed coffee comfortably even in a fast-paced environment. "The espresso machine is still the heart of the café. We do also filters but all the buzz is around the machine," explains barista Timothy Van Acker.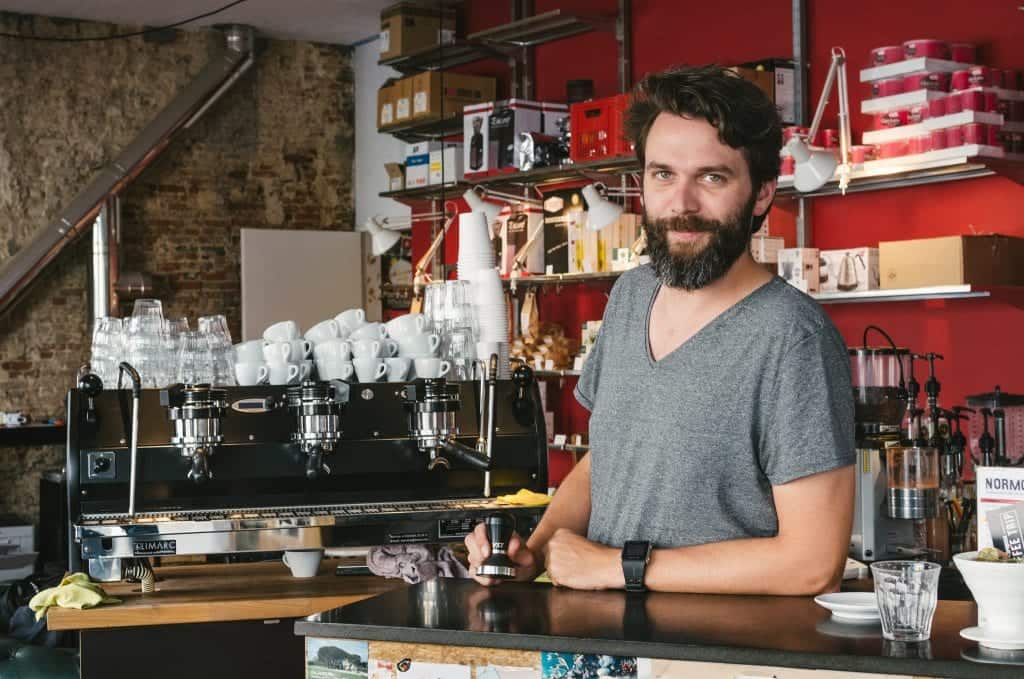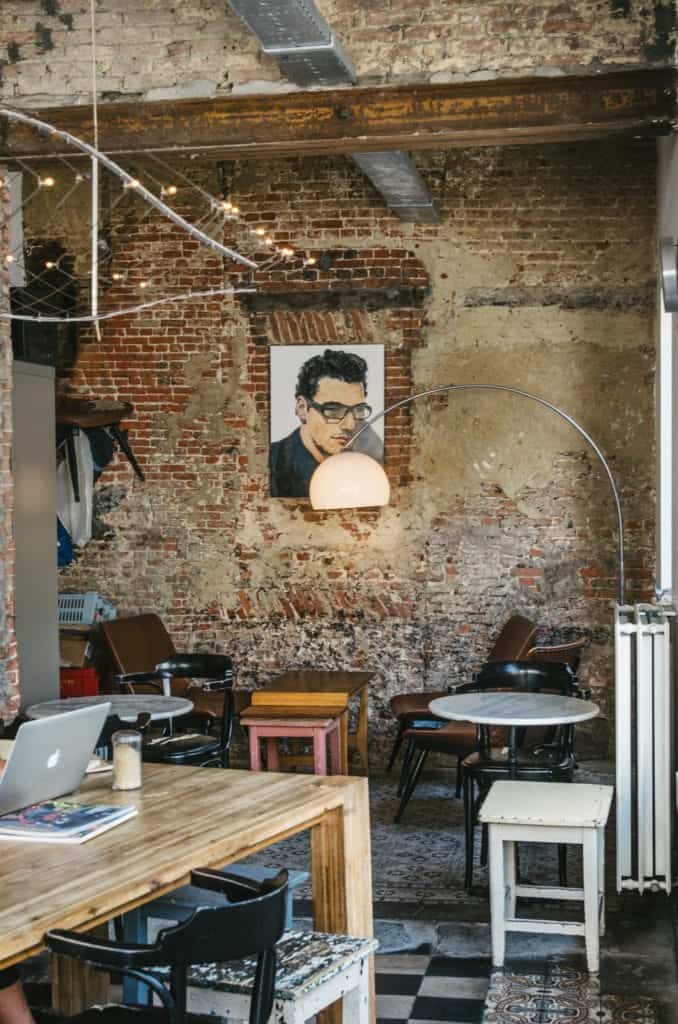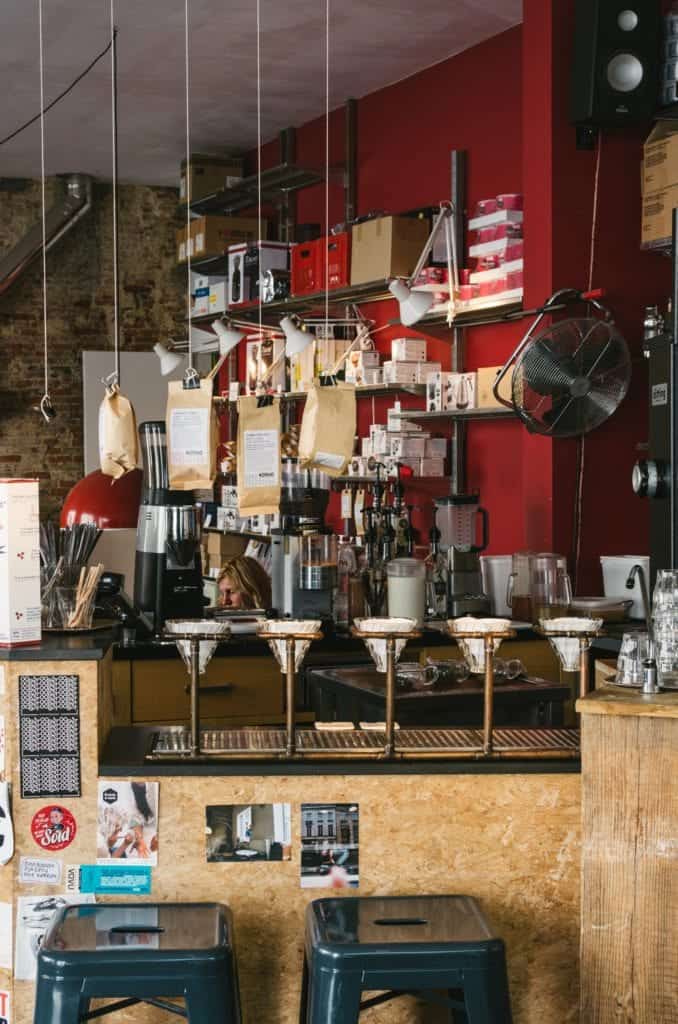 Once you have your coffee you can either sit at the big communal table, read the papers an magazines at the bar chair next to a window or make yourself comfortable in the sofas. This part formerly served as the roastery. The roastery of nowadays is located outside of the city where it suits better the needs of the business.
Minderbroedersrui 30, Antwerp
Official website, Facebook
Kolonel Koffie
Kolonel Koffie moved from the city center to het Zuid, the fast developing part of Antwerp, at the beginning of 2015. This risky and bold move may be already paying off. The new school for over 5000 students is yet to be opened but Kolonel Koffie is already regularly packed with people. "Customers often ask how we are going to handle orders when the students come," Kobe Van Gaveren, the co-owner of Kolonel Koffie, told us. "I don't know yet, we will figure it out," comments Kobe with a smile.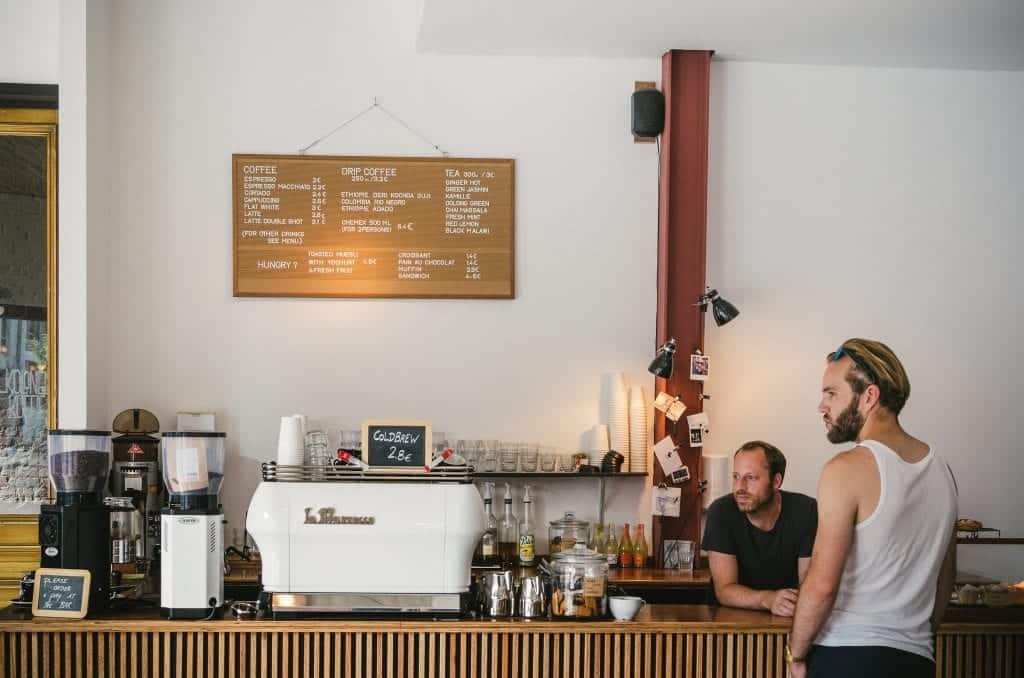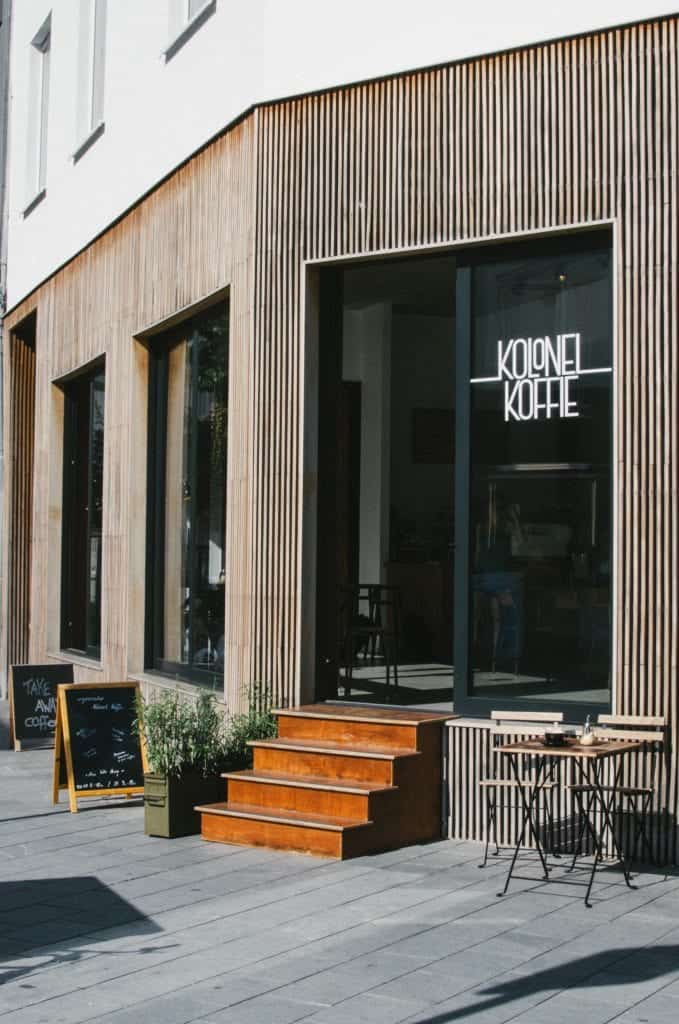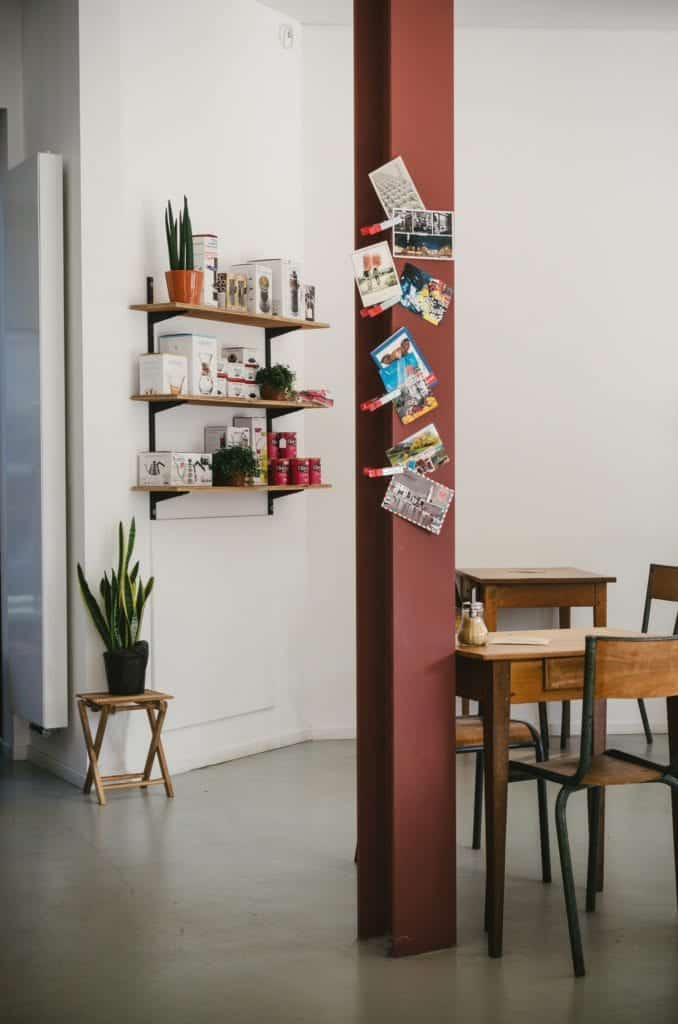 Home made cookies, tasty coffee from Normo, cozy atmosphere and personal approach are the secret of the success of this place. It was a hot sunny day and customers were even offered the "communal" sunscreen against sun burns. Interestingly enough, the staff here don't even remember your order when paying. They trust their customers, which adds onto the connection with their regulars and makes their job a bit easier.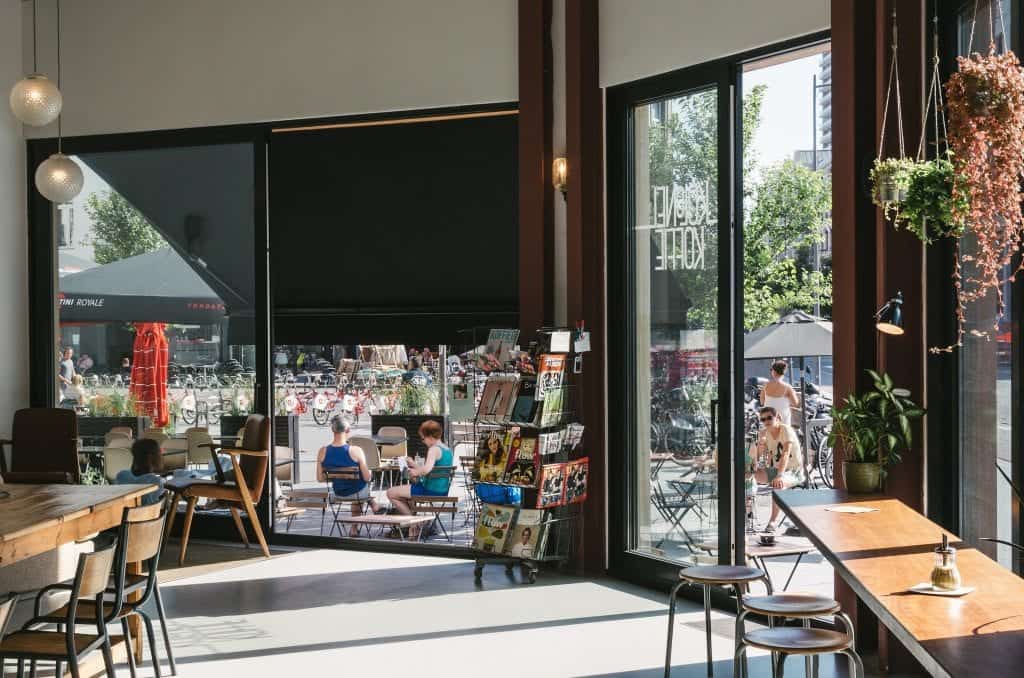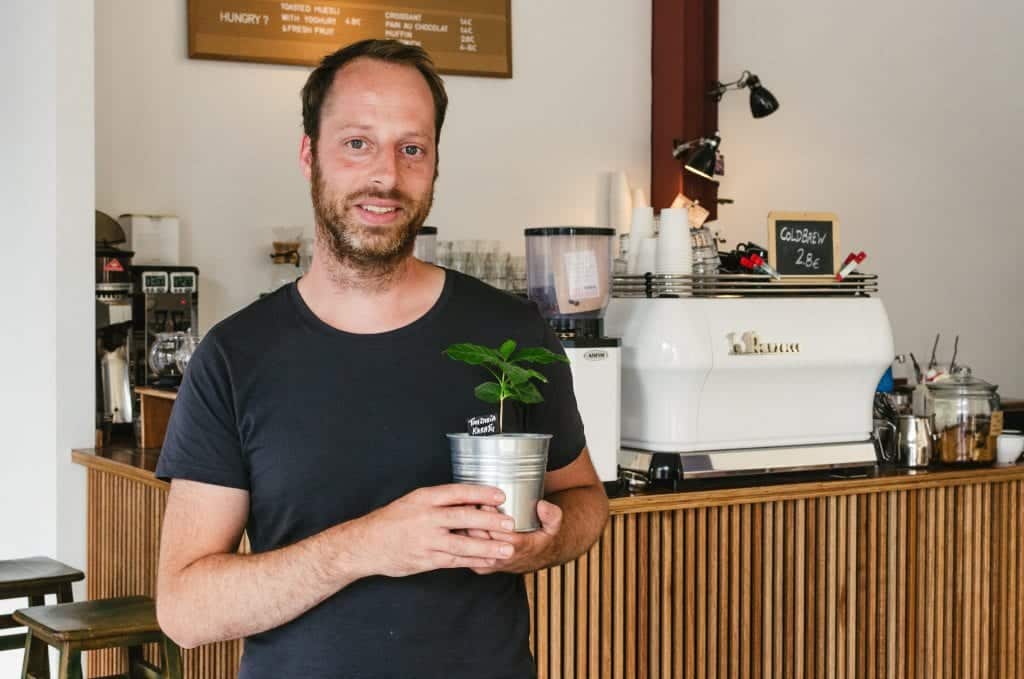 Hoppers of two Anfim grinders are filled with a Basic blend and a single origin. Coffee is then prepared on a La Marzocco PB5. Filtered coffee is brewed with three different single origins also supplied by Normo. We appreciated that coffee and tea are equally represented on the brew bar with two stations for each. Interesting part of the interior is Kolonel's micro coffee plantation. "A customer brought about 10 coffee cherries from his trip to Tanzania. So far it has been surprisingly easy to grow it," explains Kobe, holding one of the five plants in his hand.
Montignystraat 51, Antwerp
Official website, Facebook
Broer Bretel
Toon Craen was only 16 years old when he realised he wanted to receive a Michelin Star for his career achievements. Going through several kitchen internships he realised that he preferred a closer connection with customers.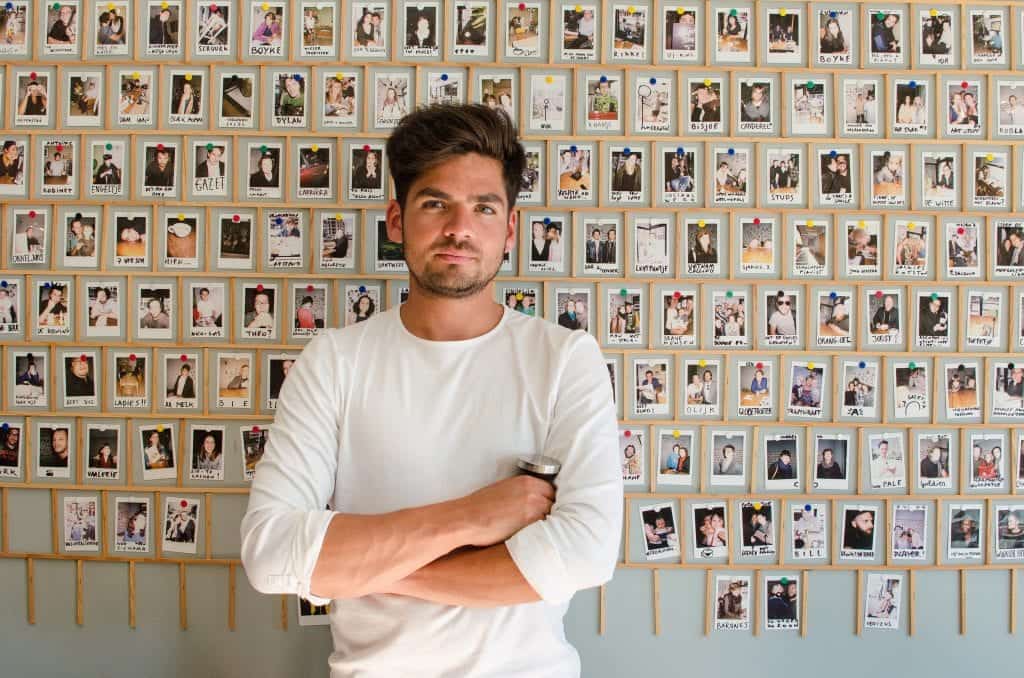 Discovering coffee he found a new career path and came up with the idea for Broer Brotel. His café is located close to the city docks, just next to the famous MAS Museum that opened in May of 2011. At that time the area was pretty empty and Toon served only 10 customers a day. With the MAS Museum opening there was an increased interest in visiting the area and by the time the NY Times mentioned Broer Bretel in their "36 Hours in Antwerp" guide the area had already become a popular touristy spot with many people coming to taste the coffee roasted by Caffènation.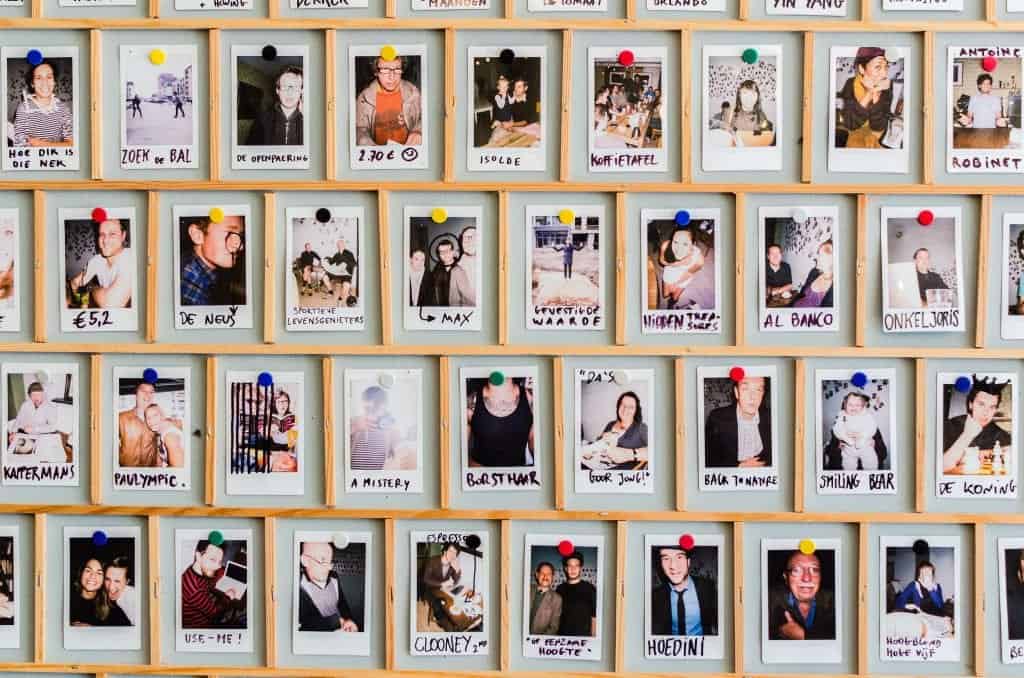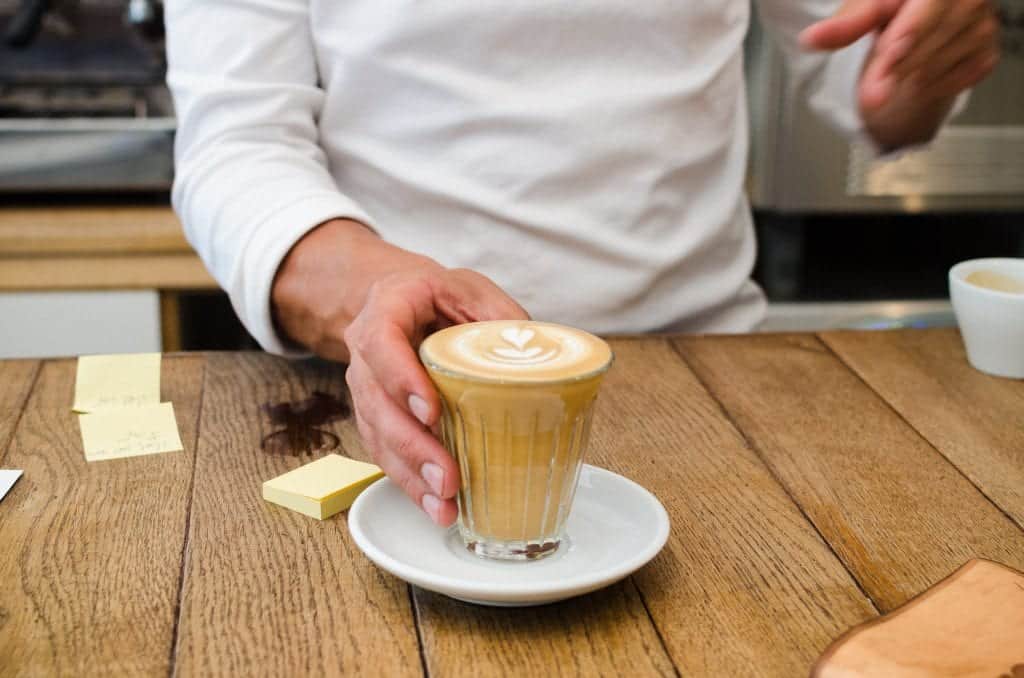 Broer Bretel considers itself a community café. Just opposite the bar you can see photos of many regular customers. "This wall was empty and usually what happens with empty walls is that so called famous people start to sign it. I didn't want this to happen to this wall so I put up polaroid pictures of our regular customers. These people actually make our café thrive", explains Toon. Who was also very honest in his advice of a drink, recommending us a cappuccino over an espresso: "My coffee works better with milk today." The roastery is nearby and due to a very close relationship with the café the beans rotate quite a lot. Sometimes it is a surprise even for Toon himself what coffee he is going to serve.
Nassaustraat 7, Antwerp
Official website, Facebook
Viggo's Coffee Bar
Tim Jensen opened his café 3 years ago and named it after his first son. "I have a second kid now and perhaps I will need to open another café using his name to prevent them from fighting," he adds. The café prides their location in a close proximity of a funky square in Antwerpen-Noord. The sun shinning through the front window in the morning makes it a nice spot to enjoy an early morning cappuccino while reading the newspapers.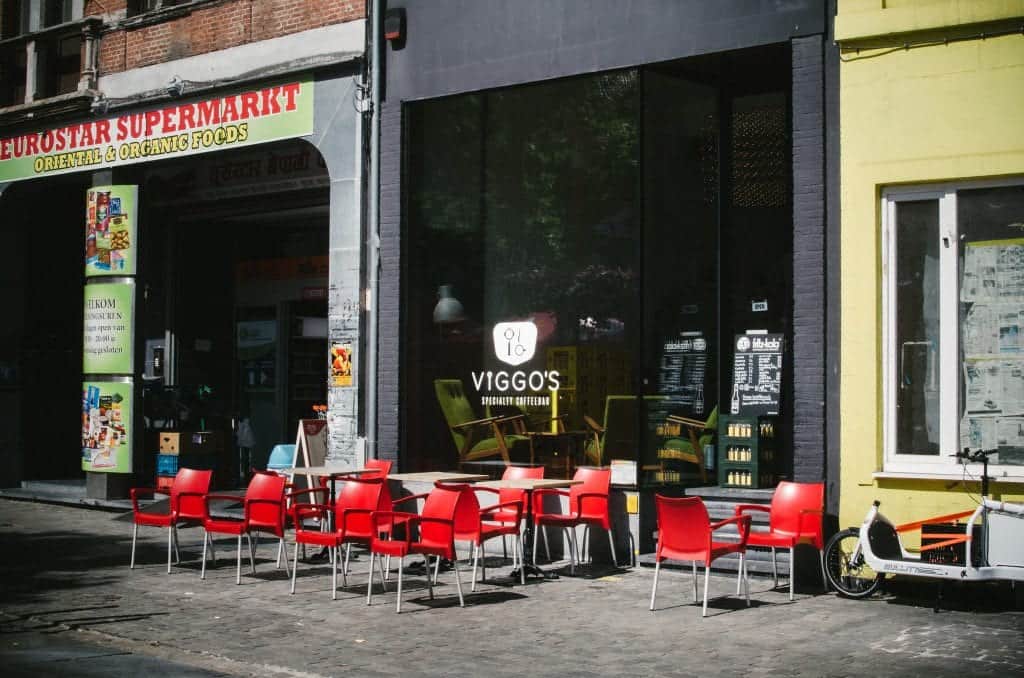 Viggo's has got a solid coffee-related library too. Scott Rao's or James Hoffman's informative books are present. Viggo's interior can be considered one of the "nordic style" ones and the coffee menu follows with Drop Coffee roasters as the main supplier of beans. At the time of our visit we were offered an espresso from Koppi Fine Roasters and Aeropress from The Barn as well.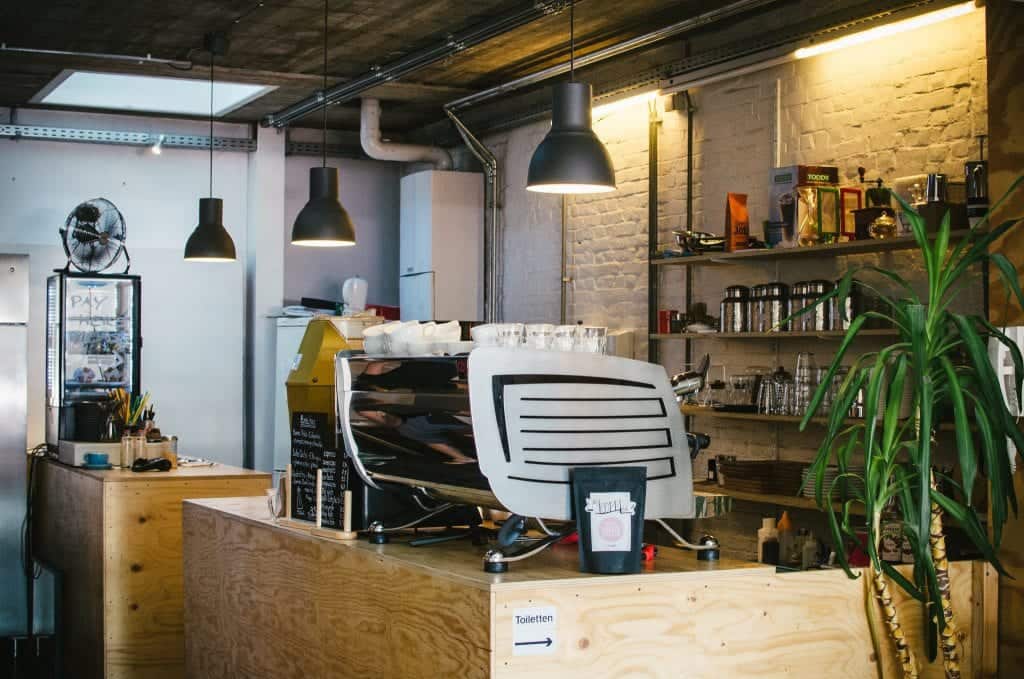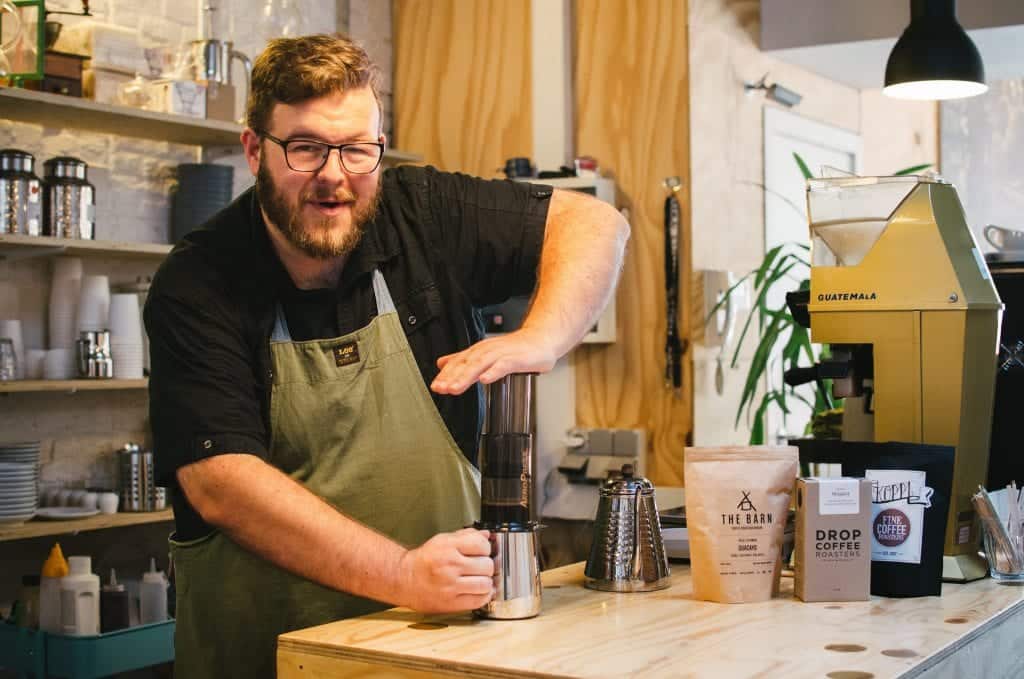 Tim is quite a character. He started with coffee several years ago alongside his other businesses, distributing Proviant, Fritz Cola and Club Maté in Belgium. He is committed to coffee though as he exchanged his La Marzocco Linea for Victoria Arduino Black Eagle and he seemed to be very excited about the change. He was passionately describing all the innovations associated with the new machine. Next to the espresso machine, Nuova Simonelli Mythos and Mahlkoenig Guatemala were in position.
De Coninckplein 21, Antwerp
Official website, Facebook
32Cup
Since Antwerp is a port, the chances are high that a coffee importer will have a residence here. 32Cup (reads as Tree to cup) is located in het Zuid District, nearby Kolonel Koffie. We met up with Jean Heylen and the rest of 32Cup team, had a lovely chat about the development of Speciality coffee market in Europe and, of course, joined the cupping session.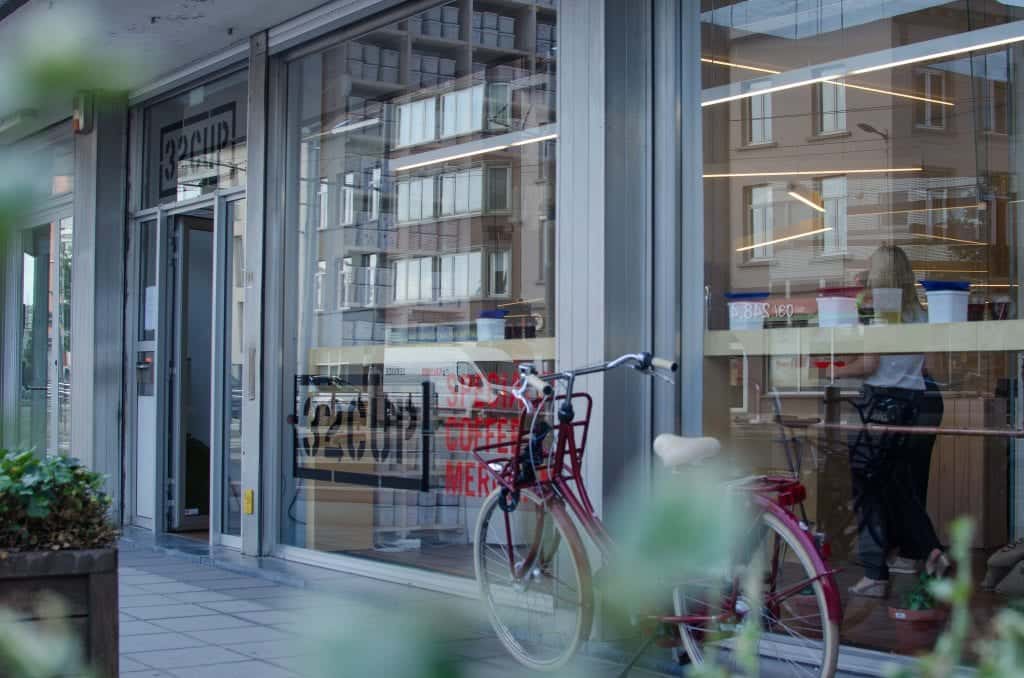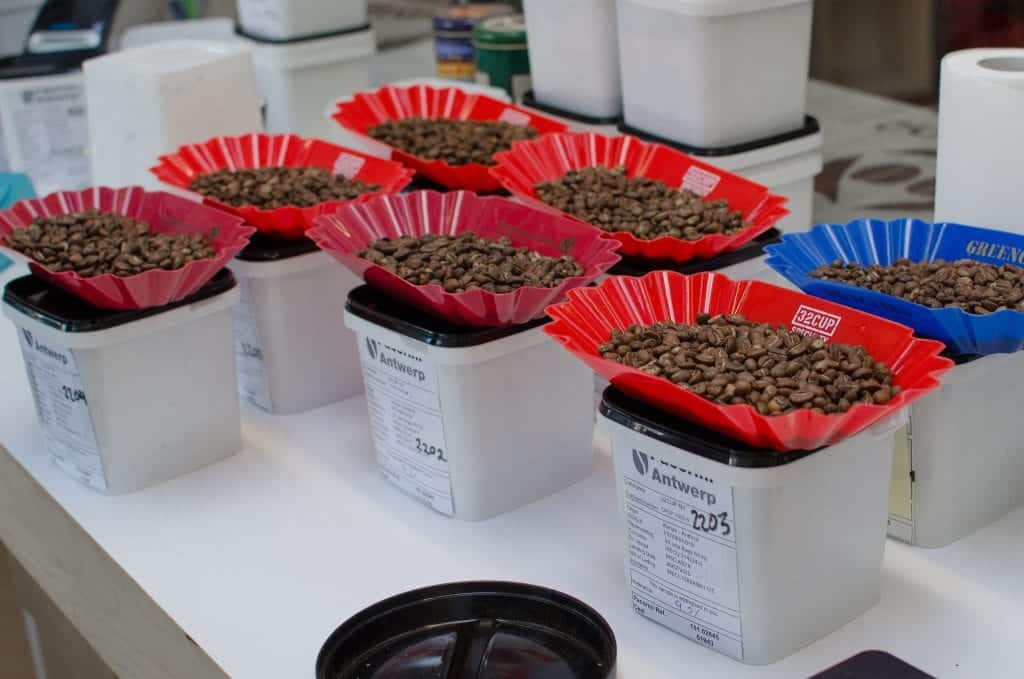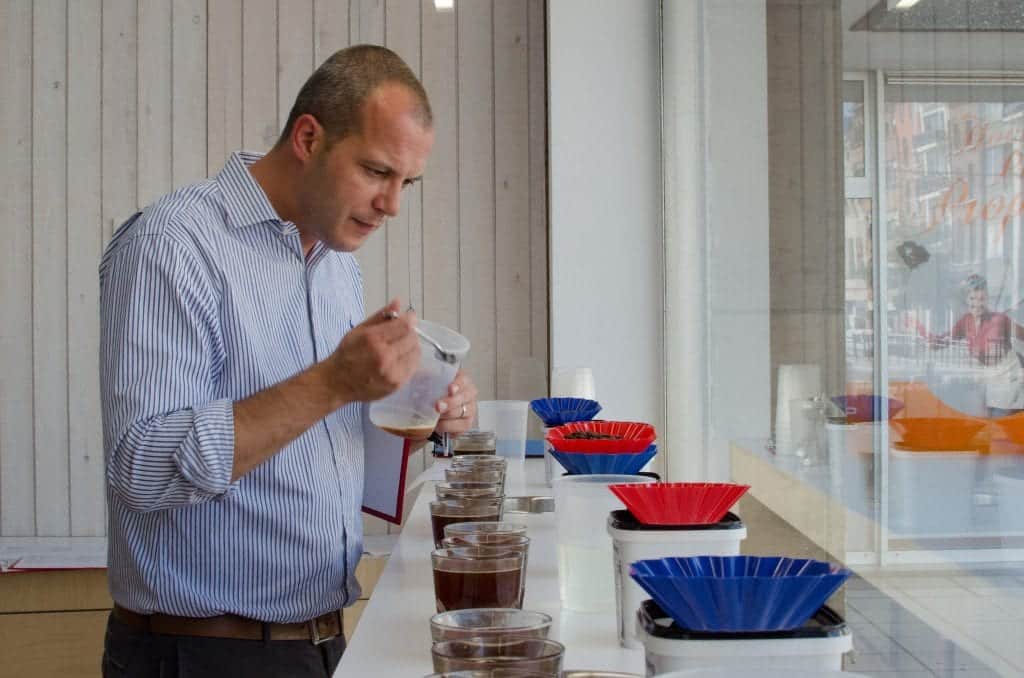 Their new offices serve as a work and meeting space and a coffee lab. Even if you are just passing by, you can admire the long cupping table next to the window and shelves full of coffees brought from all around the world.
Brederodestraat 186, Antwerp
Official website, Facebook
Kofika
We found Kofika to be probably the most interesting café in town when we visited Antwerp. We are also sad to deliver the bad news that Kofika was closed down this September. Kofika was a project by Cuperus, a traditional Belgian roastery, that wants to progress within the Speciality coffee market.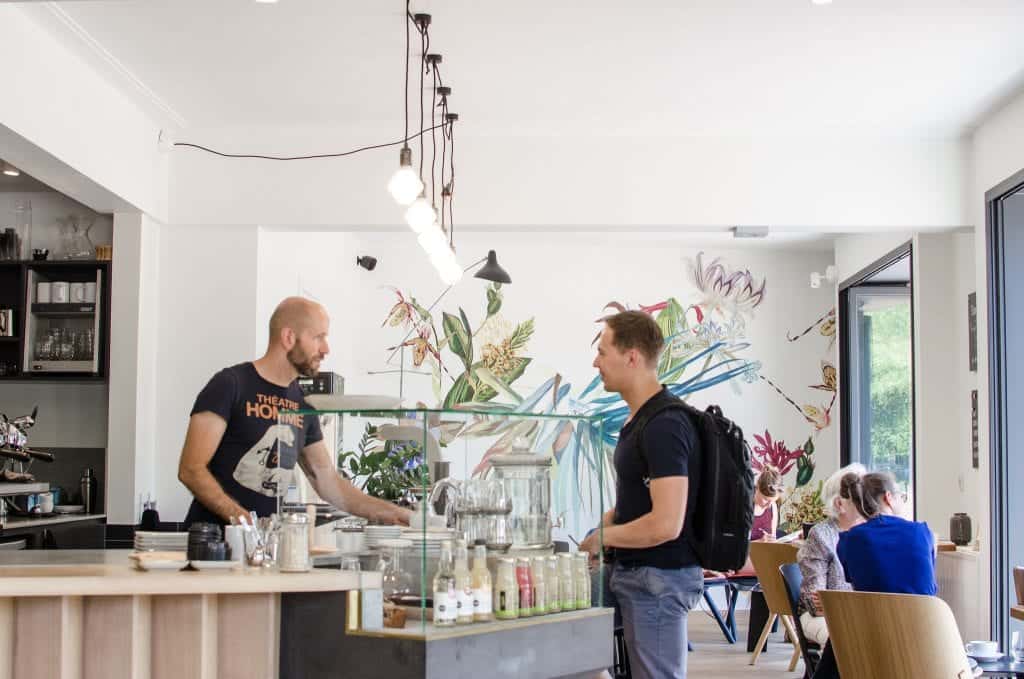 Tim Willems was responsible for the design of the bar fitted out with a Victoria Arduino Black Eagle, 2x Mythos grinders, Mahlkoenig EK 43, Marco Über Boiler and Acaia scales. Tim was especially proud of the fact that his bar was nice and clean every single time.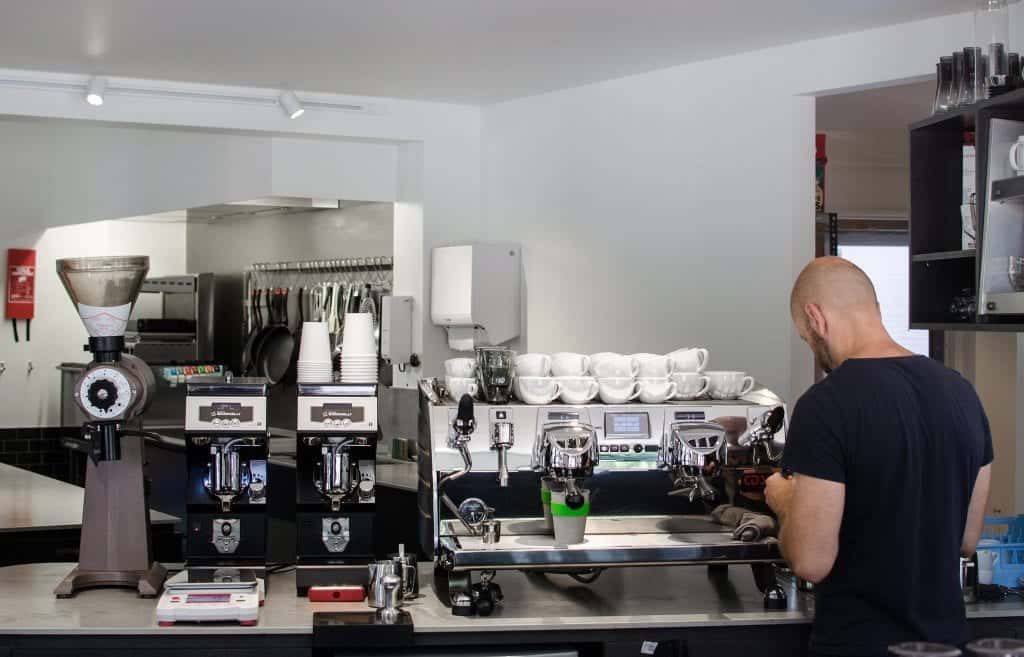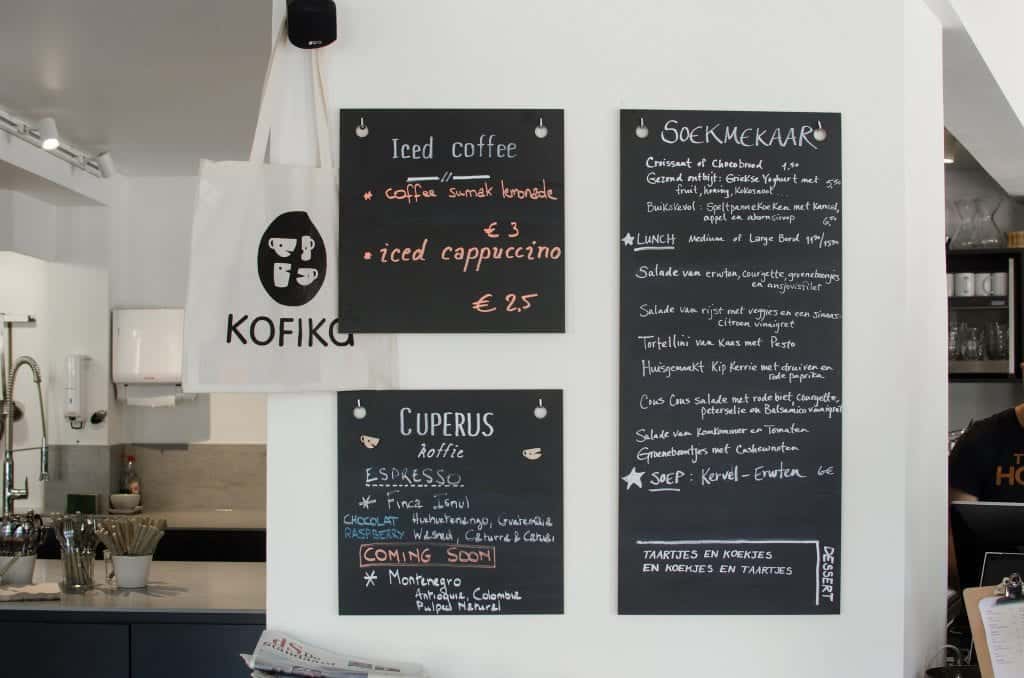 Danny Calders, another barista at Kofika, told us about a beautiful painting that continuously grew over a whole wall in the cafe. The artist would come now and then and add a new touch every time. He was given one condition though before he started his work. There had to be a coffee flower included in its painting and indeed we had the chance to admire the whole piece. Well done guys, we hope that the concept of Kofika will be soon implemented in the main cafe of Cuperus.