There might be a gap between the world of coffee shops and cocktail bars. One is focused on the daytime service, the other one comes alive in the evening hours. The first helps you wake up in the morning, and you can stop by the second after work.
With a growth of both scenes, their main representatives, baristas and bartenders, might have more in common than we think. The two worlds are connected through their passion for beverages. Bartenders have always understood coffee as one of the great ingredients for their cocktails, but not always have they used a high-quality coffee on their bars. Baristas, on the other hand, have started creating seasonal drinks with and without alcohol, learning about mixology, looking at the sensory experience from another ankle, inspired by the world of cocktails.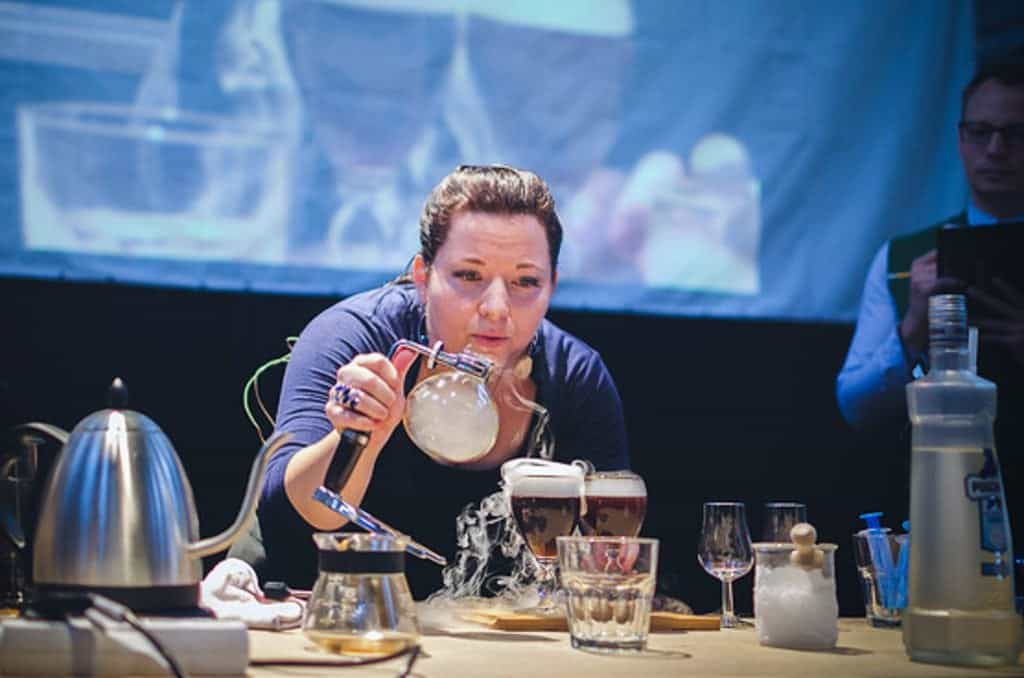 We addressed several bartenders from across Europe, or should we say baristas? We invited competitors, judges, baristas and trainers from several countries, who all work with speciality ingredients—coffee and alcohol, to answer our question: What can baristas learn from bartenders?
Creative thinking|Matej Coufal
Matej Coufal is one of the bartenders at Super Panda Circus, a bar awarded the Best Cocktail Bar 2016 by Czech Bar Awards. He helped to create a coffee menu for 4pokoje in Brno and his fresh approach to coffee service proves that the two worlds of bartenders and baristas are not at all fully explored.
Matej acknowledges the perfectionism of a great barista—clean and organised workspace, attention to the taste of the coffee. But he admits there is something that baristas can learn from bartenders—creative thinking. This can come handy when the barista is under pressure. In such situation, the barista needs to be creative!
Sometimes you welcome a guest who cannot make up his mind.
"People tend to like the things that are created just for them, so dig up that weird recipe you've read a week ago at that ultra-underground-dark-internet-website and try to surprise not only the guest but yourself with the new taste," encourages Matej Coufal.
Service with style|Martin Hudak
Martin Hudak works as a Senior bartender at Savoy's American Bar in London, the UK, he is two-time runner-up at the World Coffee in Good Spirits Championships, the founder of Ginger Mania, and someone who loves bridging the worlds of coffee and cocktails.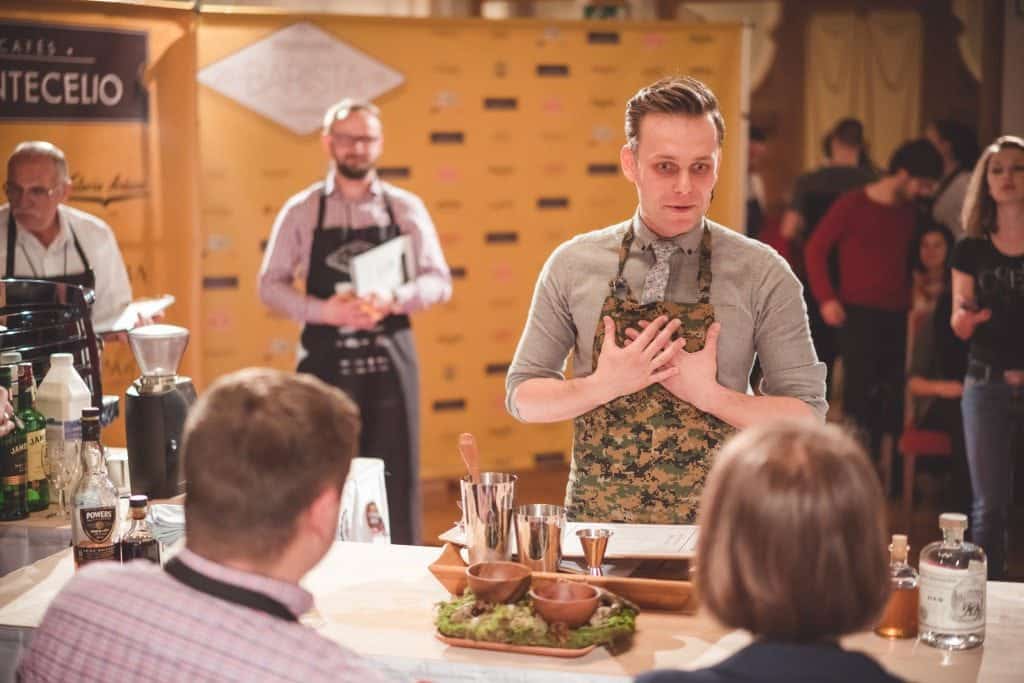 He is a solid part of both industries and his advice is clear: "Baristas should take more inspiration from hospitality aspect of bars and bartenders. The way and the style of how they provide service to their guests are more important than the actual liquid in their cups/glasses."
Better mixology, presentation and outfits|Tasos Delichristos
Tasos Delichristos is not only the proud owner of The Underdog, a speciality coffee shop in Athens, Greece. He has also gained more titles and certifications than one can easily count.
Since 2007 he has been collecting wins—in Barista championship (2007) or Coffee in Good Spirits (2008)—and then went on to judge at the World Championships.
Take it from the judge then when he says: "Baristas can learn from bartenders how to mix and infuse ingredients together. Hot to better present a recipe in public and last, but not least, how to dress better."
There you have it, presentation really does count.
Wide range of technical skills|Michalis Dimitrakopoulos
Michalis Dimitrakopoulos is the 2016 World Coffee in Good Spirits champion, another member of The Underdog family. His team brings a spotlight on the striving speciality coffee scene of Greece. Michalis considers it a necessity for baristas to learn the technical skills that bartenders use daily.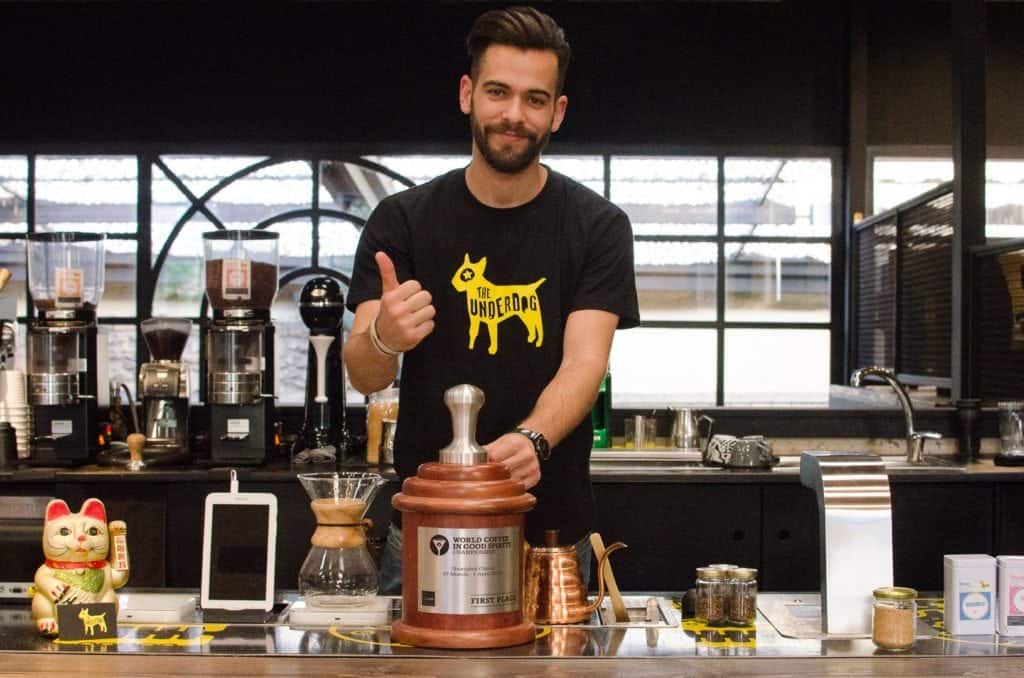 "Baristas always learn from bartenders about pouring, flaring, how can we use the ice cream for making of cold cocktails, they learn about the balance between spirits, liqueurs and wines, as well as about making of infusions, syrups, or dressings," names the range Michalis.
It would certainly come handy to any barista creating a diverse seasonal menu.
Customers-engaging service|David Jameson
David Jameson talks about the world of cocktails with a lot of passion and care. UK Coffee in Good Spirits champion (2014) and tireless competitor currently holds the role of the managing director at Union Hand Roasted Coffee Campus, an educational department of the roastery.
What does David appreciate the most when going out for a cocktail? "A brilliant cocktail bar experience is so positive. You are warmly welcomed in, seated comfortably, given water, asked your preferences and then a bartender with great experience and skill learned over many years elegantly presents you with a beautifully crafted drink, refills your water glass and asks you how it tastes."
"Whilst it is possible to get this kind of experience from a coffee shop, as often as not, a brilliant speciality coffee experience is very different."
The main downfall of aspiring speciality coffee shops is the lack of service engaging with customers—in a brilliant, warm, welcoming, friendly way. Bartenders excel at that, but it is something that more baristas should aspire to improve at.
Sexier and more efficient preparation|Ondrej Hurtik
The current reigning champion of the Czech republic in two categories—Barista and Coffee in Good Spirits points out the sometimes overwhelming focus that baristas put on coffee. Thanks to his interest in both worlds he looks at coffee as one of the ingredients, equal to the other ones in his recipes.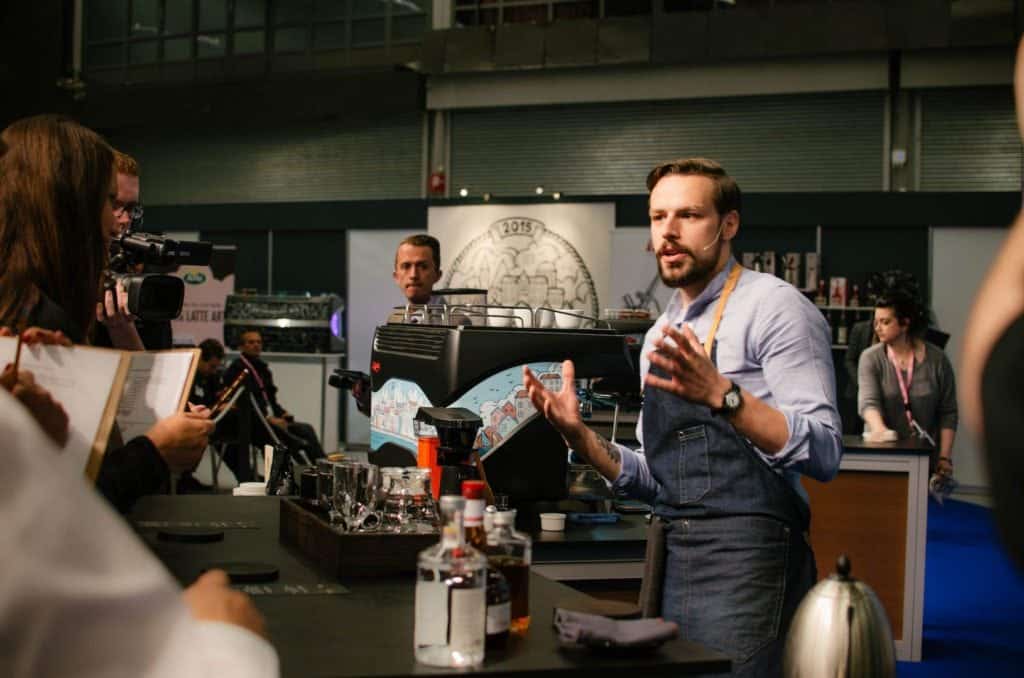 "Try to use coffee in a bit different way than just as an espresso or a filter coffee. Infuse other liquids with coffee, add it to the foam on top…" suggests experimentation Ondrej.
The visual aspect is also something that resonates deeply with Ondrej's preferences, as he promotes a 'sexier' approach to presenting a drink. Hand-in-hand with building a drink comes also efficiency in its preparation. "I know a café is a different type of business—people want their coffee fast. But many things can be done faster thanks to good pre-opening preparations."
And if you like story-telling as much as Ondrej does, this could be the way to go in creating such a drink. "Try to keep your drinks simple, fast and sexy, " adds Ondrej.
Speed, workflow and less geekery|Mikaël Portannier
2016 Coffee in Good Spirits champion of France, Mikaël is also responsible for the training of wholesale customers at Lomi, one of the great French roasters based in Paris.
Working mostly in a cafe environment, he acknowledges the need for some mixology skills, especially in the case of baristas competing in the CiGS championships. What baristas need to learn from bartenders is their workflow and speed behind the bar.
What more, it comes useful to be acquainted with the judges' scoresheets: "The technical points can be applicable for barista as far as they are serving mixed drinks (cold latte, shakerato, etc)."
As the last note, Mikaël recommends the baristas to be reasonable with the number of geeky details they share with their customers. "Bartenders can involve a customer in a story, talking about a product or a cocktail. Although baristas are able to that as well, they are always talking about geeky things that the customers are not necessarily interested in."