Since the beginning of our Mixtape series we have aimed to interpret the special feel of different coffee establishments through their baristas' choice of music. April's Mixtape #003 is not different. Firstly getting pumped by a stylish cafe mixtape, we then got inspired by a roastery's playlist and it is about time we dig a champion's tracklist!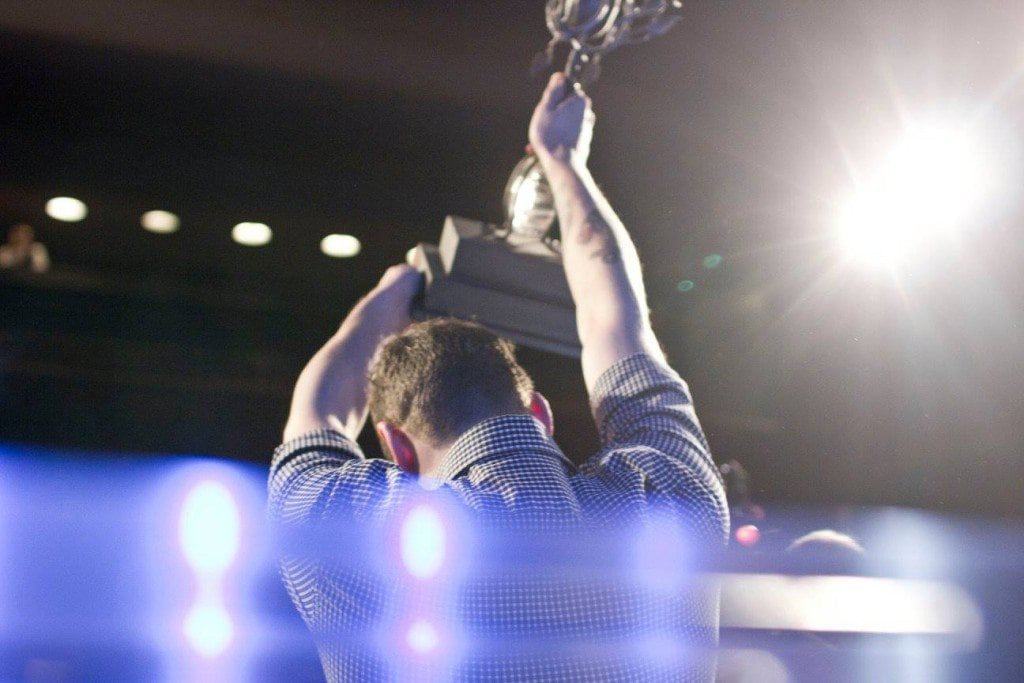 [etf uppercase="false" format="block" tablet_sf="" mobile_sf="" font="" font_size="13″ lheight="20″ lspacing="" color="" ]
Ondrej Hurtik celebrating on the stage. Photo by Petr Kvasnicka,The Apron
.[/etf]
Ondrej Hurtik is first and foremost a hard worker. He has chosen a tracklist of his competition tunes and songs that keep him moving at work. You should get into it, since there is more than many great tunes that gave us an instant kick for the day, setting our mood high!
Not only is Ondrej a skilled barista, but his playlist works really well. Without any further ado, check it out and pump the shots like the Barista Champion of the Czech republic!
Tracklist
1 – The Golden Age – The Asteroids Galaxy Tour
2 – The Sun Ain't Shining No More – The Asteroids Galaxy Tour
3 – Animal – Miike Snow
4 – Ready For The Floor – Hot Chip
5 – VCR – The XX
6 – Time to Pretend – MGMT
7 – Kids – MGMT
8 – Lisztomania – Phoenix
9 – Something Good Can Work – Two Door Cinema Club
10 – And The Living Is Easy! – Guts
11 – No Sugar In My Coffee – Caught A Ghost
12 – No Love Dying – Gregory Porter
13 – Riptide – Vance Joy
14 – Golden Brown – The Stranglers
15 – Keep You Kimi – Hird
16 – Stolen Dance – Milky Chance
17 – Little Man – Little Dragon
18 – Day for Night – Moloko
19 – Close To Me – Cure
Ondrej Hurtik on the stage