Welcome to the very first of European Coffee Trip mixtape series!
Music in cafes is key to creating the right mood, set the ambiance and all together with the coffee you are drinking create even a better experience! We decided to ask baristas to share their favourite tunes they enjoy playing while pumping out orders at their cafes. Something that keeps them going, tracks that always bring a smile to their face and a light swing to their step, something that makes their day at work a better one!
The first mixtape was created by Industra team, Petra Strelecka and Adam Obratil, our friends from Brno, the Czech republic. Please enjoy while reading a bit of their story!
Their cafe is famous for its Sunday brunches and that is also the theme of the mixtape. "Think of a situation when you come into packed Industra Coffee, everyone is having Petra's great brunch and there is one last table to sit at for you. You have a coffee to start with, than your wonderful meal arrives, cakes and another coffee after. Funky music is pretty loud, as the café is, and you are ready to have an amazing rest of your Sunday!" describes Adam and Petra the mood of their mixtape.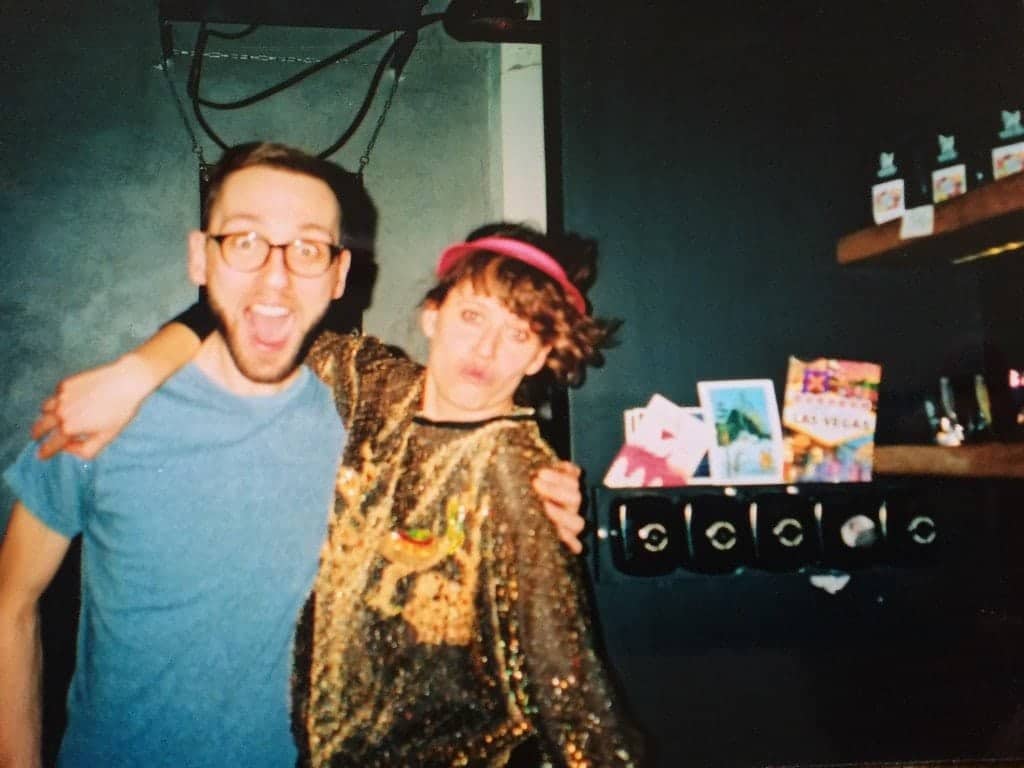 Tracklist
1 – Don't Stop 'Til You Get Enough – Single Version, Michael Jackson
2 – Le Freak, CHIC
3 – Get Down On It, Kool & The Gang
4 – Give It To Me Baby, Rick James
5 – Inflation, Cameo
6 – I Want You Back, The Jakcson 5
7 – Angel Dust, Gil Scott-Heron & Brian Jackson
8 – We All Know Who We Are, Cameo
9 – I'm Coming Out, Diana Ross
10 – He's The Greatest Dancer, Sister Sledge
11 – Neutron Dance, The Pointer Sisters
12 – The Grunt – Pt. 1 & 2, The J.B.'s
13 – You're The First, The Last, My Everything, Barry White
14 – People Get Up And Drive Your Funky Soul, James Brown
15 – I Don't Understand It, Darondo
16 – Trinity: Titoli, Annibale E I Cantori Moderni
17 – Freak-A-Holic, The Egyptian Lover
Enjoy the rest of the interview with Adam and Petra and learn more about their coffee journey.
How would you describe, in one sentence, what Industra Coffee is?
Industra Coffee is a happy place, full of coffee, love, jokes and funky music where you never feel alone!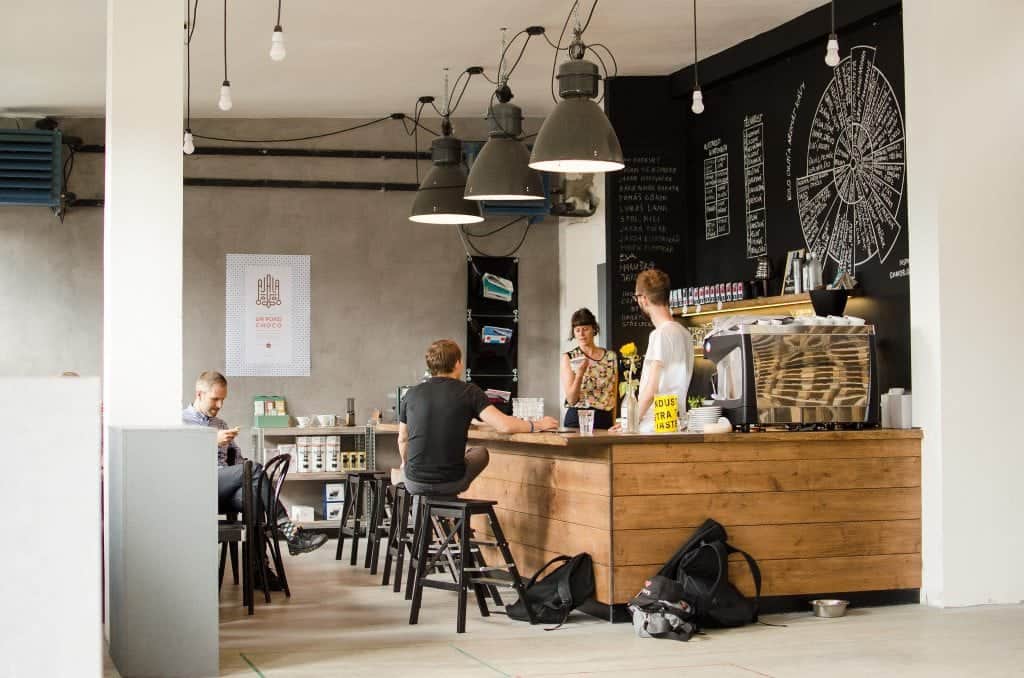 How do you recall the moment when you decided to open your own cafe?
We canť recall the exact moment. We were sure about our comeback from London, because we were homesick and we were sure that there was nothing else we wanted to do more than coffee! London is a place where you grow up and you learn at least 3 times faster than you would back home. We felt we knew a lot about coffee and we knew what we wanted to do so it would be very hard to work for someone else. We knew we had to open our own business even without telling it to each other.
You are two baristas as well as owners of Industra Coffee, how do you make decisions about important elements of the cafe such as design and music.
Both design and music are decided based just on our taste. We're putting ourselves into it, it's that simple! It feels like designing our own living room! We spend more time here in the café then in our living room anyway. We've used tableware we like, we play music we enjoy, we serve coffee we'd love to drink ourselves!
How would you describe the atmosphere of your cafe?
The atmosphere is the key! We do our best to make our guests feel comfortable. We know they had to come a long way to have a cup of coffee and we want to let them know that we really appreciate it. The cafe is designed to be as cosy as possible but without loosing its dignity. So it still looks and feels very industrial but it has a good lightning, its warm and clean, the barista cannot hide, because our bar is designed to be a "shared table" more than a barrier. And the music will make you move even if you had the worst day ever!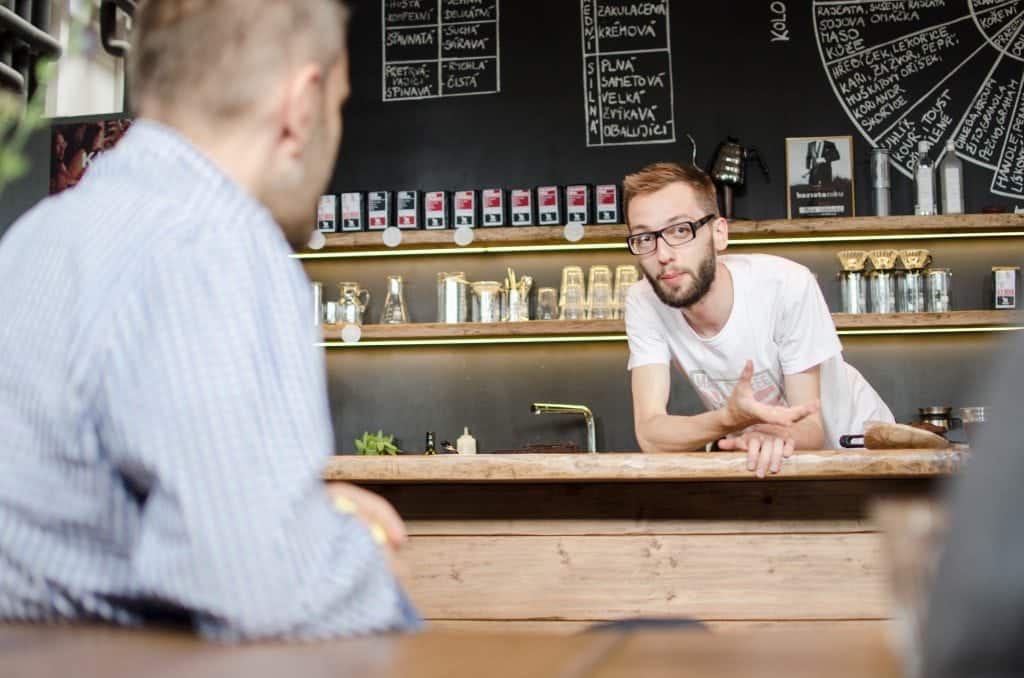 What role does music play for a barista and for a customer?
Music has got a very important role for both. Of course – the barista always plays music that he or she likes very much. When the barista feels good, the customer feels good too! And they also say, that we have good taste, that's nice to hear!
In the Czech Republic we are not used to listening to good music in cafes or restaurants. There is usually no music at all or there is a very bad music playing out of commercial radio stations. If there is no music, people are afraid to talk to each other or even move. Imagine waiting rooms at the doctor's! Everyone hates those! So yes, we take a good care of what is playing at our café all the time!
Do you have any favorite cafe you would like to mention? If so, what makes this cafe special?
We do have a few and there is a reason for that. It is usually the ones where of course we feel good, they serve top notch coffee and cakes and play great tunes, but also it is usually the ones where we know the owner and we know that the owner is always there. We think that this is a very important element that makes the café very special and consistent. Our favourite places are Espresso Embassy (Budapest), Prufrock Coffee (London), Kaffeine (London). Hello to Tibor and Livia, Jeremy and Peter! You are our idols! Also we loved our neighborhood café called 46b Espresso Hut back in the days when we lived in Homerton.
What is your favorite song at the moment?
Petra: The Juan McLean – A Simple Design
Adam: It's so hard to pick just one, but I really like The Egyptian Lover – Freak-a-Holic, make sure you watch the music video!!