Edinburgh, political and cultural capital of Scotland is also the leader on the specialty coffee map of Scotland. Many new cafes are opening up and young business owners have set their goals higher; instead of opening the "easy option"- "JK Rowling wrote here" cafes, they aim to serve specialty coffee. And the demand of customers is growing as well.


We had not experienced the impact of any such event on the whole city as with Edinburgh Festival. Many European cafes we had visited in summers beforehand would close their doors during August, to save money throughout this quiet time of the year, yet all cafes in Edinburgh are, on the contrary, hiring extra people and getting ready for a strong wave of tourists. We hope that this guide will help some of them to find great coffee in Edinburgh.
Fortitude Coffee
As beautiful as it sounds we still had to translate the name of this cafe to better understand its meaning. The word Fortitude translates as courage, bravery, or resilience. "That is what you need if living in Scotland and working with coffee," smiles the young couple, Helen and Matt, who opened Fortitude Coffee in March 2014. Cafe situated just around the corner from Edinburgh Bus Station should be the first destination of any coffee tourist coming for a coffee stroll through the historical city of Edinburgh.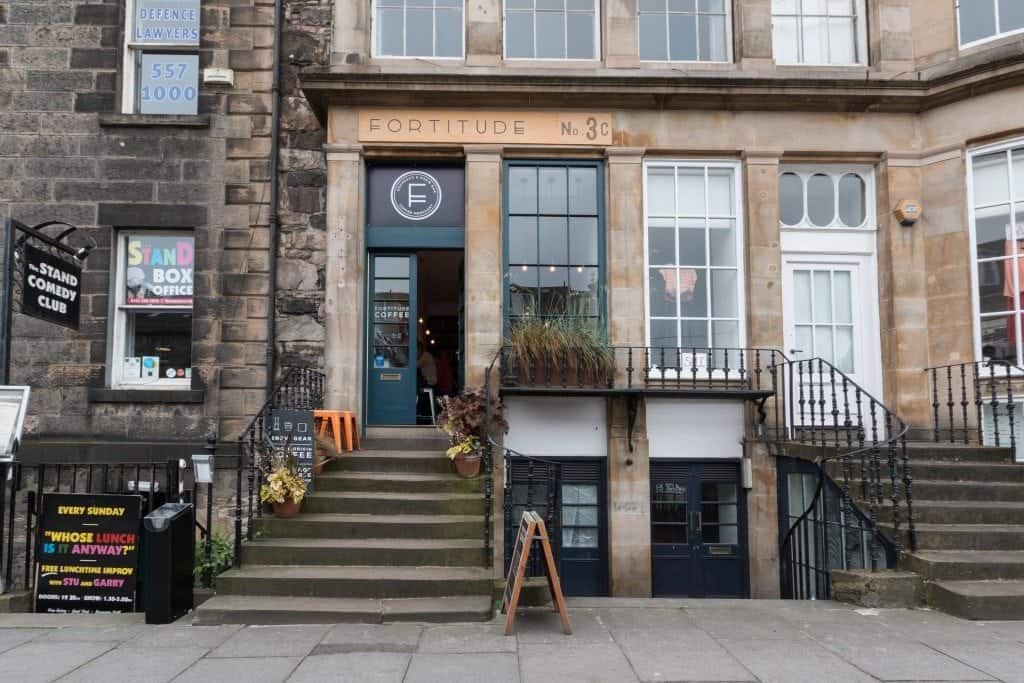 Choosing what to drink in a multi-roaster cafe is always a difficult task. Matt came with a strong recommendation to taste Gadigha AA, a filter coffee from Kenya, roasted by Danish La Cabra, and prepared on a Kalita Wave. It was one of two coffees offered as filter coffee along two other options for espresso. Even though we were very excited about their filter coffees most orders from their customers are for flat whites. "It gets more interesting during weekends when people are more relaxed, and can spend more time drinking filter coffee," comments Matt on the beverage preference. Roasters we spotted on the shelves were Colonna Coffee, Workshop Coffee, Climpson and Sons and DROP Coffee, ready to be taken home or used in the shop in the upcoming days.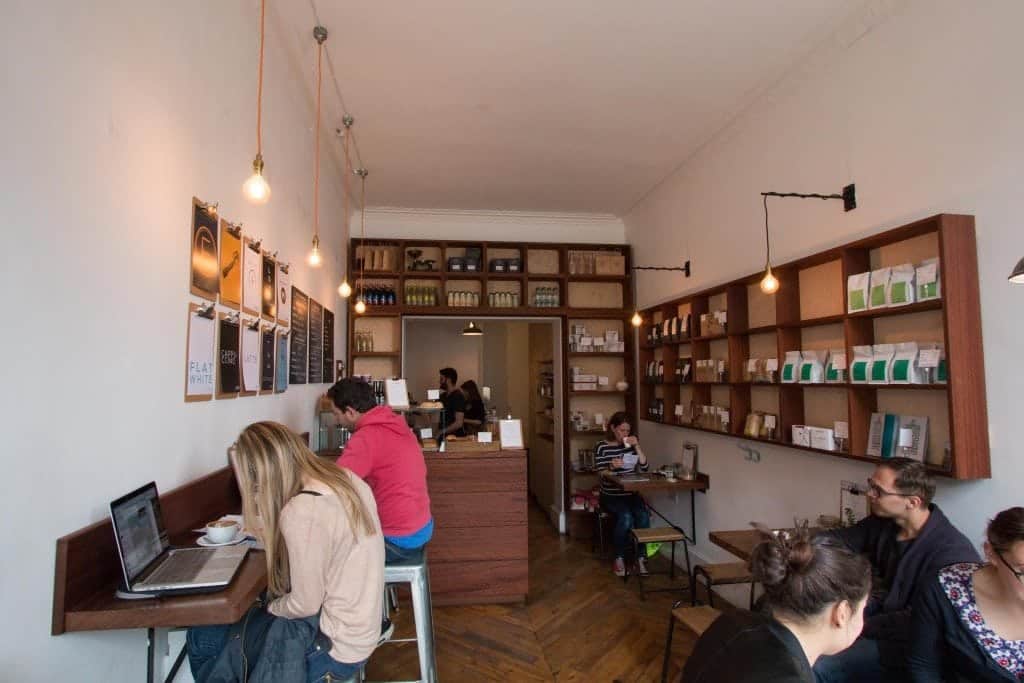 Fortitude's coffee bar is designed the way that nothing stops the communication between the baristas and the customer. You choose your coffee from a simple menu on the wall, add a small breakfast or a snack, and enjoy the chilled atmosphere of the wooden interior. Baristas behind the bar operate a slightly hidden, yet beautiful La Marzocco Linea PB, and two Anfim grinders.
3C York Pl, Edinburgh EH1 3EB
Official website, Facebook, Twitter
Lowdown Coffee
Walking down George Street you will catch the sign "Lowdown Coffee", inviting you to a new place opened by Paul Anderson in February 2016. The cafe situated under the street level will surprise you with its light and clean, Japanese-inspired, semi-basement interior. The bar might be a bit hard to find though. It rather feels like your home kitchen. Here, you are invited to sit down and even come to talk with your "mama", in this case Robbie Calvert who works here as a barista.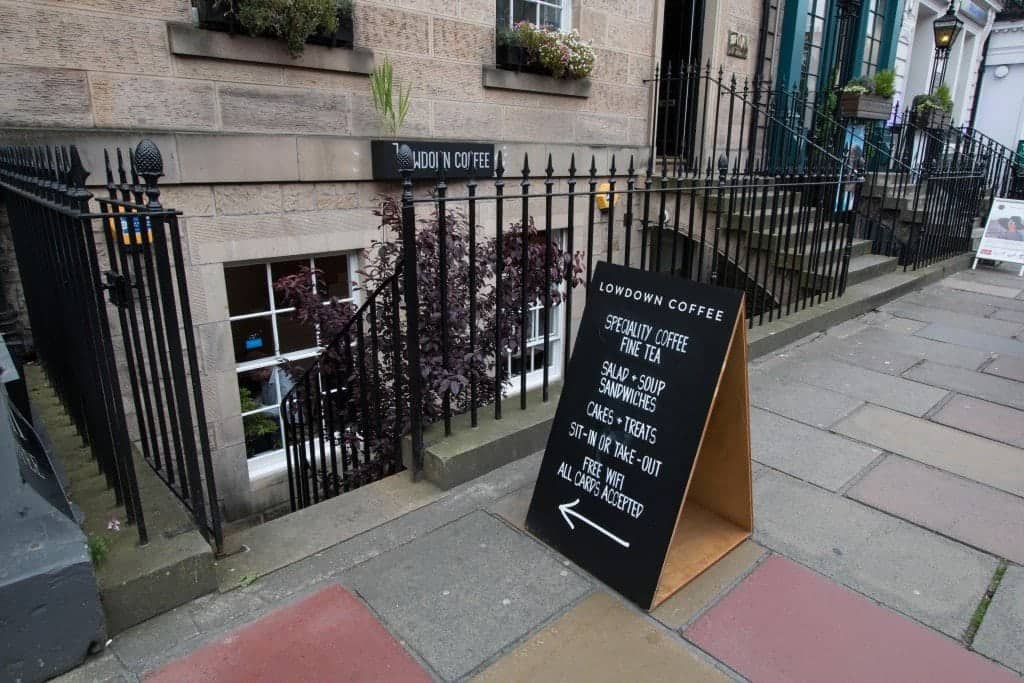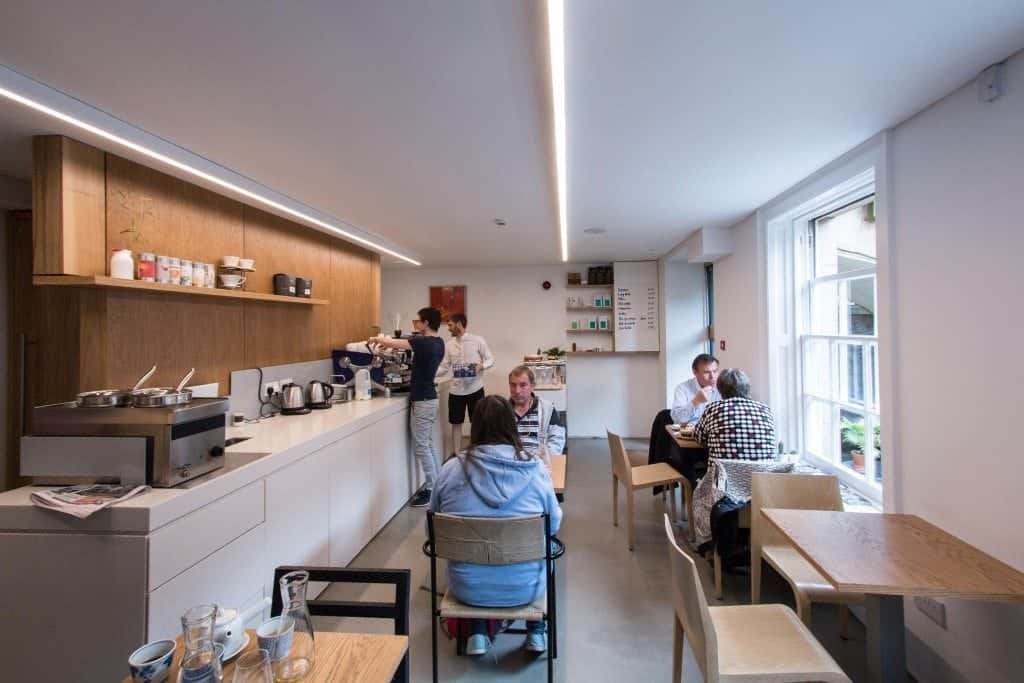 "The idea behind this missing-the-bar set up is to save space and create a different atmosphere. We provide table service which is then possible to achieve with this arrangement," explains Robbie while pouring us a glass of water. "We want to keep the coffee menu clean, and be able to socialise instead", continues the barista talking about coffee options to choose from. Every day there is only one espresso coffee and one filter coffee on offer. We opted for a sweet Ethiopian Biftu Gudina by Colonna Coffee brewed with a Kalita Wave.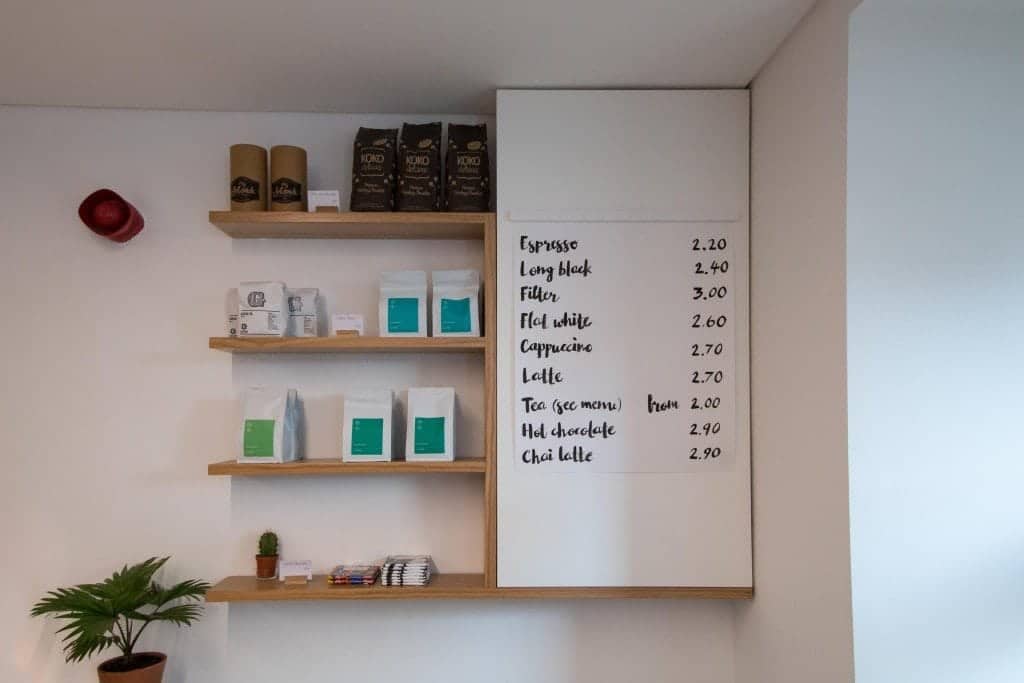 It is the only cafe in Scotland that uses EK43 as their sole grinder. Furthermore, the espresso hopper is improved with a volumetric doser from Titus Grinding to achieve a more efficient workflow. Recently it was the season of brazilian coffees. Brewed on a 2 Group Slayer espresso machine it was Five Elephant's Sitio Canaa first, after they switched to Workshop Coffee and its Cult of Done, a naturally processed coffee from Jacon & Hamilton Brothers. If you fancy a snack with your coffee, there is a selection of sweets and sandwiches, or you can go for a delicious soup, as we did. It is surprising to see how many things can be arranged within such a small space.
Brew Lab West End
Brew Lab on Queensferry St Ln is a little bit hidden, young brother of one of the best known cafes in Edinburgh. They opened in February 2016 and may be easily the best equipped cafe in the city. Brew Lab baristas work with 3 group Victoria Arduino Black Eagle Gravitech, two Victoria Arduino Mythos grinders, and Marco SP9 for hand-brewed coffees. Claire Wallace, a 2016 UKBC Finalist, was brewing coffees for us that day as well.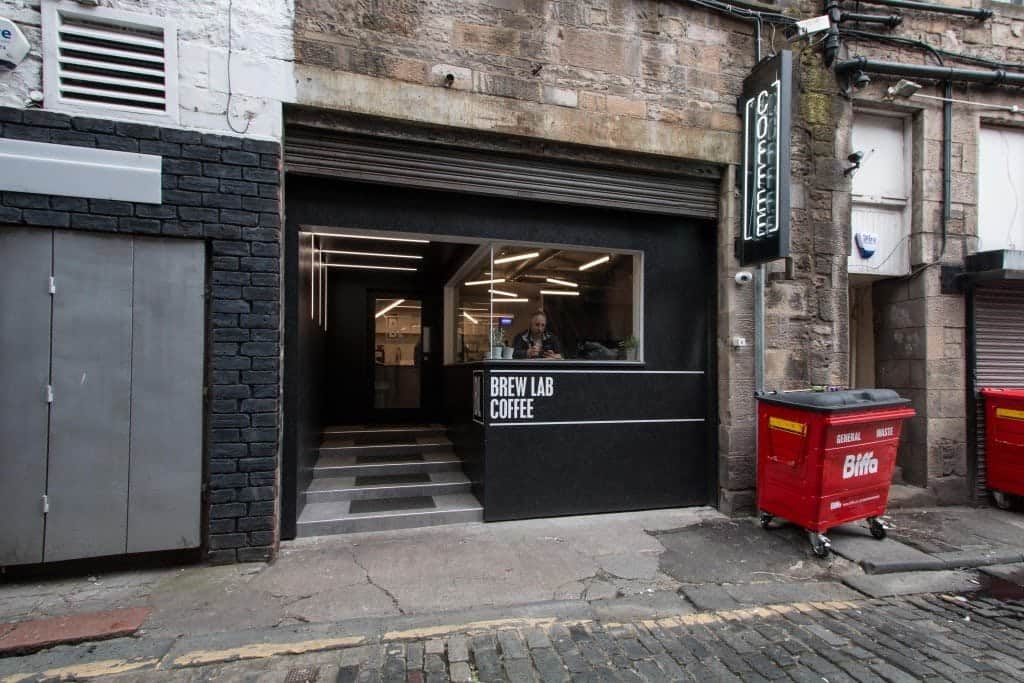 Coffee menu is divided into "coffee" and "anti-coffee" sections, we played it safe choosing from the first category. Two coffees for filter coffee and two for espresso at the time, we followed the recommendation of baristas and tried an Ethiopian Wegida from Square Mile Coffee Roasters. This coffee roastery, together with Has Bean, is the main supplier of coffee to Brew Lab. For filter coffee though the crew rotate a wider selection of coffees from Europe, for instance The Barn, La Cabra, or Colonna Coffee.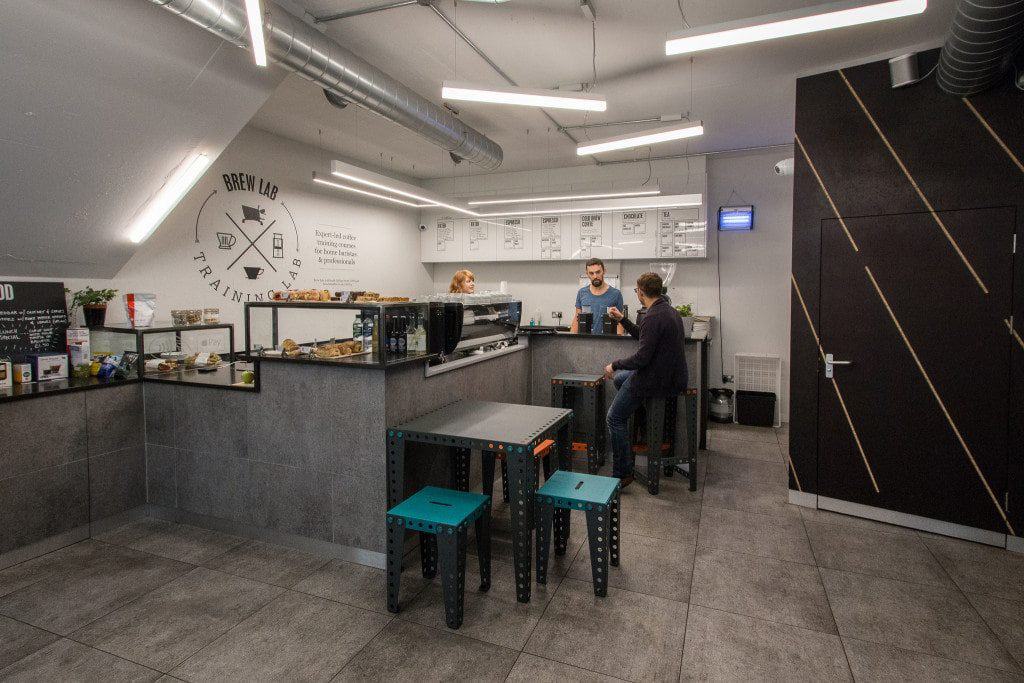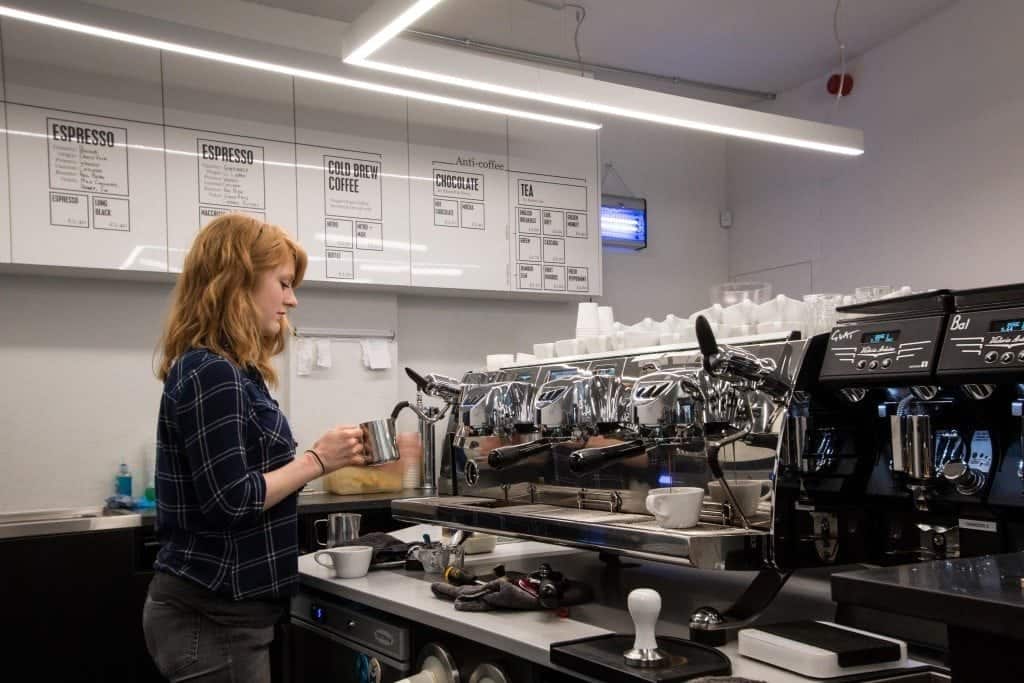 When it comes to interior Brew Lab is fitted in a modern style. With the seating area divided into several sections you get to choose between a window seat and a seat at the brew bar. Chairs and tables are put together as a Mechanix toy, creating somehow technical, yet playful atmosphere. Before leaving we grab a bottled cold brewed coffee that Brew Lab now makes also for retailers in the UK. At the cafe you can taste it as a Nitro Cold Brew with, or without milk. What a refreshing summer drink!
3 Queensferry St Ln, Edinburgh EH2
Official website, Facebook, Twitter
Cairngorm Coffee
Cairn Gorm is a mountain in the Scottish Highlands, about 3h drive north from Edinburgh. At 1245 masl it is the sixth highest mountain in the United Kingdom. It is the part of Scotland where Robi Lambie, owner of this cafe, grew up, and where his father ran a local cafe. Robi used to spend a lot of time there as a boy. Naturally, opening his own cafe was an expected progress after moving to the city.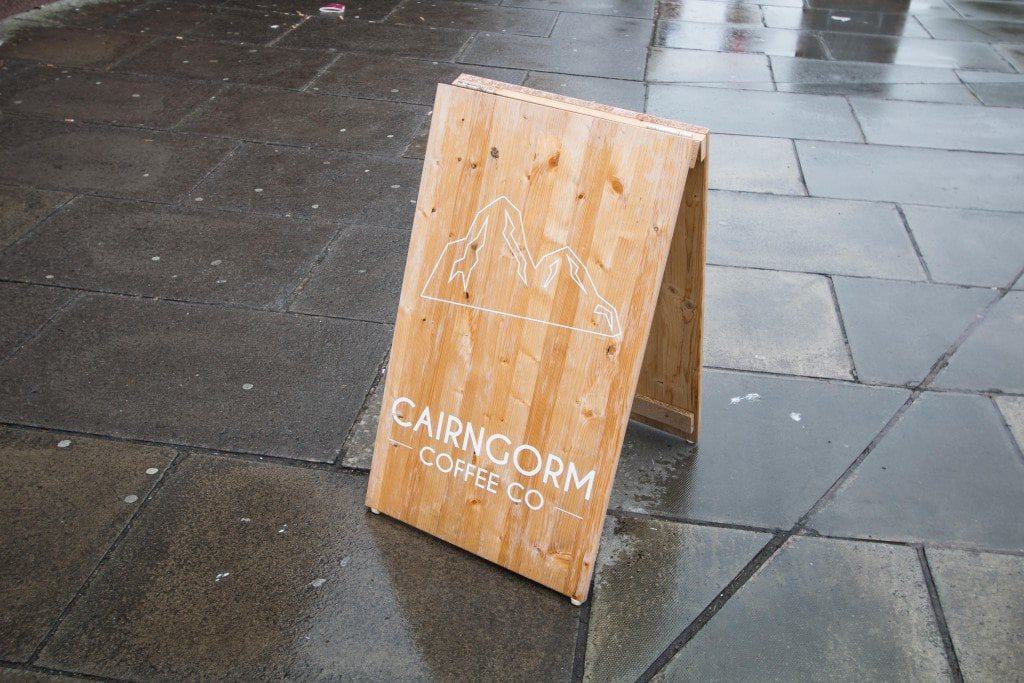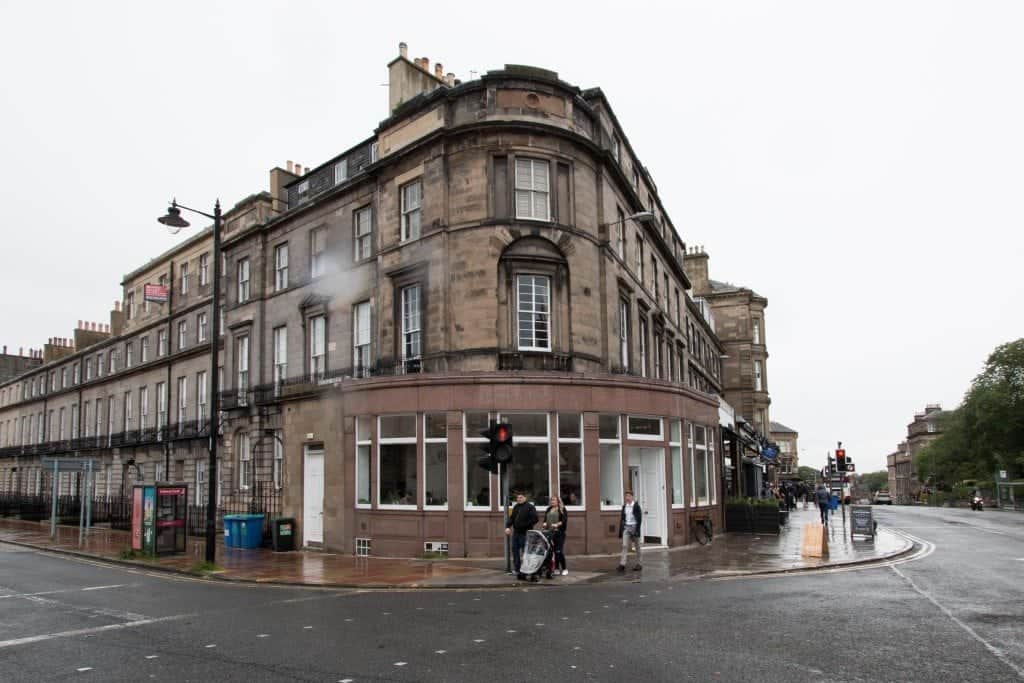 The cafe on Melville St., opened in March 2016, is their second cafe in Edinburgh, constructed with an increased attention to coffee in mind. The cafe is spread across one corner of the building, with big windows allowing the natural light to come through and make the already light interior even brighter. Atypical round shape of the building allows for an interesting interior design. It is divided into three parts – the bar area around the espresso machine on the right, long bar tables at the windows on the left, and some traditional table seating just in front of you. Whatever your preference that day you can enjoy the view from the large windows from any seat. "This building was a bank before it was turned into a cafe. Our kitchen is where the former safe had a place. It looks different, but you can still recognise it," reveals barista Miles Libke. Miles comes from Australia so our order of a flat white was obvious, as it is for many people, and it seems to be the most common drink on order in Scotland. It is so popular that some cafes choose this drink as their wifi password. It is up to you to find the matching wireless though!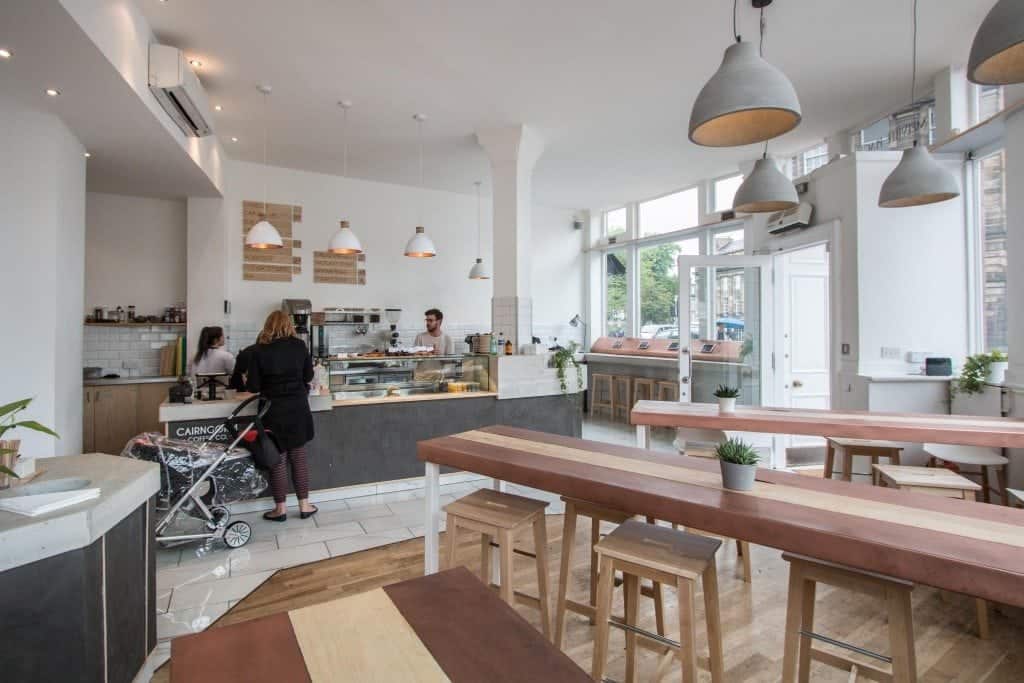 Miles brewed us a flat white with a Brazilian Pulped Natural coffee from danish La Cabra, using a 3 group Sanremo Opera machine, and two Victoria Arduino Mythos grinders. If you fancy a filter coffee he would use their white Mahlkoenig EK43 to prepare a delicious brew for you.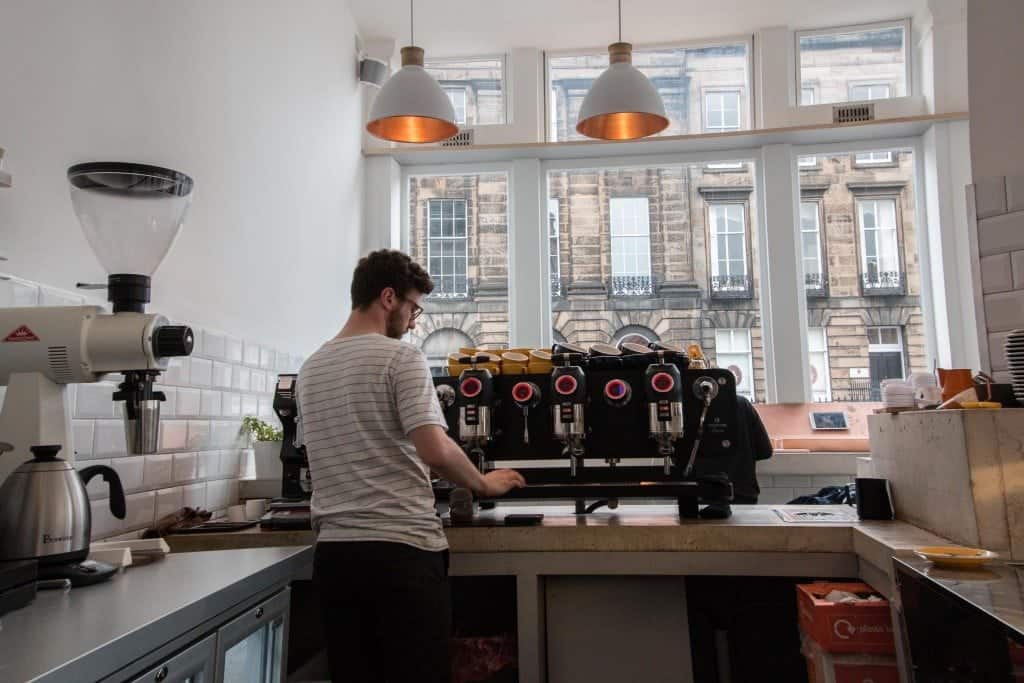 Cairngorm Coffee is a tourist-friendly cafe operating several iPads for their customers, so that they can check their emails, or plan the rest of their day. The whole team is getting pumped for this year's Edinburgh Festival in August.
1 Melville St, Edinburgh EH3 7PR
Official website, Facebook, Twitter
Artisan Roast
Artisan Roast at Broughton St is where JK Rowling never wrote any of her books. "And I never will" is what she added below the sign on the wall. With this funny cultural reference to all the touristic places taking advantage of her name, Artisan Roast was, together with Dear Green, and Steampunk, the pioneer of speciality coffee in Scotland. We were pleased to visit the place where it all started.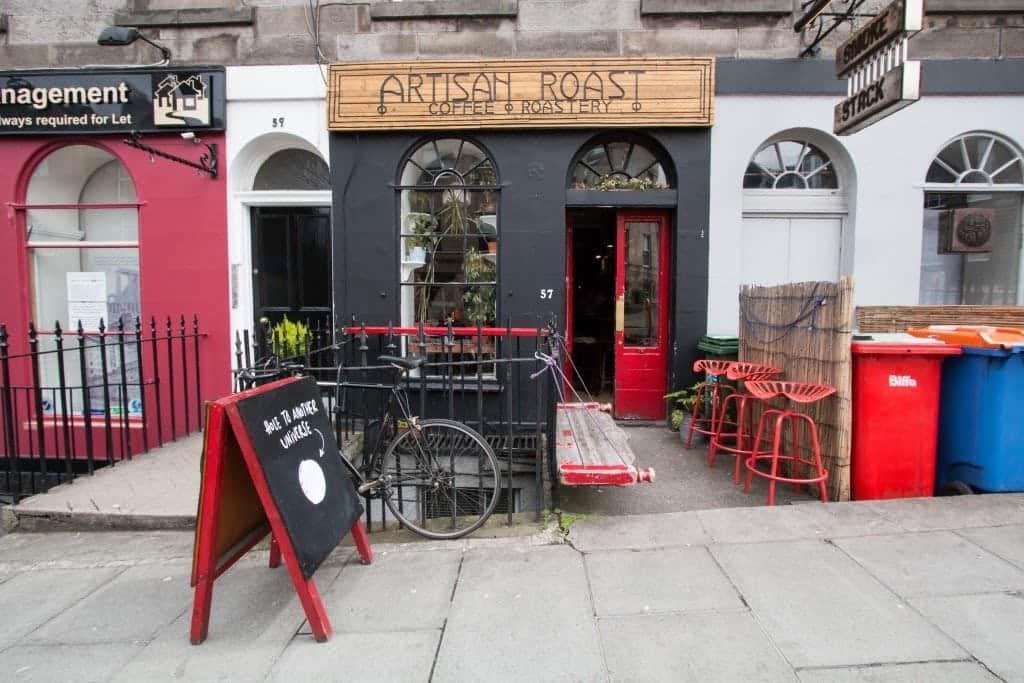 This cafe does not have a simple design concept, nor much light, it may not even fit in the category of third wave cafes. In its aesthetics it is rather dark and perhaps you'd call it shabby, yet it is a cafe where you will feel great and welcome. You would be looking for the bar to no end, since there is none! It feels as if you just entered the living room of your friends, and coincidentally, there are two baristas working one espresso machine and taking orders from people. Our baristas, John Schmick and Isabel McCabe, filled the room with their friendly chat and laughter.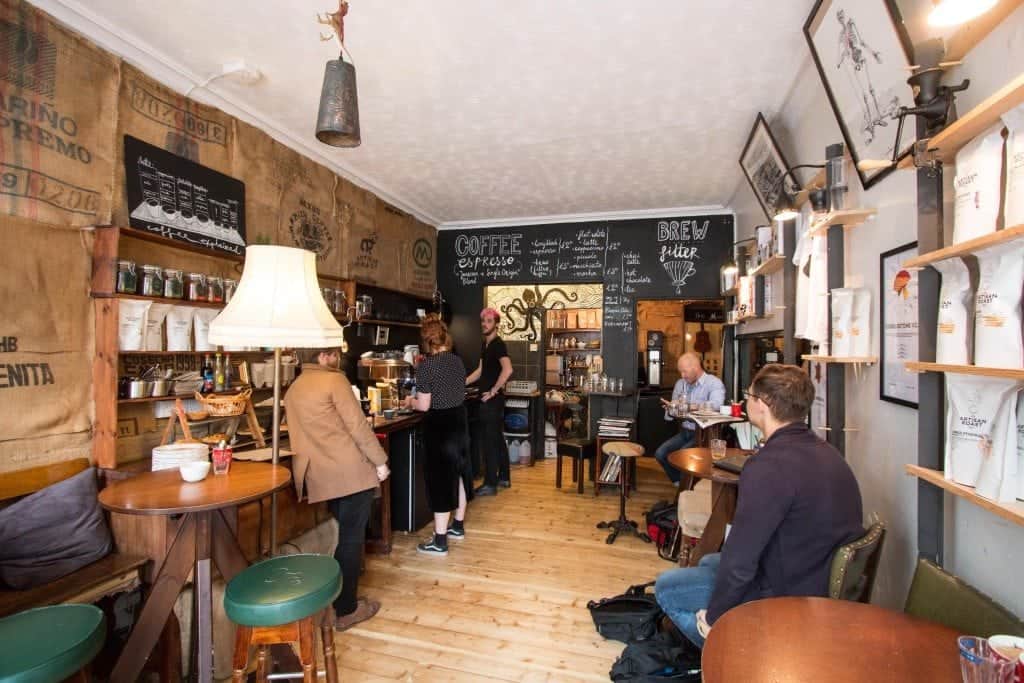 We ordered a Kenyan coffee from the brew bar. Kamwangi AA was one of three coffees to enjoy filtered, either as a Chemex, an AeroPress or a V60 brew at the moment. The majority of orders came for the espresso machine though, 3 group La Marzocco Linea, with two coffees waiting in hoppers of the Anfim grinders. Janszoon is currently a blend of Sumatran (70%) and Brazilian (30%) coffees, and it goes to the most flat whites with a motto "the artisan coffee that shows milk who's the boss".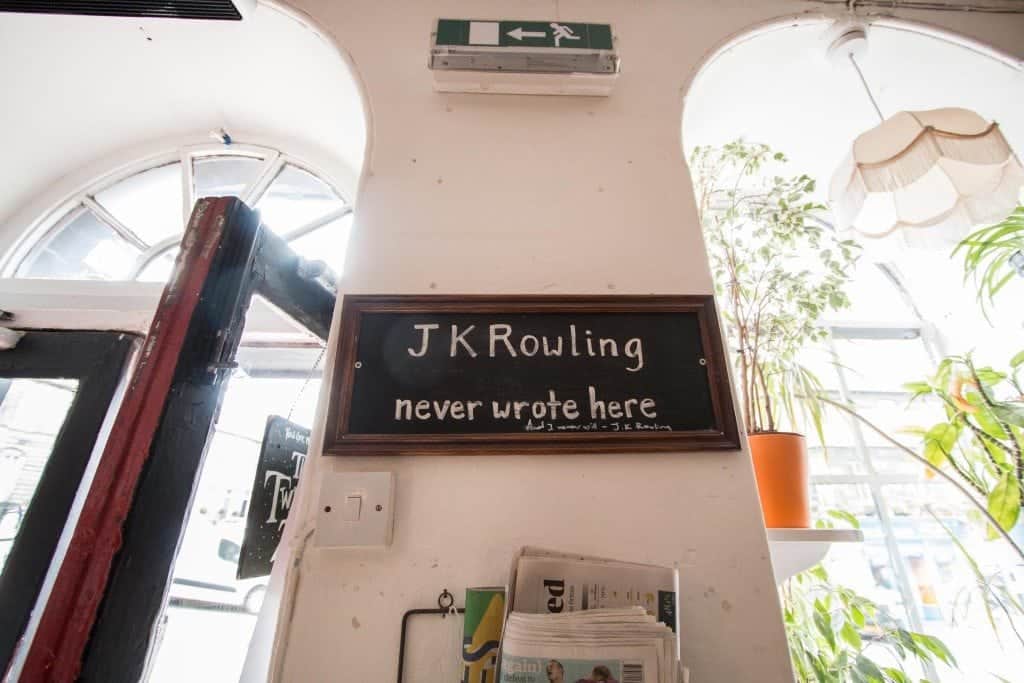 JK Rowling should really change her mind!
57 Broughton St, Edinburgh EH1 3RJ
Official website, Facebook, Twitter
Filament Coffee
Jamie Craig opened Filament Coffee in March 2015 after having lived and worked as a barista in Australia and New Zealand for several years. The close proximity of the University of Edinburgh ensures many students come for their wake-up-and-study drinks, as well as freshly made bagels and juices, before heading for a lecture.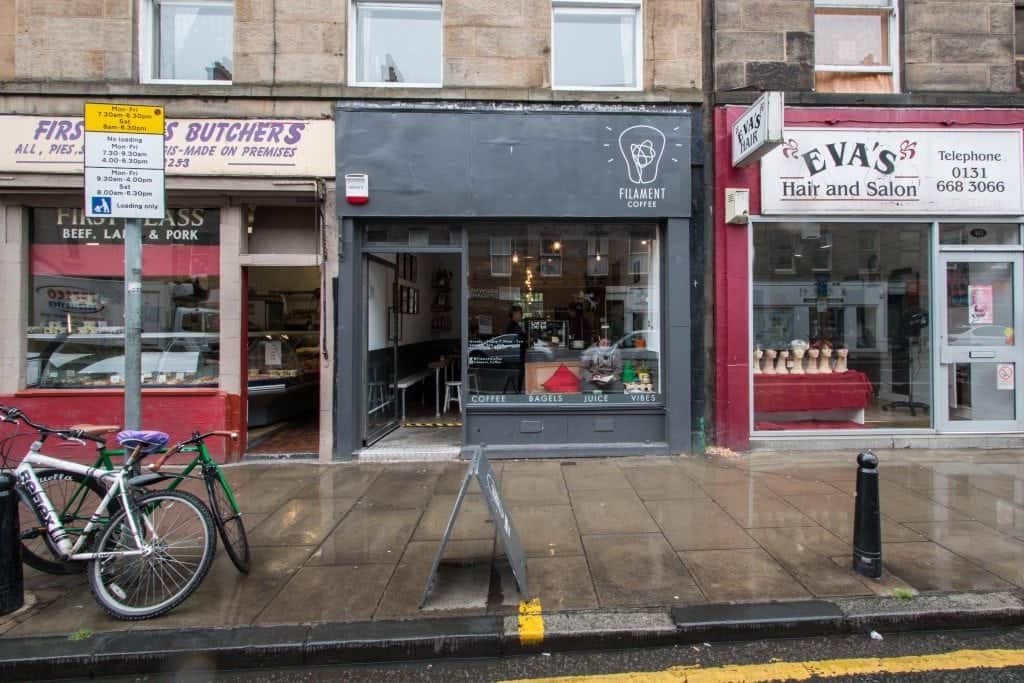 Their coffee menu is very simple and straightforward – would you like your coffee black, white or filtered? There is also only one coffee available for each of those options. We opted for an AeroPressed Kenyan Gichepori AA, roasted by Square Mile Coffee Roasters. Jamie is a big fan of Aeropress so he placed all his favorite posters from national Aeropress Championships on the walls of the cafe. No surprise his favourite one is the one from last year's Scottish championship!!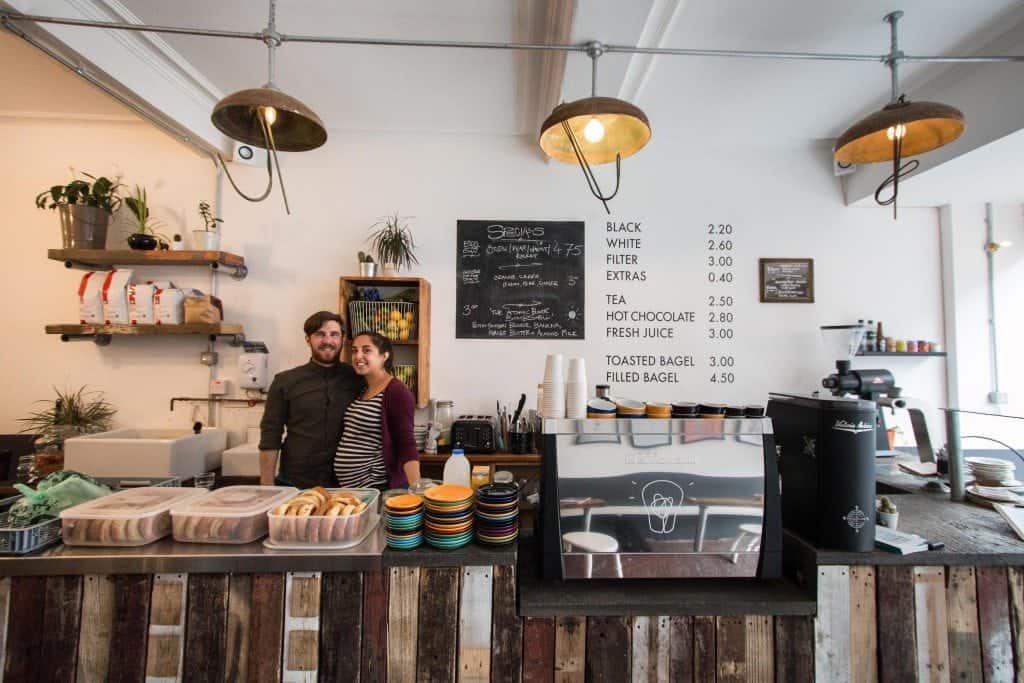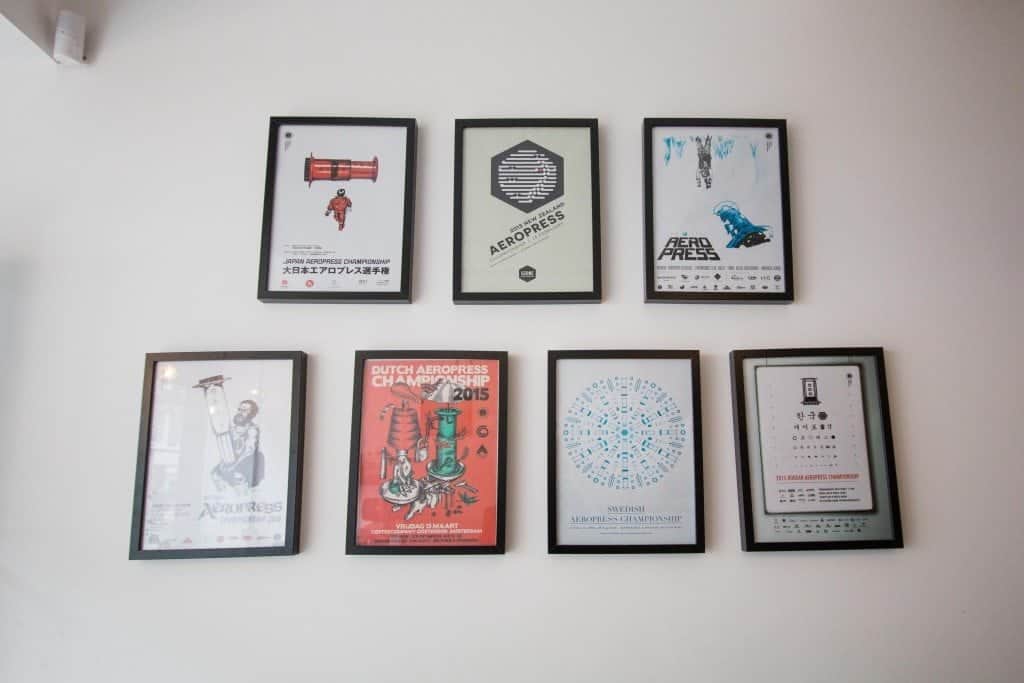 When it comes to espresso Filament Coffee works closely with Has Bean, and Dale Harris, Has Bean's Director of Wholesale, helps to secure the right coffee for them. This time it was washed Pacamara variety from El Salvador. Jamie craftily prepared it on a Nuova Simonelli Aurelia II espresso machine, using a Victoria Arduino Mythos grinder. This set up is backed up by Mahlkoenig EK43, for filter coffee. Coffee is served in colourful Inker cups, with a selection of tourist spoons that the owners either collected or received as gifts over the last years. The most popular one is the spoon from the Scottish Highlands, showing a cow on the handle.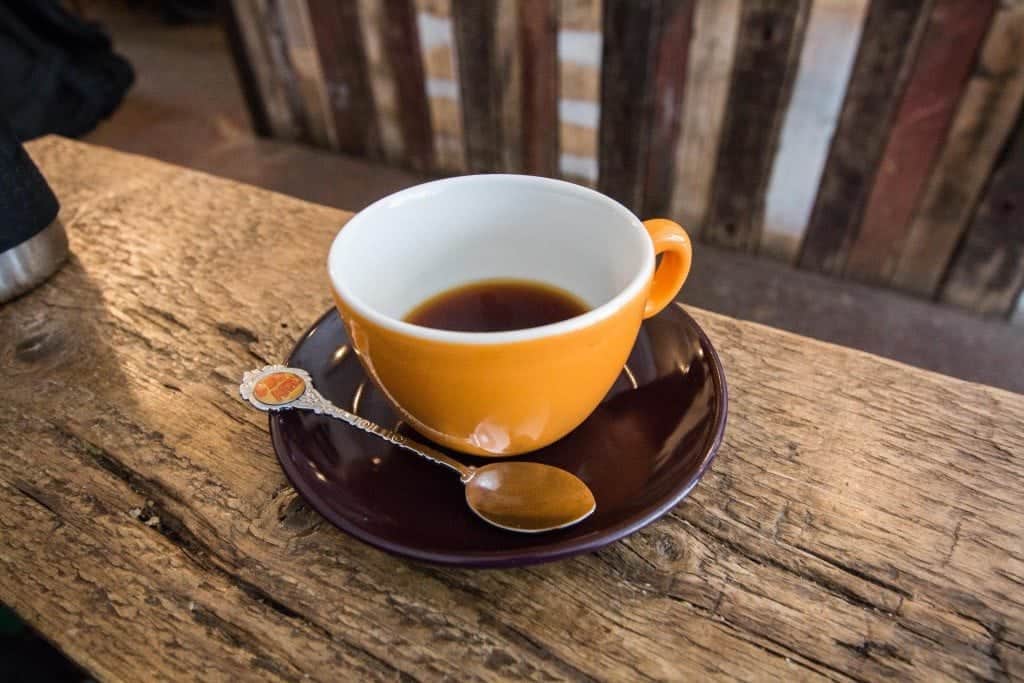 Playful logo of a lightbulb with the filament in it decorates both espresso machine and the walls of this cafe. The coffee bar is paneled by antique wooden desks in various colours, and in the back of the long, narrow cafe there is a current exhibition of photos by Gavin Smart. Portraits of Nicaragua, his long term photography project, aim to share the stories of the people behind the industry. This time he visited coffee farms in Nicaragua.
38 Clerk St, Edinburgh EH8 9HX
Official website, Facebook, Twitter
Cult Espresso
Looking at the entrance to Cult Espresso you might think: "that is a tiny cafe". When you enter though you are suddenly in one of the longest and the narrowest cafes you can find in Europe, which, to our surprise, retains a great number of seats.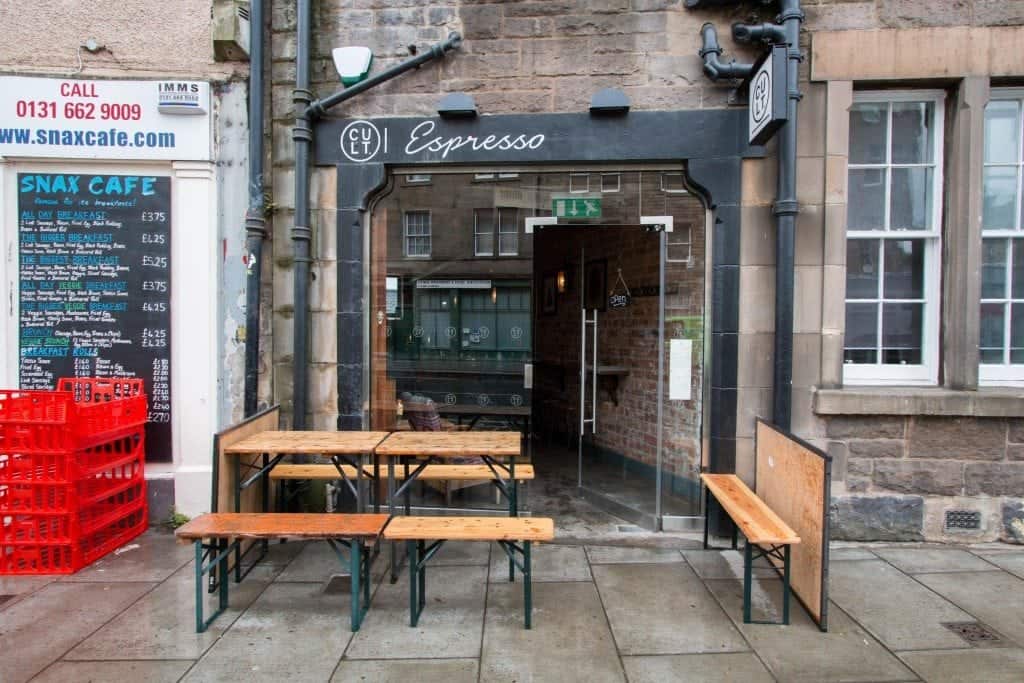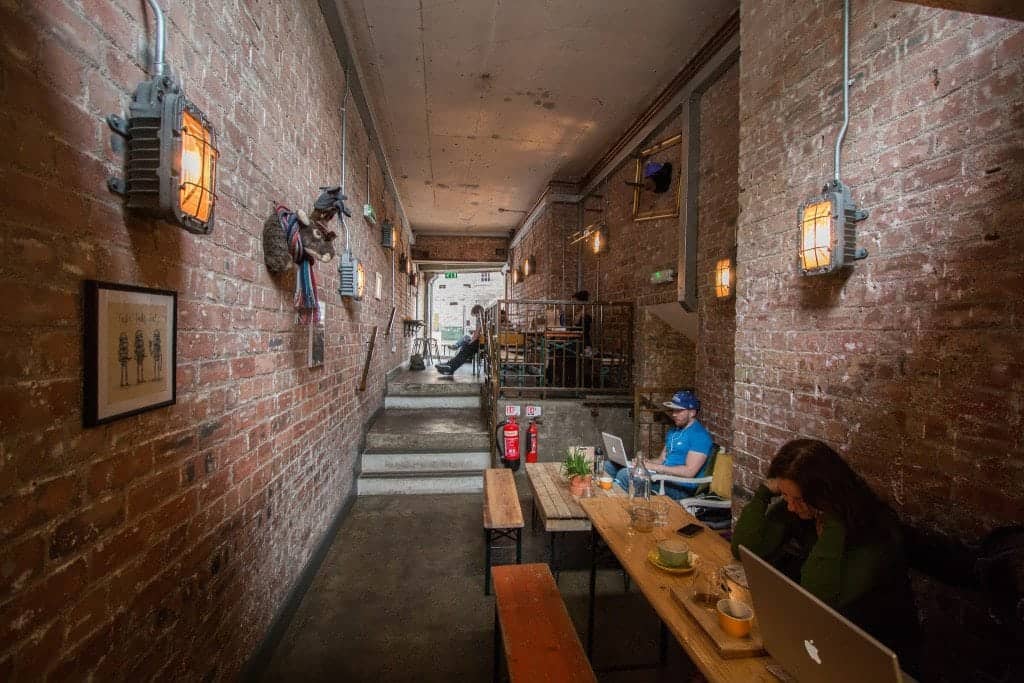 The bar is placed at the very back of the cafe so you need to walk all the way to the very back of it, if you want to talk to Garry Stone, one of the owners of Cult Espresso, and the rest of his team. The walk is worth it because you can already enjoy good music accompanying you there. "We built this place all from scratch, just by ourselves," explains Garry Stone the history of Cult Espresso, opened in late 2014.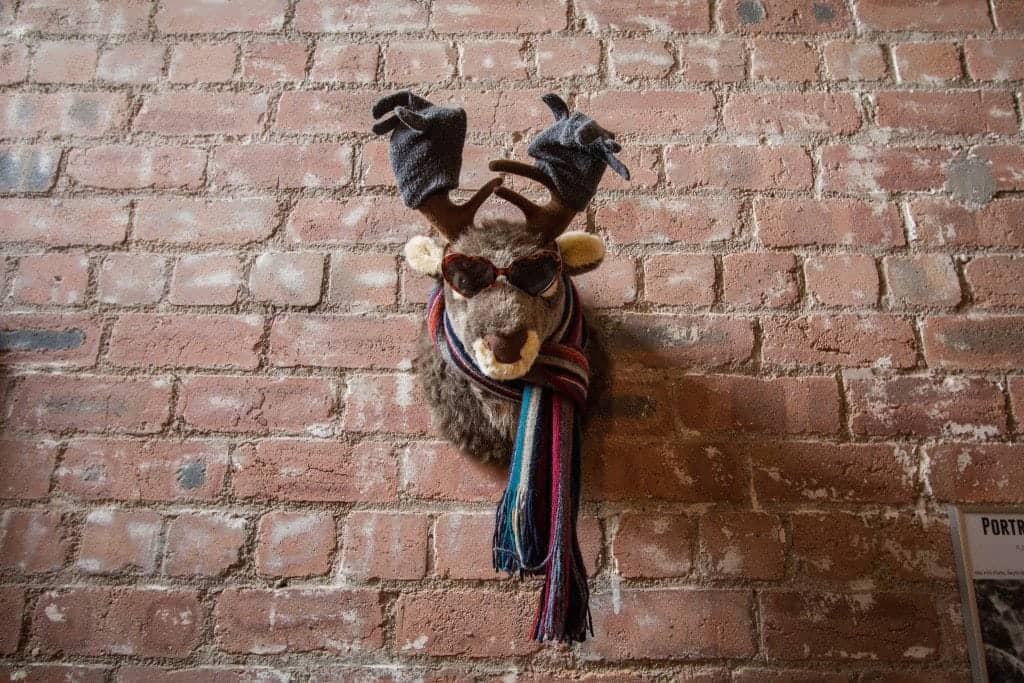 At the bar you meet Bert and Ernie. No, these are not baristas, these are the names of three different grinders for espresso and filter coffees. Each of them are different, not only by name, but also by brand, too; Nuova Simonelly Mythos, Mahlkoenig K30 and Tanzania. We tried a Rwandan coffee from Williams & Johnson, a new small specialty coffee roastery based in Edinburgh. Hopers of other grinders were filled with coffees from Bath's Round Hill Roastery. We cannot forget to tell you about Florence, a custom-made Kees van der Westen Mirage Duette espresso machine, with the Cult logo burnt into spalted beech side panels. Tampers are also custom made by Peter Kilpatrick of Made by Knock, using the exactly same wood.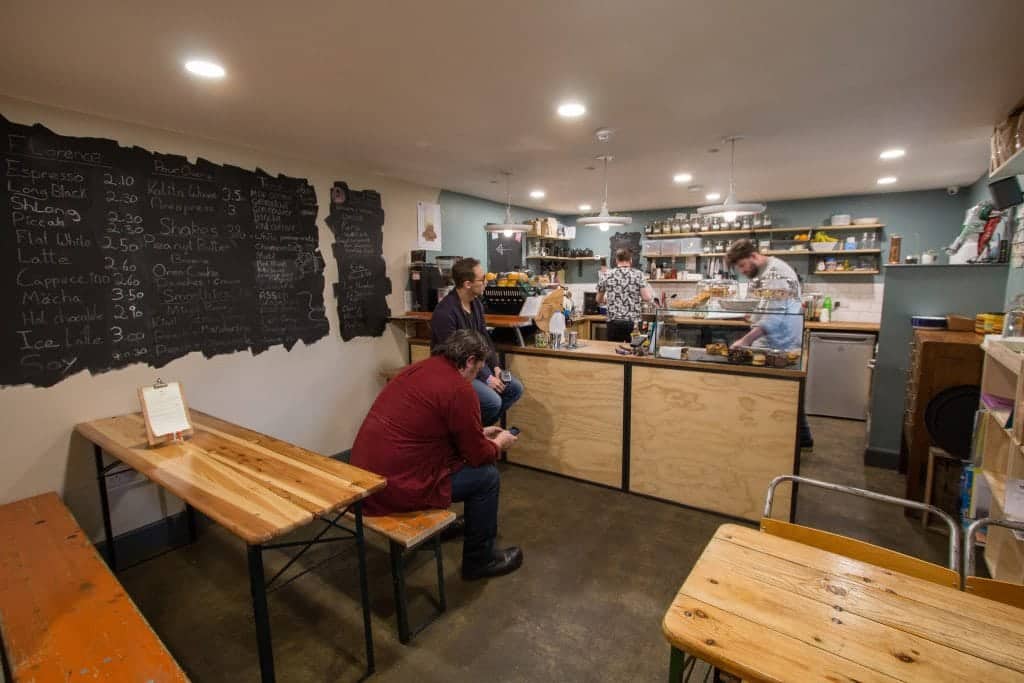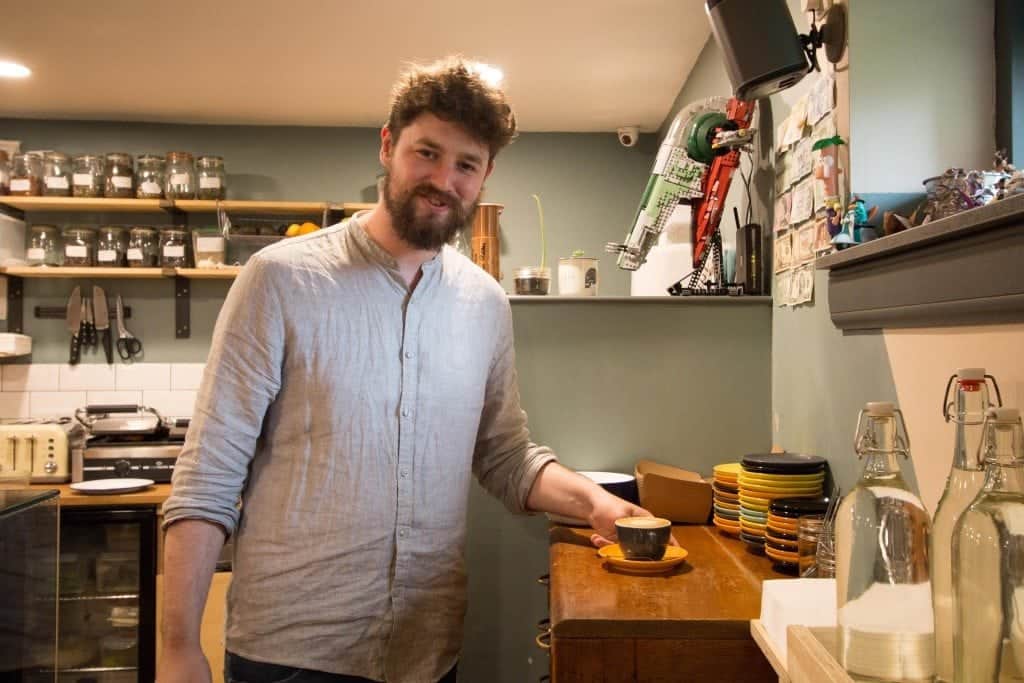 We even met Peter at the cafe and chatted about the history of Made by Knock, current trends in hand grinders and in tampers, and Peter introduced us to the latest version of Feldgrind, "a military grade Porlex", as he would call it. We took one with us back home to test it properly. Thank you Peter!
104 Buccleuch St, Edinburgh EH8 9NG
Official webiste, Facebook, Twitter
Brew Lab
We almost missed the chance to see the original Brew Lab in the Old Town area! Most of the cafes close early, between 5pm and 6pm, so make sure to plan your visit accordingly. Luckily for us, Emiliya Yordanova, Brew Lab's head barista, just held a regular workshop with the whole team. They were working on a new recipe for the brew bar, Kalita Wave playing the main part in it. Next to the brew bar a 3 group Victoria Arduino Black Eagle, two VA Mythos grinders, Mahlkoenig EK43, and Marco Boiler ensure an efficient workflow of baristas.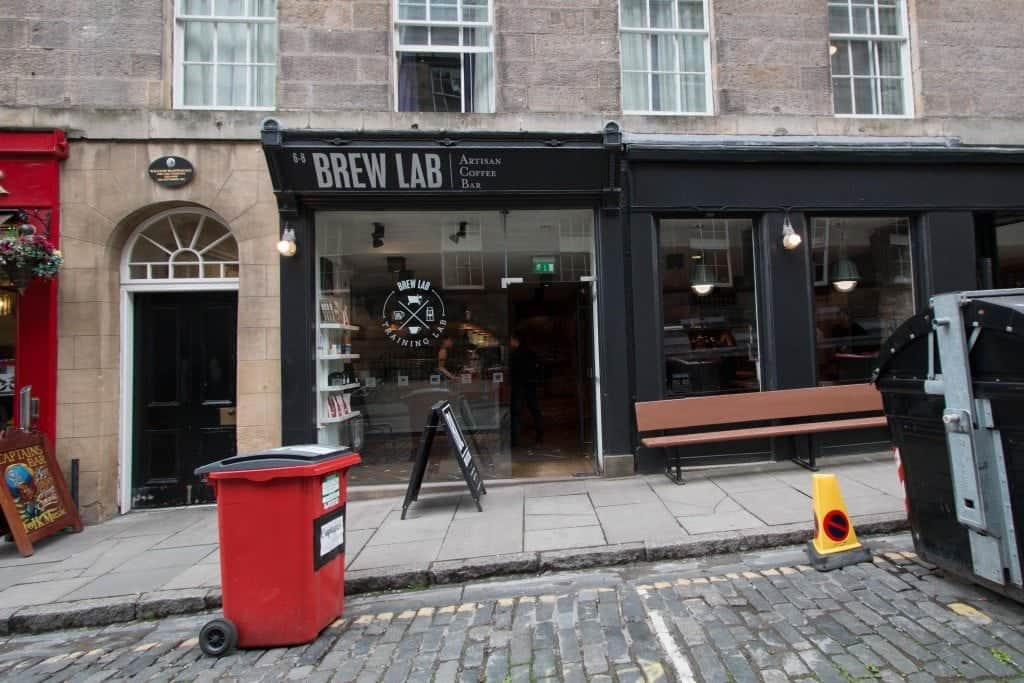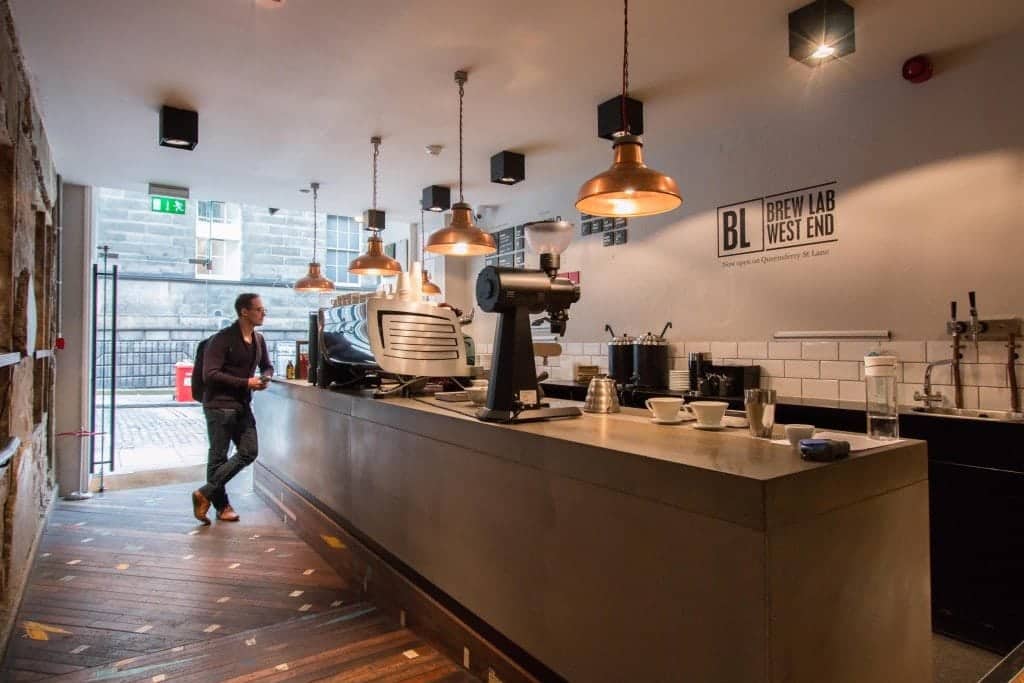 This cafe was opened in 2012 and next to the coffee menu, that is similar, if not the same as in its West End sibling, it offers an extended food offering in a form of a brunch and a lunch menu. We just passed by around midday, when the place was incredibly packed despite of the semester having finished. The cafe is designed as a mix of old and new. Clean, polished concrete bar, with a chemistry chart-like menu on a grey wall fits the new category, and the naked brick walls and antique furniture in the rest of the cafe provide the old vintage feel that encourages you to sit down and relax.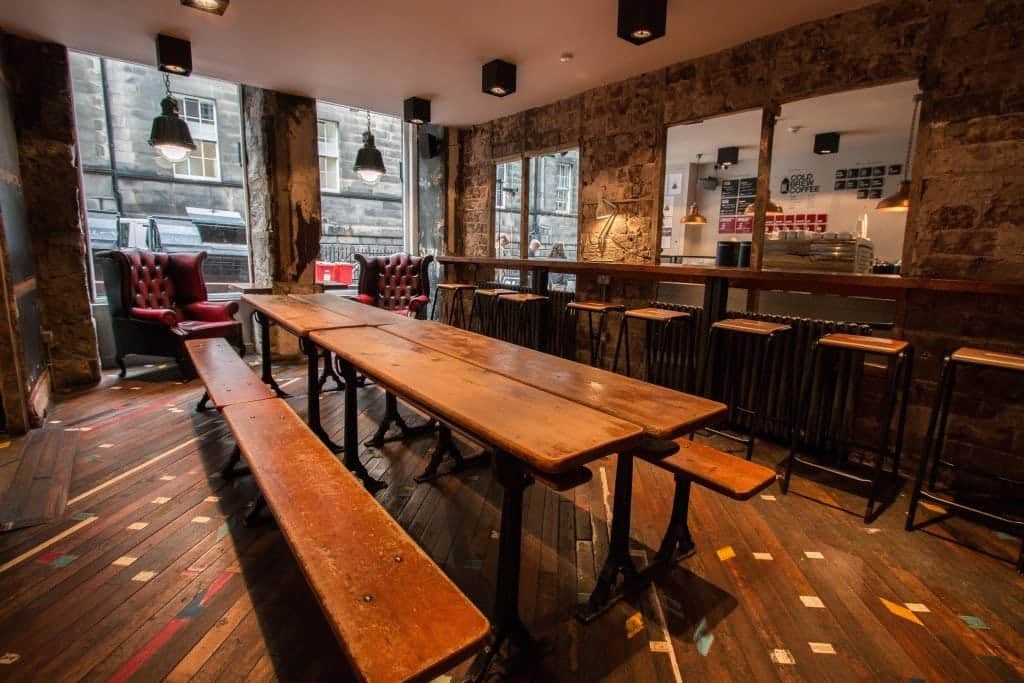 At Brew Lab they pay attention to education. Not only for their own baristas, but also for the public. That is why they built in their training lab, just below the cafe. Several public courses run every week, whether you want to learn about espresso, latter art, or brewed coffee, you will find a course that will fit you well.
6-8 S College St, Edinburgh EH8 9AA
Official website, Facebook, Twitter