German speciality coffee scene would usually be associated with the cities of Berlin and Hamburg, but does anyone know about the developing scene in Frankfurt? One of the major international airports in Germany brings coffee drinkers from across the globe and that is only one of the reasons why Frankfurt might easily become the rising coffee star in the near future.
The seven featured cafes and roasters in this article should not be missed on your trip to Frankfurt.
Hoppenworth & Ploch
Matthias Hoppenworth and Julian Ploch, founders of Hoppenworth & Ploch roastery and café, opened their door already 7 years ago. Two friends who used to geek out about coffee and espresso machines sharing the dorms at the Goethe University residence in Frankfurt, took up the challenge of opening a café in the newly built part of the campus. Of course the coffee quality was not as good as it is now and so the roasting became the next step in influencing the quality of a cup their customers can get.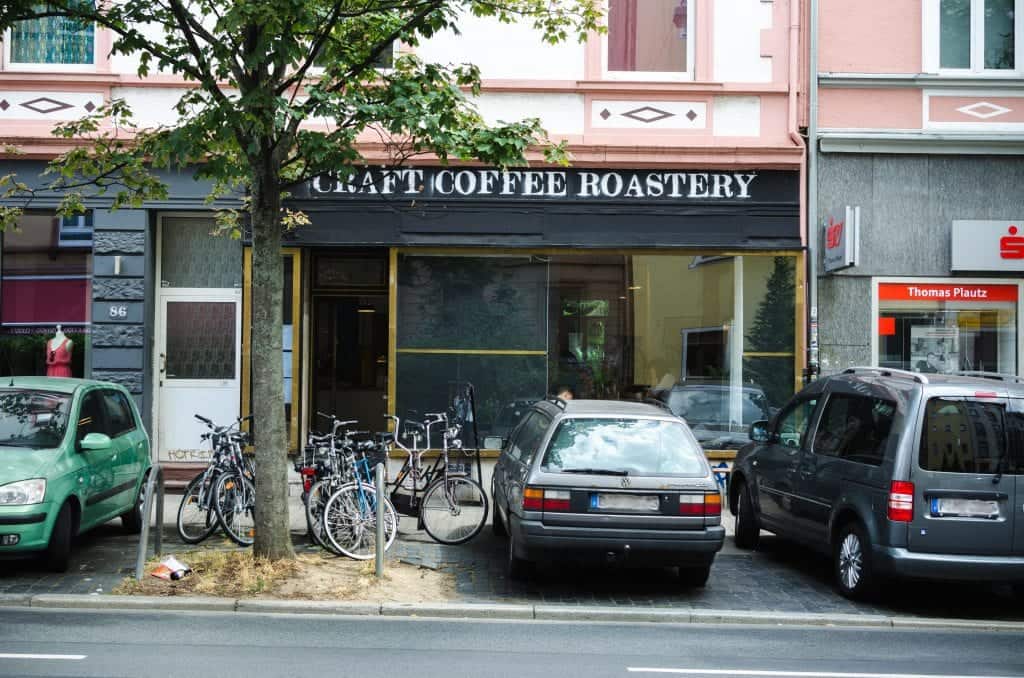 Friedberger Landstraße is where the café & roastery is situated and where we headed first. We chose to taste a V60-brewed honey processed Las Nubitas from El Salvador as one of the four coffees on offer, opting for an Amkmeni cappuccino afterwards. Tanzania is the first country of origin that the roastery is trying to establish a direct trade relationship with. "I am going to Tanzania in October again and I would like to meet new farmers over there," explains Matthias when we get to discuss further their plans in this country of origin.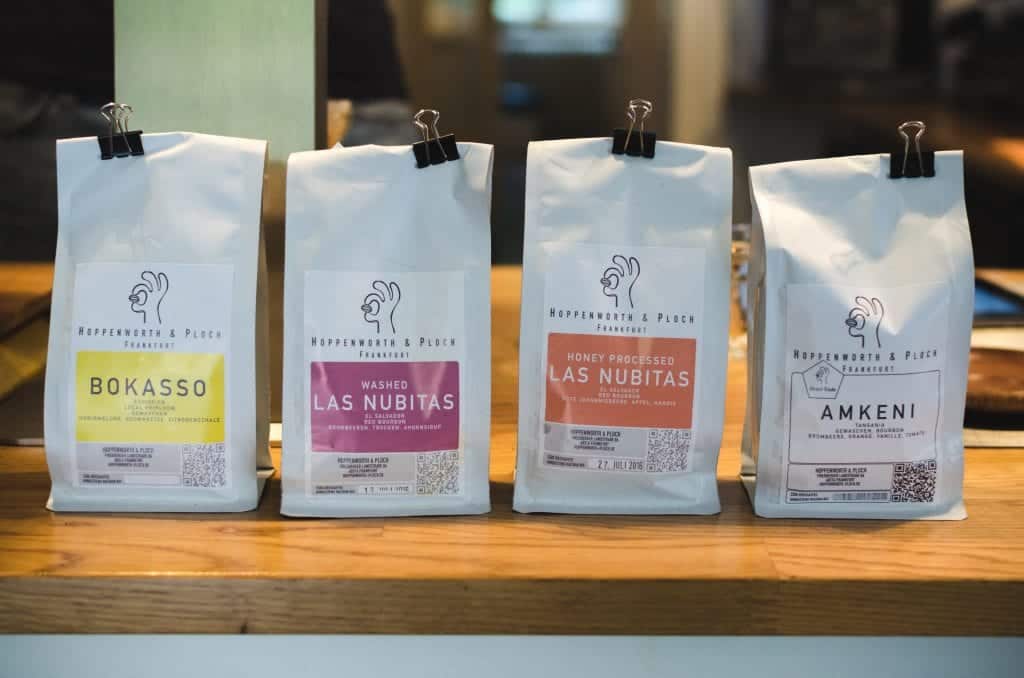 You can enjoy your cup of coffee relaxing in the large front window that brings a lot of light into the café or sit at a big communal table with a view on both the bar and the roasting area within the space. On the bar, 3 Group La Marzocco Linea and Mahlkoenig Twin are used for espresso extraction and Mahlkoening Guatemala grinder and Marco Über Boiler for filter coffee that offers only one method of brewing – V60.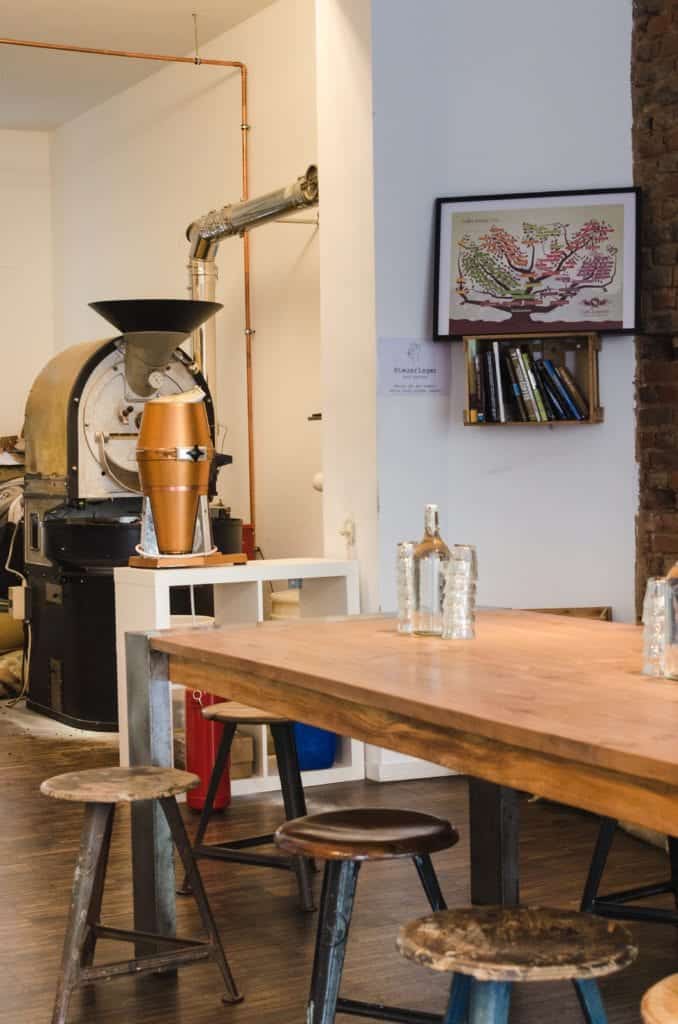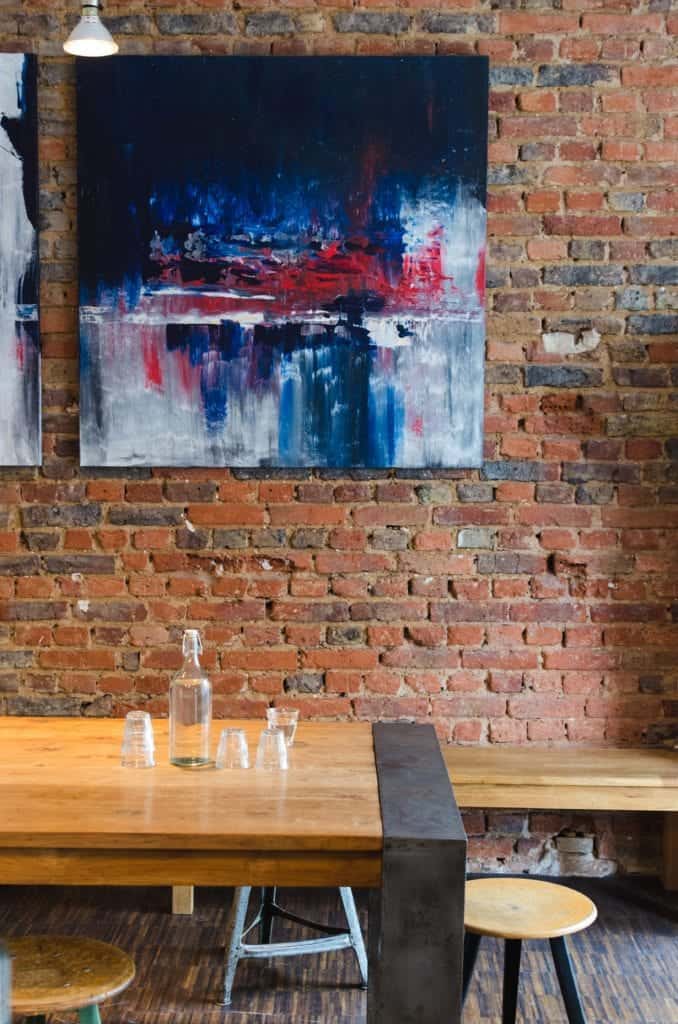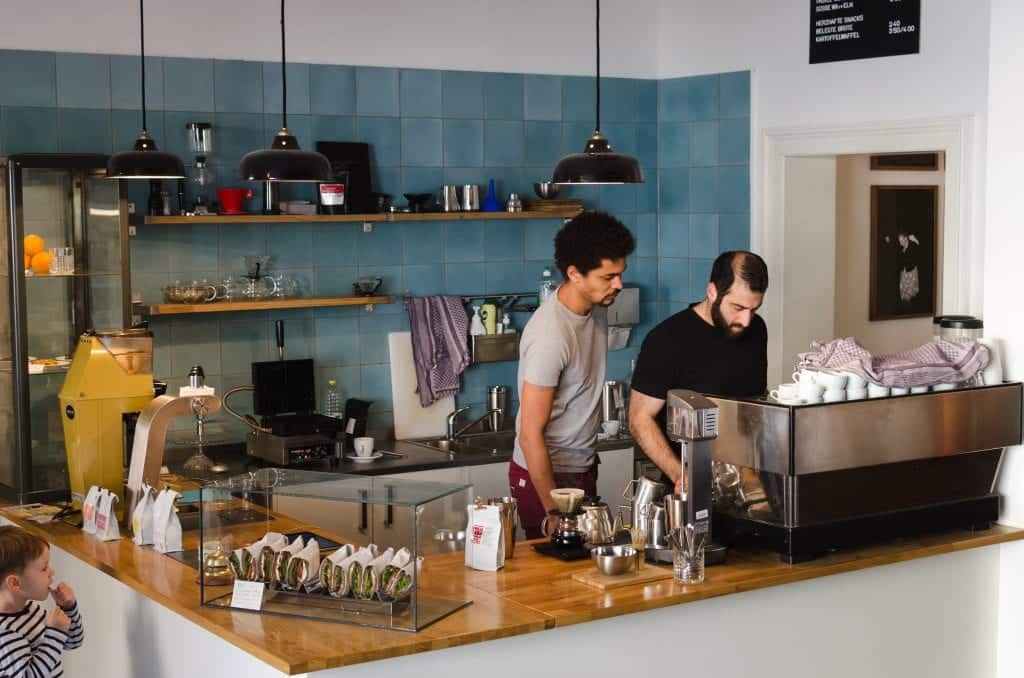 If you have already learned all the details about their coffee from one of the enthusiastic baristas, you can have a read in one of the books from the shelf of a small library. We picked Coffee Story: Ethiopia that was personally signed by the owner of NinetyPlus, Joseph Brodsky. "Joseph visited our café and we even bought some of his coffee. It's rather expensive for the local market though," explains Matthias. Standart magazine that featured the story of Hopplo as the common nick name for this place goes is placed proudly on the shelf too.
Friedberger Landstraße 86, 60316 Frankfurt am Main
Official website, Facebook
Tortenengel
Surprisingly, probably the best coffee equipment in Frankfurt can be found in a cake shop. Tortenengel (Angel pies) was opened in March 2015 by Ben Engel and serves their customers delicious cakes and equally excellent coffee roasted by Swedish Koppi. "I am not a barista I am a baker," comments humbly Ben while brewing our coffee.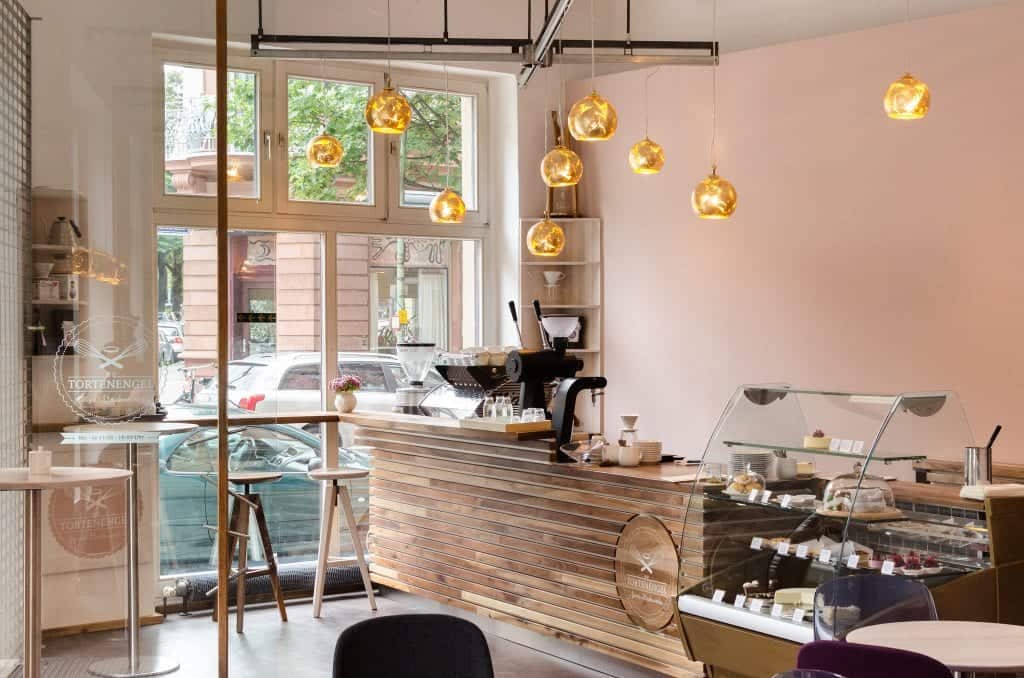 Kees Van Der Westen Mirage Duette Idrocompresso, Mahlkoenig EK43, Marco Über Boiler, Nuova Simonelli Mythos sound like a pretty angelic set up to us and Ben really tries  to match the high quality of his baking with coffee and using the right equipment is a way to do it.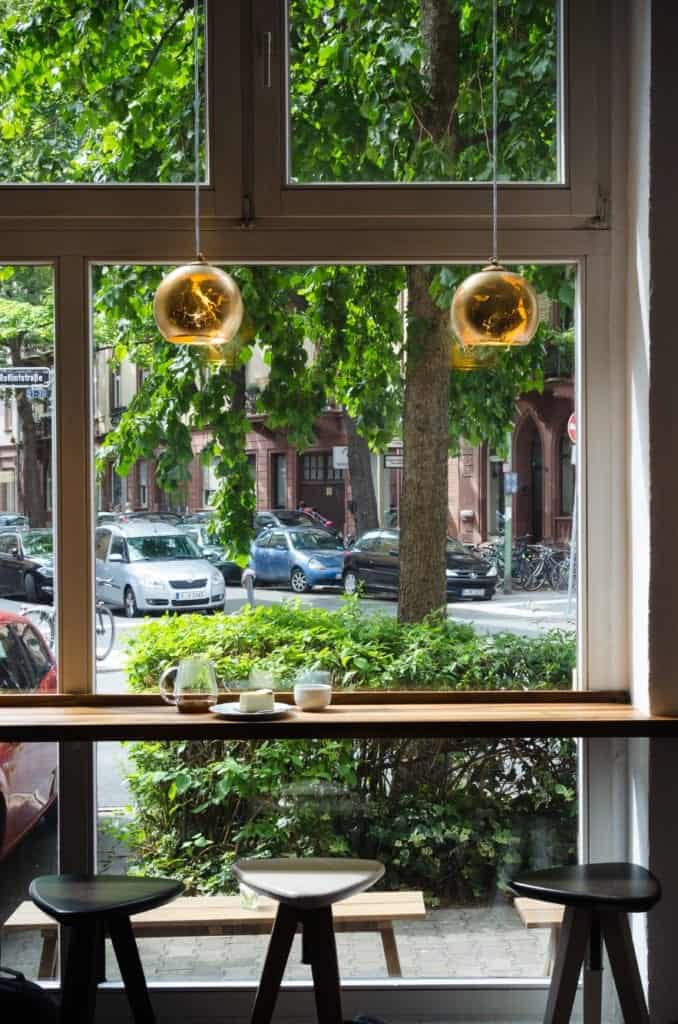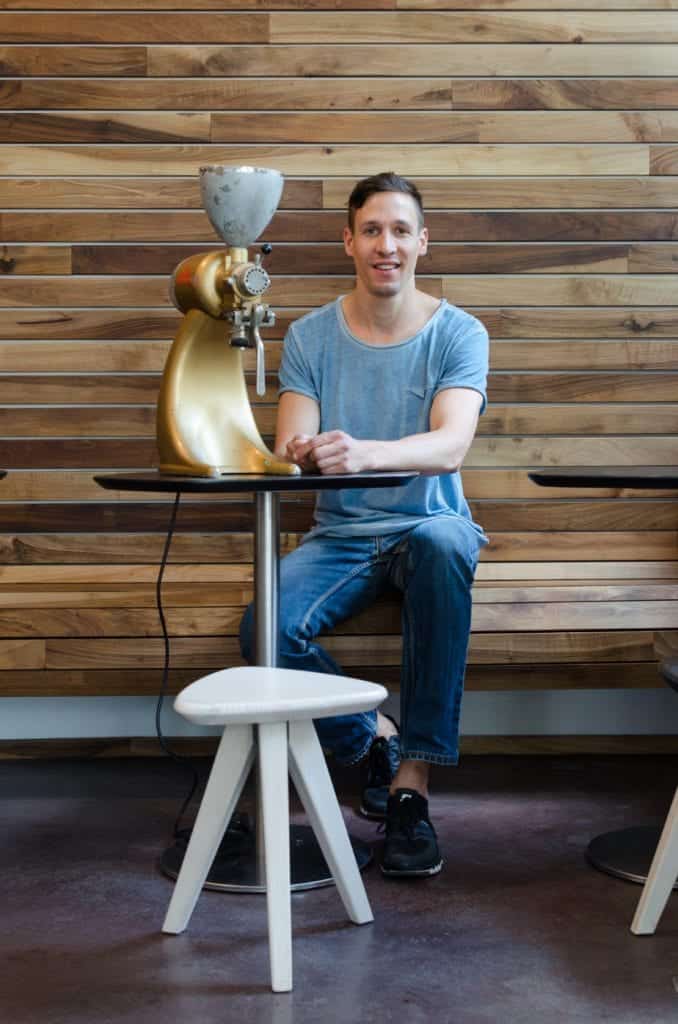 After we enjoyed a cup of Columbian coffee together with two most popular cakes on offer we stumbled upon an interesting part of the interior – a strange looking grinder in the shape of an EK43. "It is a grinder dating back to 1963 when my grandfather used it to grind grains. We tried but it does not work well for coffee," explains Ben before we leave his café.
Rotlintstraße 48, 60316 Frankfurt am Main
Official website, Facebook
Hoppenworth & Ploch (campus café)
It is at the campus where it all started 7 years ago and the contrast between the two cafés is worth mentioning. The roastery is built as a showroom where you can really explore how each coffee should taste and how to prepare them well. The campus café is built for high volume.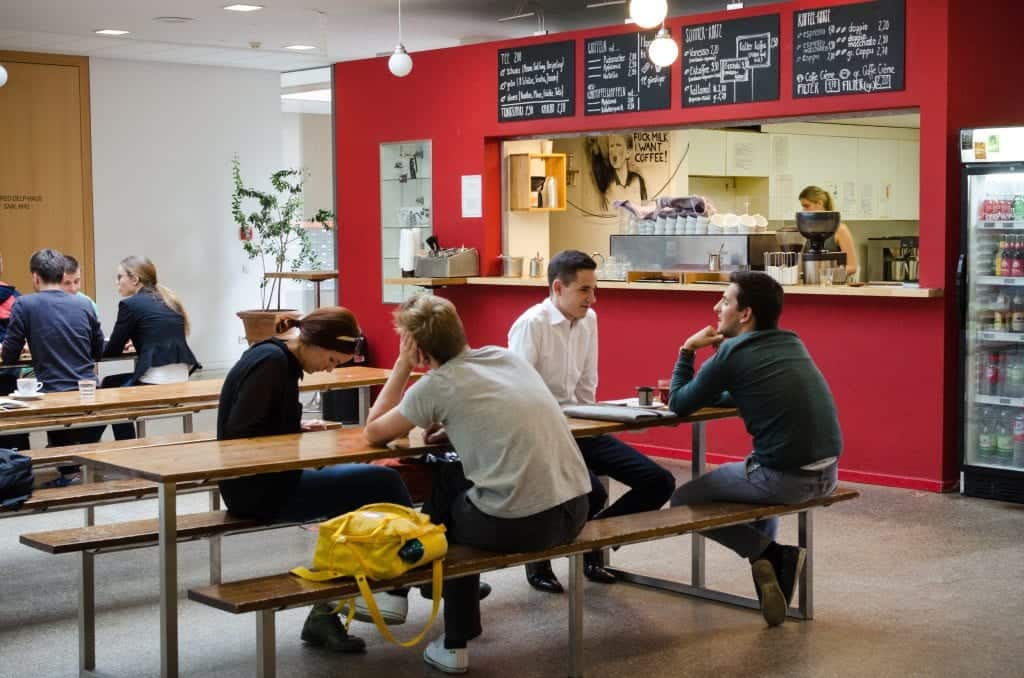 Think of a university canteen with 4 group La Marzocco Linea adjusted with pedal control steamer and two batch brew machines and quality coffee. Even during the summer holidays there was a constant stream of students requesting coffee or waffles, apparently a popular student meal.
Marcel, one of the first baristas that started working in Hopplo about 5 years ago showed us the original menu. Nowadays the items and the prices bring a smile to everyone's face, but the menu is kept on the wall as a reminder of Hoppenworth & Ploch's beginnings.
The company serves their coffees at the local markets and events as well. "We built the coffee carts ourselves and even got inspired by Gwilym Davies for one of them. We still use it but we have built a new one," explains Elisabeth Waczek, barista and manager at Hoppenworth & Ploch.
Siolistraße 7, 60323 Frankfurt am Main
Official website
Aniis
Rashid El Ofairi, an engineer turned barista and also the café owner, opened Aniis in April 2015 in the quickly developing area of the city next to the European Central Bank. Aniis' house coffee comes from JB aka Johannes Bayer in Munich and you can choose from 2 coffees for espresso and, depending on the season, about 5 coffees for filter. We followed Rashid's advice to try the natural La Perla from Costa Rica and then we watched Rashid's precise pouring technique that, as stated in the menu, took exactly 2 minutes 10 seconds.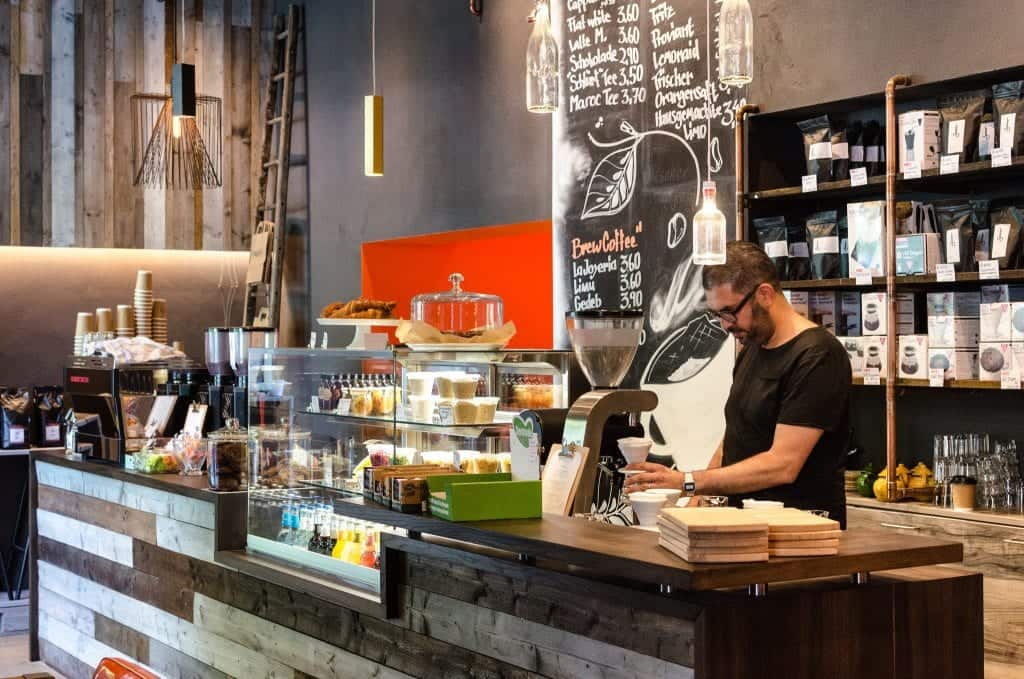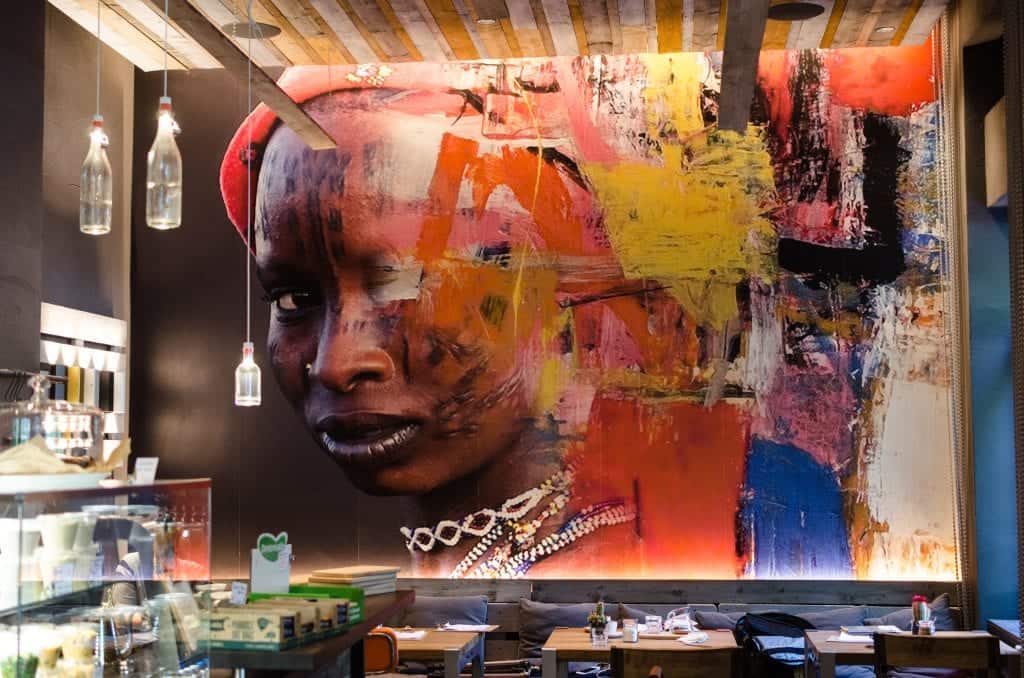 Coffee is served in cups by the English craft ceramics manufacturer Steelite that perfectly match the atmosphere of the café. It has its roots in Rashid's home country, Morocco, but with a modern twist in the design of the walls and the furniture.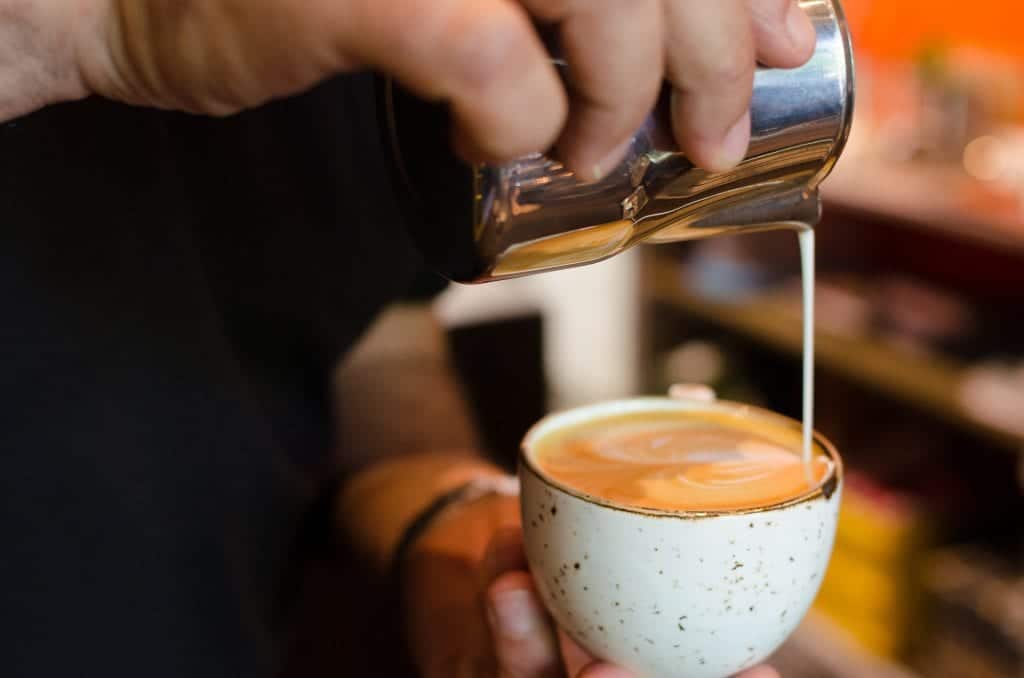 Aniis is presented as an open space for the coffee culture to grow in and it happened to be true as we found ourselves in a random conversation with two local coffee enthusiasts and home baristas while waiting for our last coffee.
Hanauer Landstraße 82, 60314 Frankfurt am Main
Official website, Facebook
Kaffeewerk Espressionist
For the widest selection of coffees in Frankfurt you should head to Kaffeewerk Espressionist, the cafe that celebrates 4 years of existence in September. Every day, baristas choose 4 coffees for espresso to fill the hoppers of their grinders with and the selection changes every single day. Similarly with filter coffee, there is up to 11 coffees with the majority represented by Quijote Kaffee from Hamburg and JB from Munich.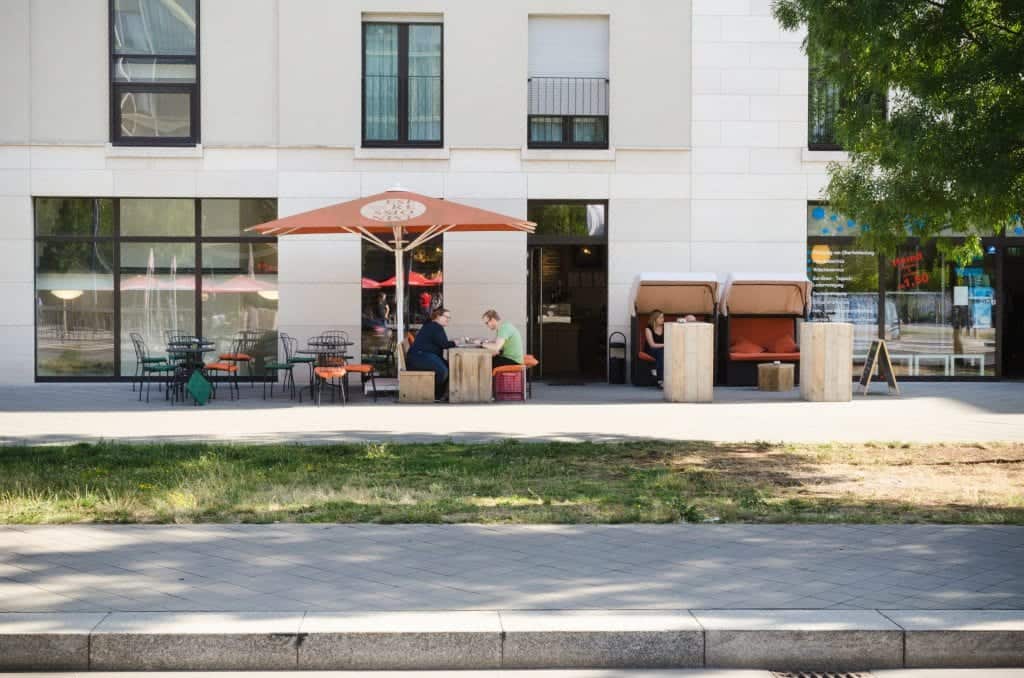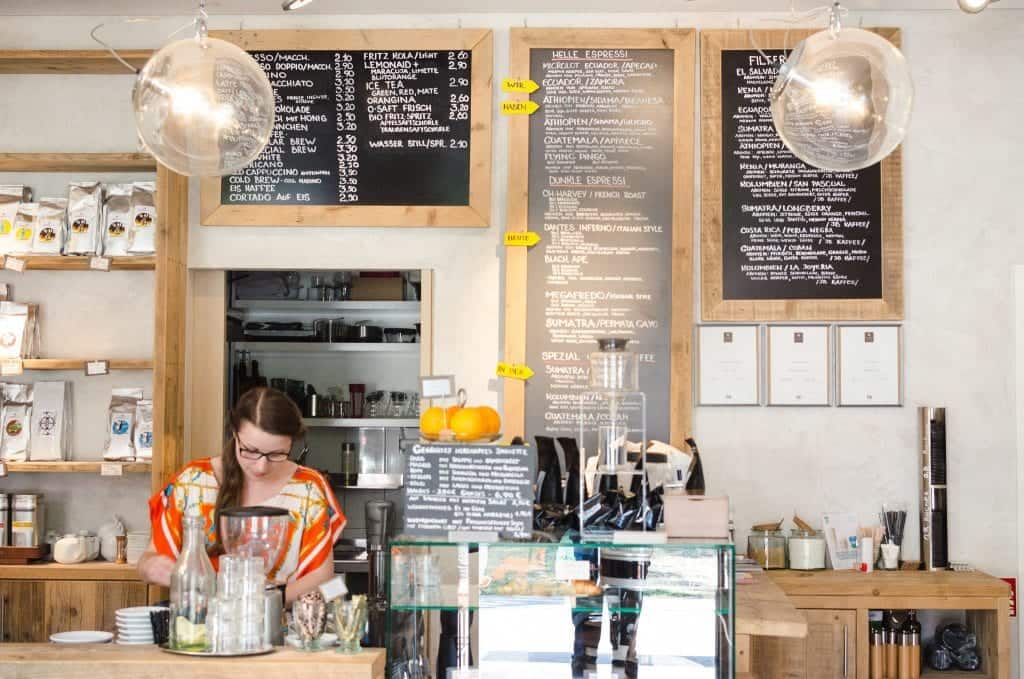 Esther, the barista of "Espressionist", served us a cold drip from JB's Colombia Nariňo – the perfect choice for a hot summer afternoon – and shared her view on the development of the local coffee scene: "Frankfurt is an international hub and people come here from all around the world and of course they bring their coffee culture with them". There are two other cafés operated by the same owner Yulia Yanyuk in this area of the city – nearby the Skyline Plaza and Messe Frankfurt.
Europa-Allee 29, 60327 Frankfurt am Main
Official website
OHEIM
OHEIM means uncle in German and the experience of the uncle bringing only the best gifts when visiting his family is the experience that Julia and Christian wanted to emulate at their café. Carefully curated selection of products to buy creates the major part of the café's interior so you can be sure that you will find the last minute present for your loved ones here.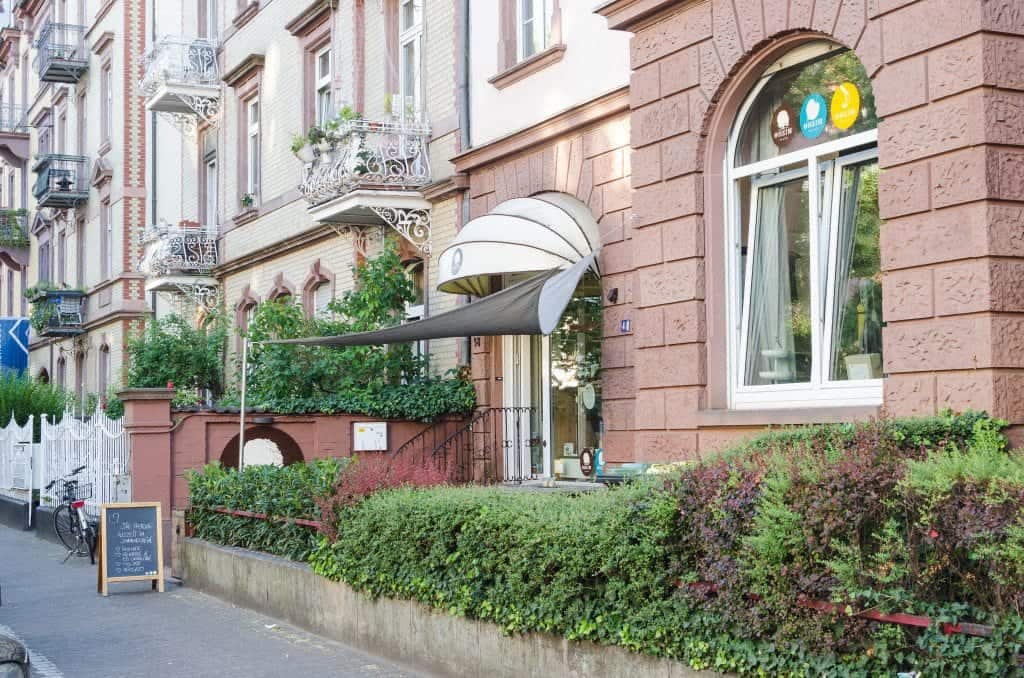 OHEIM was one of the first cafés serving speciality coffee in Frankfurt three years ago. They always serve one house coffee that they choose and buy themselves and it is then roasted by Wolfram Sorg. During our visit, they were running out of their house coffee no. IV, single origin from Costa Rica, and were choosing a new coffee for autumn and winter. Colombian Lus Auxilios roasted by Espressofabriek in Amsterdam was a guest roast of that time being.
Oppenheimer Landstraße 48, 60596 Frankfurt am Main
Official website, Facebook
Backyard Coffee
In order to visit Backyard Coffee Roasters you need to take a 20 minute car ride to the outskirts of Frankfurt. The former German barista champion, Wolfram Sorg, placed his roastery and training centre as well as BJJ gym (yes, you read it well – Brazilian Jiu-Jitsu) into a warehouse in Nieder-Eschbach.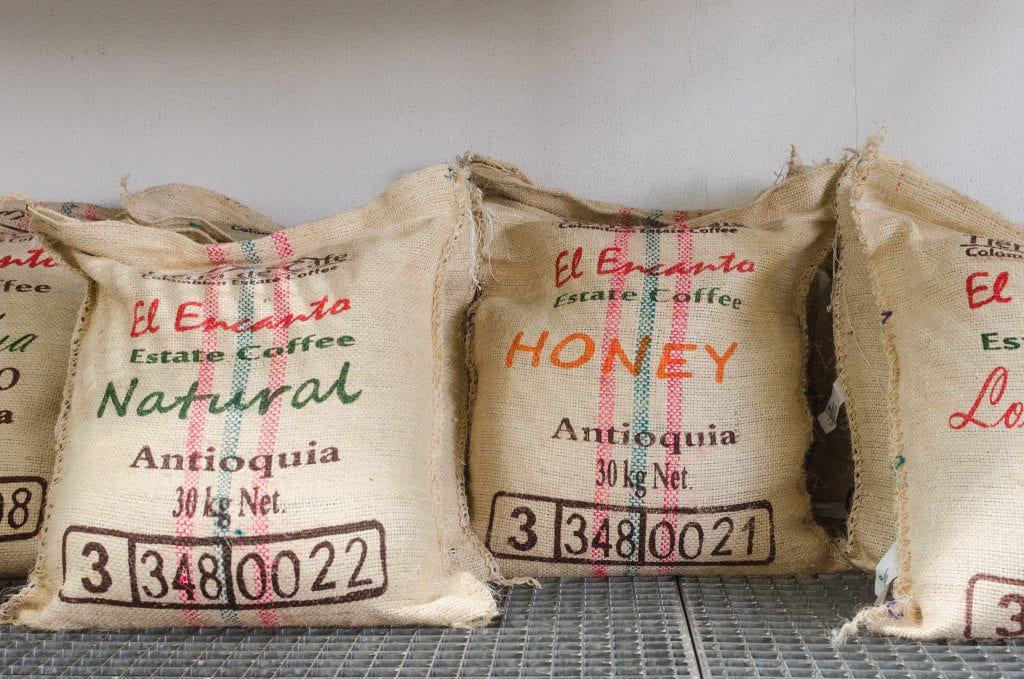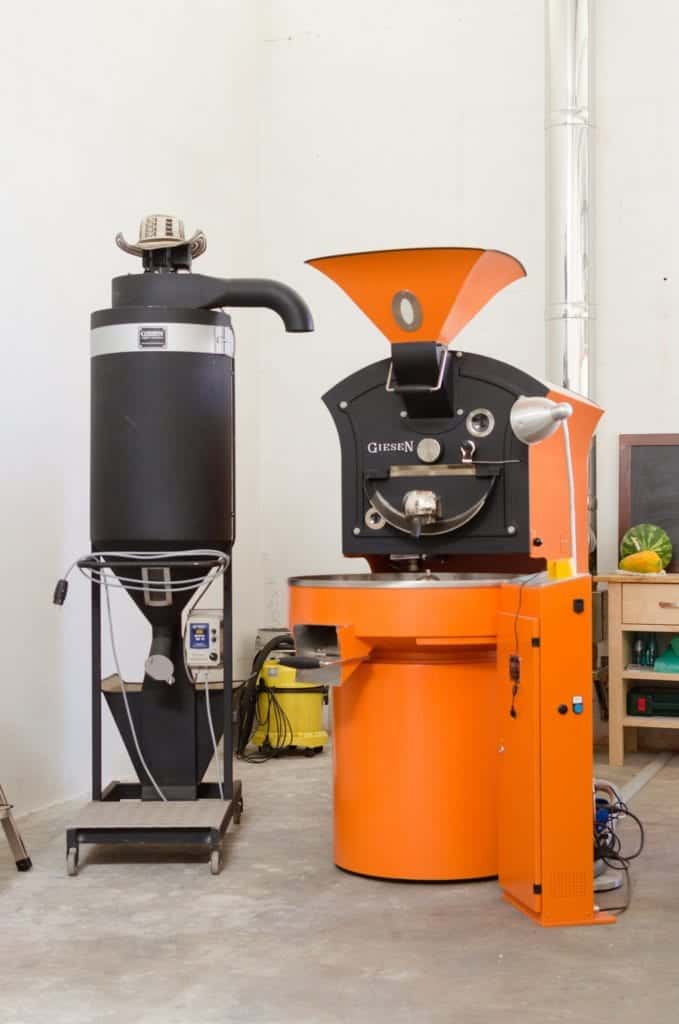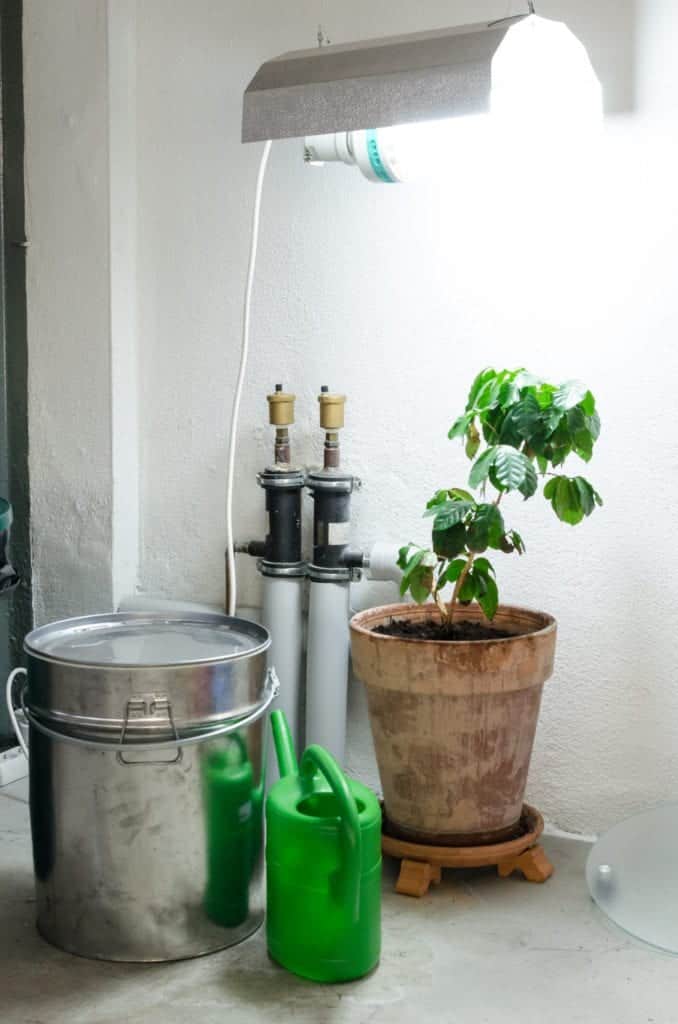 Wolfram roasts his coffee on an orange Giesen machine and he supplies cafés nationally, such as Coffee Nerd in Heidelberg or Godshot in Berlin. We got to try an espresso from Ethiopia Kochere and a single origin coffee called O'Malley, currently featuring Colombian coffee.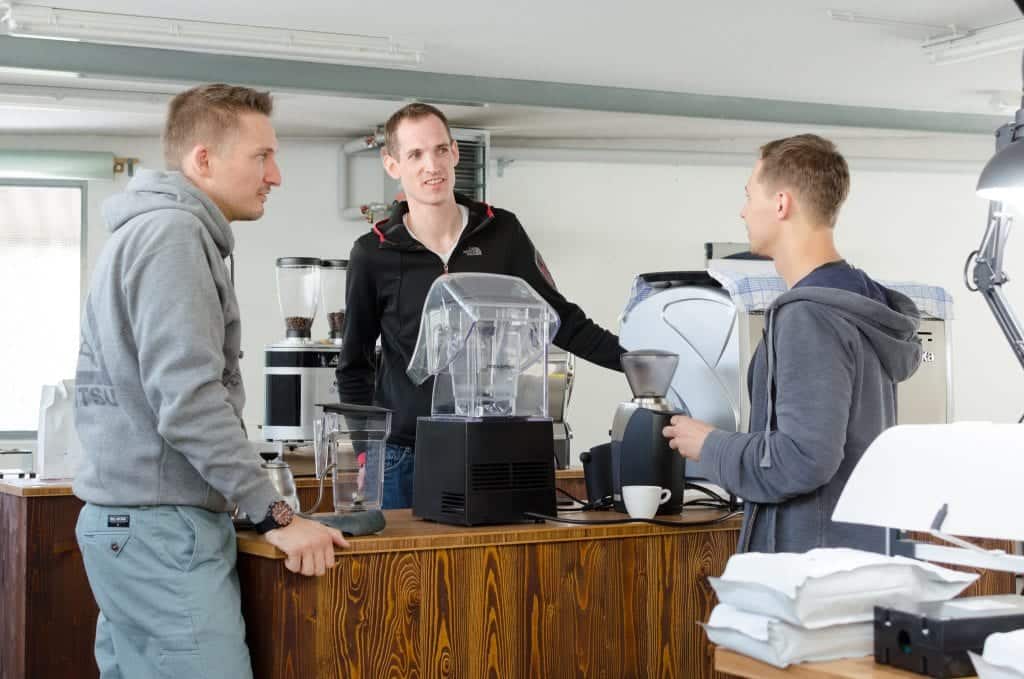 We also met Eric Wolf, another former German Barista Champion who together with Wolfram and Thomas Schweiger creates the trio behind the coffee training and consulting company called Coffee Minds. All of them are barista champions and certified barista trainers, providing good resources to anybody who wants to learn about coffee.
Georg-Büchner-Straße 27D, Frankfurt am Main
Official website, Facebook