Summer was really an exciting time for Berlin coffee scene.
The coffee family in Berlin has grown more than ever since a year ago, also with an August addition of yet another new member, The Visit roastery. Damian Durda and Cihan Kocak are two barista friends whose idea it was to connect several concepts under one roof. Both very skilled and experienced, they decided to use their expertise, knowledge and connections from both Polish and German scenes.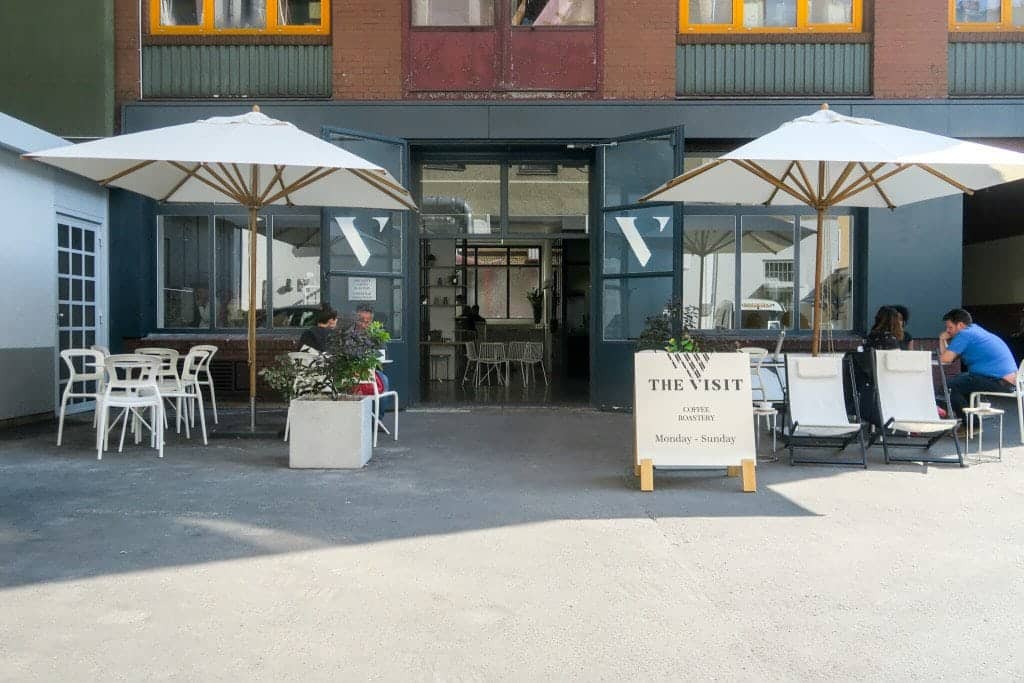 They constructed a simple plan: implement their quality standards to everything they do, bringing their knowledge and experience across within a space of multiple focuses, quality always being the main one. The result is a top notch establishment, serving the highest quality drinks, food, and soon selling their specialty coffee beans as well.
The Visit Concept
The Visit's aim was to create a multi-functional space in their roastery, inviting people to see what they are doing behind their see-through door. They do not keep any distance from you, and are happy to share what they know.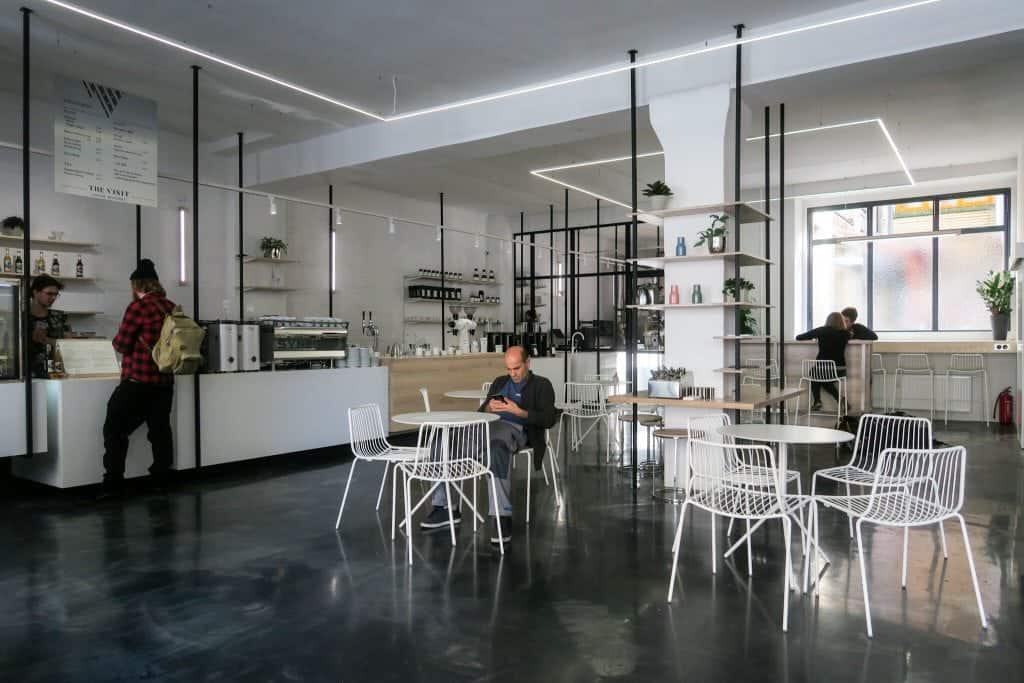 By hosting numerous coffee sessions, cuppings, and helping with consulting they are passing on their know-how. The Visit is focused on bringing community together for example by inviting them for a free screening of the movie The Coffee Man. They understand the need to nurture the community, and as many other coffee businesses, they too take a part in coffee and food events that Berliners love so much. This weekend it is `the Stadt Land Food Festival, not so long ago the Berlin Coffee Festival.
The Set Up
As difficult as it might be to objectively compare different businesses it is in our nature to compare something new with something we already know. The Visit is not comparable with that many other roasters' fit-outs in Berlin.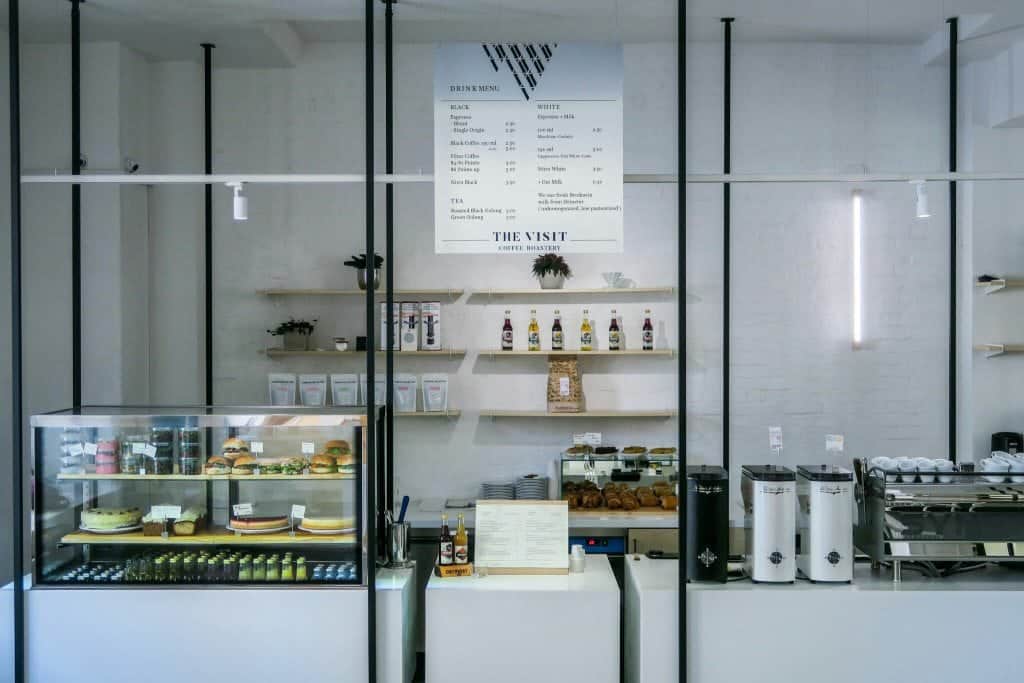 The hyped space of The Visit, located in an industrial building within a backyard, is just a minute walk away from the bustling Kottbusser Tor. The main street of Adalbertstrasse points you in only with a little sign on the wall, but when you look further into the backyard you will know right away. That building has been given a bright facelift. Industrial buildings and backyards are quite a common location for roasters in the city, but it is the sleek design and the equipment that The Visit adds to it.
Walking in through Visit's outdoor seating with large white parasols and sunbeds, you are welcomed by an open space. The Visit is fitted out in concrete, black and white and light-wood. It is almost incredible how much work went into each detail. It is obvious to anyone working with coffee that this place must be a dream playground for any barista.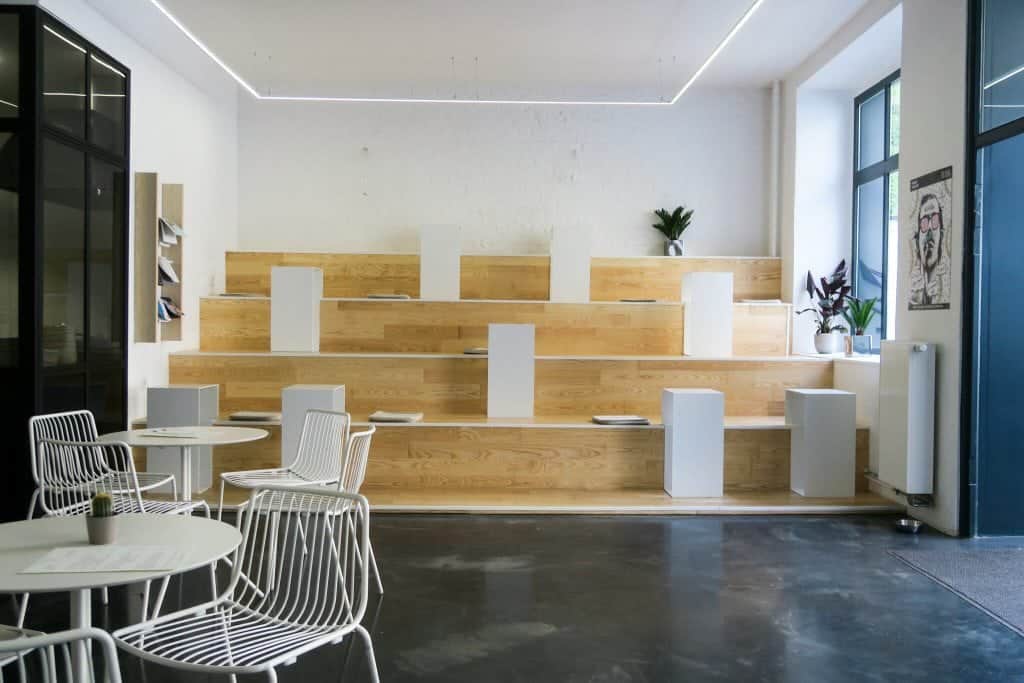 You enter a square room where all parts of The Visit concept are connected in one space, lit by a frame of thin led lights running above and the daylight coming in through big large windows.
On the left side of the entrance a long white bar extends from the front left window to the back. It connects to a glassed wall and the roasting section door here. The majority of the right side of the common room is taken by a floor-to-ceiling platform seating. What a better spot to watch the whole cafe than from the top of the stairs? The least expected in a roastery must be the kitchen. You will spot it, eventually, discreet behind a repeated aspect of The Visit – glass wall.
So far we have got a cafe, a roastery and a food-service under one roof. The Visit really wants you to come in and feel comfortable, whatever you might be doing here. They built a work station for those who need to sit down and work hard, while drinking a great cup of coffee.
The technical side of each business is probably the most compared aspect of our industry. We often judge cafes by their equipment, before truly discovering if they can brew delicious coffee with it. And outstanding coffee should truly be one of the prime focuses. As I said earlier, this place is a playground, and the baristas Michail and Pjotr are running the show behind the bar, with a great selection of toys.
The Toys
The bar itself is an exhibition of great machines: Silver Synesso MVP with two white Mythos grinders are paired with a milk dispenser. What is already a beautiful sleek set-up continues with a nitro brew station, as well as Kalita brews and 3 Temp Brewer Hipster batch brew coffees.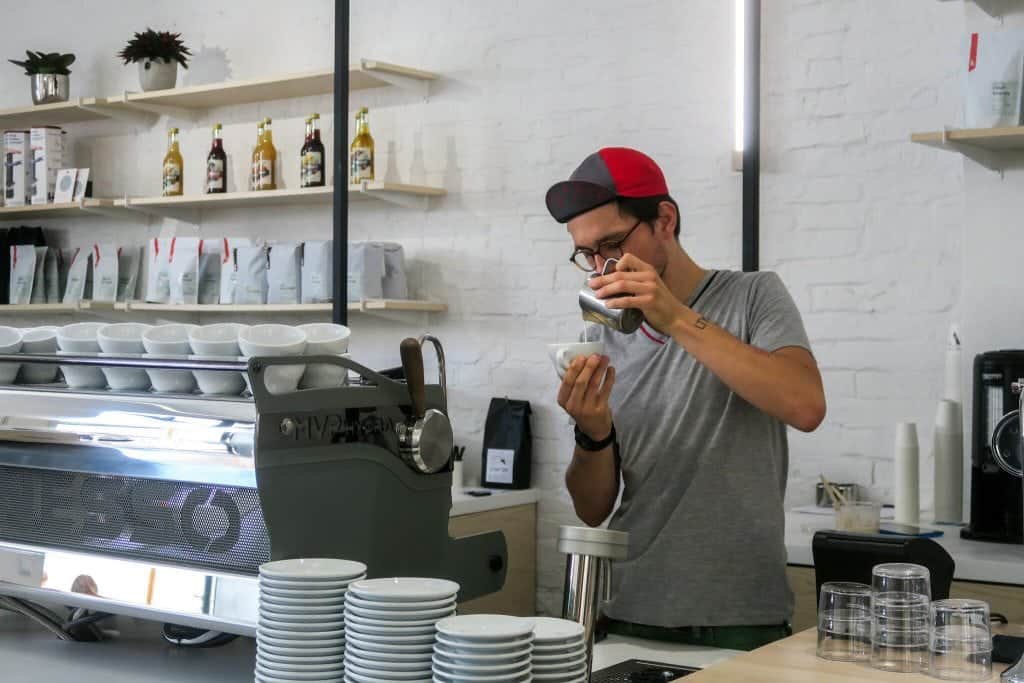 The brews are served in sets of elegant, white porcelain, as well as Companion teas made on MOD4 brewing station by Alpha Dominche. An EK43 Twin is, obviously, white and serves for all filter brew methods and cuppings.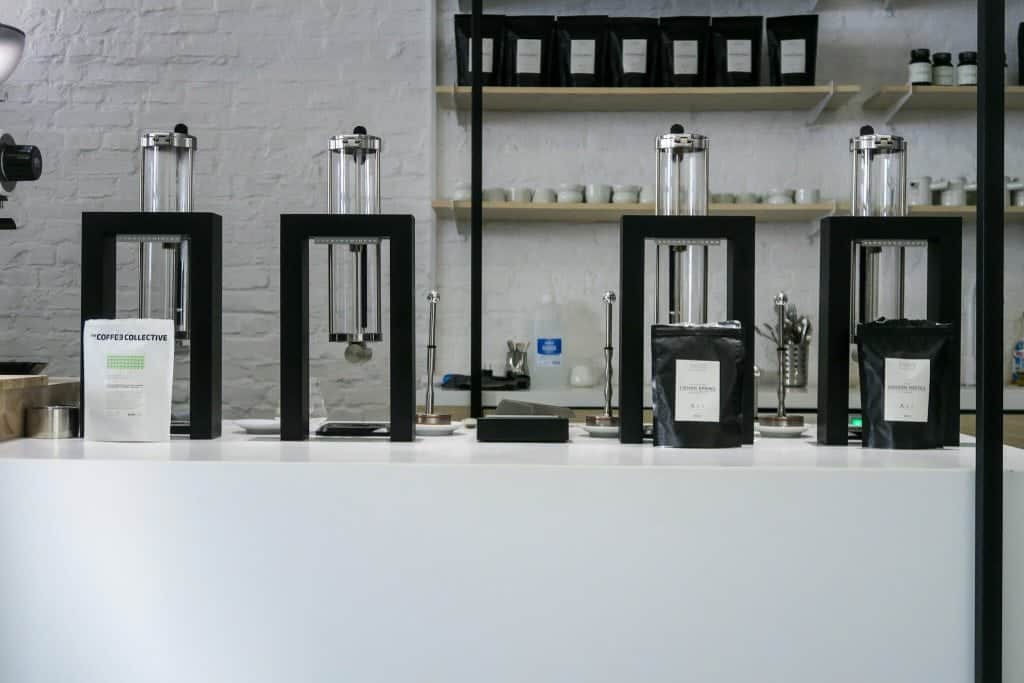 The cafe is a showroom for their future range of beans roasted by Damian. Sourced through Collaborative coffee source, Kaffa roastery or through Direct Trade relationships, the coffees are roasted on the Loring 15kg Falcon roaster which is more environmentally friendly than other machines. Thanks to the single-burner design the beans are roasted without smoke, using the heat from the burner. There is no external afterburner needed, which leads to lower emissions.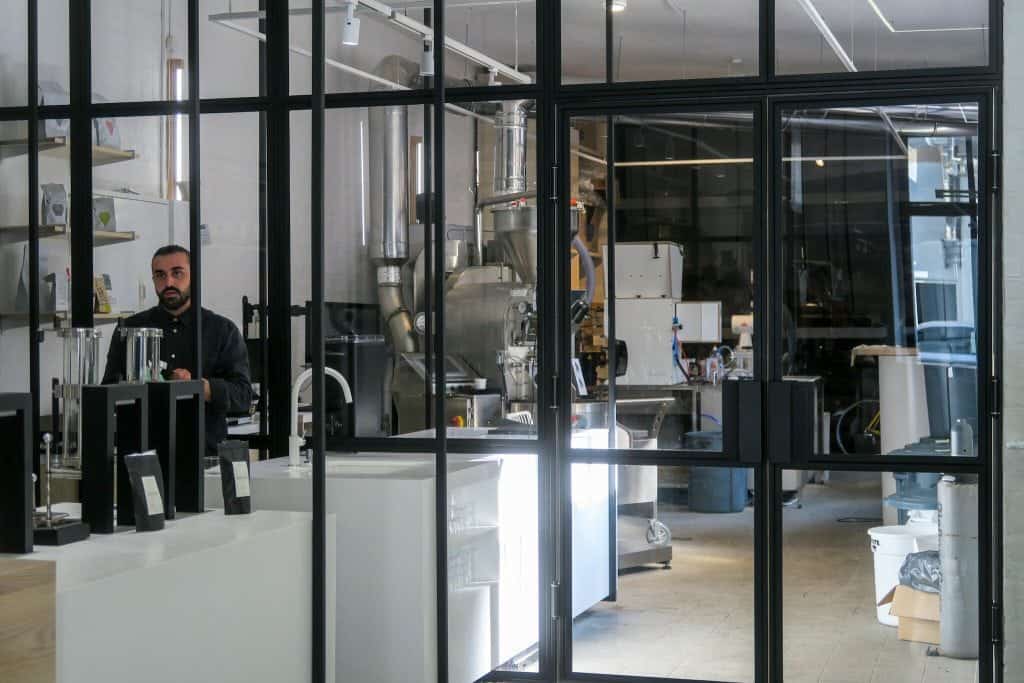 For now, the roastery is roasting a range of commercial coffees as well, bringing a much better quality coffee to establishments that are not fully converted into Specialty shops just yet. Their Specialty selection of beans is coming though. In the meantime they serve delicious brews by Da Matteo, The Coffee Collective and others.
The menu is the best described by Damian's words: "Black is black, white is white." There is no nonsense here, when it comes to quality coffee. Their milky drinks come in 190ml white porcelain cups only, nothing bigger than that.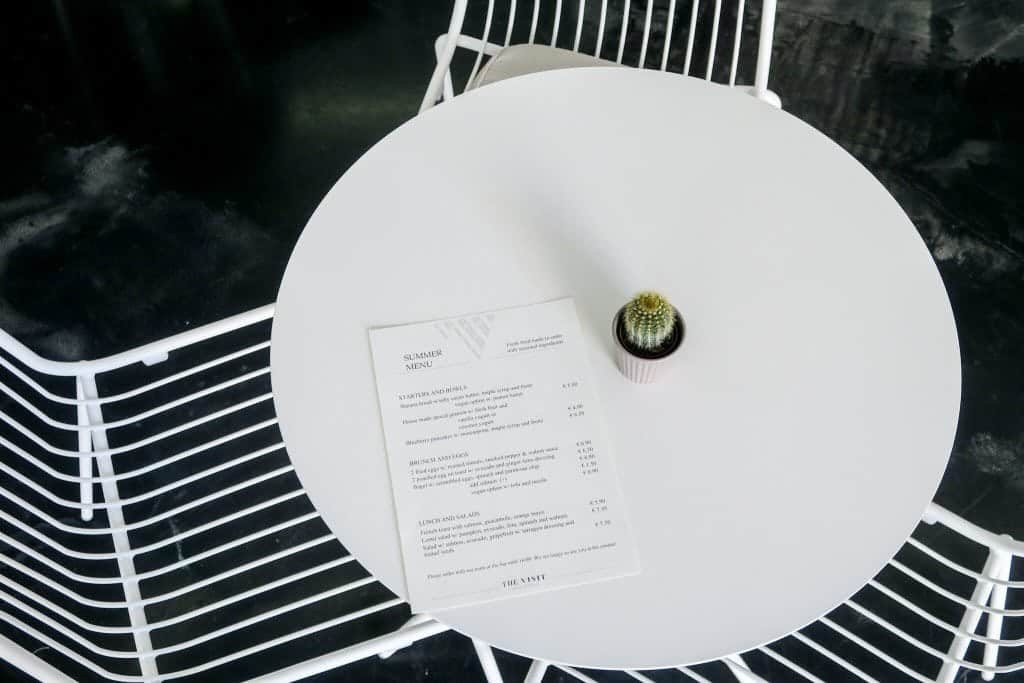 What is obviously a big space with an incredible equipment and almost sterile looks turns into your lounge, or dining room with the incredibly friendly service, delivering delicious coffee every time. The kitchen pumps out fresh food and home-made cakes and everything is topped off with invisible details, such as their own water filtration system for all brew stations, the tap water and it also supplies the ice machine.
The Visit is spot on, go and pay them a Visit!