Belfast has always had a larger resonance on the world than its size would suggest. Birthplace to the famous RMS Titanic and more recently, dare I say it, Game of Thrones. Whether you're into historical buildings like the iconic city hall, or would rather gallivant around trying to get a selfie with Jon Snow (guilty as charged), Belfast is proving itself a popular tourist destination.
On my arrival into the city it was hard to ignore the amount of tours to historical landmarks and other attractions. But one thing that's been lacking over the years is the buzz of a creative food and speciality coffee scene, two things that tend to come hand in hand. All the pillars have been in place, being that it's a city full of art and especially music culture, making it a lively place. Their thriving music scene is obvious from arrival, with live music on the streets at every turn and local talent being supported on cafes' speakers.
Here's my pleasantly surprised experience of Belfast's speciality coffee scene, the tour begins right from the off.
Root & Branch
By nothing but absolute pure luck I stumbled upon Root & Branch, a coffee shop, micro roaster and Belfast's latest addition to the speciality coffee scene. After an early morning flight all you want is a hug in the form of a great coffee and comforting atmosphere, and I found more than I could have hoped for hidden just off Ormeau Road.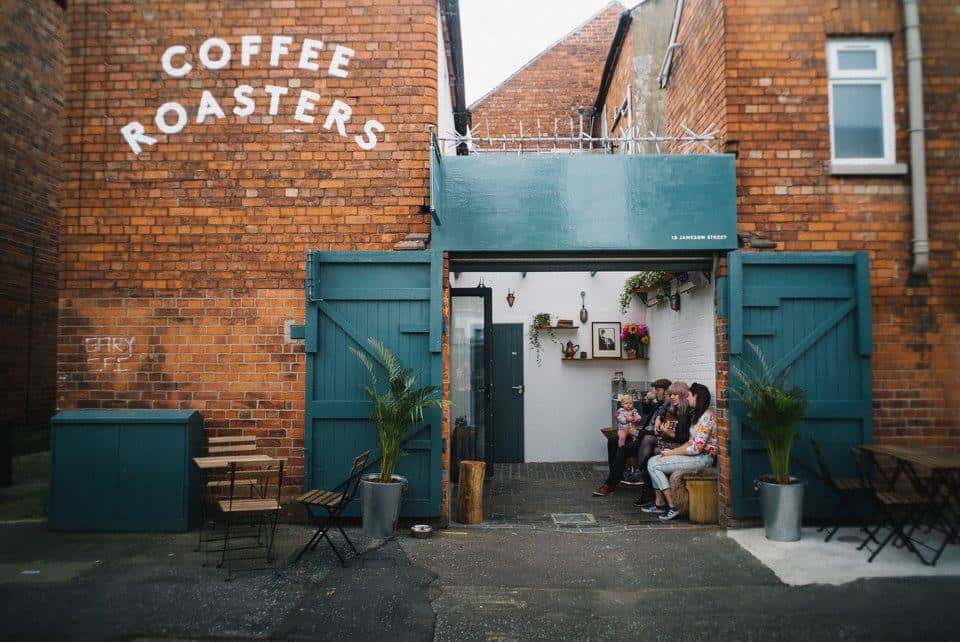 Greeted by barista James, he made me a lovely naturally processed Ethiopian Yirgacheffe on the Kalita as he talked me through their set up and, with a big smile on his face, how Belfast speciality coffee has grown dramatically in the past year. Amidst some good chit chat, I couldn't help notice the array of cakes baked specifically to match the taste notes of the variety of coffees. And on the shelf above I saw a range of Chash teas. Ask nicely to have a sniff, and in a whir of aromas you'll order yourself a tea without hesitation.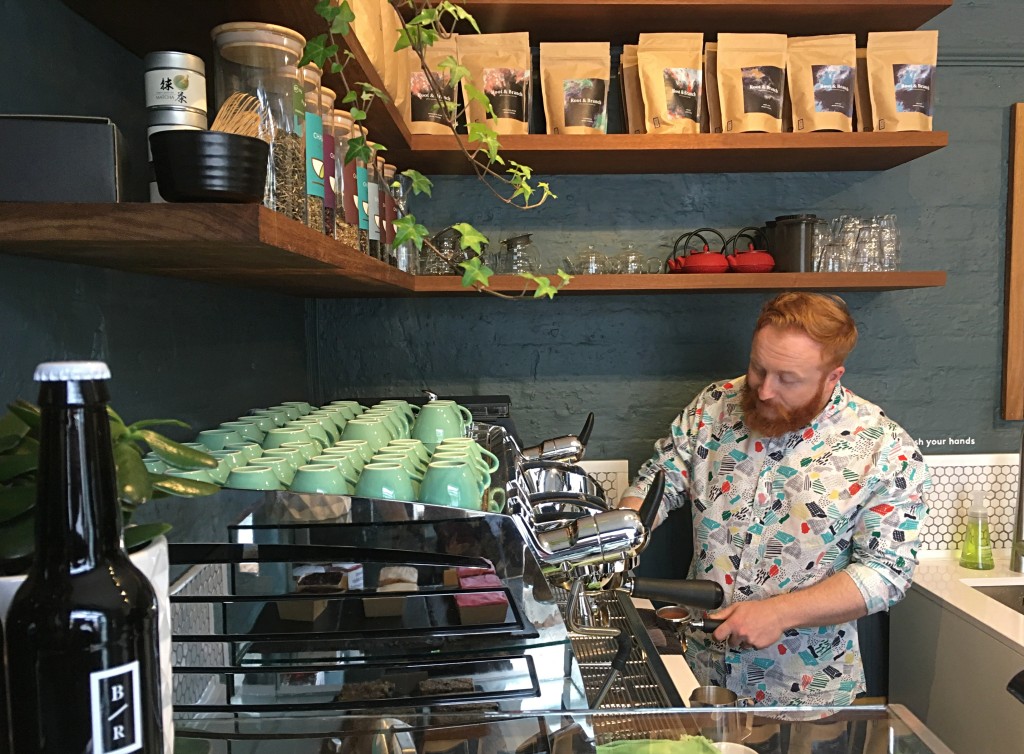 Everything is hand painted, from the logos to the huge "coffee roasters" on the brick wall outside. "We'd spent the majority of our money on machinery" joint owner Simon told me, "it's obviously an area you don't want to cut short on, so we had to design the rest of the space with anything we could find and a lot of help from our friends". The tables are made from tree stumps, and the benches are from Simon's old school, as he showed me where he used to store his daps in the compartments underneath. Everything seems to be repurposed, reused or recycled, and let's not forget biodegradable.
They have no waste at Root & Branch, with everything from takeaway cups to the zips on their coffee bags being totally biodegradable. By now I'd say you're getting a good idea of what these guys are all about, they go the extra mile adding personal touches and improving their impact on the world wherever possible.
When it comes to green beans they pay a premium price for the farmers' hard work. These things and more, which are far past the necessary effort and expectation are what really makes Root & Branch.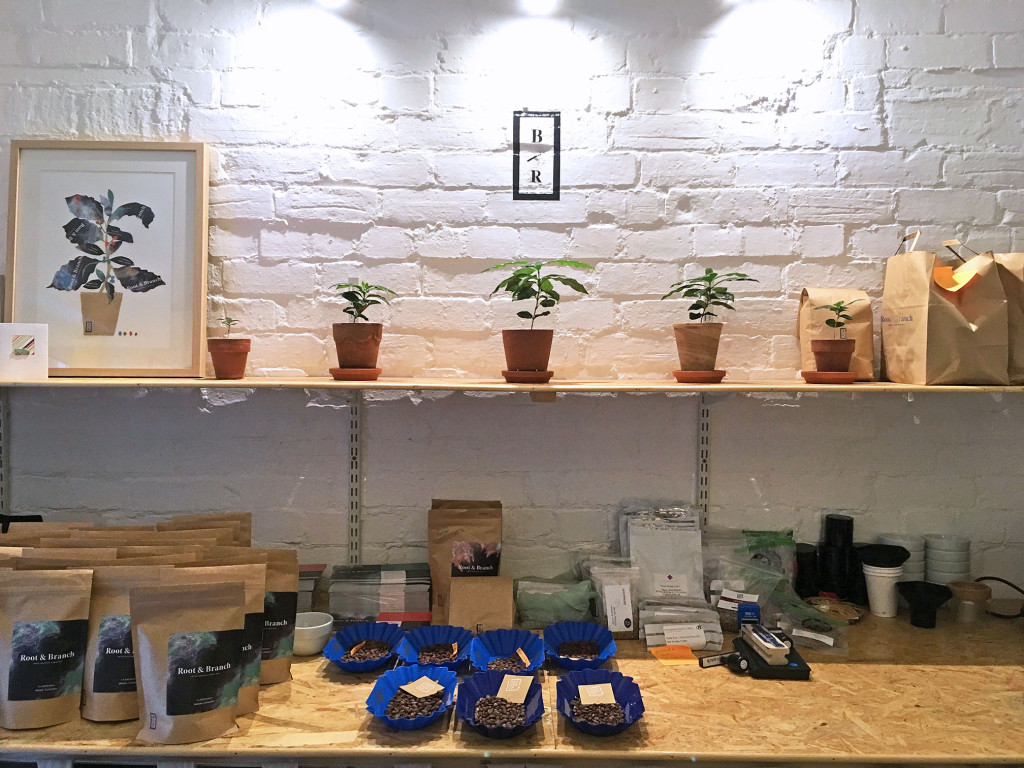 Given how new speciality coffee is to Belfast and knowing not everyone might understand the how's, what's and why's, Root & Branch also run coffee courses on Thursdays. Starting upstairs with the very beginning of the process, they're growing a few small coffee trees neatly sectioned across a floating shelf. Perfect for courses but conveniently a nice touch of decoration too. Talk about hands on learning! Using charts and diagrams hung on the wall they take people through the various topics that affect the resulting taste before moving downstairs to the roasting and brewing. A lot to take in for your average Thursday evening, but Simon and Ben bring such a laid back atmosphere to the roastery café it feels like you've popped round their crib for a good chit chat and some laughter. Oh and a quality brew, obviously.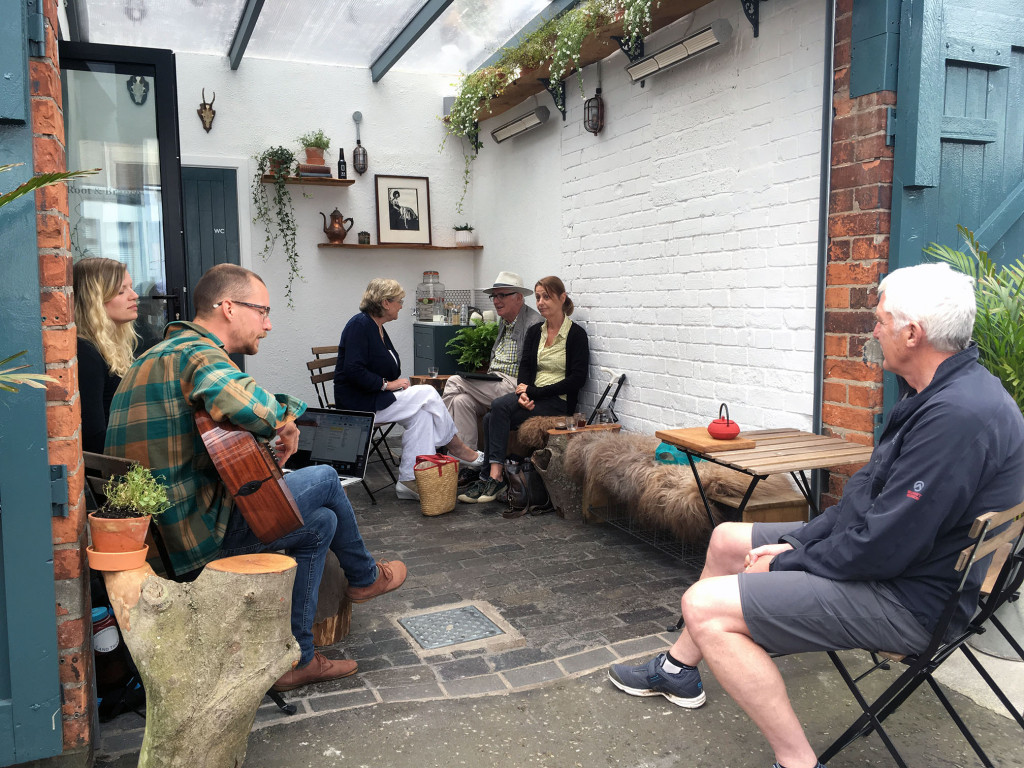 If that wasn't enough to tempt you, every Sunday they host music artists either local or passing through for an acoustic jam customers can enjoy for a few hours. It was by pure luck I'd booked my flight back home for later that night, so it really topped off the week for me. Lovely music. Lovely people. Lovely coffee. Lovely atmosphere. Just lovely. Not bad for a cafe roaster no bigger than your average kitchen (not literally).
1B Jameson Street, Belfast, Northern Ireland, BT7 2GU, UK
Facebook, Instagram
Town Square
Standing outside Town Square I couldn't guess what I was about to experience. It's the type of place which is hidden in plain sight, where everyone who'd made their way inside had heard about it from a friend or local magazine (or in my case a ginger bearded coffee wizard).
Upon entry you walk between two coffee dedicated bars, which sounds exciting I know, but we'll get into that later. Intrigued about the vibe but still not sure what to think, I was led to my seat and then I just got it. Written on the wall in huge white letters is "NOW IS A GOOD TIME", and they're totally spot on. The seating is lowered below the outside pavement, the windows are at such a level that you almost forget about the outside world as you settle in and become one with the atmosphere of the room.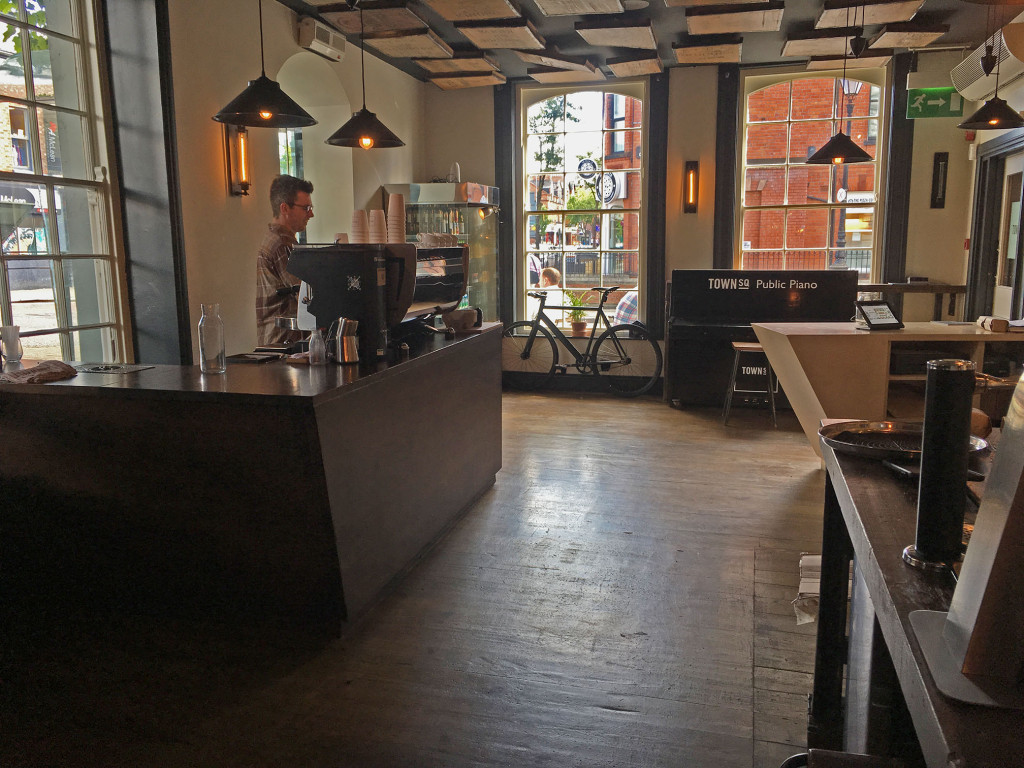 The aim was to bring back the old idea of a town square where everyone would gather for coffee, drinks, food and entertainment. They've kept many things similar; a classic looking piano played regularly by customers or passers by, but they've added a modern touch and really ramped up the quality.
"We're aiming to create a hub, where everything is high in quality and people feel they can come here at any time of the day to enjoy the atmosphere along with anything from a carefully made brew to a full meal" – Ben (Barista)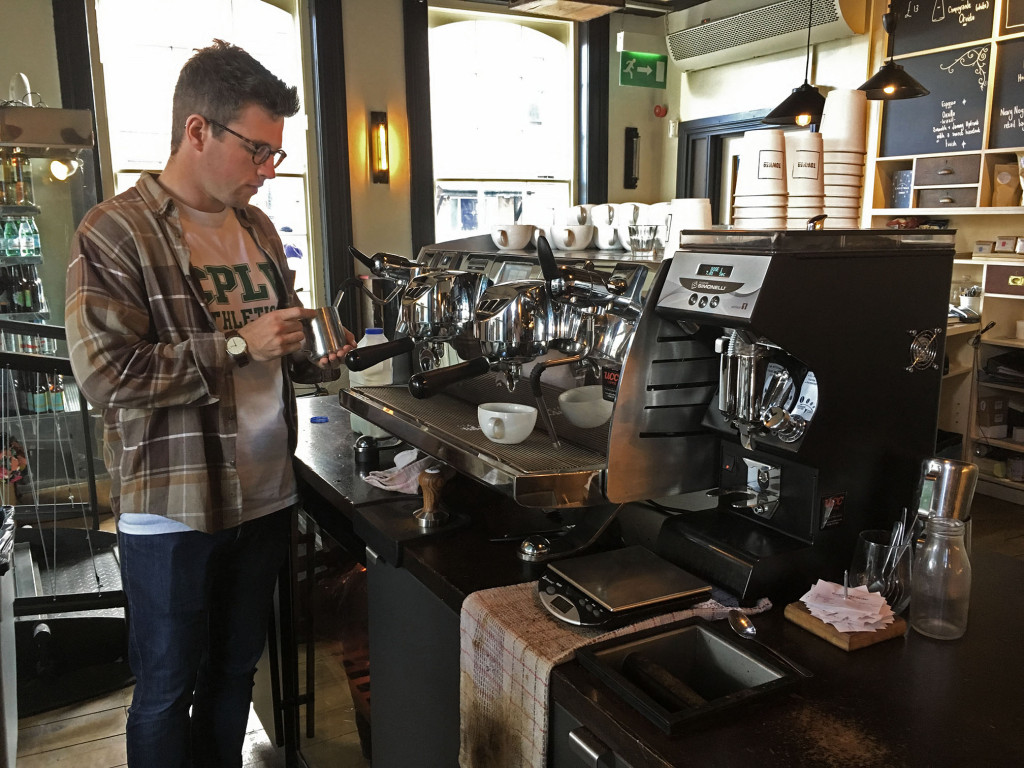 On the wall is a huge custom made calendar to show any events they're hosting each week, which range from anything film, music or art orientated. For example, once a month they invite some of Belfast's best artists for one evening, where customers can watch them create something wonderful on huge sketch pads dotted around the place as they enjoy their food.
Now onto the coffee. As mentioned before they have two bars; one dedicated to espresso with their Black Eagle machine standing bold and ready serving Roasted Brown's house beans, and the opposite bar offering various other methods. "The big Black Eagle machine can be quite distracting" Ben told me. "This way it shows people that we take filter coffee seriously, and introduces people to the idea of trying a different kind of brew".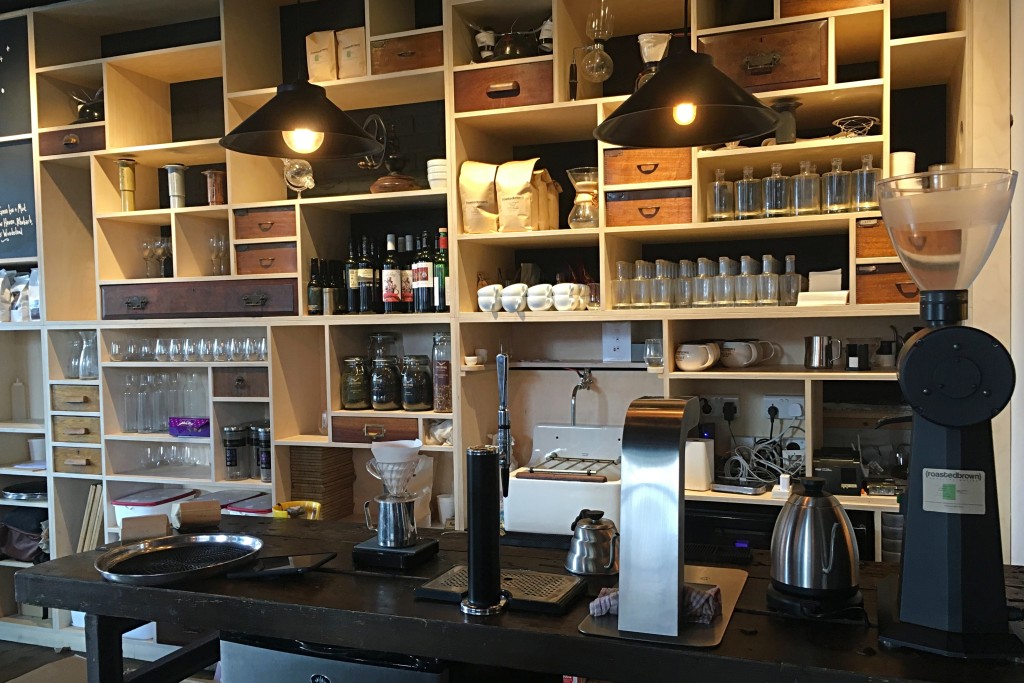 They're also the first place in Northern Ireland to serve Nitro Brew from the tap, which is a hell of a coffee experience if you're yet to try it. Think cold brew coffee, fused with nitrogen to give an incredibly smooth finish and take away some of that sharp acidity. Oh and it packs a strong caffeine kick, so much so I had to return the next day to try their award winning Aeropress. Project manager Nathan and barista Ben came first and second in the Northern Ireland Aeropress Championships, and so try to serve most filter coffees with that method being something they known well, however they have the V60 close at hand if needed.
What's next for Town Square? Well, they're linked to the bar next door and hotel upstairs, and so why not REALLY link them, right? They're currently knocking through the wall to build a tunnel to the bar area, so if you want to stay after your coffee and food, you can walk through to the bar and enjoy more of an evening atmosphere. I'm just gutted I couldn't stay to experience the completed project.
The Pocket
A quick walk around the corner and you'll find The Pocket; so easy to miss tucked in an office building overlooking The Queens University main building. So naturally, you'll find a mixture of students and professionals enjoying the getaway from the busy main streets. Warm lighting, dark wood floors and exposed bricks help with the settling atmosphere. Another wall left white, decorated with pages from an old Alice in Wonderland novel creates a nice variation.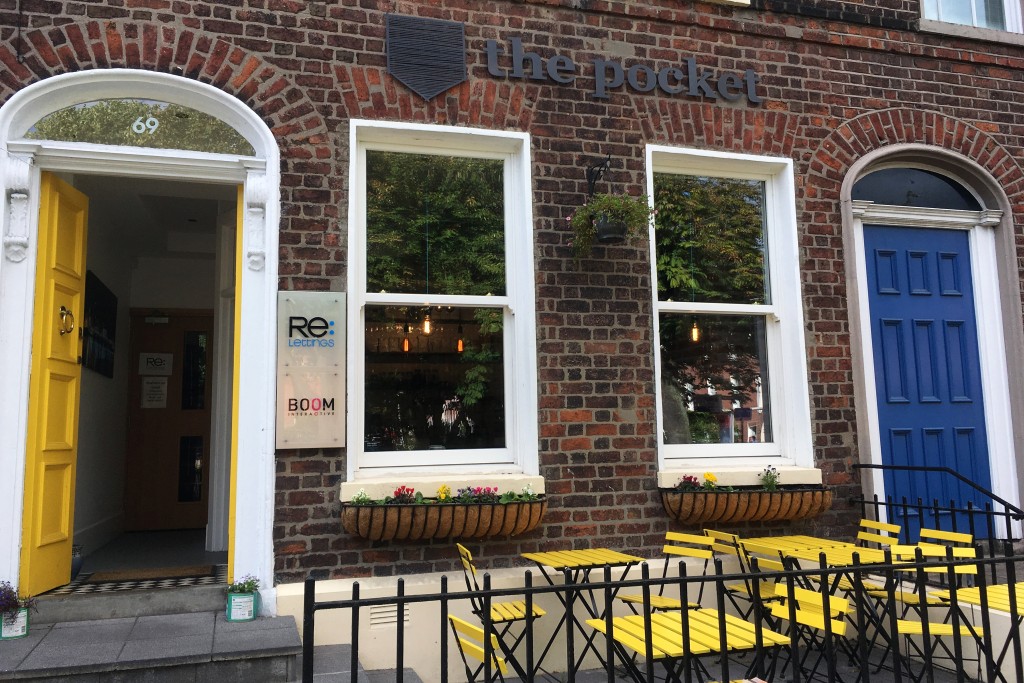 A super cheerful Mark, head barista at The Pocket, recommended I try their guest espresso from Cloud Picker, roasters from Dublin. I was not disappointed. Served as a flat white it had a huge kick of apple sweetness, such a specific taste note I'd yet to have experienced in a coffee myself. My only regret was that I couldn't go back to try it again, partly to check if I was hallucinating on my first try. Being a small café that also does a decent range of cakes and lunchtime grub, they're a little limited on space for filter brews.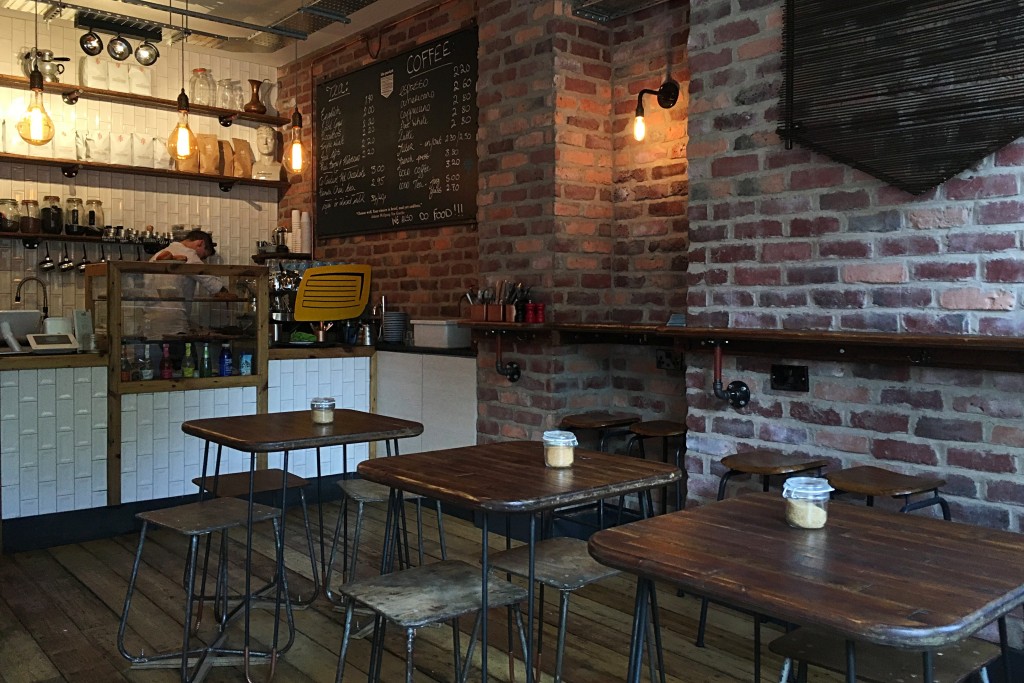 "We haven't got much space to work with and the Black Eagle takes up most of it, and being our most popular option it's something we definitely don't want to sacrifice the quality on. We serve filter brew through the Marco Jet which produces some good quality coffee with ease and sits neatly in the corner!" – Mark (Head Barista)
Their food menu consists of classic café options like soup, salad and sandwiches, with an added oomph of creativity and style and the ingredients locally supplied of course. The "Bangin' Asian Pork 'Wich" took my eye, along with their delicious range of cookies and cakes supplied from Man Made. It'd be a lie if I said I stopped at one salted caramel brownie.
Established Coffee
I left Established to last, partly because I knew what to expect, being known by all as the mother of speciality coffee in Belfast. These guys started it all and boy did they set the bar high. From talking to lots of baristas and café owners in the city, it seems almost anyone who is anyone in Belfast coffee came through Established, learnt their trade and went on to create something else.
"When we opened we used to take lots of trips to Dublin and were amazed at the coffee community there but couldn't imagine anything like it here in Belfast" Abi told me, who's a supervisor at Established. "Only a few years down the line, and it's beginning to take form!" Their website even recommends other coffee spots to check out in the area, now that's what you call community.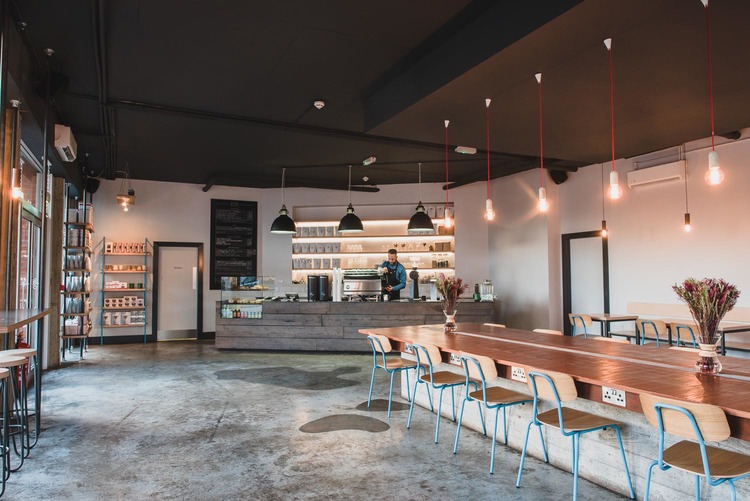 They opened in the Cathedral Quarter in 2013 and haven't looked back since. Being the first speciality coffee place in Belfast they weren't sure what to expect upon opening, being that their black board menu consists of simply the beans on offer leaving the customer to choose how they'd like it.
"From the beginning we made sure to give lots of explanation, and found most people were more excited and intrigued rather than put off by the different approach than they're used to" Abi continued.
Given that the queue is usually stretching out the door, these guys have got incredibly efficient at getting things done quickly without making you feel too rushed through your order. Equipped on the bar with a pair of Mythos One grinders, one Mahlkonig EK43, and a Black Eagle for espresso based drinks manned by a team of highly trained baristas, the team work fast and efficiently to keep up with demand.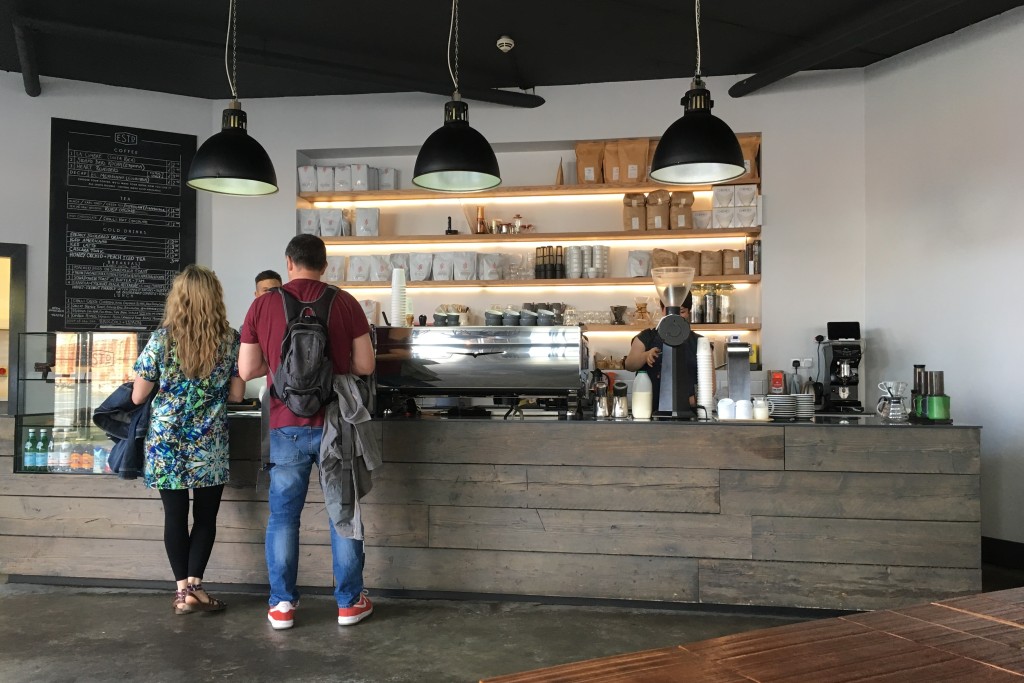 The room has been left looking spacious and is filled with the sound of conversation. The shared table in the middle must have something to do with it, a huge one-piece concrete block with a wooden top. With the big open area they have, naturally they host a range of events, whether they're coffee focused or not, and are planning to introduce coffee courses in the future. From looking around during the day, you'll see a whole mixture of people sharing the space.
"We expected to attract a mainly young and hip audience given the trendiness of coffee at the moment, but it's a pleasant surprise to get a total mixture of ages and people, lots of business meetings" – Abi
Just shows how well this space caters for all, it's open and welcoming with their floor to ceiling windows surrounding half of the room, and everyone can appreciate an incredibly well made coffee. They're rocking Dublin's 3fe on house, and rotate guest roasters each month. However, given their demand they have to order in quite large quantities to make them last the full four weeks. As for the food? They have 3 chefs in the kitchen at all times, leaving them with free reign to create. The menu may be small, but the food always includes intriguing combinations usually partnered with some kind of sauce that's absolutely kicking with flavour.