The combination of coffee and the fried pastry comes from the United States, where doughnuts are picked up as a morning breakfast treat, as well as an afternoon snack. This indulgent pastry usually comes in a ring form, or, nowadays mostly in a round shape without a hole, filled with a variety of fillings, covered in glazes and more toppings.
And as its form may vary, so does the spelling of its name. Whether you call it a doughnut or a donut, the sweet pastry has gained a following comparable to the one of the iconic soft serve. An ice cream made with speciality coffee, first registered by us at The Coffee Collective, a hit of the last two summers. But with the end of the warm days, there is no better time than winter to enjoy this glutenous treat than in winter!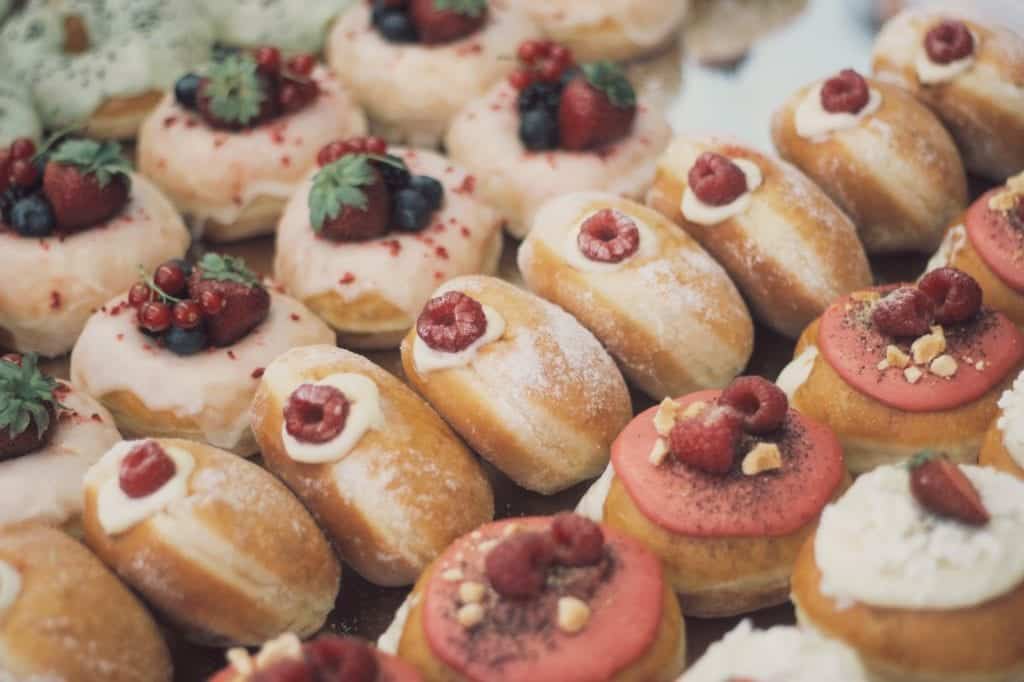 Speciality cafes around Europe have picked up the trend of this particular fried dessert and we see cafes opening up places that make their own range of doughnuts, served alongside speciality coffee.
One may think that these cafes have made their limited selection of desserts for the sake of simplicity. And although these cafes may not serve many, or any, other desserts and food items, 'simplicity' could not be further from the truth. The doughnuts that we see at a display of the cafes we present to you today are a result of hard work. They have countless innovative flavour combinations, homemade fillings and are made fresh from scratch daily.
Flavour and the provenance of ingredients are truly at the core of what speciality cafes do, and if this applies to the food menu, we really cannot complain!
Crosstown Doughnuts, London
The first cafe that embarked on the journey to serve only delicious doughnuts and coffee to their customers was Crosstown Doughnuts, back in 2014, although it started as a market stall. Their first shop in Soho, on 4 Broadwick St, opened in 2015 and is in operation to this date, serving all-week-long. You can find Crosstown across the whole city though, currently serving their yeast-raised sourdough doughnuts from nine brick-and-mortar shops. You can also find them at seven of the London Markets, sticking with their original market stall set up.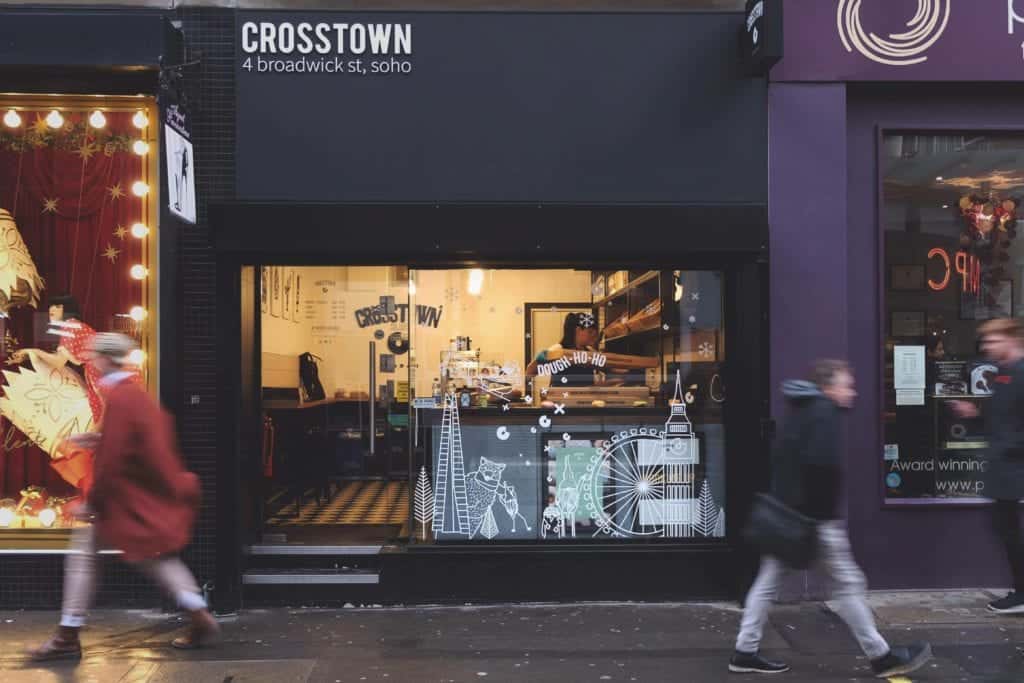 Crosstown has established themselves as the best doughnut shop in London, and their popularity only grew. It was not only thanks to their vegan options but recently also thanks to their online orders.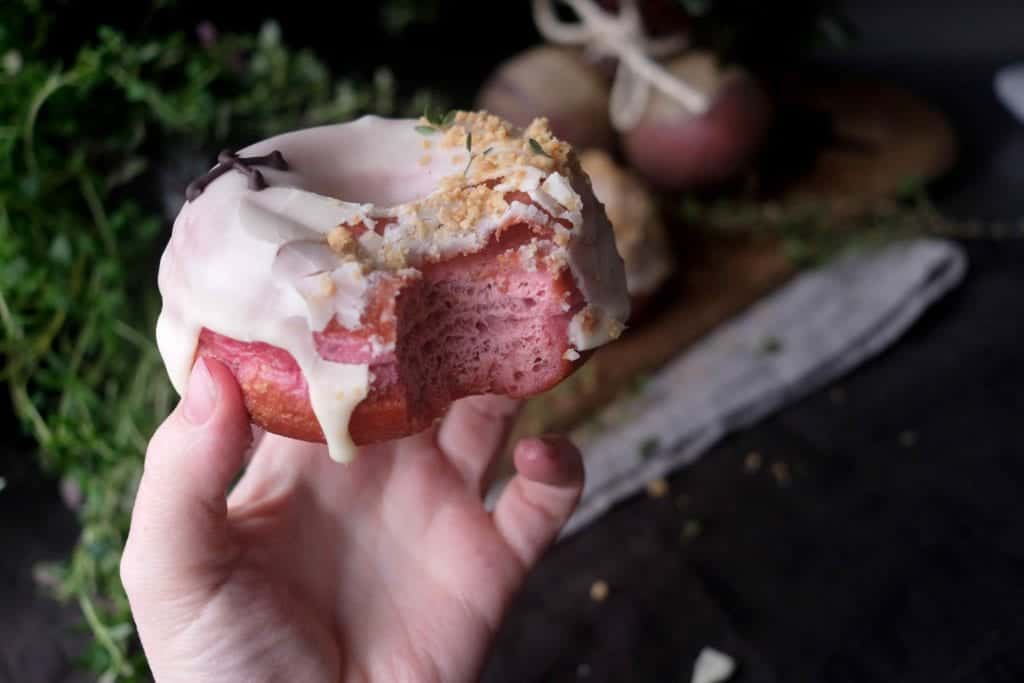 The coffee is not a secondary, forbidden item on the menu. It goes hand in hand with the food served. The coffee is roasted by Caravan Coffee Roasters. Although Crosstown is not the speciality cafe focusing on hand-brewed filter coffees, they provide quality service across the town on a consistent level.
The latest seasonal offerings presented creations such as Gingerbread Doughnut, the Christmas Crème Brûlée, Crosstown Mince Pie dough bites, or The Winter Fruit Crumble, which is vegan.
Do not miss out when in London!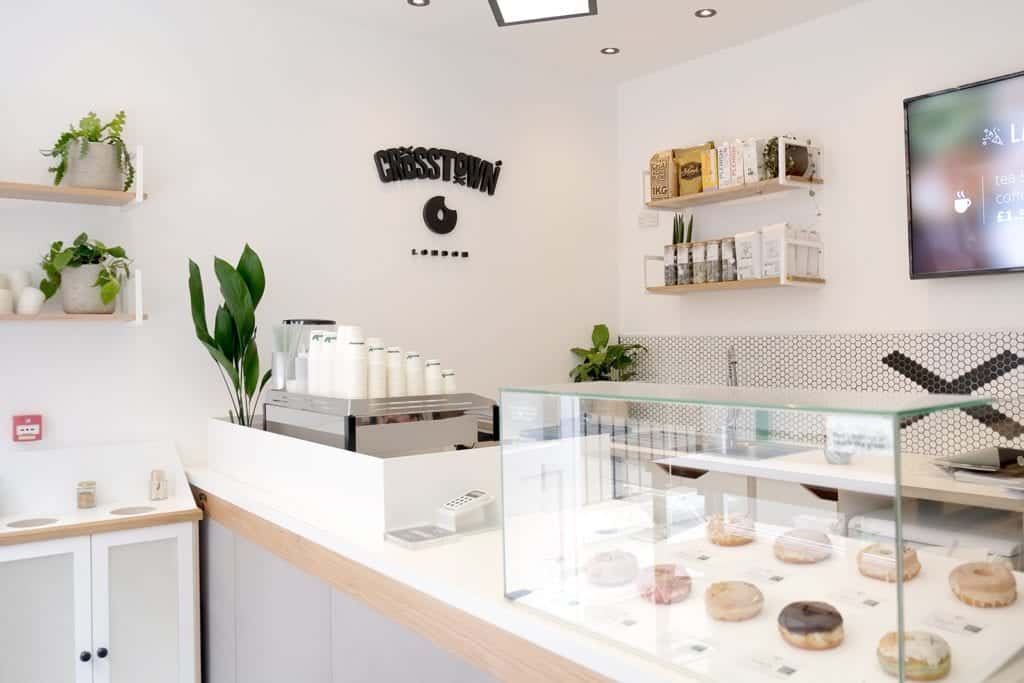 Soho – 4 Broadwick St, London, the United Kingdom, W1F 0DA
Leather Lane Market – Leather Lane, London, the United Kingdom, EC1N 7TS
Website, Instagram, Facebook, Twitter
Brammibal's Doughnuts, Berlin
Brammibal's Doughnuts have opened their first shop in 2016, but their journey to a proper doughnut-serving cafe started at a market stall as well. Spreading their all-vegan doughnut love at various pop-ups, events and markets, they finally decided to give the doughnut business 100% of their time.
Their original shop is located in one of the areas with the most foot-traffic in Berlin, on Maybachufer, a street that runs along Landwehr Canal. It is a popular hangout spot in the city and the one that hosts an outdoor food and craft market three times a week. Brammibal's were an immediate hit and became popular straight away.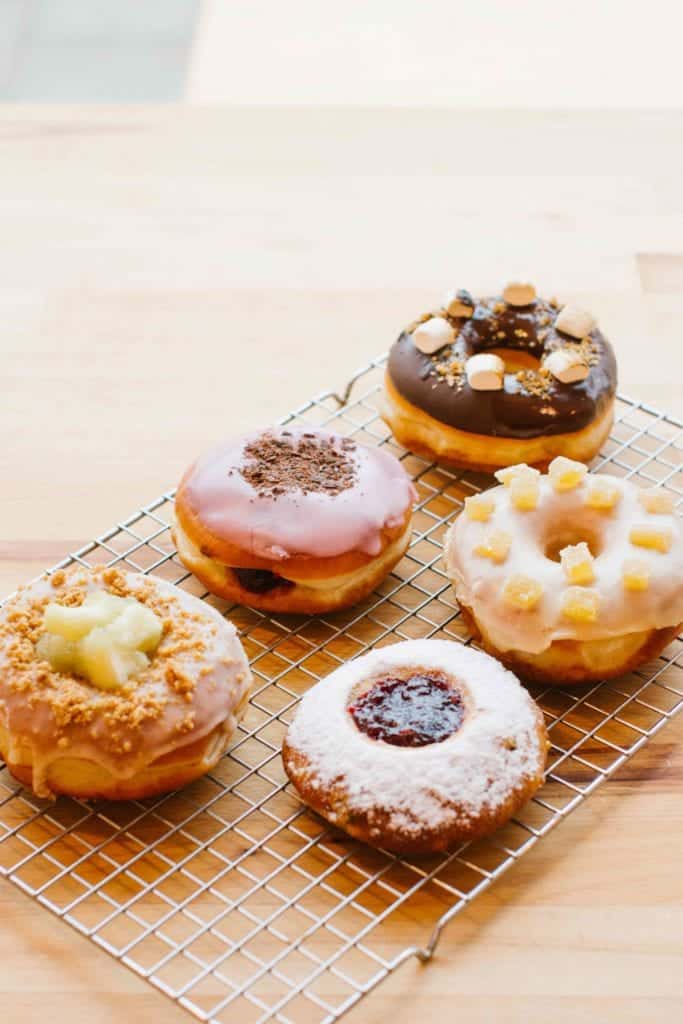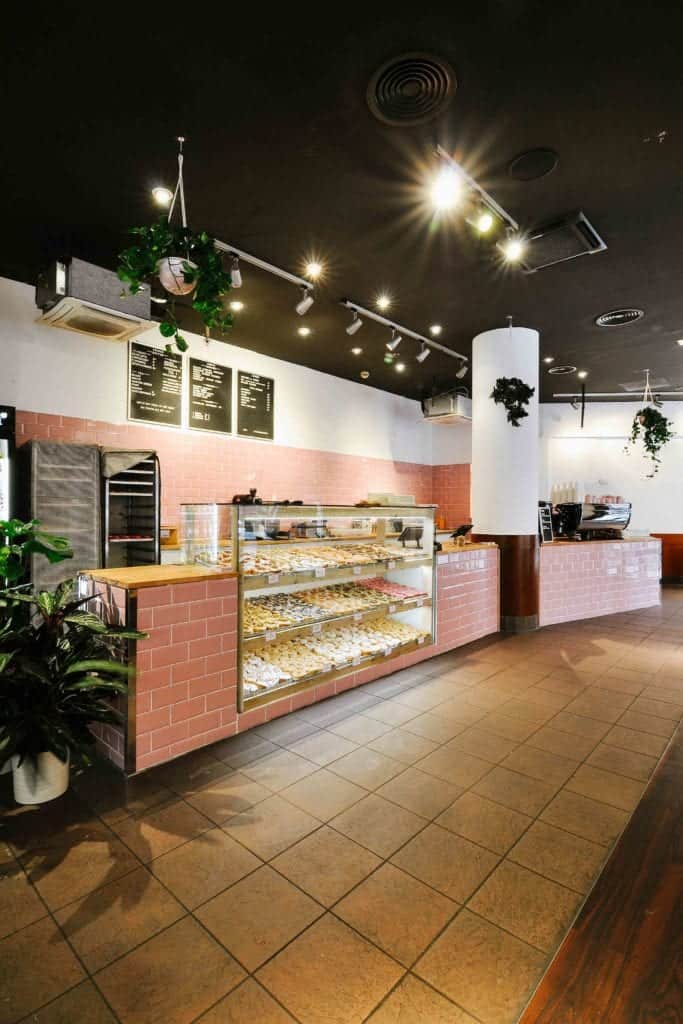 The cafe took some time to bring their coffee game to the same quality level as their vegan sweets, but since the neighbouring Populus Coffee had provided them with training, as well as coffees, Brammibal's cafe has become a strong combination of a great location, coffee, and vegan doughnuts. And vegan is a strong pull in Berlin.
2018 has seen the company grow quite a bit, successfully spreading their wings and bringing their fried dough to Prenzlauer Berg and, the most recently to Tiergarten districts.
Their cafes also bake their own cakes and bagels for their own service, as well as for catering. You can spot them at various pop-ups, or pre-order your doughnuts online.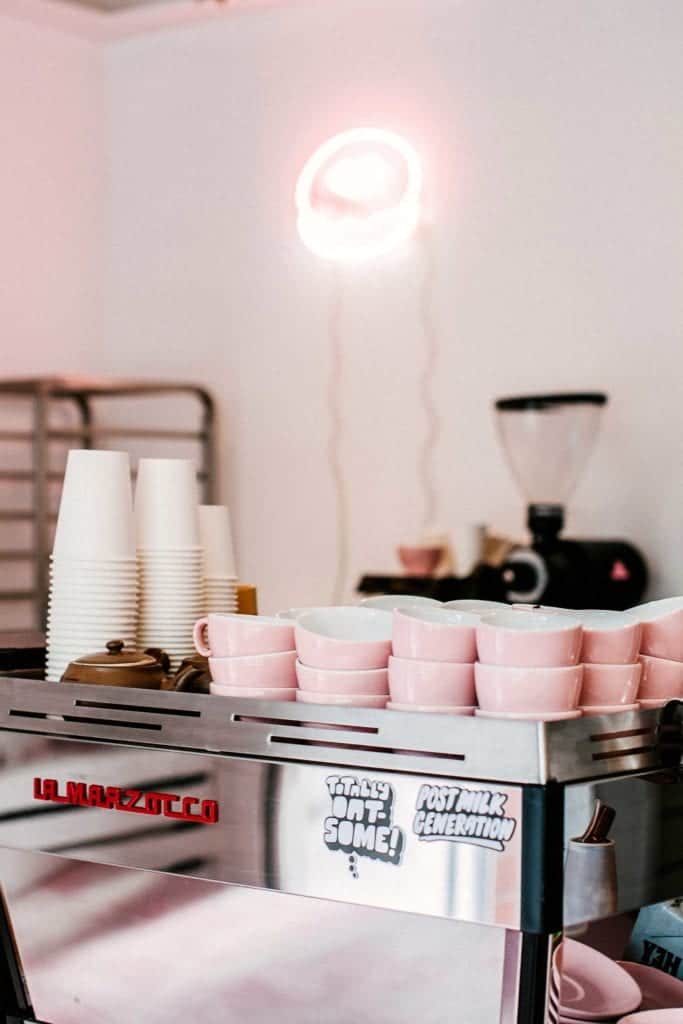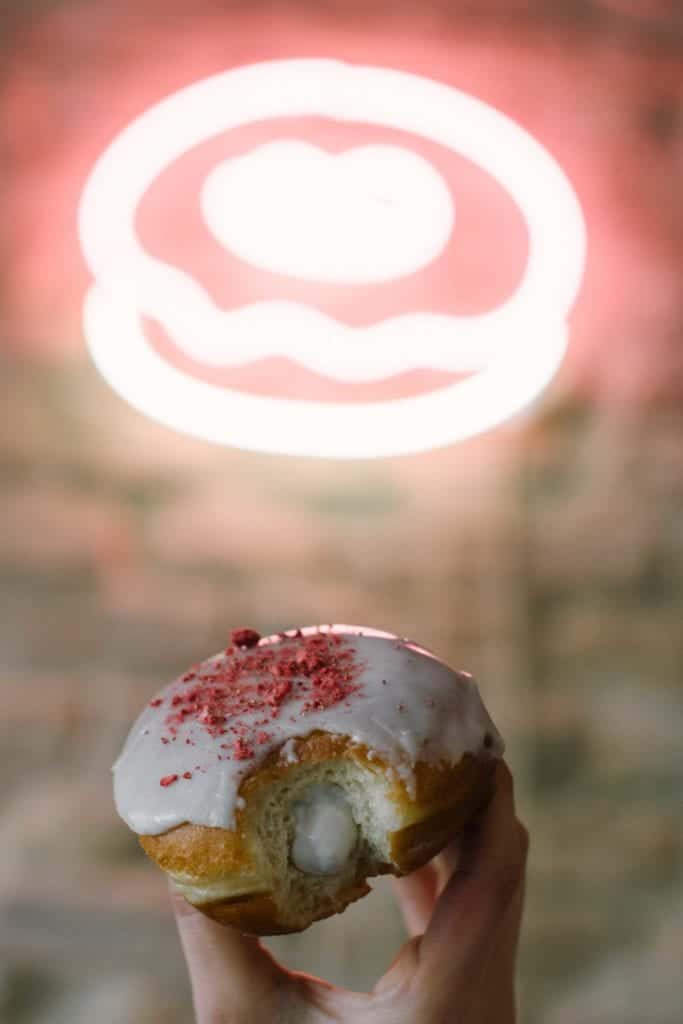 With every season, they update their standard six flavours with season specials, rotated monthly. In December, this would be the flavoursome selection of (German) flavours: glühwein-filled, candied ginger, a baked stollen doughnut with marzipan & jam, choc marshmallow. The doughnut that will make you feel the best about eating one is Brammibal's 'charity donut' with apple pie flavour! Brammibal's contribute 1€ of every sold charity doughnut, in December it is the apple pie doughnut, to Kaeltebus Berlin. This charity van service takes care of people in the streets who are in need of shelter during the freezing-months nights.
Neukölln – Maybachufer 8, 12047, Berlin, Germany
Prenzlauer Berg – Danziger Straße 65, 10435, Berlin, Germany
Tiergarten – Alte Potsdamer Straße 7, 10785, Berlin, Germany
Website, Instagram, Facebook
Kafe & Kobliha, Brno
One of the most recent openings on our list is a cafe and a bakery based in Brno, the Czech Republic, where it resides at Pekařská 68. The cafe is only one year old, but the doughnut pop-up, which they still run, had started already in 2016. Kafe & Kobliha present themselves with the motto 'handmade & handsome doughnuts', and they surely stand up to those words.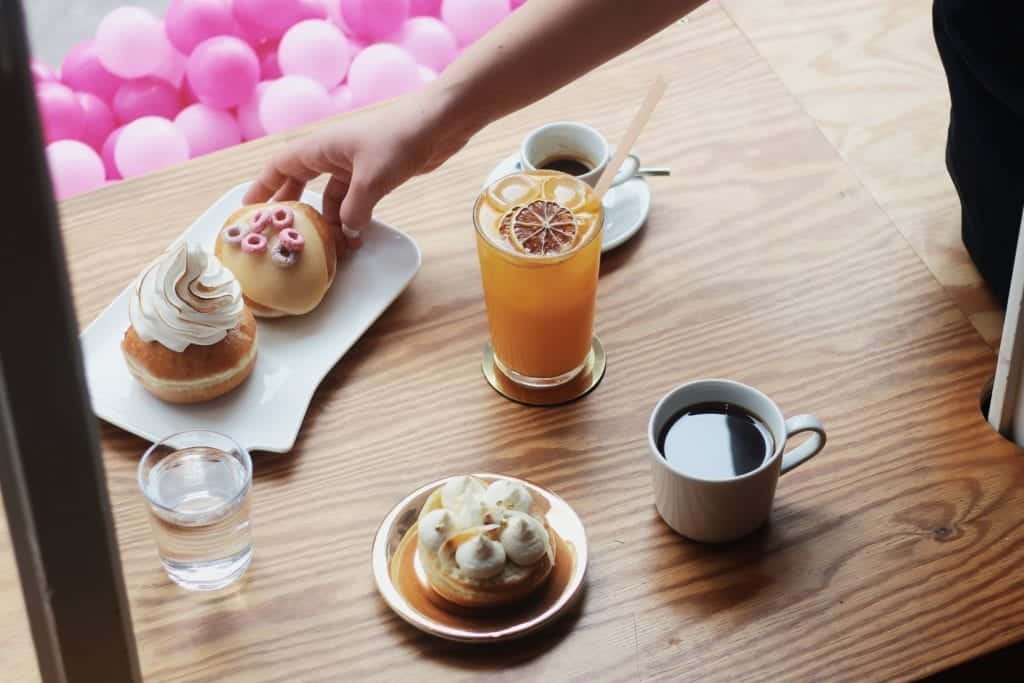 The cafe is situated just below the centrally located Špilberk Castle, which is on a hill, so there is no need to worry about the calories consumed at Kafe & Kobliha. Not only that Kafe & Kobliha deliver beautifully crafted and tasty doughnuts, but they also serve speciality coffee from internationally renowned roasters, for example from Friedhats Coffee Roasters, run by the 2018 Dutch Barista Champion Lex Wenneker. And they don't slow down with their operations either. If they are not in the kitchen frying, they organise foodie tours around Brno, to engage with the local gastronomy scene, showing the visitors the best that Brno has to offer.
As seen with the previous examples, every country or a region inspires the doughnut bakers to experiment with different flavours and combinations, and so it does at Kafe & Kobliha. Their Christmas menu uses the flavours of a traditional Christmas-biscuits recipe, the Linzer cookies. This doughnut is filled with raspberry and red currant jam and topped with white-cheese and Linzer dough cream. Another Christmas special is the Big Mac, aka a doughnut filled with vanilla custard, eggnog, coconut cream and mascarpone, with a coconut glaze. That description was impossible to cut down in words. These flavours will be replaced with a fresh line-up in the New Year though (dough!).
Pekařská 433/68, 602 00 Brno-střed-Staré Brno, the Czech Republic
Facebook, Instagram
Oh! Donuts & Coffee, Belfast
Oh! Donuts & Coffee are oh so well elaborate, from their branding to their flavours, and coffee selection. Central Belfast definitely gained a beautiful hangout spot a year ago, when the shop opened. Oh! Donuts & Coffee must be the most 'speciality-cafe looking' coffee shop on our list. With a spacious bar set up equipped with an EK43 grinder, a Brewista Hipster batch brewer and a Slayer espresso machine, there is also a range of speciality hot chocolates. A selection of multiple roasters from around Europe features Root & Branch Coffee, their main coffee supplier, Round Hill Roastery, Workshop Coffee and others. Their most recent addition to the coffee menu board is the third roaster position (the spotlight roaster), which allows the cafe to promote smaller, new and individual roasters with interesting approaches to the industry.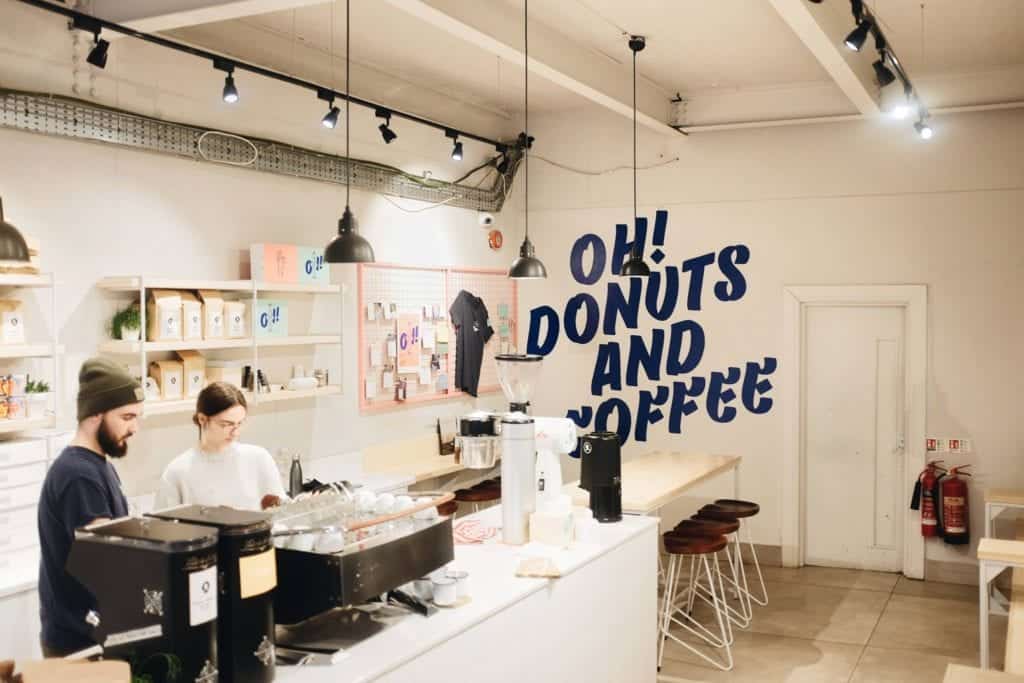 The cafe's shop window looks more like a display of a boutique shop, with elegant, white-and-wooden shelves that hold just a few of their iconic donuts as a showcase of what the shop sells. But it is the cafe's branding which struck us the most. First, with the stand-out name that almost shouts at you: 'Oh!', to the illustrations that are repeated throughout the interior of the cafe, as well as on the packaging of their donuts. In white and bright, navy blue, the illustrations are playful, almost like from a children's cartoon, and invite you to be young at heart and really savour this moment with their donut, taking a break from the adult life.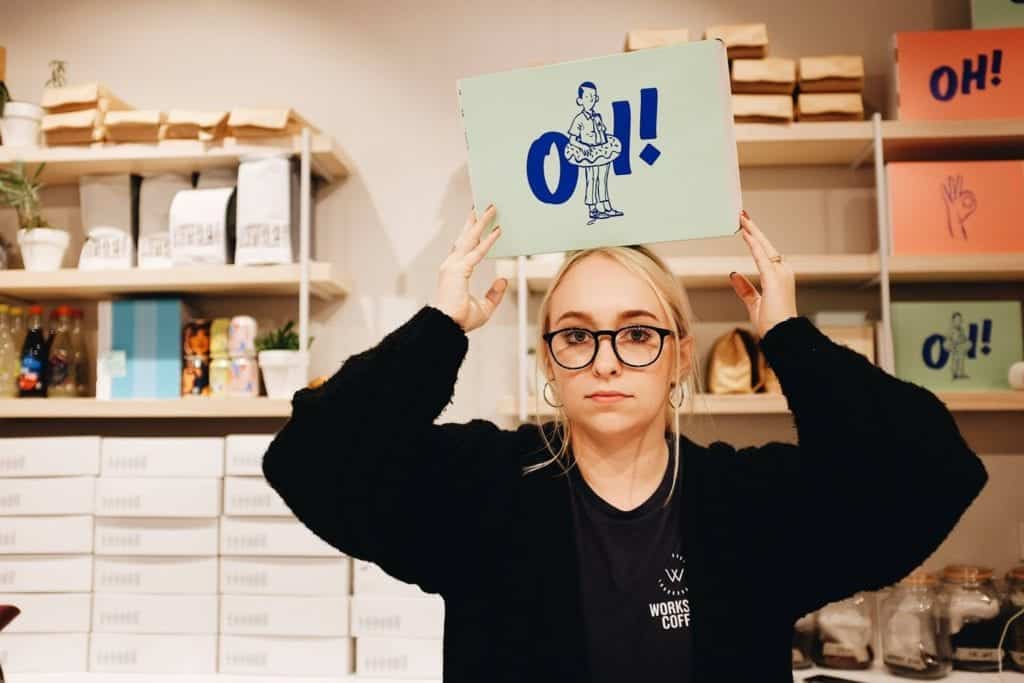 Oh! Donuts & Coffee are as playful with their customers as they are with their branding. Every Monday, they hide one Donut Coin around Belfast, for the lucky ones who find them to enjoy a free doughnut or a coffee. The best form of hide-and-seek we know! And you can also purchase these as gift vouchers in store.
Oh, and remember the soft serve I mentioned earlier? Well, Oh! did not shy away from serving multiple specialities this summer. But let's focus on their seasonal specials. To celebrate their first birthday, Oh! prepared a doughnut with apple and cinnamon compote with a chai latte glaze. In addition to that, a mince pie with brandy butter and shortbread crumb doughnut, and a Bailies Irish cream with white chocolate and orange zest.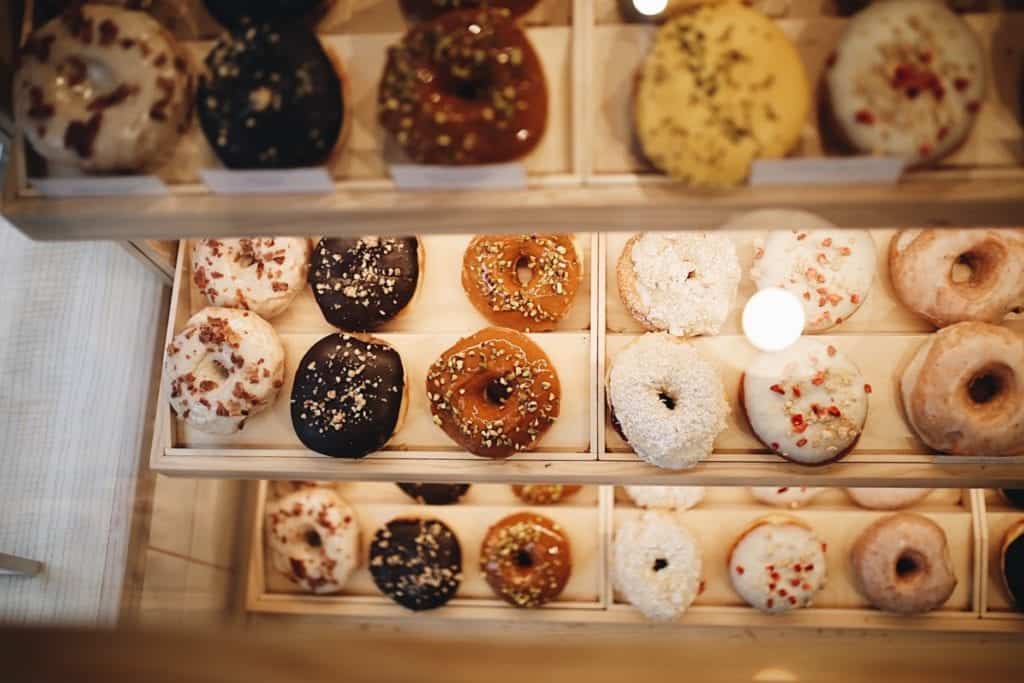 Indulgent, fun, stylish and beautiful are all words that fit Oh! Donuts & Coffee well, or as they call it, 'gourmet donuts & awesome coffee'. The match made in heaven.
55 Upper Arthur St, Belfast, the United Kingdom, BT1 4HG
Website, Facebook, Instagram
Temple Coffee, Leeds
Your body is your temple, so treat it nicely with a tasty doughnut. In Leeds, the cafe that takes care of their customers with seasonal doughnuts and also seasonal drink menu is Temple Coffee. Although their doughnuts are not baked right at the cafe, they make everything from scratch at their off-site bakery.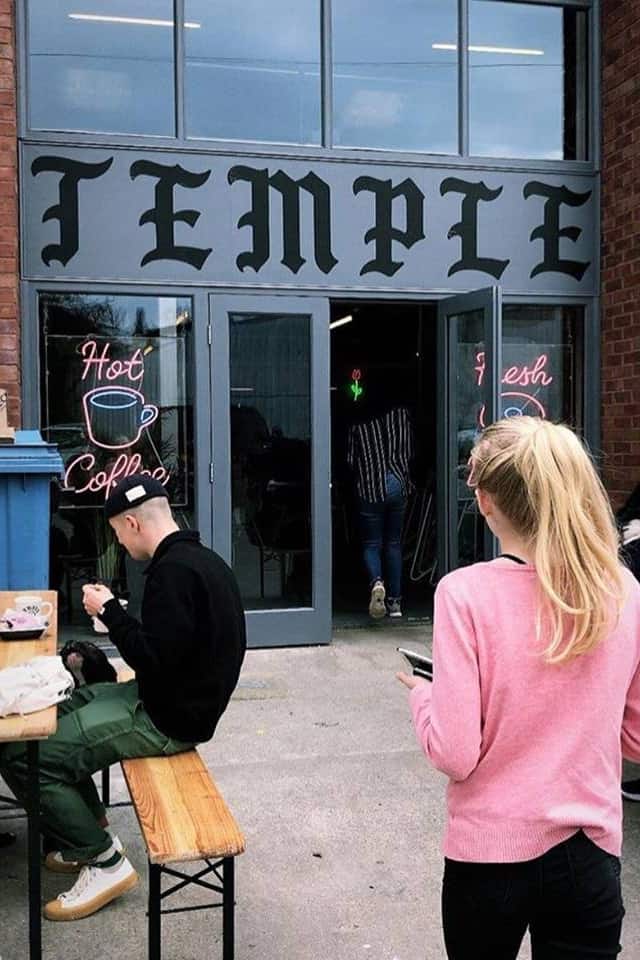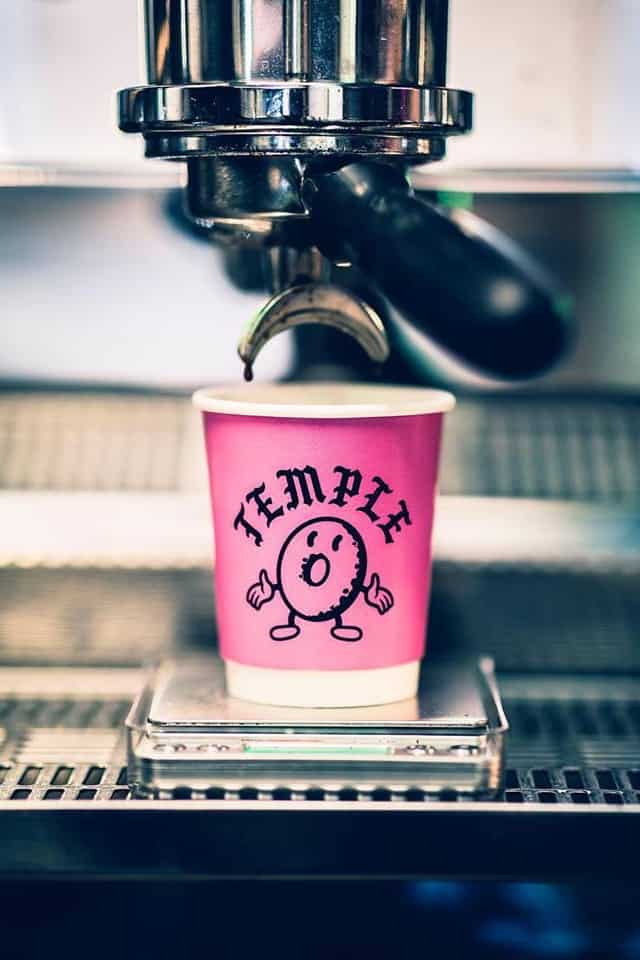 Walking into Temple must feel like entering a modern temple combined with a tattoo parlour. The neon signs make sure you know there are fresh doughnuts and speciality coffee on site, and the massive cafe name above cannot be missed. It will be engraved into your memory like the tattoo ink into your skin. Their doughnuts are, similarly to their neon signs, of bright colours and have sprinkles all over them. And the drinks menu does not lag behind. Think a flavour, it is probably on the menu. And we should not forget to mention the colour pairing of food and drinks, either.
Their winter menu saw flavours such as a white-chocolate snowflake doughnut, a hazelnut-cream-filled doughnut with a rose icing and chocolate drizzle, accompanied by rose, mint, or gingerbread hot chocolate, eggnog latte, or the good old coffee, which is supplied to Temple by Dark Arts Coffee from London. What the two companies seem to have in common is the aesthetics and a sense of humour, as well as a certain love for tattoo-parlour typography, and motorbikes.
Do not miss out on a combination of special drinks and doughnuts, accompanied by a doughnut-branded merch'.
Unit 3, Burley Court, Burley Place, Kirkstall, Leeds, the United Kingdom, LS4 2AR
Website, Facebook, Instagram
Talor and Jørgen, Oslo
The company which is equally famous for their coffee as they are for their doughnuts is Talor and Jørgen. The cafe, which houses its own roastery, has established a mad following for their doughnuts, brought to perfection by the head roaster Talor Brown. How she managed to become the master of not one, but two crafts, that is beyond us. The lines out the door that would have appeared at their doughnut pop-ups around Oslo speak for themselves and were at the origin of their successful doughnut endeavour.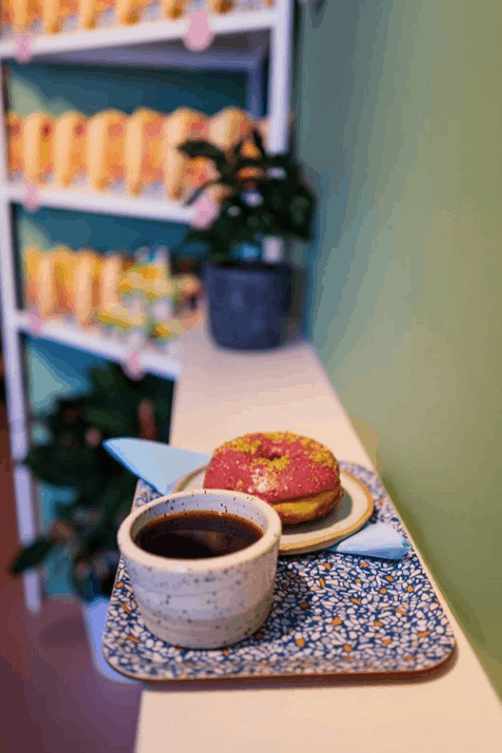 Combine the variety of doughnuts with their speciality coffee that Talor and Jørgen have been roasting to showcase their best flavours, and you are in for a treat. Talor was the one to teach the team of bakers how to bake and also shares her roasting knowledge with the roastery team. As a result, you can order a wedding cake made of doughnuts for your big day, or hire the doughnuts delivery for an event. If only stopping by on your visit to Oslo, make sure to get in quick, as they tend to sell out very fast. And who would be surprised with creations such as galaxy doughnut, passionfruit-cream-filled doughnut, the very Scandinavian flavour, brown cheese and jam, or maple pecan doughnut?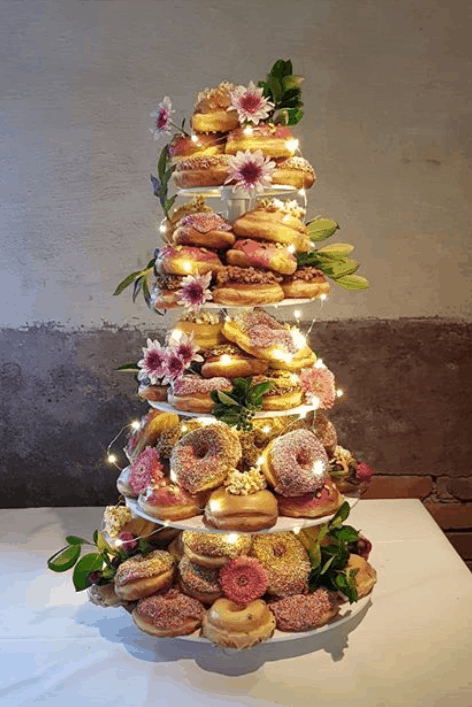 Talor and Jørgen are not afraid of speciality drinks menu, either. What about an orange matcha latte with white chocolate whipped cream, or the brown-cheese latte, topped with a sour cream whip, raspberry jam and waffle cookies? Some are prepared for special occasions only, and some are seasonal, for example, the summer fruit shrubs with sparkling water.
Everything is made, quite literally, in the house, so come down!