Perhaps you have spotted their colourful coffee packaging in some European cafes, or on a friend's coffee shelf. Talor & Jørgen have established an image of a roastery and a cafe that can't be mistaken with anybody else.
Talor and Jørgen created Talor & Jørgen
Talor and Jørgen. Two names, two parts of a project that includes coffee, as well as doughnuts. The name of a space that is now a roastery as well as a cafe (and bakery). Who are Talor and Jørgen?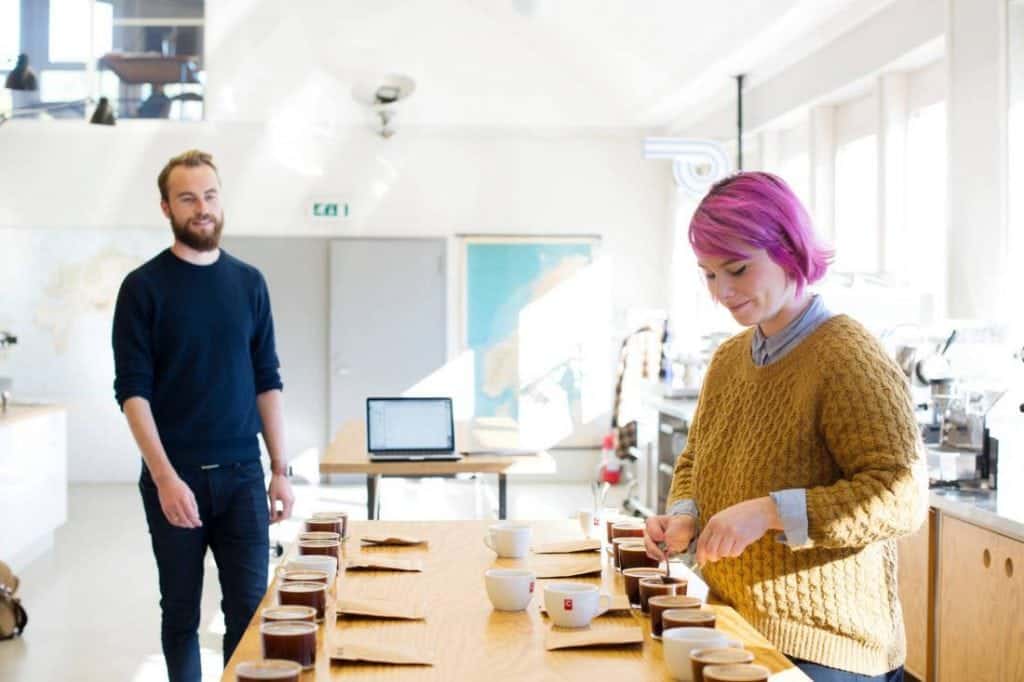 Talor is the coffee roaster at T & J, as well as a pastry chef who made a name for herself with Fryd doughnuts, now on the menu at Talor & Jørgen. As Jørgen said, she is: "a beam of energy who infects everyone around her with a sense of 'anything is possible'."
Jørgen, the second part of the founding duo, is the man behind the camera, as well as the bar, where he has ten years of experience as a barista trainer. Talor described him as "a very patient, practical and goal-oriented person who only sees solutions, not problems."
Their workload is incredible, and while they manage to roast, brew, bake, and shoot videos, they also trained new staff, built the whole cafe and are now one of the most recognized roasters in the world.
Talor & Jørgen are a combination of superpowers
Talor Browne and Jørgen Hansrud met in 2015. And combining their superpowers, they were able to bring something incredible to life.
Between their first collaboration and the opening of their roastery and cafe were two years of planning, working out of various temporary spaces, as well as roasting at Kaffa's roastery. From silent investors to the people who trusted in their talent and ideas and invited them to open the cafe in what is their current space, they have received help from a lot of people.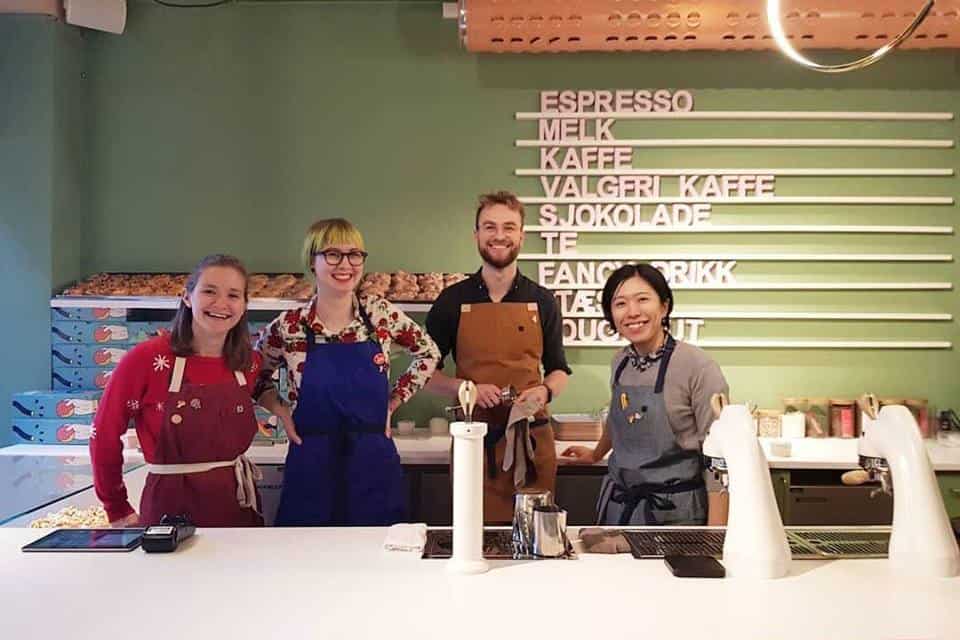 They managed to run Fryd doughnut pop-ups and attend events across Europe, Talor presented at coffee-industry talks, and they have generally kept themselves busy.
In August 2017, the training of their new staff began, and the team started taking shape.
Looking to hire new staff, their focus was on people and the energy they could bring to the team. Talor told us: "When we posted that we were looking for staff, we worded it in a way that would attract people who get energy from spending time with people. You can teach a person how to make coffee but you can't teach them how to be sociable."
Roasting what the customers will enjoy drinking
As a roastery, Talor & Jørgen are focused on delivering the tastiest coffees for their customers, so that they would never run out of fresh coffee at home. Building their focus on good human relationships, they aim to deliver delicious coffees without any confusion, any fuss, and have even created an easy-going membership system for their online customers.
Customers choose the brew method, how often they prepare coffee at home and their preference in taste, and the roastery takes care of the rest. And by giving the roasters feedback, the customers can, in return, take part in what future coffees may find their way to the roastery and to their mailboxes.
Colourful coffee boxes in your mailbox
Surely, roasters around Europe customize their packaging, but not all put this much effort into every detail. Not only are these packages functional, they are also playful.
As Jørgen said: "It's just so fun and it makes people smile." The envelope-like box fits 250g of beans packed in a biodegradable plastic bag. The box is covered in colourful illustrations and works as coffee packaging, as well as the shipment box itself.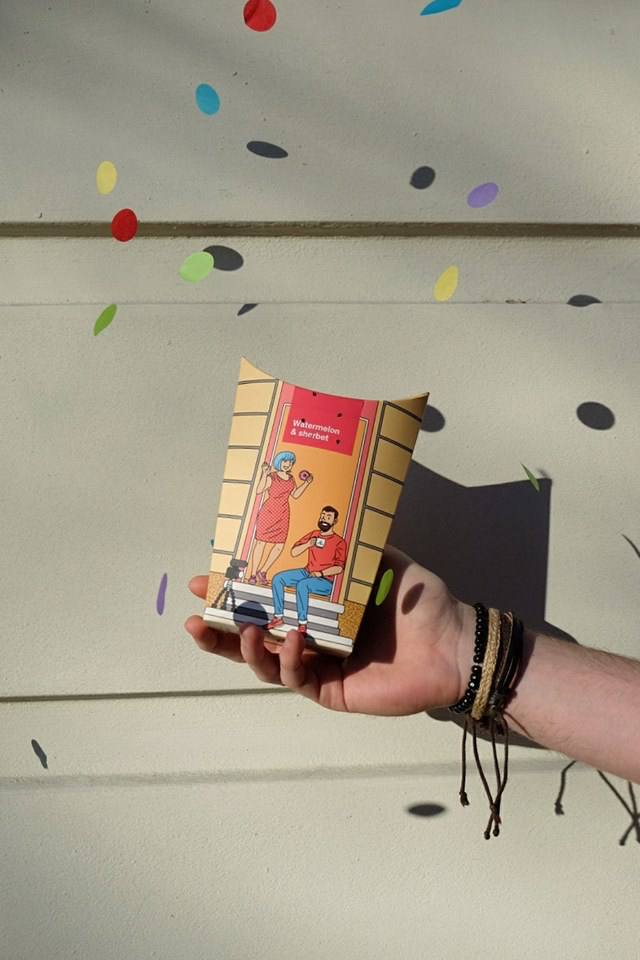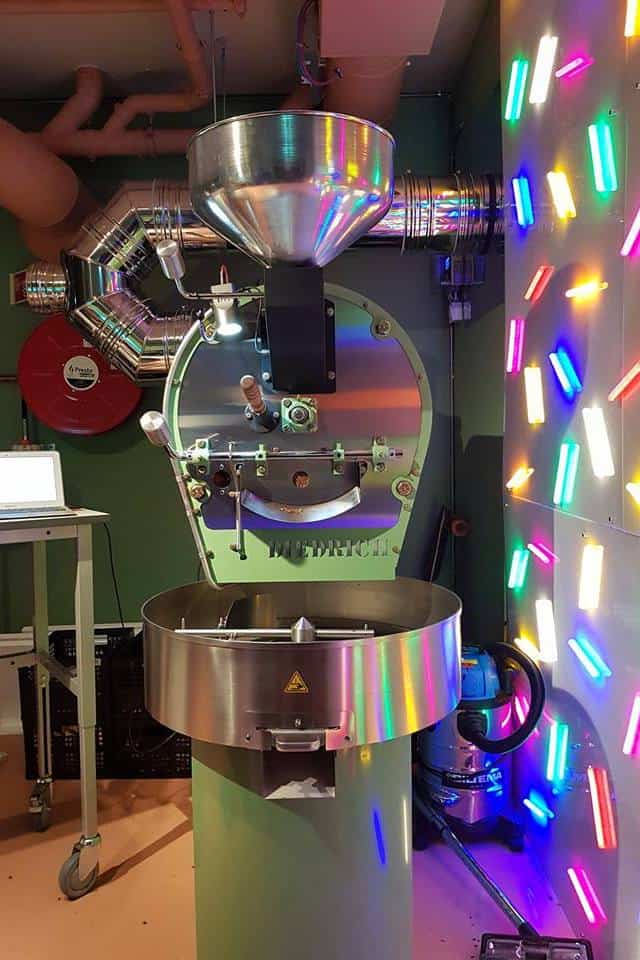 "We try to only work with Scandinavian illustrators and we have some really great collaborations coming up," says Talor about the designers who come with different perspectives on what characterizes the company the best. Every new box is like a collector's piece.
Talor agrees that the boxes' ability to evolve appeals to her the most: "I struggle with making long-term decisions about anything, so building evolution into our packagings' identity has been my favourite thing. I never have the opportunity to get bored with it before we're working on new designs."
And the boxes fit in the majority of mailboxes worldwide, with the purpose of home coffee drinkers never running out of beans again. No more trips to the post office either!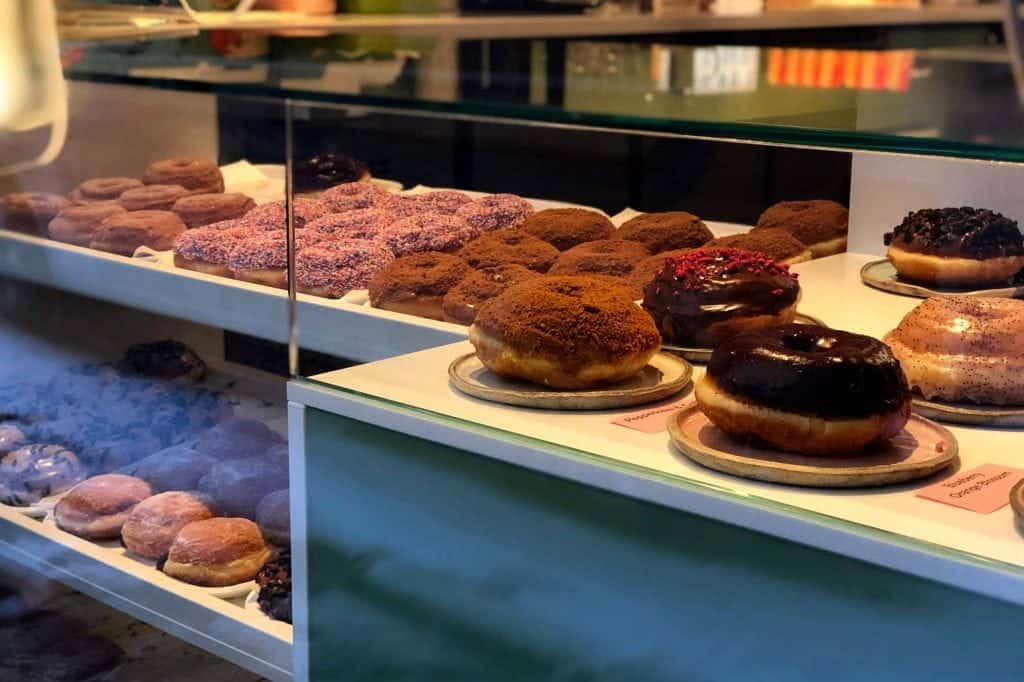 The cafe opened in central Oslo
Today, Talor & Jørgen welcomes you to their new location daily, with a fresh batch of doughnuts and a coffee "brewed the way you like it", as their website says.
But there was a long journey that preceded the opening. The centrally located and for years abandoned building where the shop resides was on Talor and Jørgen's radar since 2015. What is now a rather small shop was a part of a three-storey building.
The heritage-listed building took quite some time to restore. Although fitting out the cafe happened sort of 'the last minute', as Talor explained: "We got the keys about two weeks before we opened, the assembly happened amazingly fast and it was only the night before opening that we really felt it could be a fully functioning cafe."
And it certainly is now! If you happen to be crossing the square of Youngstorgata, your attention will be caught by a shiny circular sign in a shop window. Upon closer review, you will spot that it is made out of bulbs that spell out: Talor & Jørgen.
"Polished and playful" interior
Maybe not all in life is bright and shiny, but it definitely is at Talor & Jørgen's roastery and cafe. Starting with the sign, the interior is a combination of sleek, clean surfaces and bold, yet comforting colours.
Talor tells us about the creative freedom she had in the shop: "I've been so tired of the industrial chic and Scandinavian minimalism that has dominated the specialty coffee scene and I couldn't wait to build something that completely contradicted all expectations."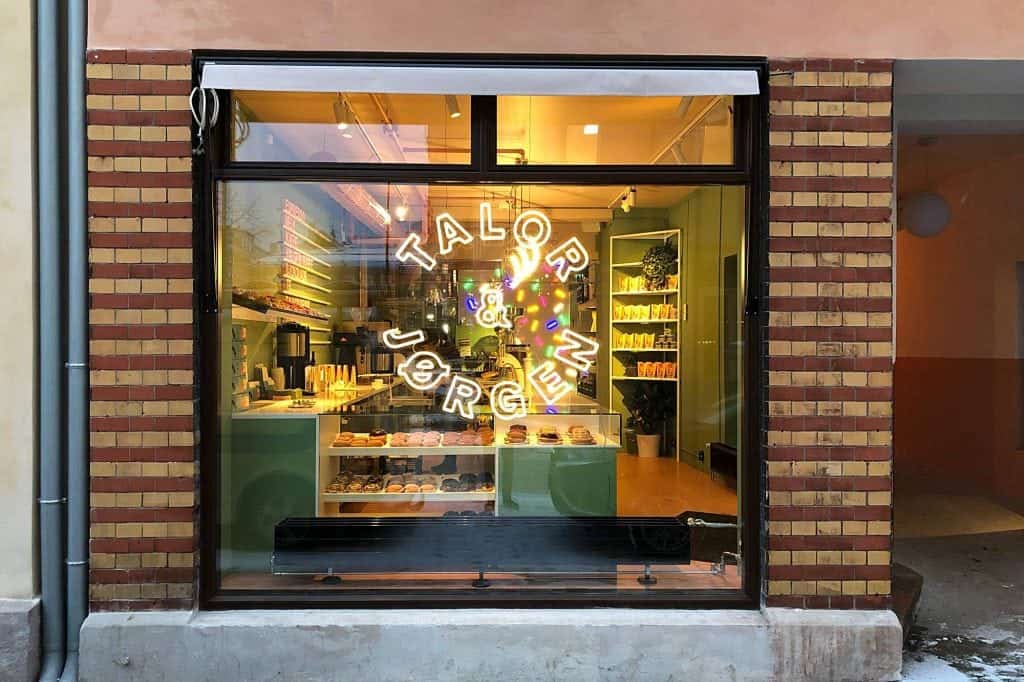 And so she chose colours that are "bright and energetic, without being overwhelming." The main colour palette is in the shades of avocado and peach. Those colours serve as a great background to their coffee and doughnuts.
You may know that the doughnuts come in as many shades—and flavours—as one can imagine. And they sell out pretty much every day. But those are made in the kitchen. The bar is to elaborate on.
Building a connection and a community across the bar
The first—and the only—piece of a proper cafe furniture you see upon entering is the bar, partially made out of glass. With the doughnuts on display, and almost with no machines on it. Oh wait, there are some, but they are quite unobtrusive, aren't they?
The Modbar espresso machine is integrated into the bar. That means, sunk into it. You would think there is a part of it missing since its boiler is actually under the bar. And the spaceship-like looking machine? That is an Alpha Dominche Steampunk machine, used for filter coffee and tea brewing. It is quite a theatre for the eyes, when in action.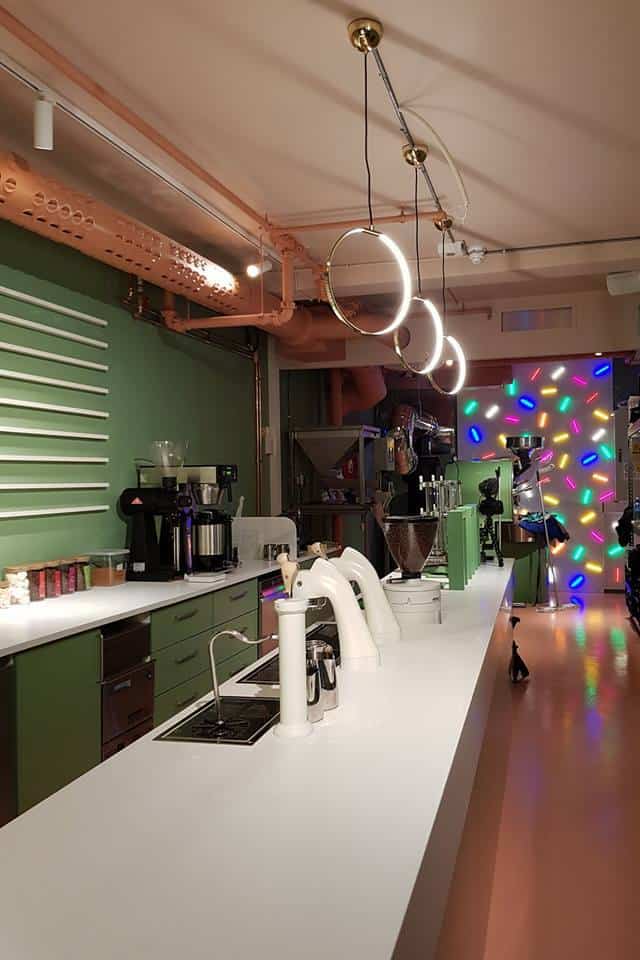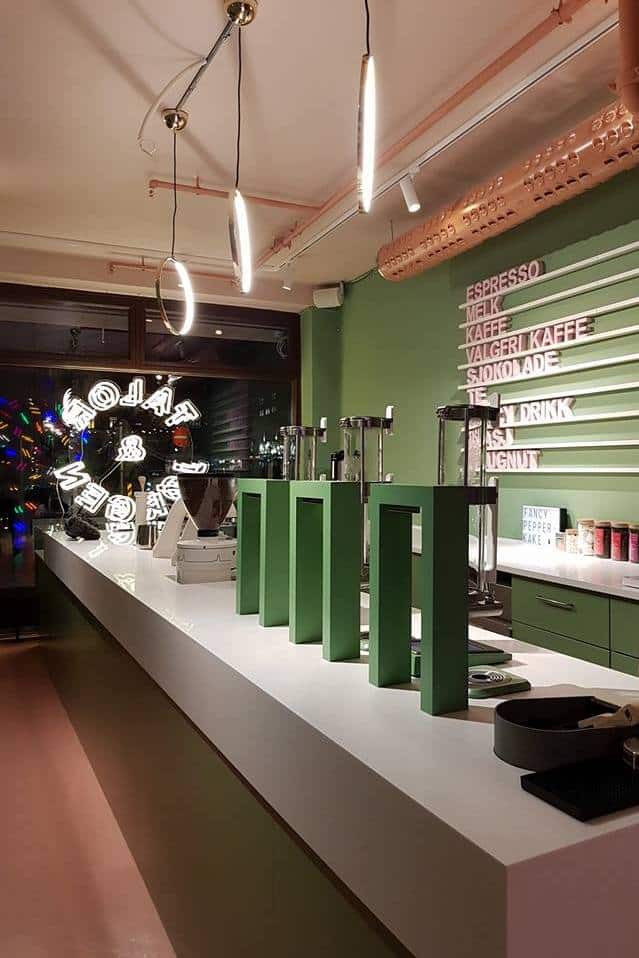 The machines' functionality and their look were, again, important points of decision-making when equipping the cafe. There are no seats in the cafe for the purpose of the staff being able to serve people without jumping over one another.
Talor is proud of how they built the bar, too: "Everything has a place and a purpose. It is definitely a bar designed by people who have been working behind poorly designed bars for many years. We wanted to do it better."
The machinery and the colours of the space play out together perfectly. Letting the prime product and the human interaction shine, but giving it a vibrant background to do so.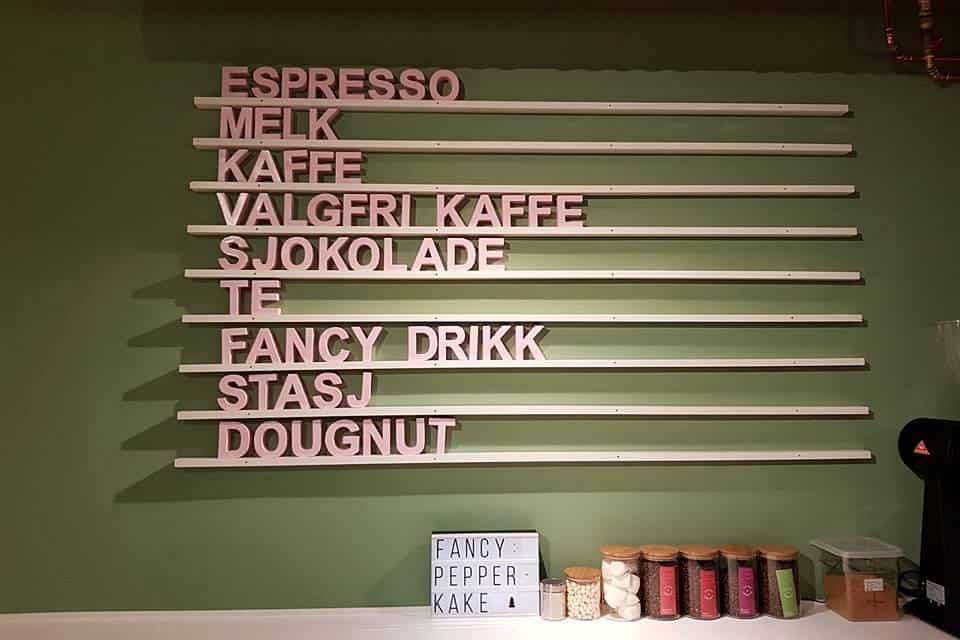 "When planning how the room would feel, we thought a lot about creating expectations for people and I think all the different features work so well together to create a mood that feels simultaneously polished and playful" were Talor's words describing the vibe of the space.
Roasting in the back of the cafe
Talor, who spends most of her time roasting and running quality control, has her kingdom in the back of the cafe. Thanks to the special lighting on the wall behind the roaster, you can see the action straight away.
"My favourite feature of the whole store would have to be the neon sprinkle on the back wall. It bounces off all the reflective surfaces and can't help but cheer you up on a bad day," Talor said about the lights.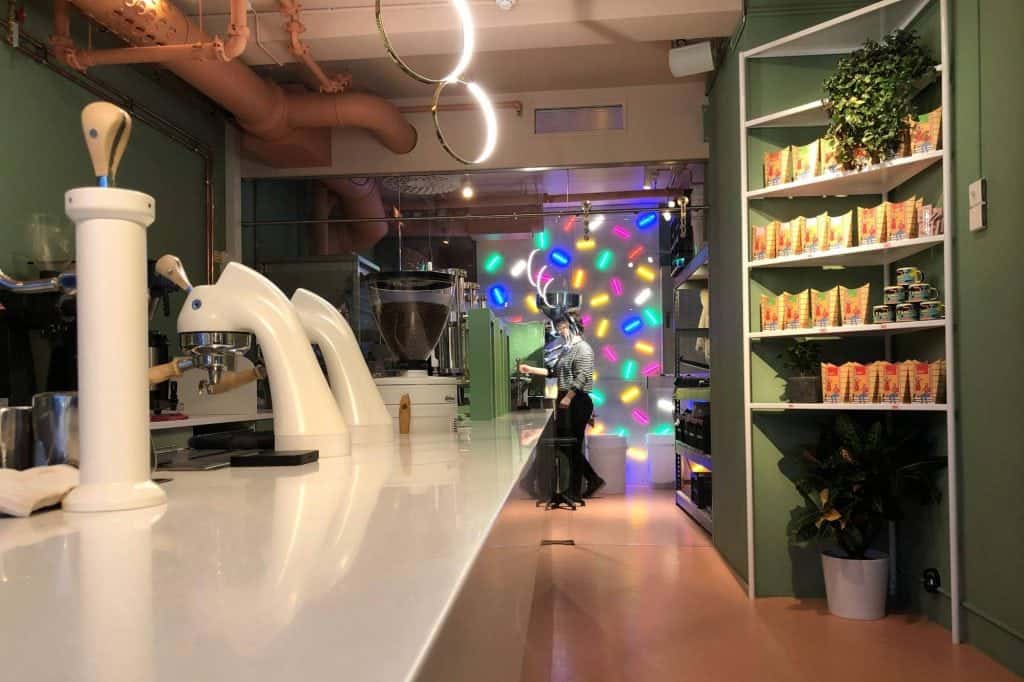 Lit by the neon lights stands the avocado-green Diedrich roaster that is now supplying cafes and home brewers all around the world. The machine was chosen based on a 'test of roasters' that Talor decided to run before purchasing a roasting machine.
Since the beginning of their roasting, they have managed to roast coffees for their customers, as well as the Superlatives series run by Barista Hustle. It is a series that features roasters from around the world doing tasty things with outstanding coffees.
A cafe that welcomes all
Talor & Jørgen have really tried to make their cafe as open and welcoming as possible. People come in for a chat, be it about the fancy machines and delicious coffee, or just to grab a doughnut in a beautiful box.
"We can attract coffee nerds, but we also bring in pre-teens, grandmas, families, tourists, bloggers, policemen, kids, chefs, newlyweds and people from offices buying for their colleagues," listed their customers Talor. Who doesn't love a doughnut and a cup of coffee?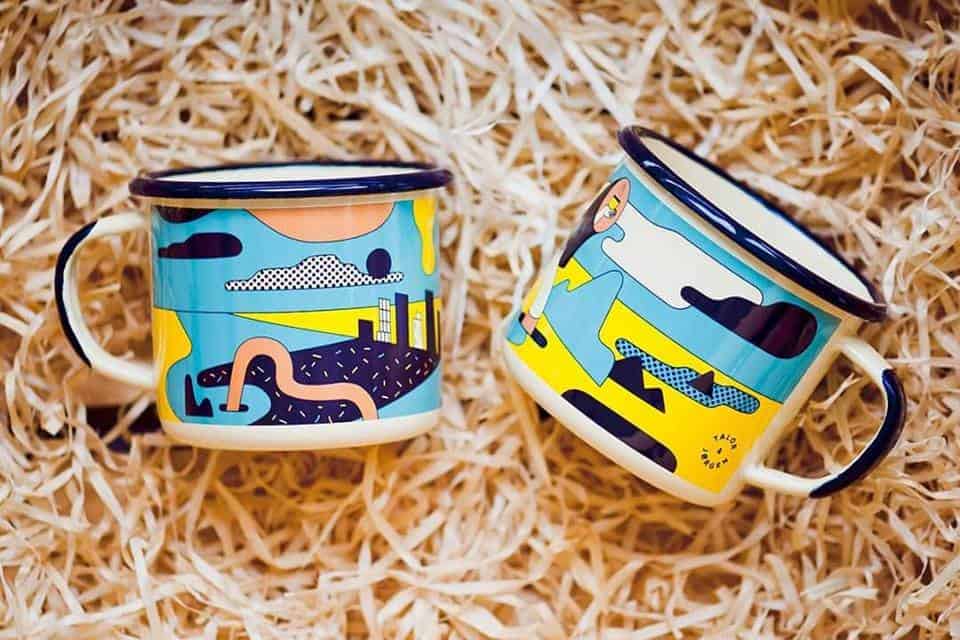 And to go with their stand-out illustrations, you can have a cup of their coffee served in an enamel cups, illustrated by Simon Landrein, Emalco and Bielke & Yang.
Weekly insights behind-the-scenes of T & J
Something we found quite unusual, but amazing all at the same time, is the way that T & J communicate with their followers and customers. Since December 2016, T & J have ran their YouTube channel, where they share what their week just-gone looked like. Their videos are quite special, too!
Thanks to Jørgen, who is the cameraman of the team, among other things, the videos are done on a professional level. They open a door to running a business, handling stress, as well as to what a team has achieved or what they are struggling with. Talor says: "My favourite thing about the vlogs is being able to look back and see how far we've come. Watching them really gives me an out of body experience, like, "Was that really us!?".
Jørgen says: "I love being able to tell the story of us from our perspective." You really get to know the team a bit better this way.
All the while, they manage to do it with such ease and humour, that you may as well watch T & J's videos instead of Netflix.
It certainly is entertaining, although there is a lot of work behind it, as Jørgen admits: "I hate the enormous amount of work it takes to make them," while Talor adds: "My least favourite part is having to stop, even when we're crazy busy, to film something or set up a shot."
If you cannot visit Oslo just yet, their videos will leave you tempted to do so, or at the very least, quite amused.
Join Talor & Jørgen for a new experience
But to finish today's introduction of Talor & Jørgen, we would like to quote Jørgen who summarized their efforts perfectly: "Our goal is to build a business mainly around people. The products are just a manifestation of who we are. The next goal for us is to invite as many talented people that we can into the company and let it evolve from the range of talents and skills they have."
Join Talor & Jørgen for a new experience. We are sure you will have a very warm welcome and leave full of tasty things.
Photos: All photos were kindly offered by Talor & Jørgen