With the growth of the coffee culture in the Czech republic, more and more baristas are reaching outside of its borders for inspiration, the possibility to learn and explore within other countries, while travelling and embracing other cultures. Tom Nossek is one of those moved-away baristas. He lives in Scotland where he works at Lowdown cafe in Edinburgh. His discoveries are numerous and we are very happy to have his eyes and ears out on the growing artisanal scene of Scotland!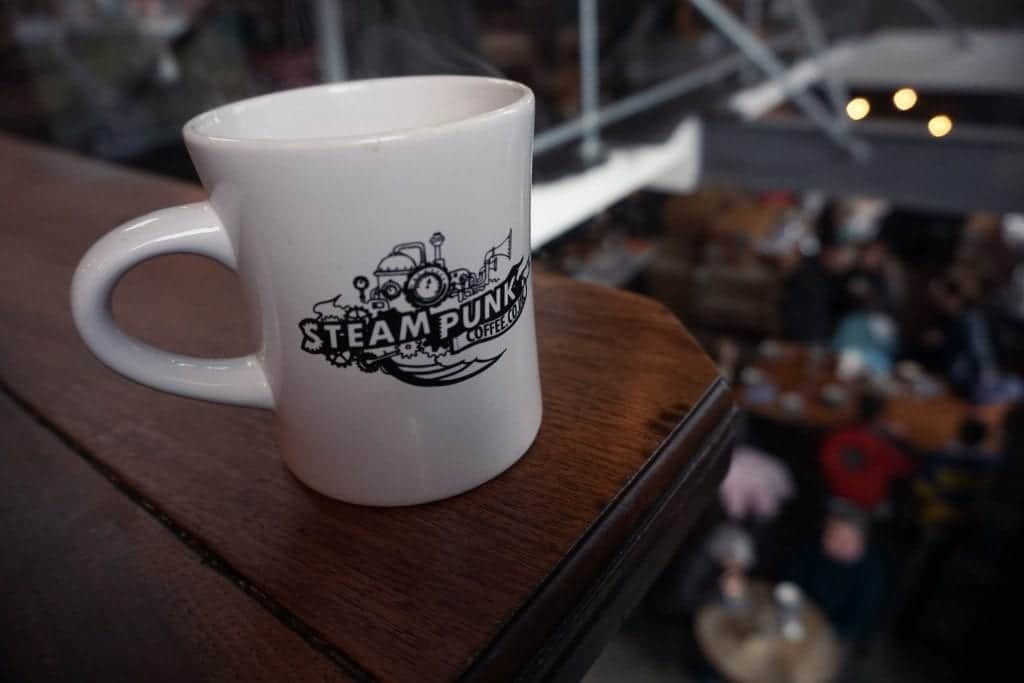 I've met so many wonderful coffee people and visited many admirable places during my first month in Edinburgh! Before I get to sum it all up in an upcoming coffee guide, I would like to introduce you to the most fascinating discovery of mine, Steampunk Coffee Roasters. I interviewed the owner and manager Catherine Franks. She was very helpful and provided me with as much information as possible about the origin of Steampunk, their coffee and people involved in this project.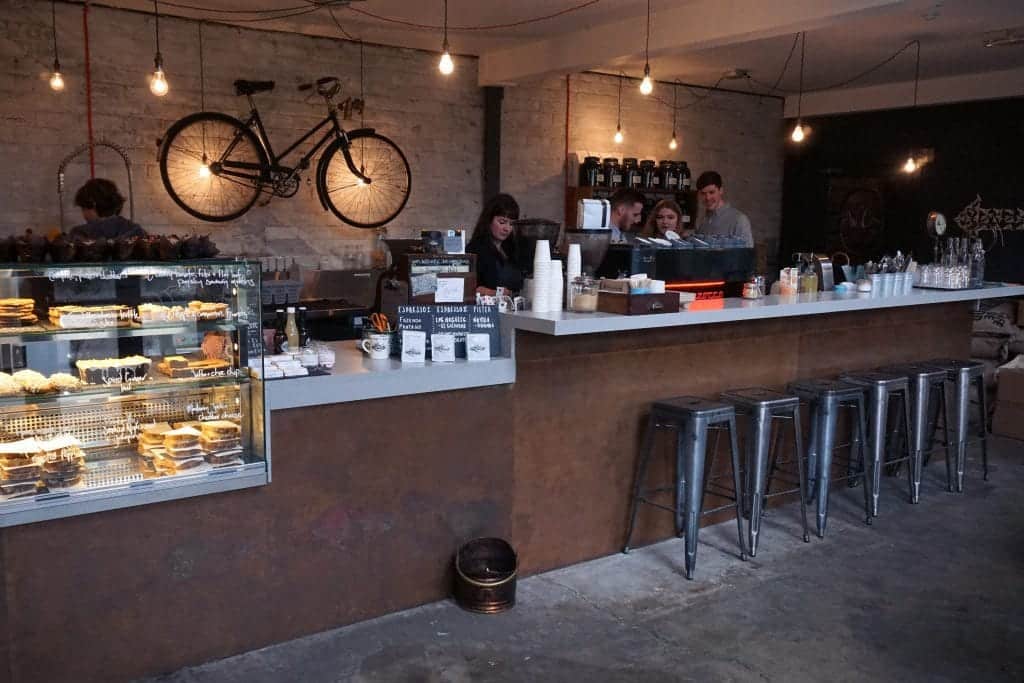 Steampunk Coffee is definitely a must-see place if you're interested in coffee culture and being outdoors in the stunning countryside. They are located in a lovely seaside town called North Berwick, which you can reach easily by train from Edinburgh's Waverley station. The company's name is derived from the term "Steampunk", a genre that incorporates technology and aesthetic designs inspired by 19th-century industrial steam-powered machinery. Steampunk Coffee works that way too. They are a small and independent roastery which employs talented roasters and baristas who share their passion and skills for coffee with their customers.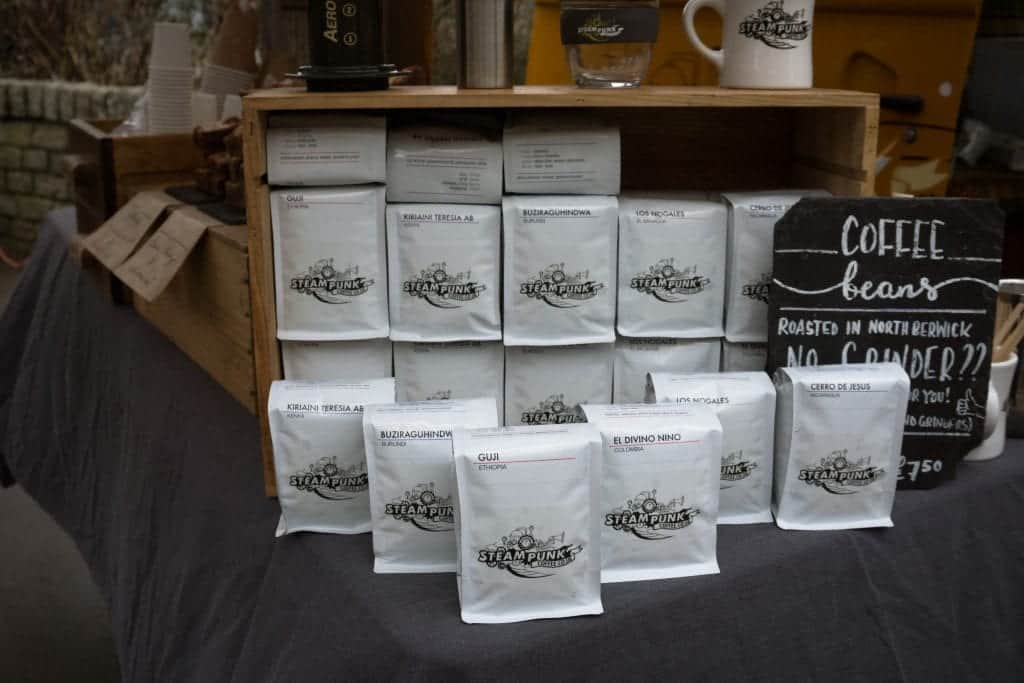 Catherine's coffee beginnings date back to 2011 when she brought her 1976 VW camper van to Stockbridge Market to sell homemade cakes, brownies and coffee, back then roasted by Edinburgh's Artisan Roast. She installed a two group lever machine in the van and started going to a lot of festivals and other events. All those experiences gave birth to an idea of Catherine's own cafe and roastery. Artisan's head roaster became her business partner while she took care of management, design and food.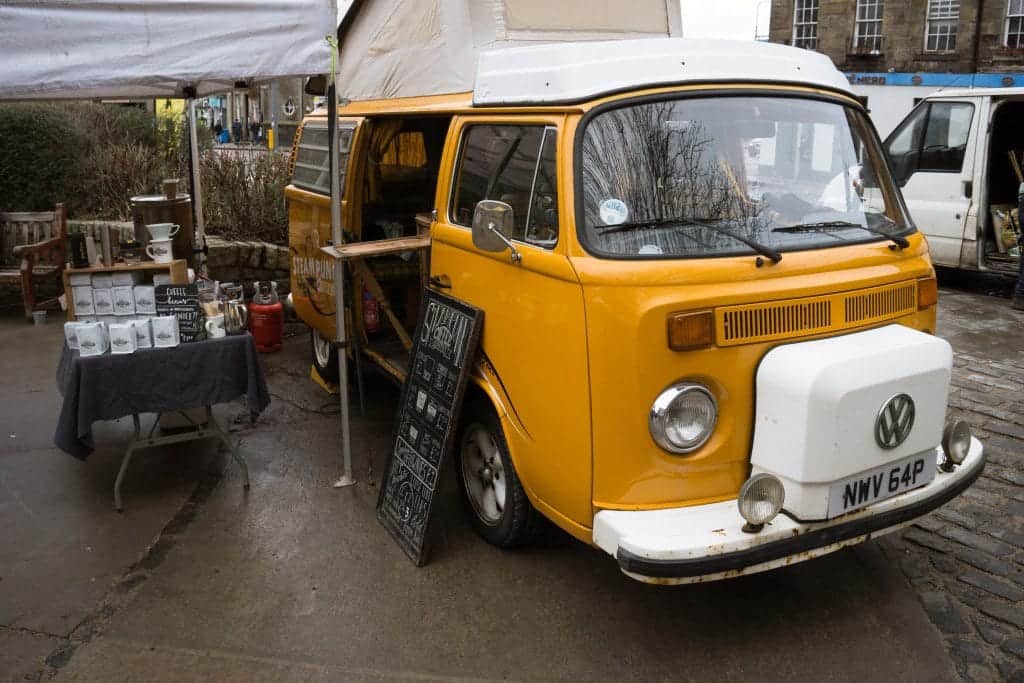 We can find their coffee roastery in an old joinery warehouse in the centre of North Berwick. The two storey building accommodates the roastery on the ground floor with a renovated Probat machine which is in good shape. Coffee is roasted in small 6kg batches from Monday to Wednesday each week. There is also a bar with a 3 group La Marzocco Linea Classic, a Mythos One and a Mahlkonig K30, a few tables, a cupboard filled with freshly roasted coffee and shelves of brewing equipment. Sacks of green beans are laid on the ground and another espresso machine with grinders for training and gear for developing the final roast profile are placed here too. They have more tables upstairs including elegant vintage armchairs with a total capacity of 72 covers. This was the reason they decided to serve batch brew through a Bunn instead of pour overs. It was a kind of nostalgia, I used to drink it in Iceland and I hadn't come across it since then.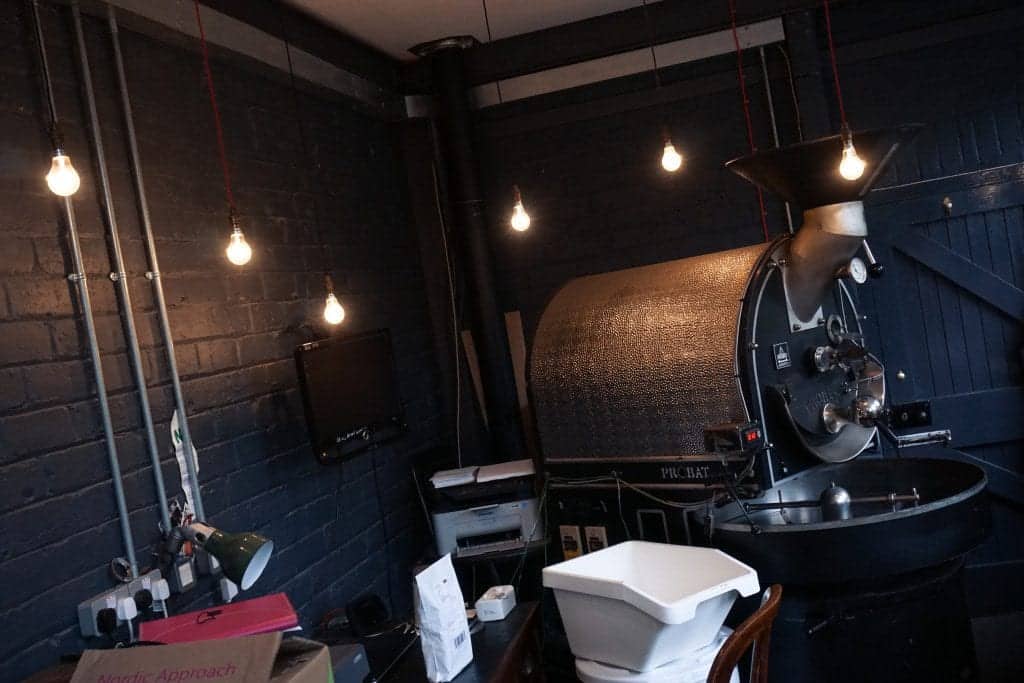 You may watch the roasting process through a floor window from upstairs or pass the time watching people, as I did. It is not only about coffee here though, their delicious soups served with artisan bread produced by Ross Baxter of Bostock Bakery, salads and sandwiches are freshly prepared in the kitchen on the first floor as well. Steampunk Coffee employs two enthusiastic roasters – Dori Czeglédi and Will Sumner, 4 baristas and one trainee barista. The first time I visited I was invited by Andy Laing, one of their baristas and all over a great guy.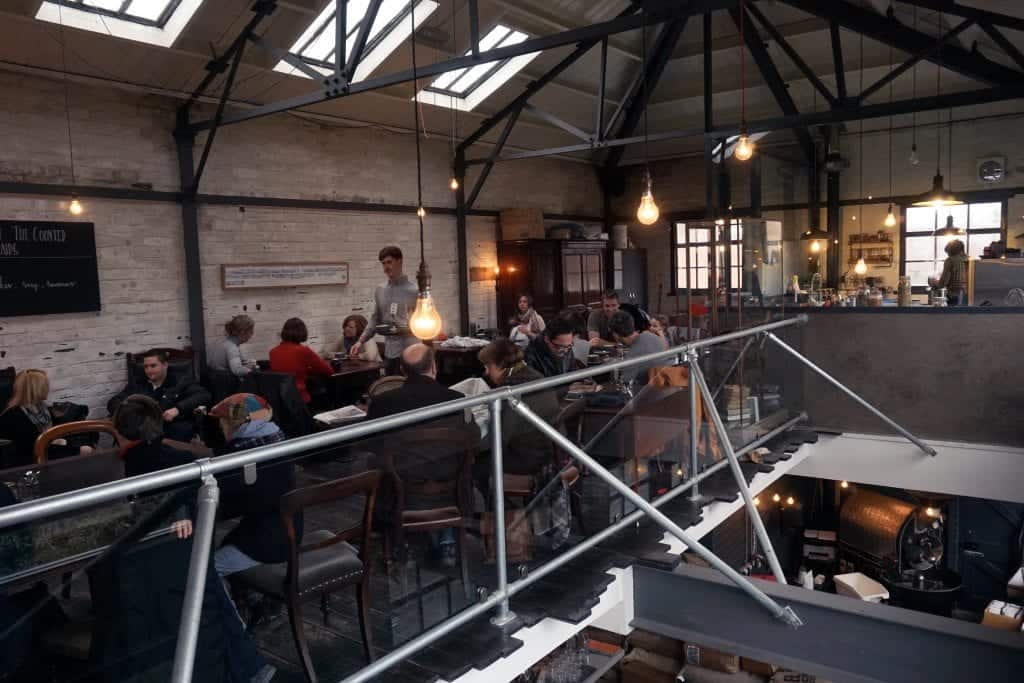 Steampunk is very passionate about and dedicated to sustainable business. "We are passionate about ethical and transparent sourcing so only work with green bean merchants Nordic Approach and Falcon Specialty as they share great information about their beans. They also work hard in countries of origin reinvesting in coffee growing communities and paying good prices for quality coffee. We have moved away from blending as we source such great coffees – it seems a shame to throw them all together," Catherine explained. They roast each of their single origins for flavour and solubility versus conventional espresso and filter roast to portray characteristics of the growing country.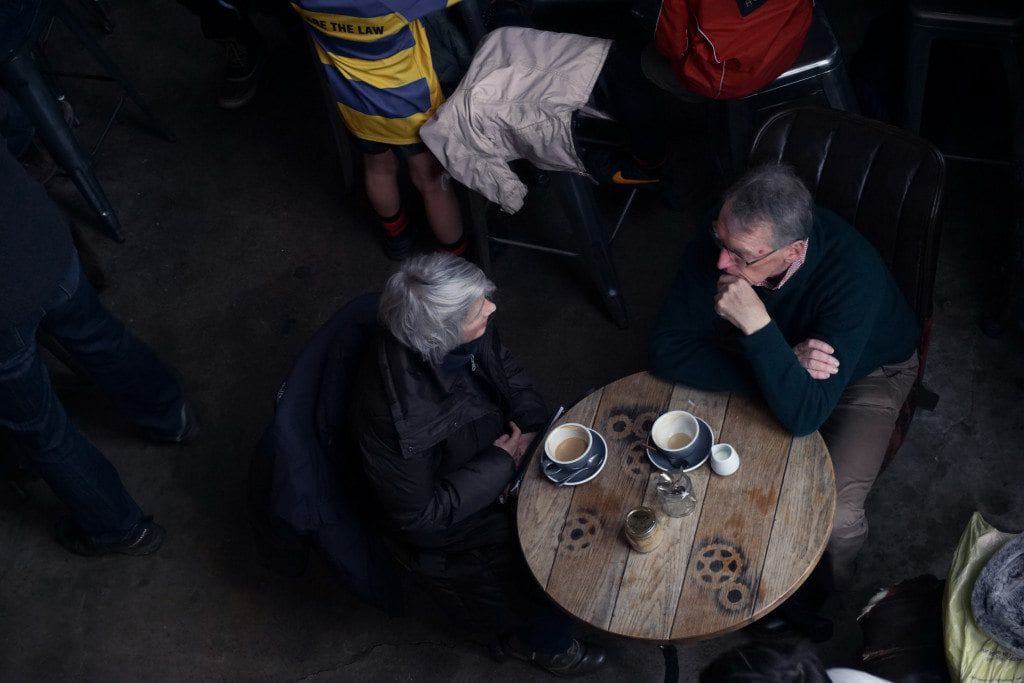 Currently, you can taste an El Salvadorian coffee and a Brazilian on espresso and a Rwandan on filter. I tried their fully washed Bourbon from Rwandan Nkora on the Bunn and later on brewed it with a Kalita Wave at home and it instantly became my number one filter coffee.
Unfortunately the location of the coffee shop isn't the closest for a quick cup of coffee. I'd recommend that you plan your trip with a visit around the neighborhood, it is a nice area for cycling and being by the ocean. If you can't make it out to North Berwick you have a chance to taste their products, not only coffee but also a fresh selection of brownies, at their old-school VW camper van at the Stockbridge Market in Edinburgh every Sunday from 10am-5pm. If you are out and about, visit the coffee shops they supply such as Lovecrumbs or 12 Triangles. The beans can also be delivered straight to your home, ordered through their website and online shop.
What about Friday evenings? Well, try their Pizza Night – crispy Italian dough baked in a vintage Citroen van and served on the courtyard outside of The Warehouse from 5pm till 9pm. Accompanied by delightful coffee, warm-hearted people and fresh air, Steampunk Coffee from North Berwick is one of my best discoveries in Scotland so far!
49A Kirk Ports, North Berwick, East Lothian EH39 4HL, United Kingdom
Official website, Facebook, Instagram