The presence of top baristas and roasters from the Czech Republic would make a great event already but Stepan Neubauer, co-ordinator of the Czech Chapter of SCAE, wanted to take things even further and asked the judges to share their experience with visitors. We took a chance to capture three incredible and provocative talks by Jeremy Challender, Dale Harris, and Gloria Pedroza.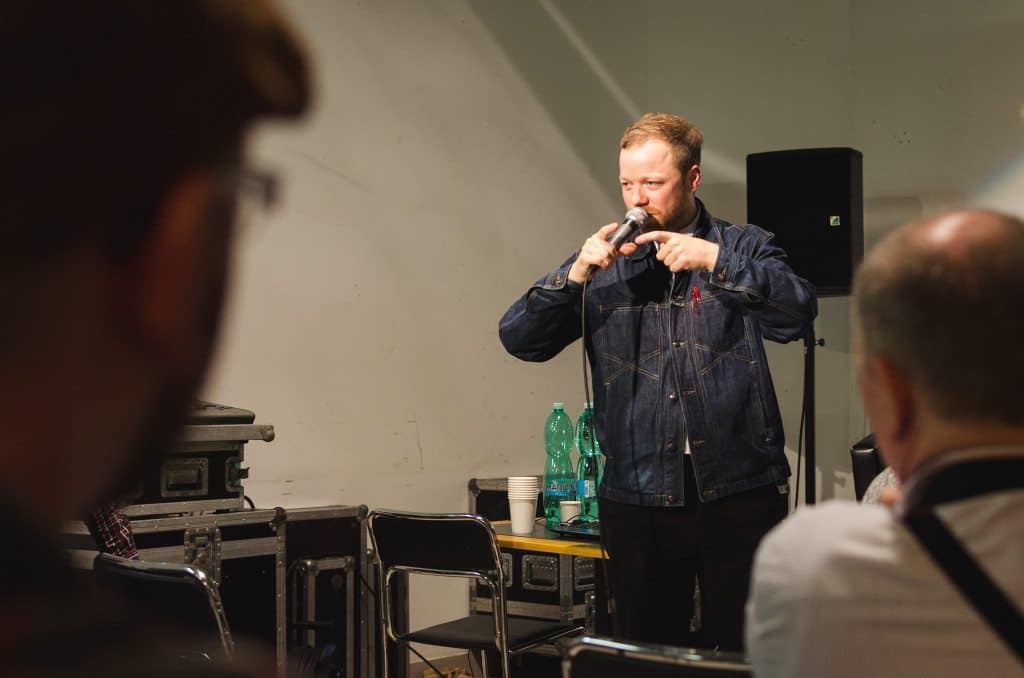 Jeremy Challender: Single-Shot Cartel
In this theatrical talk, Jeremy Challender from Prufrock Coffee discusses discoveries they made while battling under-extracted coffee. They have played with all the possible variables but thanks to the refractometer and the cupping knowledge gained by Q Graders cupping protocol they realised that the problem doesn't always reside with the brewing itself. They are now able to hold a dialogue with their roaster and understand if the coffee was developed properly. As Jeremy said, they hold perhaps the worlds longest spreadsheet with all the records of coffees that have tasted. They can make an informed decision about what coffee to pick for their brew bar and espresso bar. Isn't that better than blind guessing?
Dale Harris: Power of Connection for Baristas
Dale Harris from Has Bean likes to make new connections whenever possible and he did just this during the event. He talked about his early beginnings; learning how to brew less bad coffee, attending his first fair trade / barista competition and results of Googling "my coffee tastes bad". As he states, we are building various connections every day and the Internet has made it much easier with coffee professionals we weren't able to connect before. The most important connection for the barista is the one with his customers who all share the one need – to be noticed. Are you providing your customers with such a service?
Gloria Pedroza: Speciality Robusta
We tend to believe that robusta doesn't deserve to play a role in the world of speciality coffee but is this the correct approach? "I really like to give coffees the opportunity to prove themselves and that is also the case with robusta coffee" is how Gloria Pedroza started her presentation. Over 30% of coffee production consists of robusta and so it can't be ignored. We should also get our expectations right and not confuse robusta with arabica in the same way we don't expect pears to taste like apples. When Andrew Tolley asked about the flavour profile of fine robusta coffee, the answer given was there is sweetness, smoothness, chocolate / nut notes and in general a heavy body.