In February we headed to Hamburg to pay a visit to our dear sponsors Mahlkoenig. Nestled in the tranquil north-eastern outskirts of Hamburg, Hemro Group's Mahlkoenig factory produces some of the best grinders on the market today. We were pleased to join their team for two educative days! Read about our on-site discoveries.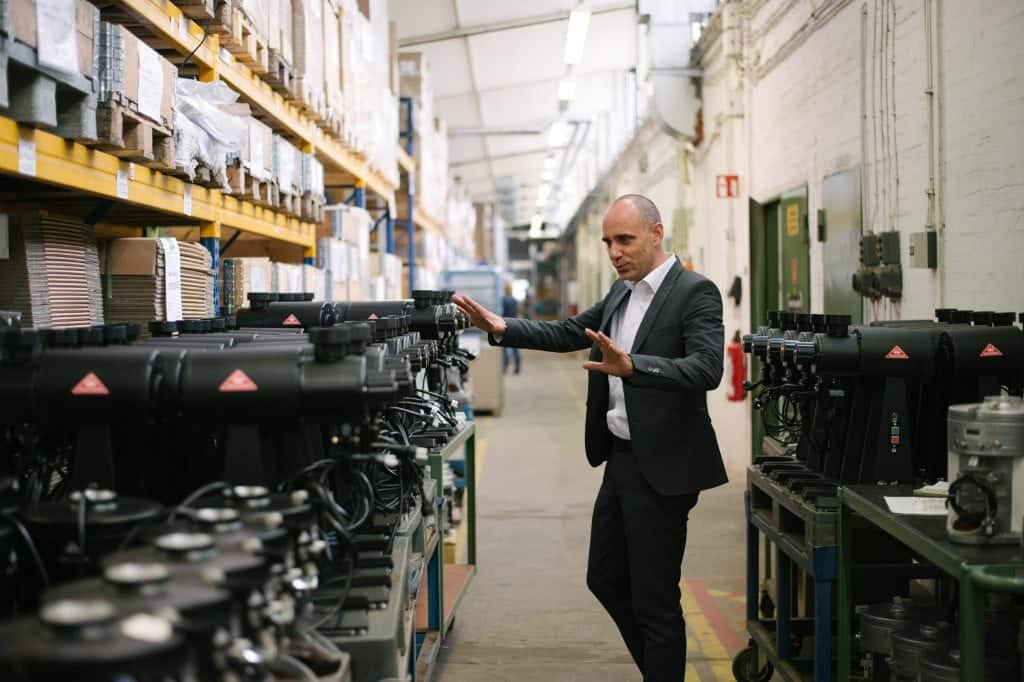 "Mahlkoenig in English means 'King of Grinders' " Mr. Philipp Baumberger explained to us. CEO of the Hemro Group, Mr. Baumberger sees this translation as a perfect fit, since the company's name should be the first one to come up in your mind, when thinking about grinding. Travelling around European cafes we must agree, Mahlkoenig is certainly regarded as a quality-focused company. The products are displayed on bars of numerous shops. Welcomed by Christian Klatt, Senior Product Manager of Mahlkoenig we were given an extensive tour of the facility. The first interview of Christian gained a lot of attention and so did his brilliant introduction into Heating in grinders, presented at the Barista Camp!
Excited for the opportunity we bring you this report on the factory tour with some detail info on the MK Technologies building and the Assembly Line obtained from interviews with the management team.
Arriving through the main gate you do not realize Mahlkoenig site is divided into two buildings. One accommodates their offices and the Hemro Academy, with Mahlkoenig Assembly line in an adjoining hall. It is here the final assembly of separate grinder parts happens. MK Technologies, the second building, is where the burrs of your future K30s and EK43s are formed. There is a great amount of knowledge, skills and also time, that go into production of every grinder!
Stage 1 : Production of parts
Most of the hard machinery work is done at MK Technologies building. Mr. Roland Gropp, our first interviewee is COO at MKT. He walked us through MKT, introducing us to the cutting machines of the metal for burrs. In function since 2012, MKT produces machine parts for Mahlkoenig and Ditting. Since Hemro invests a lot in automatisation of production with new machines, he is not afraid to plan for 550,000 grinding discs to be produced this year. The technical innovations and dedication to quality and precision are what keeps Mr. Gropp motivated and enthusiastic about his job.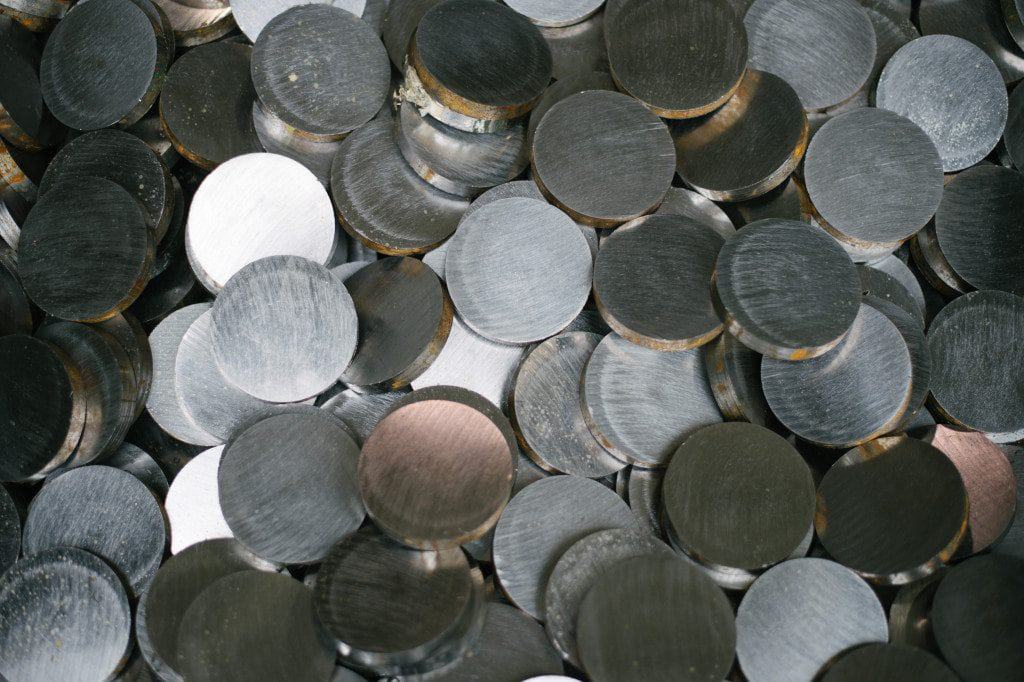 The steel cutting machines produce discs, yet in raw state, in 65/80mm size. All of them are measured for accuracy by a robot, checking the thickness of each cut. All this data is a valuable piece of information that even goes out to customers in enclosed protocols.
Christian Klatt showed us around the machines that cut the burrs' teeth and also explained the eccentricity of the tooth in burrs: "Each burr needs to be milled and their teeth need to have a certain angle. The eccentricity of the tooth determines if the coffee gets spitted out of the grinder or not. The teeth line does not come from the centre of the disc. The more angled the teeth are, the more aggressive and also faster the grinding is. In that case a stronger motor is needed, too." The designs are different for every type and size of a grinder. Relative to the demanded speed of which grinder, the strength of the motor differs too.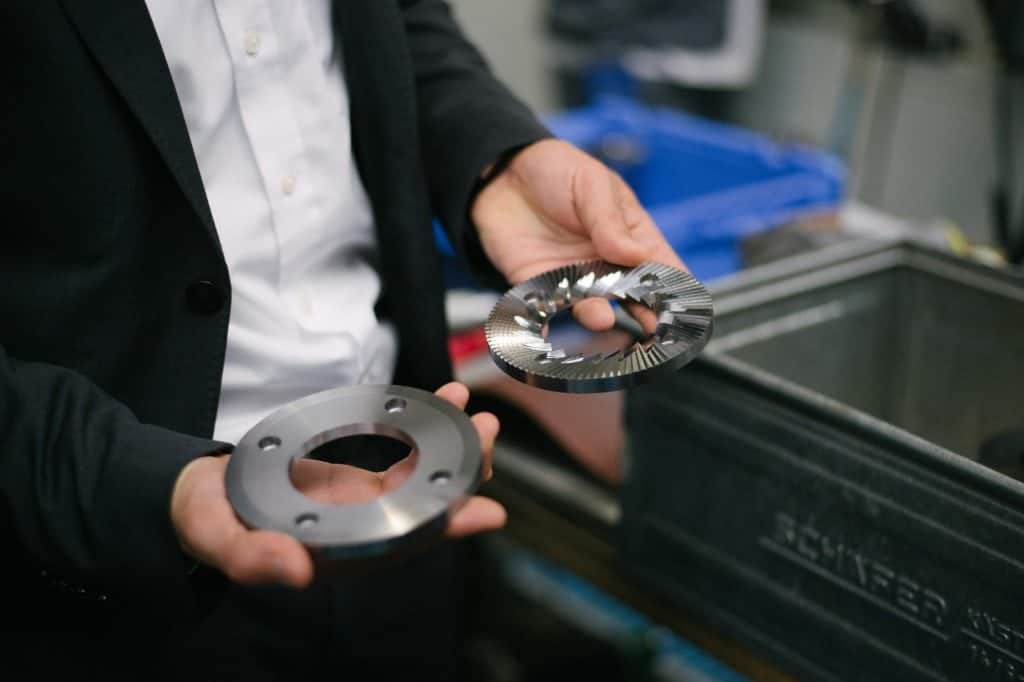 Different grinders for different needs
Hemro is a group of grinder manufacturers that supplies machines for not only coffee industry, it also provides grinders to big industrial companies. For that purpose there are different types of steel used at Hemro Group. Standard tool steel is used for all the coffee grinders and hence is to be found inside of any cafe's Mahlkoenig grinder. Unexpectedly, Mahlkoenig actually produces 6-7% of grinders that are dedicated to grinding spices, grains and seeds. Those industrial grinders are from a harder material, the cast steel, that lasts longer, but is also slower in speed.
Cast steel and tungsten carbide (TC) are more special materials used at MKT. TC, produced in very low numbers, needs a special machine producing it, with a diamond-coated tools to cut the burrs' teeth sharp. It takes four hours for each disc, resulting in burrs for two grinders ready every day. On top of that, there are only two companies in Europe that can work with TC, one of them being Hemro Group. TC is a very specific material. As fragile as ceramics, it can break if dropped on the ground. Nevertheless, if undamaged, the burrs can be resharpened up to two times.
Hot topic – Production of EK43
Currently the most popular grinder on the market, it was designed more than 20 years ago for grinding coffee and spices. Sales numbers have grown by the factor of 24 since Matt Perger and team have placed the EK43 on the café bars around the world. This puts high pressure on the production of cast steel discs and cast aluminium parts, yet there is not enough parts produced as fast as needed.
After the EK43 burrs haven been turned by the CNC machines at MKT, they get inserted into the sharpening machines, finalizing the cut of the discs through a 28 minutes-long process. Every burr needs to be checked separately, attended by a production engineer, who follows every step and can tell by eye and touch if the burr has got uneven depth of teeth. Finally, on a grinding table the burrs are ground down to the defined thickness and teeth exit. The name of the burr and the production date lasered into the back of the burr finish the production process. All burrs at MKT go through a protective wash in a massive washing machine, where they are sprayed with rust-prohibiting liquid.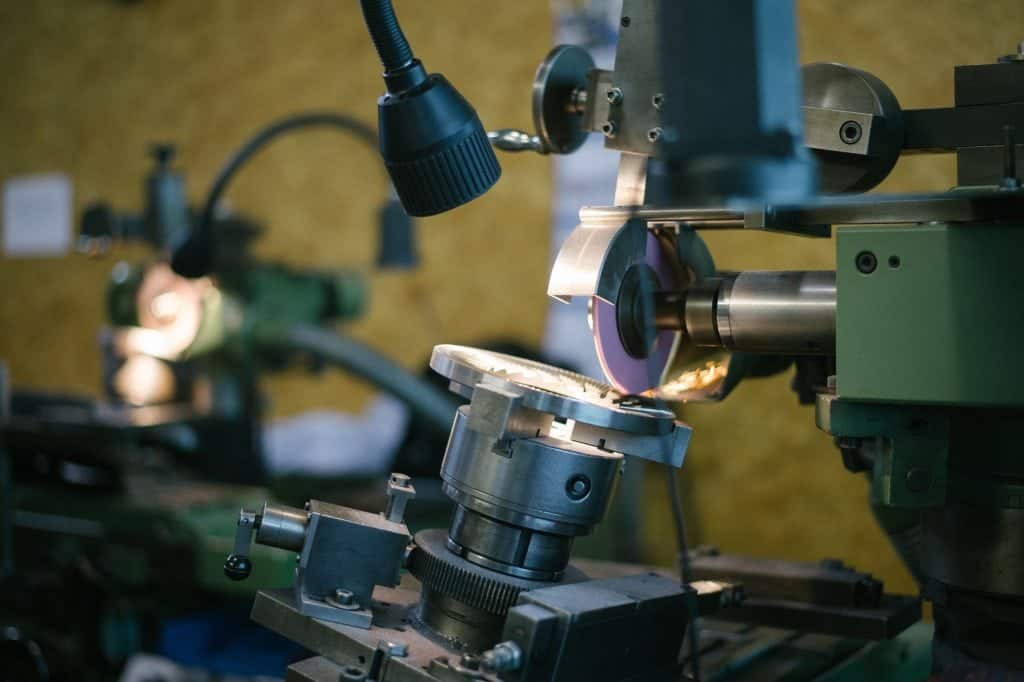 Stage 2 : Assembly of parts
Assembly Line – Where all the grinders are put together
Mr. André Paap, COO at Mahlkoenig takes care of the operations within the Assembly line. "I am the guy who brings the drinking water and the parts and keeps everything together. I have my hands in every part of the factory", Mr. Paap told us about his Chief of Operations Officer position. Having started at the packaging area of the Assembly line, he worked his way up through multiple positions, such as running the Purchase department, gaining over 14 years of experience with the company.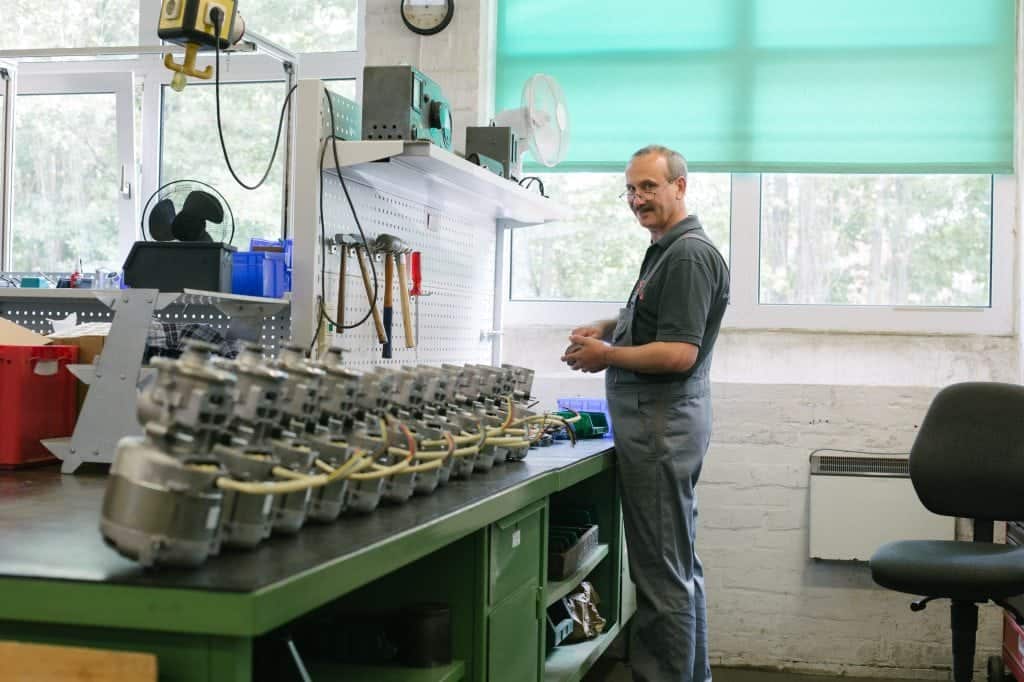 Assembly building has got three assembly lines for K30 grinders, that are almost lean, as Mr. Paap put it. That means they operate smoothly, with several assembly groups at which each worker puts together a different part of the K30. The line is never empty, there is always a grinder ready to be assembled at each station. A completion of one K30 takes 15 minutes within this Assembly line, resulting in 700 grinders finished every month. That is an increase of 45% in comparison to last year, thanks to this novelty, which is only about two months old.
What about EK43s?
For the moment the design of the construction of this grinder dates 28 years back, making it unsuitable for a lean production. Nevertheless, there are 350-400 EK43s assembled per month, with the goal to reach the number of 600! This is aimed to be achieved through a new project that was introduced to the assembly lines in March. With new rooms for construction we hope there will be more to reveal soon! In the meantime the orders are fully booked for 5 months now, also due to necessary procedures. One of those is in-house painting of the EK43s that forces a break in assembling them – against the much loved flexibility in colours.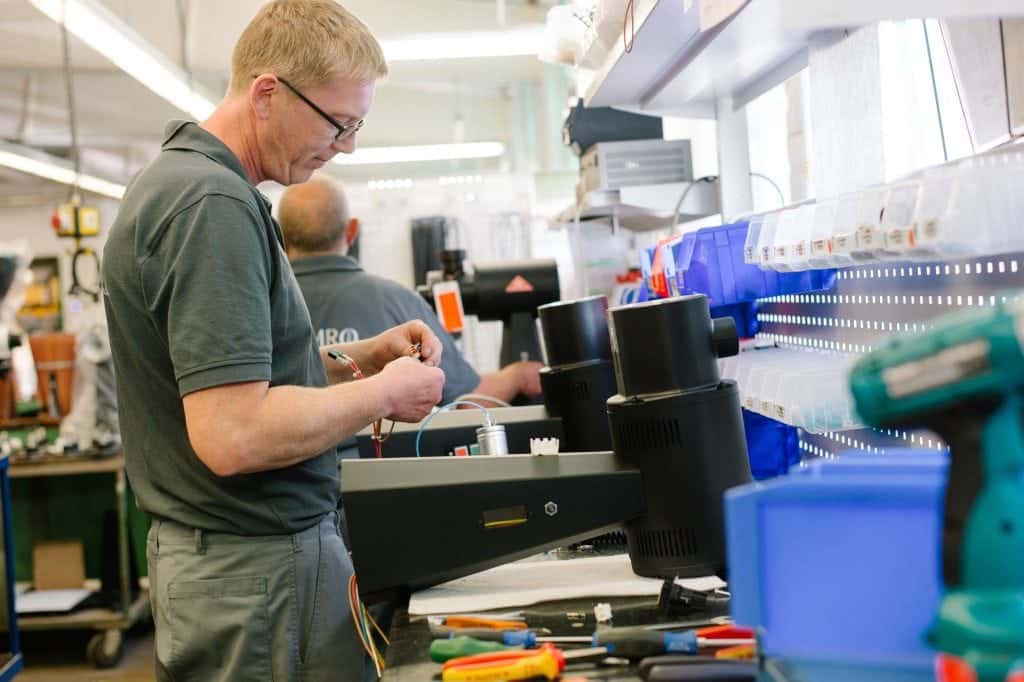 At Hemro Academy, Mr. Baumberger, the company's CEO introduced us to the goals of the Academy, while walking us through different courses taught here.
Hemro Academy is the new training program for service training. Here the technicians understand every part of the grinder, through an extensive course of assembling and connecting parts of multiple models. As Mr. Baumberger said: "Hemro Academy is going to the next level, adding to the basic education of service and maintenance, the competence of making a good cup of coffee too." "A comprehensive overview on the coffee industry, from bean to cup, is given at the Academy, with theoretical background on grinding and its illustration on brewing and tasting the defaults in the resulting cup", Christian Klatt added.
The visit to the Factory is over, but there is more to come! Expect a detailed post on how an EK 43 is built!
Text: Karolina Kumstova splits her time between working as senior editor at ECT and barista work, based in Berlin, Germany.

Photo: Michaela Koklesova is a photographer and content creator based in Bratislava, Slovakia. Discover her work here.