Gdańsk is the biggest of the three cities in Tricity, the metropolitan area in Pomerania, a province in the north of Poland. In our previous article, we explored the two smaller port cities of Sopot and Gdynia and their coffee culture, which has been growing fast.
Gdańsk, Poland's principal seaport and the centre of the country's fourth largest metropolitan area deserves a stand-alone article though, for there is a great number of cafes that serve delicious coffees (and cakes). Here is a list of places you shall not miss!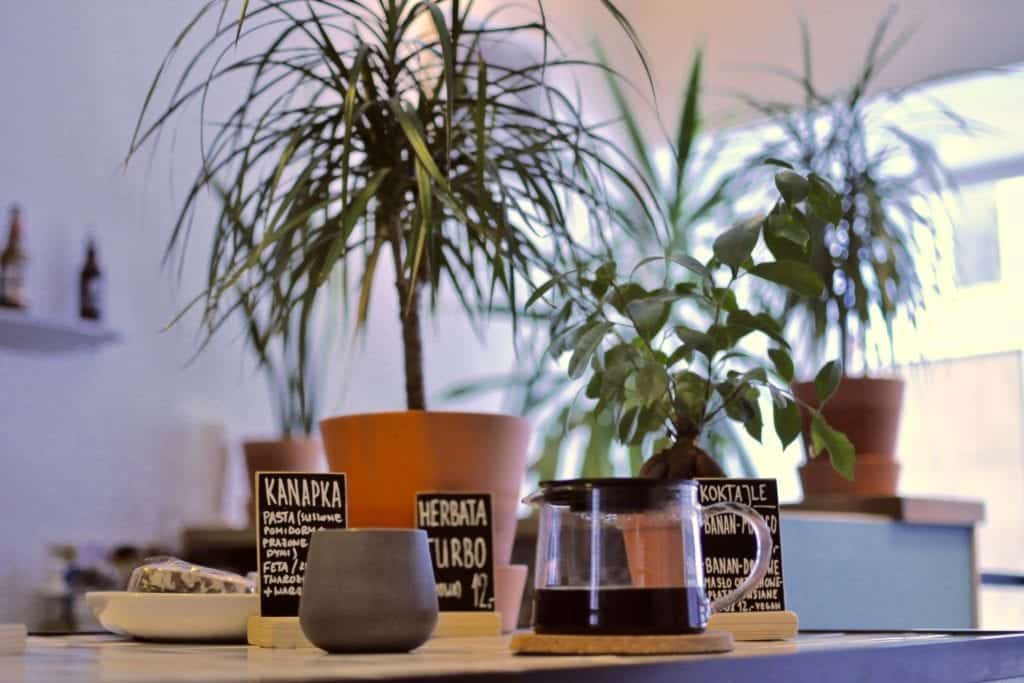 Gdańsk
Drukarnia
Drukarnia is an industrial-design pearl of Tricity's coffee scene. Located on Mariacka street, in the heart of Gdańsk's Old Town, Drukarnia awaits you among beautiful architecture, countless art galleries and amber shops.
The cafe is run by an artistic couple: Adam Świerżewski, graphic designer and lecturer at Academy of Fine Arts, and Monika Świerżewska, an artist and designer. Coming to Drukarnia, you are likely to stumble upon local artists—painters and architects, but also tattoo artists or Adam's art students.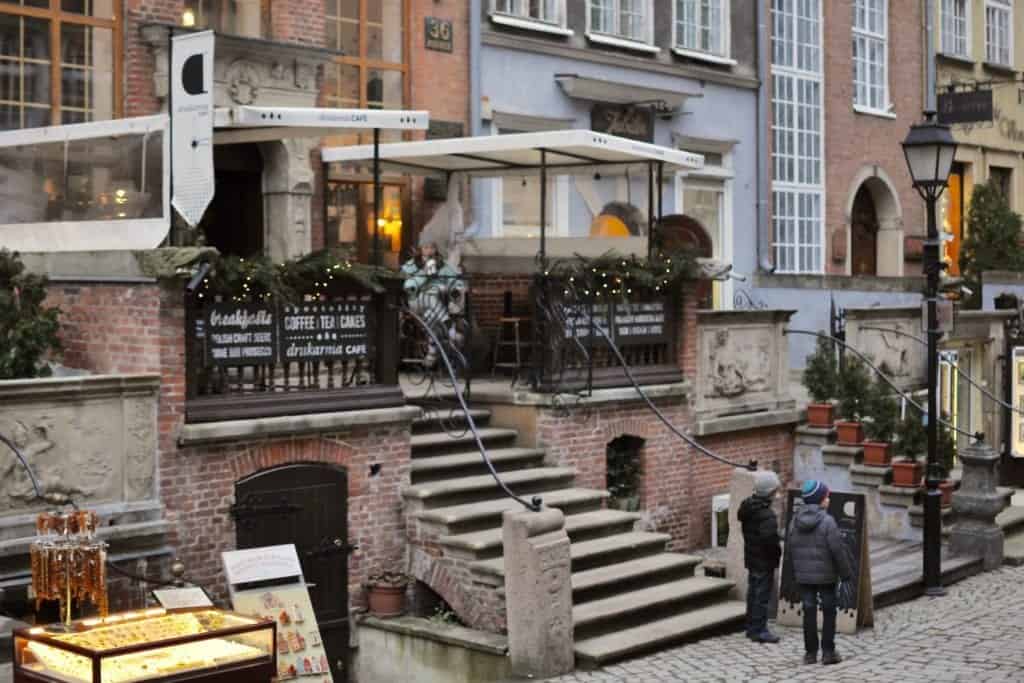 The foundations of Drukarnia Cafe (Eng. printing house cafe) were laid already with Cafe Buzz—coffee truck from which Adam and Monika grew, within a year, into a stationary cafe. Drukarnia Cafe found its premises in what used to be a tenement house. Mr Bernard Milski, the owner, worked here intensively as one of the first Polish printing houses after the WW II.
The history of this house seemed to be the perfect fit for the cafe owners. "We both studied at the Academy of Fine Arts in Gdańsk, at the Graphics and Interior Design faculties. Transferring good models and spreading good design among our guests has been a priority for us," Monika explained their connection to the house.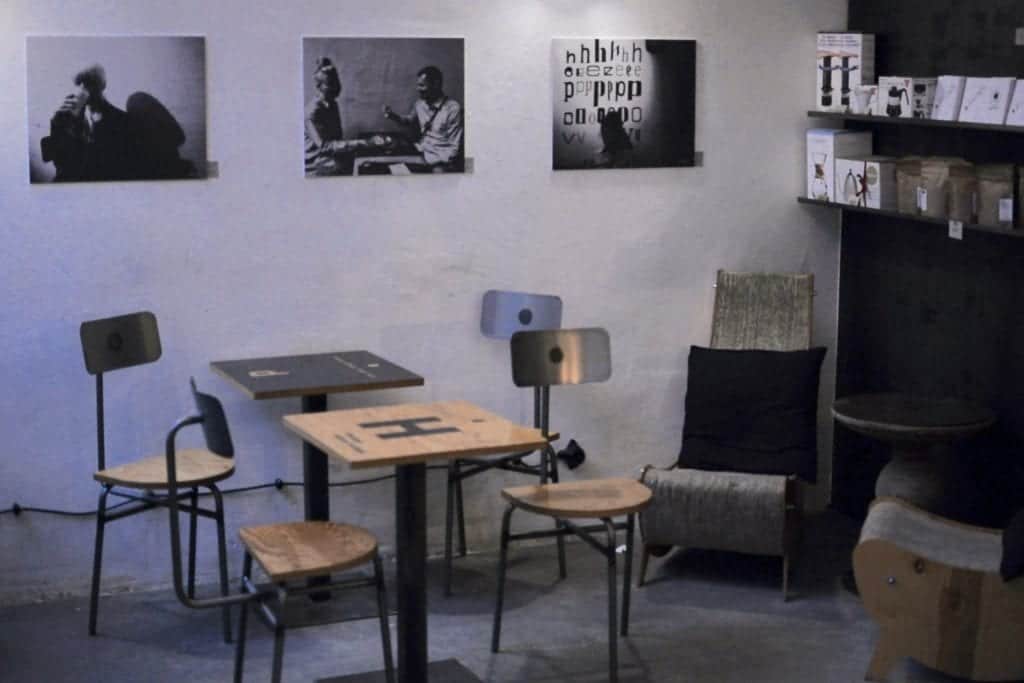 Almost every detail at Drukarnia was put together by the owners. The wooden tables are covered with letters, specifying the author of each particular fond. The owners also hold workshops, such as hand-lettering and typography.
You are welcome to sit either at the long black table and watch the barista behind the bar, or head upstairs. There are also coffee cuppings and brewing classes!
Drukarnia's coffee selection comes from a variety of roasters from all over Europe, such as Concept Coffee Roasters, Kalve Coffee, Casino Mocca, Doubleshot, Java Coffee Roasters and others.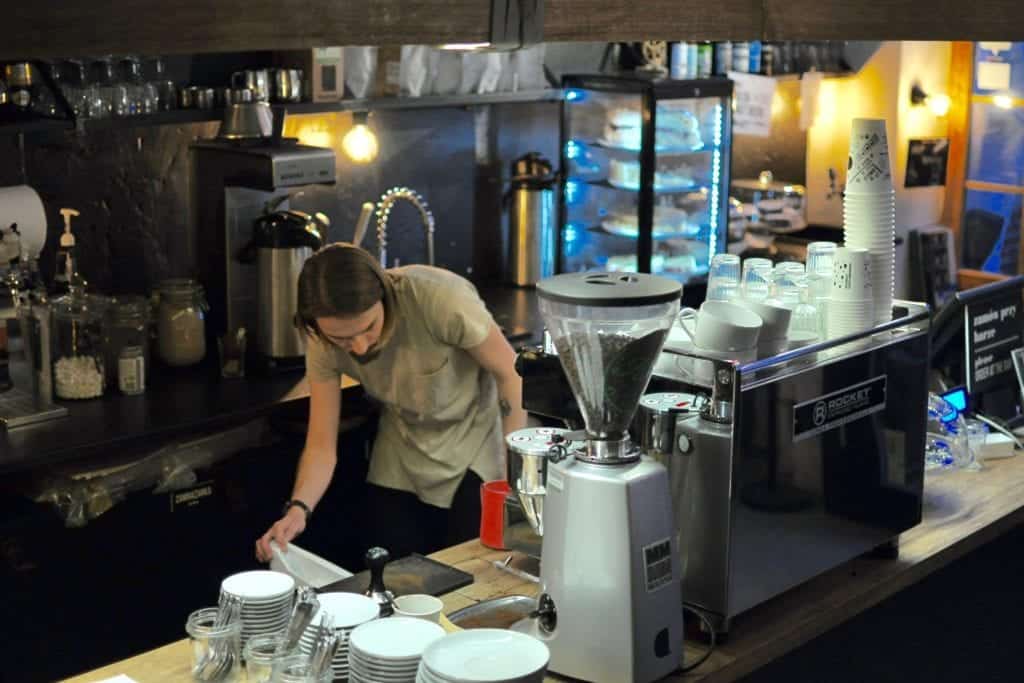 Espresso-based beverages are prepared on a three-group La Marzocco Linea or as an Aeropress, Chemex, V60, Kalita, or Syphon brew. Starting with, as I did, a flat white and a home-made sandwich, I am sure your order will not end with that, the ambience is too nice here.
Address: ul. Mariacka 36, 80-833 Gdańsk, Poland
Facebook,Instagram
Fukafe
Fukafe is an all-vegan cafe that opened in 2015—after five years of searching for the right location—in Wajdeloty street, the most hipster street of the whole Tricity. It was a time when speciality coffee was just developing in Poland.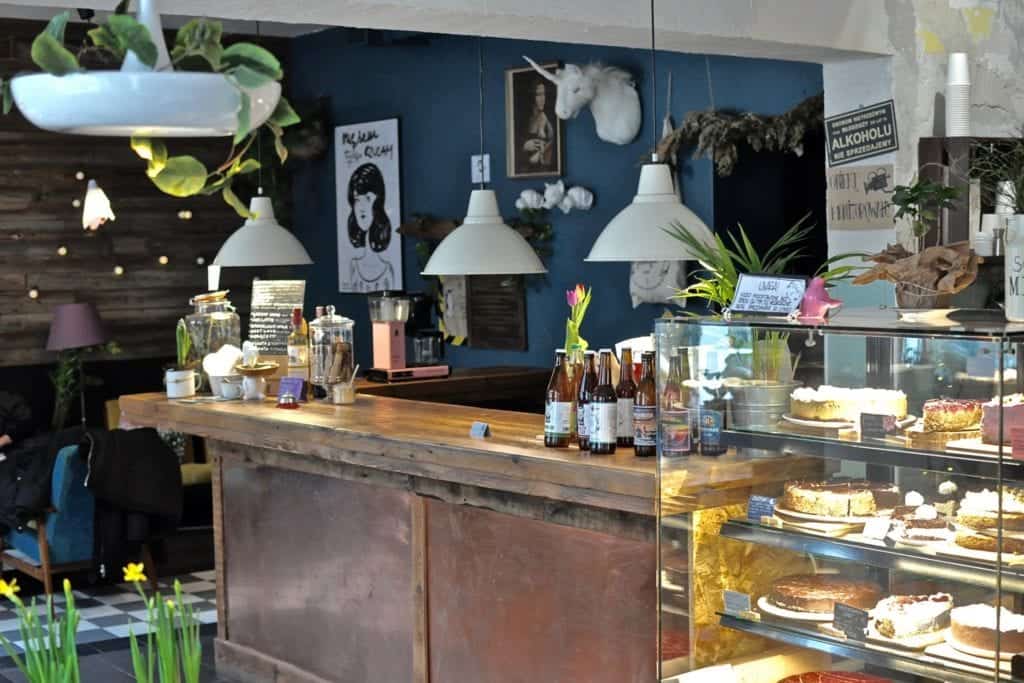 "A plant-based speciality coffee shop where vegans do not need to ask 'Does it contain milk?' was quite an unusual idea at that time. A lot of our friends asked us if we are crazy and how we would like to survive. We received big support from Mastro Antonio roastery, in Kolobrzeg," Olo, the owner and barista at Fukafe told us.
Fukafe serves their espresso drinks always with coffee from one roastery at a time, such as CoffeeLAB when I visited. Their pour-over coffees are, on the other hand, a real coffee trip. They buy smaller batches from different roasters in order to make their customers discover the diverse range of coffee regions, as well as roasters. They also aim to replace Americanos with filter coffee brewed on Moccamaster.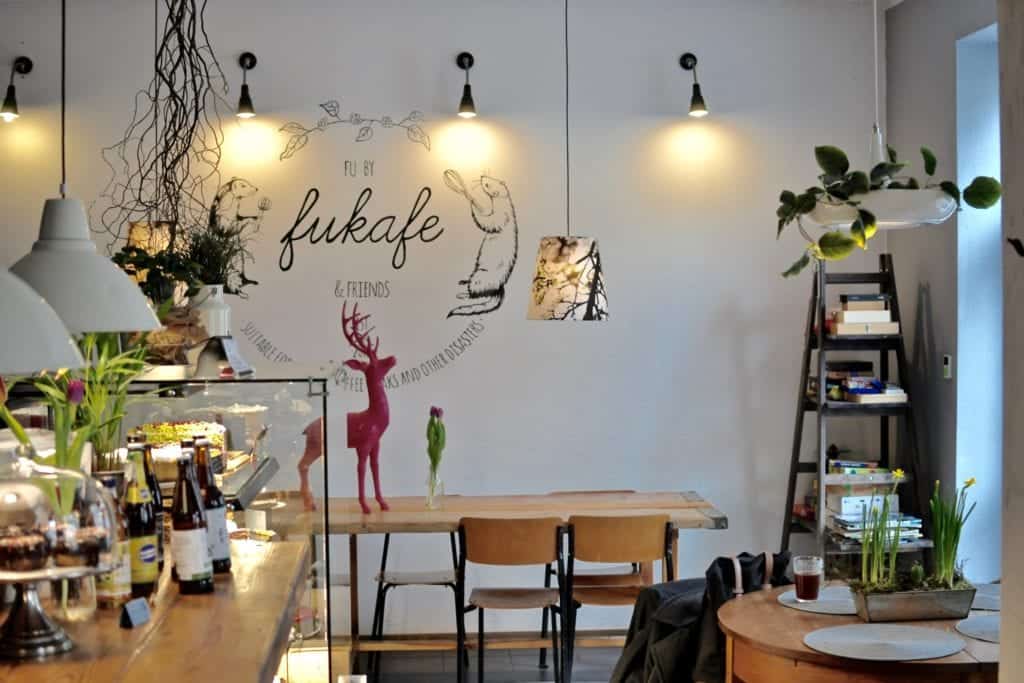 Fukafe is a place that is not afraid of experiments. Be it with coffee, or food. Olo told us: "I think we described it the best in our logo: Fukafe is for 'coffee freaks, vegans and other disasters'. Also, pets are welcome". Being a 100% plant-based cafe is perhaps the biggest difference from the other places, but also one of the strongest features of Fukafe, bringing many regulars daily.
If you are heading to Fukafe, you might run into a visiting guest barista. Olo, who participated in Belgian and Polish Aeropress Championships, invites international baristas for "guest spots" at the cafe. Evgeni Pinchukov, the Belarusian Champion working at Kitchen Coffee Roasters, was one of them. Generally, Fukafe and Kurhaus are meeting spots for the coffee community. "It's like a coffee family—you are most likely to meet your friends in one of those two places," Olo confirmed.
Address: Wajdeloty 22, 80-437 Gdańsk, Poland
Facebook, Instagram
Kurhaus
Kurhaus, or 'a Spa' is a walking distance from Fukafe. Gabi, one of the baristas told us: "We wanted Kurhaus, or Kura, as customers call it, to be a place for hanging out with your friends in a company of good coffee." And that is what the cafe is known for—the well-being of their customers.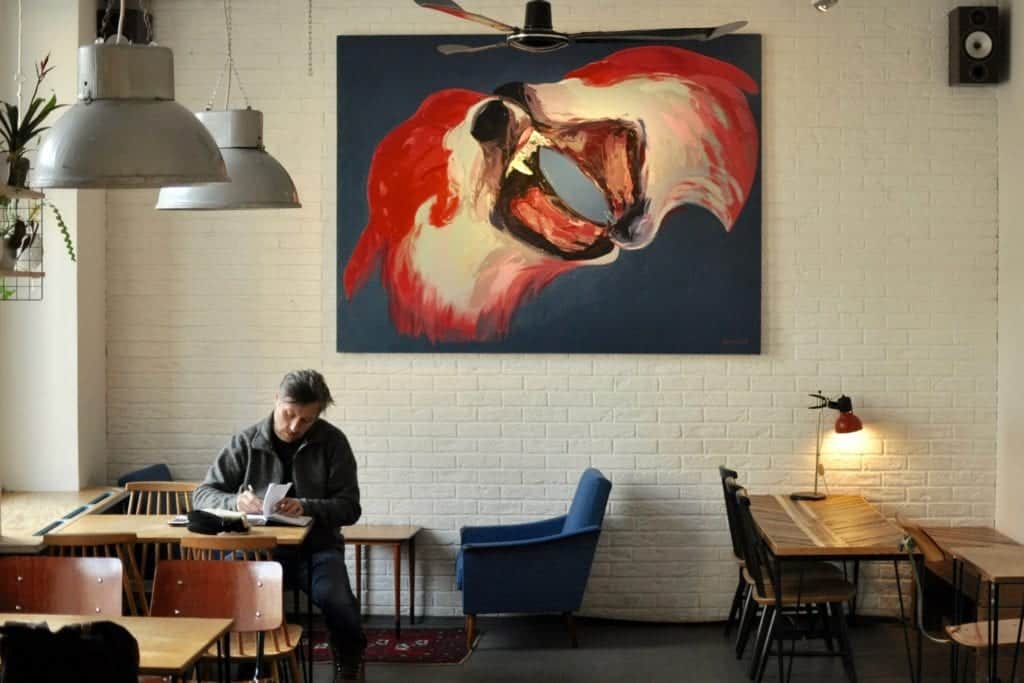 The coffee menu at Kurhaus is supplied by a multitude of roasters, and the baristas then brew their coffees on a La Marzocco Linea Classic. For the fans of black coffees, you will also find a Moccamaster filter machine. "The coffee on offer is always changing so that our customers can enjoy their coffee in various versions," Gabi told us.
A big point for Kurhaus is their interior design. A big painting of fighting wolves is a dominant piece, while small cacti and succulent plants on shelves add some green touch to the raw space. Colourful carpets make you feel like dropping by to a friend's for a beer or a cup of coffee. And that is what you are invited here for, too. Feel free to grab a sweet bite, the cakes are delicious.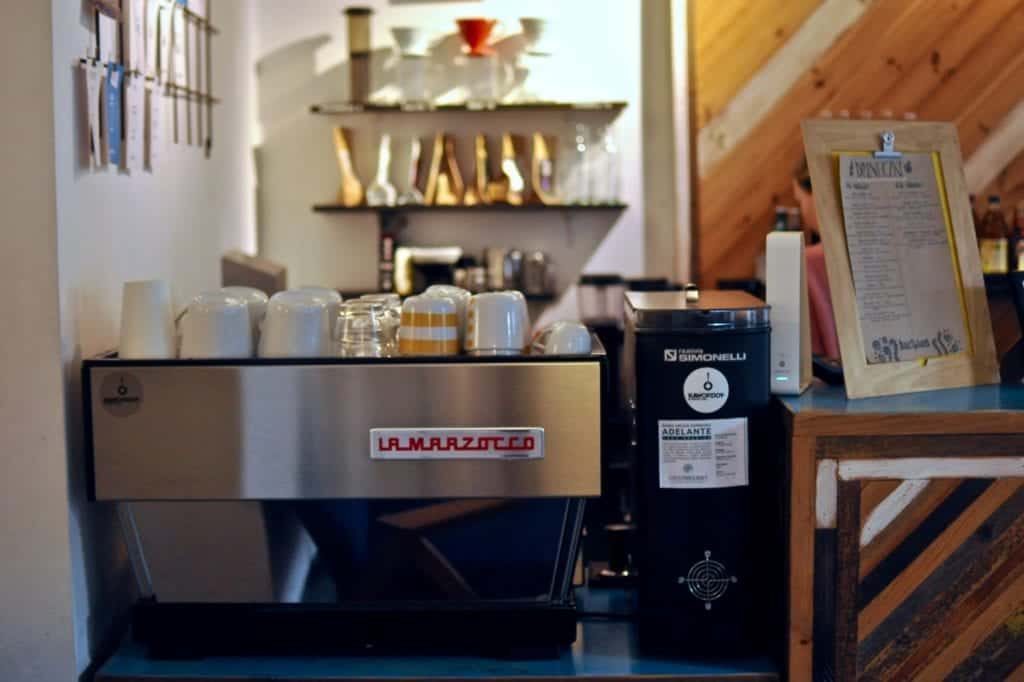 CZ•KAWKA
Małgorzata Reń-Ciastek and her husband Sławomir, together with a colleague Andrzej Szczudło, opened CZ•KAWKA (eng. hiccup) as a sit-back-and-relax cafe. You will find it in the recently renovated area of Wrzeszcz district in Gdańsk, and a stone's throw away from Fukafe and Kurhaus.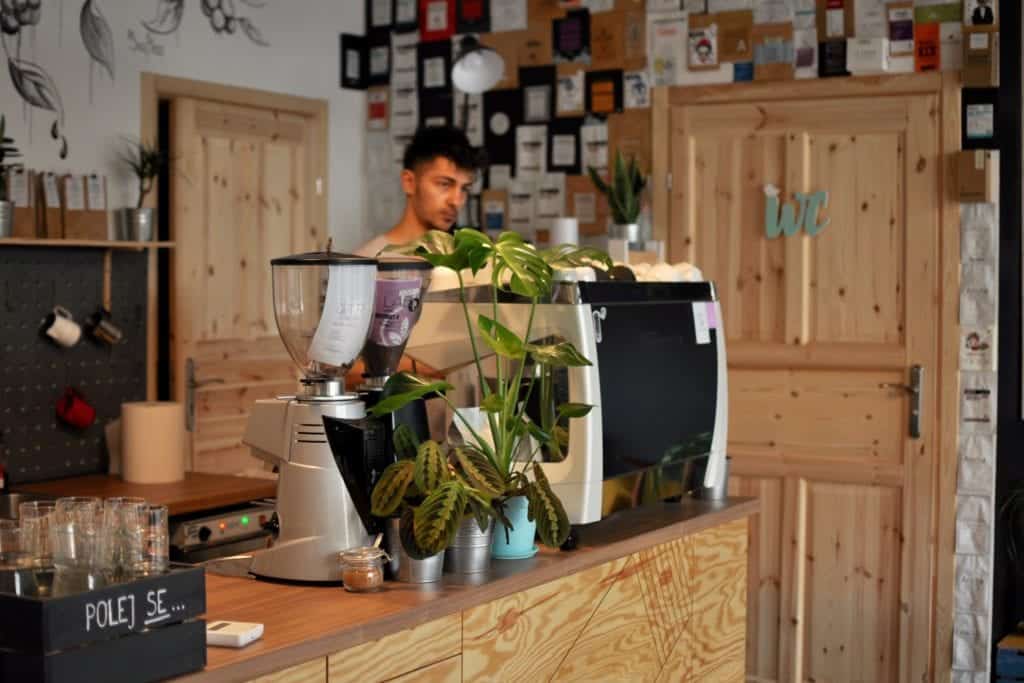 The cafe opened in 2017 and its name comes from a Polish saying about an event that was quite risky and could have ended up badly. Luckily, this little coffee gem has been a success. Unlike its coffee neighbours, CZ•KAWKA is less industrial and cosier. "I wanted the place to be an appealing coffee spot for both young and old, where time stands still so that our guests can enjoy their beverage and simply relax," the head barista Dawid Kamiński, who helped the owners put the space together, told us.
CZ•KAWKA's interior design catches your eye. The large mural painting of Coffea Arabica, growing out from water pipes, and an admirable selection of coffee bags from all over the world, glued to the other wall, dominate the space. The rest is kept quite simple. The furniture is made of birch wood and walls are white, which is the perfect background complimented by many plants scattered around the cafe.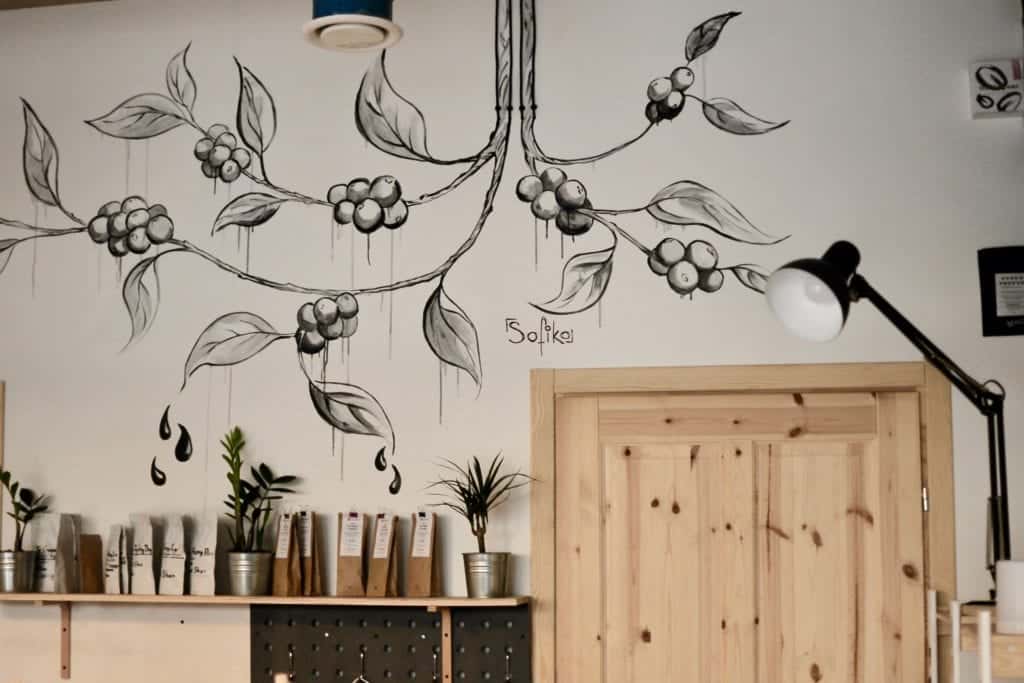 Apart from the design, the owners' environmentally friendly approach is also emphasized by the service. Great attention is paid to how coffee is served. Manual brew, such as Chemex or V60, are served in a jar-like glass, on a wooden tray. Stop by also if you are hungry, CZ•KAWKA serves a refreshing smoothie bowl, savoury bites, as well as cakes.
One can never have enough cake, chocolate, or coffee!
Address: ul. Jana Kilińskiego 9/4 80-452 Gdańsk, Poland
Facebook, Instagram
Składak
Składak in Polish stands for 'fixie' in English. This name is reasonable, as bike service is an integral part of this place. Created and managed by three siblings Dorota, Alice and Philip Szymankiewicz, together with Adrian Bichowski and Tomek Sulikowski, Składak is an uncommon combination of a speciality coffee shop, wine bar and bike shop. Almost every part of the cafe was done with the contribution of the owners—from the concept, through renovation works, to interior design and visual identity of Składak.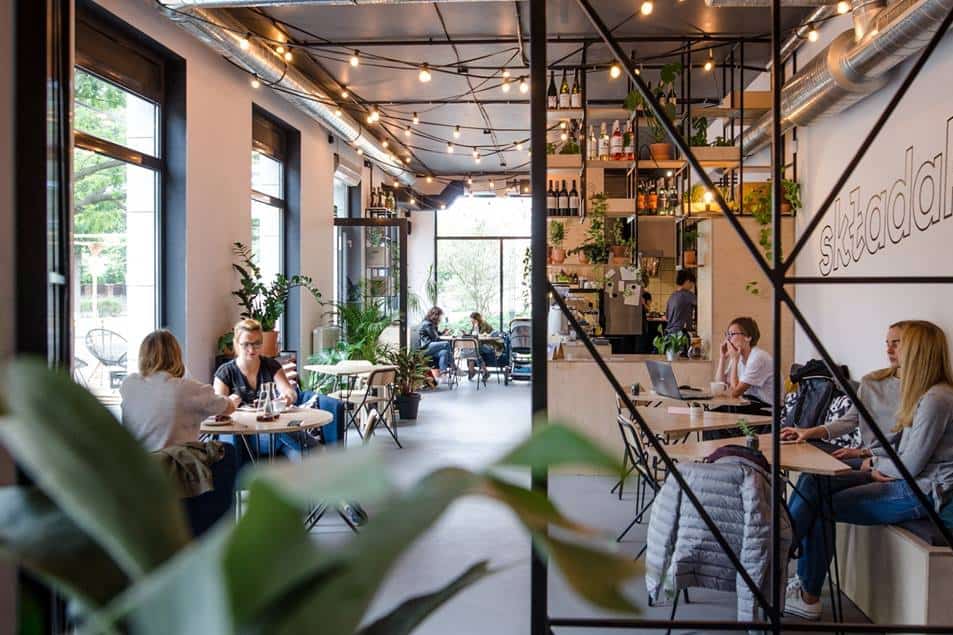 Large French windows welcome you, and entering the spacious store, the first thing you see is the cafe's name on the wall, written in big black letters. Something to admire is the owners' attention to detail. The big-sign font is not only used on every poster, invitation or leaflet, but also across all of their social media channels. At the cafe, green is the dominant colour though, thanks to the plants placed all around the space. This civilised jungle is the perfect surrounding for a coffee break.
Espresso-based beverages are brewed using a Rocket Boxer A2 coffee machine and Mazzer grinders. Filter coffee is on offer too. Składak get their coffees mainly from Polish roasters, such as Audun Coffee, Java Coffee, or Hayb. And filters? "…We focus on the worldwide filter coffee selection," was the owners' answer.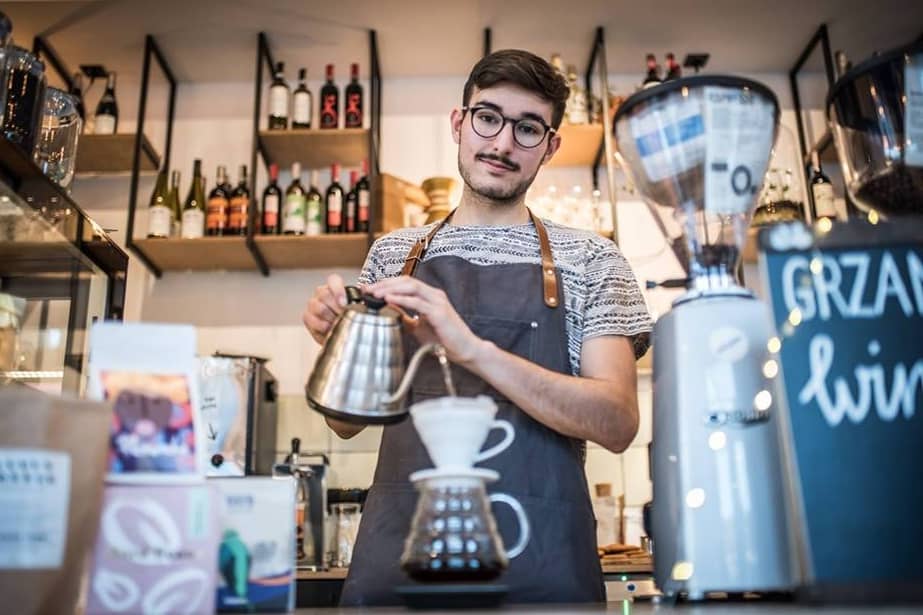 In addition to bikes, coffee, and wine's quality being of the highest priority, at Składak, each and every customer is treated individually. "By individual approach, we mean service and execution. Our biggest wish is to familiarise our customers with speciality coffee and wine culture, but without being bumptious." Składak's most skilled barista is Haider Adams, who won Chemex Cup in Berlin in 2017. Furthermore, Kamila Adamiec, the 2018 Polish Brewers Cup Champion, visited Składak recently and presented her barista skills as a guest.
Address: ul. Karola Szymanowskiego 18, Gdańsk, Poland
Facebook, Instagram
Przelewki
Przelewki is a coffee shop for plant lovers and those with a sweet tooth. Sławek Jakubczyk, the owner and an energy-bomb is unlike any other barista. He runs his cafe together with his partner Paulina. She bakes the cakes while he brews the coffees. By now you may have noticed a kind of a coffee-shop couple theme in Tricity. It has been Sławek's biggest dream to open his own cafe. After a couple of years working at different cafes and having run two himself, Sławek finally found his very own (coffee) place on Earth.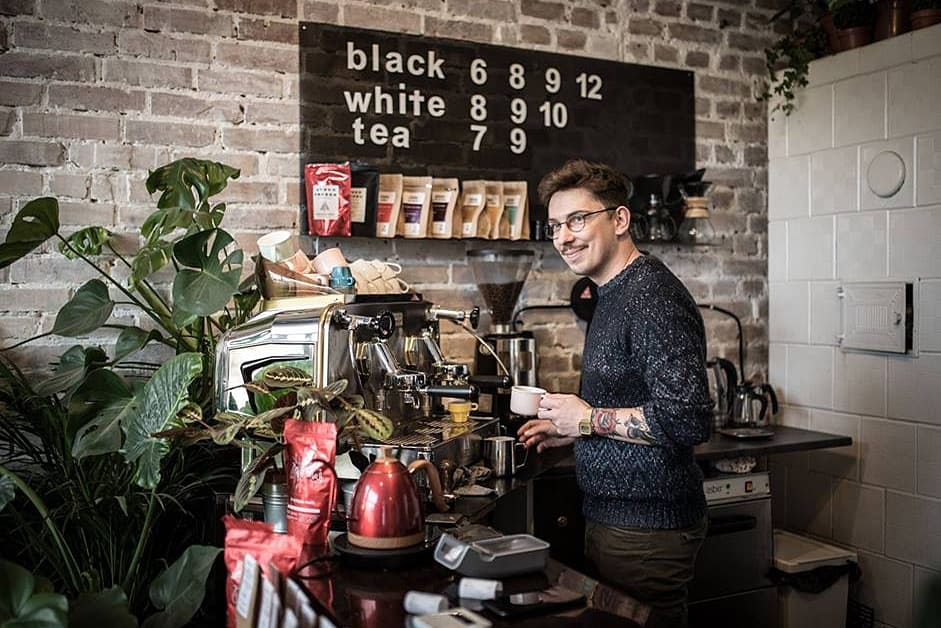 His dream cafe is located in Oliwa, one of the oldest and the most beautiful districts in Tricity, surrounded by the beautiful nature of Park Oliwski and architectural masterpieces from the 18th century. The interior was designed by the young artist Blanka Byrwa, who turned the previously small place into an industrial, yet green oasis. Wooden furniture and red-brick walls are complemented with metal installations of different shapes. The sign next to the bar says 'Tu jest kawa' (There is coffee here), and its neon-letters sign is clearly visible from the outside, inviting the passers-by for a cup.
The menu at Przelewki is simply put, in three categories: Black, White and Tea. Espresso is brewed on a Faema Legend E61, and Aeropress or Kalita are also on offer. Their coffee-and-cake pairing is what is special about their menu. Sławek creates themed coffee shelves, e.g. Christmas edition, which determine the current coffee selection. Coffees from such shelf might have notes of cinnamon, chocolate, orange, caramel and plums. Then Paulina bakes cakes to compliment these flavour criteria.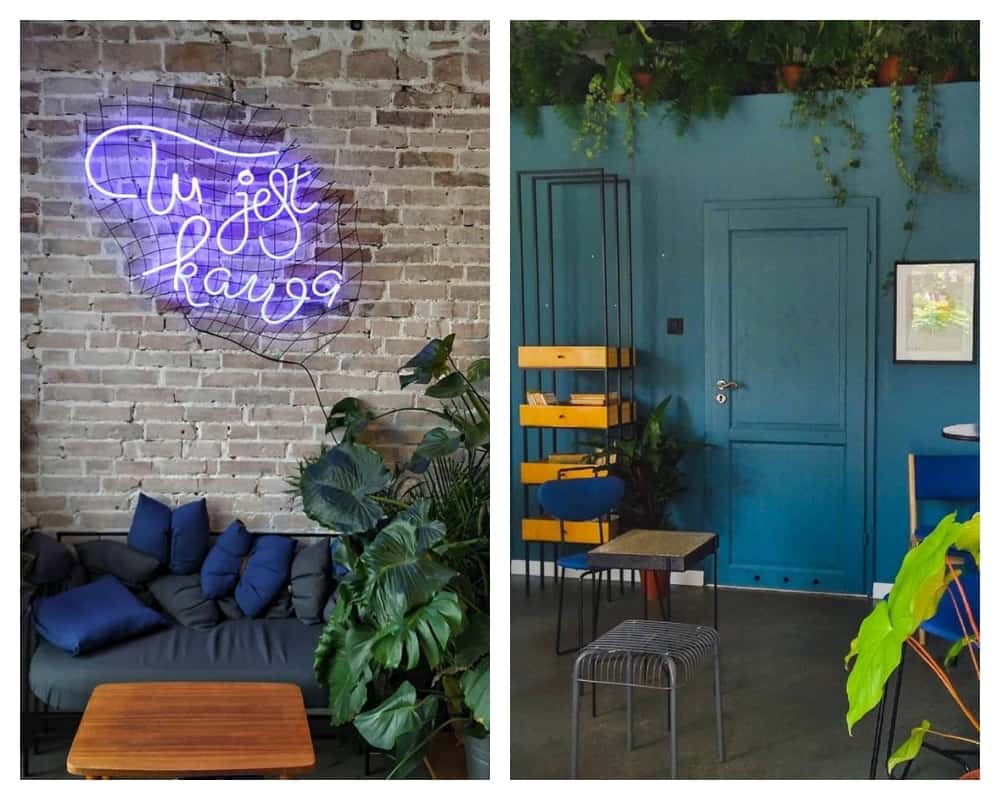 "This year, my favourite coffee is Costa Rica Jose Seguraktora, which has cinnamon and apples in its profile, therefore goes best with apple pie or cinnamon rolls. Whereas Honduras FIallos tastes like a mixture of sweet plums and whisky, so gingerbread with plum marmalade is a perfect match," Sławek gave me an example.
Przelewki is also known for its relaxed and familiar atmosphere. Sometimes, when it gets really busy, it would be some of the guests to come behind the counter to help Sławek with the dishes. "It is like at home—people come by, laugh, drink coffee and I stand here brewing and slicing cakes. And so it goes," Sławek added. After all, the cafe's motto goes like this: "It is people who make cafes."
Address: ul. Cystersów 12, 80-330 Gdańsk, Poland
Facebook, Instagram
Tricity offers three different port cities, a pure sea of coffee poSEAbillities!