Welcome to Tricity, three cities famous for their diversity. Sopot, Gdynia, and Gdańsk are three harbour cities located in Pomerania, a province in the north of Poland. Sopot is a major health-spa and tourist resort destination, Gdynia, a city full of design, has a rather cosmopolitan character with the major architectural influence brought by modernism. Gdańsk, which is the biggest of the three cities in Tricity, is Poland's principal seaport and the centre of the country's fourth largest metropolitan area.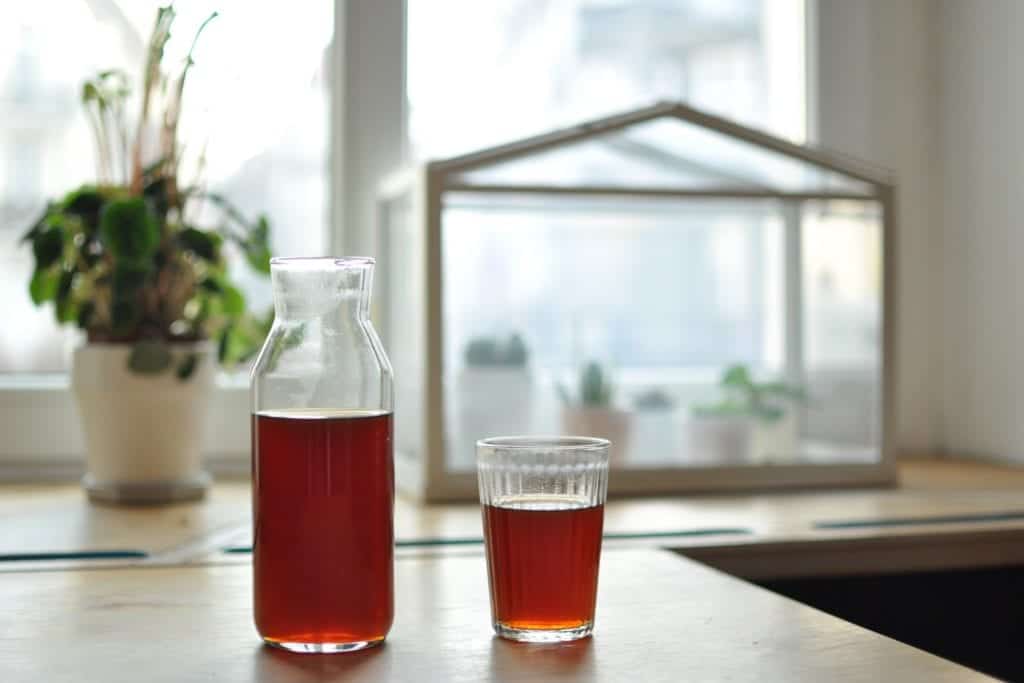 The three cities form a metropolitan area called Tricity. The coffee scene in Tricity is quite fresh, although it has been developing for about 5 years now. In 2017, the first speciality-coffee roastery NieCzapla opened in Gdańsk, and it has been the point of attraction for numbers of coffee lovers since.
The scene is growing fast and wide, which is why this is the first half of our Tricity tour, taking you to Sopot and Gdynia.
Sopot
LAS Dolny Sopot Północ
LAS Dolny Sopot Północ is owned and run by two girlfriends and women entrepreneurs Ewelina Dobosz and Asia Zastróżna. They named their cafe after a movie Asia had been working on when the idea to open a cafe came to their minds.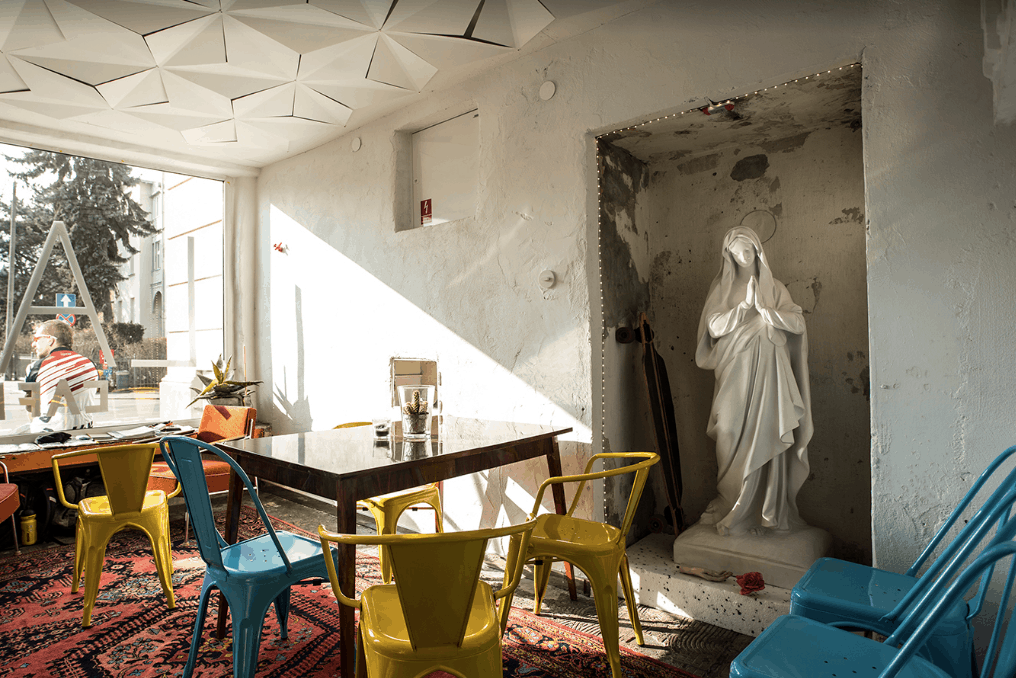 The owners told us: "We wanted LAS to be a place, where people can gather together,… where they have space for developing ideas, exchanging thoughts and opinions." I think they succeeded. Locals come to spend their time off here, reading a book, or having a chat.
This coffee gem might seem slightly hidden—you need to get off of the main track, Monte Cassino street, to get there. It is worth looking for though, as it is most famous for its design. A peculiar interior attracts attention right from the entrance: you can see a silver insulating foil hanging here and there, walls made of raw, grey concrete and minimalist lamps enlightening the interior. However, this is not a cafe under renovation but a well thought-out concept. A great example is also the sculpture of Saint Mary surrounded by Haribo-bear-shaped lamps in all the colours of the rainbow. Colourful TOLIX chairs stand by wooden tables, adding some extra colour to the whole space.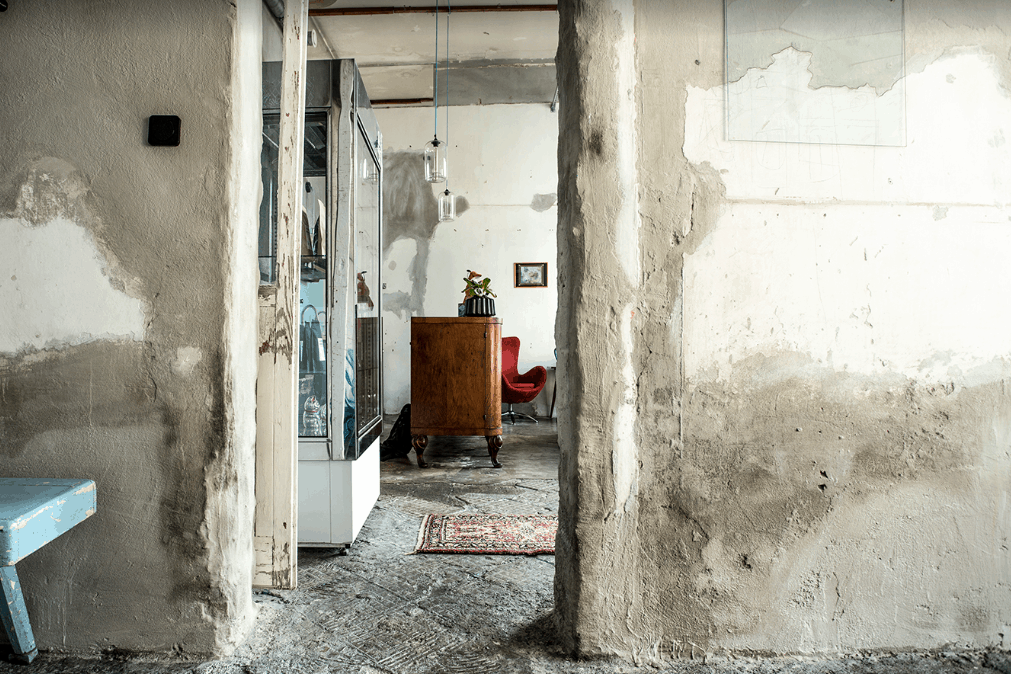 The bar at LAS is equipped with the legendary G1 Faema coffee machine, and hand-brew methods include AeroPress, Chemex, V60 and Kalita. All coffees are brewed with beans roasted by the Polish Coffee Roasting champion at Audun Coffee. It is always delicious. Additionally, this central, yet secret spot is a real find offering great vegan treats.
Neither of those is a guilty pleasure, so I ordered a Chemex brew of a Colombian coffee and a piece of their delicious vegan tarts, which gave me the energy for the rest of the day.
Address: ul. Jana Jerzego Haffnera 42, 81-708 Sopot, Poland
Facebook, Instagram
Gdynia
Tłok
This cafe has all a coffee-and-design geek's heart may desire, which makes it the perfect spot to visit in the city of design, Gdynia. Tłok is located just off Świętojańska street, one of the main streets in the city, where Michał Radziun and his girlfriend Klaudia Gregorczyk have run it together since September 2016. Michał explained the name of his cafe: "TŁOK (Polish for 'crowd') reflects the size of the first place I opened in Poznań. As Poznań has already been quite full of good coffee places and we both were about to finish our studies and work, we decided to move to Klaudia's hometown, Gdynia." They saw the city's potential, as well as the lack of places offering speciality coffee in the whole Tricity, and moved to Gdynia.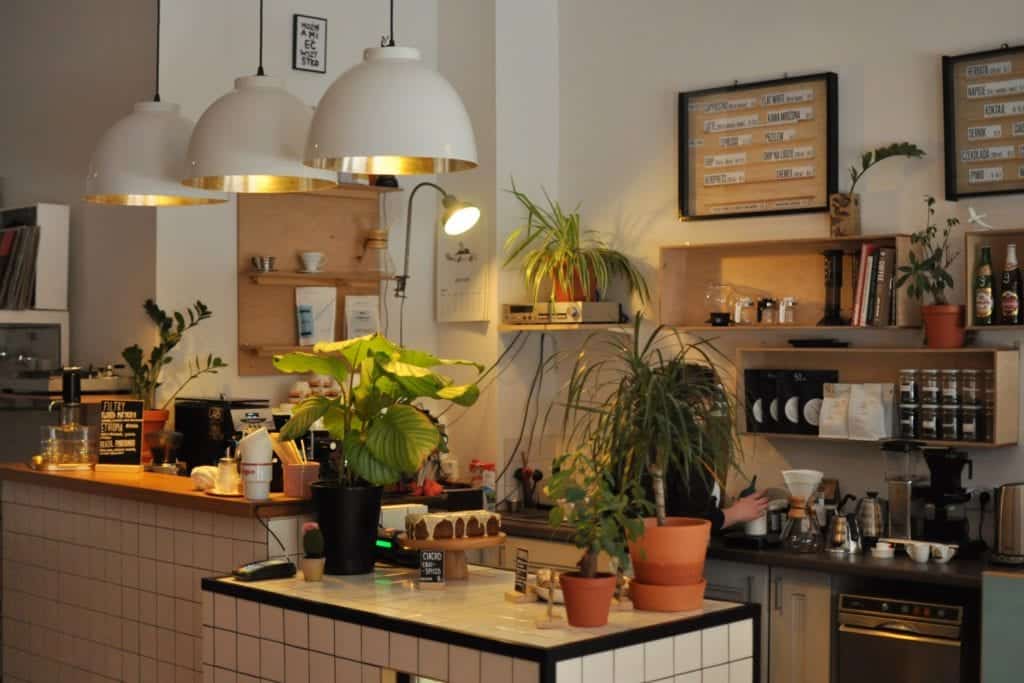 Tłok is a place where everyone is welcome to grab a quick drip to go, or sit down and relax. No matter if you are a football fan or a grandparent visiting their grandchildren, you are welcome for an extended stay here.
The coffee selection comes from roasteries all over the world. The cafe is equipped with a La Marzocco Linea coffee machine, V60, Chemex, AeroPress and Kalita, and uses two grinders, a Mahlkönig Guatemala for filter and Nuova Simonelli Mythos One for espresso. At the time of my visit, the espresso was brewed with Brazilian beans from The Barn; their intense notes of chocolate and nuts went well with black, as well as milky coffees. Filter coffees are usually brewed with Colombian, Ethiopian, and Kenyan beans, as their fruity aromas evolve the best when brewed using alternative methods. Whichever drink you choose, don't forget to taste a piece of their delicious cakes. Klaudia bakes all of them herself, and what makes Tłok especially famous is her cheesecake.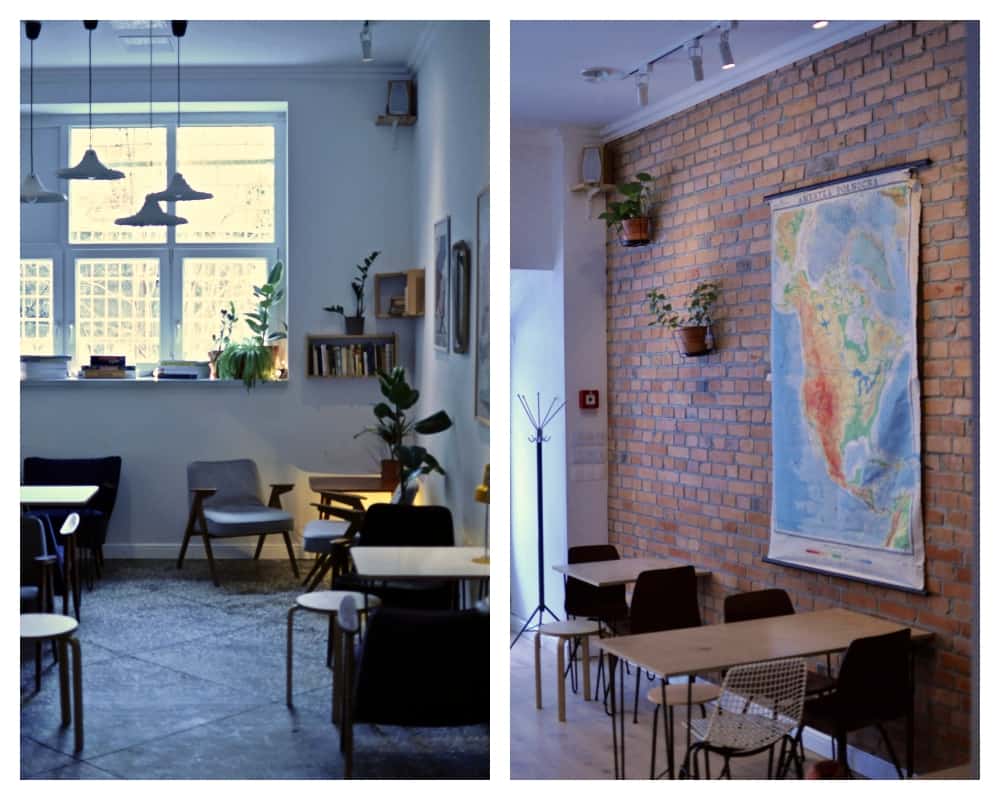 Where Tłok stands out is not only the cakes and coffee but also its owners' passion for good design, music and people, that is why art exhibitions of Polish artists take place monthly. "We would like to develop our customers' coffee taste by offering them a wide variety of beans from roasters known worldwide, and simultaneously let them indulge on some art."
Tłok is a piece of art itself—the cafe won the Best Designed Service Place price in 2017, during Gdynia Design Days, which the owners closely cooperate with. And if that was not enough, they launched their own music channel, named Fale Radio (eng. Waves Radio) in cooperation with local artists such as Syny and Joanna Duda. Come and see (or hear) for yourself!
Address: ul. Józefa Wybickiego 3/1, 81-391 Gdynia, Poland
Facebook, Instagram
Black and White Coffee
Basia Szpargowska and Leszek Jędrasik opened their cafe in 2015, after intense research for the right location. They had run coffee training and brewing at a variety of fairs and events for two years, and then decided to focus on what they are the best at; brewing coffee, baking cakes, educating their customers, and hospitality. Their positive vibes are contagious, do not say we did not warn you!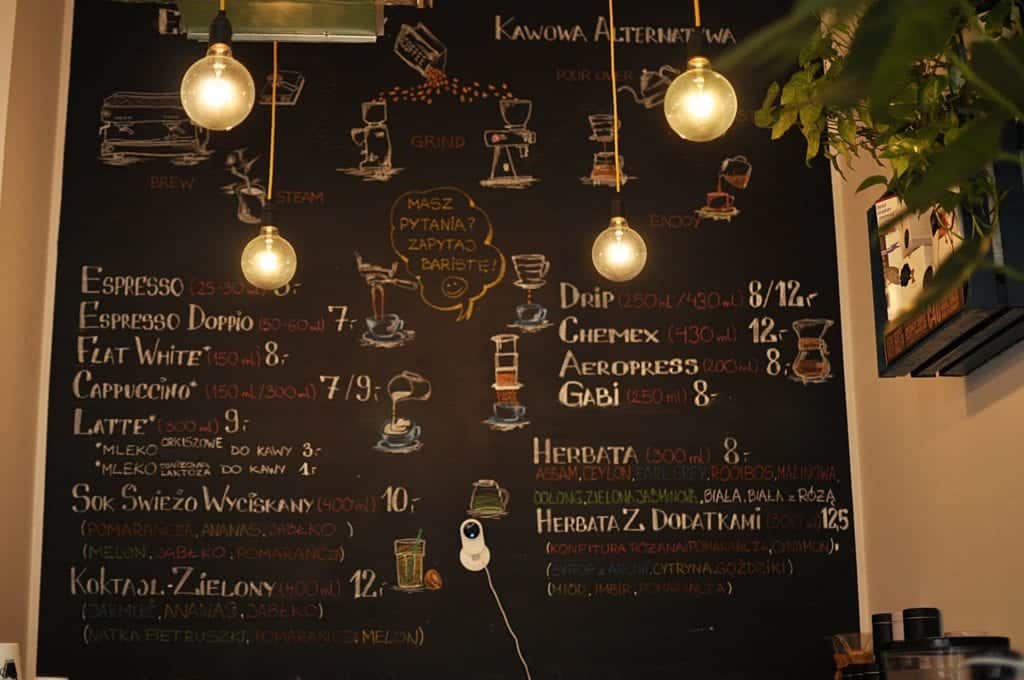 Basia and Leszek are yet another power-couple of the Polish coffee scene and the guarantee of great quality. They both have competed in numerous Brewers Cups and Latte Art championships and other local competitions, as well as AeroPress championships. Leszek even represented Poland at the World Brewers Cup and World Latte Art championships. "We retired as participants some years ago, but we are still engaged in the management part e.g. as judges and scene managers during Brewers Cup," they explained.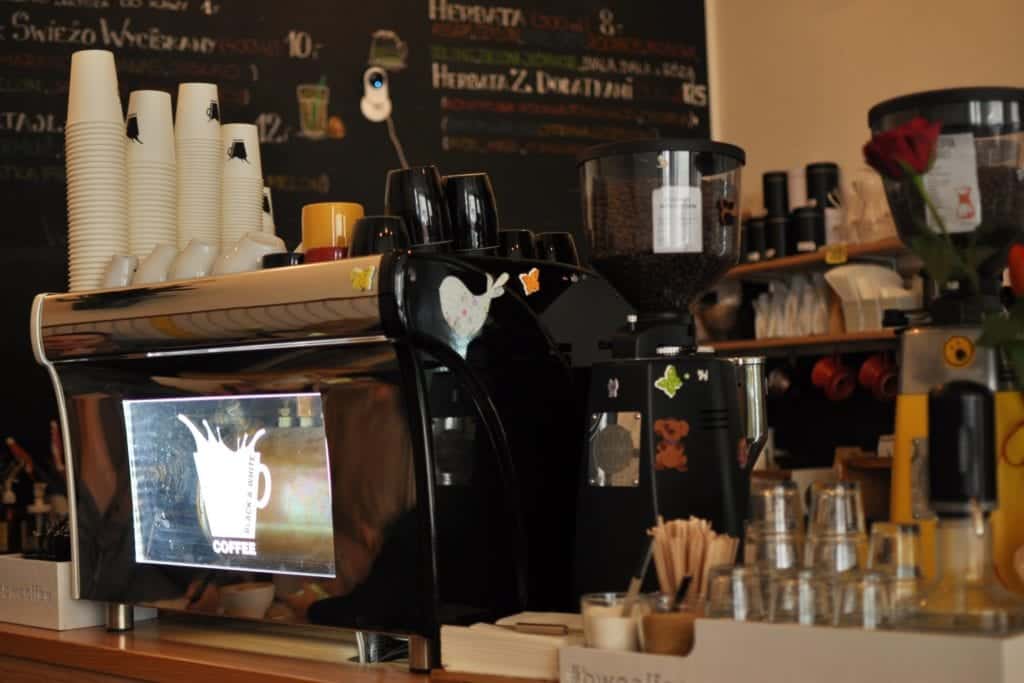 Despite their successful competition background, you won't notice any bragging from their side, right the opposite. They are some of the most modest cafe owners I've ever met. Both of them put all their hearts into what they do, which is confirmed with every bite and sip.
Black and White Coffee is very easy to find—you cannot pass by their neon sign without noticing it. The cafe is known for welcoming and warm smiles of Basia and Leszek. Basia is the one who takes care of the cakes, and it is proof of her baking talent that there is rarely a single piece of cake left by the end of the day. If Sundays are for cake, then here, all days are Sundays. Adults and children alike are attracted by the colourful interior and a variety of cakes, in addition to perfectly brewed coffee. Make sure you stop by.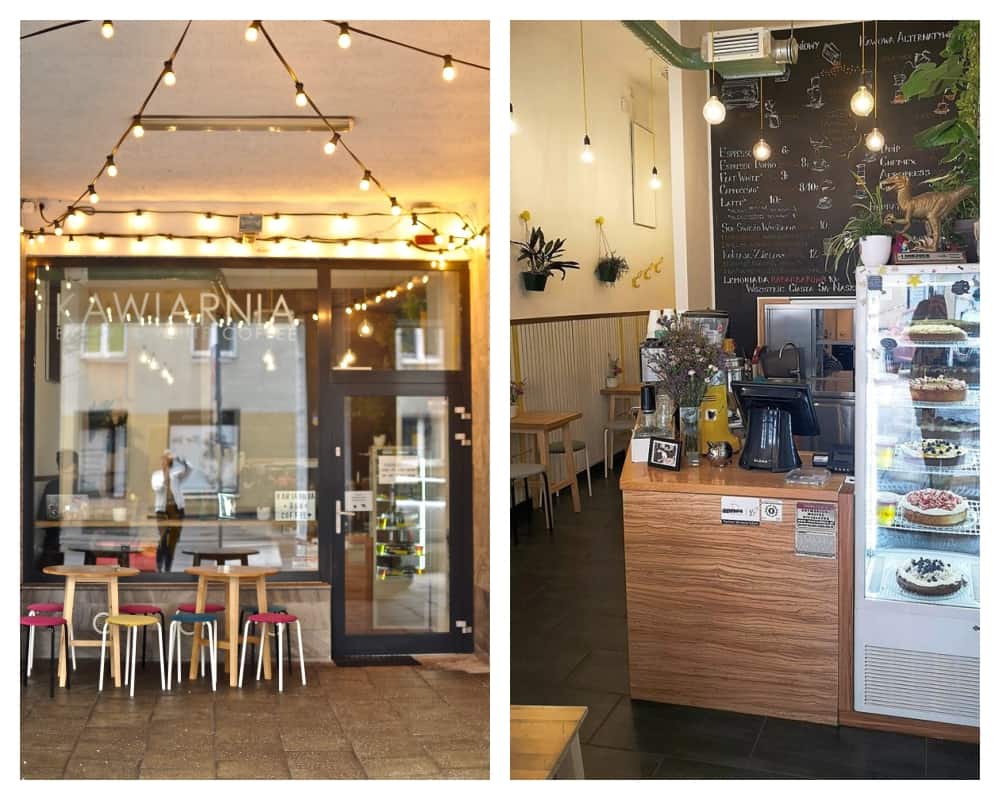 Apart from the classic espresso-based menu, you will also find here V60, Chemex, Aeropress and Gabi Master—a pour-over brewing method not seen very often at many cafes around Europe. Baristas at Black and White Coffee use a La Marzocco coffee machine, and the EK43, Mazzer Major and the beloved manual grinder Commandante are on duty, but there are only Polish coffee roasters being served here. Leszek explained why: "Polish roasters provide beans equally as good as the ones from abroad. Besides, we want to support our local coffee market."
On my early-morning visit, I needed an energy boost and ordered a Chemex brew. The Brazilian coffee delivered round and thick cup, just like it should have. Today, Leszek and Basia buy coffees from Hard Bean Coffee Roasters, Good Coffee Micro Roasters and CoffeeRoasters.
Address: ul. Władysława IV 28, 81-361 Gdynia, Poland
Facebook, Instagram
Happy People
Happy People is unlike any of the cafes above, and that is because their main business focus is on selling bags of roasted coffee. The shop is operated by a couple, Ania and Michał, who took a chance in 2018 and opened their shop on the main street in Gdynia. Ania explains: "Our mission is to spread the coffee news among our customers. We want to make them aware that drinking good-quality coffee does not equal spending lots of money."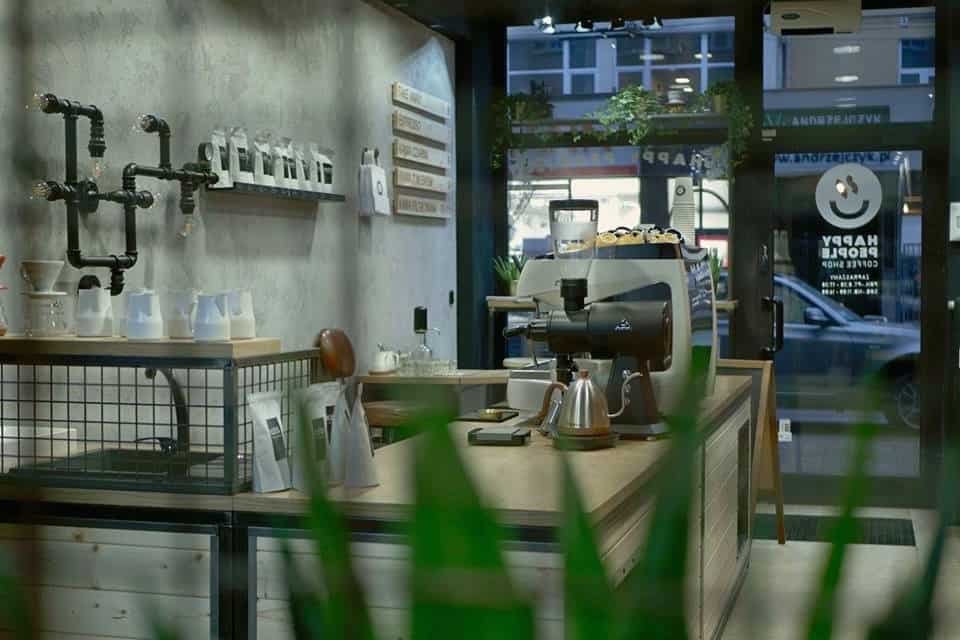 The thought of opening their own cafe came to them rather as a coincidence. "I hadn't even been drinking coffee at all until winter last year. I only bought it as a gift on special occasions at our befriended roaster Bless Coffee Roasters in Olsztyn," Ania added. During one of those visits, Ania took her first sip of the black gold and she immediately fell in love.
Numerous conversations with Bless Coffee Roasters' owner, Natalia Piotrowska, 2017 Polish Brewers Cup Champion, and the idea of opening a coffee shop in Gdynia had started to blossom. Nevertheless, it was a quick decision to supply coffees from Bless only.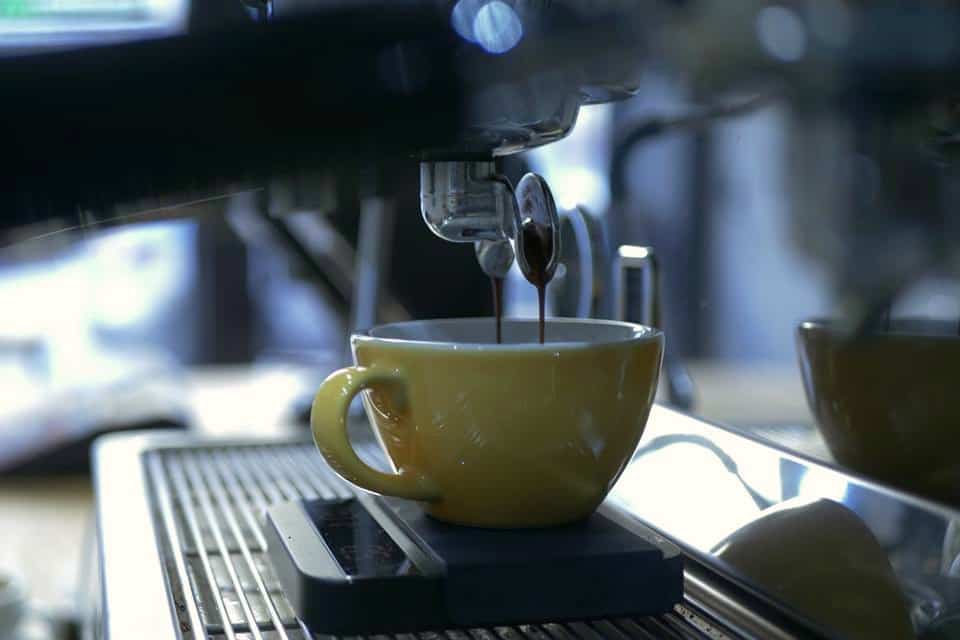 Happy People's interior is raw, yet cool. A combination of red brick, concrete, and metal elements is softened by wooden tables and warm light. The menu does not include any food, so it is the coffee that gets all the spotlight. You are welcome to try all of the available coffees, brewed on V60, or have an espresso brewed on a Nuova Simonelli Aurelia II.
Although there is not much space, it is just enough to take a quick break. After all, "it is never too late to become a coffee lover," Ania perfectly summed it up.
Address: ul. Świętojańska 97, Gdynia, Poland
Facebook, Instagram
The above-mentioned cafes will steal your heart with a whole lot of love and laughter. And you have yet to visit the biggest of the three cities, Gdańsk.