Poland, one of the major countries of the European Union, has gained a reputable position within the European coffee scene in the last couple of years. With many great cities playing a significant part in the development of the scene—roasters, baristas, competitors and judges—Poland is a big country with plenty of coffee corners that remain widely undiscovered.
Szczecin, a short drive from Berlin, Germany, is a city that has been left without a mention when we talk about great Polish cities to visit for a coffee. The port town was integrated into Poland after World War II. Its dominating structure—magnificent post-German villas and unexampled townhouses—also remind us of its past and create an extraordinary atmosphere that cannot be found anywhere else in Poland.
Jan Sieczka draws your attention to his hometown's growing coffee scene in his article about its current leaders. Thanks to several coffee shops across the city one can stop and enjoy the individuality of each cafe. Most of them are situated on the ground floors of Szczecin's historic buildings, leading their visitors to many enthralling corners of the city.
Stojaki
Stojaki (Polish for "bike rack" but also "to stand") is the perfect place to have a coffee while running around the city. Its sidewalk-to-bike-lane direct access is especially convenient for those who cycle in daily. Its tiny interior lit with a great panoramic window and some supplementary furniture outside are making Stojaki the most attainable place in Szczecin. On the behalf of the environment, you can get a discount on your coffee if you come with a bike.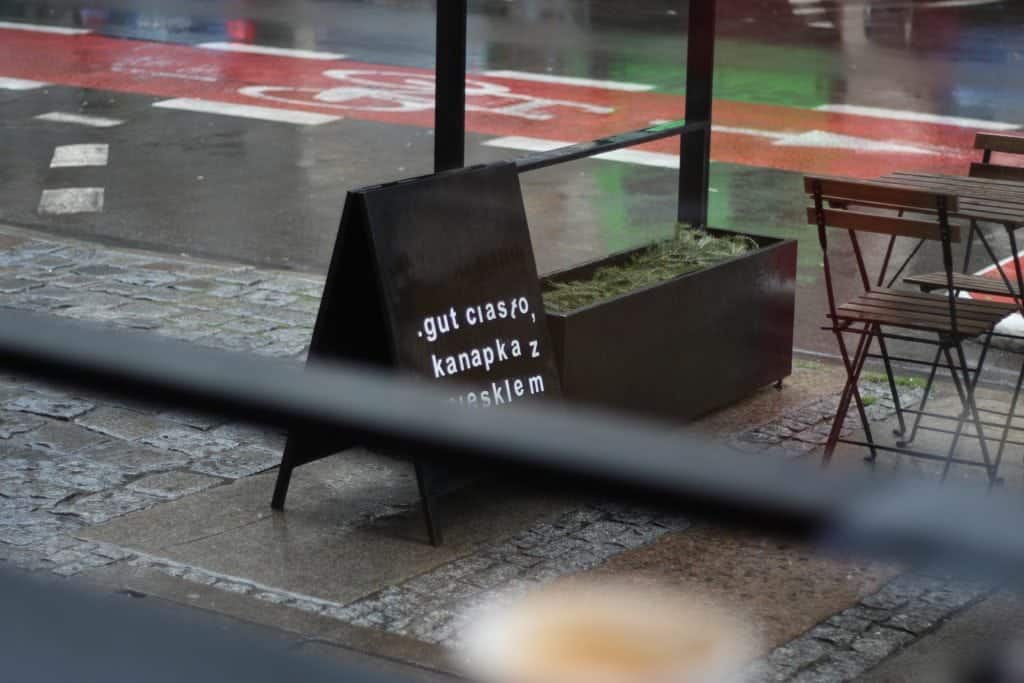 The unique style of the cafe originates in the idea it promotes – "the downtown area of Szczecin as a great place to live and work, a place with entertainment and leisure." Raw wood, industrial steel and black paint covering brick walls increase the ultimate ambience of Stojaki. It is perceptible to anyone entering or just passing by. Each barista represents a different style, easily noticeable thanks to the personal music choices that create a distinctive atmosphere—from jazz to trip hop. The food at Stojaki is mostly vegan-friendly, fresh, offering some homemade pastries, a soup of the day and fruity porridges in the morning.
The history of Stojaki is fairly short. When it opened about three years ago it was rather a pub cafe, which then started developing in quality. Nevertheless, after a while, Stojaki's crew became interested in the speciality coffee world and decided to focus on increasing the quality of their coffee. They also decided to make their best of the alternatives. For quite some time, the cafe sold famous European coffee roasters serving them also as espresso in-house. Five Elephant, Solberg & Hansen, or the Polish ones: Audun Coffee, coffeelab or Czarny Deszcz have been featured, just to name a few.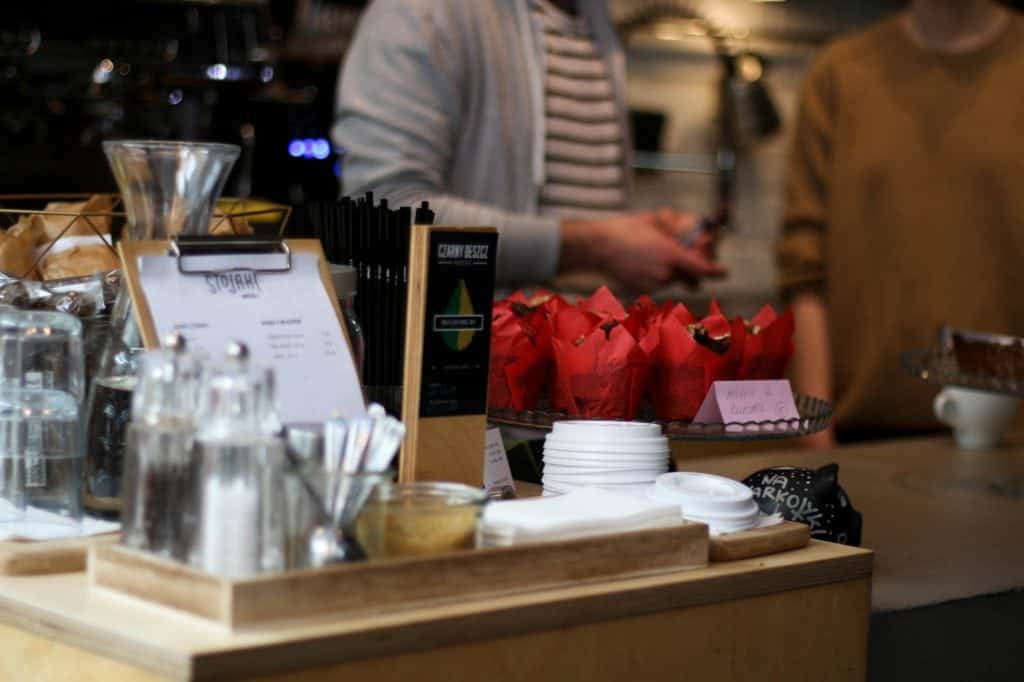 Nowadays, Stojaki is one of the most recognisable cafes of Szczecin with a really great quality coffee. And, like at the beginning, it still offers a wide range of selected beers.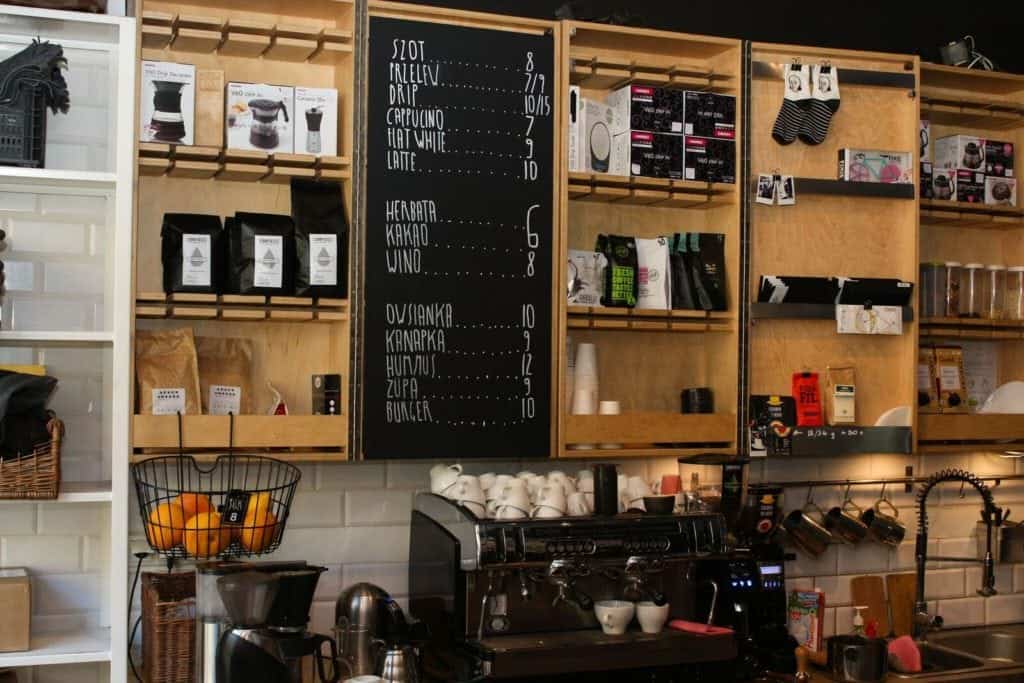 Kafle
Kafle ("the tiles") is an integral part of the direct neighbourhood of Szczecin's Academy of Arts. Situated in the city centre, the cafe is close to the most important junction of Szczecin – Brama Portowa (The Harbor's Gate). Temporary art exhibitions on the walls are the core of the coffee shop, accompanied by handmade design features of the place—furniture, pottery lying around, tiles above the counter, even light fittings. A group of artists working on a project is a common encounter here.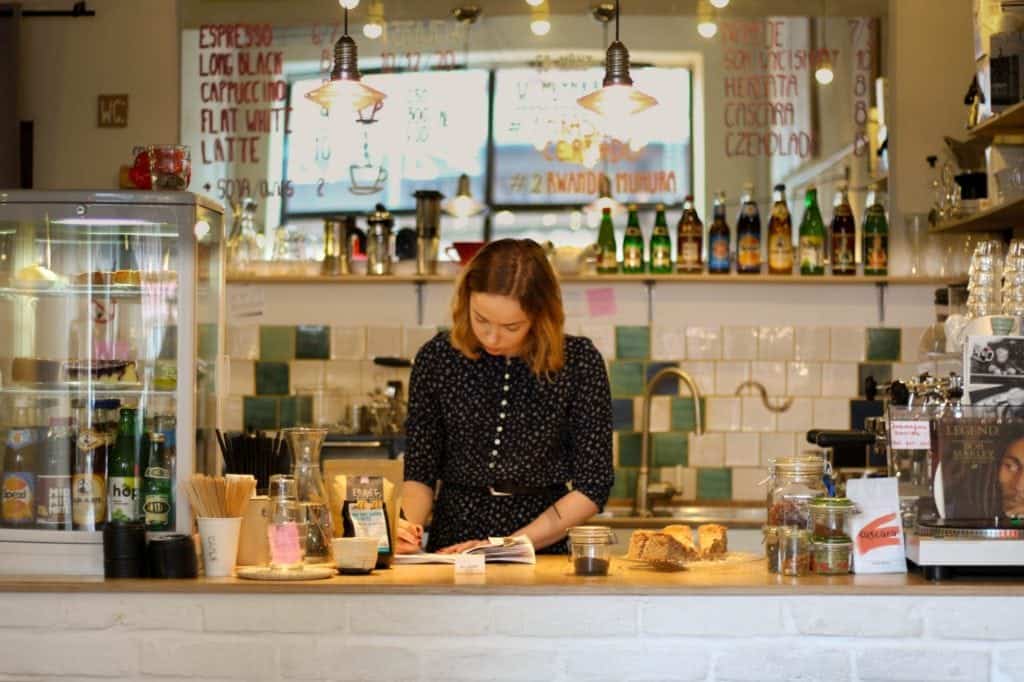 Kafle is the one and only cafe in Szczecin where vinyl music is happily rattling in the background. You can find a wide selection of different albums here, contemporary and older ones. Likewise, the variety of coffee is prominent. Quite a few roasters from different countries, including some well-known names, as well as new ones, are displayed on the shelves. Kafle serves two espresso options for you to choose an origin you prefer.
What more, Kafle offers a variety of brew methods: Chemex, AeroPress, drip, Kalita, french press—also available to buy for home brewing. Fresh alternatives are served here for those who do not fancy coffee, such as fresh teas or craft drinks. Pastries are only vegan, always fresh and mild.
The history of Kafle is perhaps short, but interesting. It was established two years ago by a Polish teacher. She wanted to run a coffeehouse that provides speciality coffee with a bit of art and refinement.
Today, it is definitely one of the most inspiring and friendly places in Szczecin. It welcomes anyone who wants to wind down away from the city buzz.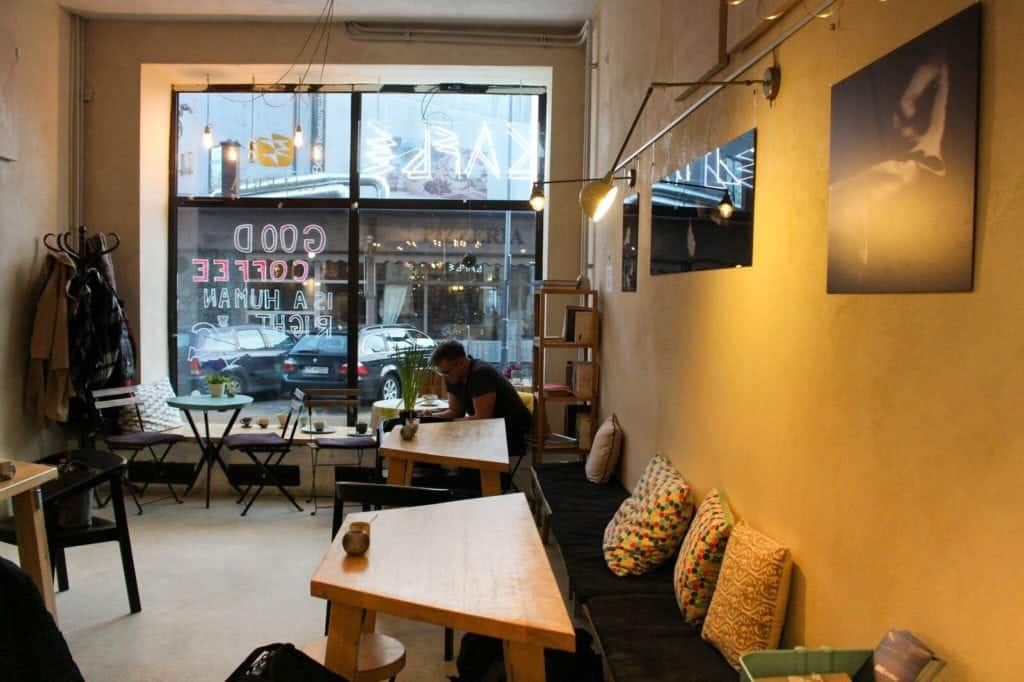 Drabina coffee
Drabina ("the ladder") is a cafe perfectly representing the style of Szczecin's Old Town. It is situated in one of its townhouses—cramped on the edge of a cobbled pathway. Despite the modern, wooden based interiors, Drabina remains a petite living room from The Enlightenment era—mostly thanks to the distinctive windows and a low but quaint ceiling.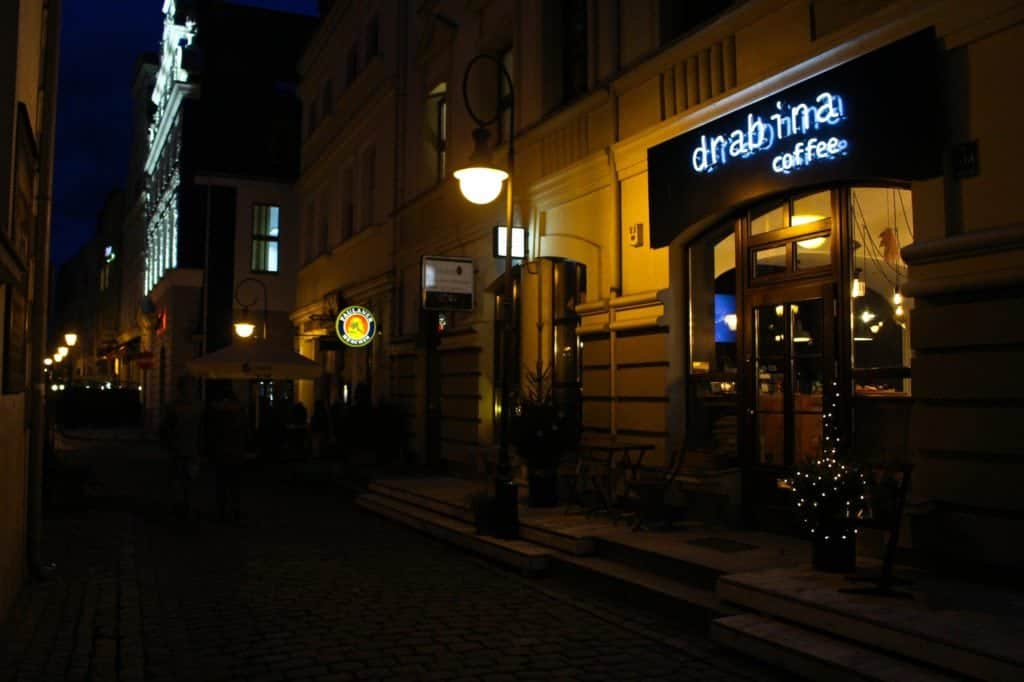 The cafe itself ensures a good quality of coffee, both espresso and filter methods, but its trump is the menu. Almost everything served here is also prepared and cooked directly for the customer. According to some reviews, Drabina is one of the best places in Szczecin to have a breakfast or a brunch. Besides, you can have a cold bottled beverage here, too.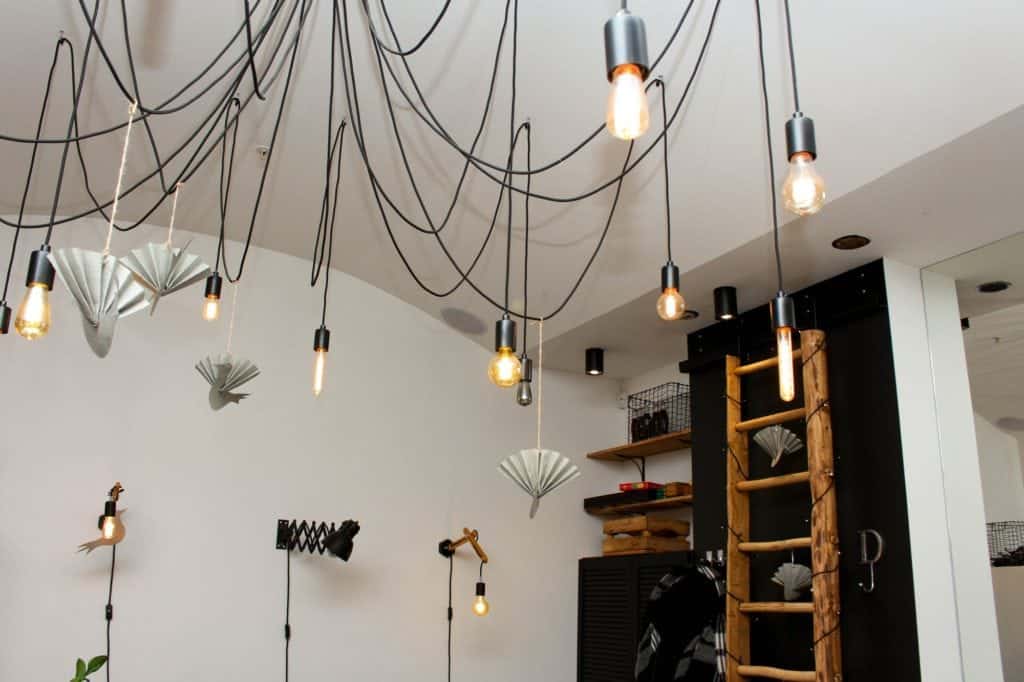 Since the opening, Drabina endeavours to provide any guest with an opportunity to simply share its homely space. It is like a common room of Szczecin's Old Town that can take you back in time.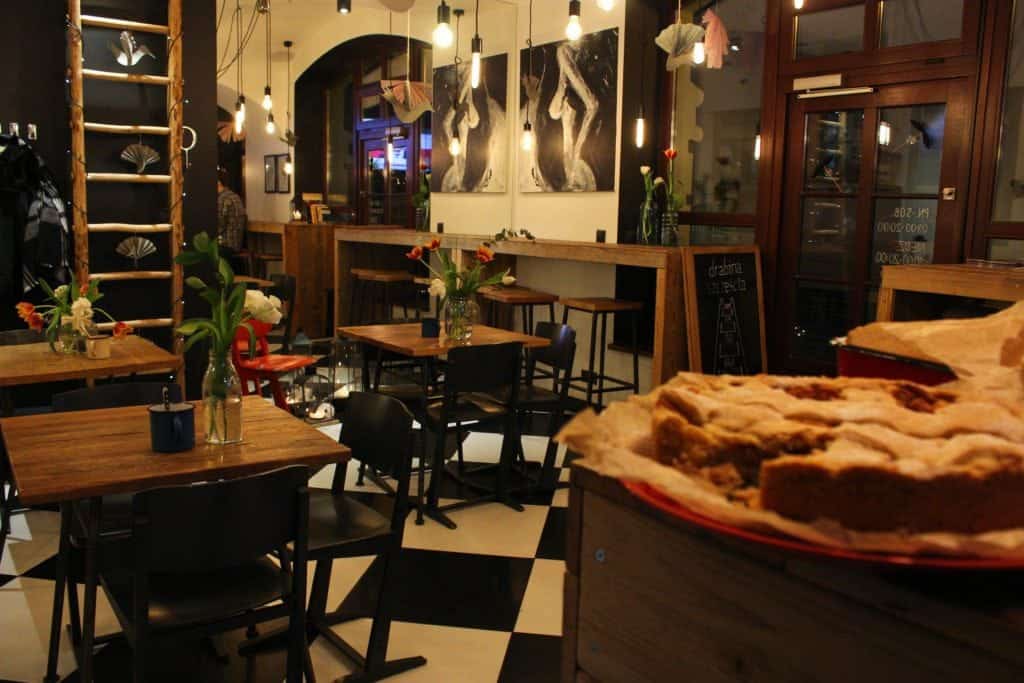 Sienna 5, Szczecin, Poland
Facebook
Qualia Caffe
Qualia welcomes anyone who loves great coffee in a spacious and minimal interior. With its eye-catching, cosy furniture, various high-quality coffee equipment and a retail shelf offering fresh beans, Qualia is the place for them. Actually, Qualia is a cafe, a training centre and a coffee shop with an online website at once.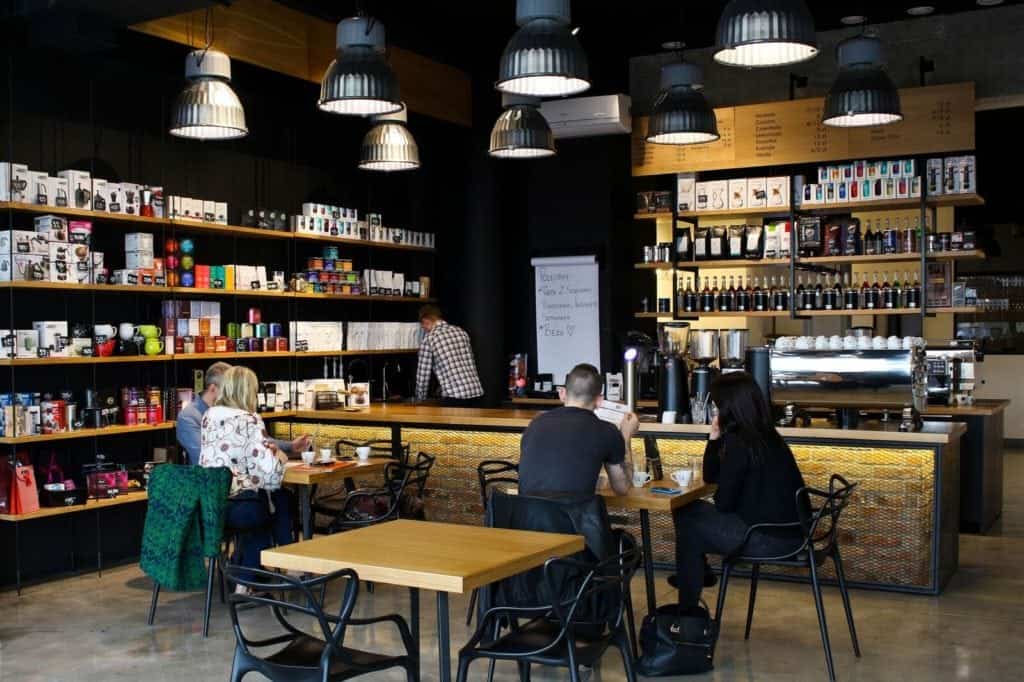 Qualia's skilled crew brews tasty coffees with a distinct approach to every beverage, representing the highest level of speciality coffee services possible. They use Victoria Arduino Black Eagle, one of the best coffee machines on the market, supported with four coffee grinders. This makes Qualia the provider of the widest choice of espresso in Szczecin. Of course, some alternative methods were not forgotten either.
Besides for the usual cafe service, Qualia takes an active part in the growth of the scene by inviting anyone to sign up for a barista training or to compete with others at Szczecin's annual Latte Art Championship.
Since 12 years, Qualia's catering and training services have been developing, with the coffee shop opening last year in autumn, on the suburbs of Szczecin. Qualia customised coffee blend and a selection of teas come from their partner, coffeelab, with the intention to start roasting themselves in the near future.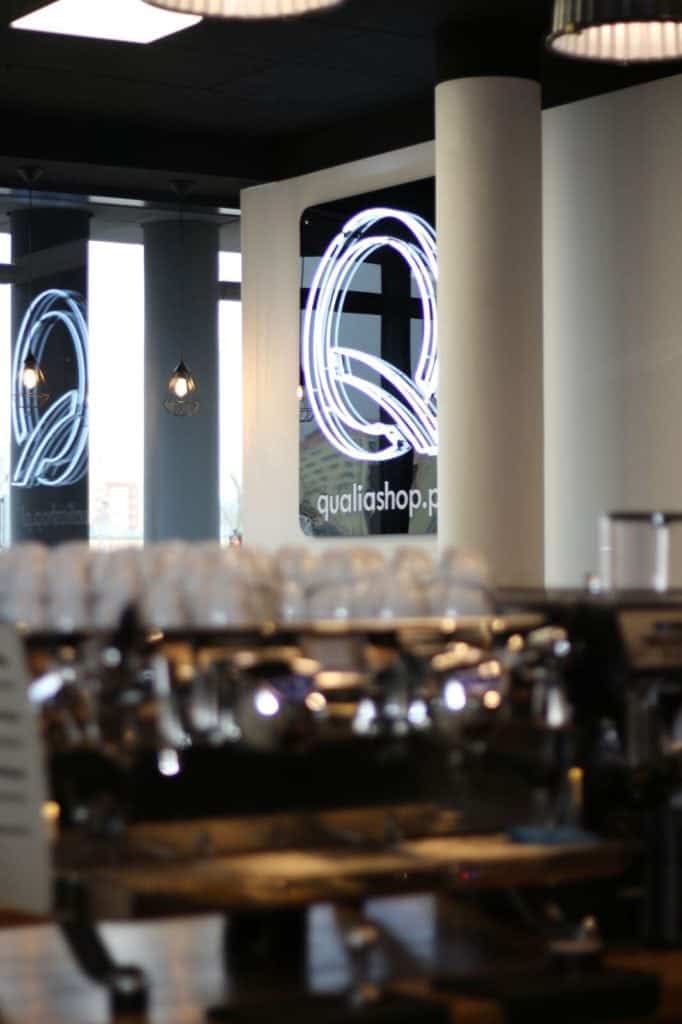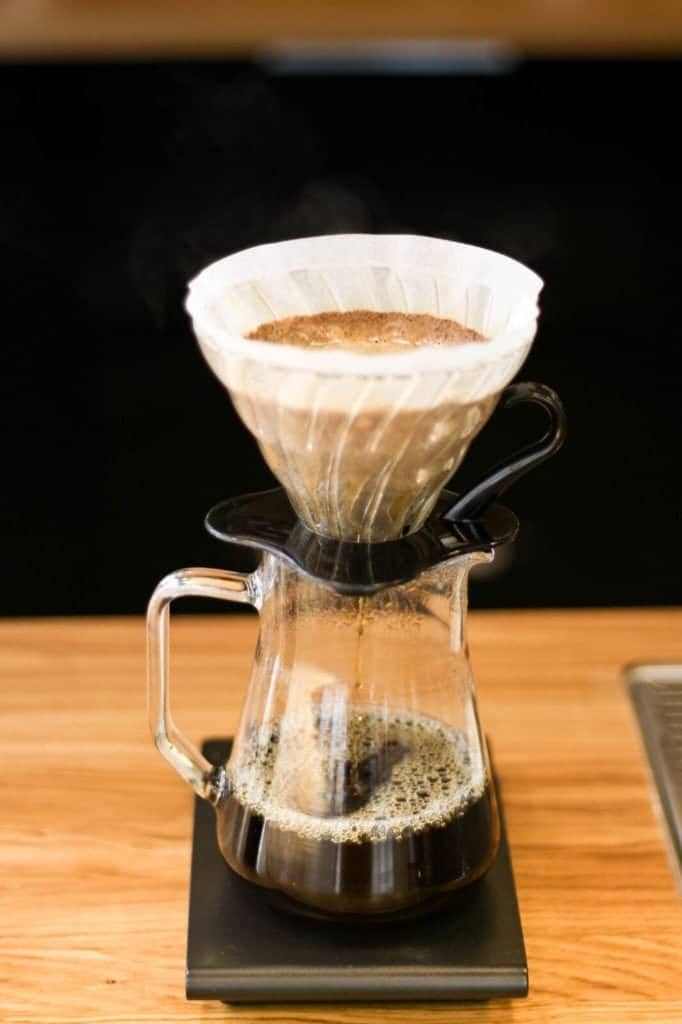 Qualia is a place that seems essential to keep the city's speciality scene growing. The cafe enables its customers to get acquainted with different types of coffees, welcoming them to enjoy a great beverage inside its spacious cafe.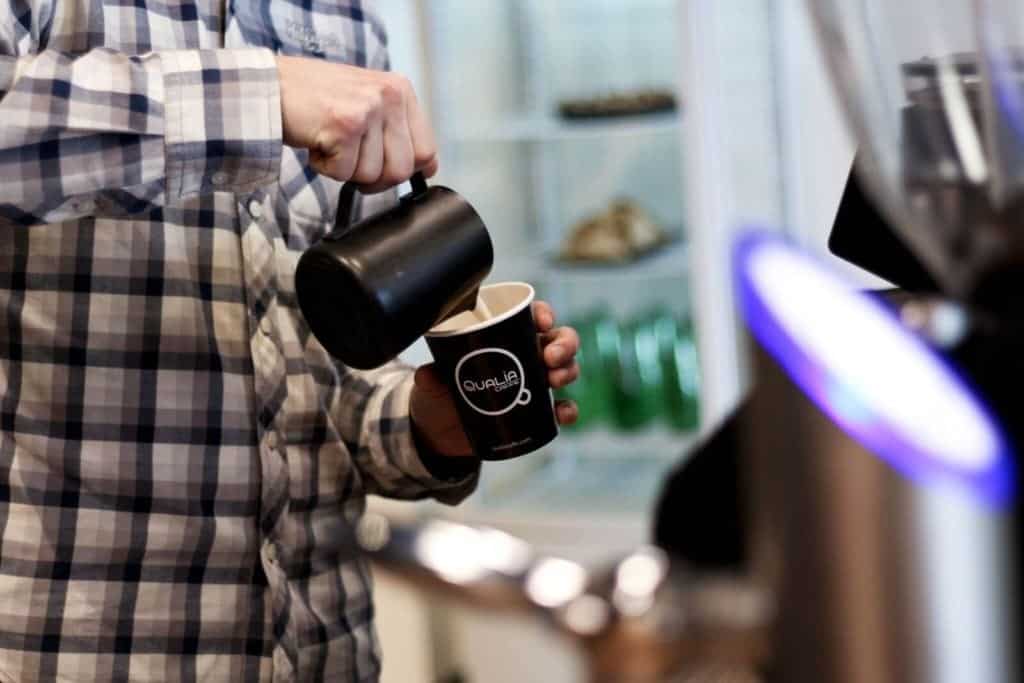 It is fair to say that Szczecin's coffee scene has got strong foundations and is only getting bigger and better. With a great potential already, new investments coming in town will help promote what this port city has got already, attracting more people and businesses to join.
At this moment, you should not miss on the opportunity to enjoy a really good coffee and food in one of those fine cafes.
Photo: Julia Jasiczek took the great pictures for this article.