Coffee Subscriptions are the service that does the job of buying coffee for you. Whole beans, freshly roasted and coming from a speciality roasters. As it happens in our modern times, you sign up and choose your preferences online and the service makes sure you have a fresh coffee to brew in the comfort of your home.
Choosing from the incredible number of Speciality coffee roasters is quite a challenge for a regular barista who already knows what he is looking for. What about a coffee enthusiast who likes quality coffee, but does not know where to choose the freshest beans? Or perhaps he does not have the time to run around the third wave cafes in the search of the best for his AeroPress. Whoever the customer, he might opt to have someone else recommend him a new roaster every now and then. And the perfect way to do this is by reaching out to a subscription service.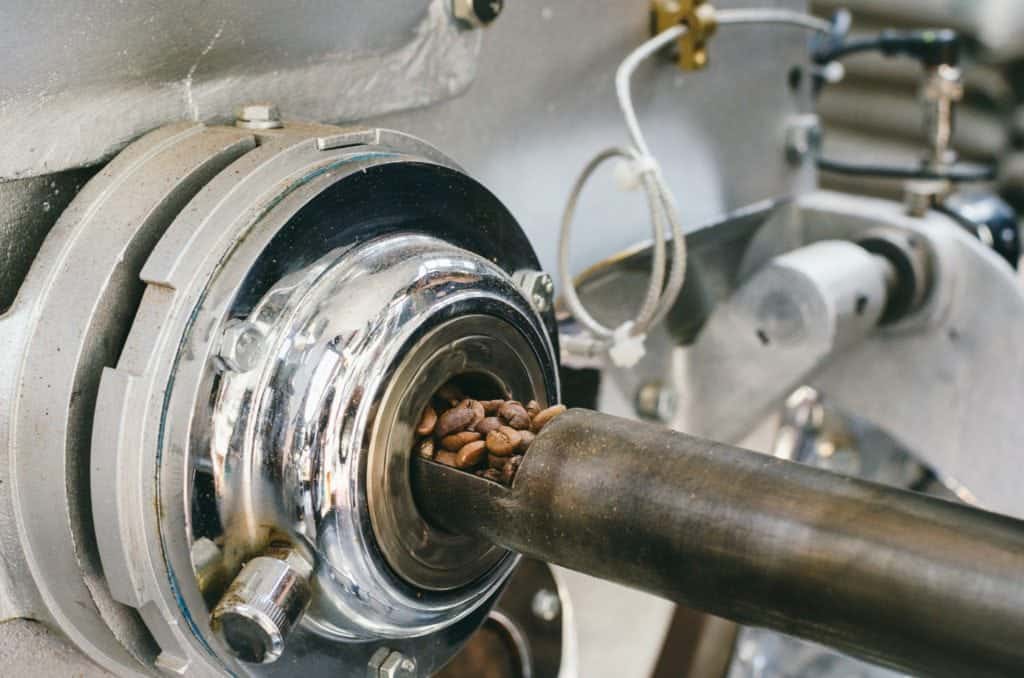 There are two ways of discovering different beans. Either you opt for a service that will choose the best from a wide selection of roasters, be it international or regional ones, and you will that way get to taste coffees of diverse roast styles, or you will sign up for the same service with a roastery you already know and like. To receive always a different bean, but of consistent quality in terms of roast development is another way of tasting coffee. Today we talk about Subscription Services featuring different roasters each month.
What do Coffee Subscriptions provide you with?
Every subscription we feature in this article aims to deliver freshly roasted beans, in an interval that you choose, featuring different speciality roasters. Let's have a look at some of the companies that have been supplying home brewers and cafes with a diverse range of coffees for a while, as well as at some of the newcomers on the scene.
The comparable features of every subscription provider are their coffee bags or boxes—how much coffee can you order? Will it cost you extra for shipping? Do they deliver to your country? And what about the fixed price? We compared some of the popular services and here is their overview. You will find some of the more established services, as well as a popular choice and last, but not least, the new names in the game.
Kaffebox
The Norwegian subscription service has been around since 2014, hence they were one of those to have laid the foundation for many of the new providers: fresh roasts, fixed prices, adjustable account settings, or the focus on ethically sourced and high-quality coffees, Kaffebox delivers on those fronts. They also prime in the different sizes of their deliveries.
price – 169 NOK / 1 bag, 279 NOK / 2 bags, 399 NOK / 3 bags, 499 NOK / 4 bags
delivery – worldwide
shipping costs – included
coffee bag – 1 x 250 grams, 2–4 x 250 grams – 2 different coffees
subscription – monthly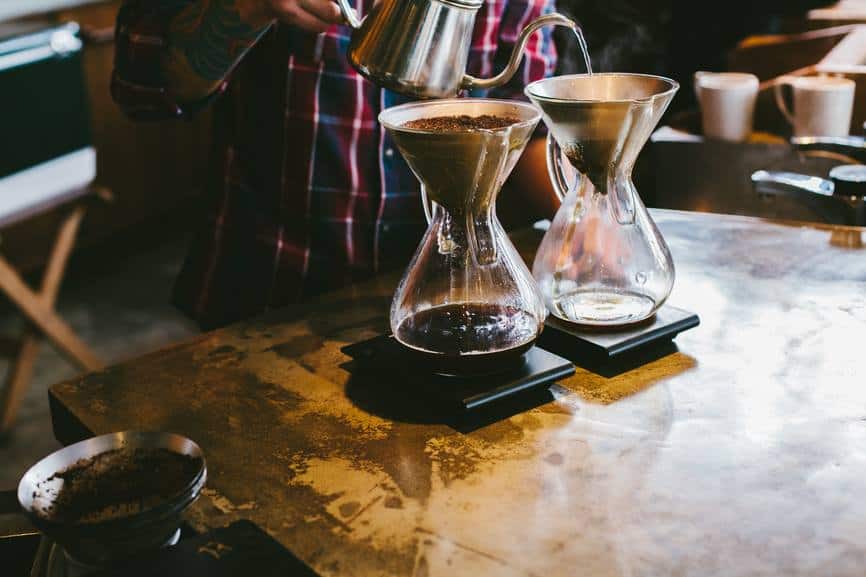 Kaffeebox is celebrated as one of the most popular services to discover Scandinavian micro-roasters, which is their area of focus. They have featured some great roasters, for example, the Coffee Collective, Tim Wendelboe, Lippe, da Matteo, Koppi, or Kaffa and Jacu.
Slurp
Finland's selection of speciality coffee is trying to deliver the best of Finish roasters to its drinkers, who can have any preference. The Founders Manuel, Rafael and Tero had the idea back in 2014, when they saw the potential of Finish coffee drinkers to fall in love with artisan roasts that were not as available to buy in shops back then.
Today, Slurp offers their subscribers to customise their profiles, to supply them with the best coffee options. Pick the kind of coffee you prefer—light, medium, or mixed—and your brew method. The options will change with a bi-weekly or monthly subscription, as well as the amount of coffee you would like.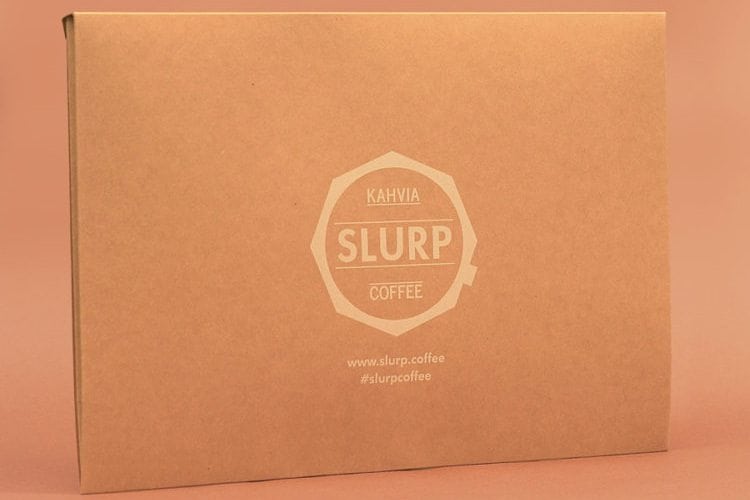 price – €9,89 / 1 bag, €16,89 / 2 bags, €23,89 / 3 bags, €30,89 / 4 bags, 37,89 / 5 bags
delivery – worldwide
shipping costs – €1,99–€2,99 for 200–1000 grams within Finland, €2,99–€11,99 outside of Finland
coffee bag – 200 & 400-gram bags
subscription – every 2 / 4 weeks
Beside for subscribing with Slurp's services long term, you can always browse through their selection of Finish roasters and try a one-off purchase, or buy a box of chocolates and coffee brewing equipment.
The Coffeevine
In our opinion, The Coffeevine is one of the most popular subscription services out there. The Coffeevine, found by Alex Kitain and Erica Armistead, delivers a little bit more than just the coffee box. They manage to select three divers roasters from around the world for each of their monthly tasting boxes but also run a very informative blog and an online shop.
price – €14 / 1 bag, €27 / 2 bags, €39 / 3 bags
delivery – worldwide
shipping costs – extra, depend on the delivery address
coffee bag – 1-3 bags of 250 grammes
subscription – monthly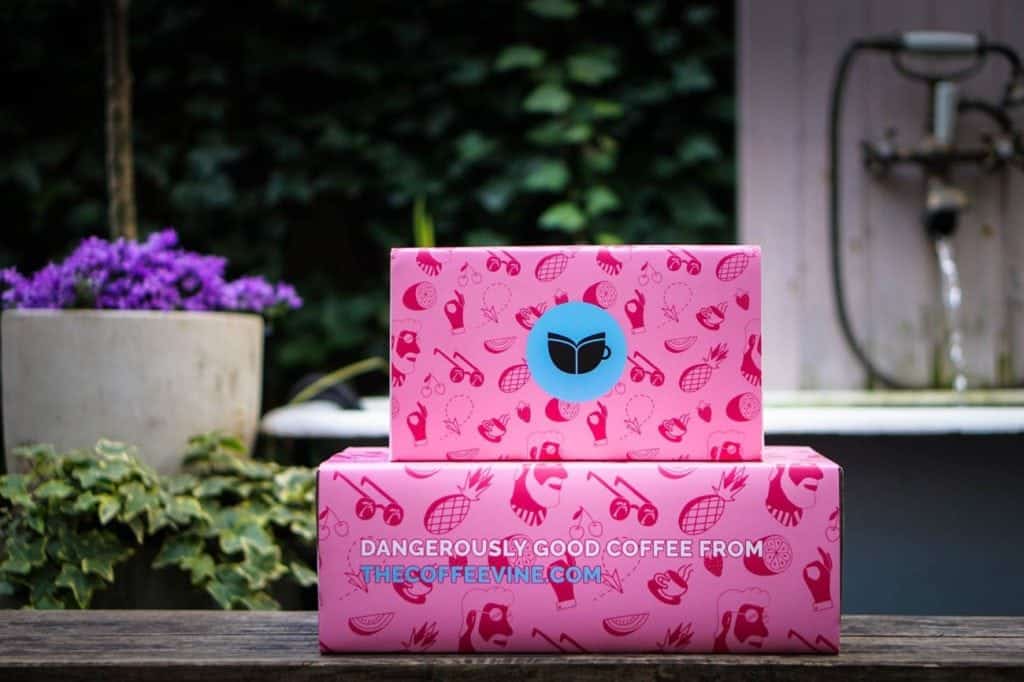 We like the variety that The Coffeevine offers. Their Tasting box usually offers at least one name that we are not familiar with, or at least have not tasted it yet/at all. They have worked with names such as Parlor Coffee (US), Cafe Belleville (FR), Origin Coffee Roasters (UK) or La Cabra (Denmark). The big chance is that you will get to taste coffees that would be too expensive to order as a one-off purchase, discovering beautiful coffees from around the globe.
Bean Portal
The Sweden-based subscription service is also run by two people, coffee lovers Jakob and Tobias, who are inviting you to enjoy three amazing coffees each month.
Their approach is a little bit different though. Bean Portal are always searching for new, interesting roasters to present to their subscribers. The way that you are presented a roaster is by three sample bags of 100 grams. This sort of a tasting can help you understand your preferences. The coffee they finally select for you are three best coffees the roaster is currently roasting, based on a thorough cupping of all samples, done by Bean Portal.
Tasting Box
price – €28
delivery – worldwide
shipping costs – included
coffee bag – 3 x 100 grams – 3 coffees
subscription – monthly
Coffee Box
price – €19 / 1 bag, €33 / 2 bags
delivery – worldwide
shipping costs – included
coffee bag – 250 grams / 2 x 250 grams – 2 coffees
subscription – monthly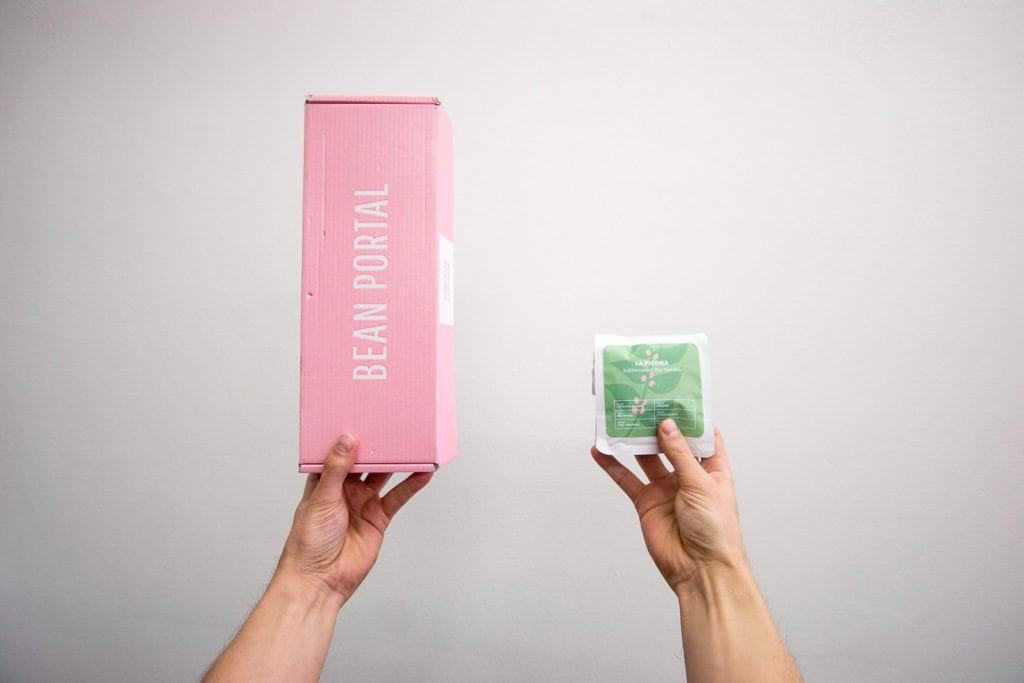 As you always have the option to cancel your order, it is the perfect idea to try three different coffees from the same roaster, and if you manage to use all of the 300 grammes, you are most likely ready to order more. And the options are there.
On top of that, as with many other services, you can also make somebody very happy with a Gift Box, presenting someone with a 3-, 6-, or 12-month subscription to the Tasting Box.
Bean Bros
Bean Bros are another Scandinavian subscription service, based in Copenhagen, Denmark. Here, Mikki and Viktor, the founders of Bean Bros, select the best of European roasters for their subscribers.
price – €19 / 1 bag, €32 / 2 bags, €47 / 3 bags
delivery – worldwide
shipping costs – included within EU, shipping charges outside EU
coffee bag – 250 grammes
subscription – monthly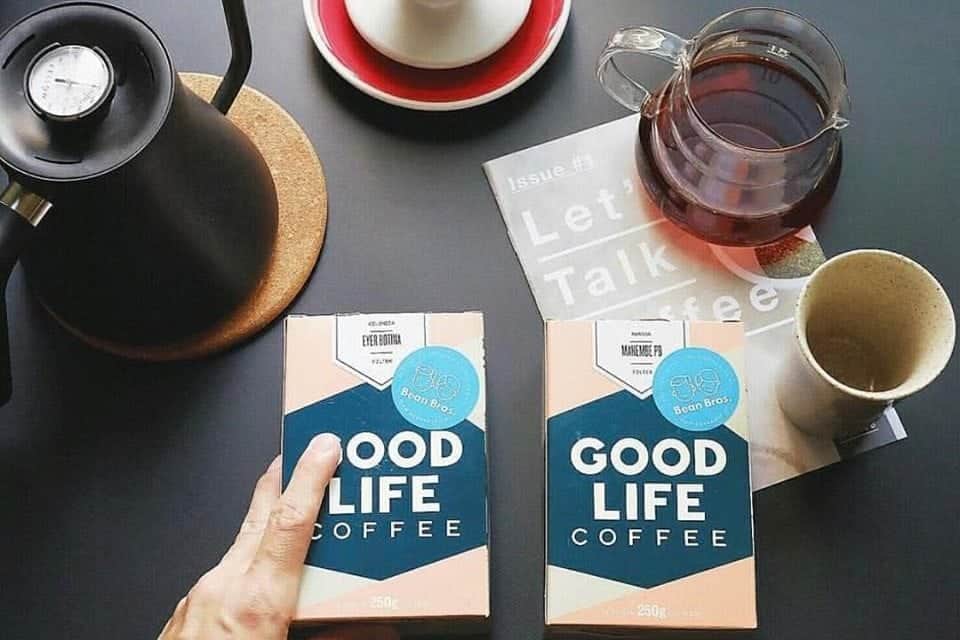 The two coffee enthusiasts with the love for creative thinking have the vision to deliver coffees as fresh as they can be. Something that not every subscription does is the recent hype of capsule coffee. Bean Bros jumped on the bandwagon with their Capsule subscription of 30 capsules of three different coffees. If you are into Speciality coffee and own a Nespresso machine—nothing is forbidden these days—this might be just for you!
Bean Bros focus on creating a great experience and conversation around coffee, and what it means for the featured roasters. As a subscriber, you can learn more about them through Bean Bros' 'Let's talk coffee', a booklet sent with your monthly subscription, featuring an interview with the roaster and related news. You can also watch live interviews with the roasters, added each month.
Curated Brew
An example of a UK subscription service is quite a new provider on the market. They are currently selecting the best roasters and collecting information about their chosen coffees, to deliver together with each order.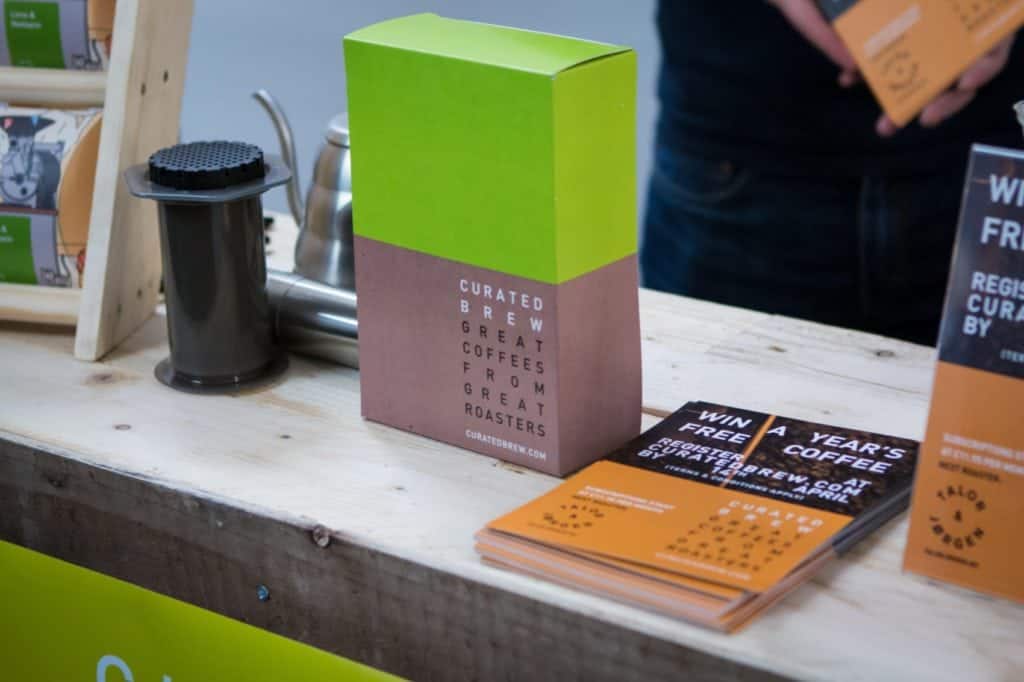 Based in the UK, they are surrounded by really wonderful roasters, the last two featured being Koppi and Talor&Jorgen. The roasters order your coffee and send it to Curated Brew, who then pack and send your subscription to its future brew destinations. Curated Brew is an example of a new company, and we are looking forward to seeing where they will take their services.
price – £11,95 / 1 bag, £20,95 / 2 bags, £38,95 / 4 bags
delivery – the UK and the rest of Europe
shipping costs – included
coffee bag – 250 grams
subscription – monthly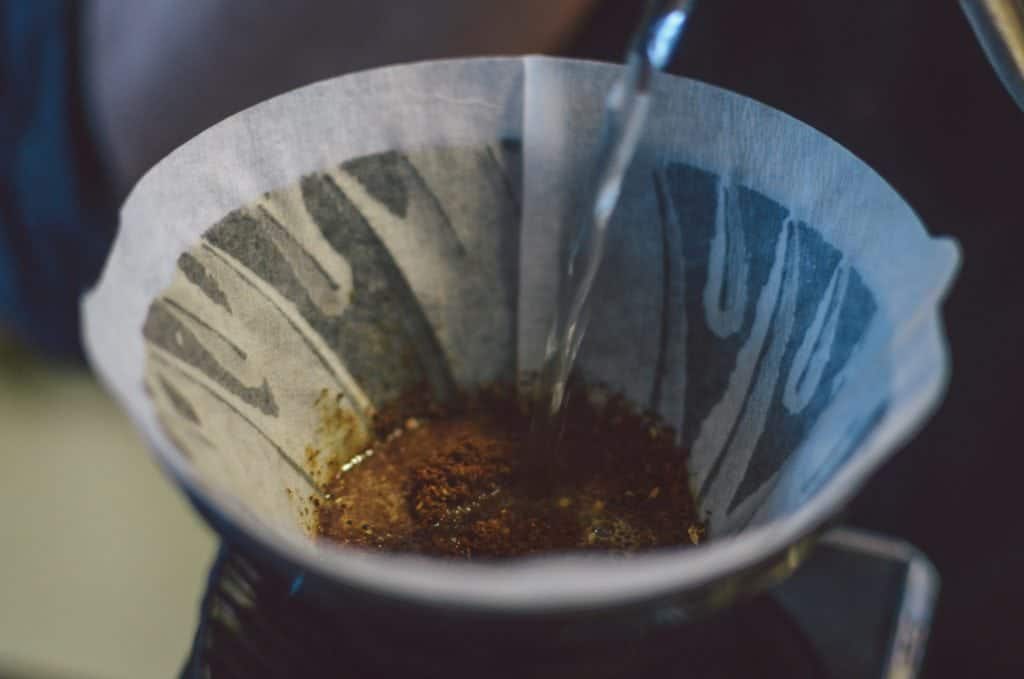 It may seem that all services give you the same offer, but the truth is, you can very much tweak your standing order to your current preferences and even pause your coming orders. The availability of a wide range of roasters on the market and the possibility to ship pretty much anything anywhere in the world means, that the competition is getting stronger and eventually, the roasters, as well as the subscription services, are getting better at their niche. And the customers can only get better at tasting and brewing. Win-win situation, isn't it!