Cafes are day venues. They open early in the day to accommodate your caffeine needs, and they stay open until the hours of the early evening. Then, we start thinking about drinks other than coffee, this is when bars come into mind.
In Berlin, the culture of opening super early has not picked up yet, cafes welcome you from 8 am, but some open only at 10 pm. Despite the rather late mornings though, there won't be many of them open past 7 pm. And the bar menu? It is very rare to see your favourite cafe serve a nice glass of wine, not to mention a cocktail.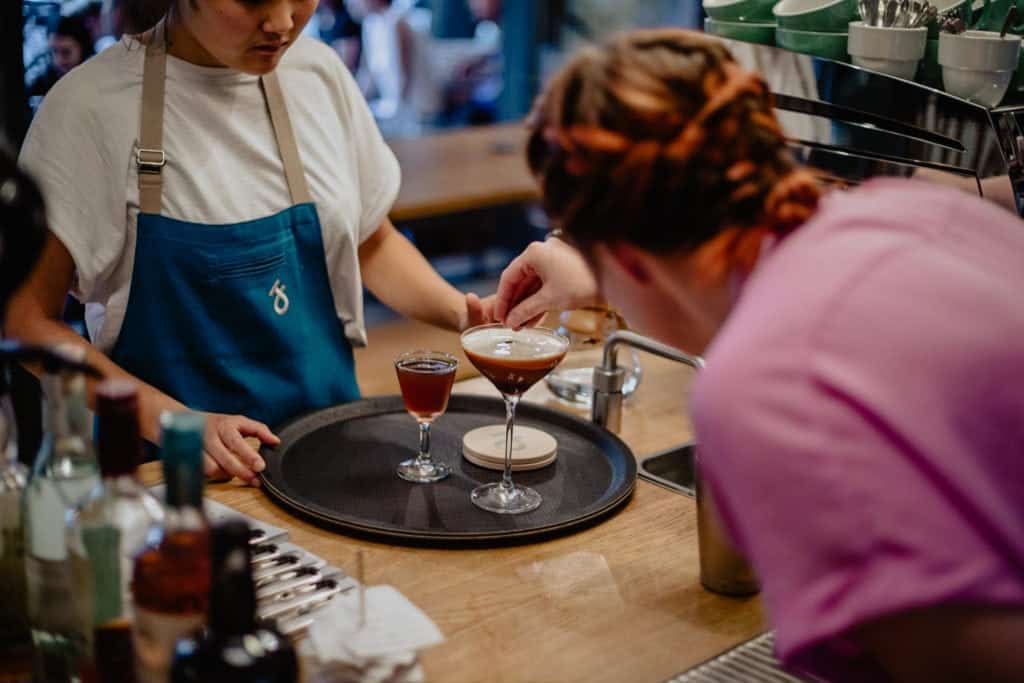 One cafe in Berlin now stands out from the always growing group of cafes though. Happy Baristas serves coffee, as well as coffee cocktails. And it closes at 10 pm. The Berlin coffee game just got an upgrade!
Happy Baristas bring a coffee concept in an evening dress
Happy Baristas, one of the well-established cafes of the Berlin coffee scene, has always promoted novelty and made-in-house approach. They brew their own nitro cold brew, as well as nitro tea, and are well-connected to the cocktail world. They have hosted Martin Hudak and his competition cocktail menu, and always prepare something special for Berlin coffee events.
Marian Plajdicko, the co-owner of Happy Baristas and a multiple Slovak Barista Champion, invited me over to taste their cocktail menu and to explain the whole cafe/bar concept at Happy Baristas—while successfully making me a little bit tipsy on the aforementioned cocktails.
What inspired Happy Baristas to run a cocktail menu at their space? Marian, who is a close friend with Martin Hudak, told me about their wish to put some cocktails on the menu since a while ago. Not only because of their passion for high-quality alcohol and mixology, but also because it made sense. The cafe is located on one of the nicest streets when it comes to evening social life. It is lively, but not too crowded, and it is one of the main pathways to a major train station.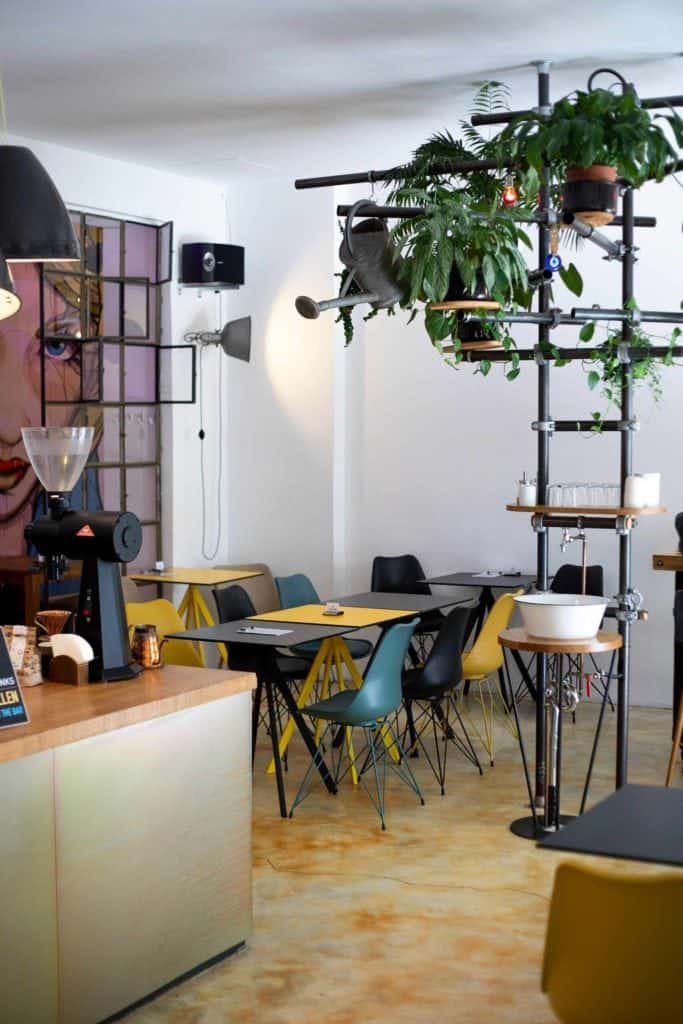 Remembering the closing times of cafes in Berlin, you would not really expect anyone to drink coffee at night. But in the capital, 'Are you still open?' is practically a daily question that a barista gets—at 7 PM. Staying open a little longer past the usual hours thus seemed logical.
One of the things that made this transition a bit easier was the layout of the cafe. The German law has many rules for what a bar, a restaurant, and a cafe must look like. Luckily for Happy Baristas, there was previously a bar in their space. They also built a new kitchen for the cafe, have toilets, as well as suitable doors. The cafe was ready to become a bar, then.
Happy Baristas extended their cafe concept into an evening coffee dress.
Sustainability as a key element in each cocktail
The creation of the coffee cocktail menu was done with Martin Hudak, 2017 World Coffee in Good Spirits Champion. The best at his craft, he followed their desired concept of Sustainability—little wastage, a clever use of ingredients, condiments made in-house and no plastic straws.
First, they chose what liquid ingredients they would work with—vodka, whiskey, rum. They did not want to stock too many different alcohols, but rather find a use for the selected few. And of course, coffee. Their usual menu serves anything from espresso to batch brew and nitro cold brew. This translated into their cocktail menu, but there are also some other coffee ingredients, such as cascara infusion or coffee and cashew tonic.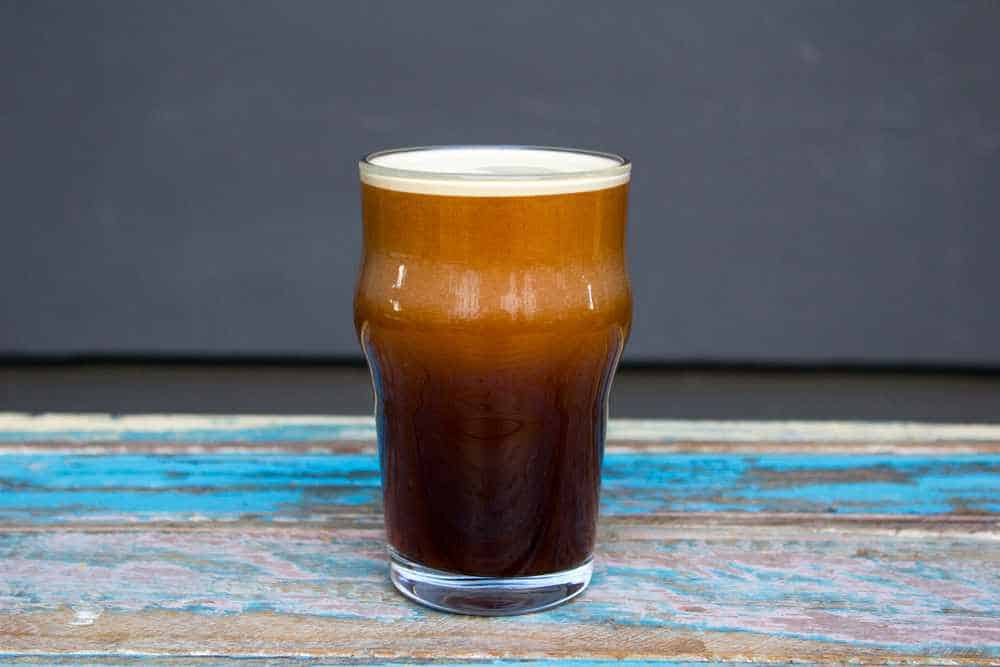 Happy Baristas are also a hot brunch spot, and as such, they have a kitchen with a variety of ingredients from local producers. Their cocktails and their food menu share the same suppliers, reducing the number of orders and deliveries. They use leftover produce in their cocktail menu and even reuse some of the waste into a garnish. My favourite example must be the lime husk garnish filled with a home-made gelatine. Beautiful to look at, edible, plus it would never occur to you as a waste product.
Ten varieties on the cocktail classics
Keeping the above in mind, Martin Hudak selected ten well-known cocktails that are served almost at every cocktail bar and updated them with local ingredients and speciality coffee drinks. He showed the staff how to prepare the cocktails, taught them about workflow and the result is a beautiful evening cocktail menu that has got a drink for everyone.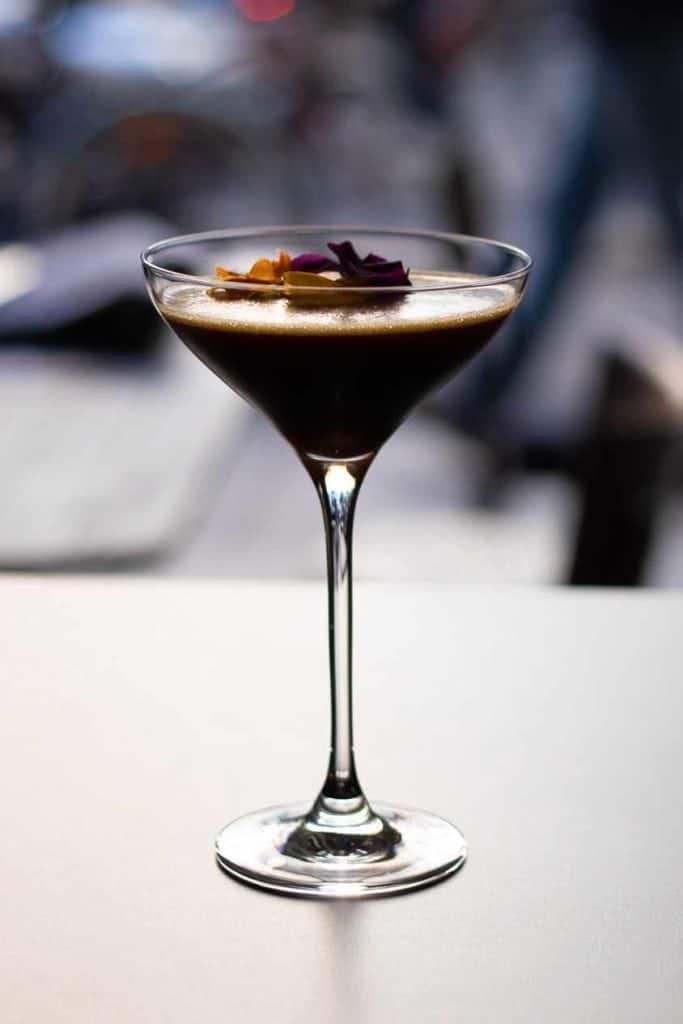 Presented on a single page, the menu is a great guide to what you might get. All the cocktails are priced the same and have a little shape of the vessel that they come in next to them. Don't you worry about the price, rather focus on the variance of flavours you'd find in the feature drinks.
Marian shared four cocktails with me—although it was mainly me who drank them—and they were all a great example of mixology. All drinks were quite different from one another though equally delicious.
Coffee Libre
Do you like your cocktail on the rocks? You might go for Coffee Libre. The ingredients might not make it sound too surprising, but don't be tricked. This cocktail is smokey, elegant and rich in flavour. The coffee is not the dominant flavour here, it rather carries the rum and folds the spiciness and the smokiness of the ingredients in a nice package with a soft sparkle of wine.
Coffee Libre
Cold Brew Coffee
Botucal Reserva Rum
Amaro
Maple Syrup
Sparkling Wine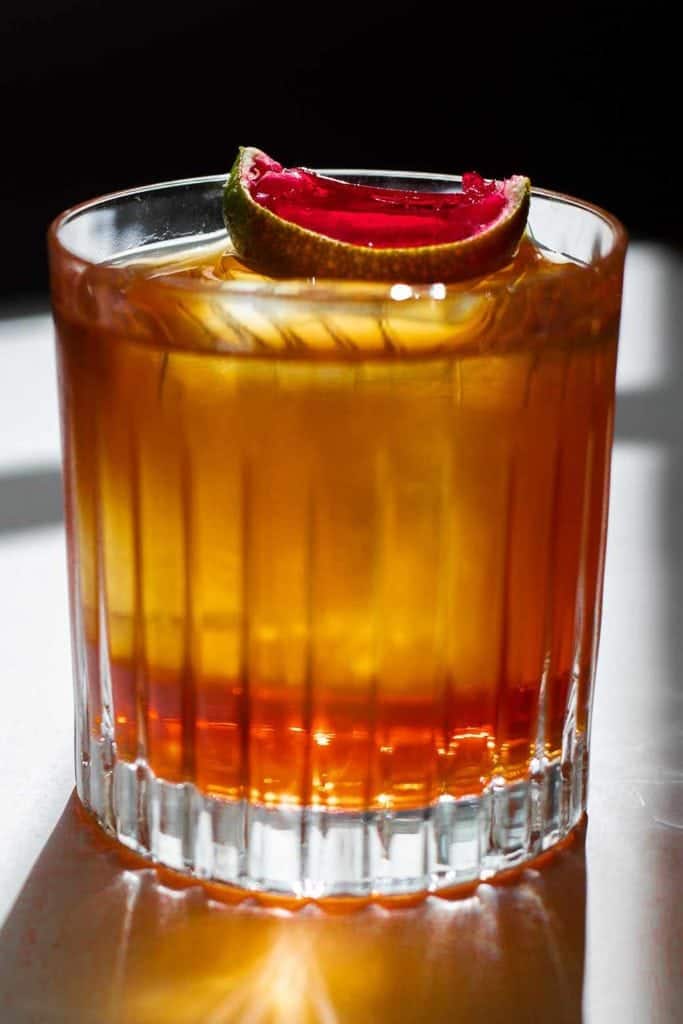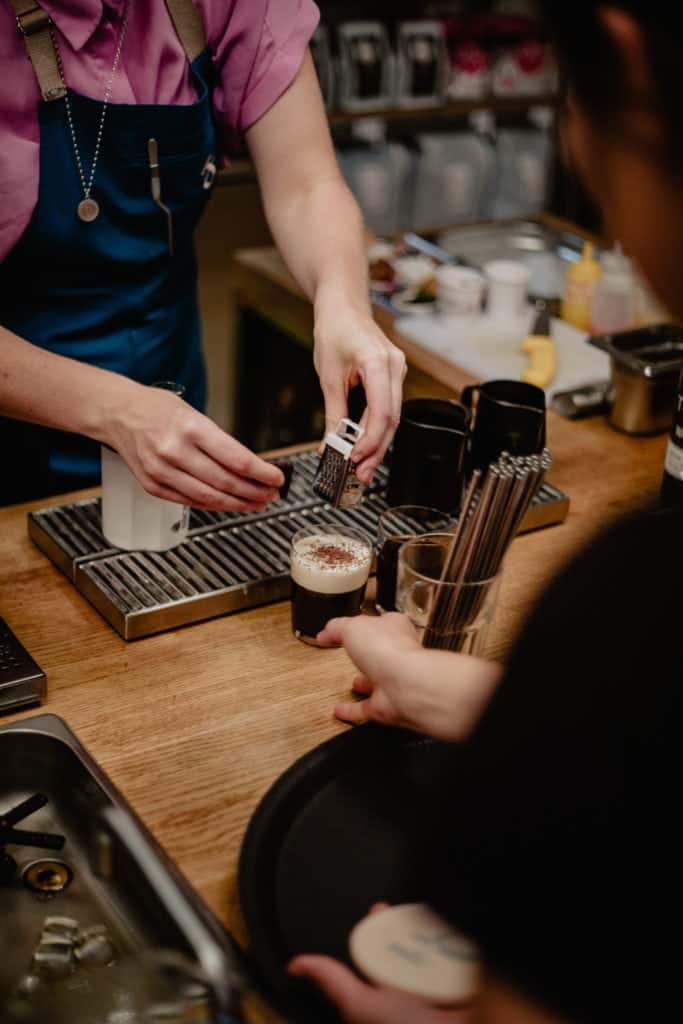 Signature HB Irish Coffee
The warm months are asking for the next one—a twist on Irish Coffee, the Signature Happy Baristas Irish Coffee. It is the first of two hot cocktails on the menu, and it sure does warm you up. The ingredients in this Irish Coffee are an extension of the original. The cream is infused with homemade mandarin liquor and instead of just using cane sugar, they mixed muscovado with some honey. It is sweet, surprisingly spicy, creamy, like the original, but with deeper flavours. It tastes like Christmas and grandma's gingerbread on a winter afternoon. Perfect for those cold evenings, and especially for this transition time before the cafe garden closes down for the next six months.
Signature HB Irish Coffee
Filter COffee
Teeling Whiskey
Sugar blend
Mandarine Cream
Malecon Mojito
A cocktail that will please them all, like its inspiration, is the Malecon Mojito. Less sweet than the classic Mojito, this drinks comes in a tall glass with a lot of mint garnish and coloured by its main ingredient, cold brew coffee. Each of the ingredients sounds already refreshing: grapefruit juice, mint, elderflower tonic. On top of that, a little bit of vanilla sugar to go with the coffee and Bacardi Heritage Rum. Easy, approachable, and not overly caffeinated. The perfect starting point for anyone who does not want to drink too much coffee or be surprised by a firework of flavours.
Malecon Mojito
Cold brew coffee
Bacardi Heritage Rum
Grapefruit juice
Vanilla sugar
Mint
Elderflower Tonic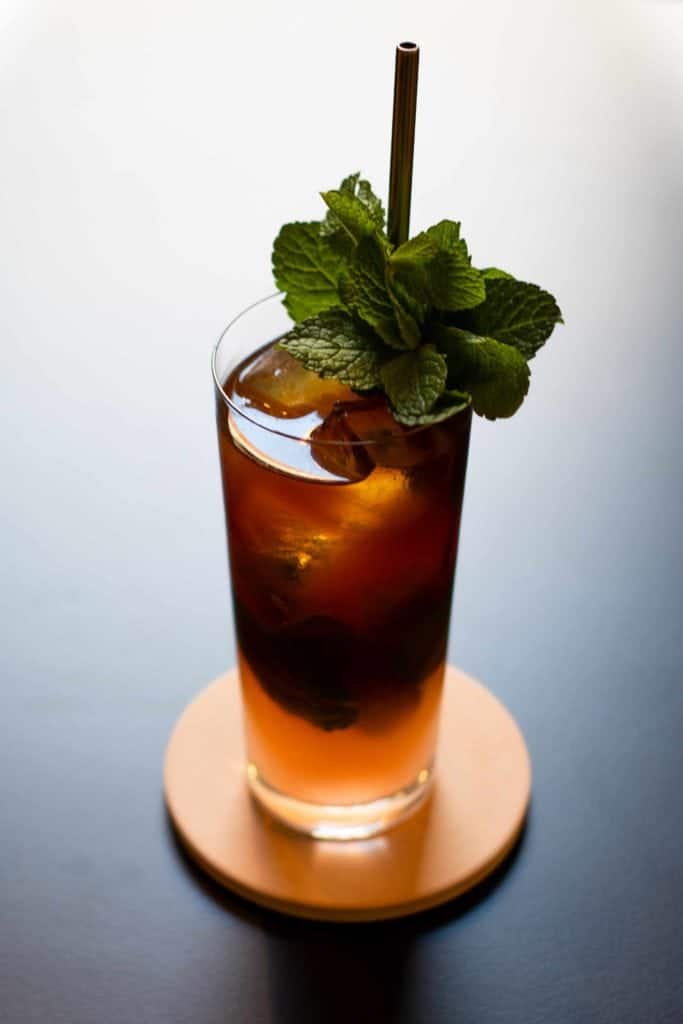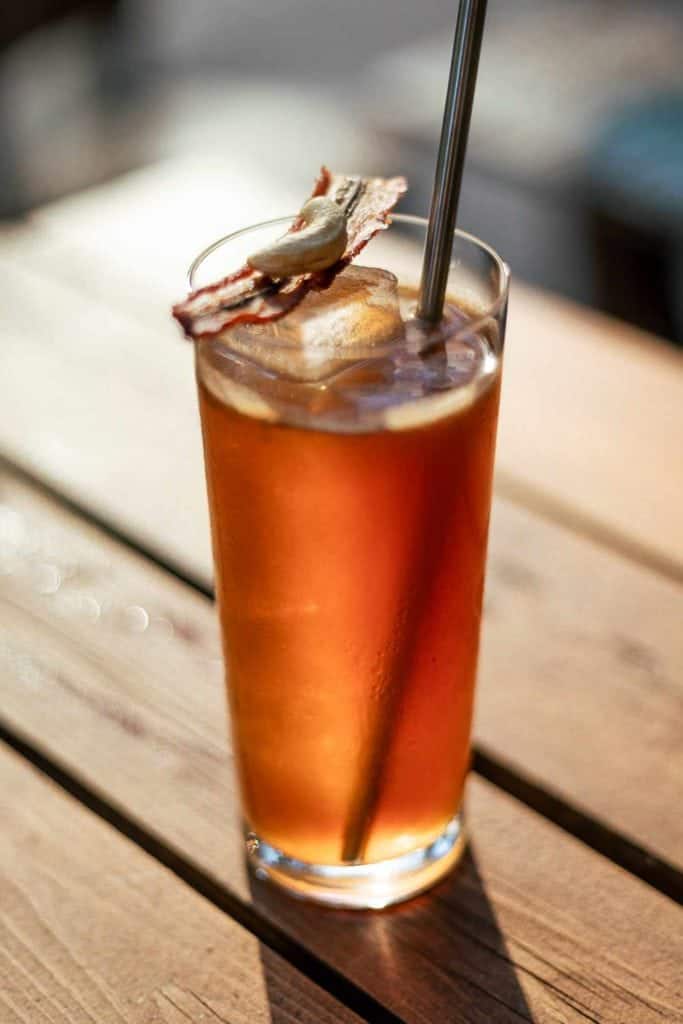 Don't Be Nuts!
The last cocktail I got to taste was, as Marian called it, a dark horse of the whole line up. The cocktail is called Don't Be Nuts!, and there are close to no nuts in it. It is the one cocktail that is sure to surprise anyone—put all your expectations aside. Its name made me believe I ordered a smoothie, but it could not be further from reality. The team uses a tonic infused with coffee and cashew nuts. The drink is served in a tall glass and garnished with banana chips. It looks nothing like a smoothie. It is a clear, caramel-brown drink. The combination of the 12yo Rum, Sweet Vermouth, and banana makes for a really balanced cocktail full of surprises. It wouldn't have been my first pick from the menu, but after tasting it, it became one of my favourites.
Don't Be Nuts!
Coffee & Cashew Tonic
El Dorado 12yo Rum
Sweet Vermouth
Banana Syrup
Although I really wanted to try all ten cocktails, I believe you should make your way over and enjoy an evening at the charming dimly lit cafe. Will you go for Killing Me Softly, Squid Nitro Martini, or for one of the variations on Pina Colada, Espresso Martini, Daiquiri or Hot Rum?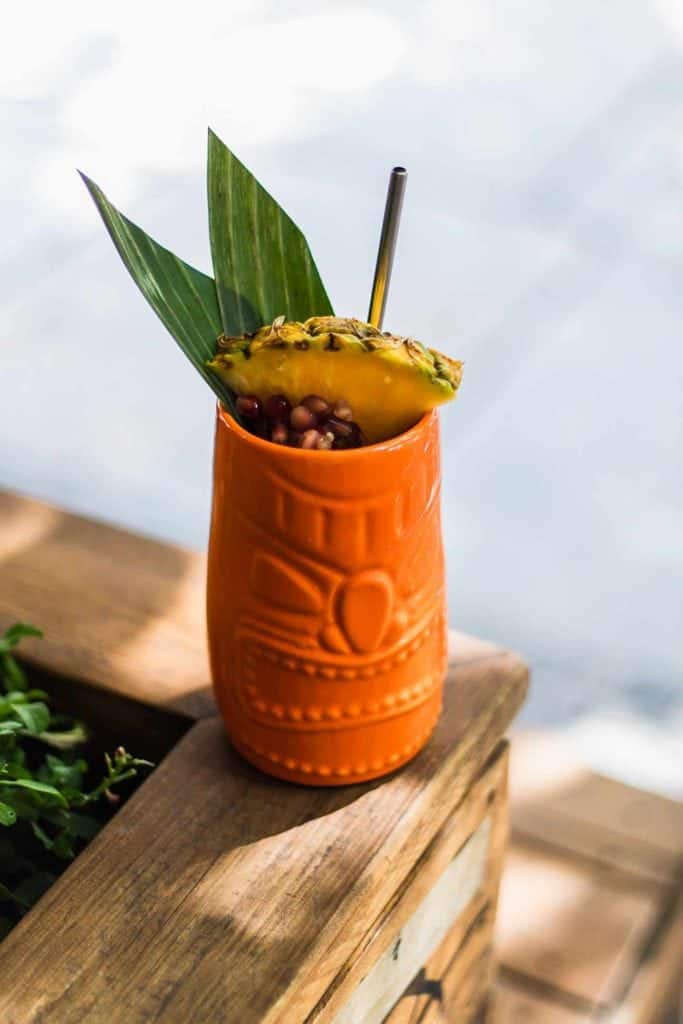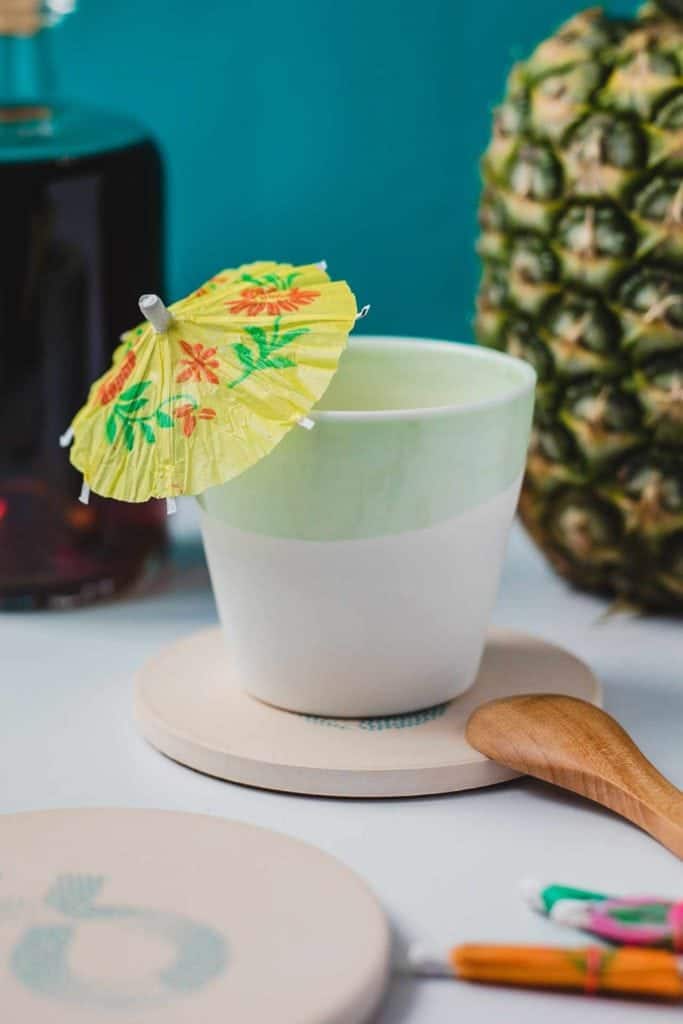 The cocktail menu is available every Thursday to Saturday, from 5 pm until 10 pm. It is the perfect way of welcoming the autumn months, enjoying the evening sun and tasting a variety of great coffees and alcohols. And the weekend should start on Thursdays, anyway!
Photos: All photos were taken by Marian Plajdicko and are courtesy of Happy Baristas.