The month of March is the time to introduce the first Roaster of the Month – Sloane Coffee Roastery. Run by Cosmin Mihailov and Teodora Pitis, Sloane Coffee Roastery is based in Bucharest, Romania, contributing to its growing coffee scene. When did they start their business and what are their goals? Read on!
Who is Sloane Coffee Roastery?
Cosmin and Teodora are a couple of friends who share the love for coffee. Cosmin turned Teodora—an entrepreneur—to a coffee lover. Teodora's skills are now a valuable asset in the company. She takes care of the timely dispatch of orders, paperwork, as well as a smooth operation of the roastery. Teodora also runs Sloane's social media: "I make sure you get all the juicy news about us."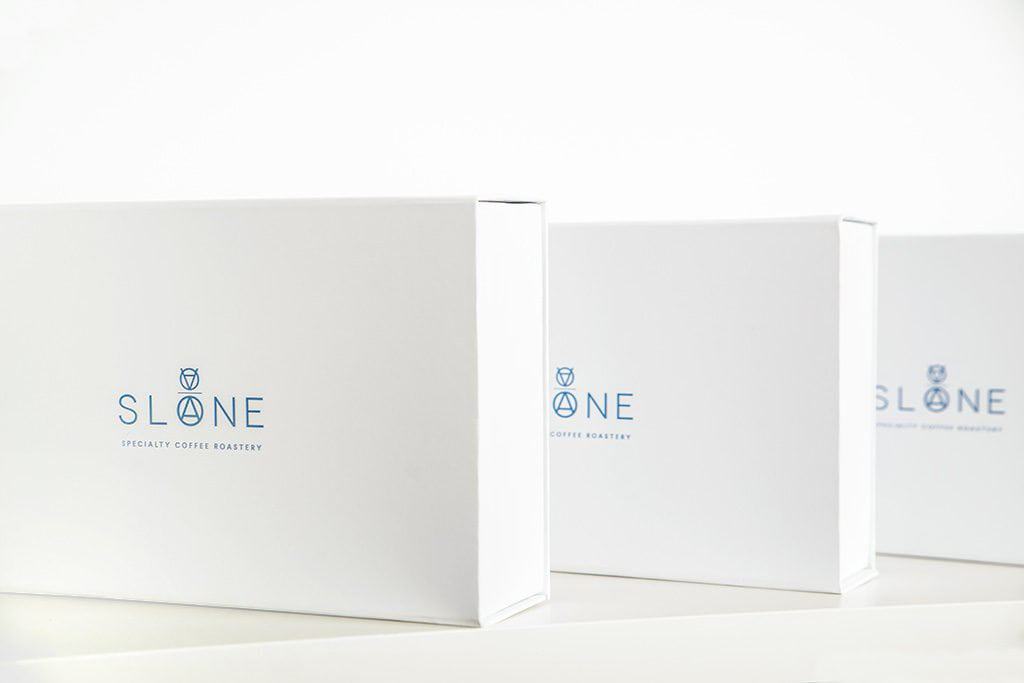 Cosmin is the coffee guy in their duo. You may have heard his name before. He has got more than 8 years of experience within the speciality coffee industry. He considers the speciality coffee his dream! His role at Sloane encompasses sourcing of green coffee, testing and roasting it, making sure it will put a smile on your face when you drink it.
Why call it Sloane?
We wondered where did the name come from. Sloane Coffee has taken the inspiration from Isaac Newton. The famous scientist who was kind of a PR person of coffee culture in Europe. "He promoted the habit of socialising and debating of exciting ideas around a coffee. It would take place in one of the first coffee shops in the world, " shared with us the story Teodora.
Sir Hans Sloane was Isaac's best friend and a fellow coffee drinker. Teodora and Cosmin were inspired by their fellowship and friendship. "True passion meets unconditional friendship, a story that we feel also reflects our personal story, " mentioned Teodora the origin of the name of their roastery.
Learning from the best
What is the philosophy that Sloane Coffee follows? Cosmin answers: "We want to embrace a style of roasting that fuels the quest of a barista for excellence and that of a coffee lover for a unique sensory experience. We do that with numbers, a lot of them."
They have been fortunate to gather an incredible support from some internationally admired coffee roasters. Maxwell Colonna-Dashwood, Cosmin's ex-employer and friend, introduced Cosmin to roasting. The team at Koppi – Anne Lunell and Charles Nystrand, are the ones working masterfully on an IR12 roasting machine for the past 9 years.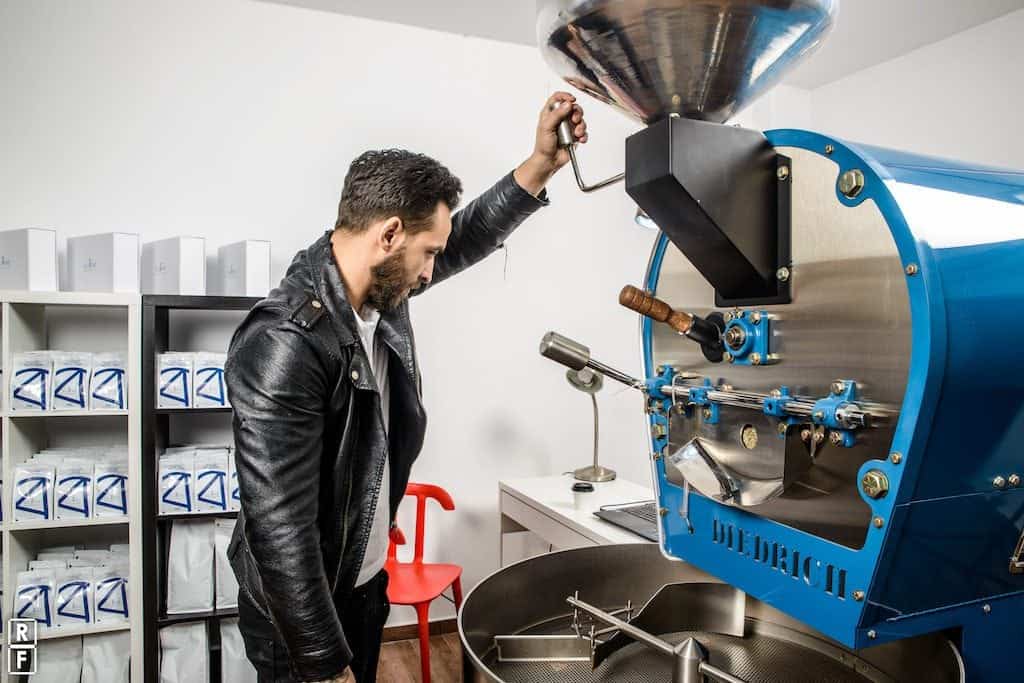 It was for their Diedrich experience that Cosmin reached out to them, besides for previously being their friend as well as Anne's coach during 2016 Brewers Cup Championship. Last, but not least, Nick Mabey from Assembly Coffee in London contributed greatly to Cosmin's quality-control routine. Coming to Bucharest, Nick helped Cosmin to get the roaster started and calibrate his roasting style.
"I adore the people mentioned above and they are a constant source of inspiration," sums it up Cosmin. Through his training Cosmin has obtained a wider spectrum of what roasting coffee is, as well as what's and why's behind each roast profile. It has all contributed to his own roasting style.
Finding their own roasting style
Cosmin has grown into running his own business. Having worked as a barista in over 20 international shops in Europe he became a cafe owner when he opened Bloom, a speciality cafe in Bucharest.
"This gives me a deeper understanding of the needs of a coffee shop. I know what I need as a shop owner, and I also know what I need as a barista. I wanted to roast coffee in a consistent manner, one which will not rob coffee of its complexity and at its core will be quality driven," concludes Cosmin.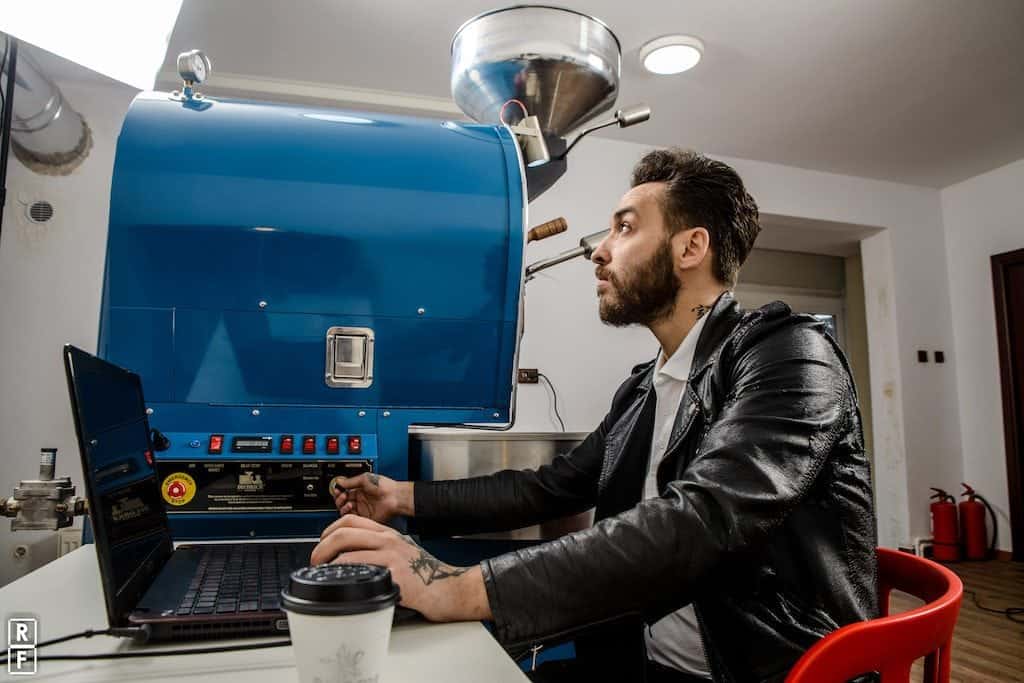 At Sloane Coffee Roastery they have really taken all variables into the building of their roastery and are honest and confident about their final product: "Our coffees won't be extremely easy to make, nor would they be the most user-friendly due to the fact that coffee is a very complex product. What we can promise is that we will always use fresh crops, work with high-quality-driven farms and roast in a manner that will always get you a consistent roast."
Clearly, consistency, complexity and quality are the things that drive Sloane Coffee.
What is an exceptional coffee?
What coffees would Sloane like to present to their customers? "Unique, amazingly complex coffees," says Cosmin. And those are necessarily not, as we learnt, the ones with the highest price tag. "I have tasted coffees that cost 13$ per kg (green) and been blown away by them. We are still learning about coffee. The industry is still in its infant stage and that makes it ever more exciting."
The ultimate goal for Sloane Coffee Roastery is to find one-of-a-kind lots that will bring more attention to the farmers producing them. By making those coffees available for a larger market they will also reward the farmers, while also discovering something unique.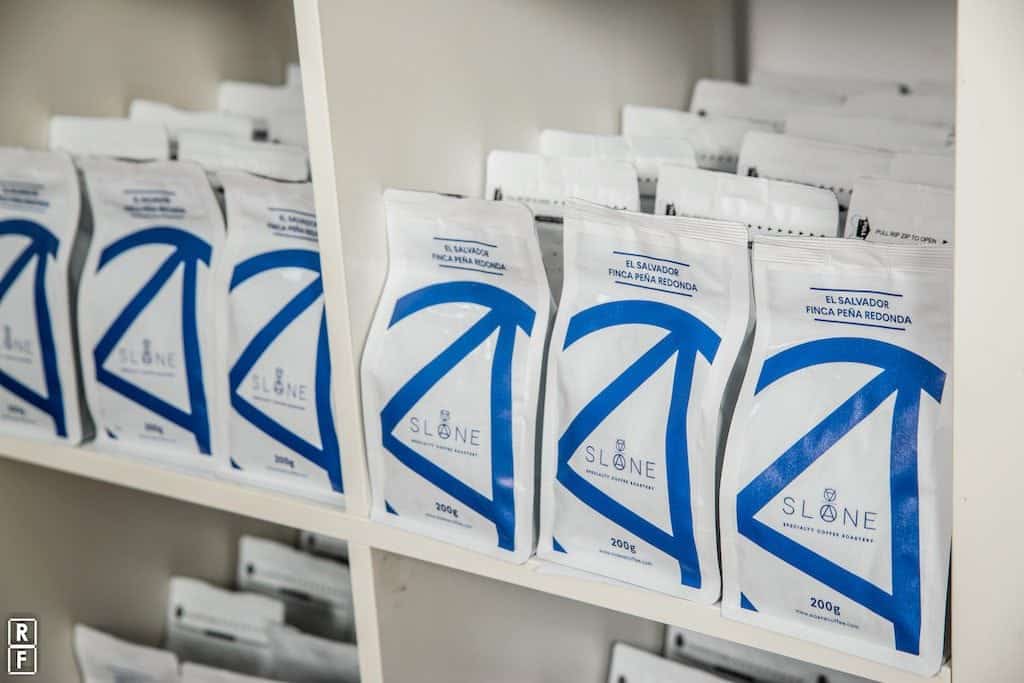 Sloane is buying their greens from 3 green bean providers. Third Wave Coffee Source is the one from whom they sourced two Guatemalans with a unique profile. It reminded them of gin, with hints of juniper and elderflower flavour notes. Although their list of greens was already filled for this year, they managed to squeeze in another discovery—they could not say no.
Cafe Imports' incredibly flavoursome El Salvadoran Pacamara, one of the first in the country to be grown at the higher-than-usual altitude of 1900 m a.s.l. Came as a surprise. The Pena Redonda of honey processing brings a unique flavour profile and an immense potential that Cosmin wanted to harness.
Building a roastery
And the roastery itself? "I believe that a roastery needs its own dedicated space and identity," tells us Cosmin. Since building the space from scratch, he had the opportunity to make it a neat one.
They had a green bean storage done to keep it at a low temperature of 6-8 Celsius degrees, for the green beans to lose as little humidity as possible, keeping them fresh for longer. The roaster itself needed a bigger space on its own then. The separate rooms allowed them to isolate the heat from the roaster to bounce back between the storage room and the roasting room.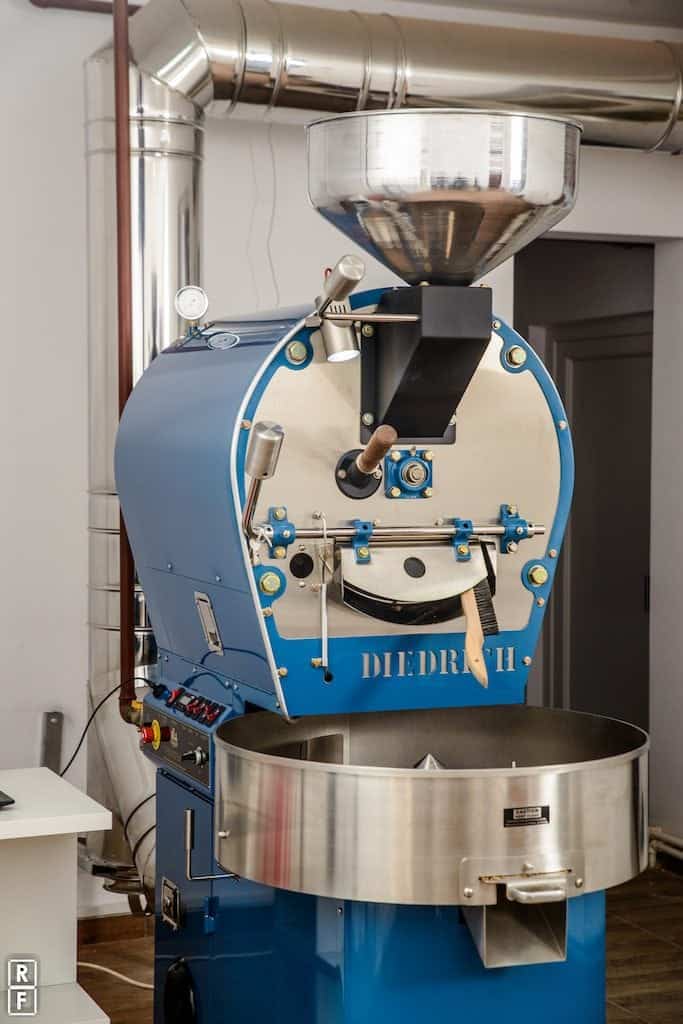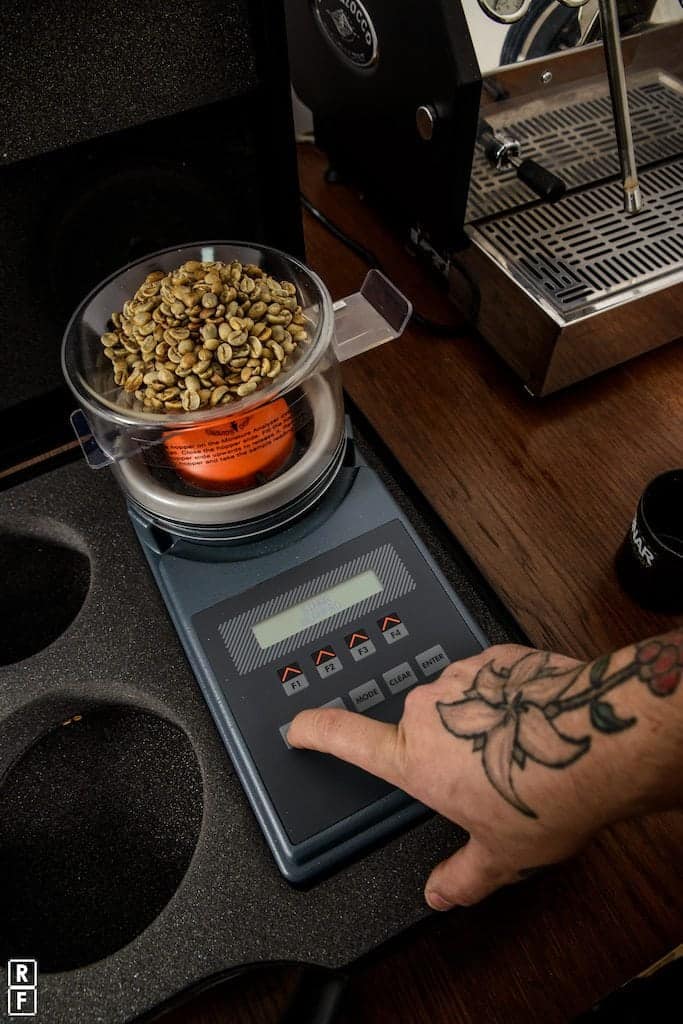 Cosmin will be roasting on an IR12 Diedrich machine. We may get a bit technical here, but there would be no roasting without an exhaust. That is also exceptionally isolated, with double walls and ceramic isolation, to stabilise the temperature even further. The Diedrich machine was chosen for a particular reason: it uses convective heat (hot air) and not direct heat. That ensures a better consistency, one of Sloane's main goals.
"Consistency is a very hard-to-beat myth in roasting, and we wanted to take any measurements possible to ensure a higher degree of thermal stability when roasting. I know it's a snooze fest, but sometimes roasting coffee is more about the numbers than a thrilling story," admits Cosmin.
Sloane Coffee Roastery coming to European market
We are more than excited to drink some of Sloane's coffees this month. We find their passion and dedication fascinating. In March we are bringing you more information about this young roastery with international ambitions.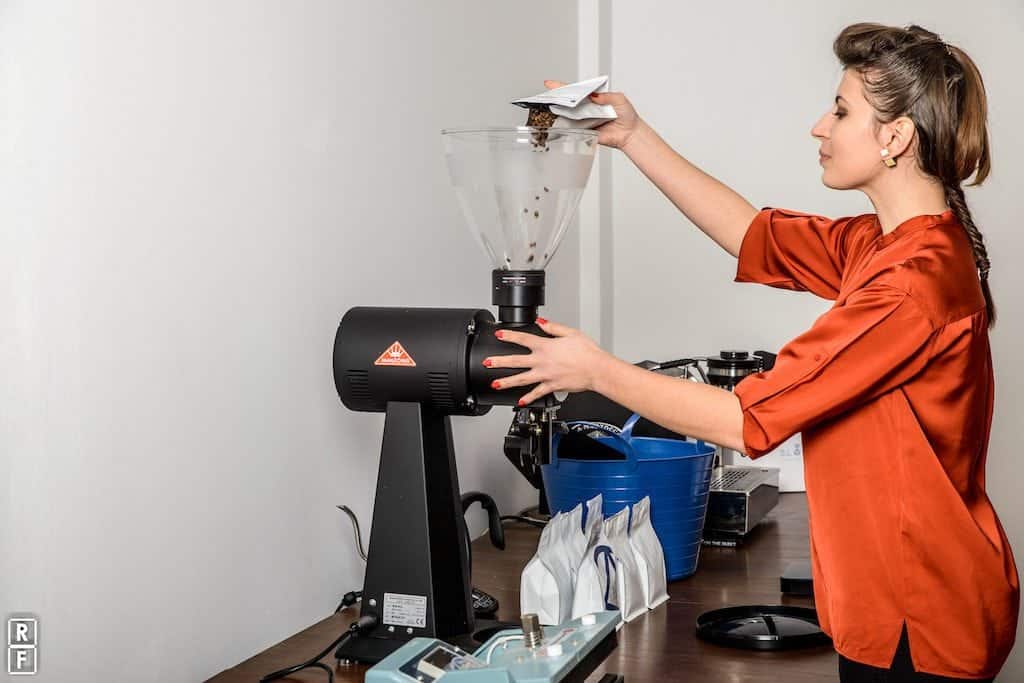 Sloane's coffee range is currently being sampled across Europe, in fifty selected cafes. There is a big chance you will be able to taste some of their coffees soon at one of those shops.
Are you excited to know more? Drop Sloane Coffee an email if you would like to brew their coffee at your cafe!
All photos courtesy of Radu Fugarescu.