Last week we tasted coffees roasted by Sloane Coffee Roastery in Bucharest, Romania. The roasters of the month of March, our new series introducing European roasters, sent us a beautiful coffee box. We were excited to brew their El Salvadorian sample and to really get the end-user experience, opening the coffee box at our office.
The coffees were sent in a white, sleek and clean Sloane-branded box, designed the same way as their retail coffee bags. In it, there were 3 200g bags of coffee, from El Salvador, Guatemala and Costa Rica, accompanied by a recipe to follow. Learn more about those below and watch our video for further details from our brewing session.
We tasted coffee from El Salvador
Origin: El Salvador
Farm: Finca Pena Redonda
Producer: Jose Maria Lemus
Altitude: 1900 masl
Variety: Pacamara
Process: Black honey
Brew recipe to folow
Method: V60
Coffee: 16.5 grams
Water: 285 grams
Grind size: 5.5 – 6.0 @ EK43
Total brew time: 2:50–3:10 minutes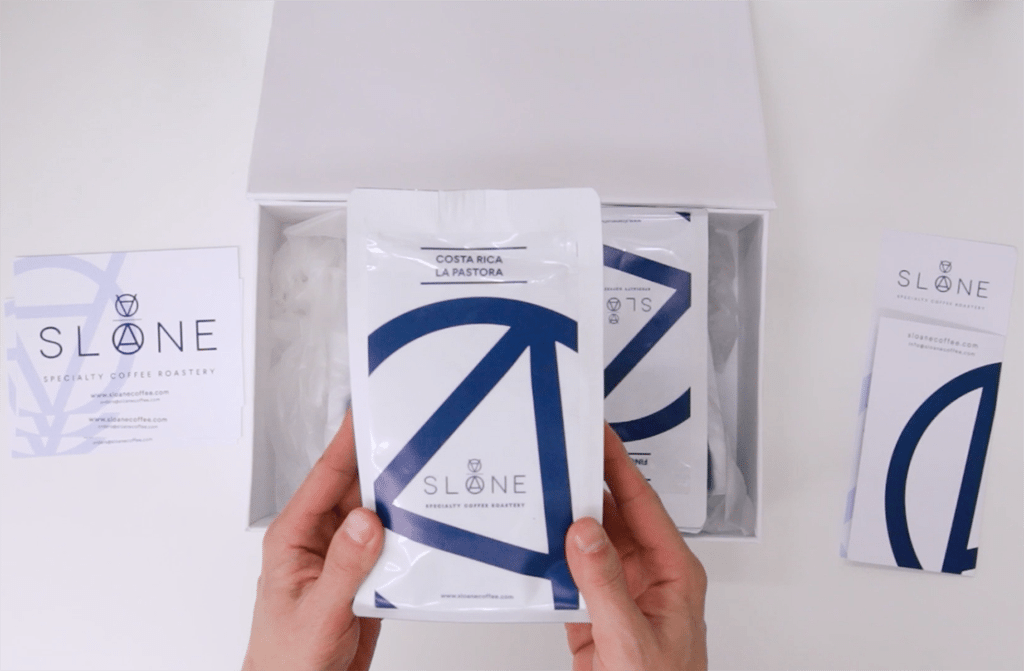 Other coffees in the tasting box
We received also Guatemalan from Finca Villaure, from the region of Huehuetenango. This bourbon variety was grown at 1650 m a.s.l. and was fully washed. Costa Rican Don Eli was an example from Terrazu region, a catuai variety grown at 1900 m a.s.l., processed as white honey.
This really was just a little teaser of what we can expect from Sloane Coffee Roasters. Do not hesitate to pop over to their Instagram and Facebook for further info.