How to prepare a cold brew coffee at home very easily? We tested a new gadget, Puck Puck, which is an extension of our beloved AeroPress and we bring you the following facts about it.
Puck Puck is a cold brew coffee, drip attachment for your AeroPress brewer. By connecting it to your AeroPress, you turn the brewer from a regular coffee maker into a portable cold drip station.
Puck Puck is designed by a London-based studio Two at Six and its production was funded by a successful campaign on Kickstarter. It even ran at the same time as our AeroPress Movie campaign.
Although the production got a little bit delayed, the result was worth the wait. Puck Puck comes in two colours, a bright warm yellow, green or blue. And it is the only thing in the package. If you brew an AeroPress at home, you will not need more than a bottle of Evian water.
What do you need to brew with Puck Puck:
AeroPress – the lower chamber
Filter basket and a filter paper
Puck Puck
38g of coffee – medium grind size
0,5 l water bottle – recommended Volvic or Evian
400 ml filtered water
100 g filtered-water ice cubes
1 decanter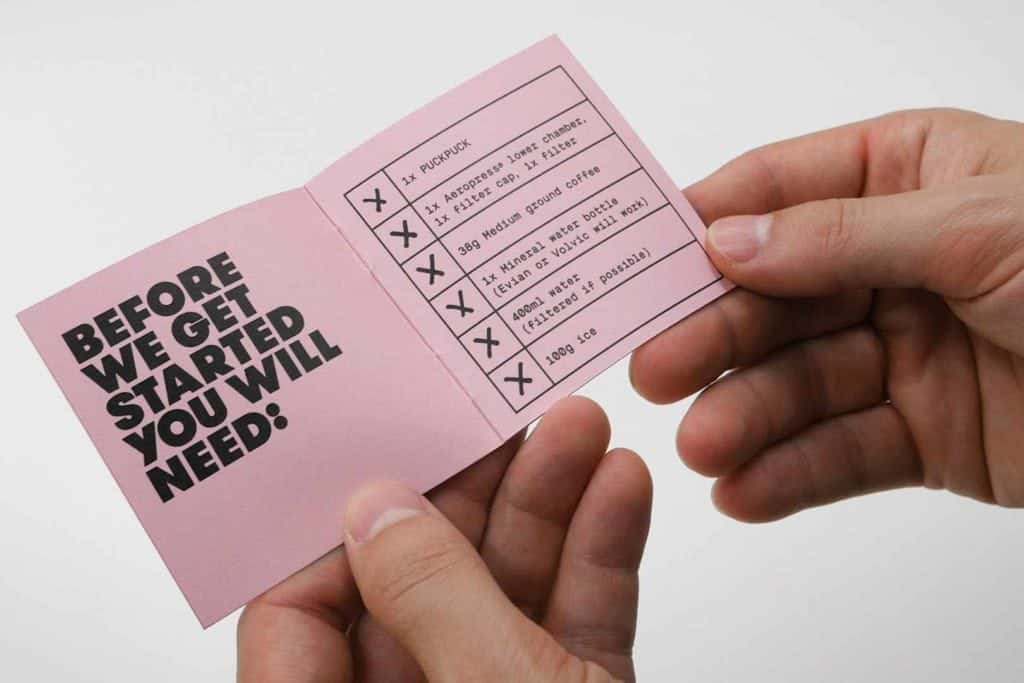 How to brew with a Puck Puck:

Empty the water bottle and cut its bottom off
Attach it to the Puck Puck
Grind your coffee into the AeroPress with attached filter basket
Attach the Puck Puck to the top of the AeroPress
Sit the AeroPress on top of a decanter
Fill the water bottle with ice and cover it with water
Adjust your drip rate on your Puck Puck by turning it clockwise
Puck Puck App
The inventors have also made it easy for you to follow the brewing process by creating an app. Thanks to the Drip Counter app you can adjust your drip rate, see the changes affect your brew and set it for your desired results.
The recommended flow rate of the water dripping onto your coffee bed is about 50 drops per minute. This results in a total brew time of 2,5–3 hours. That is your target.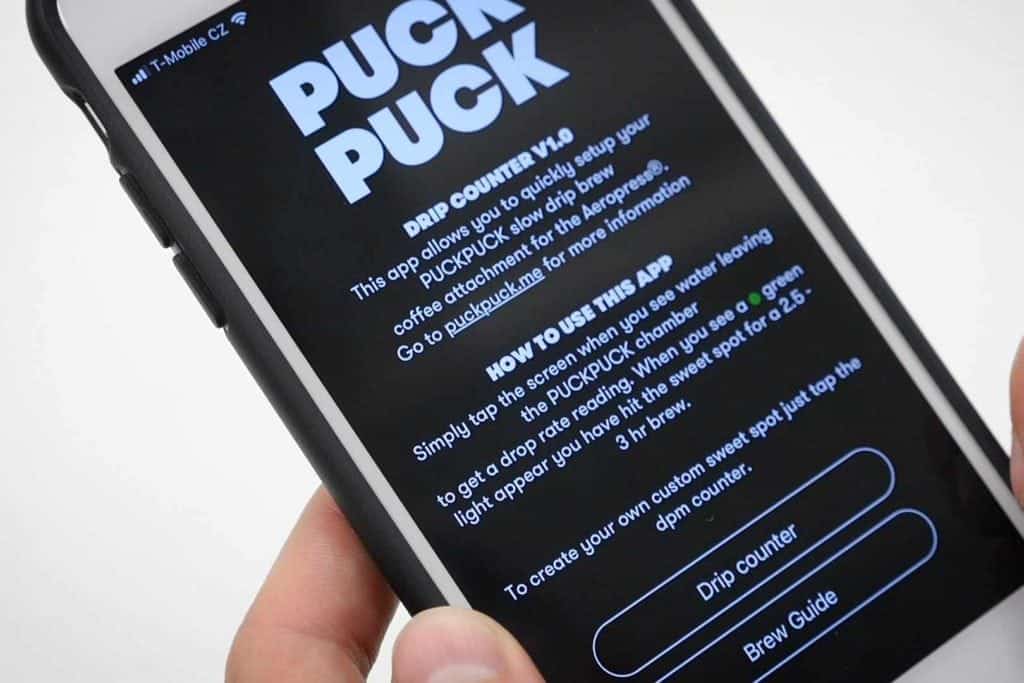 When ready, the brew is good to go, or you can keep it in the fridge for up to two weeks.
We really liked the whole presentation of Puck Puck. This little handy device comes in a small box but with loads of information on how to use it, and the app is just a cherry on top.
What we found quite a funny obstacle was the search for an Evian or Volvic water bottle. This brand is not available everywhere in the Czech stores and thus we had to look for it. Some of the available bottles, unfortunately, did not fit the screw of the Puck Puck device. Another thing to mention is the colour of the AeroPress. If you, like us, have the darker version, you might have issues seeing through it, in order to adjust the drip rate.
Overall, we enjoyed brewing with Puck Puck. The resulting coffee was sweet and refreshing, and we even liked it more than its hot version! Give it a try and let us know your own experience with it.