Bucharest is a very young and fresh coffee scene that is growing fast under the leadership of strong coffee minds. Katerina Kamaradova went on a coffee quest in Bucharest while on her business trip earlier in November. She was our eyes and ears in the city that has been on our bucket list for a while. Here is what she found.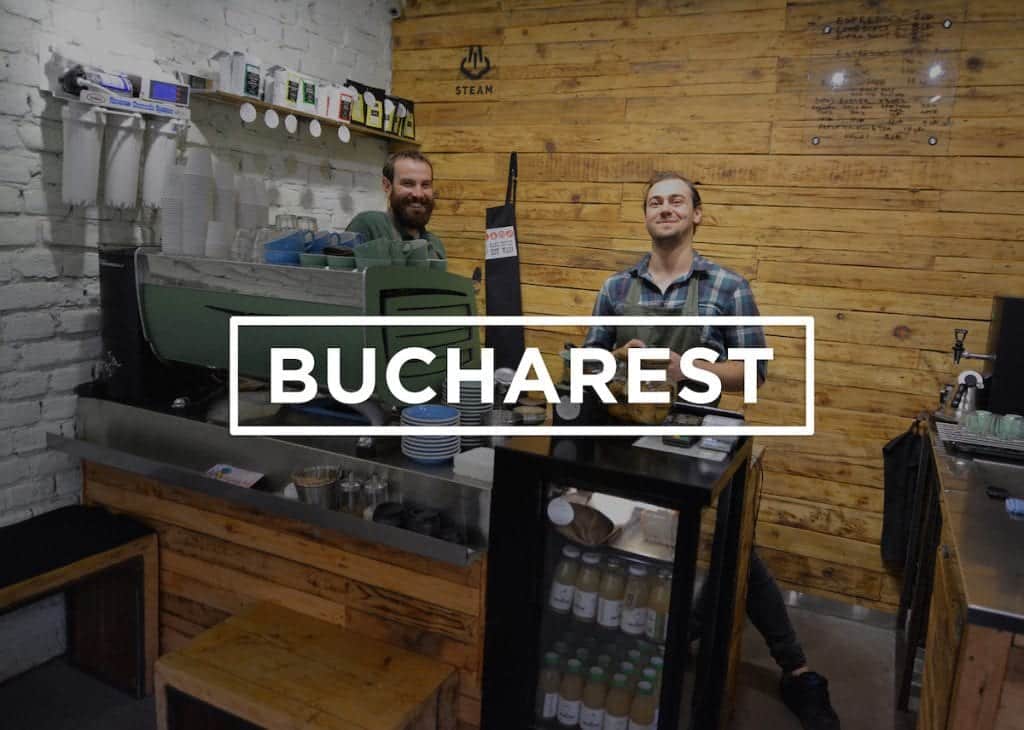 While preparing for the trip and searching for coffee places to visit I got the impression of a well established coffee culture. To my astonishment, Vlad Alexandru, one of the founders and owners of Steam coffee shops, revealed the city's young coffee history to me: "If you were here for your seminar last year you would be able to get a good coffee only in Origo. We are all babies about 11 months old and Origo is our 3 year old grandfather," described the situation Vlad.
That was quite a crazy thing to imagine after having strolled through all the good coffee places in Bucharest the first day. They were not there a year ago. So let's start with the original one.
ORIGO
Origo is a bit sideways from Strada Lipscani, a busy and touristy area of Bucharest. It is actually known for its interior design by Lama Arhitectura. Kept quite dim, more light is shone over the brewbar with dozens of V60s used as lightbulb covers. The single row of spacious tables is facing the bar with four stools. Later in the evening there is another group of guys who take over the premises and turn it into a cocktail bar.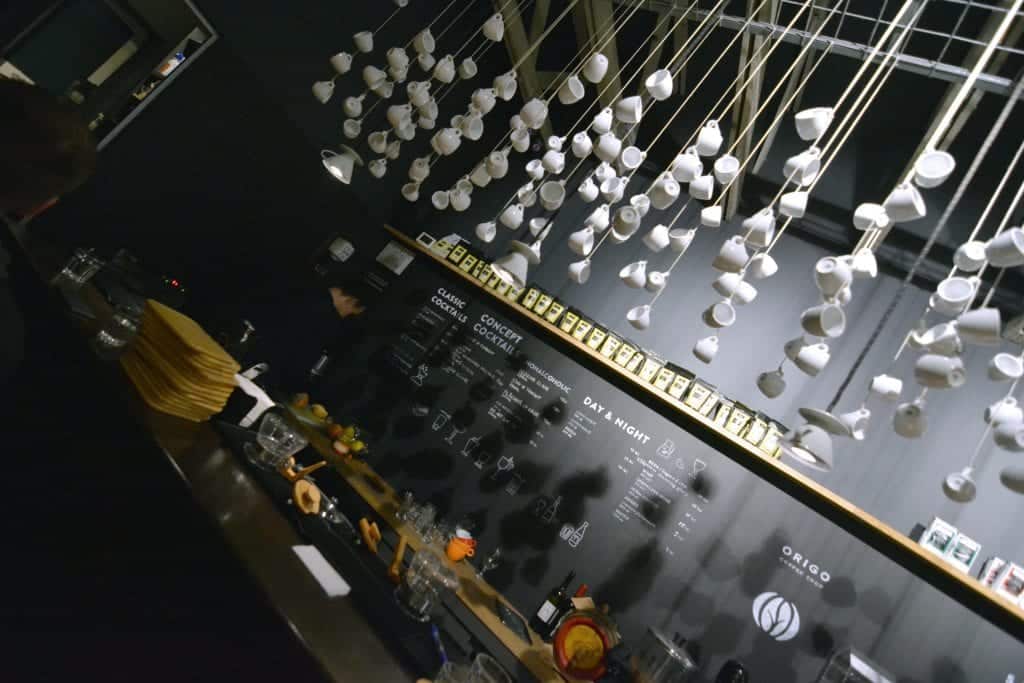 During the daytime Origo is not only the coffee shop but a roastery as well. During my visit I met two kind and talkative baristas Livia and Anca who managed to serve their guests at the tables while avidly talking me through all the different batches of coffees from Ethiopia, Tanzania and Colombia, how they behave differently with every method and what are the pros and cons of bottomless portafilters.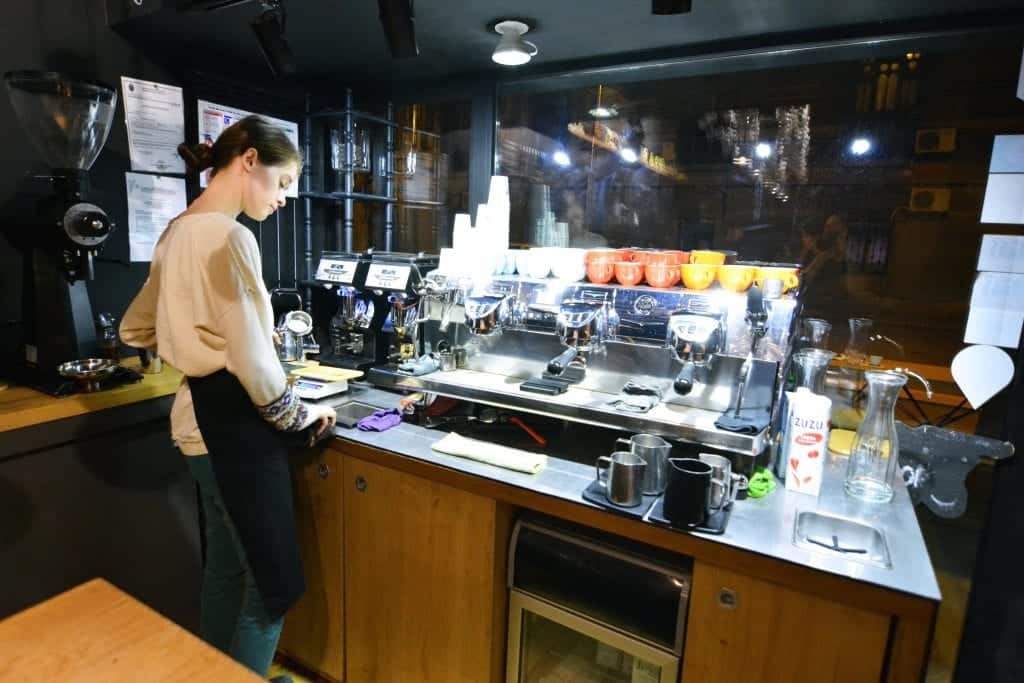 You can order some small snacks and cakes and draught craft beer from small breweries. Origo was the first and the last coffee I went to. I came back before my departure for a coffee and some beans as well.
Origo Strada Lipscani 9, Buchurest
Official website, Facebook
Frudisiac
Frudisiac came as an unexpected discovery in the neighbourhood of my seminars. Located in a sidestreet the small black house squeezed in between two regular buildings seemed not to belong there.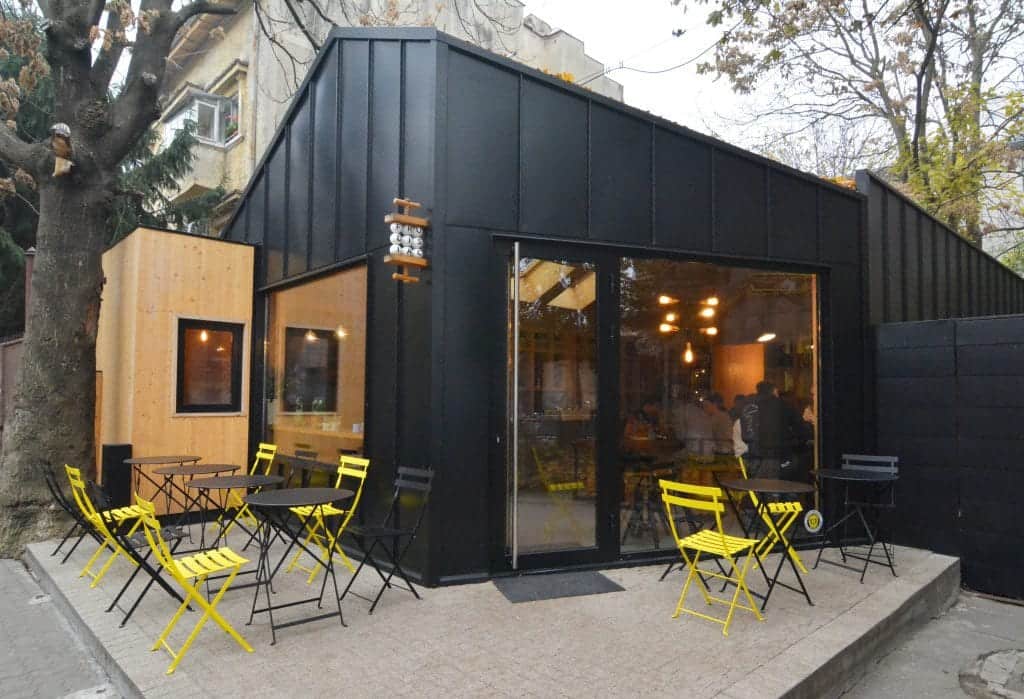 Coming through the door made me think of traveling via a magic time machine that brought me to rural Scandinavia. It gave an impression of a bigger space from the inside with its big central wooden communal table, the ceiling openly reaching the roof and its windows lightening up the cafe. There are additional seats by the wall and two windows.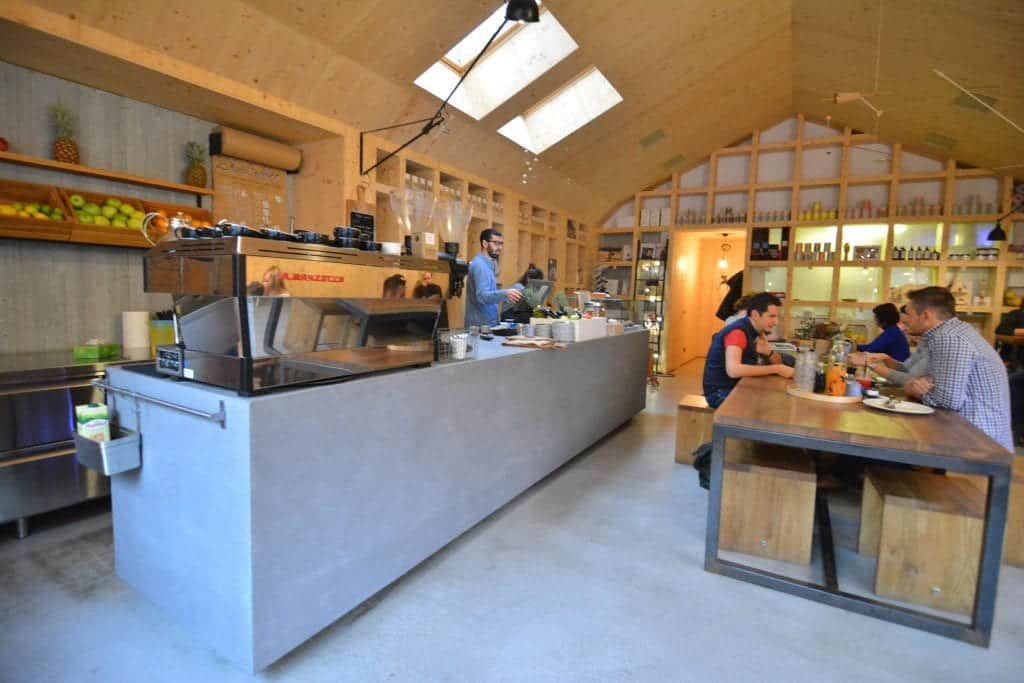 Going with the Scandinavian vibe they serve DROP Coffee from Stockholm both for espresso and filter coffee. I kept to my habit and popped in twice for a breakfast and a brunch. Both times I got a simple but delicious meal, imagine an avocado salad with eggs and goat cheese or a figue sandwich.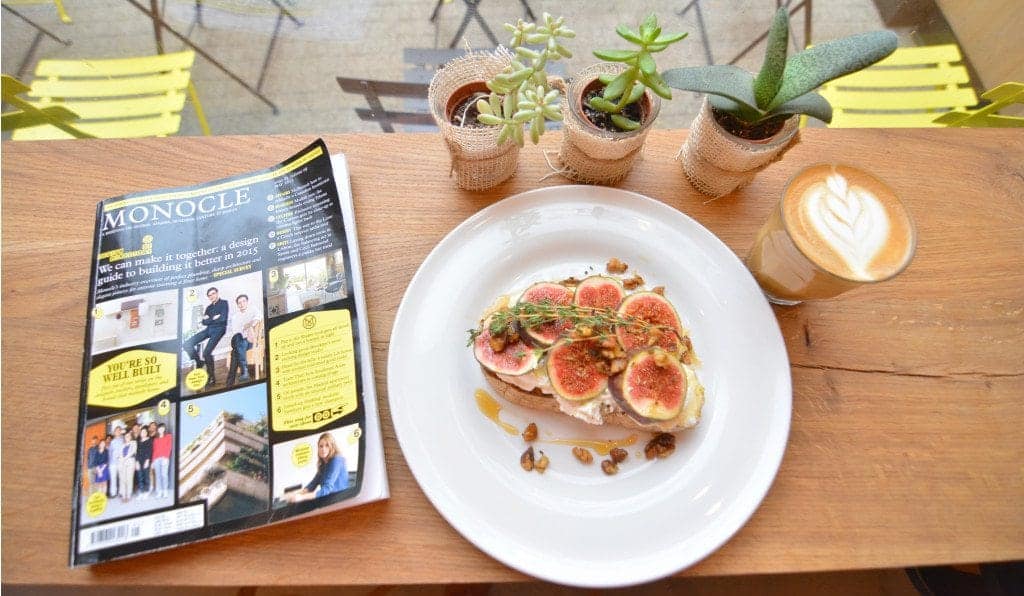 Baristas here were not as talkative but most guests apparently come here for a quick snack or to work quietly. In that case, this space is perfect for them.
Intrarea Bitolia 4, Bucharest
Facebook
M60
Although a bit of a walk to get to, M60 was absolutely worth it. Following the same simple design approach from Scandinavia they describe themselves as a "design place with good coffee and quality ingredient food". It turned out to be absolutely right. On Sunday morning I had the privilege of being the first guest and took many photos of the beautiful chairs and decorations. M60 was the biggest and busiest cafe, but also the most relaxing in the early hours.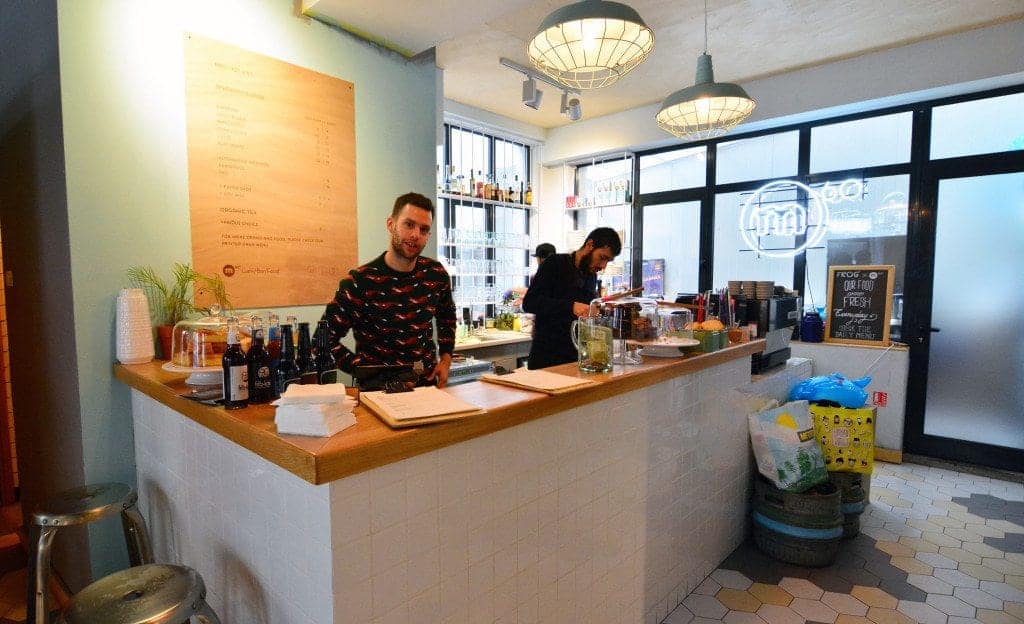 Razvan Crisan, the owner, talked to me about the issues they encountered when opening their business. Speciality coffee and foodie industry are new features in the city. Cafe owners have to invest a lot of money in equipment and properties to avoid signing contracts with big brands in the industry.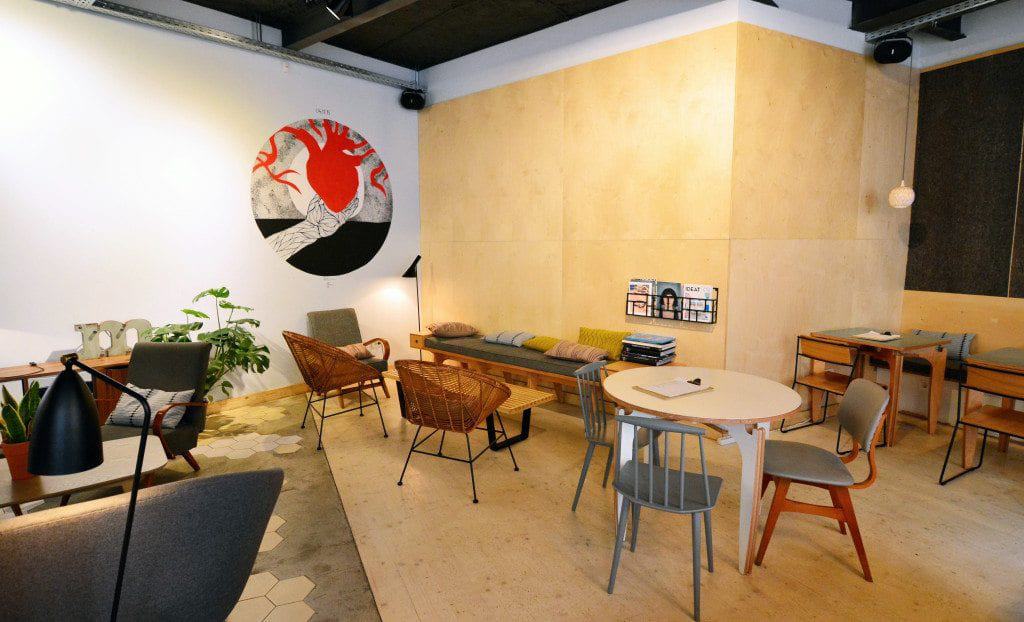 It is also the old habits of customers that are to be fought. Sometimes customers entering a non-smoking cafe turn around and leave. The industry is now at the stage though where restaurants and cafes are mainly nonsmoking. And that is a fight that was won. You can get a proper brunch and breakfast meals at M60 accompanied by various craft drinks like Fritzcola or local beers and wines.
The V60 brew from another Bucharest roastery Guido I drank was accompanied by an offer of a sample from The Barn. This kind gesture made for the perfect end to my trip around Bucharest.
Steam
I have the opportunity to visit one of the two Steam coffee shops while meeting with Vlad Alexandru (the interview is coming soon). Steam on Strada Uruguay is tiny and almost hidden in a lateral street. Squeezed in one room there is a bar with Victoria Arduino machine with two smiley baristas. One of them is also operating a small brew bar with a V60 and an aeropress.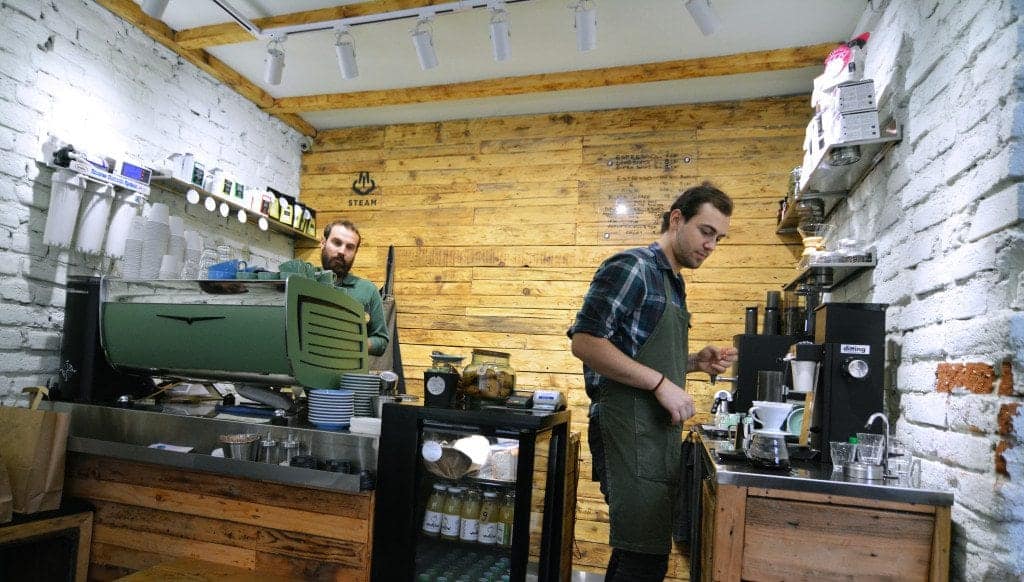 There are only a few seats for those who want to drink their coffee from a cup, chatting to the baristas, however most of the customers just order take away coffee and run to work in nearby offices. I sat down for a little bit, taking a spot on the wooden benches, enjoying cappuccinos together with Vlad. They usually serve beans roasted by Origo and sometimes by Guido as well. One can choose from a selection of small cakes, sandwiches or have a cookie.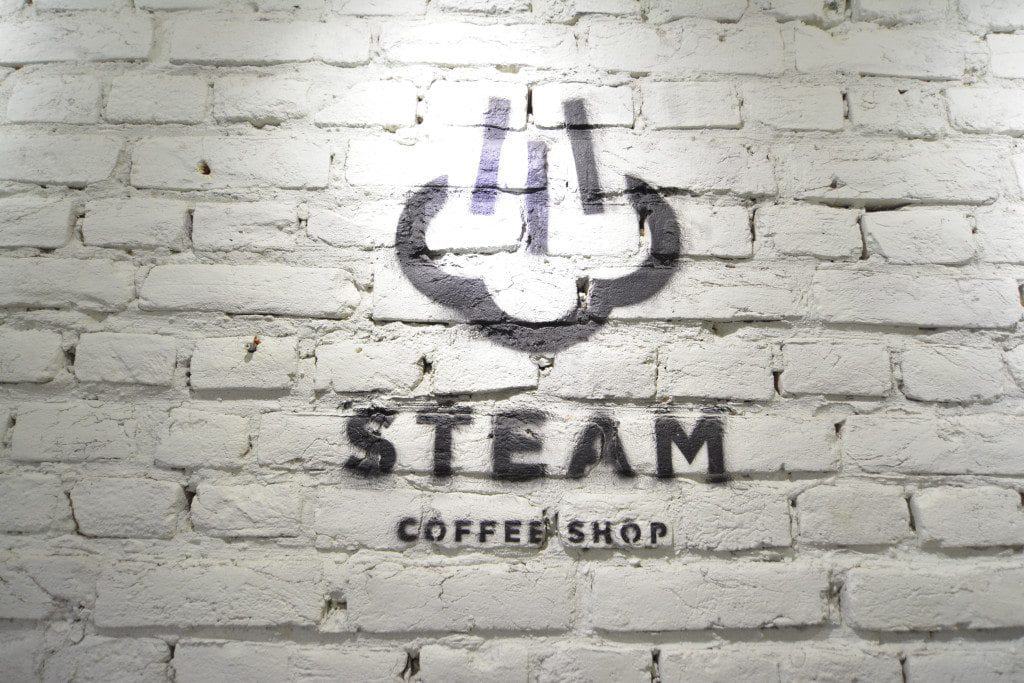 Steam is here for those who want to drink a good coffee quickly and efficiently without sitting around with the espresso for a long time.
Strada Uruguay 22, Bucharest
Facebook