2016 has been a very fertile year for the coffee scene in Berlin. As the warmer months and the year come to an end, the Berlin coffee guide is long overdue. Here are the latest additions to the coffee family opened in the last 12 months.
They are a diverse selection of cafes with a wide menu range and multiple coffee suppliers. You will find here also roasters, future roasters and environment-friendly cafes. Add them to your list when you come for a coffee stroll, or find yourself in the less frequented areas of Berlin.
Bonanza Coffee Roastery
Bonanza Coffee Heroes has been one of the staples of German roasting scene. Roasting since 2006, their latest opening from six months ago moved the roasting to a beautiful, peaceful hof in Kreuzberg area. Conveniently enough, it is in a walking distance from the bustling roundabout of Kottbusser Tor, while separate enough from its noise and crowds. The roastery is placed at the back of the industrial building, while the front serves as a cafe.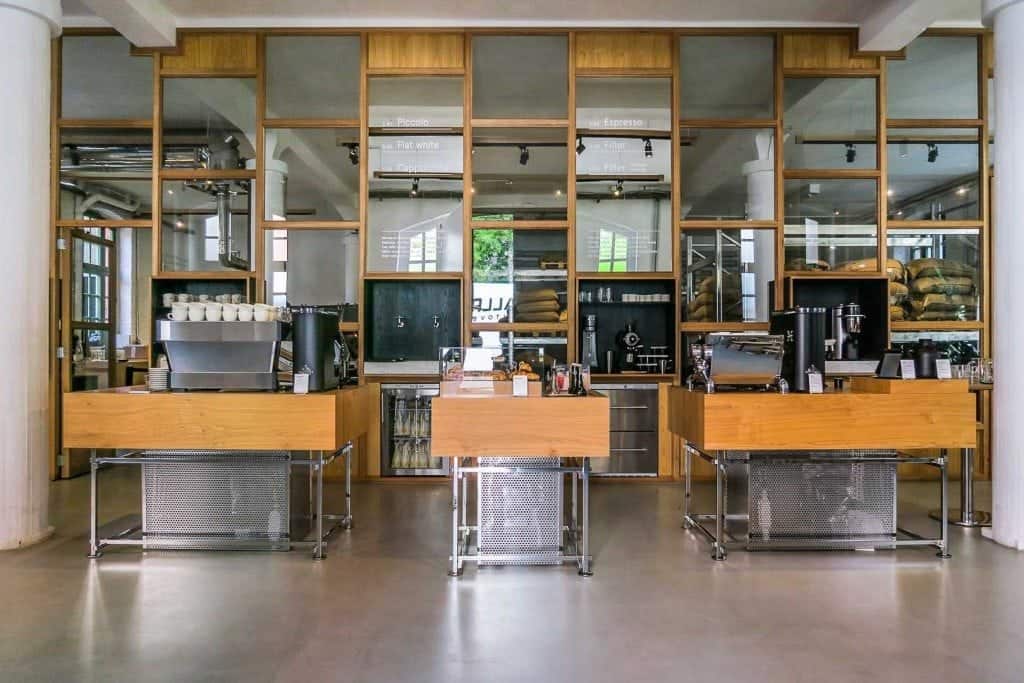 The space in Adalbertstrasse 70 welcomes you with a large, green, metal door. Do not hesitate and come in. Elegant, clean and warm, the cafe is more of a coffee showroom than a high-volume shop. Facing the bar you have a cashier directly in front of you, with a coffee machine to the left, as well as to the right. Wait, what? Two coffee machines? Adrian, the roastery cafe manager explains: "We have decided to set up the cafe with two espresso stations, one is aimed for espresso only, brewed with our Slayer [single group espresso machine], while the Linea PB serves milky drinks only."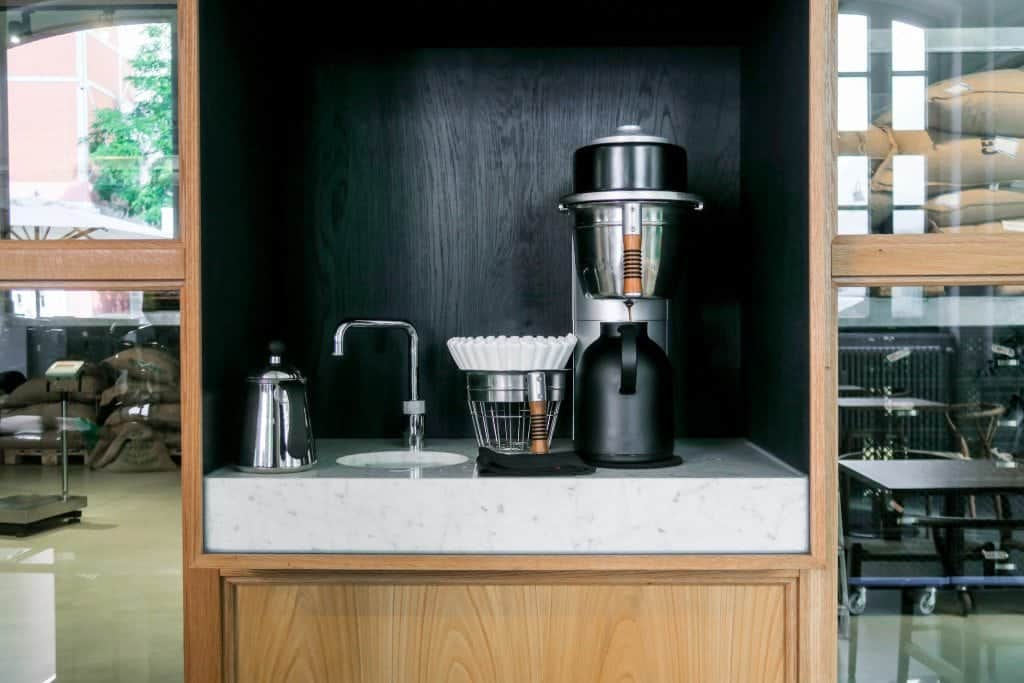 Milk station is equipped with a Victoria Arduino Mythos grinder, while the Slayer is paired with the newest member of Mahlkoenig family, the Peak grinder. What about filter coffees? Mahlkoenig EK43 is used for both Kalita hand brews, as well as 3temp Hipster Brewer batch brews.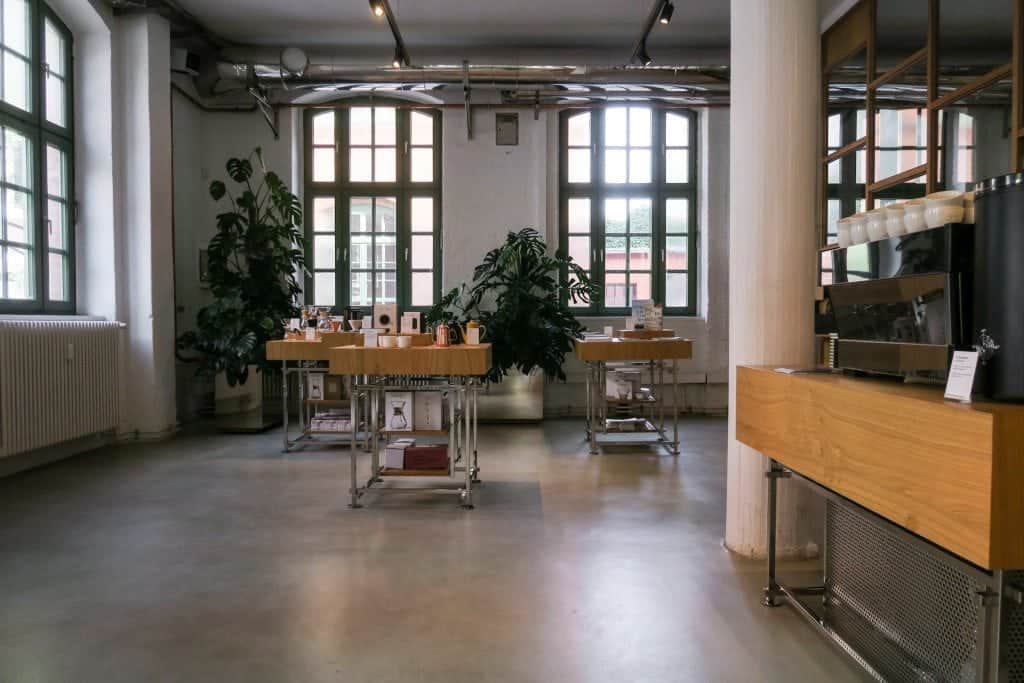 It is here you enjoy the long moments in the sun thanks to their large, open hof. The brews are accompanied by seasonal drinks and delicious pastries from the local baker Salon Sucrė. Their fresh salmon croissants are a delicious twist on the french classic. Delightful. Go see them [croissants] now, before the warm weather says goodbye to us, and try Bonanza's signature drinks created especially for summer.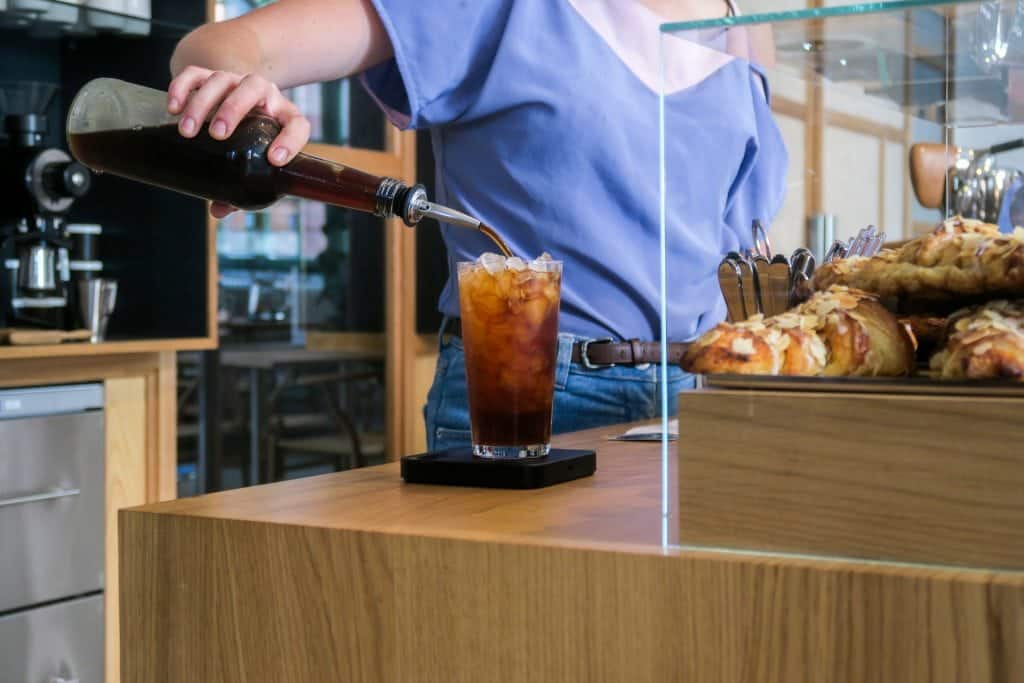 Iced cascara soda is a refreshing drink of coffee cherry, topped with homemade candied lemon, while the fans of milky drinks will appreciate the Frap – a silky drink made with Brodowin unflavoured ice-cream, a double shot of espresso and pistachios. Blended, it is the creamiest thing ever.
Adalbertstraße 70, 10999 Berlin, Germany
Official website, Facebook, Instagram
Populus Coffee
New to Berlin's roasting family, Populus is run by Sari and Henrik Haavisto, a friendly couple from Finland. They have been in love with Berlin for years before moving to open their business here.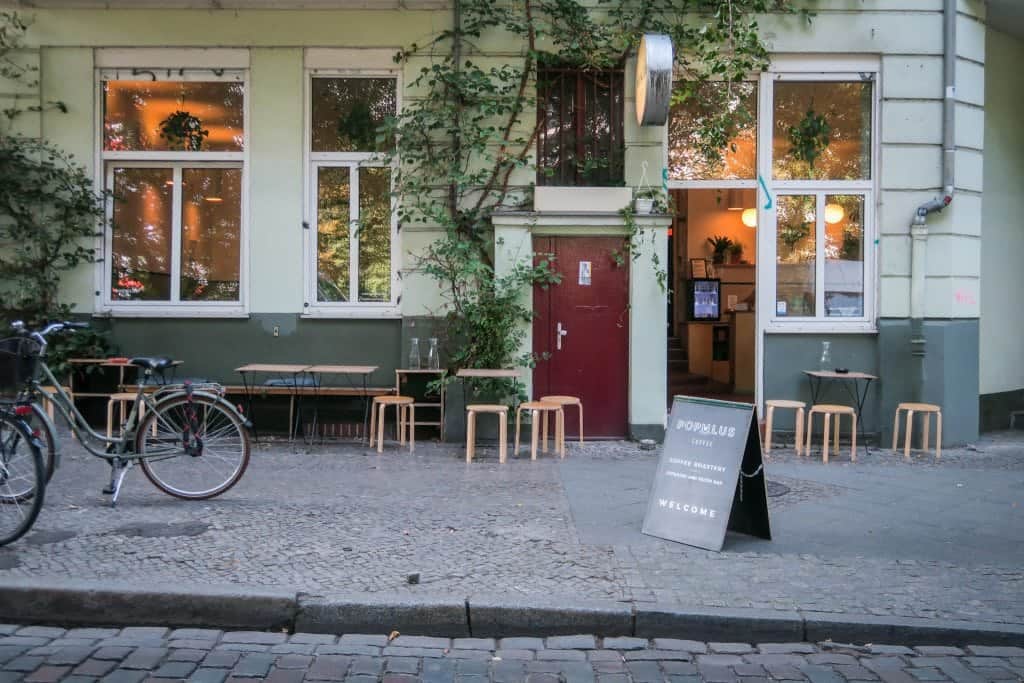 Since their opening in February 2016 they have been serving delicious coffees from Finnish and other European roasters. They pride themselves in featuring coffees sourced sustainably, which is also the case of Collaborative Coffee source, their future supplier of green beans. Before opening his own business Henrik used to roast coffee at Norwegian Kaffa. From Kaffa he kept friendly relationships with suppliers of greens, and is about to start roasting soon on their Probat roaster.
The cafe welcomes you with wooden tables and stools out front, the facade covered in ivy. Upfront the bar is a top notch set-up for a modern cafe. Nuova Simonelli Aurelia II espresso machine and Victoria Arduino Mythos grinder are the espresso team, while filter coffee is brewed using EK43 grinder, V60 cones, or lately also 3temp Hipster brewer.
Where Populus differ from most of other cafes in Berlin is, you guessed it, the food menu. Prepared by Sari and her mum, the Finnish homely sandwiches are made with Bread Station's loaves, topped with fresh greens and Finnish specialty cheeses, while they also bake delicious sweet treats in-house. Try their rosemary cookie, it is cracking.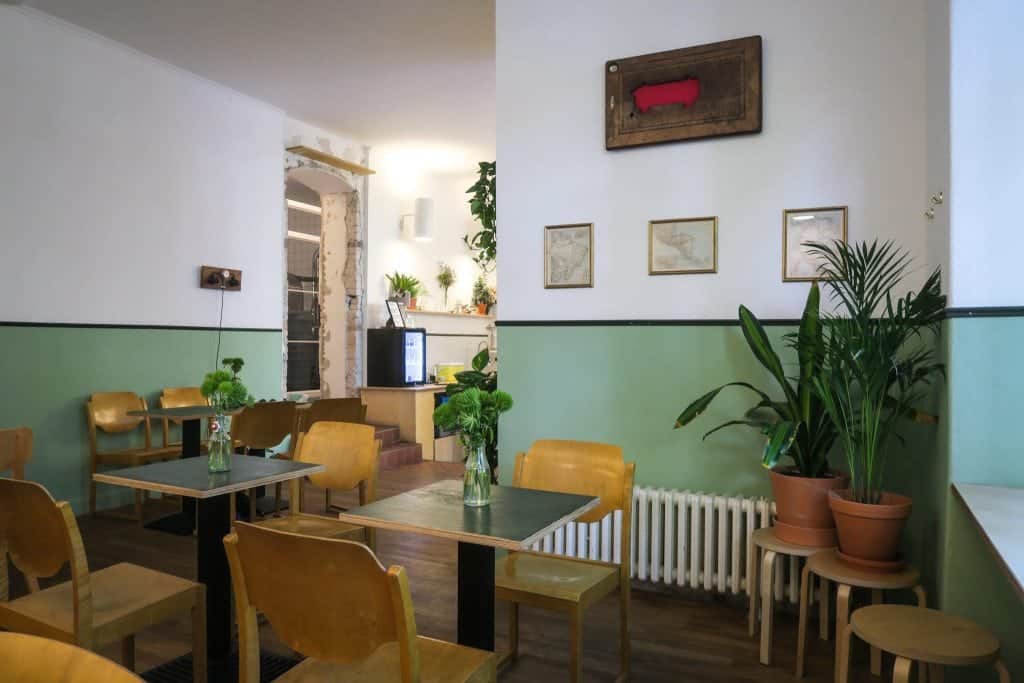 It is always a pleasure to sit in this little cafe, listening to Finnish tunes on stereo, drinking a filter from green Acme cups. Friendly vibes from open to close, this must be my favourite spot on the Maybachufer Canal in Neukölln. Let's hope they get to start roasting soon!
Maybachufer 20, 12045 Berlin, Germany
Official website, Facebook, Instagram
Isla
Since the middle of July, there had been more reasons to cycle up the tiny hill from Hermannplatz. Just off the crazy road junction in Hermannstrasse, Isla – meaning island in Spanish offers a peaceful haven.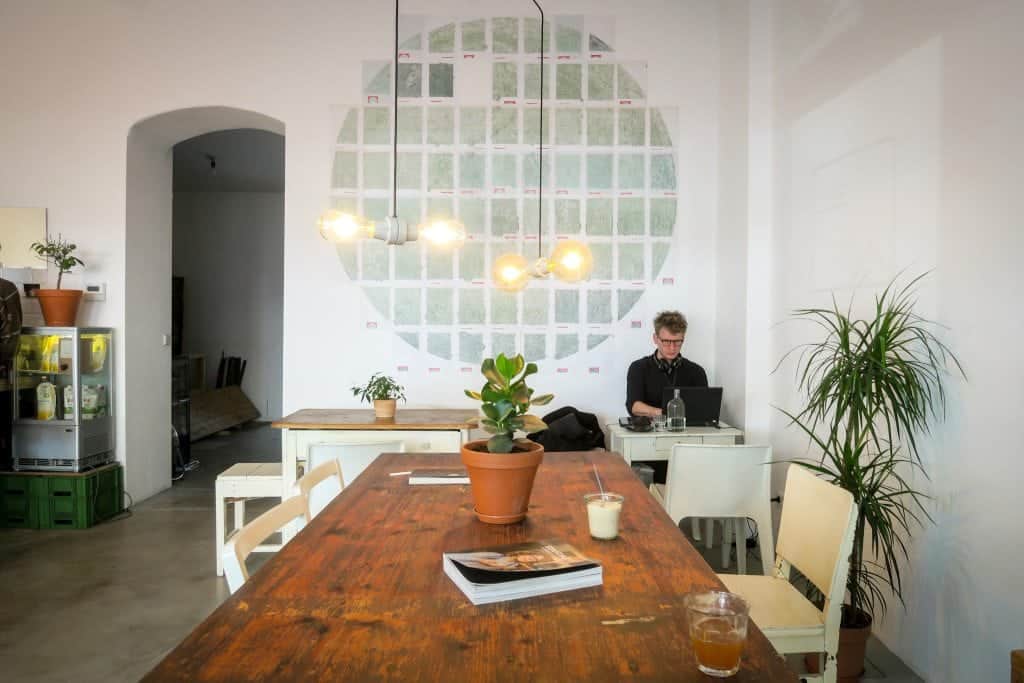 Starting with their black-and-white logo by Kaya.K aka Coffee Time Design hanged on the scaffolding that currently covers the facade, Isla has got a simple, yet warming interior that really does transport you to another world. With the sun coming in through the front windows the front section of the cafe is a light, airy and open space.
Customers are welcome at the main bar, invited to take a seat at a stool. Watching the owners, Peter and Philip behind the bar, you will be served a tasty espresso brewed on a La Marzocco Linea PB, or a drip filter coffee from a V60, Kalita, or Aeropress. They also serve beautiful batch brew here. Mahlkoenig Guatemala is used for filter coffees, while Mythos grinder is used for an all-pleaser espresso and a Baratza Sette 270 has got a rotation of wilder options of guest beans.
Their coffees are actually all guest beans. The selection changing all the time, the latest is Ethiopian Diima Natural from Double b, while the wilder option Kaiguri PB comes from Kenya. Filter brews may be roasted by Five Elephant, Fjord, or other international roasters.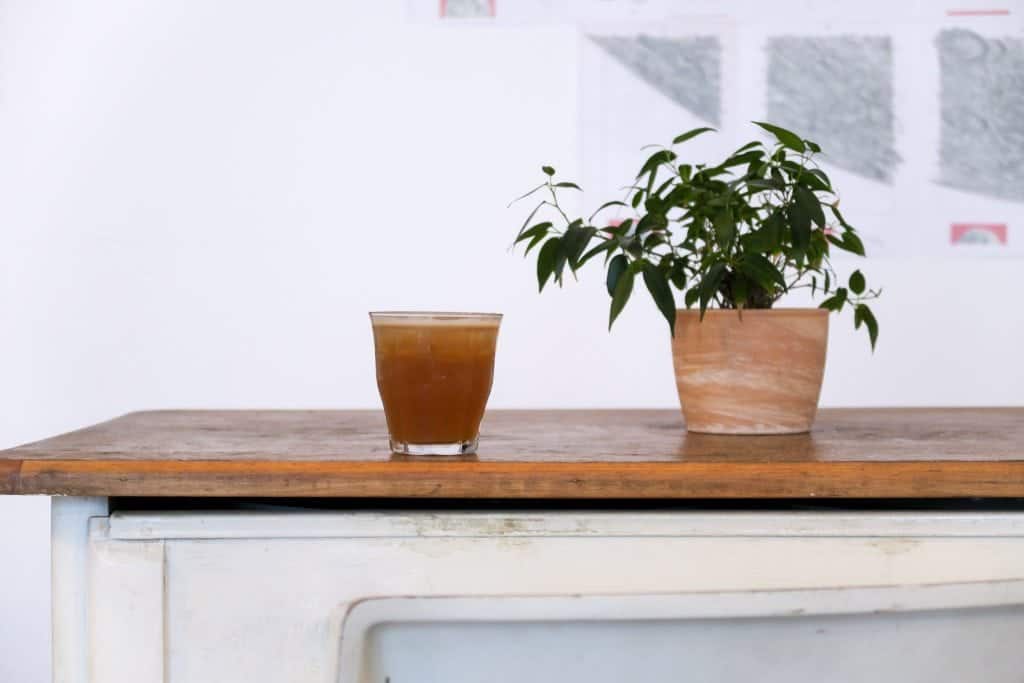 What is to appreciate in the world of food overproduction and high wastage of today is Isla's approach to cooking. Their modest kitchen is suited for baking and fermenting, which is done often and well here by the chef Kaya.K and Kathe from Levain Berlin. Both being kitchen queens, illustrators and designers, the ladies aim for a zero-waste policy with their menu, reusing what would usually be considered waste, or leftovers. So far they have managed to serve only beautiful and delicious food, for example fruit bread, with leftovers from juiced fruits. Their food menu consists also of homemade bread, vegan treats and sandwiches, salads, and seasonal drinks. During the summer they experimented with coffee kombucha, affogato with homemade soy ice-cream, and other treats.
Go check this bright and clean space out.
Home Cafe
Sarah Flanagan took a risk when choosing the location of her future cafe. Knowing well the area of Neukölln, she believed in the potential of this part of the city, where specialty coffee had been hard to find. Until the first day of 2016, when Jonasstrasse got a new shelter for their neighbours, serving them coffee and food from its residence in number 23.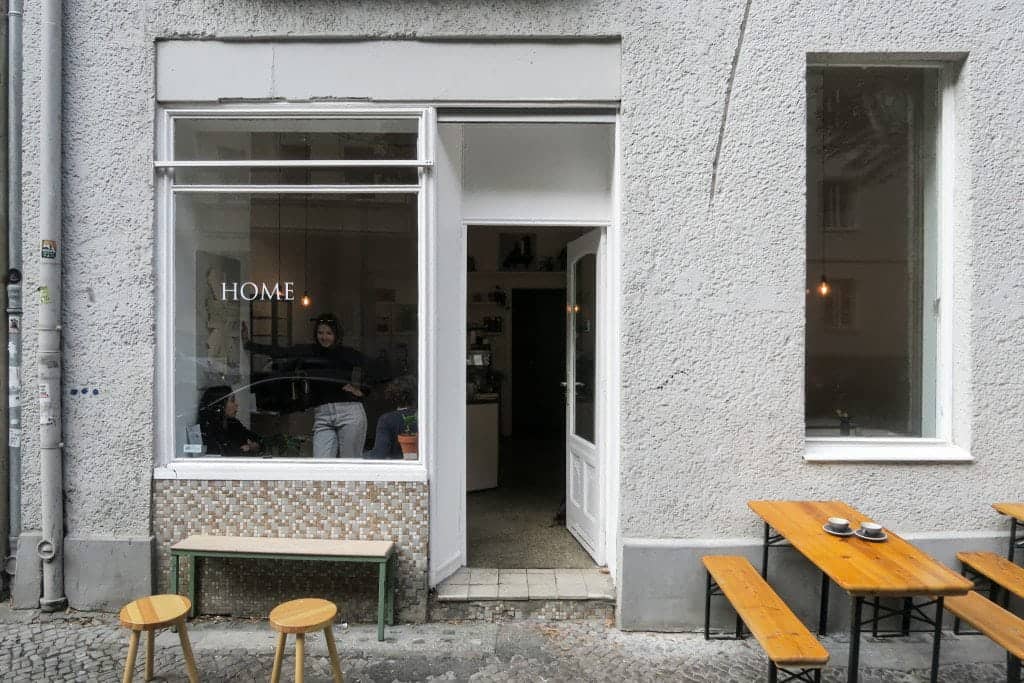 Sarah comes from New Zealand, but has been a Berliner for several years now. She had worked for several renowned companies in Berlin, such as The Barn or Five Elephant before deciding to open her own business.
The cafe has got one of the biggest advantages its owner could ever ask for in Berlin. The outdoor seating gets a full exposure to the sun all day in summer, and it remains pretty bright in winter too. The large front window is a clear statement of what Sarah wants you to feel like in her shop. Simply at Home.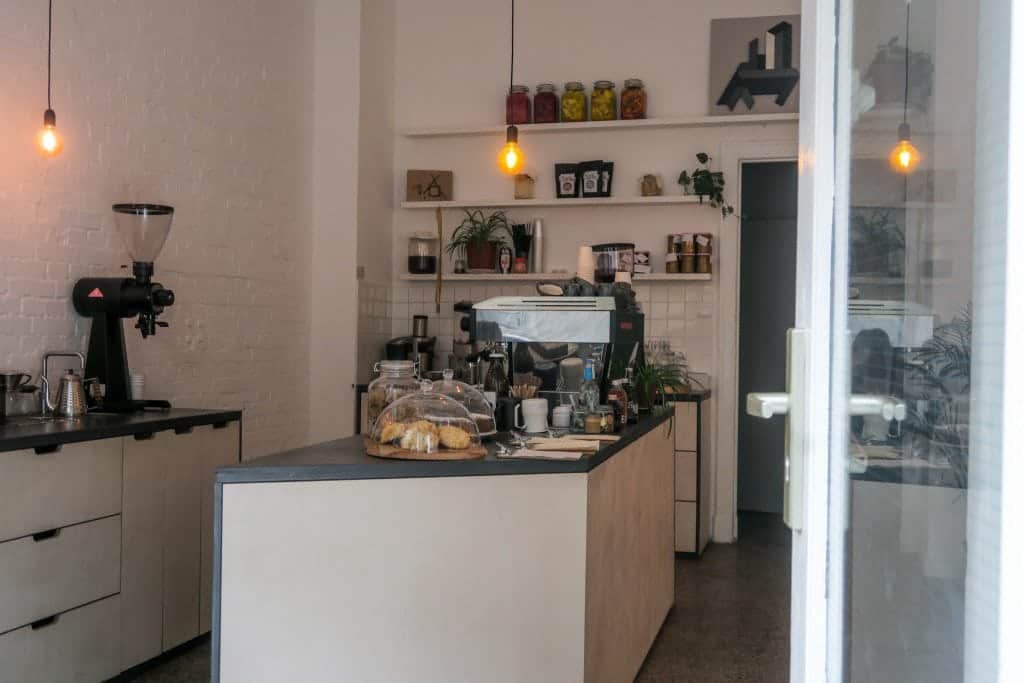 The cafe's set-up is modest, yet comforting. With one room in front facing the bar area and one back room suitable for bigger groups, this place is spacious enough to spend the day in. Sarah preps your coffee at a 2 group La Marzocco Linea PB. The station is equipped with a Mazzer Robur grinder, while filter station has got a black EK43 ready to grind for a Kalita brew. A great set-up by a one-lady operation.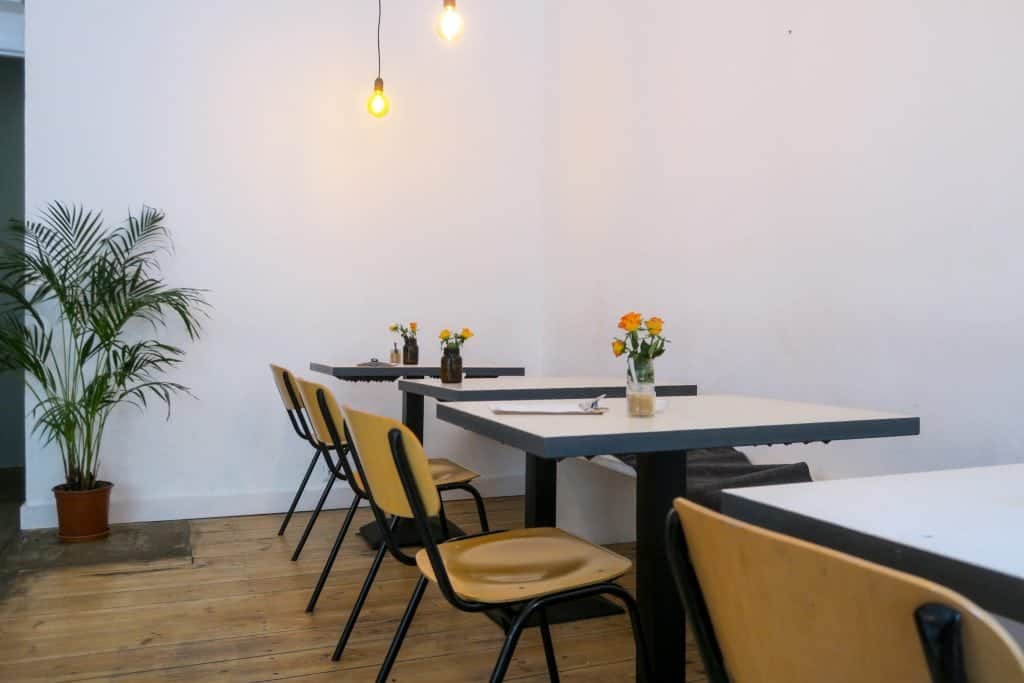 Her current espresso, Bosques de San Francisco from Guatemala is supplied by The Barn. Filter coffees come from Swedish Koppi Roasters, featuring Karimikui AA from Kenya and Nanno Challa from Ethiopia.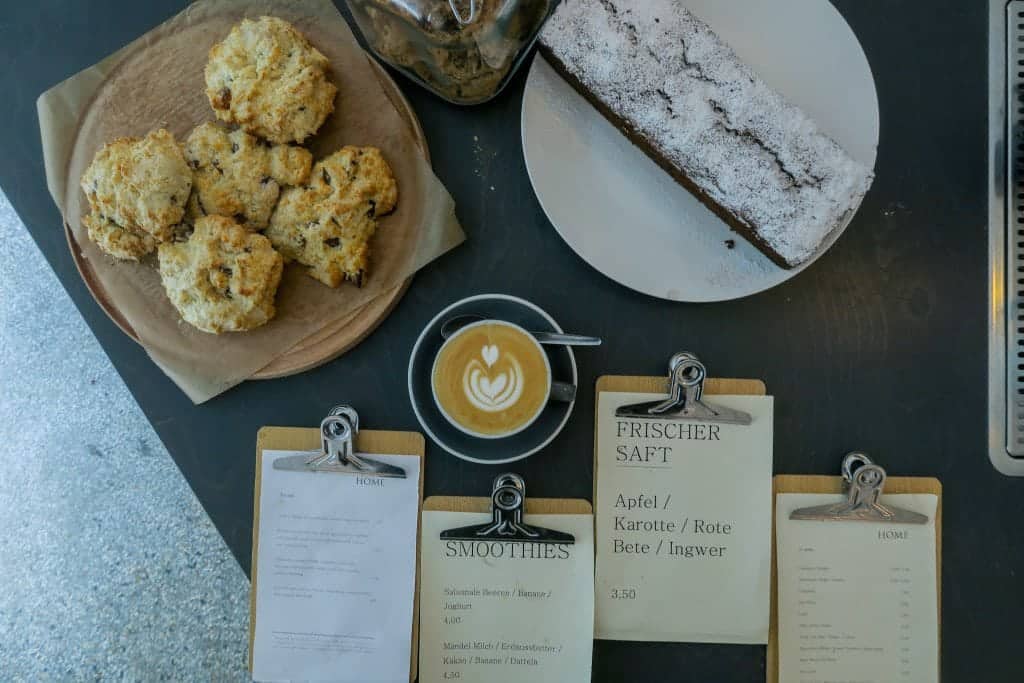 Sarah has been baking and cooking her homely range of cakes and lunch plates since day 1. She is making her own kombucha, kefir water and you will find here a range of homemade vegan and non-vegan doughnuts, too. That is enough of a reason to head this way.
19grams Chaussee
The newest kid to the Tres Cabezas family was born on the so-far-neglected block of Berlin. 19grams Chaussee is the third cafe of the 14 years old roasting company Tres Cabezas. The roasters have been progressively establishing themselves as a firm part of the specialty coffee scene in Berlin. Growing a loyal group of customers for years, they have two other shops in Kreuzberg and Ostkreuz areas.This summer they decided to bring their coffee service also to the border of Mitte and Wedding neighbourhoods.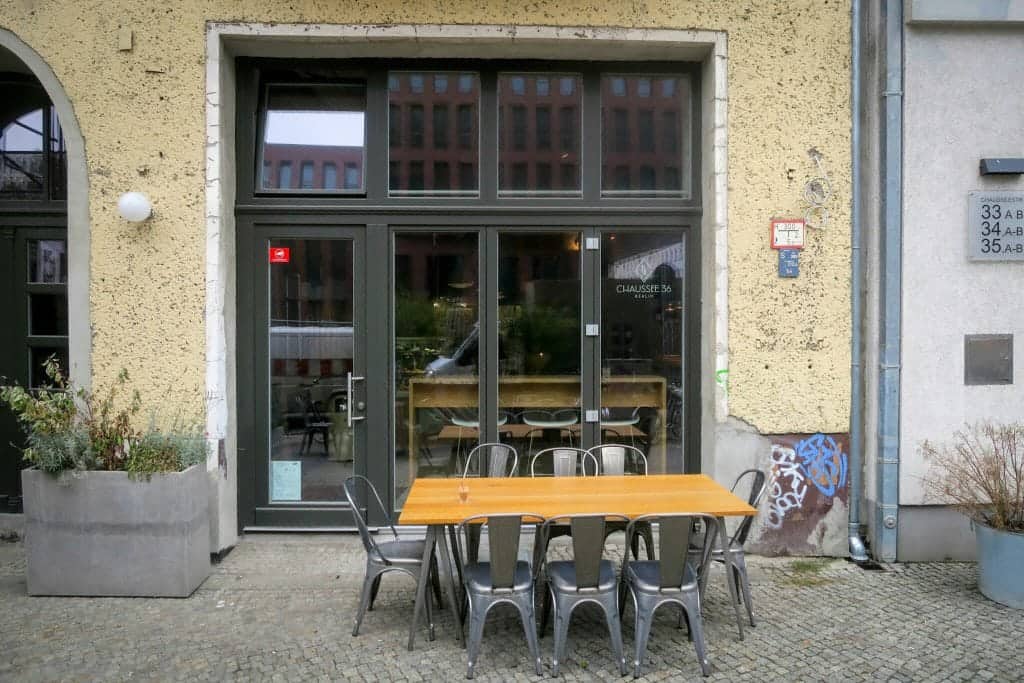 This place is truly like no other cafe in Berlin. It is fitted out over two floors, with a long bar from a massif wood stretched from the front of the shop to the very end, where the kitchen joins. Parallel to the coffee bar runs a bar seating and six tables for two with a one-piece bench by the brick wall. A staircase leads you onto a mezzanine floor. Here you will find a big dining table for a family gathering, while next steps lead you to a sofa, as well as three more tables placed above the downstairs bar and kitchen.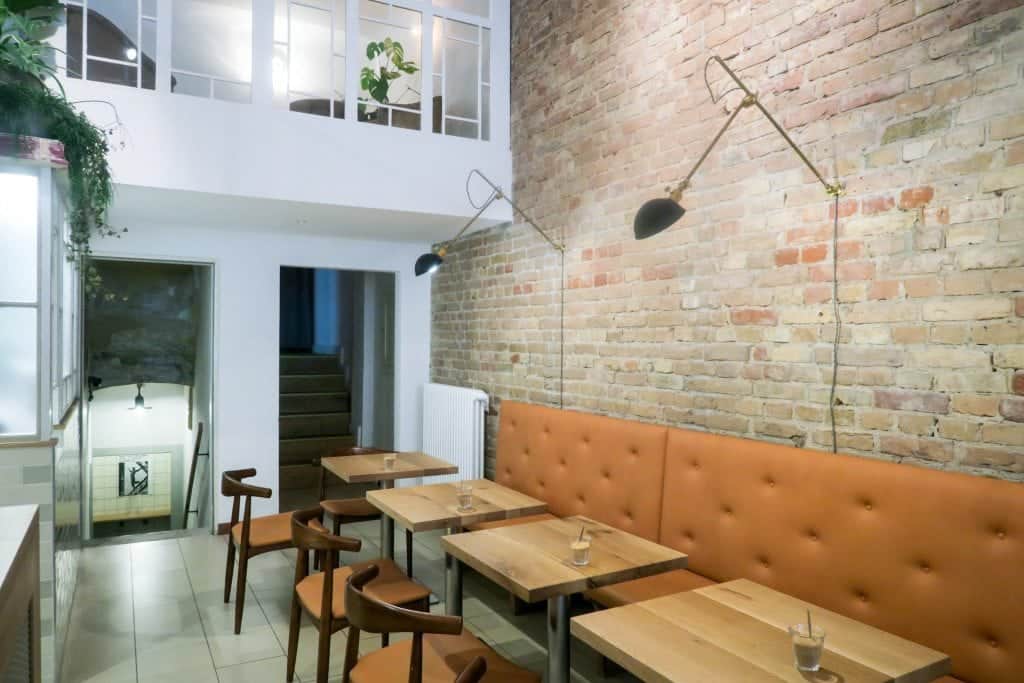 Big french windows at the front of the cafe are usually pushed on side on sunny days (those days are gone for now, but there will be summer again). The whole cafe is lit by soft and warm light from modern lamps.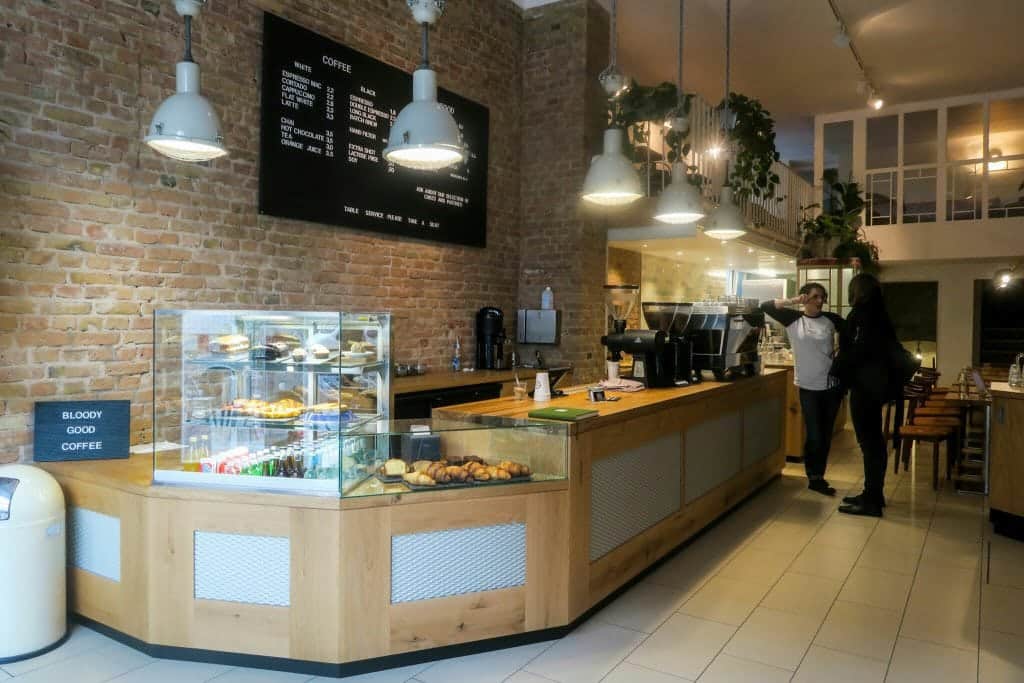 The cafe staff is friendly and at your (table) service the minute you step in. You are served a selection of seasonal brunch menu, offered daily. Besides for brunches you can indulge on wide selection of housemade cakes, cookies and more. All is accompanied by delicious brews from their Boxhagener strasse roastery. The coffee menu features two espressos – the current Wild At Heart blend consists of washed processed Caturra and Catuai from Columbia, and a natural processed Yellow Bourbon, Brazilian. With a 3 group La Marzocco Linea PB with built-in scales, Peak and K30 Mahlkoenig grinders, as well as two EK43s, this cafe is meant for high volume.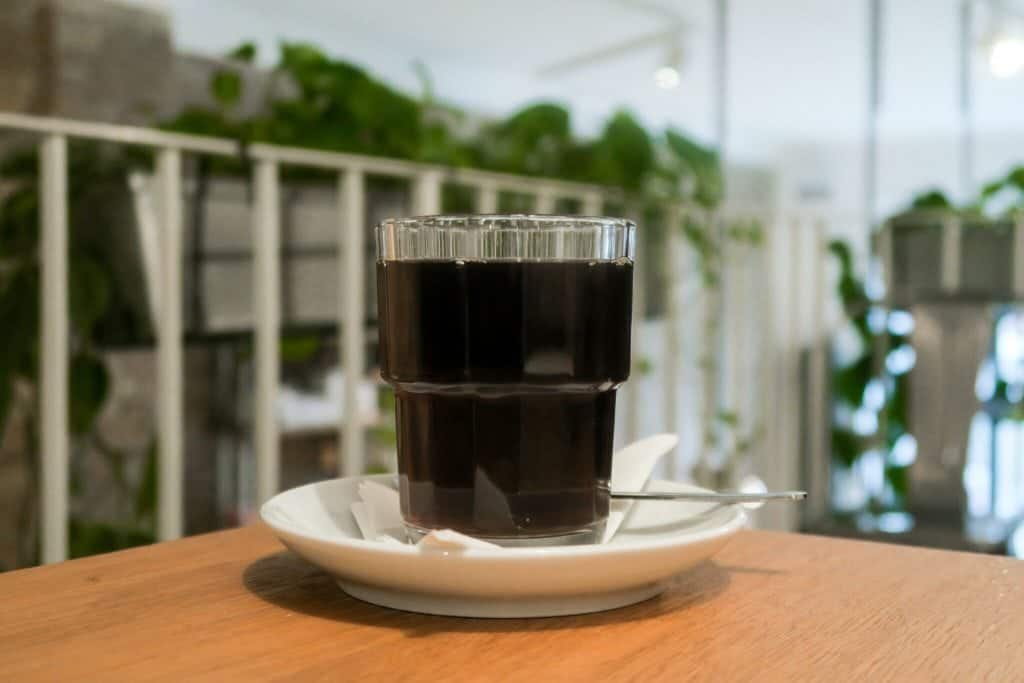 The single origin espresso and batch brews are rotated weekly, with fresh selection of Costa Rican coffees coming in in the upcoming weeks. The hand brew station is currently being finished, with a hot water dispenser, a water tank being installed. Kalita hand brews will be served soon.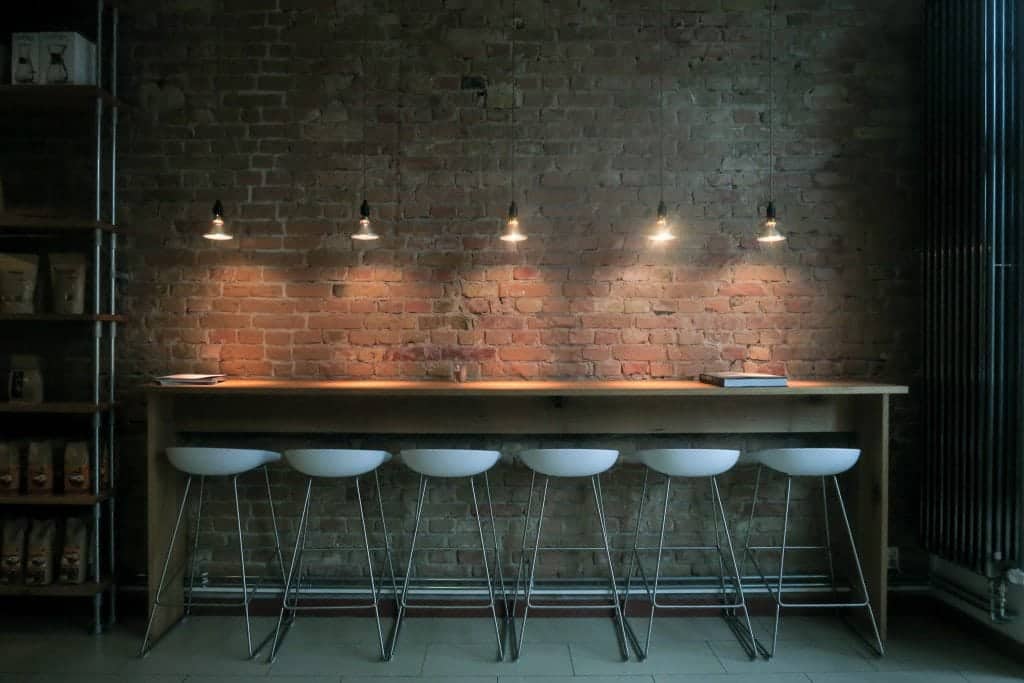 If you ever missed a proper reason to go down this side of Mitte, now you have it. With the nearby Natural History Museum this area is turning into food, coffee and culture-oriented neighbourhood.
Chausseestraße 36, 10115 Berlin, Germany
Official website, Facebook, Instagram
Camon
This cosy establishment just celebrated its first year on October 10, and so it is perfect to finish our coffee guide update with Camon.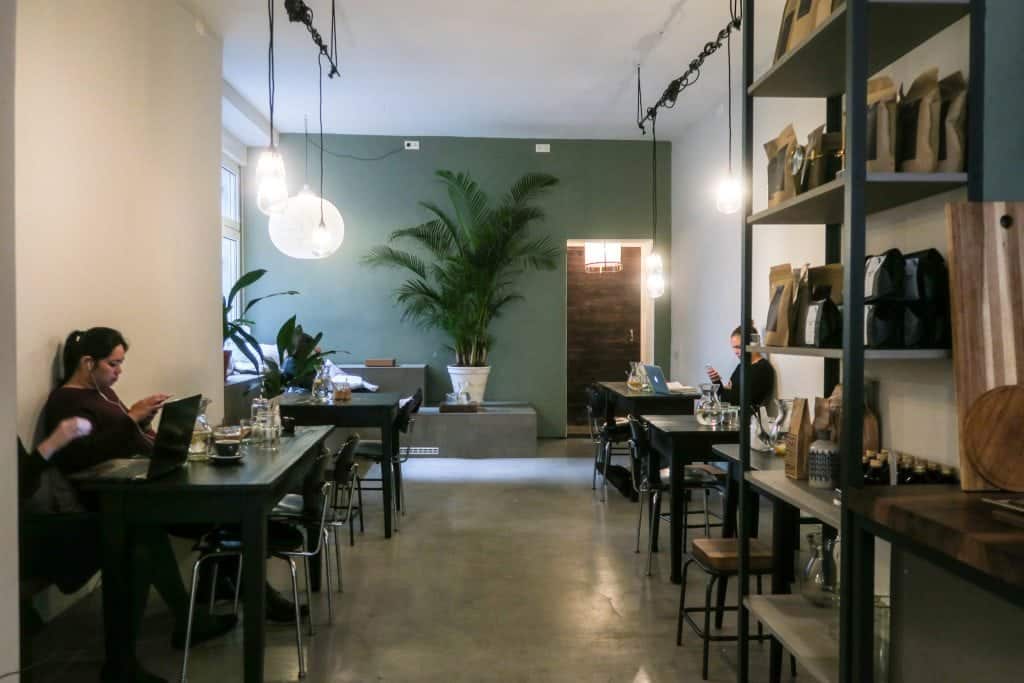 The cafe has got a friendly, relaxed staff who bring nice vibes to the busy area of Sonnenallee. You are entering a dim place with bulbs hanging above tables and the bar, and everything suddenly smells like cinnamon buns.
Camon has got its Kees van der Westen Spirit Duette machine proudly exposed on a separate bar made out of a piece of old wooden furniture. With two Mahlkoenig K30 grinders they are well prepared to brew you espressos from a rotation of roasters, most frequently featuring Ernst Kaffee Roester and Fjord. The same roasters are also featured on filter coffees. The batch brews are prepared using en EK43 grinder.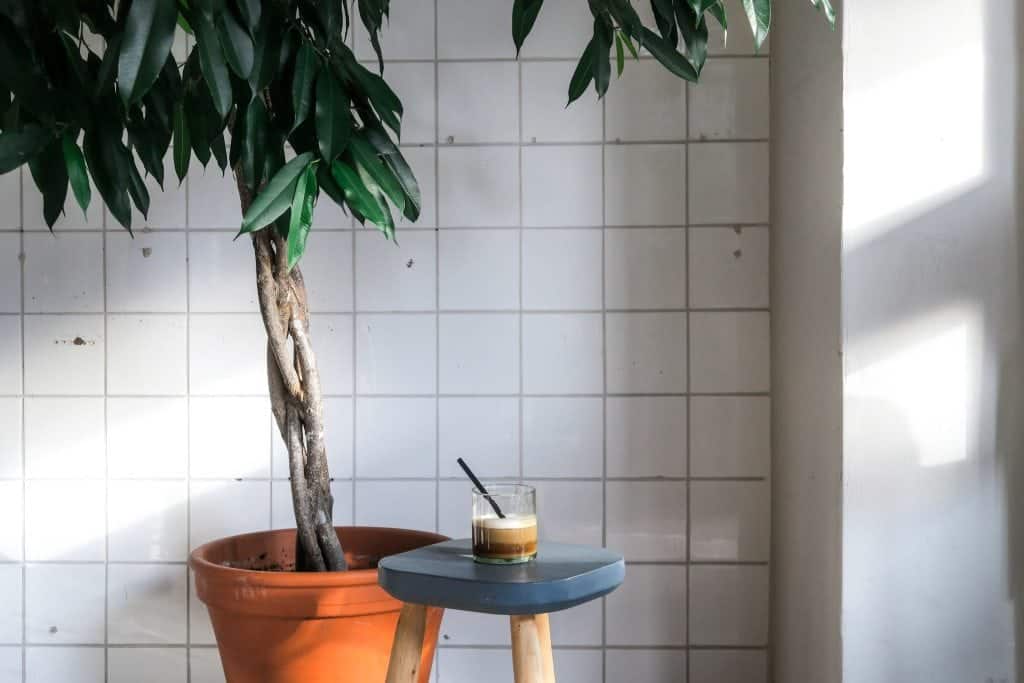 The cake display on the front bar has always got a selection of homemade cakes, cookies and, as mentioned above, cinnamon buns. The place is great for breakfast, as well as lunch with its daily offer of quiches. One of their coffee drinks became a favourite during the summer, created using Good Spirits Berlin cold brew and Fountain of Youth coconut water. Refreshing, hydrating, and caffeinated.
Com'on, get down to Camon and sit at one of their large tables, or by the window at the back of the room. It is a perfect spot to hide-away with your laptop, and work work work.
Sonnenallee 27, Berlin, Germany
Official website, Facebook, Instagram
Photo: Humberto Ribes is a Spanish barista based in Berlin, Germany. He likes to take pictures, make coffee and feed in between. Find his incredible work here.