Our Barista Stories series has been long in the making. Since our first visits to cafes around Europe, we have met many amazing baristas who have had a number of interesting stories to share. We love the speciality coffee community exactly for the people building it and are thrilled to introduce some of those individuals to you.
Baristas truly are the ones who contribute to the atmosphere in the cafe massively and are the key reason why we'd revisit.
Read on to meet Agnieszka Kruk, brewing your daily cup of coffee at Elbgold Cafe & Roastery, Hamburg.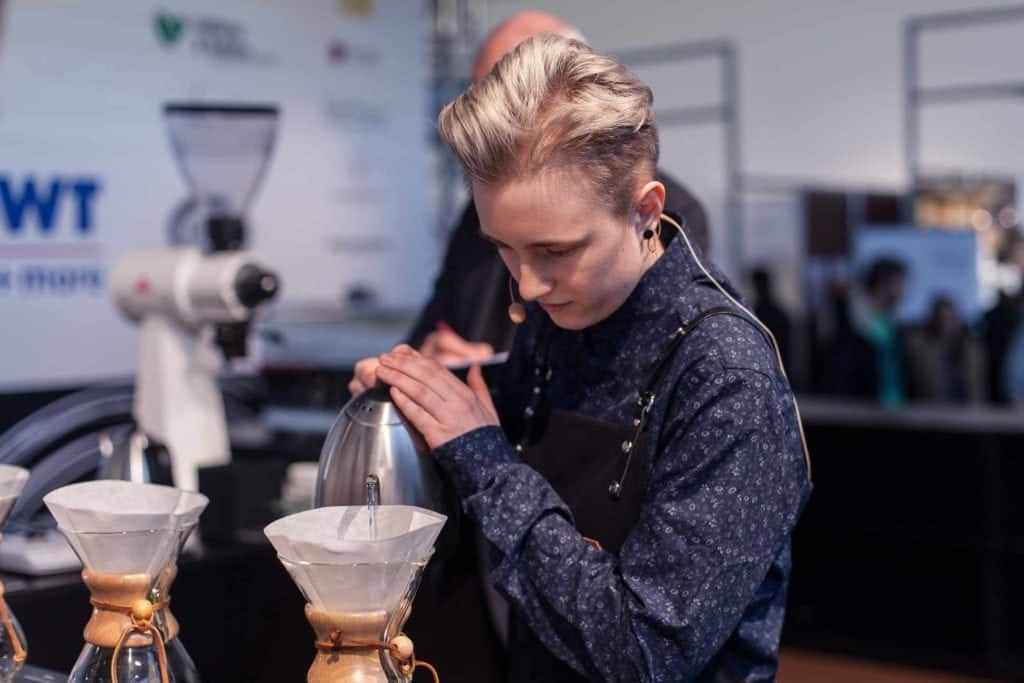 Agnieszka Kruk works at Elbgold Coffee Roastery in Hamburg. At the age of 24, she is already the Head Barista at one of their stores. She has lived in Hamburg for fours years now, but originally, she is from Radom, a small city in Poland. When she first started at Elbgold, she was part of the kitchen team. In a year's time, she moved from the kitchen to the coffee machine. `she has worked in speciality coffee for two and a half years.
A few questions for Agnieszka
What led you to coffee? Could you describe the moment or situation that made you decide to become a barista?
When I was 16 years old I was really into Korean culture and movies. Once I found one about a woman, who worked as a barista. It was the first time I saw anyone prepare a hand brew, but I didn't know exactly what it was and how it tasted. So I have started googling it to know more about it. I really wanted to try it, because I saw how focused and passionate the barista was. At this time it was impossible for me because, in my city, we didn't have any coffee shops and the coffee culture was unknown to Poland.
Two years later they opened the first coffee shop with speciality coffee next to my high school and I can still remember how excited I was when I drank filter coffee for the first time. It was like a never-ending taste adventure. They even organised an open course for customers, they invited coffee people from Poland such as Paweł Trzciński, Leszek Jędrasik and Marcin Wójciak. I saw that it was really possible to work as a barista in my country and be fully satisfied with it. That was when I started forming a mysterious plan in my head to become a barista and it worked!
What would you do if you were not working in coffee?
I studied chemistry for one year and it was really interesting to see how everything around us actually works. Sitting in the laboratory the whole day, observing how small details can drastically change everything, and how many new things we have created with it! It's like being in a toy store again.
What is an unusual habit or hobby that you love?
I love to bake bread, I enjoy making different kinds of sourdough and combining Polish and German bread styles.
What are some bad recommendations you hear often in your profession? What is your piece of advice for anybody starting a career as a barista?
Sometimes I hear that baristas are a little bit rude and instead of explaining to guests how everything works they take the I–know–everything–and–you–know–nothing" stance. So people who come to their shop feel stupid not really welcome.
So be open to people, smile and show the customers your passion. I can bet, after a few visits to a coffee shop where you work, they will be coffee freaks like you. And remember it is a hard work, so do not take up a role of a barista just if you think that it is "cool" to be one.
Looking back, what one thing would you wish to know when you were starting to work as a barista?
To ask more questions about every little detail and try a variety of different coffees not only the best quality ones.
What qualities set a good and a great barista apart?
A good barista should know his job well and always work constantly to keep the quality always on the same level. Always care about every guest, because it gives a lot of happiness to see their smile after the first sip of their coffee. A great barista always wants to learn, taste and experience more, is open to new tastes and does not deny them but talks about them. They can share the knowledge with other people but also exchange it with them. That is why we should really appreciate how the coffee scene is developing right now and how much we can still learn.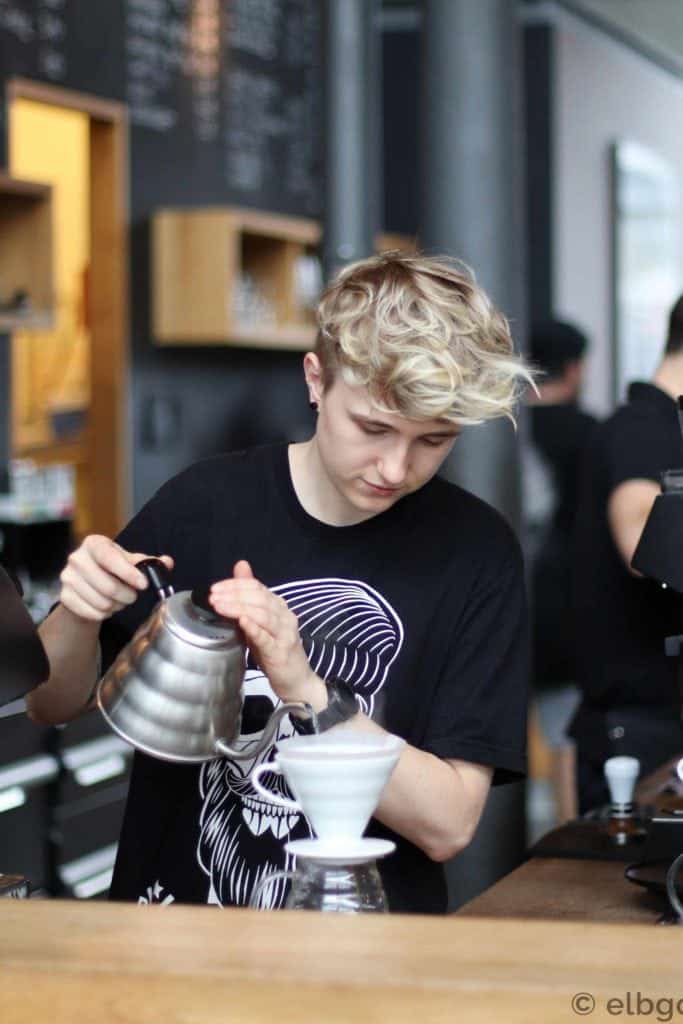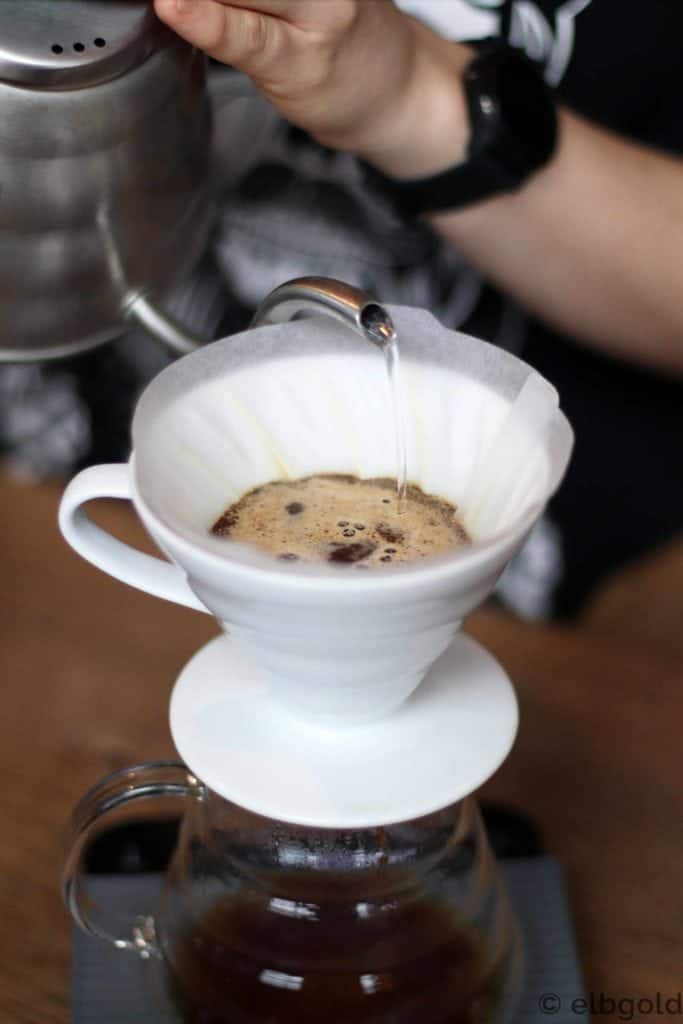 If you have a bad day at the cafe, what helps you to handle it and provide good customer service?
With such an amazing team we have at Elbgold in Schanze even a bad day will be an amazing day!
What is the one thing that you would miss the most if you could not work as a barista anymore?
I think this routine which I really like: coming really early to the empty shop, playing my favourite music and setting up the espresso recipe. All these things are to me what a meditation is to some people. The waiting for a new harvest of coffees, tasting it and always being amazed what a wonderful work our farmers do every year. Meeting so many amazing people and sharing the love for coffee with them.
Imagine the perfect day in your city. Perhaps you have an old friend visiting. What would be top 3 to 5 activities or places you would show them?
At first, breakfast and coffee in Balz und Balz, then a walk through Isemarkt where you can always find a lot of regional products from Hamburg and surrounding regions. Then take a walk to Alster. Alster is the river which creates two lakes in the middle of the city surrounded by a park. On the way, we can grab a cold drip coffee in Elbgold Labor shop downtown, because one coffee is not enough. And don't forget about Franzbrötchen! The most delicious cinnamon roll from Hamburg.
What do you consider some of the best experiences you have had in coffee so far?
For sure the 2016 Brewers Cup competition in Germany. I had only one a year experience as a barista but really wanted to challenge myself. I really learned a lot at this competition and met amazing people who supported me every step of the way. I came fifth with my experimental coffee from Nicaragua, which was fermented with Penicillium mould and tasted totally like whipped cream.
The second best experience was meeting Marysbel Caballero and Moises Herrera, it was the first time I met coffee farmers. It showed me a lot how many little details there are in coffee growing and how much love the farmers put into it. This year I will participate in the Brewers Cup in Germany but this time more consciously.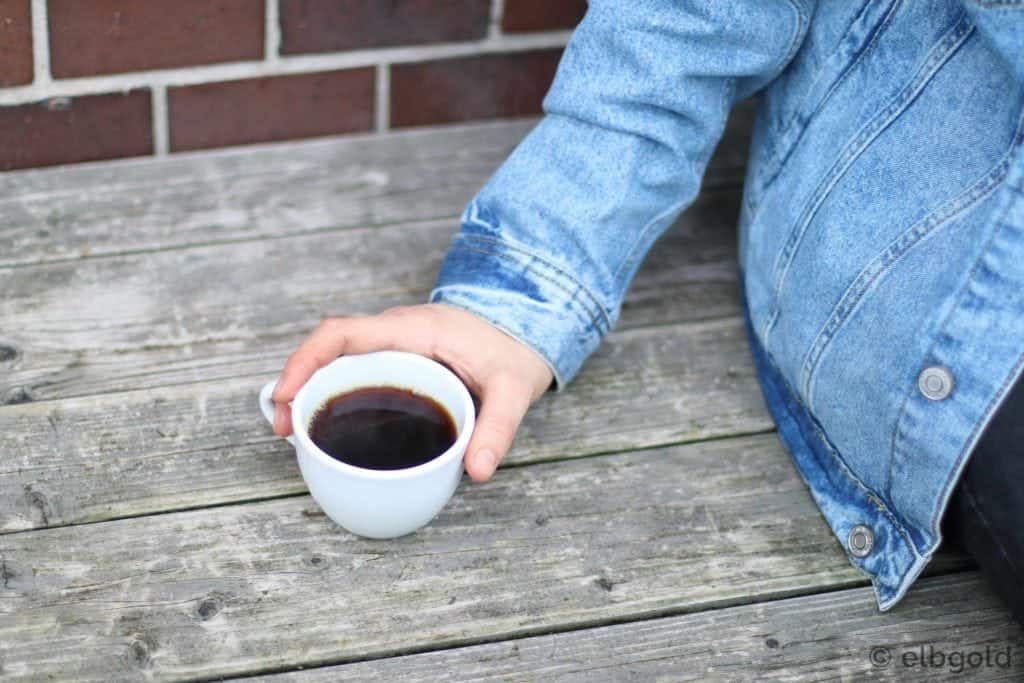 Quick Fire Question
Would you serve filter coffee with milk, if asked for it?
Yes.
Do you ever take sugar with your coffee?
No.
Espresso or Filter coffee?
Filter Coffee.
Do you aim for Sweetness, Acidity, or Body?
Sweetness.
Milky or Black?
Black.
Slurp or Spit?
Slurp.
Sit in or Take Away?
Sit in.
Cake or Pastry with your coffee?
Cake.
What is your wifi password in a cafe?
We don't have WiFi.