Ruslan Demonenko's journey to the World Barista Championship stage is nothing short of awe-inspiring. Against the backdrop of a world gripped by the Russian-Ukrainian War, he stepped into the limelight with great courage. Ukraine's complex history and the turmoil of its past did little to deter Ruslan who had also become the Ukrainian Barista Champion after just few months of working in the coffee industry.
The World Barista Championship wasn't just a test of Ruslan's coffee-making skills; it was a testament to his resilience and determination. Amidst technical malfunctions and a dwindling coffee supply, Ruslan's unwavering spirit shone through. His narrative resonated way above of a mere competition, touching hearts and minds in a profoundly human way. Here was a young man from a war-torn country, a symbol of bravery, honesty, freedom, and unity.
Ruslan's journey serves as a powerful reminder that, even in the face of adversity, true strength can emerge, and stories like his are timeless and profoundly moving. In the end, Ruslan secured his place as one of the top 16 baristas globally, making history as the best-placed Ukrainian barista in the World Barista Championships of 2023.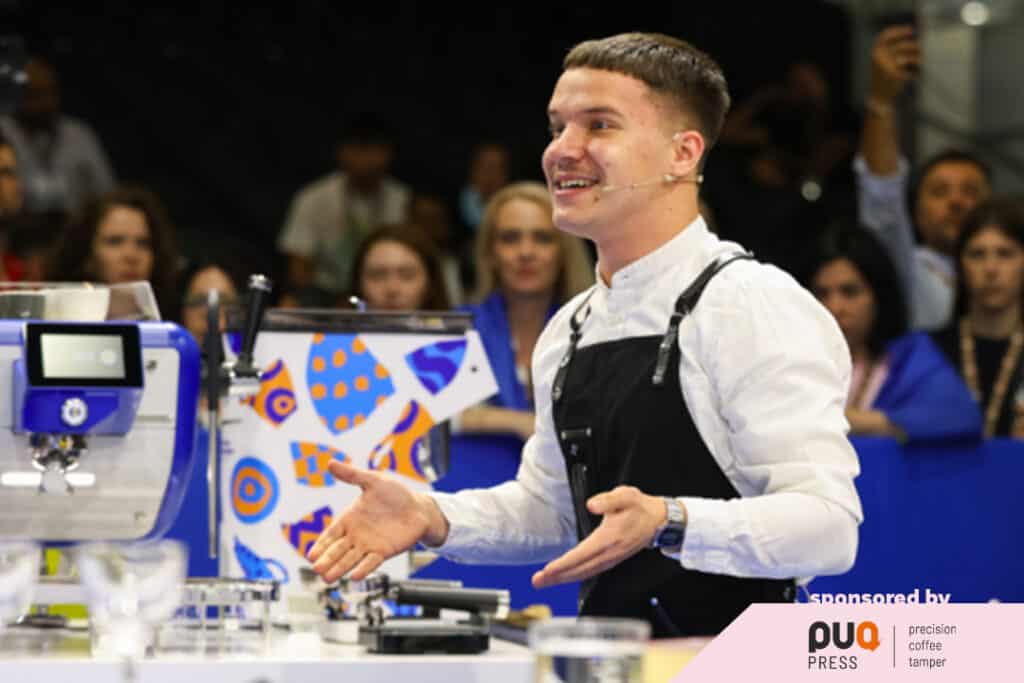 Ruslan, what is your first memory of coffee?
My first memory with coffee will be remembered for the rest of my life. As a 14-year-old boy, my older brother – Vladislav, took me to to a café to have a coffee with him. We talked a lot and just chilled. Then I began to notice that the latte art made by the baristas behind the bar brings smiles and just pleasant emotions to people. As a child, I was just intrigued, because to bring people joy is the best feeling in the world. And when it is done so simply, through creating a coffee, it got me hooked.
After that day, I started to ask my brother an incredible amount of questions. From that moment I read, watched, and just tried to learn this craft as quickly as I could.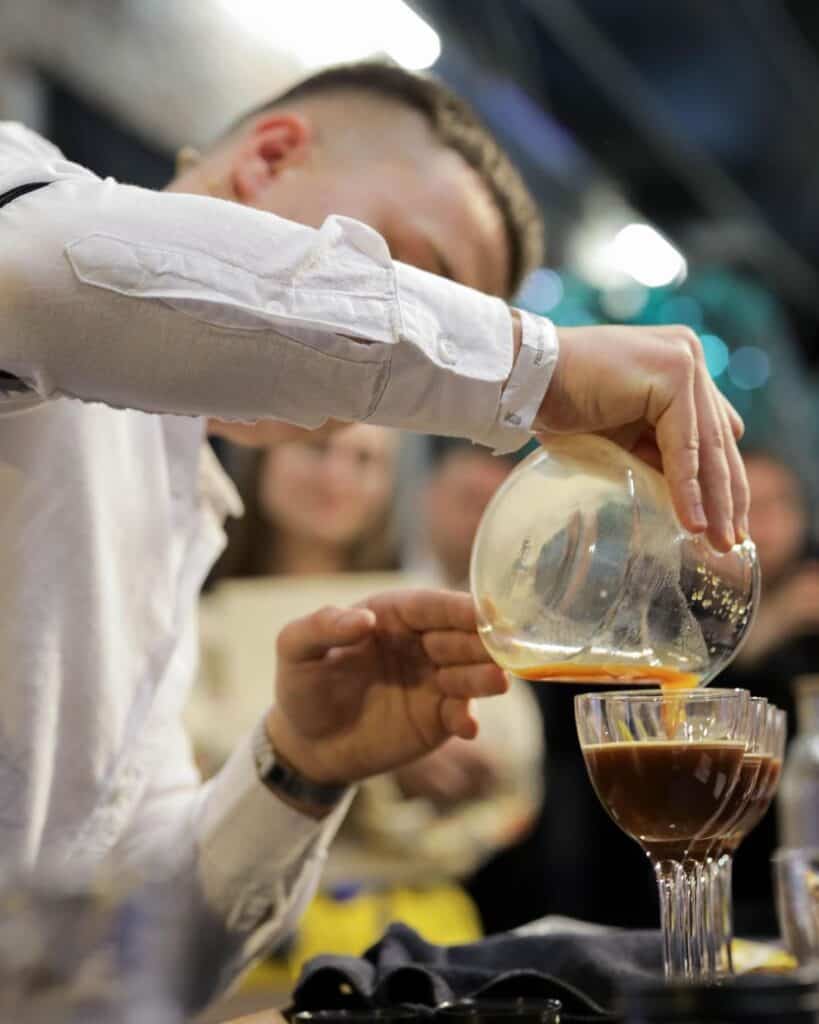 ​​​​​​What inspired you to pursue a career in the coffee industry? What did you do before coffee?
The first thing that inspired me was the emotions people experience while drinking delicious coffee and the second motivator was my brother. He has always been something hyped for me. Vladyslav is very smart and since I can remember, he always taught me everything. Whatever I asked, we went through everything together. I knew he was going to the coffee championships, and I dreamed of competing next to him shoulder to shoulder. Before coffee, I was just studying.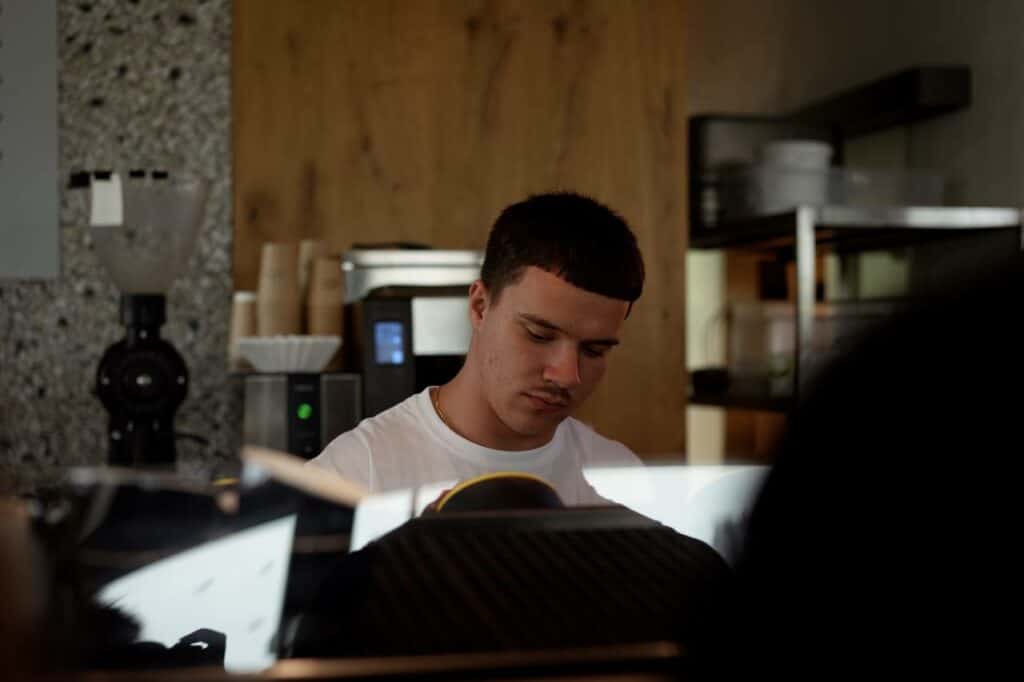 Tell us a bit about the place you work at. What is your role there?
An ordinary barista at Buddy cafe in the energetic city of Dnipro. I socialise with lots of nice people, make delicious coffee and just enjoy everything around me!
How do you stay motivated and inspired to keep improving your coffee-making skills?
I realise that nothing stands still. As long as there are people, something new will be invented, and I would like to be one of the first to do or invent something new in the field of coffee.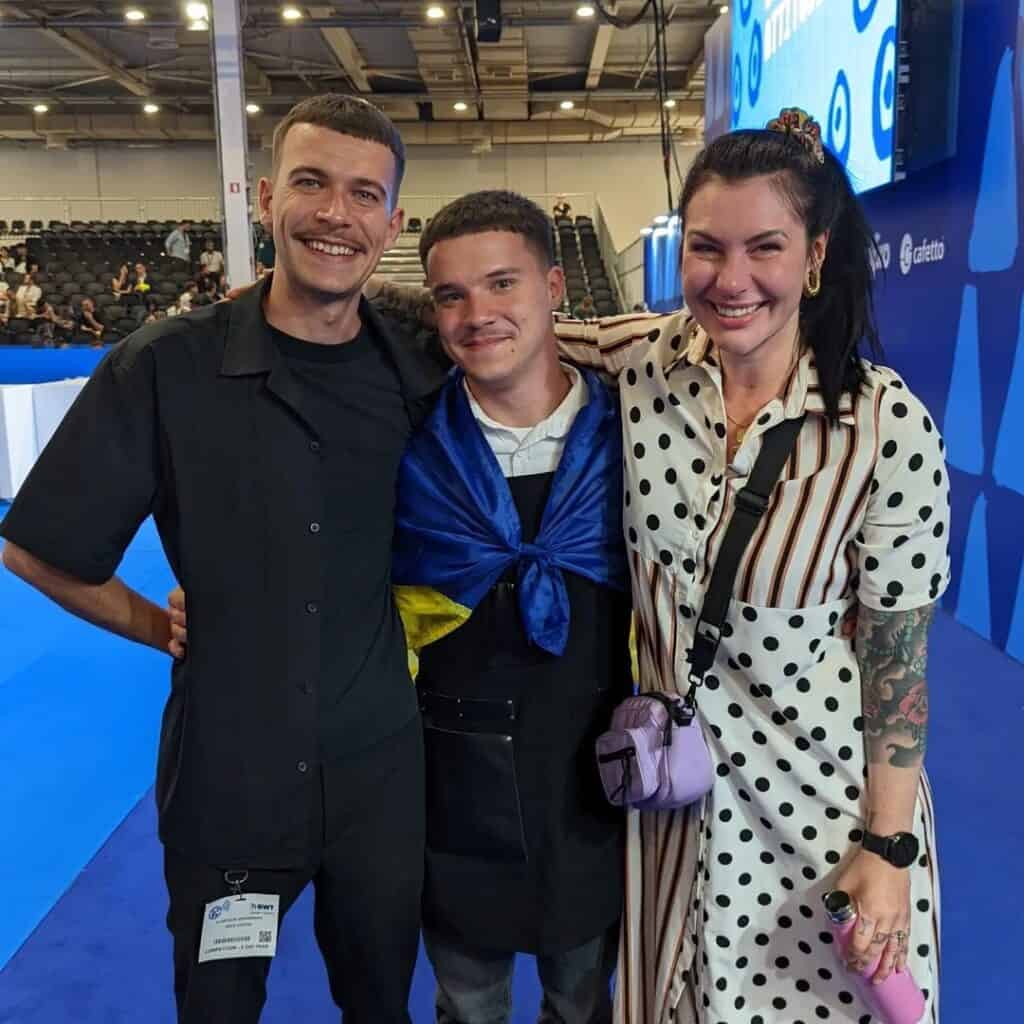 How was it to prepare for championships when there is still a brutal war happening in Ukraine?
A little bit about preparation. There is a brutal war going on in Ukraine. In preparation for the World Cup, I moved to the capital of Ukraine, Kyiv.
An incredible city with incredible people. I was training with my brother and Nicole and it was all via video link as they were in Berlin. We were training hard every day without a day off, and we were being bombarded without a day off.
Training time, a common call with my brother and Nicole, a siren, hiding in the underground, explosions, lots of explosions, the alarm went off, another call, another training, another siren and another bombardment. and so it was every day. Unfortunately, it's a reality now that you can't escape.
How did it feel to compete on the World Barista Championship stage?
Unbelievable! so many positive people, all super friendly, outgoing, and feeling of home atmosphere. Incredible feeling, I wish everyone to go through it!

Quick Fire Questions for Ruslan Demonenko:
Would you serve filter coffee with milk if asked for it?
Of course, everyone has a choice!
Do you ever take sugar with your coffee?
No.
Espresso or Filter coffee?
Espresso.
Do you aim for Sweetness, Acidity, or Body?
Sweetness.
Milky or Black?
Black.
Slurp or Spit?
Slurp.