Our Barista Stories series has been long in the making. Since our first visits to cafes around Europe, we have met many amazing baristas who have had a number of interesting stories to share. We love the speciality coffee community exactly for the people building it and are thrilled to introduce some of those individuals to you.
Baristas truly are the ones who contribute to the atmosphere in the cafe massively and are the key reason why we'd come back there.
Read on to meet Nicole Battefeld, brewing your daily cup of coffee at Röststätte, Berlin.
Nicole Battefeld is a woman of many roles at Röststätte. In her words the "always-29 years old" Nicole is a head barista, roaster, shop manager, she also sells machines and equipment and works for the German Victoria Arduino distributor at conventions and gives barista training. Originally from Görlitz in East Germany, she has lived in Berlin for seven years now, and it has been four more that she has worked in coffee. To no surprise, she works in coffee full time, or, as she put it, "it takes up pretty much all of her time". She is also a fresh winner of the German Barista Championship 2018. Congratulations!
What led you to coffee? Could you describe the moment or situation that made you decide to become a barista?
When I worked in my first coffee shop I had so much fun and looking back it was one of my greatest experiences. I learned about taste and equipment and I realised how important it is to give attention to every detail, to work with precision and it was my kind of thing.
Then at 19 I studied something super boring and just wanted to be back behind the bar so I decided to do so and quit my studies. I wanted to learn more about taste so I started an apprenticeship as a chef which led me to Berlin where I graduated and worked in star restaurants. But coffee never left me. Since 5 years I'm back in the barista game and feel like I found the job of my dreams.
What is the funniest thing that you have experienced behind the bar? Can you recall any embarrassing moment?
I think there are a million of funny situations so it's hard to pick one. But I have to say that I love my stupid Latte art challenges that I do with my colleges or random baristas as I think that some of us take themselves way to serious. Yes, Latte art is cool but it's not everything.
What would you do if you were not working in coffee?
I seriously have no idea what else I would do….
What is an unusual habit or hobby that you love?
Unusual hobby….. I go to the flea market every Sunday and never pay more than 3€ for my clothes.
What are some bad recommendations you hear often in your profession? What is your piece of advice for anybody starting a career as a barista?
A bad recommendation is if you tell a customer how to drink his coffee. Does he want milk? Sure. Sugar? No problem.
Make it the best flipping caramel macchiato he ever had. We work in a service job and being snobby is the wrong way how to treat the people that pay your rent. My advice is always: have interest in gastronomy itself. If you're 20 and think: hey, baristas are so cool… learn a job, look if you can deal with everything that happens behind the bar. Restock. Cleaning. Everything. The experiences you'll take out of a proper apprenticeship are worth gold.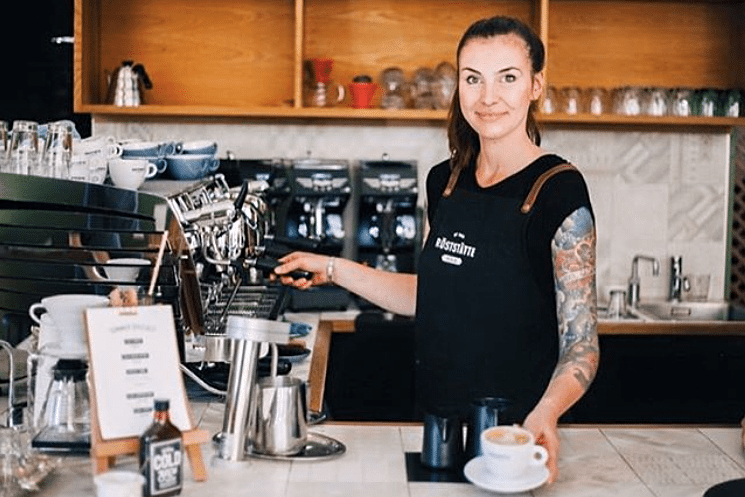 Looking back, what one thing would you wish to know when you were starting to work as a barista?
How to do Latte art! I had to learn that myself.
What qualities set a good and a great barista apart?
A good barista can make a great coffee. A great barista has the overview of the whole shop. Takes responsibility. Wants to educate himself and his team. Knows his customers and isn't afraid to stand up for his shop or employees.
If you have a bad day at the cafe, what helps you to handle it and provide good customer service?
My regulars help me a lot. I have the luxury of working in such a great shop that we have up to 80% regular customers that come every day, sometimes even twice a day. And this familiar atmosphere makes it hard to be grumpy.
What is the one thing that you would miss the most if you could not work as a barista/in coffee anymore?
It would be like telling me to stop breathing.
Imagine the perfect day in your city. Perhaps you have an old friend visiting. What would be top 3 to 5 activities or places you would show them?
I'd do the dog walk coffee shop tour. Starting in Friedrichshain, a quick stop at the dog park with a sneaky walk beer, then Kreuzberg at the canal (4 great shops in 10-minute distances) and then I'd go to my favourite Punkrock pizza place (the dog gets the crust).
What do you consider some of the best experiences you have had in coffee so far?
Dublin WBC, Budapest World of Coffee, Milan Host. All these events are packed with [coffee] nerds like us and the scene is so full of wonderful people that it's always like a big family meeting.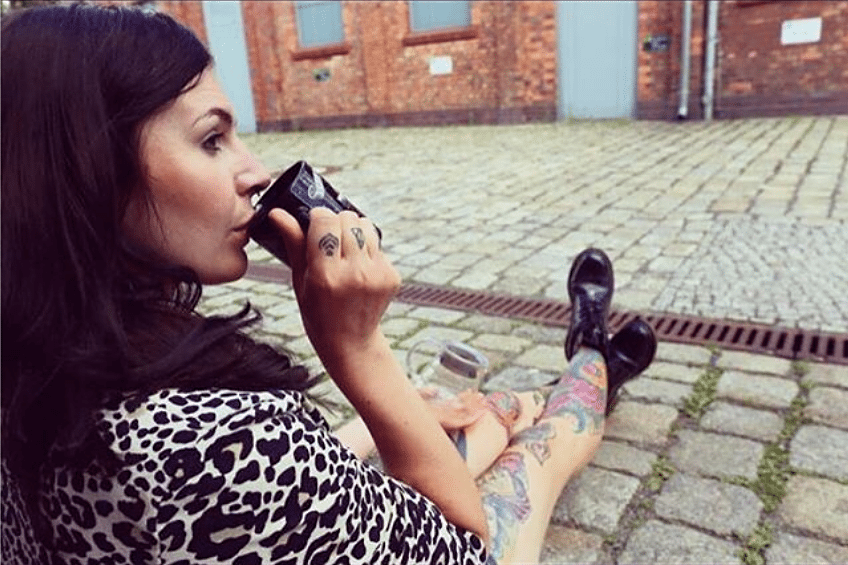 Quick Fire Questions
Would you serve filter coffee with milk, if asked for it?
Yes.
Do you ever take sugar with your coffee?
No.
Espresso or Filter coffee?
First, espresso, then filter.
Do you aim for Sweetness, Acidity, or Body?
The holy trinity.
Milky or Black?
Black.
Slurp or Spit?
Depends on the coffee.
Sit in or Take Away?
With the dog take out, alone sit in.
Cake or Pastry with your coffee?
All the food I can get.
What is your wifi password in a cafe?
I have other things to worry about.