It's not the best time to visit Sweden during the Midsummer holiday as it is, next to Christmas, Swedish major public holiday of the year. Most of locals actually leave the cities, including Stockholm, and celebrate the coming summer in nature with friends. We had the luxury of the empty city and for the first time we were rather sight-seeing than coffee touring. Luckily, the coffee fanatics at Drop Coffee kept their doors open over the weekend so that the desperate coffee tourists, like us, could get a dose of caffeine when passing through Stockholm after the Nordic World of Coffee in Gothenburg.
Drop Coffee
Drop Coffee opened the roastery and café in 2009. Back then the premises served also as the roastery, which is nowadays reminded of with a picture of the beautiful turquoise 25 kg Dietrich machine and a hole in the back of the shop from where the first 1 kilo Giesen Roaster was placed in. The roastery is now located about 3 subway stations away as we were told by Joanna Alm, CEO and head roaster of Drop Coffee. She got back from Gothenborg with the title of the second best roaster in the world and you can admire the trophy on the café's bar.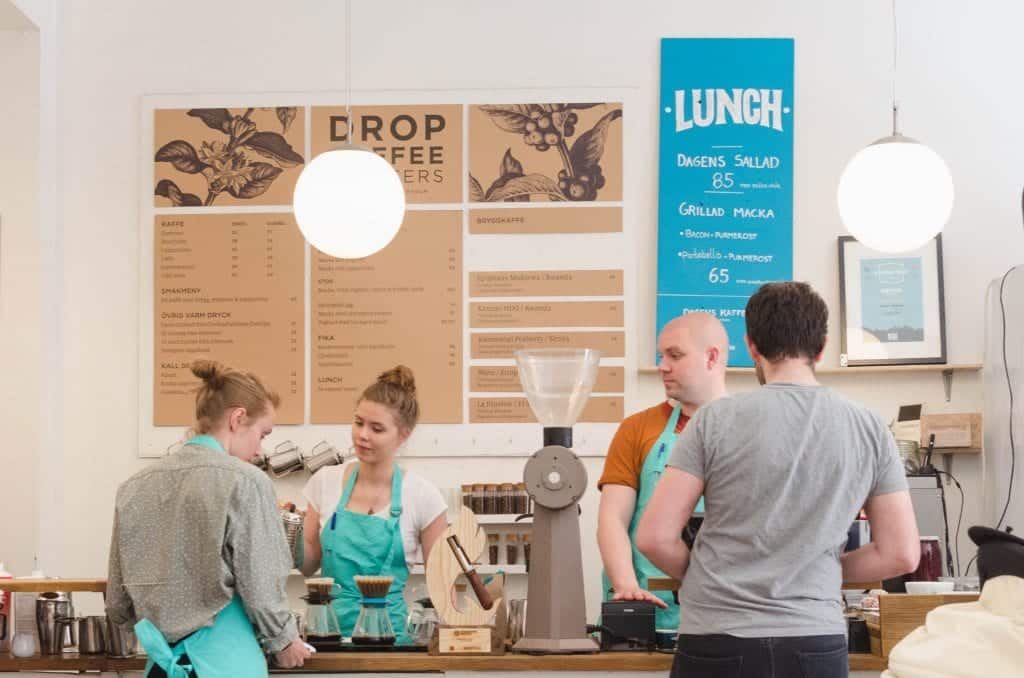 Three baristas were fitted behind the bar while maintaining both Kalita brew bar in the company colour and espresso bar (La Marzocco Linea). "We found Kalitas with their flat bed to be the most consistent brewing device for our shop," explains Joanna their choice. We tried half of the six possible options served on the brew bar starting with El Salvadorian La Illusion (also in cappuccino) and then both coffees from Rwanda – Epiphany Muhirwa and Kamiro HDG – the latter one recommended by our friend Tim Rogg in the Episode 7 of The Right Roast.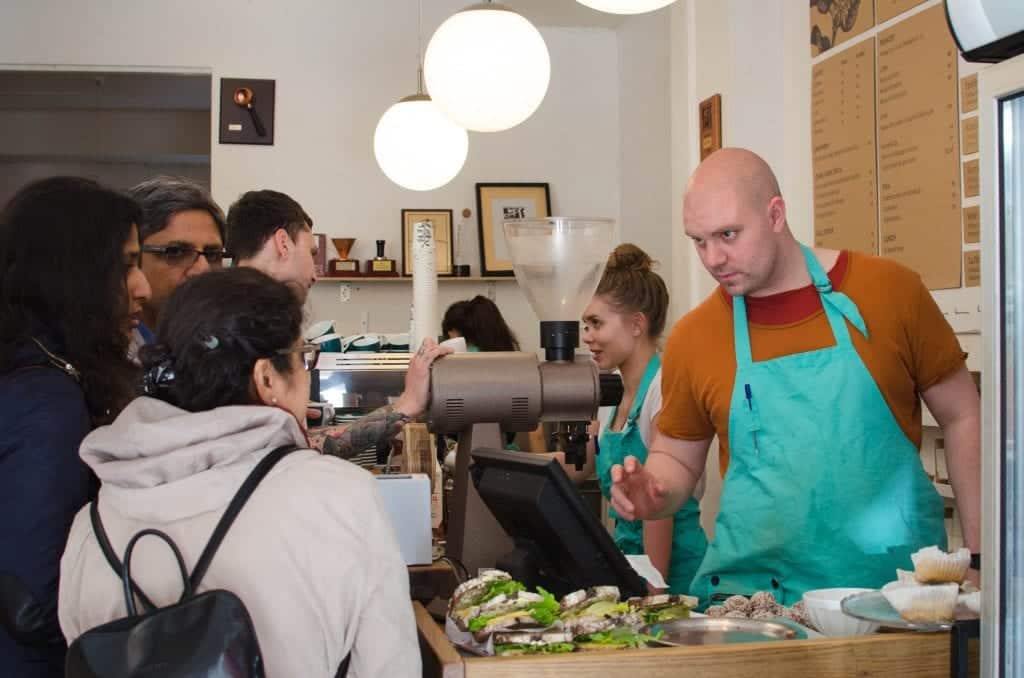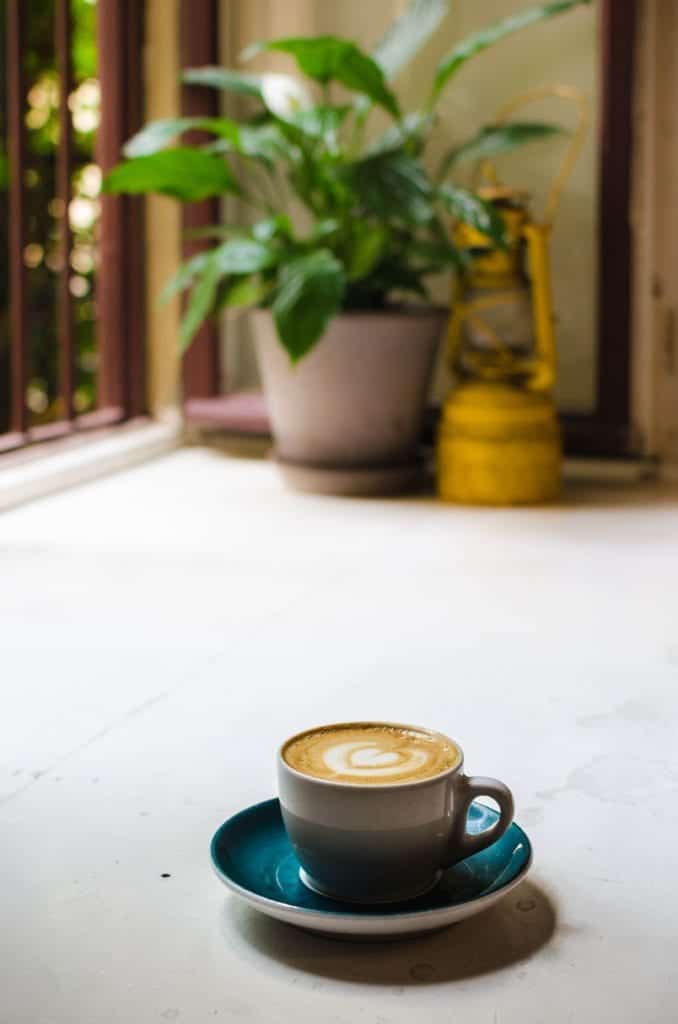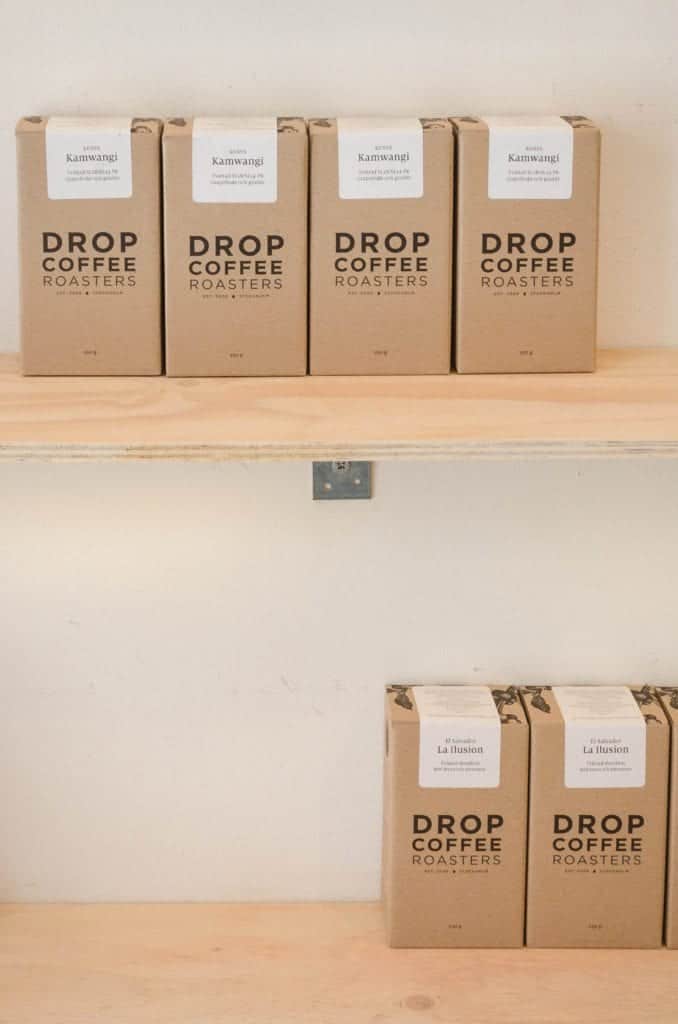 Joanna told us she was happy with the current roasting processes and the results at Championship which are the reason you shouldn't miss this place during your visit to Stockholm. Grab a box of coffee with you when you get the chance!
Wollmar Yxkullsgatan 10, 118 50 Stockholm
Official website, Facebook
Johan & Nyström Concept Store
Just around the corner from Drop Coffee, is Johan & Nyström's Concept Store, company that represents the beginnings of speciality coffee roasting in Sweden since 2004. As they often say, they are working on a coffee revolution and their award-winning café serves as a show room of their capabilities.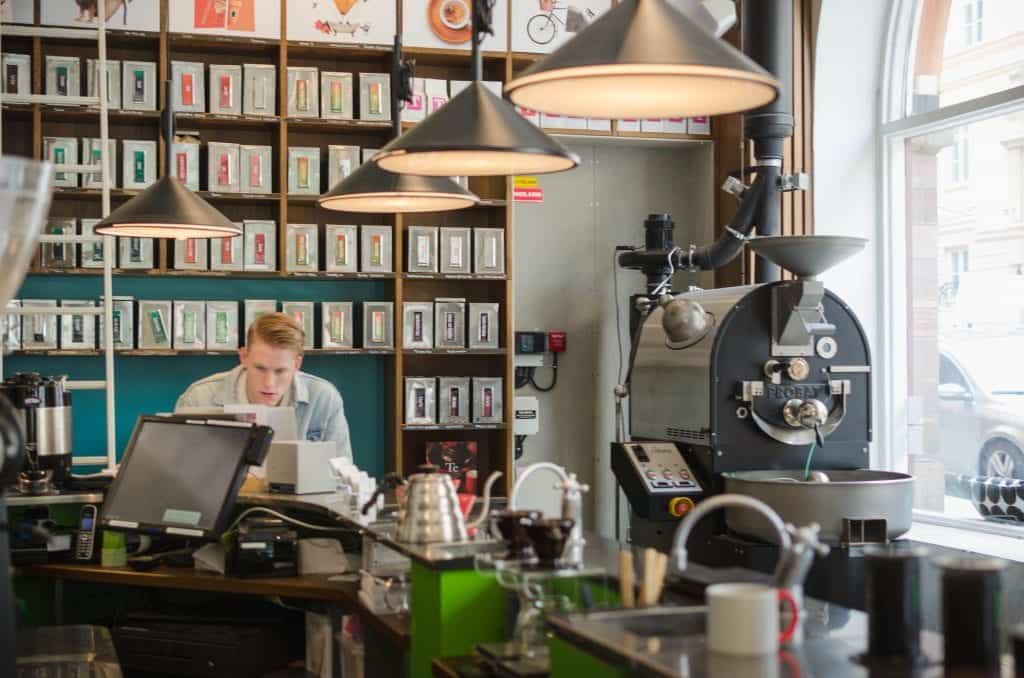 One foot in the door and you spot a Victoria Arduino 338 Black Eagle, a Mythos Grinder, a Mahlkoenig EK 43 and we are thinking if you can get a better set up for your coffee bar. Coming very early that morning we really needed some time to choose our coffee but a smiling barista patiently explained what the offer really meant. We decided to go for one of three coffees on offer, limited edition of Burundi (Heza Gitwe), and also an alternative cappuccino with oat milk that cannot be pronounced differently than capOATcinno. We must admit we would need some time to get used to its specific taste.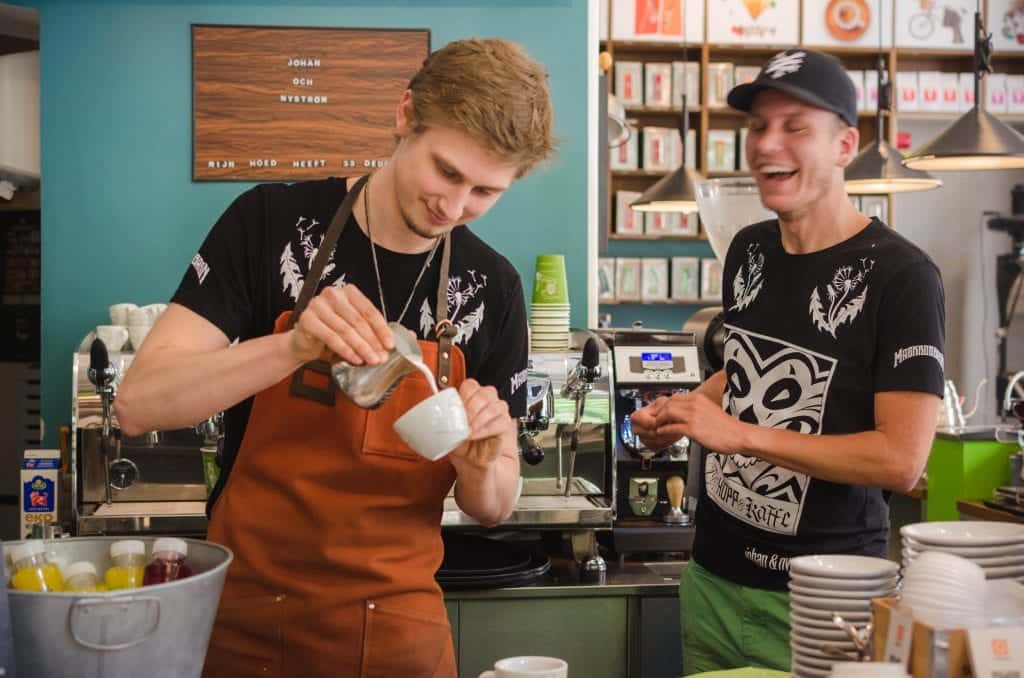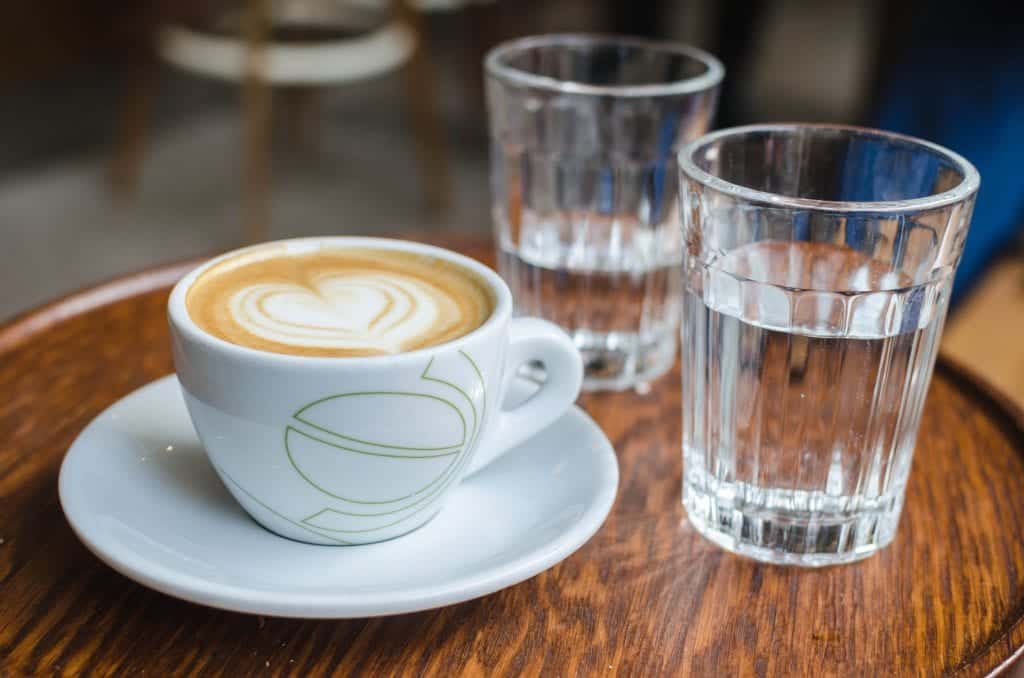 John Dester, an energetic barista behind the brew bar, talked about his experience at the Nordic World of Coffee while we waited for our cup. Concept store servers also as a training centre for people to extend their knowledge about coffee. An interesting aspect of the customer education is communitating only three taste profiles for their coffees. 1 – Sweet & full-flavoured. 2 – Smooth & full-bodied. 3 – Dark & powerful. Perhaps we would have learnt more from Johan Damgaard, the co-founder & CEO, if he would not had gotten stuck in the morning traffic jam. Damn Monday mornings!
Swedenborgsgatan 7, 118 48 Stockholm
Official website, Facebook
Mean Coffee
First coffee when you arrive to Stockholm or the last one before you leave, there is no better option than Mean Coffee located less than 5 minutes from the Stockholm Central Station. We were told this is the place where we can get really tasty Aeropress and even though we opted for the quick espresso instead, Jonas Hult, co-owner and barista of Mean Coffee, confirmed that customers appreciate this brewing method over others in here. In contrast to the previous cafés, Mean Coffee doesn't roast but offer a wide selection of roasters from the Nordic region (or with nordic style of roasting).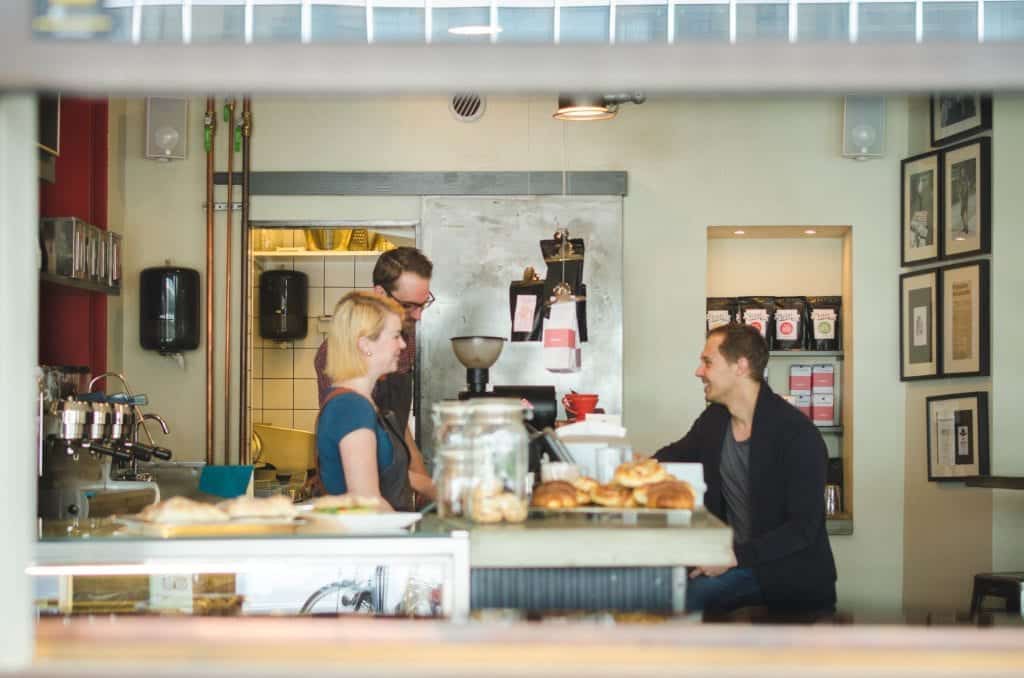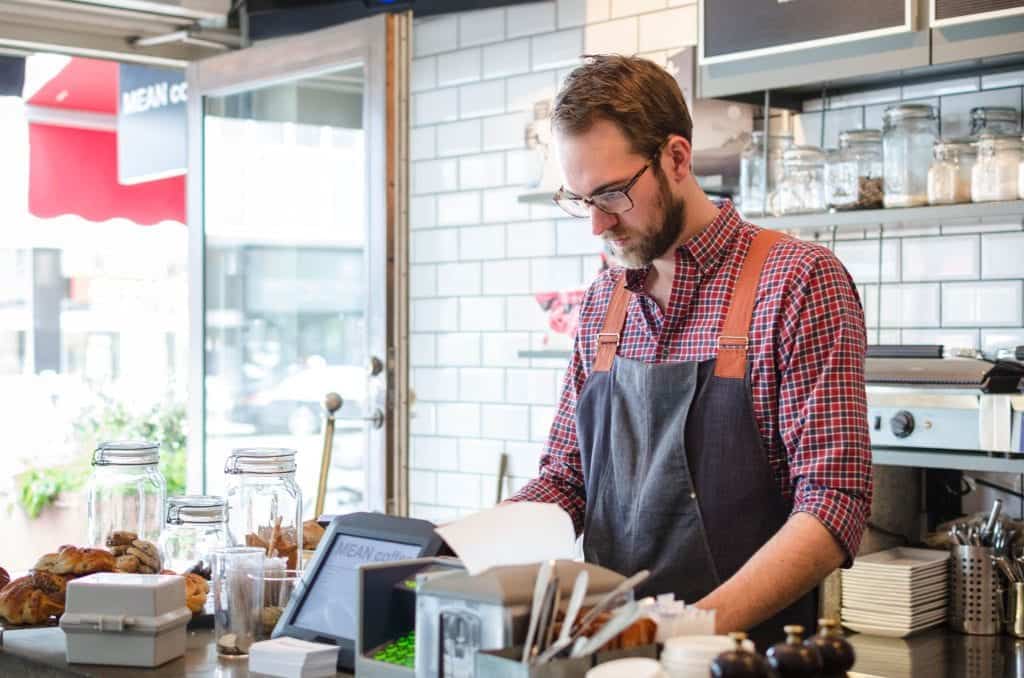 The most commonly Koppi from Swedish Helsingborg but we spotted Berlin's Five Elephant or local Johan & Nyström on the shelf as well. You can choose from two espressos waiting in the hoppers of Mahlkoenig K30 Twin, typically one blend and one single origin espresso. We enjoyed the smooth and fruity Guatemalan single origin. If you are in a hurry, there is always a coffee to go ready, brewed in the batch brewer. This time it was a blend of Ethiopian, El Salvadorian and Burundian coffee called Picnic – caramel, gooseberry, citrus and jasmine – by Johan & Nyström.
Vasagatan 38, 111 20 Stockholm
Official website, Facebook
Café Pascal
Café Pascal is the last café we planned to visit in Stockholm. Unfortunately, our flight didn't allow us to follow the advice of Brian W. Jones from Dear Coffee I Love You who is a big fan of this café. We met the owners in Gothenburg though and as we asked several coffee people around Stockholm who confirmed that Café Pascal is on their list, we are confident to send you there!
Norrtullsgatan 4, Stockholm
Official website, Facebook