Our Barista Stories series has been long in the making. Since our first visits to cafes around Europe, we have met many amazing baristas who have had a number of interesting stories to share. We love the speciality coffee community exactly for the people building it and are thrilled to introduce some of those individuals to you.
Baristas truly are the ones who contribute to the atmosphere in the cafe massively and are the key reason why we'd revisit.
Read on to meet Alexander Datsos, brewing your daily cup of coffee at Löfbergs Rosteri & Kaffebar in Stockholm.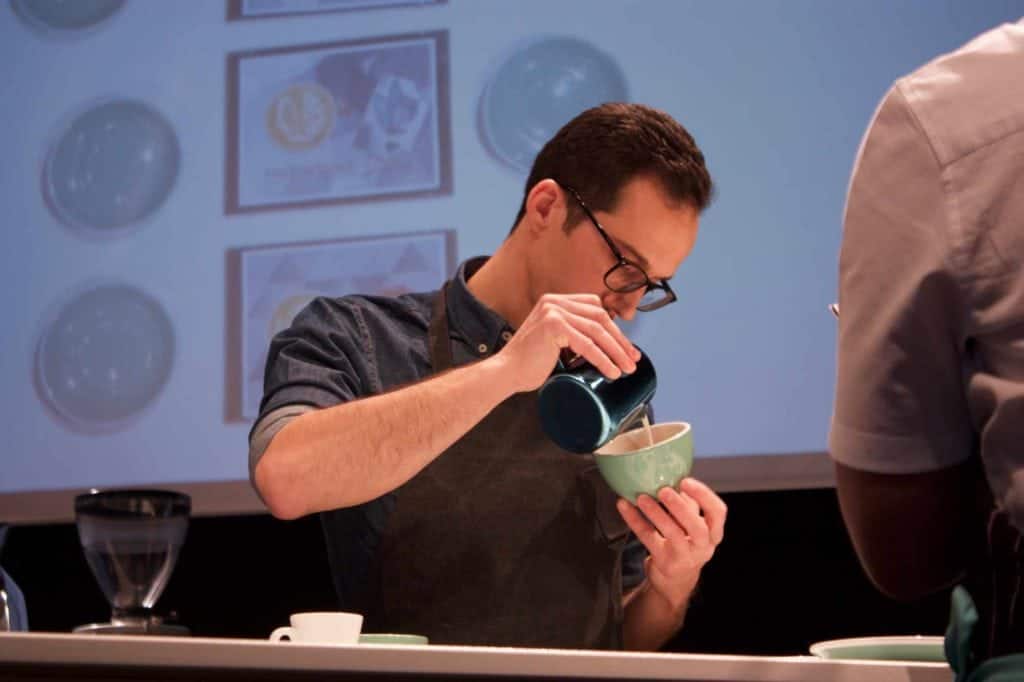 Alexander Datsos is a barista and, since April, also a roasting apprentice living in Stockholm. He works there at Löfbergs Rosteri & Kaffebar, but this 30-year-old barista is originally from Albania and he grew up in Greece. That is also where he got his first barista job. It was in 2007 when he started working at Flocafe in Athens.
A few questions for Alexander
What led you to coffee? Could you describe the moment or situation that made you decide to become a barista?
Well, I was working as a waiter in Athens and in a few months I had to move to another city for studies in Landscape Architecture. I thought that if I started as a barista, I would have double chances to find a job during my studies. I was lucky to find a job at Flocafe where I had my first training and experience and a few months later I left Athens. As a barista, it took me just one day to find a job in the new city. I felt so excited as a barista, so I was working during my studies and after them.
What is the funniest thing that you have experienced behind the bar? Can you recall any embarrassing moment?
In 2015, I worked at a boulangerie and I ran out of sugar (Greeks love it) so I had to refill. Someone had accidentally changed positions between sugar and salt, on the back bar, so I started using salt instead of sugar. You can imagine the rest of the story! Trust me, it happened the next day also, since the misunderstanding wasn't solved in the back!
What would you do if you were not working in coffee?
Of course, I would be working as a Landscape Architect. I enjoyed my studies and architecture is still by my side. Xenia Mastoraki, an Architect and Landscape Architect, created a team of architects and we do projects for competitions and more.
What is an unusual habit or hobby that you love?
Pool! I love playing pool. As a teenager, I spent all my money on that. Every time I have to make a decision regarding my studies, a job or moving to Sweden, I do it by playing pool!
What are some bad recommendations you hear often in your profession? What is your piece of advice for anybody starting a career as a barista?
"Is barista a real job?" I hope that one day, everyone will respect our job from all perspectives.
For those who are starting now as a barista, I would advise them not to lose time in workplaces where they cannot evolve and learn something new. Be around people that are honest, hardworking and able to share their knowledge and experience with you.
Looking back, what one thing would you wish to know when you were starting to work as a barista?
Well, V60! I start my day with a hand brew and I believe it's the best way to control and enjoy a coffee, even if you are amateur. More than that, I wish I knew not only speciality coffee but the coffee world itself. Important people in the coffee industry, hardworking and passionate baristas, brewing tools, origins.
What qualities set a good and a great barista apart?
Everything starts with a barista's personality, a great barista is the one that is honest, passionate and works hard. They can share knowledge, experience and thoughts with their colleagues and guests.
A great barista is curious and always looking for better tools and methods to serve the best of the coffee.
If you have a bad day at the cafe, what helps you to handle it and provide good customer service?
There is a reason for a bad day. if it's something you can fix, you do it, if not, just keep doing the best you can. A cup of coffee will help you though.
What is the one thing that you would miss the most if you could not work as a barista/in coffee anymore?
I'm always impressed with old people when they receive a nice latte, they take a photo of it and they don't have social media.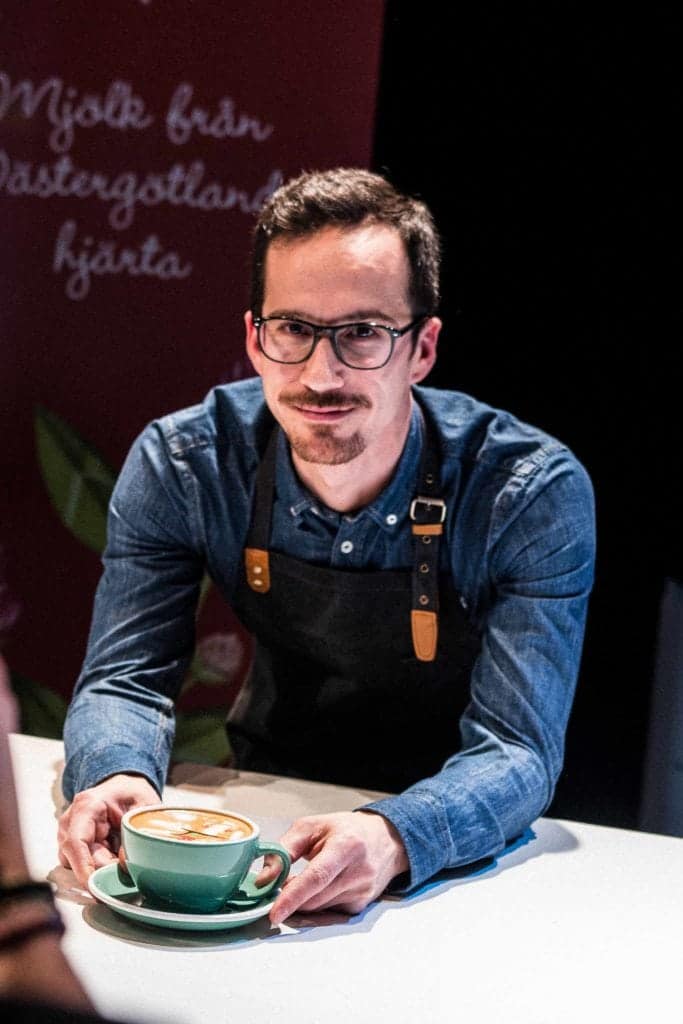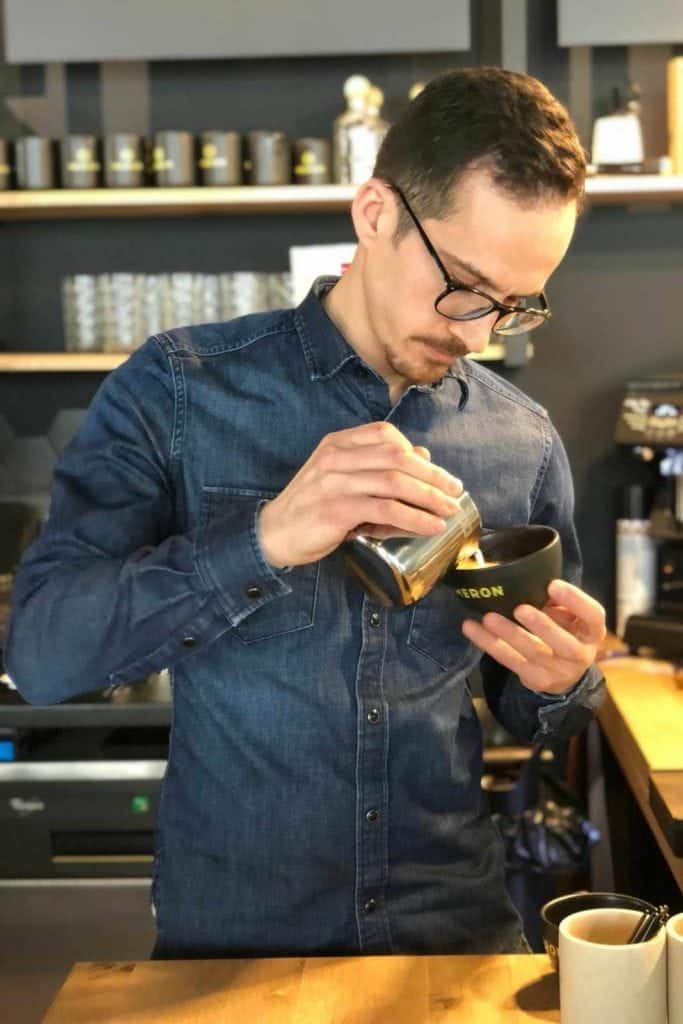 Imagine the perfect day in your city. Perhaps you have an old friend visiting. What would be top 3 to 5 activities or places you would show them?
Of course a coffee tour! First stop it would be Fikabaren where Lakis will hand brew some delicious coffee. Then, Drop Coffee, the house of roasting champion Joanna, to try something unique she brought from her last trip. After that, welcome home! Löfbergs Rosteri & Kaffebar in Kungsgatan 3, to try the best cappuccino or a latte in Sweden, with some just-baked oat cookies or to eat lunch. Next, a walk in the beautiful Gamla Stan (Old Town). Before the end, if it's summer in Stockholm, a rooftop would be perfect for some champagne. In the end, Fantzen! The only restaurant with 3 Michelin stars in Sweden, amazing courses and hospitality.
What do you consider some of the best experiences you have had in coffee so far?
So many, from good friends to delicious coffees. Travelling around the world and the chance to meet those masters in the coffee world. Winning Swedish Latte Art Championship 2018.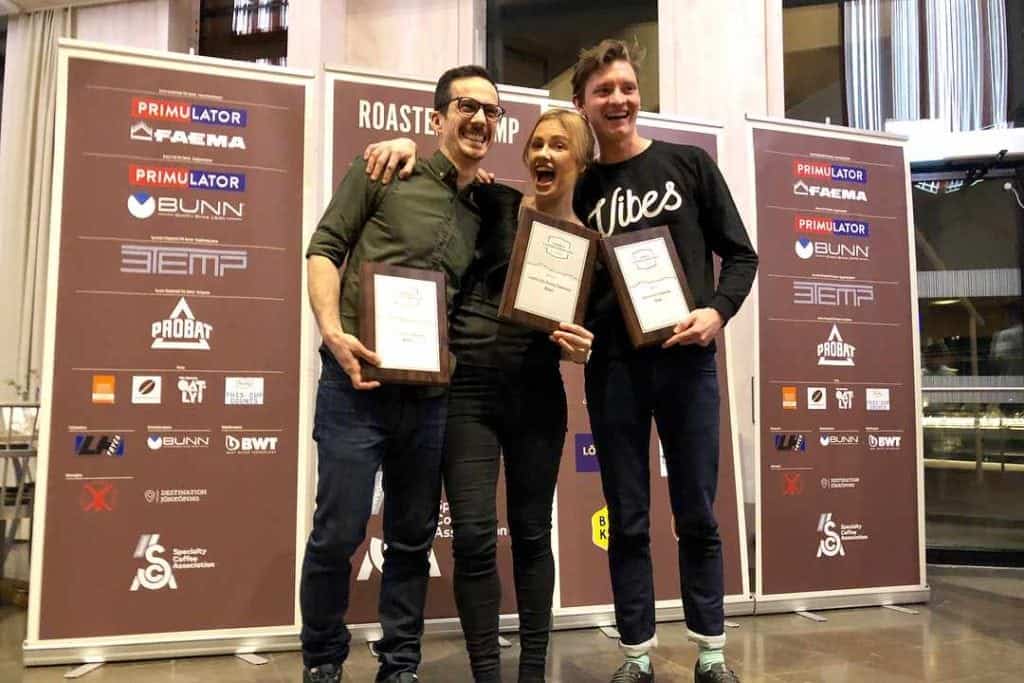 Quick Fire Question
Would you serve filter coffee with milk, if asked for it?
Yes.
Do you ever take sugar with your coffee?
Not anymore.
Espresso or Filter coffee?
Come on! Unfair!
Do you aim for Sweetness, Acidity, or Body?
Sweetness.
Milky or Black?
Black.
Slurp or Spit?
Slurp.
Sit in or Take Away?
Sit in.
Cake or Pastry with your coffee?
Pastry.
What is your wifi password in a cafe?
Lofbergs guest