Dabov Specialty Coffee is a tried-and-true family business. Vesela and Jordan Dabov moved from the Czech Republic back to their homeland, Bulgaria, in 2008. They wanted to evangelize speciality coffee for the non-existent market. It was tough. They struggled for years, but over a decade later, a dedicated team of 20 people now source and sell the world's best coffee.

Vesela ensures that the company runs smoothly so Jordan can put on his coffee hunter shoes and dream big. "I want to find 100 points coffee. Not 95 or 96 points but 100. That's what we are looking for," explains Jordan, as he talks about what drives his actions every day. Listening to these words, it is easier to understand the meaning of his motto that felt little cheesy at first – "uncompromising perfectionism".
From jazz trumpeter to speciality coffee evangelist
Jordan Dabov was meant to be a professional musician. When he fell in love with coffee for the first time, he was a highly sought-after jazz trumpeter, playing about 30 concerts a month. At the same time, he was working in a hotel, managing a lobby bar. That lead into his first barista training in 2007 and then the encounter with La Boheme Cafe, the first Czech speciality coffee roaster. His instrument during the evening was a trumpet, but during the day coffee played the primary role. "When a customer came, I got the best weapon in my life, and that was coffee. At the time people didn't know much about speciality coffee, it was very new. More I talked, more coffees I made," Jordan explains, reminiscing about how coffee was slowly but steadily taking over his life.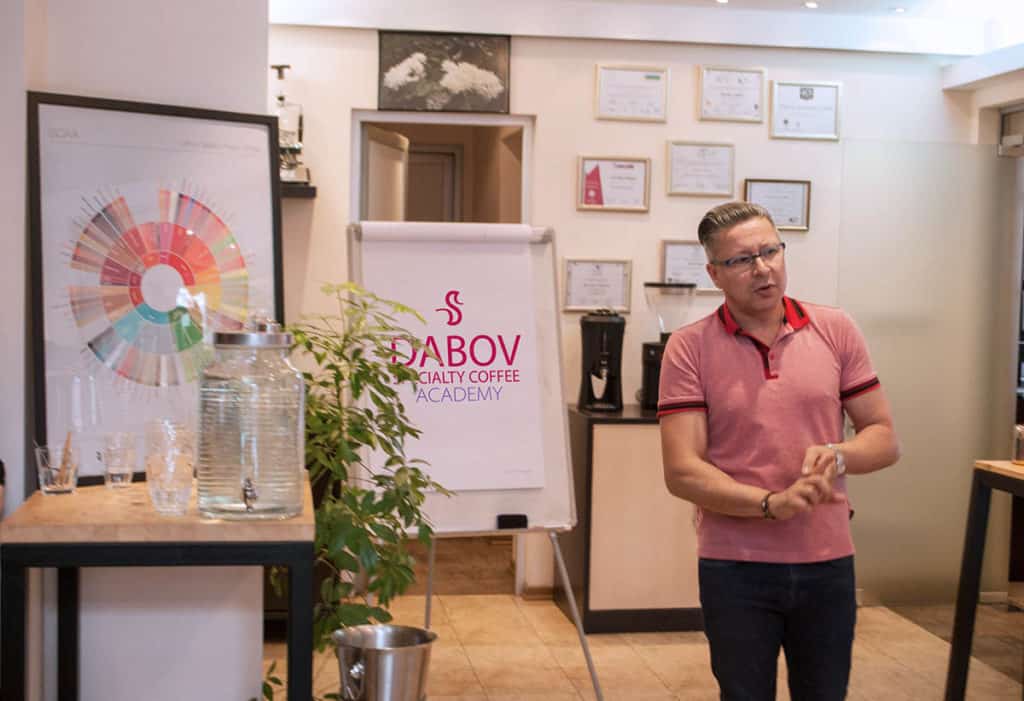 Jordan wasn't only skilled in talking about coffee, but also in brewing it and selling it. The hotel has never sold as much coffee as in this period. Jordan got on a crossroad though. He either becomes a professional musician, focusing 100% on music and sacrificing other parts of his life, or he had to leave music behind. "I chose coffee with an idea to travel, communicate with people, share what I know and do business," Jordan says. On top of that, he was leaving a country where he lived for the last 12 years to bring speciality coffee to his homeland. He took out a private loan, bought coffee from La Boheme Cafe, and opened the business in Bulgaria.

Difficult times selling speciality coffee in Bulgaria
"The first year, I sold no coffee, zero kilograms. No one wanted to buy it," Jordan says as he recalls his early frustrations. Coffee was getting old, and Jordan was struggling to explain the idea and taste of speciality coffee to Bulgarians. Luckily he developed a skill of selling other imported goods – tea and chocolate – to pay the bills. That was a time when they started to think about roasting their coffee. "It was a bizarre idea since we didn't sell any coffee at the time," pointed out Jordan. When they sold the first full palette of chocolate in 2010, they immediately bought an old 12-kilo Probat coffee roaster. They became a coffee roasting company.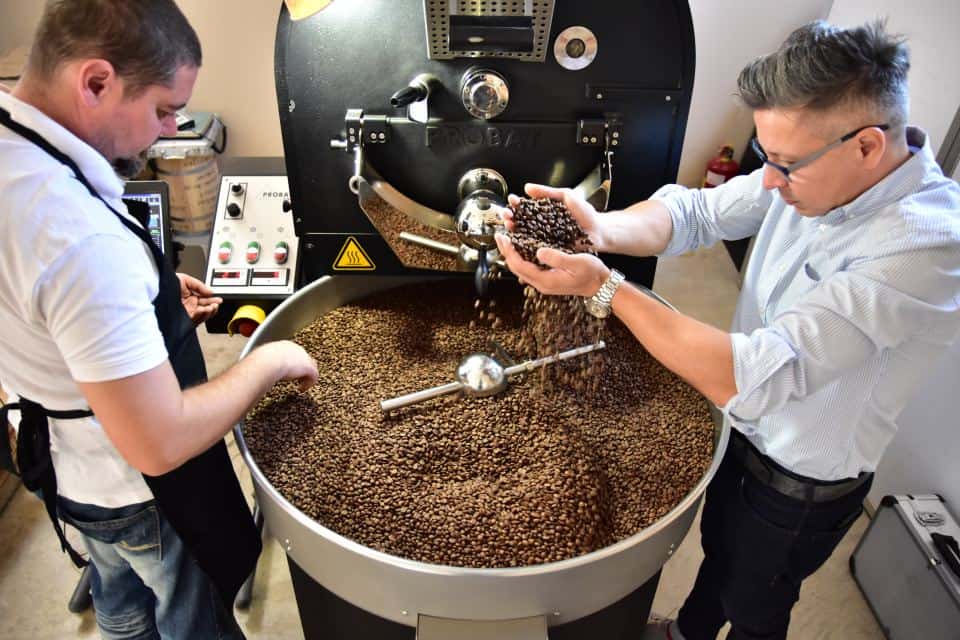 At the same time, the need for constant training and education was present in Bulgaria. Jordan took advantage of the SCAE (now Specialty Coffee Association) educational program and became a certified barista trainer. When checking the academy calendar, they still run 15-20 courses and educational cuppings every month.
A coffee university through the Cup of Excellence
When asked about the most crucial moment in the development of his business, Jordan Dabov points, without much hesitation, to the year 2013 when he attended his first Cup of Excellence (COE) event in Brazil. "The Cup of Excellence completely changed everything," Jordan says. There he had the chance to spend time with top coffee tasters and buyers on the planet, and he brought back with him valuable know-how about coffee quality and organizational standards.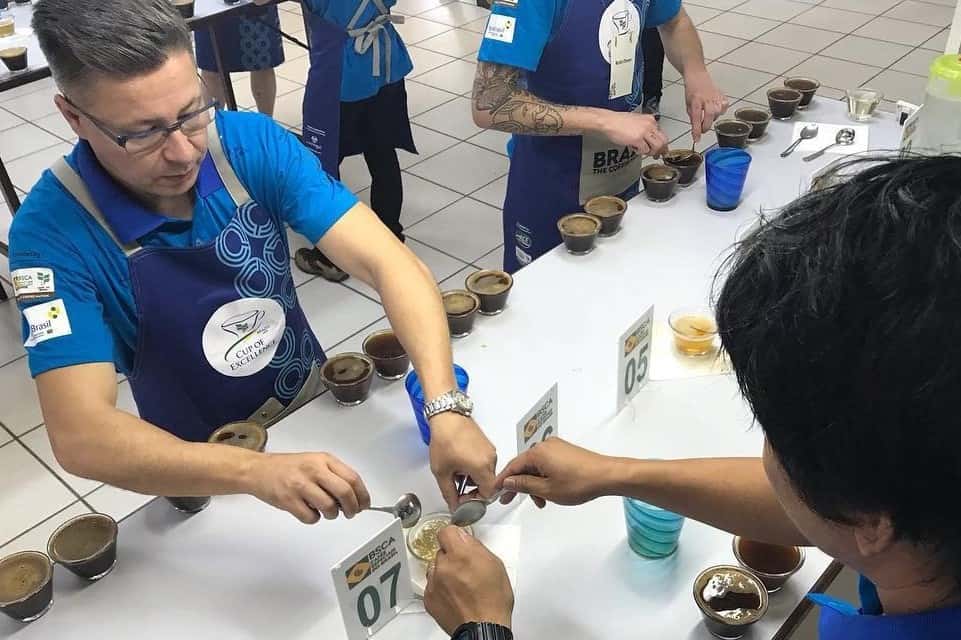 There was only one thought on his mind: "I must train myself to go again and again and learn more." So he did, and as of 2019 he has been judging over 9 COE events and often he is among a few European judges present. He has been the only European judge attending the prestigious Best of Panama 2019 event in Boquete where the highest-ranking and most expensive coffees are chosen year by year. The world record was set with 95.25 points (out of 100) by naturally processed Geisha coffee from Elida Estate. Jordan Dabov was in the crowd that congratulated the Lamastus family for this achievement.

Hunting for the world's best coffee
"My job is to find some of the best coffees in the world, to negotiate, to get these amazing and super limited batches of coffee to Europe for our customers," Jordan Dabov explains. It would be a missed opportunity to attend all these coffee competitions without the ambition to buy them in the auction. They aren't cheap, though!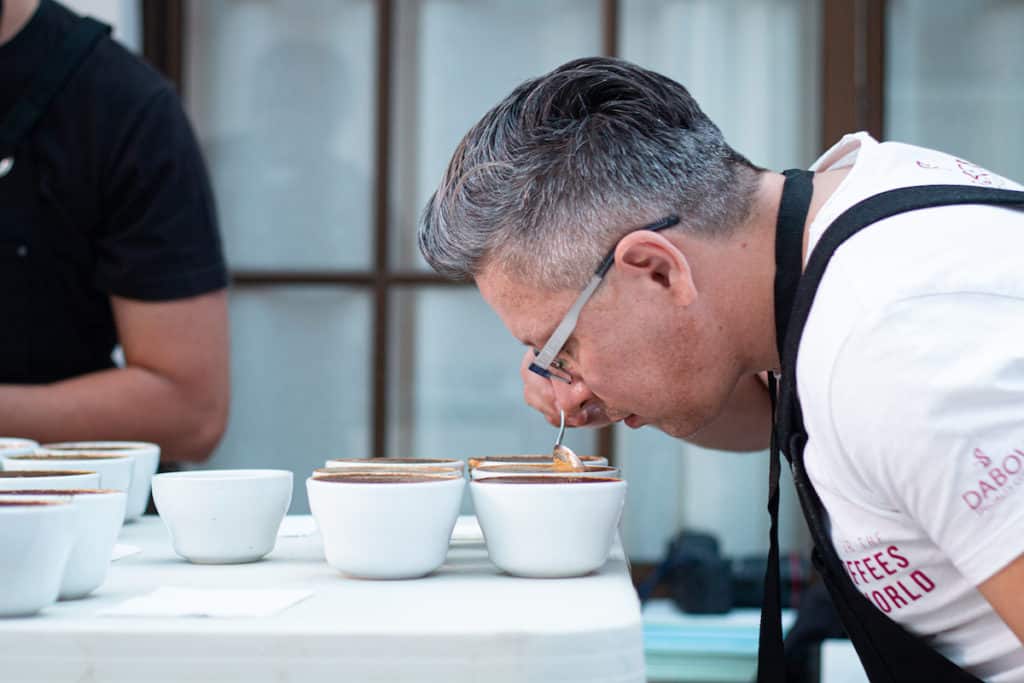 In 2016, Dabov Specialty Coffee bought Guatemala's best coffee of the year. For the first time, Europe welcomed a whole batch of number one coffee from the Cup of Excellence auction. It was coffee from the Kalibús la Sierra farm that auctioned for $42.10 per pound. As of the writing of this article, Dabov Specialty Coffee's offer includes the winner of the Cup of Excellence Brazil 2018 from Fazenda Paraiso, exclusive Panama Geisha by Dabov from a partnership with Joseph Brodsky & Ninety Plus, or Geisha & Cup of Excellence tasting sets.


We found another rarity in the offer as well. It is coffee called Kopi Luwak, and even though it is widely known, this Indonesian coffee doesn't have a respected name in the speciality coffee industry. "Some customers have attracted to Kopi Luwak thanks to its famous story. We use it as a magnet to talk to these customers," Jordan Dabov says. Apparently, it helps them to change the perception of some of their customers to lean them toward higher quality, rare coffees.

Sourcing better coffee year after year
A sense of constant improvement is what anyone can see in the eyes of the energetic Bulgarian. Over a decade after he opened the business, he still wants to add the incremental improvements to coffee that Jordan sources, but he also wants to develop the company with his wife, Vesela. "We would love to have operations around Europe. We have a healthy relationship in Madrid, Spain or Bucharest, Romania, but every year we try to find better coffee and thanks to the European Union and fast shipping we are ready to share this coffee with customers abroad," Jordan says. His one wish now is to bring his exclusive coffee to more countries across Europe.