Over 600,000 people live in Athens, most of whom drink coffee daily–from early in the morning till late in the evening. Coffee is there all day long. It is not a surprise that the barista profession is well respected and also that Greece has produced so many world coffee champions.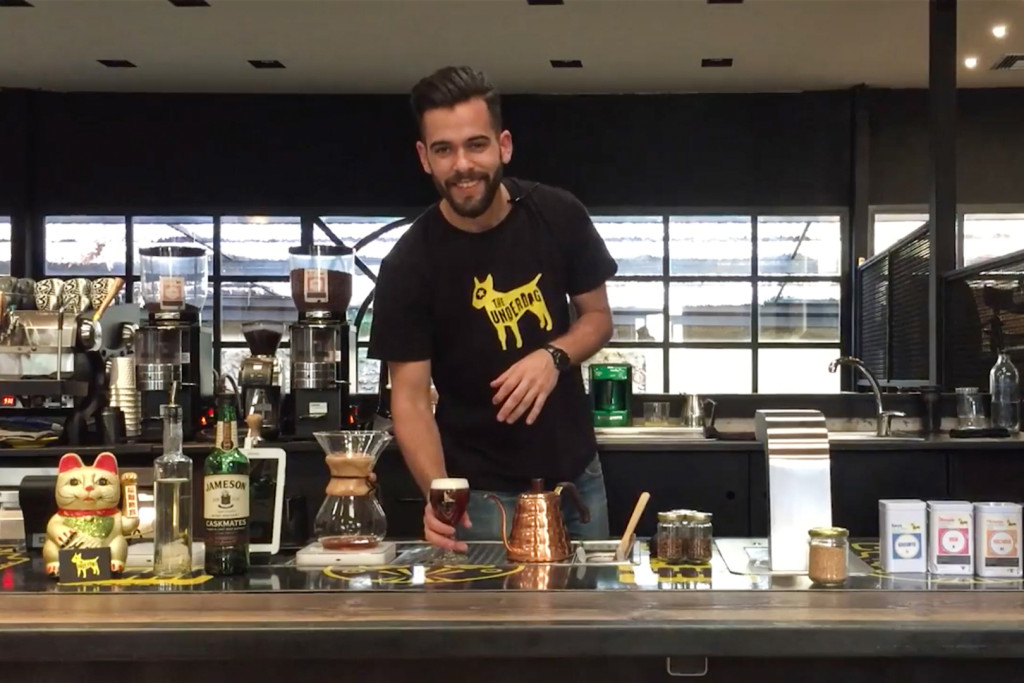 One of them is Michalis Dimitrakopoulos, who became the 2016 World Coffee in Good Spirits Champion in Shanghai. This young, cheerful barista is already the third member of The Underdog café & roastery "family" to receive the title and you can find all the trophies proudly sitting on the coffee bar in Athens. "I feel very proud that I have a team that consists now of 3 world champions! Before my competition the experience and knowledge that I took from Tasos and George, helped me to go forward and see my mistakes and become better and better every day!" humbly says Michalis. Tasos Delichristos received the title in 2008, and his friend and colleague George Koustoumpardis in 2015.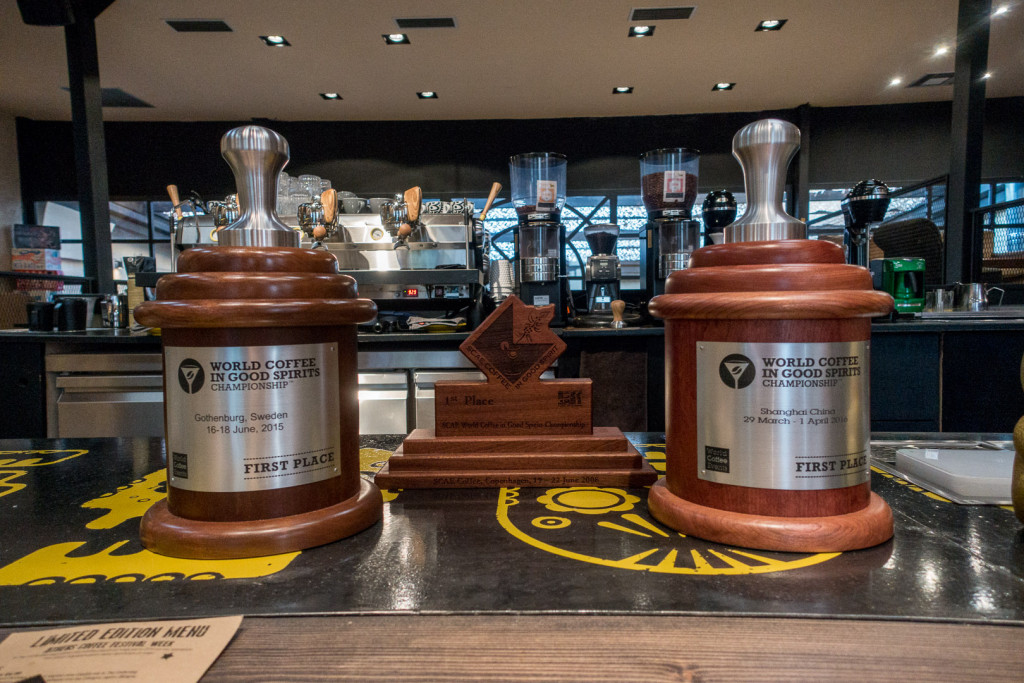 All this suggests there is something special about this spacious Athenian cafe when it comes to coffee combined with alcohol. Let's explore it further with Michalis.
What did your training look like?
I was training every day at least 5 hours! Every morning I was working from 8am to 4pm. After that I had my lunch and at 5pm I was starting to set up everything for my presentation. [that makes at least 13 hours spent with coffee on a daily basis!]
I was doing 4 to 5 programs per day and after that I was cleaning my equipment and preparing my ice blocks and making my syrups for the day after. One time per week I had a presentation to my coach and we were correcting my mistakes.
The most important thing is that I am a barista first and this give me the opportunity to experiment every day with my coffee and learn everything about it.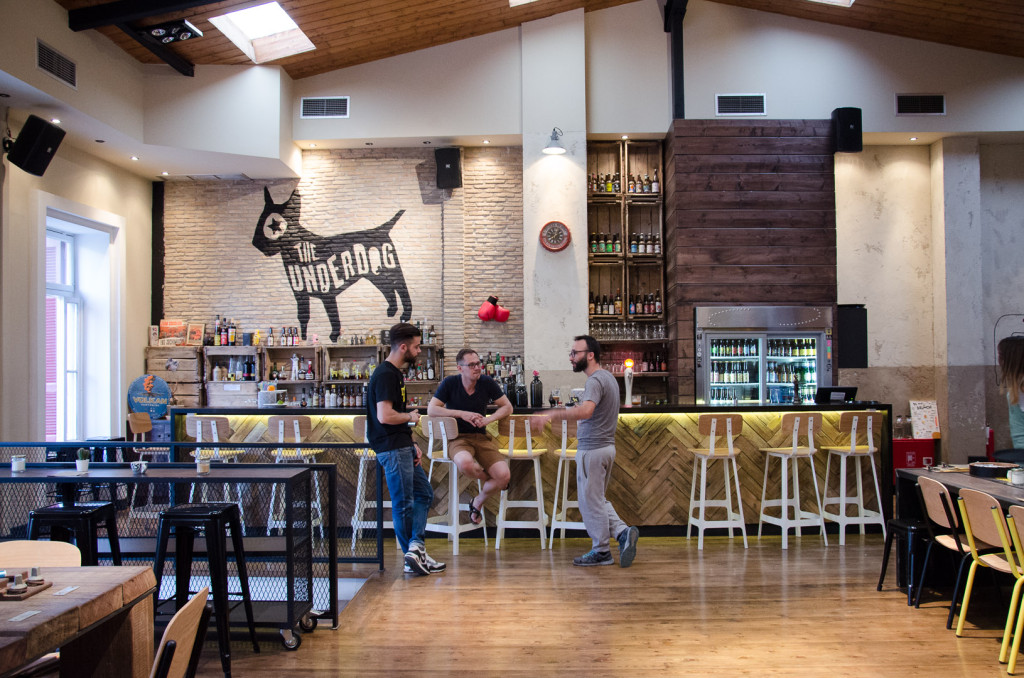 What lessons did you learn during this intensive preparation period?
First of all to be on time! Then through my trainings to be consistent every time, because when a little thing was changing, my whole presentation was changing.
It was my first time taking part in a championship, that means everything was unprecedented for me! The most anxious thing was that I was going to be in a different country. I didn't know if could find things that I needed for the competition and couldn't bring from my country! I believe that now if I was competing again, I would be more comfortable and feel free on my movements without being nervous.
What makes a good coffee cocktail?
It all starts from the coffee you are using! You must know everything about the taste profile and the aromas of your coffee and then you must find ingredients that can be combined with it!
If you have citrus flavor and aromas on your coffee, you must find ingredients that combine with this! That's the best way for coffee lovers, they should get a cocktail with their favorite coffee!
Different countries, different cultures! Many people love sweet cocktails, others sour or spicy and this is the magic in our job! To find the best way to make a cocktail for everyone!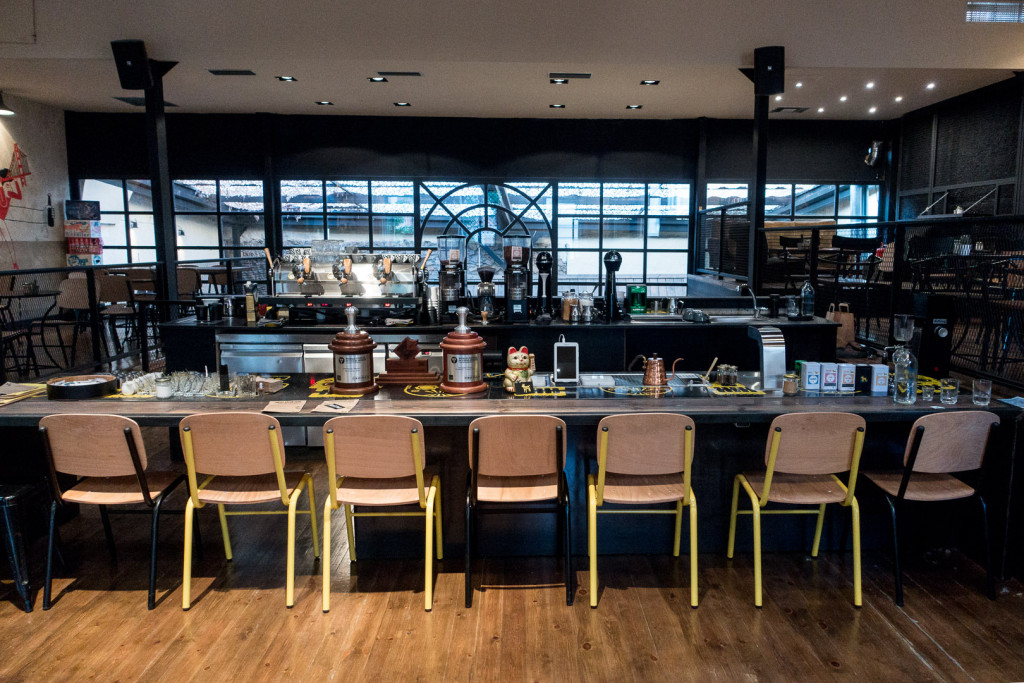 In the WCIGS, it is compulsory to make an Irish Coffee…
I can't stop drinking Irish coffee…the buttery mouthfeel and the different temperatures between the cream and the coffee with whiskey and sugar is awesome! When you try a good Irish coffee you are always waiting to evaluate again and again!
The first thing to do [when learning about coffee cocktails] is to make an Irish coffee. The most common coffee cocktail of all. Once you can make a good Irish coffee then you can search for your own to discover the combinations of coffee and alcohol.
How is your life as a champion?
Currently I am very happy to do seminars, trainings and presentations at The Underdog and also in different countries around the world. I feel very honored to be invited as a judge in other national championships, this a new experience for me and I enjoy it a lot! And of course I still work as a barista at The Underdog which is the best thing to do for me!
It is very exciting to be on the judges side because you can understand how different it can be to think through the presentation time and throughout the whole competition days. It is difficult for both sides but in a different way. But in every way I enjoyed the whole time as a judge but I also miss the time being on stage as a competitor.
To be honest I really enjoyed the moments of my competition at WCIGS and I would love to feel that feeling again! Hopefully to another competition! But for now I like to work with my team and involve ourselves and share our knowledge for specialty coffee!
What would be your advice for the future baristas competing in WCIGS?
The first and the most important thing is to love what you do. Then to stay focused on that and be humble, work for your passion and everything else will follow!
This article originally ran in the 2016 WCE Year In Review. It was written by Ales Pospisil and edited by Alex Bernson.