What is Creators Cup? Who is behind this name and this project? If you are into coffee competitions and creative brewing techniques, or maybe just want to put your technical and design skills into use, keep on reading.
Raf Makes brings a new competition format
Raf Mlodzianowski, better known as Raf Makes, is a coffee professional with a number of coffee certifications under his belt. Besides being a Q Grader—the highest certification of a taster—he also gives classes as a Specialty Coffee Association Authorised Trainer in Brewing, Barista and Sensory Skills. Having worked in various roles in hospitality as well as tourism, he is now focused on helping other businesses grow their potential. For that purpose, he runs a little training lab.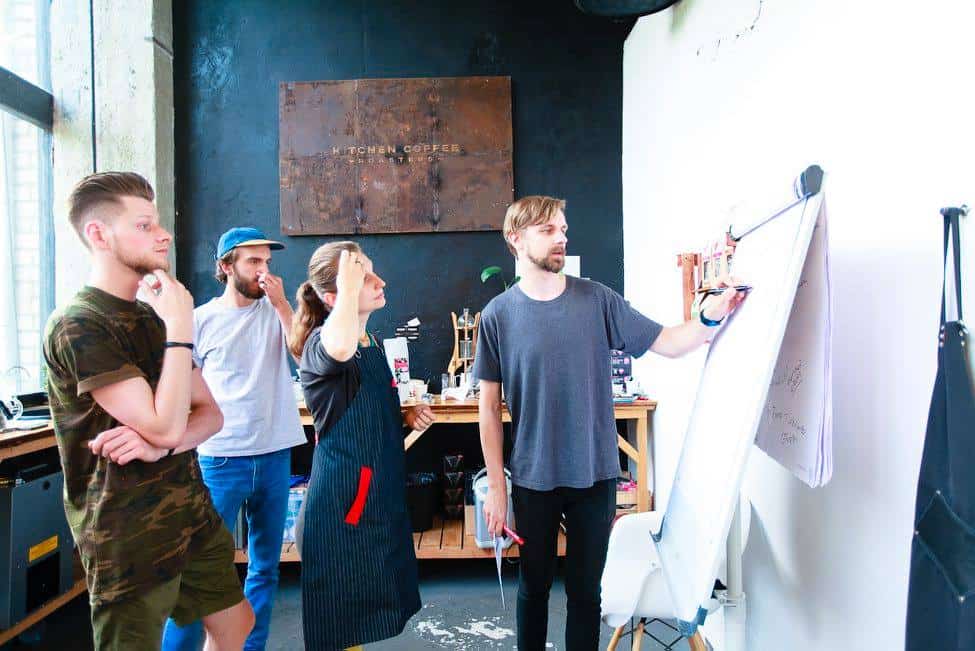 His activities did not stop at training though. He is a passionate brewer as well as a micro roaster with a few private clients, but today, we talked to him mainly about his new competition he created in London and is slowly bringing to the European audience: Creators Cup.
What is Creators Cup?
Creators Cup is a way of showcasing competitor's deep understanding of a brewing process and how it is affected by the brewing device.
Raf has started the Creators Cup in London where it celebrated a great success. This event invited coffee brewers of all levels to be innovative, open-minded and creative. Yes, the word is fitting. The competition required not only a passionate filter coffee brewer but also an innovator, who can think outside of the box to present his own brewing device in this new competition format.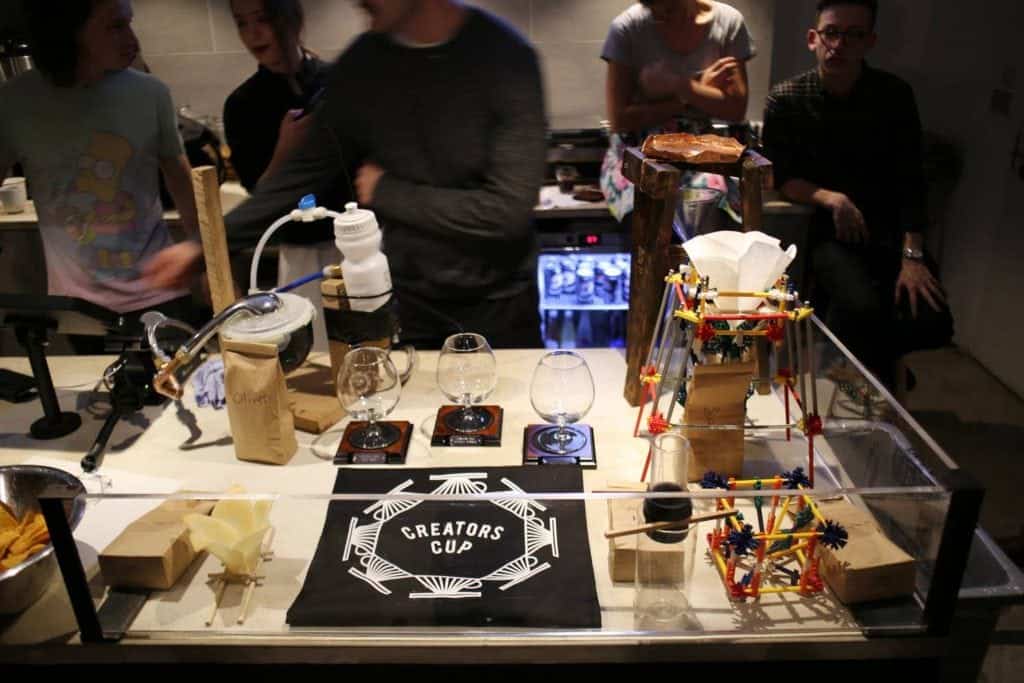 The format was inspired by—you would not have guessed it— a TV show called 'Scrap Heap Challenge'. In this show, the contestants had to build a vehicle to race in with only the scraps found in the courtyard. Raf decided to give the competitors a free hand at choosing their materials, allowing them to be more creative, as well as thinking of a possible reconstruction of the designs in the future.
Welcoming new ways of filter-coffee brewing
Why is filter coffee the only category? Not only is it Raf's favourite way to drink coffee, he also felt there were about five methods on the market that ruled the filter coffee stage and he wanted to break this overrule down.
"Brewing has so many possibilities to make coffee taste great or terrible so getting people to think out of the box shows you their personality and preference for coffee. Filter coffee is also cheap, with just some cloth and hot water you can make a tasty coffee. It is also the best way to travel with coffee.
Innovative, yet fun and less formal than other competition formats, Creators Cup brings the local community of coffee talents together.
Raf said about the whole idea: "My main focus was to try to create a brewing competition that was less about talking and more about fun and brewing. I wanted to make brewing more interesting to the audience and also make a competition that was less formal to encourage non-professionals to compete or spectate."
Fair competition rules
Raf acknowledges the fairness of the rules used in big competitions: "Being a UK Brewers Cup judge, the Compulsory round is actually one of the most interesting parts as it is a very fair and level competition between competitors," agreed Raf.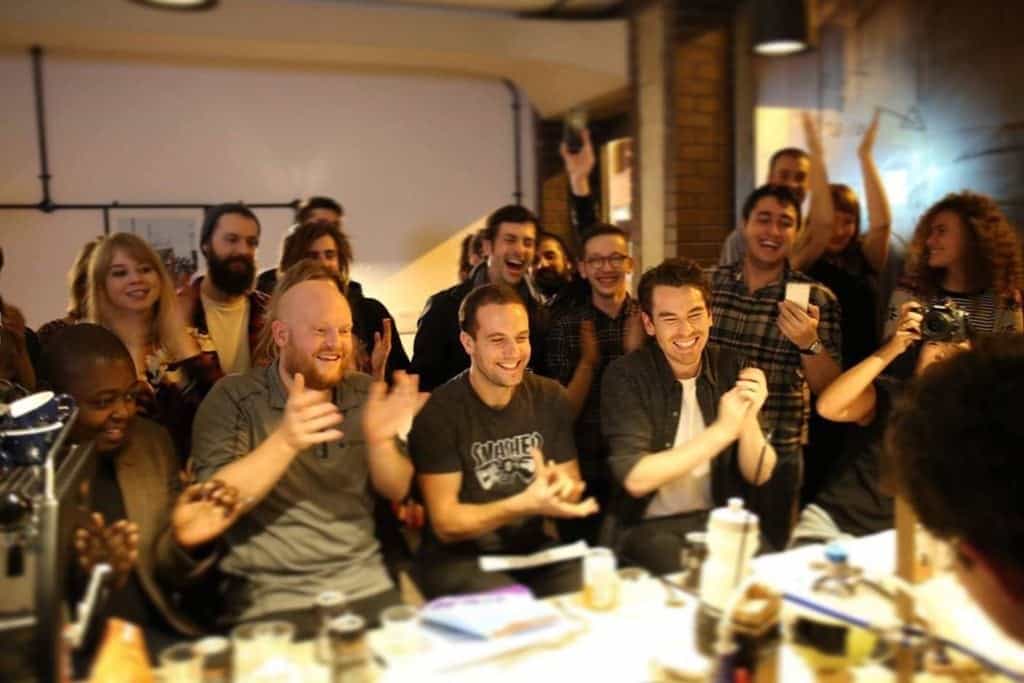 To compete under equal conditions, the competitors are also given a compulsory grinder, water and coffee to use. In the simplest way of putting it: "Its [the competition's] concept is simple and also challenging: 'Here is a coffee, now brew it.'," said Raf. The only way of skipping ahead of the other competitors is to build a really great brewing device that will work!
And what are the rules for the actual brewing?
5 minutes to set up on stage
10 minutes to brew and discuss the brewing device in front of the judges
1 brew of no less than 150 ml is required
The design is scored during the presentation
The sensory attributes are scored after the service is completed and the brew served
What are the rules for the brewing device?
The device must be self-made from scratch – it cannot use any existing parts of other brewing devices
It can recreate the functions of existing devices, but this will affect the scores for design
It must use a paper filter of any kind, possibly a cloth or a metal filter (upon approval by the judging panel)
The device must be manually powered, cannot use an electric motor
The first winner was crowned in London
The first ever competition, held in London, was won by a London-based barista Oliver Arnell Argles who works at Volcano Coffee Works. He created a DIY medium pressure single serve batch brewing device.
Although he used a lot of glue, a plastic bowl and some paper filter with coffee inside, it excited the judges the more to try the coffee when it was brewed. "And it was super creamy and very sweet," confirmed Raf, who also described the brewing process: "There was a low-pressure pre-infusion created by a water pistol and then using a large vacuum bag, which he squeezed, there was higher pressure for the main infusion. The contraption was not practical but it was very enjoyable to watch."
And what about the spirit of the whole event? On the night of the event, the cafe that kindly hosted Creators Cup, Origin Charlotte Rd, saw a full house with cheering spectators, laughing judges and baristas, competitors helping each other out. "The completion itself was great fun and the atmosphere was very relaxed," summed it up Raf.
Second round brought to Athens
The second event was hosted by The Underdog in Athens who just celebrated their second birthday. Creators Cup was held that night and it was again a great fun. "The Greeks proved to be a little more competitive, so the brewers were quite a lot more complicated and the routines were more traditional of a brewers cup. One of the competitors was a home barista and it was lovely to see him perform. Although there is no award for the presentation speech, he really tried hard to do an engaging and thought out performance. It was his first competition and it was great to see someone who isn't from the industry to give it a try," described the event Raf.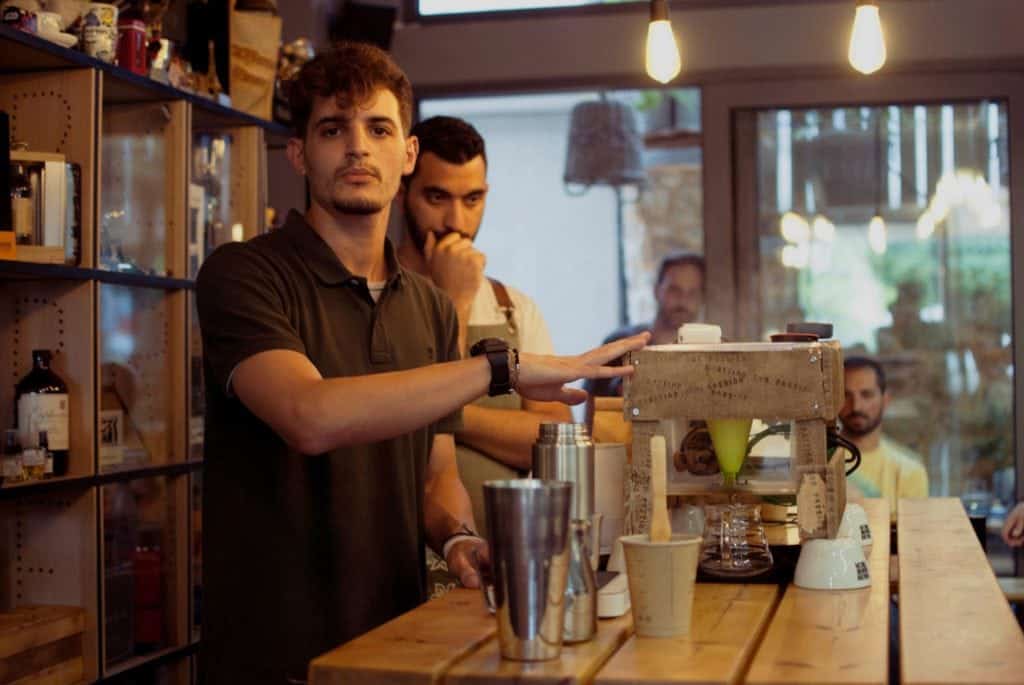 And the best brewer? Raf tells us about the winner's presentation: "Giannis Groubos who works at Crop cafe/roastery brought a homemade sous-vide brewer and he used it to keep the brew constant while infusing and then he had a filtering device that went through the water and out the bottom of the sous vide. This was visually a fun brewer to watch and it produced a very good cup of coffee."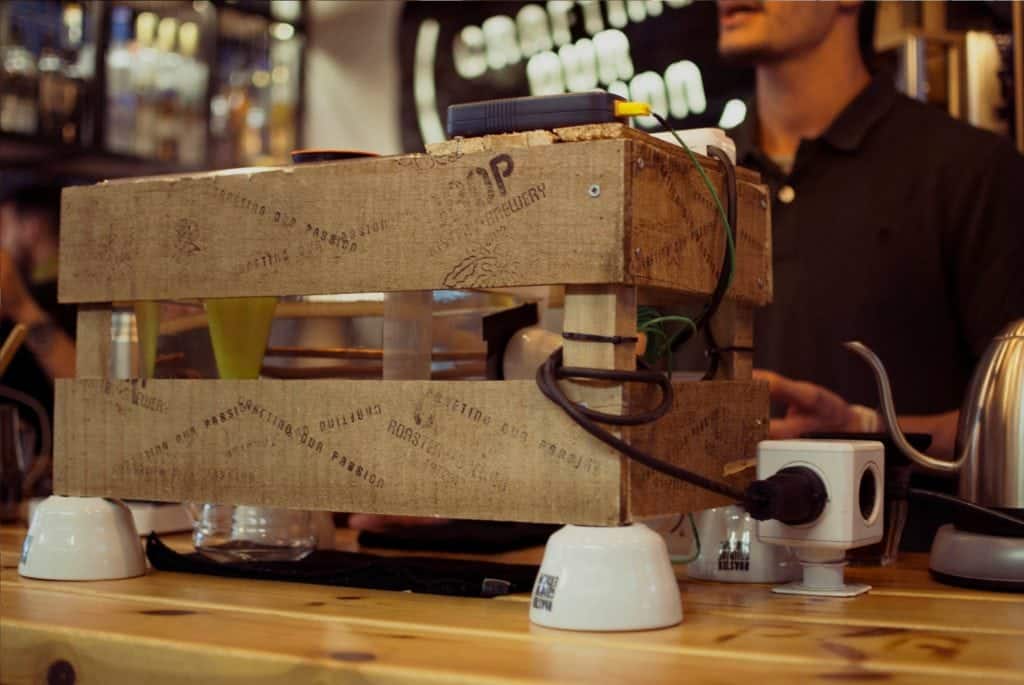 By Raf's words: Creators Cup Athens was a treat. The devices were all really thinking outside the box and the competitors were fantastic. What I am happy about most is that this is not a competition about coffee or performance. This is a competition about thought, concept and execution."
Future of Raf Makes and Creators Cup
We asked Raf about his projects for the future: "For Raf Makes the next steps are slowly coming together and will probably be more focused on the green/roasting side of things. There is also a plan to launch a barista mentorship to help develop the skills of baristas who cannot afford training but wish to move into Head Barista roles and also support them in running cafes and ordering stock etc. There is more demand in London and the UK now for good baristas and as such there is a need to create new talent in order for speciality coffee shops to keep opening and growing," revealed his plans Raf.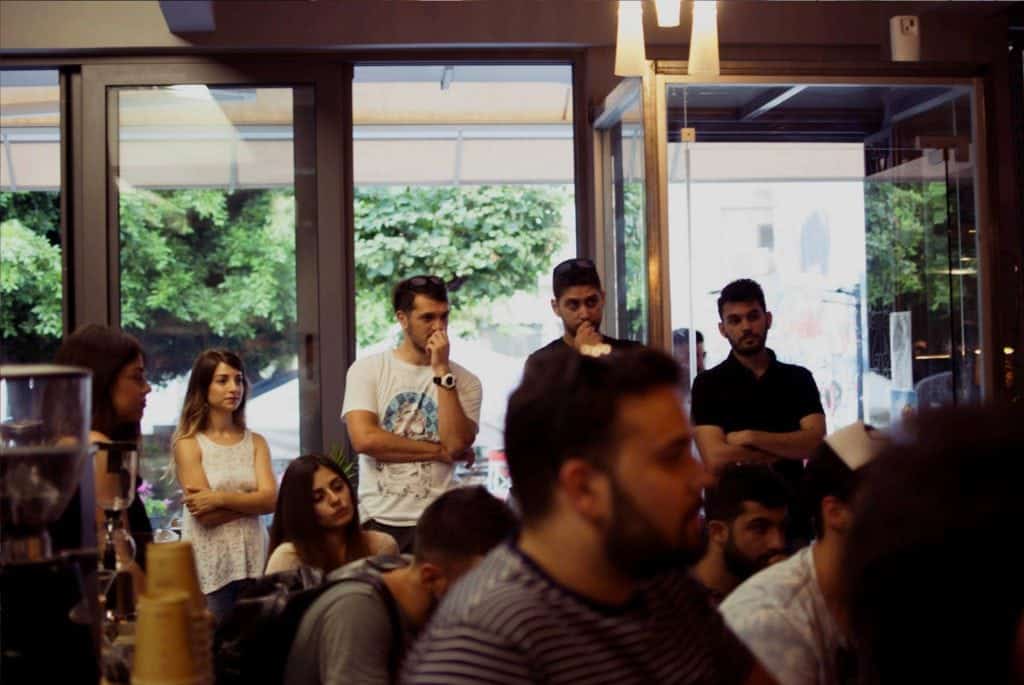 "For Creators Cup, it would be great to get it to a place where it can go to origin countries and finish the year with a world final. Finally, a partnership with a manufacturer who can produce some of the designs from the winning competitors, sharing profits with them,…" Raf left the idea open.
And where would Raf like to bring the Creators Cup next? "It looks like Poland is next and I would love to do the Czech Republic too, for Europe. Going more global making it happen in producing countries is the dream," told us Raf.
Are you full of ideas and want to innovate the way you brew coffee? Make sure you check in with Raf Makes for future events, then!